25 must-visit cities on Route 66
The Route 66 is one of the most famous routes in the world. It's not because it is the most spectacular, which isn't, or the longest, either. Route 66 is important because it represents the need for a people to migrate within their own country to thrive. And in this process, Route 66 made itself.
Many times we have been asked what cities one should not miss on Route 66 and we always end up coming to the conclusion that it was necessary to make an article on this subject. So here we have made a compilation of the 25 cities must visit on Route 66.
1. Chicago Illinois
The city of Chicago, called "The Windy City", is an architecturally beautiful city, with many places to know. It is a city whose fundamental development took place from 1850. Its nickname comes not from the wind, but from the corruptels that at that time occurred in the high spheres.
It suffered a huge fire in 1871 that destroyed much of the city. Most of the constructions were made of wood at that time and spread like gunpowder. However, it was after this great fire that many renowned architects came to the city to collaborate in its reconstruction. It was during this time, the end of the nineteenth century and the beginning of the twentieth century, that the architectural style of the city that we know today developed. It's the Chicago School.
Although here's a full article about what to see and what to visit in the city of Chicago in one day. But what you can't miss in Chicago is this:
Route 66 Start Signal
This point has changed over time. Initially it was leaving from Jackson Blvd. and Michigan Ave. However, in 1955 they changed the direction of Jackson Blvd. and Adams St became the main avenue with East-West direction. Still, they kept the starting point on Jackson Blvd. with Lake Shore Drive. Therefore, it is more of a formality than anything else since Route 66 has never actually start from this point.
If you come from Los Angeles, the end point is easier, after 1933 is on Jackson Blvd. and Lake Shore Drive. Before 1933 it was at the intersection of Jackson Blvd. and Michigan Ave.
Lou Mitchell's
Lou Mitchell's is a Route 66 classic. It is the place where travelers come to breakfast before starting Route 66. It has been open since 1926 and is an institution on Route 66.
Pizzeria One
He was the one who invented the "Deep-dish pizza" which later become the Chicago-style pizza. It began its activity in 1943 and quickly became famous for the taste and quality of its "Deep-Dish pizza". .
2. Joliet Illinois
Known as "The City of Spires", for the large number of churches it has in the area with pointed capitals. This city has been the scene of such well-known films as "The Blues Brothers", "Natural Born Killers" or "Public Enemies", as well as series such as "Prison Break". When you get to Joliet, these are the places you shouldn't miss,
Joliet Area Historical Museum and Route 66 Welcome Center
Historical museum especially dedicated to Route 66, with different exhibitions and attractions: Road on the Ceiling, the Blues Brothers Photo Op, Drive-in Diner, Route 66 Drive-in Theater, Route 66 Motel Room.
The Old Joliet Prison
Appearing in the film "The Blues Brothers" and the television series "Prison Break", entry is not allowed for now but they are considering doing sightseeing tours of the prison.
3. Wilmington Illinois
Wilmington is a small town but it has a monument that is a route 66 classic.
Gemini Giant
In Wilmington you can see the "Gemini Giant" which is one of the giant classics that were placed along many routes and roads in the United States, including of course, Route 66.
They are about 20 feet high (7 meters approx.) and usually have one hand with the palm up and the other with the palm down, to be able to hold some kind of tool or element. They are known as the "Muffler Man" because they were usually placed in front of the car shops and what they held was the muffler of a car. In the case of the Gemini Giant, he's got a rocket in his hands and he's got a scabbard.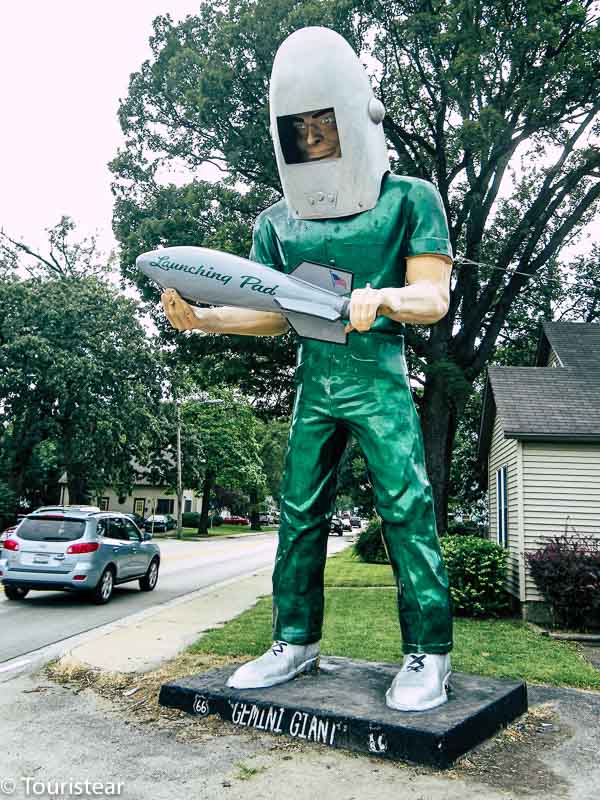 This is because it was redesigned to advertise the café in which it is in front right now called "Launching Pad", the redesign was to turn it into a kind of astronaut with a rocket in his hands.
Read the full and detailed post what to see on the stretch from Chicago to Bloomington.
4. Bloomington Illinois
Bloomington is a city with more than 150,000 inhabitants, is located in the heart of Illinois and they are very proud of their Midwestern hospitality. The city of Normal is near to Bloomington from the north. They confuse one city with another and you don't know when you cross from one to the other. In Bloomington you can see,
First Steak 'N' Shake
It dates back to 1934 and it was where Gus Belt founded the first restaurant in the chain that was based on the highest quality burgers and smoothies. Now there's a restaurant called Monical's Pizza.
Quinn Shell Station
This service station has operated for over 70 years. It has been part of the Illinois Route 66 Hall of Fame since 2012. It's closed today.
Lucca Grill
It began in 1936. It serves Italian food being famous for its crispy and thin pizza. The roof is entirely made of carved mahogany wood.

5. St Louis Missouri
Among the must-see cities you need to visit on Route 66 is St. Louis. It was founded by two Frenchmen in the mid-18th century and at the end of the same century changed hands, first passing into Spanish hands and later in the early nineteenth century became part of the United States. It was one of the starting points of the explorers who went to the American West during the 19th century.
You can cross St Louis by three bridges and depending on the bridge you can cross you can see some things or others. The three bridges you can cross are:
McKinley Bridge.
New Chain of Rocks Bridge (the new not the old one).
McArthur Bridge.
You can also see the EADS bridge, it is named after its builder and is the oldest steel bridge and the first to be built with cantilevered beams in 1874.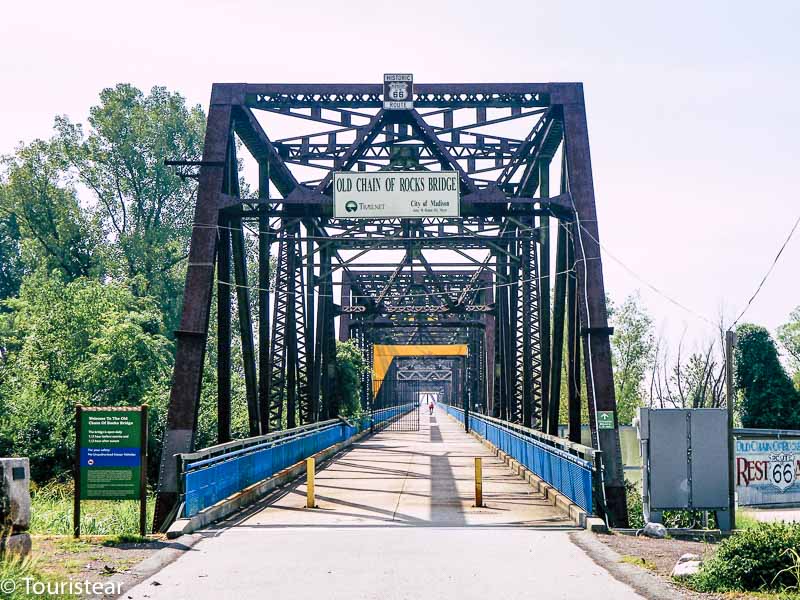 In St Louis I recommend you visit:
The Gateway Arch
It is an arch made of stainless steel 190 meters high. It is the tallest monument in America made by man. Tickets can be purchased to access the interior of the arch and the top from where there is a viewpoint with stunning views. The arc represents the expansion of the United States. The entrance gives access to exhibitions about America's westward expansion.
Jefferson National Expansion Memorial
It is a 37-hectare park where you will find The Gateway Arch, the West Expansion Museum and a former Federal Courthouse. You'll get an idea of what Lewis & Clark did on their famous expedition to west and you can also board a 19th-century boat for a short tour of the Mississippi.
Check out the full stretch of Bloomington to St Louis from Route 66
6. Cuba Missouri
Named in honor to the island. This city was founded in 1857, most of its inhabitants were engaged in mining or were farmers. At the beginning of the twentieth century it was known as "The Land of the Big Red Apple". In 1931 Route 66 arrived and more business grew.
You can not drive on Route 66 and not admire the Murals of Cuba, this city are plenty murals well preserved and restored. They're a Route 66 classic, such as the Missouri Chamber and Senate have named it "Route 66 Mural City." Highly recommended to take a walk around the city to see them.
7. Lebanon Missouri
Lebanon is the largest town between Rolla and Springfield, Missouri. It became an important stop on Route 66. Different services were created for travelers, such as motels, shops, gas stations, restaurants, etc. Springfield
Munger Moss Motel
The Munger Moss Motel, a classic on the road with a good collection of toy truck. The Munger Moss was a sandwich shop and first opened at Devil's Elbow around 1940 and moved to Lebanon in 1946 with the modification of the highway. Taking advantage of the transfer they turned it into a Motel and was acquired in 1971 by Bob and Ramona Lehman, well known for their defense and promotion of Route 66.
Route 66 Museum
Opened in 2004, you can see scenarios of the life of the old businesses of Route 66, such as a Texaco service station, a hotel room from the 20s and 30s or a typical bar with its painted cook, which gives the impression that is looking at you from the kitchen.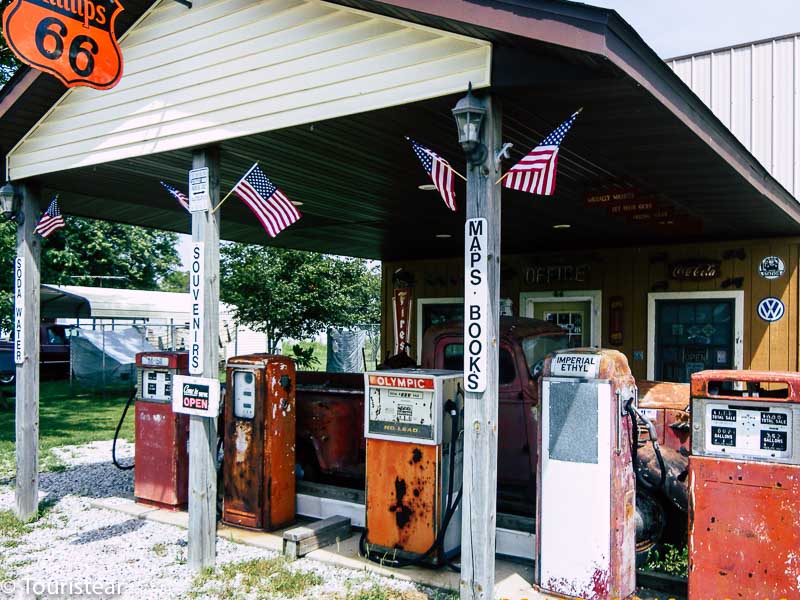 8. Springfield Missouri
Springfield is the largest city in southern Missouri although it may not be perceived because they are low houses, however they extend over a very large surface area. On Saint Louis Street to the east of the center you can feel the atmosphere of Route 66, in the facades and decoration. Watch out, because the speed limit is 20 miles per hour!
Here's the detailed post with the stretch of Route 66 from St Louis to Springfield.
9. Carthage Missouri
Carthage is a typical city of Route 66, and retains many of the places that at the time made this route what it was. Carthage is a city that has seen everything, had Indian settlement, suffered from civil war and enjoyed prosperity thanks to the discovery of minerals and mines in the area.
In Cathage I recommend you see:
The 66 Drive-In Theater
It's another one of those typical American movie theaters where you watch the movie in the car. It was built in 1949 and reopened in 1998. They've been using it as a junkyard. It is the last of the six Drive-In theaters to open with Route 66. It is still operational on weekends from April to September.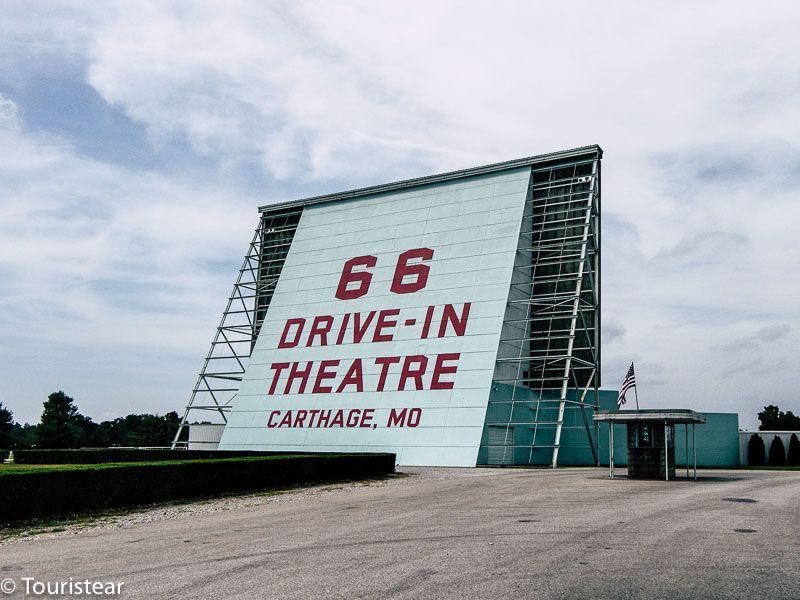 Boots motel
He was famous for serving breakfast at any time of the day. He underwent quite a few changes of ownership and nearly disappeared. It was reopened in 2012 and is being gradually restored by the two sisters who bought it Debye Harvey and Priscilla Bledsaw, great dyings of Route 66.
10. Joplin Missouri
Joplin is the last or first city you visit from the State of Missouri. It was founded at the same time as Carthage and for a long period these two populations had certain rivalries. Joplin has many things to do and is very well preserved. It is highly recommended go through the Main St of this city and drink a coffee. You can also admire the Thomas Hart Benton Mural or go to one of Bonnie & Clyde's hideouts.
11.Vinita Oklahoma
Vinita is Oklahoma's second oldest city. When the separation of the Cherokee people was caused and it took place on the path of tears that was the migration and separation of the Cherokee people from their lands they had occupied for centuries, one of the towns who lived this drama was Vinita. In Vinita you have many places to see, but stand out,
Hotel Vinita
It's on the National Register of Historic Places. It was built in 1930 and is on Route 66 itself, in the center of Vinita.
McDougal Filling Station
It is registered on the National Register of Historic Places. It is a house-type service station built in 1940 on Route 66.
Clanton's Café
It is the oldest restaurant on Route 66 in Oklahoma and still operating.
12.Catoosa Oklahoma
Catoosa is known only for an attraction, "The Blue Whale", is a blue whale that was in a pond and was part of a small water park. It's an icon of Route 66. However, there are many other things to see in this small town. Don't miss it.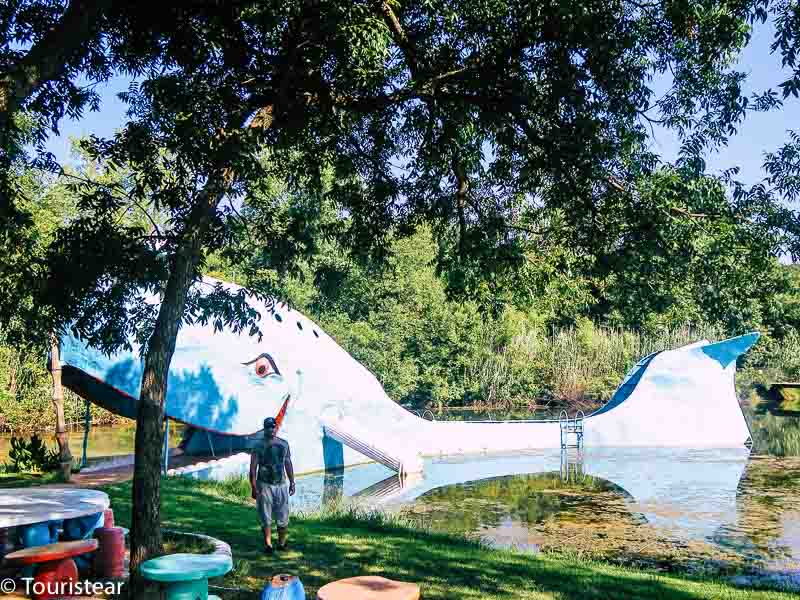 13. Tulsa Oklahoma
In the city of Tulsa was born Cyrus Avery who was the one who conceived the creation of this route, they call it "The Father of the Route 66". Today, it has more than 400,000 inhabitants. It is a city where you can find native American heritage, the days of the oil boom and of course icons of Route 66. In Tulsa you have a lot to see and list everything here is impossible, I recommend you see,
The Blue Dome
It's a Gulf gas station that was built in 1926, it was also a car workshop
Center of the Universe
The access is pedestrian and is a classic stop for tourists and one of the "mystery points" of Route 66. What is especially important are the acoustic properties of the environment. There's a point you stand on, and you speak in a normal tone, not too high, and you'll hear like the echo of your voice comes back to you with much more strength and volume than you spoke to, besides the one outside the circle hears nothing, only you hear it.
Downtown Tulsa
It is Art Deco style and worth a quiet walk through it. You can see many buildings that correspond to the beginning of the twentieth century. It is perfectly appreciated how Route 66 has influenced the development of this city and the businesses that were located on the route, today 11th Street.
Check out the detailed stretch of Route 66 from Springfield to Bristow.
14. Oklahoma City Oklahoma
Oklahoma City is the capital of the State of Oklahoma. It is a city with a lot of history and that has also been able to respect the old neighborhoods and architecture. Give it some time to get to know it. In Oklahoma city you can see,
Ann's Chicken Fry House Restaurant
It began life in 1948 as a "Cities Service" service station and in 1966 changed business and transformed into a restaurant called "Three Bulls Steak House". In 1971 his brother joined the business and they changed his name. The way to choose it was curious, they put many names in a hat including of their wives and Ann's came out. It's a must stop for Travelers on Route 66 even if you're not hungry. (Closes on Sundays).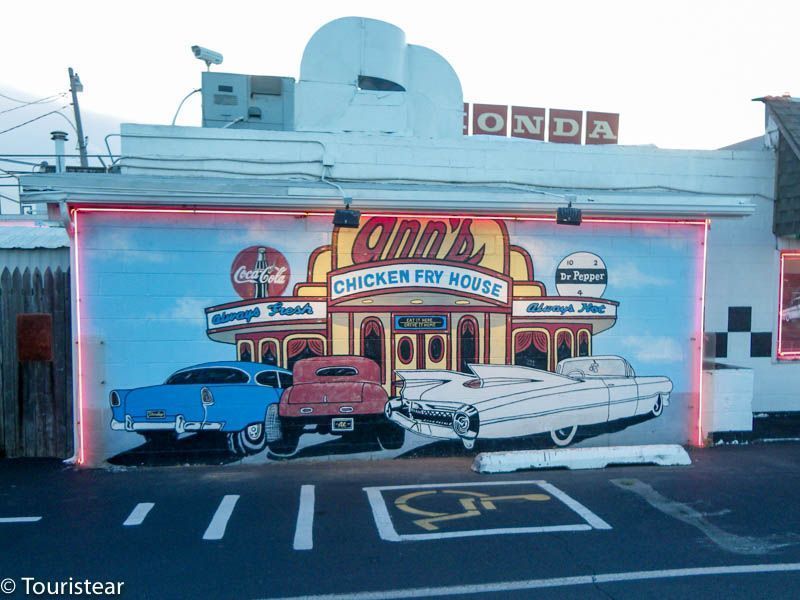 Milk Bottle
On Classen Avenue you can see the famous bottle of milk. It's a triangular building that's got a giant milk bottle on it. Many businesses have passed through this place but the bottle of milk there goes on, sometimes of one color and sometimes of another (they paint it from time to time).
15. Clinton Oklahoma
Clinton is a town where you have to stop and dedicate a little time to it. It was founded in 1903 and is still a thriving town.
Oklahoma Museum of Route 66
Here you can see some history of Route 66 in the different periods of history, it is told decade by decade, neon posters of old motels, rooms with classic cars, in some you can get on and take a photo!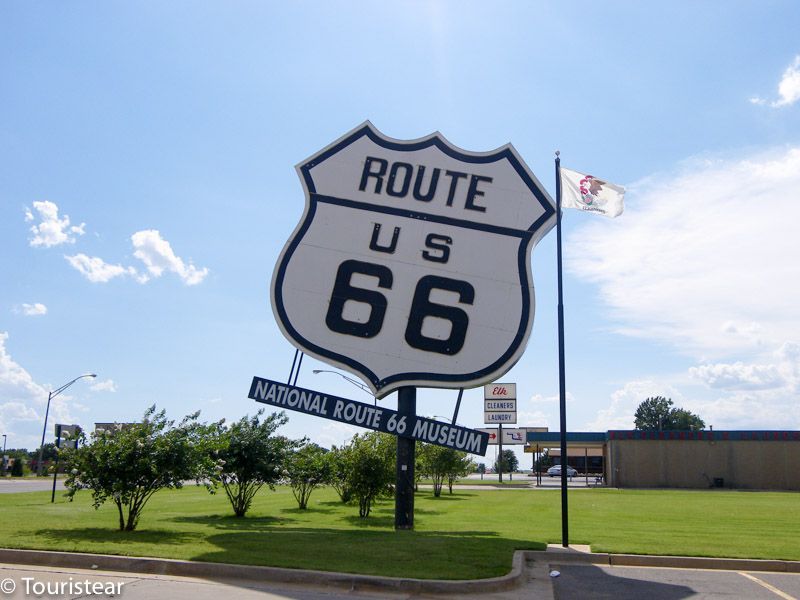 16. Shamrock Texas
Shamrock owes its name to an Irish immigrant, who in 1890 opened a post office a few miles from where the village is today. Its biggest celebration of the year is St. Patrick, so if you're on March 17th around, you can enjoy this day together with its inhabitants.
When you visit Shamrock, walk along Main St. There you'll find typical, historic and classic Buildings of Route 66, some of which are,
Conoco Tower Station. U Drop Inn and U Drop Café
It is very typical and a classic of Route 66. Used to be called Nunn's Café, you'll see some reference. That's how it was known then, since John Nunn was his first owner. It was Shamrock's first business on Route 66.
Magnolia gas station
It is a restored service station. The Magnolia Petroleum Company was established in 1911. In 1925 it was absorbed by Standard Oil and in 1959 it became Mobil. In fact, Mobil's current logo is Magnolia's Shattered Glue.
17. Amarillo Texas
Amarillo is the largest city you'll find between Oklahoma City and Albuquerque.
The city was first named "Oneida", but soon changed to Amarillo, the Spanish word, which referred to the color of the land (yellow) on the benches near Amarillo Creek and the abundant yellow wildflowers during the spring and summer. Needless to say, the name was given by Spanish-speaking explorers. Logically the pronunciation in Spanish has been lost.
Although there are quite a few places to see, here stand out two, which are also an absolute classic of Route 66,
Big Texan Steak Ranch
Before entering Amarillo is the Big Texan Steak Ranch. This restaurant is famous all over America because everything is huge. The most famous is the 72 Ounce Steak and the restaurant bets with you that if you order a 72-ounce Steak with all its accompaniment and you finish it, you don't pay it, otherwise it's 72 bucks, at least when I was I was 72, now maybe it is more, I am not sure. Needless to say, finishing it is almost impossible. See if it became famous, it's even got an episode on the Simpsons.
He used to be on Route 66, but was moved when the interstate arrived.
Cadillac Ranch
Leaving Amarillo this Cadillac Ranch is a work of urban art which was commissioned by local representative Stanley Marsh to a group of artists who called themselves "the Ant Farm". This group was founded by two architects in the 1960s and involved numerous artists.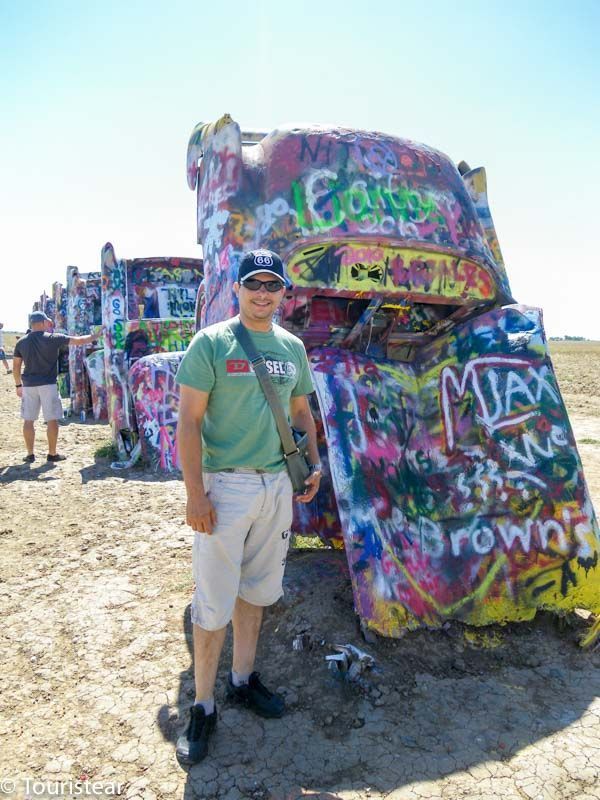 Cadillac Ranch consists of 10 cadillacs partially buried in the ground at an angle pointing their trunks towards the sky. The tradition is to go with a spray can and do a graffiti on the cars. Don't worry, it's part of the art work.
Periodically repaint them in base color so that they can be re-graffiti. Its current location is not the original as it was moved when Route 66 was removed from its original route. Some authors say it was never on Route 66, but it is a must stop for all travelers who drive on Route 66.
Here's the full stretch from Clinton to Amarillo on Route 66.
18. Santa Fe New Mexico
Santa Fe was founded in 1607 and is the second oldest city founded by Europeans in the United States, first there is St. Augustine, Florida, founded in 1565. Santa Fe was the capital of the Kingdom of New Mexico and its full name was "La Villa Real de la Santa Fe de San Francisco de Asís": The Royal Town of the Santa Fe of San Francisco de Asis. Because of this it is surely that here is the church of San Miguel, which is the oldest in the United States, built between 1610 and 1612.
Santa Fe is a beautiful city and you will also see many reminiscences of its Spanish past. This city is to travel calmly and without rush, otherwise you will miss details. Don't get lost,
The Plaza
It's been the center of the city for 400 years. It is surrounded by the Old Santa Fe trail, Washington and Lincoln Ave and San Francisco St.
Governor's Palace
It is an adobe building that has been the governor's palace since 1610. It's in the central square. It is the oldest public building in the United States that has remained occupied. From 1909 to 2009 it was the museum of New Mexico.
Turquoise Trail
Turquoise Trail is a beautiful road that joins Santa Fe and Albuquerque. It is considered by the U.S. government as a National Scenic Byway. Or what is the same, a tour with great views or very interesting points to see.
It is a tour with a lot of history, where you will go back in time and you will see unique villages, also has many attractions, recreational activities, a good gastronomic offer, museums, among others. There's room for everyone.
19. Albuquerque New Mexico
It is the largest city in New Mexico. As a recommendation, spend some time, you can have a drink in one of its cafes or restaurants, and see some of the murals in the city. The buildings have a very particular style, the Spanish colonial with fusion of the native Indians, of which they are proud.
Like any urban stretch of Route 66, it was full of roadside motels with their classic neon lights and their typical car parks for travelers' cars, which shared roadside with car workshops, cafes and restaurants. Buildings and businesses have seen the evolution of the route from the 30s to the 70s. At the end of 1955, Central Avenue or Central Ave. Had over 100 motels and in summer it was hard to find a room available!
Central Avenue
Formerly Main St or Route 66. It came to have more than 100 motels running in 1957 which was its best time. If you can walk at night, you can see the neons running on.
Old Jones Motor Company
It was one of the most modern businesses of the time (1939). It included a full-service station, with all services, in 1957 it changed places. In 1993 it was designated as a historic building and in 1999 it was bought by a couple who liked the building and turned it into what we now know as Kellys Brewery. It's a must stop
20. Gallup New Mexico
Gallup is the capital of the Indians of America and is famous for its neons on either side of the road. You have plenty of dining options, such as the Gallup Inn, El Rancho Motel or Ranch Kitchen. In Gallup you will also be able to find Indian crafts of all kinds.
21. Holbrook New Mexico
Holbrook having Painted Desert, Petrified Forest and the Indian Reservation very close by. With the arrival of Route 66 became a very touristy site. Which led to a lot of business being created to cater to tourists. We're in the middle of what's called the Wild West. Here the tradition of cowboy is a classic and you are surrounded by Indian reservations. I'd advise you not to miss these places
Wigwam Hotel
Holbrook is well known for its motel with Tipis, that is, as the tents of typical Indians. It must be one of Holbrook's most photographed sites. However, if you want to sleep here, you will have to book at least two weeks in advance.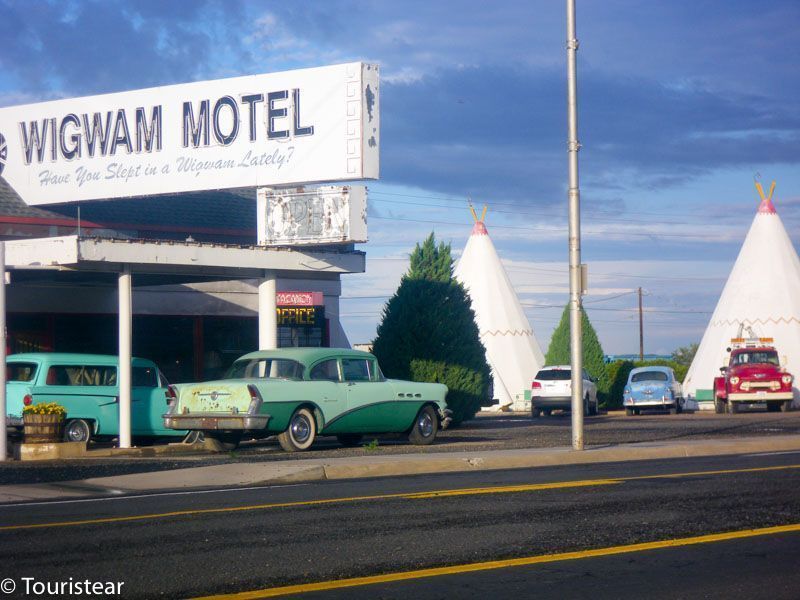 Geronimo Trading Post
If you want some different memories of Route 66 this is your site, it has all kinds of souvenirs for you to bring to your home. He's leaving Holbrook, direction west, about 15 miles away.
22. Flagstaff New Mexico
Also known as the City of 7 Wonders because it is in the middle of Coconino National Forest and is surrounded by the Grand Canyon, Oak Creek Canyon, Walnut Canyon, Wupatki National Monument, Sunset Crater National Monument, and the peaks of San Francisco.
Founded in 1876, it began its history with the arrival of the railroad in 1881 and northern Arizona University in 1899. Tourism became an industry in Flagstaff in the early twentieth century and with the arrival of Route 66 and its proximity to the Grand Canyon.
From here you can make excursions to go to the Grand Canyon of Colorado, if you have not passed before or have no intention of going to Las Vegas, it is a good point to go.
Museum Club
It is a must for travelers on Route 66. Built in 1931 as a taxidermist museum, in 1936, its owner died and became a nightclub. Today it is a place to have a drink and enjoy live music, it is a place with a lot of charm and that you should not miss.
23. Oatman New Mexico
Oatman is a mining town that has been preserved as is since the times of the American West. It's a rather curious little town, where donkeys roam the street without problems, you'll see many and they'll come up to you to feed them something.
You have to keep an eye on what time you arrive at Oatman, because from three o'clock in the afternoon everything is closed.
In Oatman you're going to find people who emulate characters from the American West and even fictional shootings, and a saloon that's wallpapered with American dollar bills.
Read the full post we've dedicated to Oatman.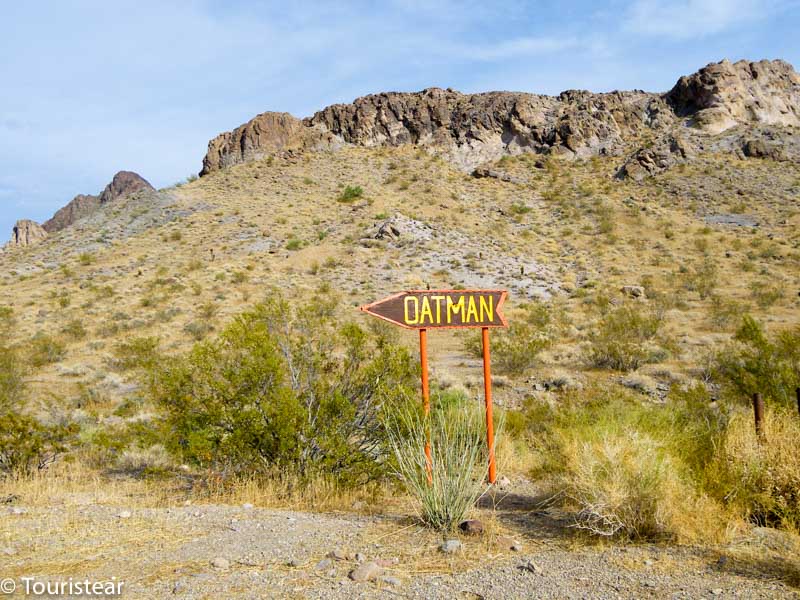 24. Amboy california
Amboy is located in the Mojave Desert. It is known by the Roy's Café sign. In his good times Amboy had an airport, a church and a car workshop. But they're not up and running anymore.
The town became a ghost town many years ago, in 2003 its population was 7 people and that same year they put the village of Amboy on sale on Ebay for $1.9 million. It was not sold, the highest offer was less than $1 million.
Take a look at the stretch of Amboy to Los Angeles.
Roy's Motel & Café
It is one of the most photographed attractions on Route 66 of this stretch through California.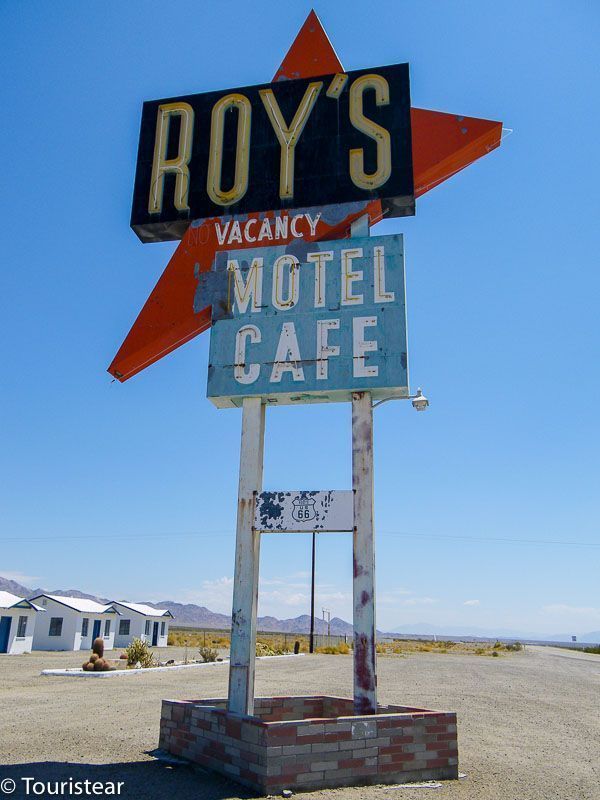 25. Los Angeles
Beginning or end of Route 66, as you have thought about it. As I always say, Los Angeles is a city one should know, though I wouldn't expect too much from it. There are cities with much more charm in the United States than Los Angeles. In this article I tell you in detail what to see in Los Angeles.
Travel on Route 66 and the United States with travel insurance
We travel insured with Mondo, and have been given a 5 discount for our readers. It's personalized travel insurance, where you only pay for what you need. It's great!

Pin this image on your
Pinterest

!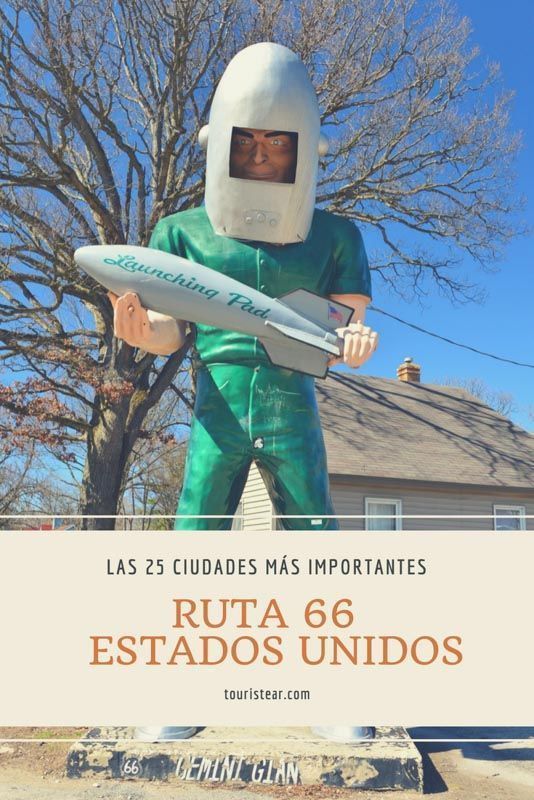 We are not native English speakers but we have decided to translate our post to English so we can share it with the whole world. If you see any spelling mistake or something, please let us know, it is so important to us. If you do so, we can improve our post and also our English knowledge! Thanks in advance!!!
Book Your Trip
Book Your Flight
Find a cheap flight by using Skyscanner.
Book Your Accommodation
You can book your hostel, hotel or apartments on Booking.com.
Don't Forget Travel Insurance
Travel insurance will protect you against illness, injury, theft, and cancellations. It's your protection in case anything goes wrong. You never go on a trip without it.
Best companies for activities
Check out Civitatis.com and find the best tours in English (French, Spanish and Italian)
Looking for the best companies to save money with?
Check out my resource page for the best companies to use when you travel! I list all the ones I use to save money when I travel – and I think will help you too! (Is in Spanish yet)
Some of the links in this article include affiliate links. This means that if you make the purchase of a product listed here following this link I will receive a commission, the use of this link does not increase the price and helps me to create new content for your travels.