Best Things to Do in Santa Rosa, New Mexico
Santa Rosa is a small town of about 3,000 inhabitants. It is located near the central point of Route 66, and its charm is, precisely, to have the traditional style of the old Mother of Highways.
This article tells you what to see in Santa Rosa and its surroundings.
Route 66 Auto Museum
As soon as you leave town, along the stretch of old Route 66, now occupied by Route 40, you'll find the Route 66 Auto Museum.
It is humbly described as the best car collection in the world…maybe not the best in the world, but definitely one of the places to see in Santa Rosa and a great attraction for car lovers.
It has more than 30 custom and classic cars on display, plus motorcycles, posters, and everything associated with the traditional images of the Mother of Highways.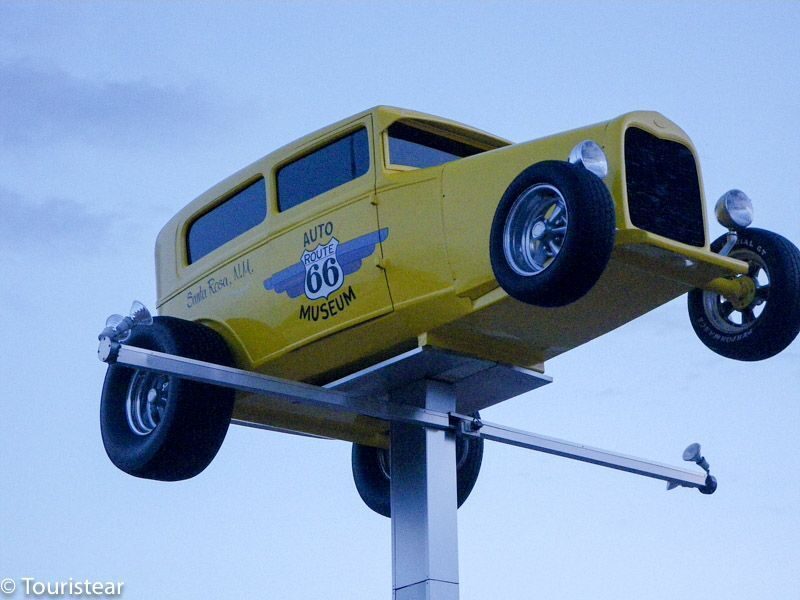 In addition, they usually hold special events and have temporary exhibits. Friday night shows are often held at the Downtown Gazebo Park.
It also has a restaurant and a shop where you can buy many Route 66 souvenirs.
Old Route 66 Signs and Neons
The aesthetics of the signs and neon are a typical hallmark of Route 66. And in the stretch from Santa Rosa to Tucumcari, you will see several of the most memorable ones.
Some of the ones you can mark on your map are The Blue Swallow Motel, the famous Route 66 Restaurant, and the Cactus RV Park.
You can also stay at this motel, one of the most famous on Route 66.
In Santa Rosa, you will also find the Club Cafe sign.
And if you are traveling in the direction of Texas, when you reach Adrian, just before Vega, you will find the Midpoint, the sign announcing that you are in the middle of Route 66.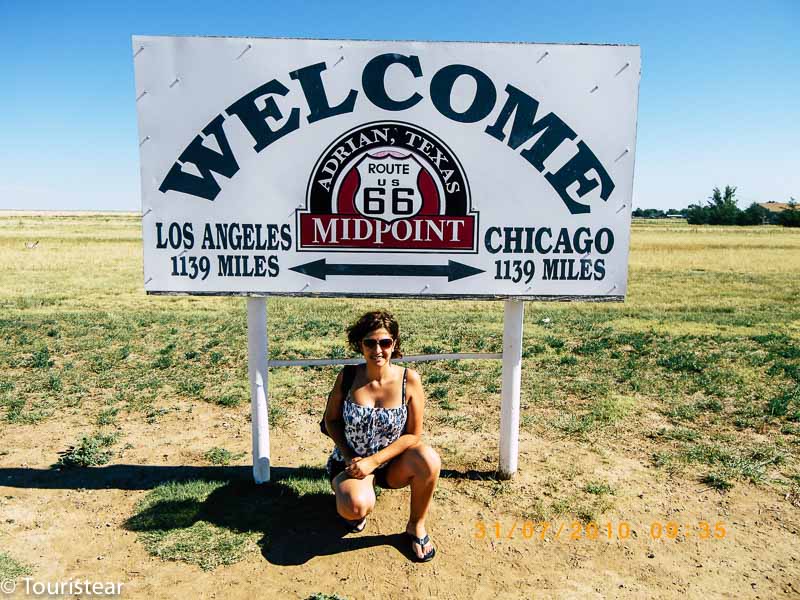 Joseph's Bar & Grill
With a typical New Mexican aesthetic and a kitchen that's just crazy, Joseph's Bar & Grill is one of the places to see in Santa Rosa.
For 60 years, they have specialized in Mexican food. You can taste the best burritos, fajitas and margarines of the historic Route 66.
In addition, they have burgers, fried chicken, pizzas, and, of course, beers.
Here you can also browse their gift store and find the Route 66 souvenir of your choice.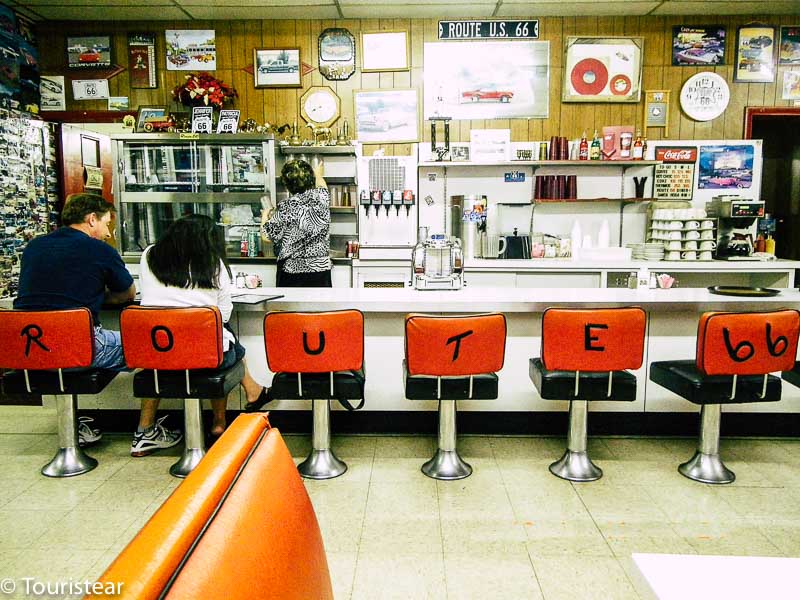 Comet II Drive-In
Comet II Drive-In is the other Santa Rosa restaurant that still maintains the classic Route 66 ambiance.
It was founded in 1927, and since that time has offered the option of eating in or taking food away. Of course, if you are on a road trip along the historic Route 66, it is ideal to stop here and feel that time has not passed.
Comet II Drive-In did not want to be tempted to become a tourist photo op. If people keep going, it's because of the delicious food.
It is a typical New Mexican menu, which mixes recipes from Mexican and North American cultures.
Some of the recommended dishes to try to include Chile Rellenos, Chile Verde, Chimichangas, and the classic fried chicken. Don't forget to order salsa to accompany your meal, a real treat.
Bless Me Ultima Park
Bless Me Ultima is a novel by Rudolfo Anaya published in 1972 and became a classic of Chicano literature.
It is studied in colleges and universities that adopt multicultural classes, allowing them to understand what Mexican culture was like in New Mexico during the 1940s.
Within Park Lake is an area dedicated to Rudolfo Anaya, one of San Rosa, NM's most illustrious neighbors. It was a gesture of the city towards him since thanks to the novel Santa Rosa he gained some public notoriety.
The park addresses some of Bless Me Ultima's themes while showcasing the town's beauty.
Park Lake is open year-round, but from Memorial Day through Labor Day you can do many more activities, such as swimming, water slides and boating.
It is also the place where Santa Rosa residents celebrate the most important days of the year, such as the 4th of July and Memorial Day.
Car shows and other events are held during the summer.
Historic Guadalupe County Courthouse
It is the building of the old Santa Rosa Court, erected in 1909. It is a two-story building made of red sandstone that was added to the list of Historic Places in 1987.
It was built in a very particular style, known as Richardsonian Romanesque.
This is because it was introduced by the American architect Henry Hobson Richardson and was based on the Romanesque style that predominated during the 11th and 12th centuries in southern France, Spain and Italy.
It was only used as a courthouse for a few years; then, it deteriorated over time. The former courthouse was converted into a senior center and is now the Guadalupe County Youth Drop-In Center.
In addition to its current uses, it is a popular stop when touring Santa Rosa to admire the architecture.
Historic Puerto de Luna
Puerto de Luna was where the settlement that would later become Santa Rosa was established in 1848.
It is located 16 kilometers from Santa Rosa and has only about 150 inhabitants.
The growth that Puerto de Luna was experiencing was truncated because the railroad passed near Santa Rosa, so people began to leave the town and move to Santa Rosa, looking for new opportunities, and so did the municipality and the court.
It's not a ghost town, but taking a tour here is pretty much like walking in one.
Among the most interesting buildings are the old Guadalupe County Courthouse, an old gas station, and several abandoned houses built with adobe and the characteristic architecture of the southern state.
To get there from Santa Rosa, you have to take New Mexico State Road 91.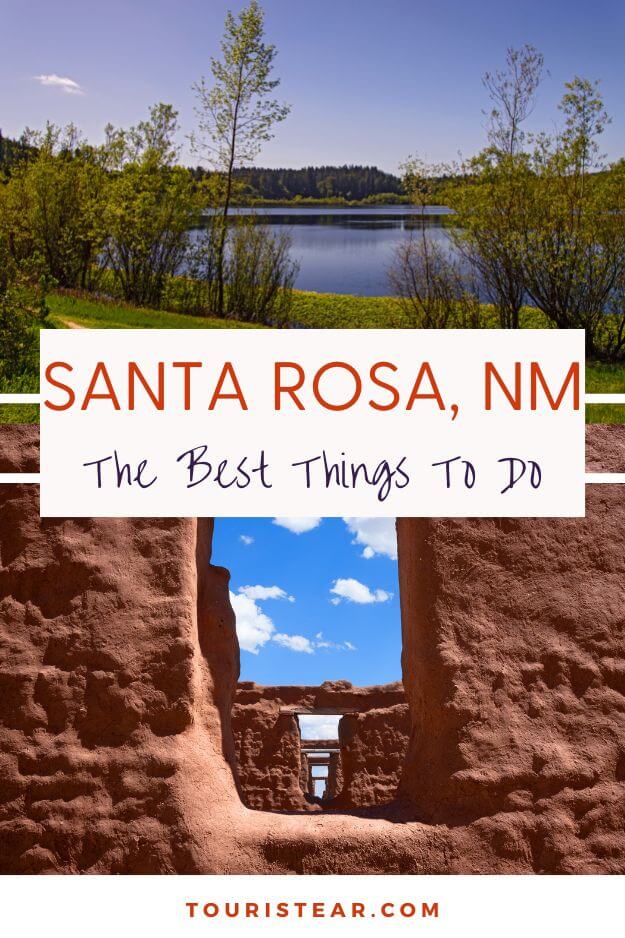 Pecos River Bridge
It is the tallest highway bridge in Texas, at 83 meters high.
The main attraction here is the overlook at the northeast end of the bridge, which offers excellent views of the Pecos River canyon.
A few miles away is also the Pecos River High Bridge, which was built in 1944, in the middle of World War II, when there was a rationing of materials, so they had to ask for authorization to use all the steel required for the bridge.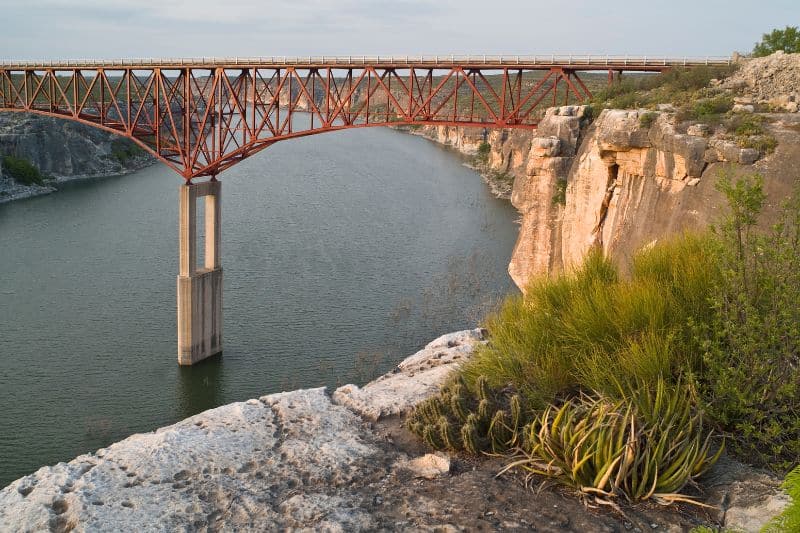 Trail of the Forty-Niners
In 1849 more than 100,000 people traveled to California thanks to the gold rush. Making the trip back then was not easy.
Doing it overland meant crossing unknown lands, which in many sections were dominated by Native Americans, which indicated potential danger. In addition, the mountain passes on the California border had to be crossed.
The journey was so complex that many preferred to take a ship to Panama via the Atlantic, cross the country on horseback and then take another boat to head north again via the Pacific.
The Trail of the Forty Niners was one of the most popular trails to make the overland journey.
If Route 66 is historic, this alternative and the parallel road are even more historic.
Driving from Arkansas to New Mexico on I-40, at mile marker 252, you will find the commemorative plaque.
Next to the plaque, there is a resting place and a store to buy souvenirs and something to eat.
Blue Hole of Santa Rosa
Blue Hole is one of the best places to see in Santa Rosa. It is incredible to see this blue water mirror in the middle of the desert.
This lake is one of seven sister lakes connected underground by a vast water system; a geological phenomenon called the Santa Rosa Sinkhole formed more than 20,000 years ago.
Its water is so incredibly clear that it is used for diving. It is so crystalline because the lake's water is completely renewed every 6 hours by the system that flows underneath.
However, it is quite cold for swimming, as it is always at 16°.
If you want to dive, you can rent all the equipment at the Dive Center next to the Blue Hole.
Santa Rosa Water Park
I had already told you about Park Lake, but I missed telling you a few things. It is one of the great destinations if you are doing a Route 66 road trip with your family, and you have to put it on your list of what to see in Santa Rosa.
It is the best place for outdoor activities near Santa Rosa and has fun for different ages. While the goal is for everyone to have fun, they also emphasize safety, so there are lifeguards and life jackets for everyone who gets in the water.
In Water Park, there is a kind of giant inflatable castle with climbing walls, lots of slides, different obstacles, and games for everyone to have fun.
And adults can rent pedal boats and ride around the huge lake until they get tired. Or if you prefer, you can paddle or canoe.
There is also a picnic area at Park Lake.
Admission is 10 USD and also includes entrance to the Blue Hole.
Santa Rosa Lake State Park
Santa Rosa Lake is an artificial lake formed by the Santa Rosa Dam. And Santa Rosa Lake State Park is one of the best places to appreciate the desert scenery.
Several trails can be hiked or ridden on horseback. Visitors can hike through the desert landscape and grassland plains to view the flora and abundant wildlife.
The trails are well-marked, making it easy to reach points of interest, including incredible lake views and other natural scenery.
In the park, you can also fish from the shore, or if you prefer, you can rent a boat. The lake has bass, catfish, perch, and other species.
It is one of the favorite places to spend the night near Santa Rosa, thanks to its view of the lake and the clarity of the night sky.
The campsite is complete and has all the services you may need. It has a bathroom with a shower, potable water, and electricity.
Fort Sumner
This site pays tribute to the Navajo and Mescalero Apache, who suffered incredible hardship during their incarceration at Fort Sumner between 1863 and 1868.
The experience includes museums, exhibits, audio guides, and walking trails.
A place to learn about the history of these natives and to be moved by their tragic story.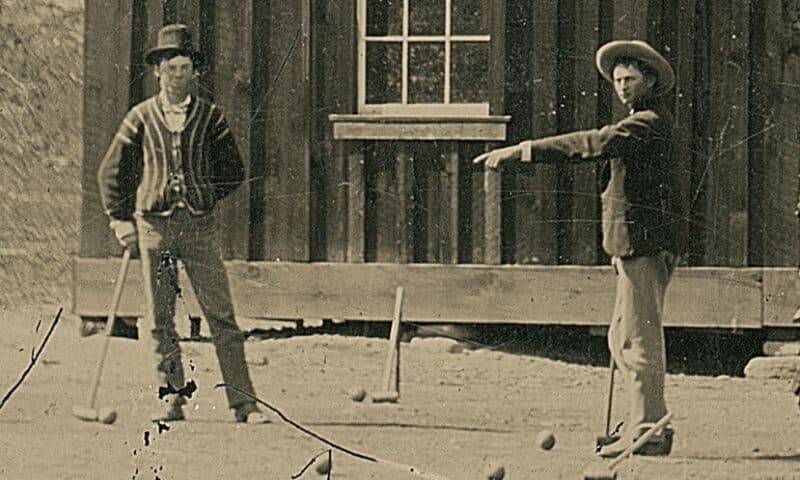 Billy the Kid Museum
Who hasn't heard of Billy, the Kid? If you are interested in its history, this museum is the best place to learn about it.
But there is much more, as the museum houses 60,000 historical items that show what life was like in the Wild West from the early 1800s to the early 1900s.
Is Santa Rosa, NM, Worth a Visit?
Although small, the town and its surroundings have many places of interest.
We visited Santa Rosa as part of our Route 66 road trip, and we think it was well worth it.
We loved the classic Route 66 aesthetics, the restaurants, and the view of the scenery, so we recommend that anyone traveling Route 66 not pass this point by and take advantage of all there is to see in Santa Rosa.
Plan Your Trip to New Mexico and Old Route 66
Book Your Trip
Book Your Flight
Find a cheap flight by using Skyscanner.
Book Your Accommodation
You can book your hostel, hotel, or apartments on Booking.com.
Don'torget Travel Insurance.
Travel insurance will protect you against illness, injury, theft, and cancellations. It's your protection in case anything goes wrong. You never go on a trip without it.
Best companies for Tours
Check out Civitatis.com and find the best tours in English (French, Spanish and Italian)
Are you looking for the best companies to save money with?
Check out my resource page for the best companies to use when you travel! I list all the ones I use to save money when I travel – and I think I will help you too! (Is in Spanish yet)
Disclosure: Some of the links on this post are affiliate links, meaning at no additional cost to you, I may earn a small commission if you click through and make a purchase.
Last Updated on 16 May, 2023 by Veronica