Route 66. Planning and Budget
Hi everyone! This is the beginning of a post series about Route 66. It's a pleasure to tell you all about one of the best trips and routes we've ever done. First of all, let me tell you I'm not a native English speaker. You'll probably find spelling or grammar mistakes; if so, please let me know, so that I can improve the post and also myself!
Also, if you live in the USA, some of the tips I offer here won't be entirely useful to you. Anyway, I'm sure some of the info will be interesting.
Planning Route 66
This first post will be dedicated to Day 0, which means planning our trip down Route 66.
When you want to make a trip like this, it's essential to do very good planning beforehand. With good planning we will know which section of the route we are going to drive each day, where the interesting places or landmarks worth being seen are, where to stop, where to eat, and where to sleep.
It's not a matter of having everything absolutely planned, because we have to leave room for improvisation, but to at least have the basics clear. When we did our Route 66 planning, we didn't have a good source of information to get advice from; therefore, we made mistakes.
With this blog post we have tried as much as possible to minimize those mistakes, so you won't make the same errors we did. But, as always in a trip, something will happen… If so, try to enjoy that moment and don't let it spoil the trip!
Route 66, "Main Street of America"
Route 66, also known as "Main Street of America" or "The Mother Road," is about 4000 kilometers long. It is the road that joins Chicago and Los Angeles. It became very famous because it was the route followed by immigrants that were traveling to the West to seek their fortune and a better life, especially during the Great Depression of the 1930s.
So, in theory, the official Route 66 stretches from Chicago to Los Angeles, but we did it backwards, from Los Angeles to Chicago.
Officially it no longer exists and it hasn't been considered Route 66 since the mid-'80s. Today it is designated as a historic route, and there are parts of the route that remain intact, while others are part of the interstate highways or have disappeared altogether.
Why we decided to travel the route backwards? Because we had a flight to Las Vegas for a darts championship. Then we toured the West Coast and in Los Angeles we started route 66 to Chicago, then continued to Niagara Falls and ended up in New York (It was a month long trip).
Therefore, we begin at Los Angeles and we finish at Chicago. We we will spend 15 days going through this beautiful route that will allow us to see and know a good part of the U.S. (Although we will visit only eight states, so we will have 42 remaining!) Well, I'll stop the chatter and get into the subject that is the target of this post.
Day 0, planning the Route 66
The first thing to know is when to drive the route
The logical thing is to do it in the summer, late spring, or early fall. This is for two main reasons: first, the weather, because the winters are hard in a continental climate like the one you're going to go through, and second, because of the hours of daylight. In the winter you'll miss seeing many things just because there's no natural light!.
One bad point with these dates is that there are storms, which can often be very strong. Luckily, we were got caught in a storm on only one day. If you are caught in one, unfortunately on that day you'll have to take it easy and be careful.
The second and most important thing on Route 66
Is to outline very clearly which part of the route you are going to tour each day and, therefore, where are you going to sleep, and at least a couple of choices of where are you going to eat. In addition, you have to know what you want to see during the day, or at least what you don't want to miss.
It's important to consider this, because many of the places you'll want to see have a schedule; usually, they close at five o'clock p.m., sometimes even earlier, so you have to get there at least before three o'clock.
Also, keep in mind that if you have any part of the route scheduled for after those hours, it has to be a section that has nothing of interest to stop in at that may be closed.
On the other hand, if it is a natural resource or a landscape, it's important not to run out of natural light; hence, you'll need to arrive before eight p.m.
The third decision to make was whether to go by car or by Harley
I'm biker. I have had a motorcycle for many years, of all kinds; however, no doubt, we wanted to do this by car.
Seeing Route 66 on a Harley is very romantic and everything, but 15 days with luggage, in the summer, with extreme heat, some storms from time to time, and for some of you in a foreign country and on your own?
Choose a car, no doubt, and very important, it has to have a decent trunk. If you are a group of three or four people, the cost gets lower and it's more comfortable. The decision is yours. This is just my opinion.
Once we have these three points clear, we can start planning our trip:
There are several chain hotels or motels that are nice for a night and are located throughout the United States, such as Travelodge, Motel 6 or Super 8. It's better to book it in advance being unable to find a place to sleep once you're already there can be an unpleasant situation.
Also, you can take advantage of offers that are only available online. Regarding the car, there are low-cost companies that allow you to rent a decent and cheap car; in our case, we did it with Dollar and the rental cost us around $1,000.
The expensive point was the fact that we were picking up the car in Los Angeles and returning it in Chicago just for that, it was $500. If you are U.S. citizen and you have your own car, you won't have to think about this.
ESTA application
If you're travelling to the U.S. from another country, please note that planning to do the route in 15 days, means you actually have 11 days on the route. You will need one day for the flight in, one day to prepare the start, 11 days for the route, one day to prepare the return, and one day for the flight back.
Once we've determined what days we're going to travel and what we're going to do, if you aren't a U.S. citizen, before you can buy the flight ticket you have to complete the ESTA application. It's mandatory and without it you can't enter the United States.
There are many websites that try to charge you extra cost for completing this application. Don't fall for it. The charge $14. Here you have the official link. If you've already done this before, remember that it is valid for two years. You can renew or complete a new one if it has expired.
Once you have the application completed and it's been accepted, you can arrange your flight.
There are many websites where you can arrange your flight. The best for check dates and prices is Skyscanner. The estimated cost of the return flights for one person from Madrid is $900. If you leave from another country or city, then you have to make your own calculations about the flight cost.
The sections you are going to do each day
The next point to consider are the sections you are going to do each day. What I leave you here is my proposal, but it is just that—a proposal to serve you as a starting point. Use it, judge it and modify it so it suits you and your plan.
I have taken into account an average of 196 miles per day of the route. I haven't accounted for any additional miles that you will have to travel in order to see any interesting places during a given section section of Route 66. I've planned for about three hours by car per day; note that the speed limit is between 55 and 65 miles per hour depending on the state, and respect it! I didn't, and I got a $300 fine.
If the police stop you, be respectful, keep your hands still on the steering wheel, and don't make a single strange movement inside the car. When they approach you, roll down the window carefully, give the police your car docs, and see what happens.
Another important thing is that you have to apply for an international driving license. You can get it without a problem and it will allow you to drive if you are not going to be more than three months in the country. Get it; this is not an option.
One last tip: GPS or mobile
Check with your telephone operator that you have internet in the USA. If not, buy a card there to have internet while you travel. Or if you prefer, you can take a GPS with the maps of the USA. We carry GPS, but smartphones are much better now and there are very good plans with the telephone companies.
If you have a GPS, buy maps of the U.S. It will be around $50, more or less. If you have a good quality smartphone, you can buy a GPS application and maps (so you do not use the data streaming), which will be more or less the same cost. It's truly a very good decision to make.
It comes in handy mostly when you want to get in or out of big cities like Los Angeles or Chicago where the traffic is crazy. Also, if the maps are good, they will come with built-in POIs where you can search for points of interest nearby and you'll get directions to take you there without any loss of time. It's a great solution to improvise and also really convenient for the big cities. Really, it was a success, but as I always say, do it your way. It's just my tip.
Well, that sums up my planning. At the end of the post you will find a post for each day of the journey, telling you what to see, where to stop, where to sleep, etc.
If you want us to help you organize your trip, just write us!
We are translating our blog, so you will probably find the links to the Spanish posts. We will be updating the links week by week.
"Travel is fatal to prejudice, bigotry, and narrow-mindedness." – Mark Twain
This post is part of Route 66 itinerary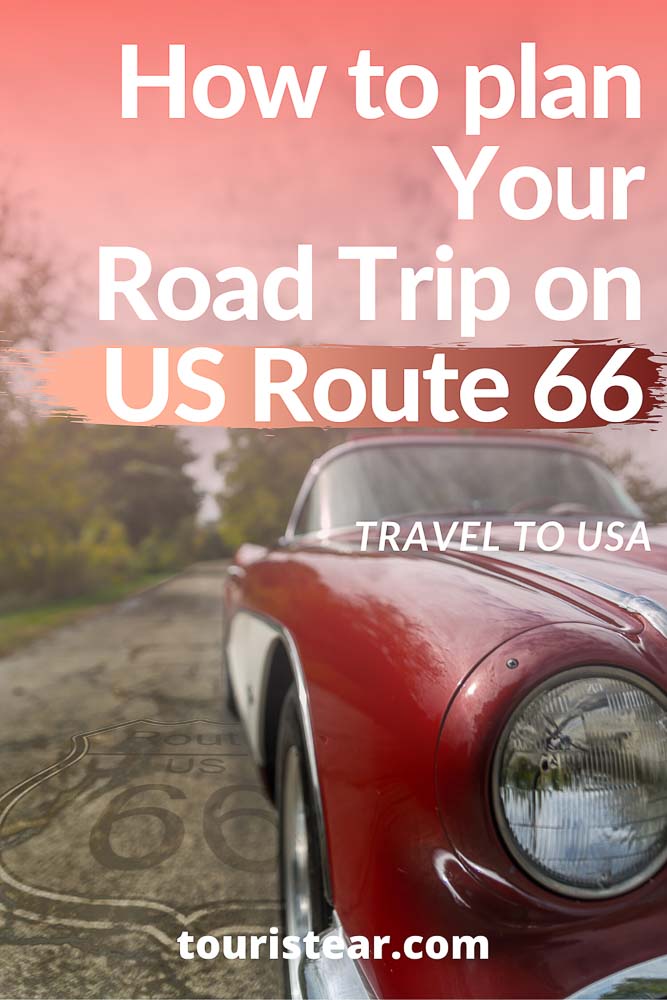 Initial Budget for Route 66. For two people
Flight: around 900 $ per person. 1800 $ (From Europe)
Accommodation: 15 Days x 50 $/Day= 750 $.
Car Rental: 1500 $.
Food. Restaurants. Etc: 600$.
Fuel: 450$.
Other expenses. Extras: 600$.
Total Initial Estimated: 5700 $. 2850 $/per person.
This budget to do Route 66 is an approximation and probably a little higher than what you'll really spend. The price of the flight tickets depends a lot on the dates you are going.
The price of accommodation depends on what you are seeking and also on the city. We slept in motels for almost the entire Route 66; some had a very good price ($30 per room). Chicago was the most expensive city.
The rental price of the car will depend a lot on what kind of vehicle you choose; it is cheaper to hire at American companies.
Regarding the food, eating in the USA can be cheap if you shop around. The meals are great and usually large portions.
When you finish Route 66, please come back and tell us your feelings and make us a bit jealous!
Book Your Trip
Book Your Flight
Find a cheap flight by using Skyscanner.
Book Your Accommodation
You can book your hostel, hotel or apartments on Booking.com.
Don't Forget Travel Insurance
Travel insurance will protect you against illness, injury, theft, and cancellations. It's your protection in case anything goes wrong. You never go on a trip without it.
Best companies for activities
Check out Civitatis.com and find the best tours in English (French, Spanish and Italian)
Looking for the best companies to save money with?
Check out my resource page for the best companies to use when you travel! I list all the ones I use to save money when I travel – and I think will help you too! (Is in Spanish yet)
We are not native English speakers but we have decided to translate our post to English so we can share it with the whole world. If you see any spelling mistake or something, please let us know, it is so important to us. If you do so, we can improve our post and also our English knowledge! Thanks in advance!!!
In this post you may find affiliate links. This means that if you make any purchases by clicking on one of them, I will take a small commission, but you are not increased by the price. Why are we doing this? Because it helps us to keep this project running and to continue creating useful content for your travels. Thank you so much for the support!