Route 66. Stretch from Holbrook AZ to Grants NM
This is the fifth day of Route 66. Today's section is relatively short; from Holbrook to Grants, about 157 miles, about 250 kilometers.
We started in Holbrook, if yesterday we gave time to everything, we do not have much to do already in this city, and therefore it is our turn to have a good breakfast to start the day well.
You don't lack places, although you can have a great breakfast at The Wigwam Hotel.
If you couldn't visit the Geronimo Trading Post the day before, it is a good time to do it today in the morning and buy a souvenir or take a photo. It is a classic of the route.
If not, you can also stop at the Rock Shop, located in Holbrook, and take a look; today, there is no excessive rush.
In this store, the theme you will find is dinosaurs; the reason is that you are very close to the Painted Desert (which is to the north), and this desert is a constant dinosaur fossils source, one of the richest in the United States.
Discoveries are continually emerging in this area.
Have you already read the post about Route 66 Planning and Budgeting?
Holbrook AZ
You are in Holbrook, Arizona, and I must tell you that you are in the middle of the wild west. Here the tradition of cowboys is a classic, and you are surrounded by Indian reservations.
The HOPI Indian reservation to the north, the Navajo Reservation to the northeast, the ZUNI and RAHMAN to the southeast, and the APACHE reservation to the south.
You will find constant references to the native cultures in the area.
If you have to refuel, there are gas stations owned by the reserves and subsidies for them. Gasoline is much cheaper at these gas stations than at usual ones, so take advantage.
On today's itinerary, Route 66 and I-40 go together, so it is better to take advantage of it to make exciting visits. If you didn't have time to see Holbrook the day before, take a look at this post, where we tell you what to see and do in Holbrook.
Start planning your trips with this Printable Road Trip Planner PDF
The Petrified Forest National Park
First visit that you cannot miss: The Petrified Forest National Park. Its name suggests a national park, a petrified forest, yes, a stone forest. I really didn't believe it until I saw it.
But do not imagine the stone trees with their branches and such (let's not freak out).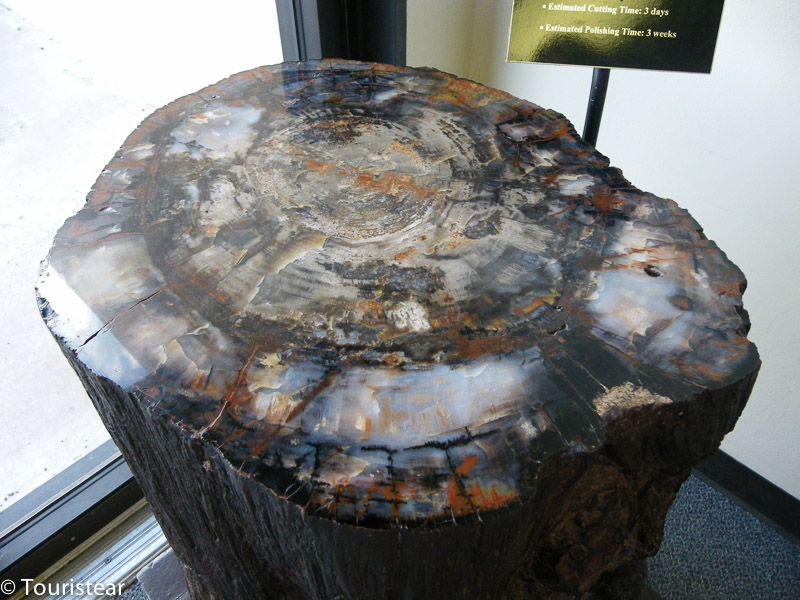 They are fossilized trees with millions of years, but what you see is fossil or fallen logs on the ground.
But it's really awesome and worth a visit. For example, in the photo that I left, you can see a fossilized log between two points that looks like a bridge, and they had to reinforce it with concrete underneath so that it would not break.
You can quietly spend between one and two hours visiting it. You enter the car and go through it with the car after paying the entrance fee.
It was 10 dollars per car (regardless of the number of occupants). I don't know how it will be now.
Important to take into account a couple of things. You will be tempted to take a piece to take home if you do it; the best thing that can happen is that you get a fine of about $ 350.
Please do not be silly when you go out; you have a store where they sell to you polished and much better for a ridiculous price.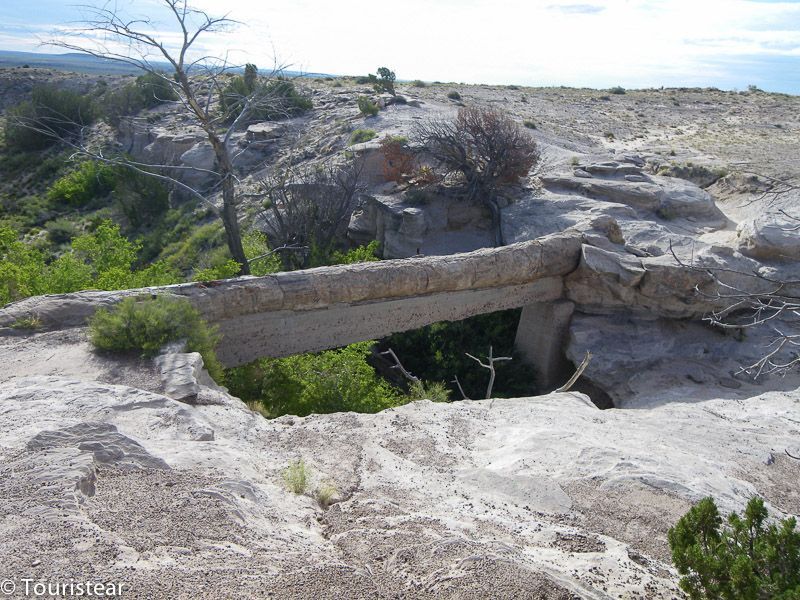 The second thing does not get more than where they leave you. If you get where you should not, a fine of another 350 dollars. The truth is that you have a lot of freedom of movement.
It is not necessary to mess around. And we have to leave pristine the places we've visited.
They open very soon, we were able to enter at 07:00 in the morning, so you leave there at 09:00, and you have the whole day ahead of you.
You cross the I-40 from south to north as you leave the Petrified Forest. Next, you will pass the Stewart Trading Post with memories of the Petrified Forest and fossils again. Next, you enter the Painted Desert, which has an Information Center, which is the first thing I would watch.
Painted Desert Trading Post
If you go down Pinta Road, you will see the remains of the old Route 66, and you will see an abandoned car and the gray trail of the route. Also, lamp posts that accompanied it on one side were more than recommended.
If you search carefully, you can see the old Painted Desert Trading Post, which is now literally a totally abandoned concrete and cement skeleton surrounded by desert.
This complete section of the Painted Desert is easy to miss, but I think it is one point where the history of this route and its disappearance can be appreciated.
You can continue on Pinta Rd, which is parallel to I-40 from the north, and then merge onto I-40 and visit the Navajo Travel Center below. However, if you don't want to go on the highway, you have no alternatives, and it's time to bother.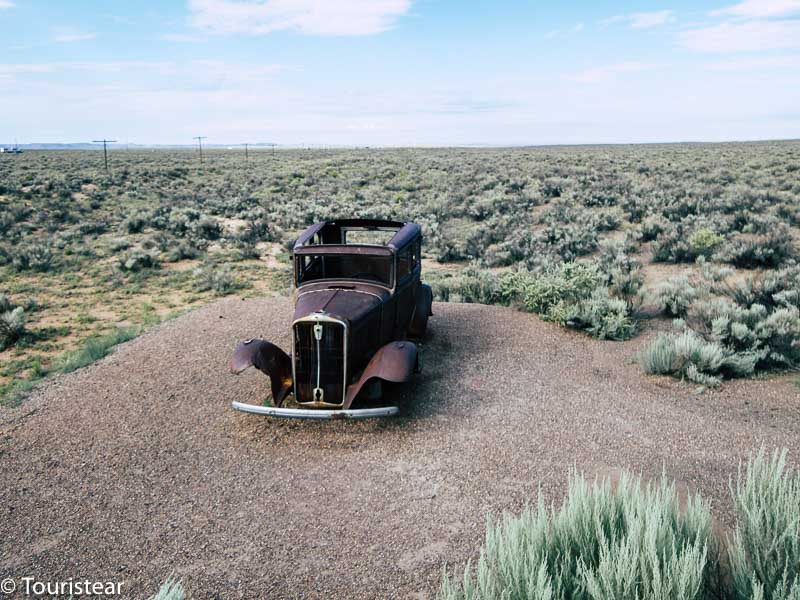 Chambers AZ
Chambers, Navajo land, is the first town you come across before or after the Petrified Forest. After that, it depends on which direction you come from.
It's at exit 333 (something that can change over time), and you can visit the Navajo Travel Center here.
There is not much else in Chambers, a few houses, a gas station, and a motel, operating since the late 70s.
You can turn north, and you will pass a place called Wide Ruins, about 17 miles north of Chambers. There was an impressive Chaco-style ruined town called Kin Tiel.
Unfortunately, the walls of Kin Teel, some of which were 12 feet high, were torn down to extract building stones to construct a trading post around 1895.
When Haury and Hargrave excavated some rooms in 1929 for the National Geographic Society, it was determined that the exterior walls and row houses faced down onto open courtyards.
Archaeologists estimated that these rooms were built between 1264 and 1285 AD from the beams in the kiva ceilings, indicating the occupation periods for Pueblo III and early Pueblo IV.
Unfortunately, around 1895 these walls were knocked down to extract building stones to construct a trading post. The trading post remained here for decades until it closed and was also demolished in the 1980s. So, unfortunately, there is nothing left of this magnificent town.
Sanders AZ
Sanders, Arizona, is a small town in Navajo land on Route 66. Here you have to visit two historical bridges:
Historic Querino Canyon Bridge
1923 Rio Puerco Bridge
And some abandoned buildings
Lupton AZ
Lupton is a small town in Arizona, on the New Mexico Border, and famous for its "Painted Cliff." This inspired the Cars (2006) and Grapes of Wrath (1940) movie's location, with the Joad family entering Arizona in their Okie cockpit bound for California.
The painted cliffs are a magnificent backdrop when you arrive in Lupton, Arizona, from New Mexico on Route 66.
This unusual entrance to Arizona has welcomed driving tourists from Route 66 and Interstate 40 for more than 90 years just west of the state line.
Lupton is also notable for its Native American souvenir shops.
At one time, Lupton had trading stalls selling rugs and jewelry by Navajo, Hopi, and Zuni artists.
Max Ortega, a port of entry inspector in Lupton during the Great Depression, opened a trading post in 1946 with his 18-year-old son Armand. Another son, Gilbert, became a millionaire Indian shop owner from Gallup, New Mexico, to Scottsdale, Arizona.
It is remarkable that Lupton still exists. Its heydays had tourist shops, gas stations, and motels serving Route 66 drivers for decades after World War II.
In a 2007 interview with David Dunaway, Armand Ortega recalled the heavy traffic on Route 66 during the postwar boom times and how Lupton became a ghost town when I-40 opened in 1984.
Today many motorists skip the Lupton shops and take a break at the Painted Cliffs rest area. The rest area reopened in early 2020 after a $ 2.47 million renovation.
The town of Lupton was named in 1905 for George William Lupton, the Winslow train master known as G.W. He was a native of Todcaster, England, who grew up in Illinois and went to the railroad as a telegraph operator.
He took a job on the Atchison, Topeka, and Santa Fe Railroad in 1892. According to a 1906 edition of Who's Who in Railroading in North America, he was posted at the district headquarters in Winslow.
Now, G.W. Lupton is just a footnote in the history of the Arizona railroad, and the town named after him survives as a relic of Route 66.
New Mexico "Land of Enchantment"
New Mexico, "Land of Enchantment," is their slogan, the birthplace of Native Americans, especially Navajos and Apaches.
Manuelito NM
Manuelito is the first town we meet when we cross from Arizona to New Mexico on Route 66 (or I-40).
It is located 9 miles from the Arizona border and is named after one of the most important Navajo leaders (1818-1893).
You will find many native towns in this area from 500 BC to 1325 AD when they were abandoned.
Gallup NM Route 66
Gallup is where the Southwest and its Native American culture meet Route 66.
Things to do
Visit Red Rock Park,
Some place of rodeos
The Intertribal Indian Ceremonial
The Red Rock Balloon Rally
El Rancho
Armco Gas Station
Denny's Diner
The Morro Theater of 1928
Lariat Lodge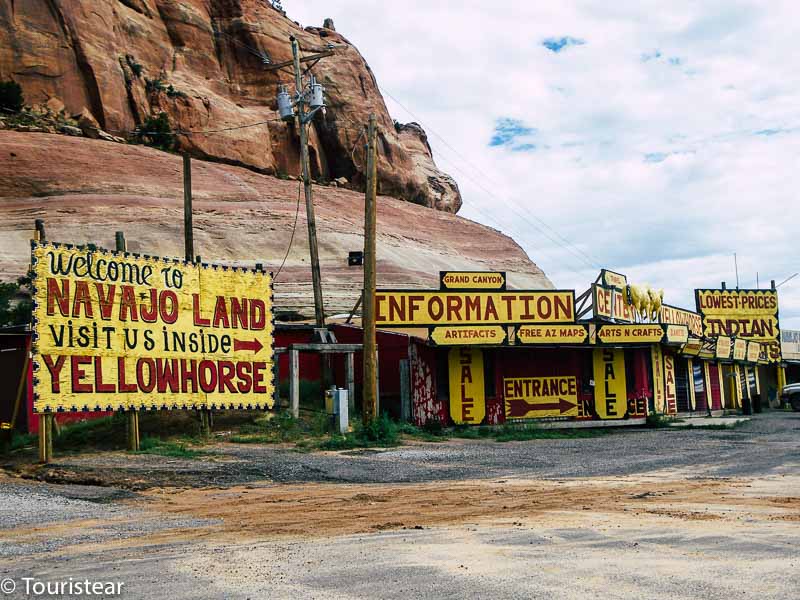 Take a day trip to visit Zuni and Grants' town through the El Morro National Monument and the "Badlands."
And don't miss the spur of US 66, The Route of the Beast, U.S. 666.
Gallup is the capital of the Native Americans and is famous for its neon signs on each side of the road, although you will not have much opportunity to enjoy them at the hours that you will arrive.
You have plenty of dining options, such as the Gallup Inn, El Rancho Motel, or Ranch Kitchen.
El Rancho, New Mexico
El Rancho Hotel has been operating since 1930 and continues to do so, and it is a little piece of New Mexico's history. Many films have been recorded in this area, especially from the west.
The hotels boast of the famous people who have stayed there, such as Humphrey Bogart, Ronald Reagan, Spencer Tracy, Katherine Hepburn, and Kirk Douglas. In Gallup, you will also be able to find Indian crafts of all kinds.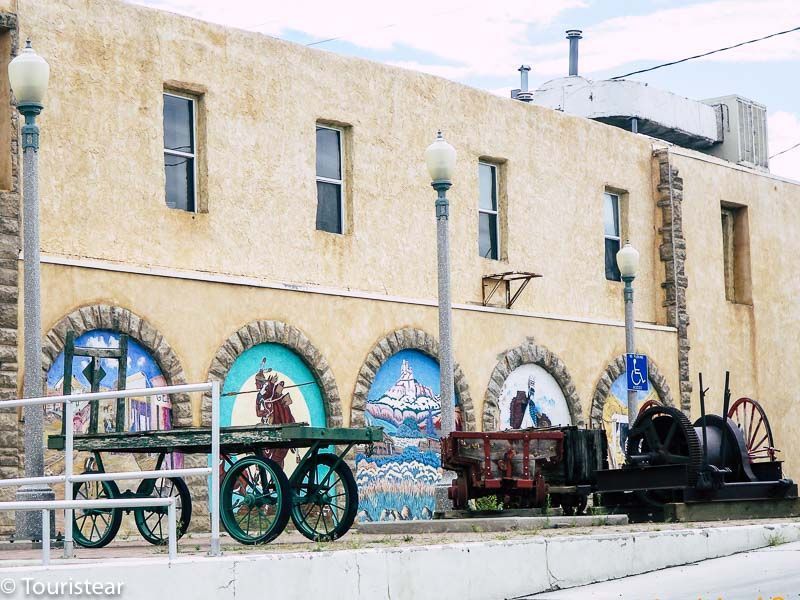 Right in front of El Rancho is the Texaco gas station, an institution on Route 66 that has been open since 1939.
The sets and the photos of the great stars are worth visiting. Be sure to visit the Morro Theater on Coal Avenue, and it is a mural tribute to the Navajo Indians.
Continental Divide NM
A little before Thoreau is a stop that is at least curious, the Continental Divide. What's Continental Divide? Because it is the line that separates or indicates the fall of the waters.
When they were studying the United States' hydrographic composition, they realized a line from which, on one side, the waters headed towards the Atlantic Ocean.
On the other side, they headed towards the Pacific Ocean. Well, this line is the Continental Divide.
It is signposted and marked, and there will be a Trading Post where you can buy souvenirs and more.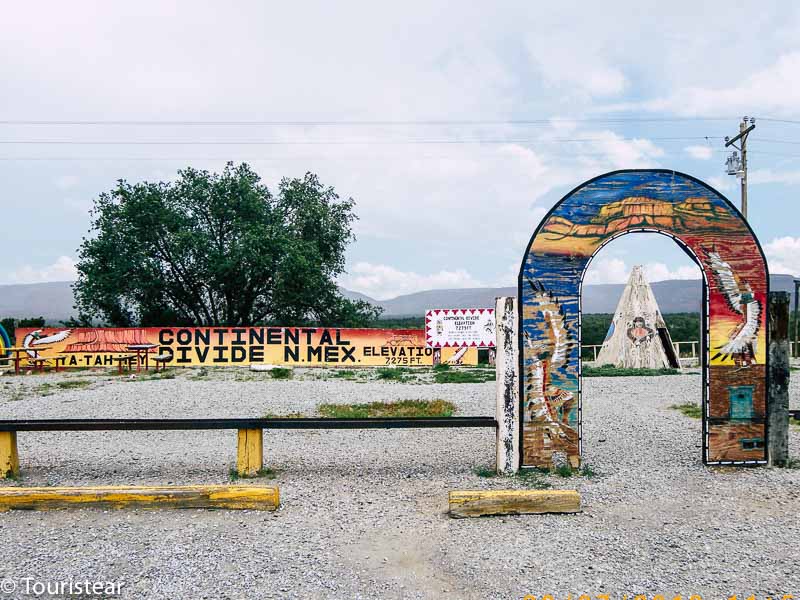 Thoreau NM
Thoreau, New Mexico, is another small trading post located on Route 66. The Interstate runs parallel to Route 66 along this stretch, and there is an exit to Thoreau that has maintained the gas station and the trading post store all these years.
In 1946, Rittenhouse mentions that Thoreau's population was 375, making it quite sizeable as small outposts.
Thoreau is also the southern gate of the Chaco Canyon National Monument. If you have the time, it is worth a detour to see these huge ruins of prehistoric villages.
From Thoreau, you can go on the old Route 66 to Grants.
Grants NM
Grants was founded with the appearance of the railway. Its name comes from the Grant brothers, entrepreneurs from Santa Fe hired to build the railroad. You will see in the town the typical signs of Route 66, the motels and cafes.
In 2016 they finished building the "Route 66 Arch". It is shaped like the iconic Route 66 sign. You can park downstairs and take your pictures. It is at exits 81 and 85 of I-40, on Route 66.
Route 66 Vintage Museum & Double Six Gallery
In the center of Grants, visit the Route 66 Vintage Museum, where you will find old postcards of Route 66 and Grants.
Visit Malpais National Monument
The visitor center for this national monument is located in Grants, N.M., making it easy to learn about the area's volcanic past. Hike around a cinder cone volcano on an easy-to-moderate 3.8-mile loop in the El Calderon area.
Bandera Volcano and Ice Caves
Bandera Volcano is an ancient volcano now extinct, and right next to it are the Ice Caves, where the temperature never goes above zero degrees. It's south on 53, about 30 to 40 miles.
And I think that's fine for today, go to dinner and to rest. Tomorrow it's time to travel New Mexico's state from Grants to Santa Rosa; we will pass through Albuquerque, Santa Fe (There we take a detour, but it is worth it) to Santa Rosa.
Prepare your journey on Route 66
This post is part of the series of posts about Route 66 in 15 days
Day 5. Holbrook. Arizona – Grants. New Mexico. 157 Miles
Last Updated on 31 August, 2023 by Veronica
Disclosure: Some of the links on this post are affiliate links, meaning at no additional cost to you, I may earn a small commission if you click through and make a purchase.