We start today with another post about Route 66. We are in Holbrook; this time is the turn of a wonderful section for me. Mostly because one of the first places we will visit today, The Petrified Forest National Park. But I don't want to advance too much. I'll tell you later in detail.
We are on our fifth day of Route 66; today's stretch is relatively short; from Holbrook to Grants, there are around 157 miles. We start in Holbrook; if yesterday we had time to see everything, we don't have too much to do in this city.
Just having a good breakfast to start the day properly. There's a lot of sites, even in the Wigwam Hotel you can have a great breakfast.
If yesterday you weren't able to visit the Geronimo Trading Post, it is a good time to do it this morning and buy a souvenir, or if you won't take a picture, it's a Route 66 classic.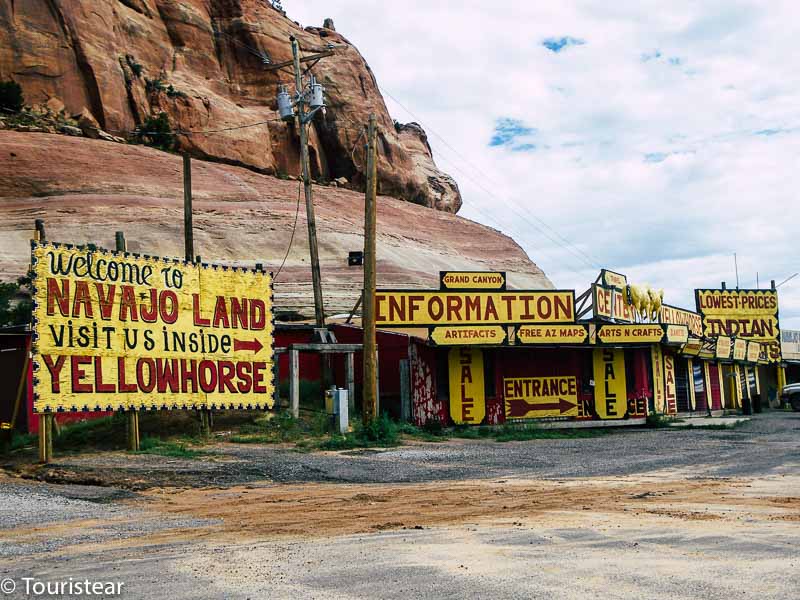 You can also stop at the Rock Shop, located in Holbrook, and look today. There's no rush. In this store, the main theme is dinosaurs, and the reason is you are very close to the Painted Desert (just north), and this dessert is a constant source of dinosaur fossils. It is one of the richest sources in the US and continually raises discoveries in this area.
Itinerary from Holbrook to Grants
We are in Holbrook, Arizona; I must say you're in the middle of what was called the Wild West. Here, the tradition of cowboys is a classic, and Indian reservations surround them.
The Hopi Indian Reservation at the north, at northeast Navajo Reserve, Zuni, and Rahman at southeast and Apache reserve on the south. You will find constant references to Indian cultures in the area.
Tip, if you have to refuel, there're gas stations owned by Indian reserves with subsidies. Gasoline is much cheaper in these petrol stations than in the regulars, so take advantage of it. Today Route 66 and I-40 are together, so it's best to take a good profit from it to make interesting visits.
Petrified Forest National Park
The first visit you cannot miss: The Petrified Forest National Park. It is a National Park, and as its name suggests, it is a petrified forest, yes yes, a forest made of stone. I really didn't believe it until I saw it. But do not imagine the whole tree stood up with its branches etc., all of stone.
These are fossilized trees and have millions of years, but what you see are the fossil stumps or trunks lying on the ground.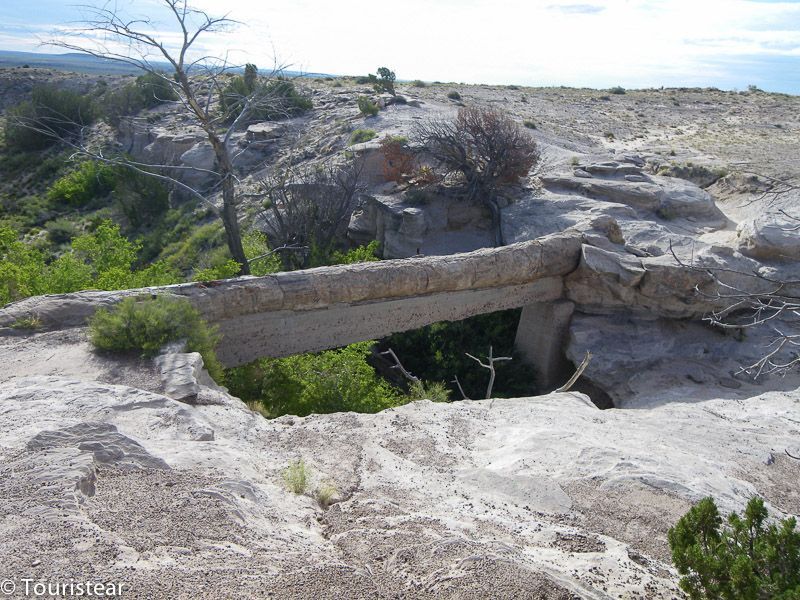 But it's imposing. In the next picture, you can see a fossilized trunk between two points and looks like a bridge. They had to reinforce it with concrete underneath so it didn't snap.
You can spend with no problem between one and two hours to visit. You can get into the park with the car and drive inside—the ticket's previous payment. The ticket was 10 dollars per car (regardless of the number of occupants), I will not know how's now, but you can check here.
A couple of important things, you'll be tempted to take a piece to take home, if you do that, the best that can happen is that you'll be fined with $ 350, don't be silly. You have a shop at the exit where they sell all kinds of pieces polished and much better for a good price.
Second thing, don't mess around except where they let you. If you get yourself where you shouldn't, another fine of $ 350. The truth is you have a lot of freedom; it is unnecessary to do anything reckless.
They open very soon; we could get in at 07:00 am, so we were out around 09:00 and had the whole day ahead.
As you get out of the Petrified Forest, you cross the I-40 from south to north. You will leave the Stewart's Trading Post aside (This trading post has souvenirs of the Petrified Forest and fossils again), and you get in the Painted Desert. It has an Information Center, which is the first place I would go to.
Painted Desert
If you drive Pinta Road, you can see the remains of the old Route 66; you'll see an abandoned car and the gray trail of Route 66, also the posts on one side. It is highly recommended.
If you look carefully, you will see the old Painted Desert Trading Post, which is now literally a skeleton of cement and concrete completely abandoned and surrounded by desert.
This entire section of the Painted Desert is easy to miss, but I think it's one of the places where the history of rising and later vanishing Route 66 can be clearly appreciated.
You can follow Pinta Rd, which is parallel to I-40 to the north, and then merge onto I-40 and visit the Navajo Travel Center, which is just below. If you do not want to go on the motorway, you don't have alternatives.
Gallup on Route 66
Gallup is the next spot on the map. On the way to Gallup, we'll cross to a new state and get into New Mexico, the "Land of Enchantment." Home of Native Americans, especially Navajos and Apaches.
Just after you cross the state, there is a village called Manuelito, and just before this village, it's the Devil's Cliff. Devil's Cliff is a stunning sightseeing spot on Route 66, Rio Puerco, and Arizona.
Gallup is the capital of the American Indians and is famous for its neon lights at each side of the road, although the times we'll be arriving will not allow having much chance to enjoy them. You have plenty of places to have lunch (probably it's the right time for that)—for example, The Gallup Inn Motel, El Rancho, or the Ranch Kitchen.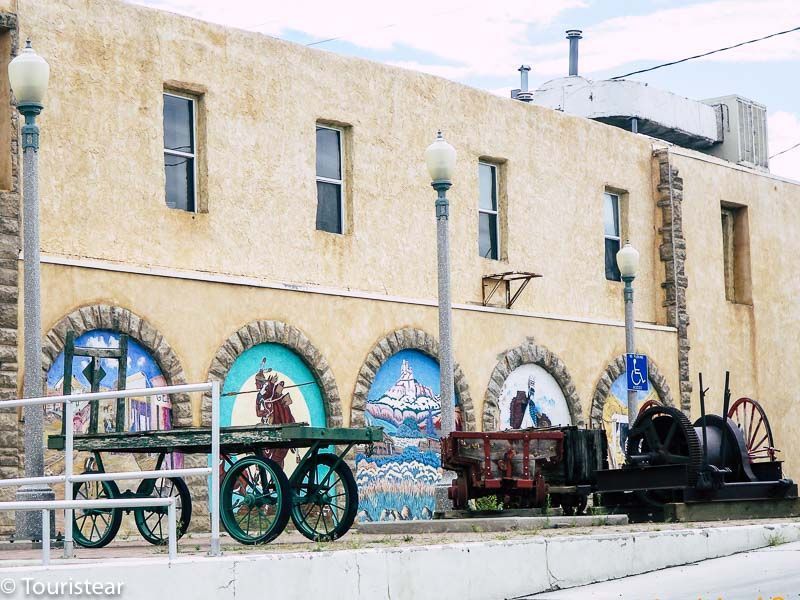 El Rancho Hotel has been operating since 1930 and continues to do so nowadays. It's a piece of New Mexico history. In this area, there has been recorded a lot of films, especially westerns. The hotels publish and boast about famous people, like Humphrey Bogart, Ronald Reagan, Spencer Tracy, Katherine Hepburn, and Kirk Douglas. At Gallup, you can also find all kinds of Indian handicrafts.
Right in front of El Rancho is the Texaco gas station that is an institution on Route 66 and has been open since 1939. It is worth visiting the sets and photos of the stars. Be sure to visit the Morro Theater in Coal Avenue; it is a mural tribute to the Navajo Native American.
Thoreau and Continental Divide
We leave Gallup and continue up to Thoreau. This stretch between Gallup and Grants is one of the most typical of Route 66, the reason? Because it is a stretch where Native American culture is evident, you cross the Continental Divide, and landscapes are worthwhile.
A little bit before Thoreau, there is a stop that is, at least, curious, The Continental Divide. And… what is the Continental Divide? It is the line that separates the watersheds that drain the pacific ocean from those that drain the Atlantic ocean.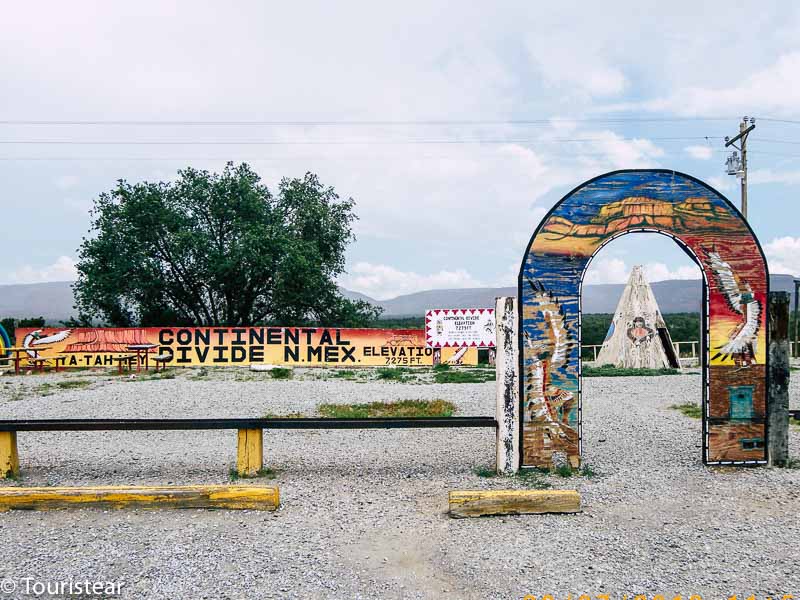 When they were studying the hydrographic composition of the US, they realized that there was a line from which one side the waters were heading towards the Atlantic Ocean. On the other side, they headed across the Pacific Ocean.
Well, this line is the Continental Divide. It is signposted and marked and, of course, right there is a Trading Post where you can buy souvenirs and other stuff.
Grants on Route 66
From Thoreau, you can go driving the old Route 66 to Grants. Grants were founded with the arrival of the railway. Its name comes from the Grant brothers, business people from Santa Fe hired to build the railway. You will see in the village the typical signs of Route 66 motels and cafes.
And today we don't have much more to do. If you can, and you have time you should visit Bandera Volcano and the Ice Caves. Bandera Volcano is an ancient extinct volcano, and at its right side are the Ice Caves, where the temperature never exceeds zero. It is south on 53, about 30 or 40 kilometers.
And I think that's enough for today. Get dinner and rest. Tomorrow we go through New Mexico from Grants to Santa Rosa, passing through Albuquerque, Santa Fe (Here we make a turn, but it worths it) to Santa Rosa. Until next post!! Enjoy!!
"Travel is fatal to prejudice, bigotry, and narrow-mindedness". – Mark Twain
Route 66 Itinerary day by day
Did you like this post? Please share it, retweet it or whatever. Thanks!
Book Your Trip
Book Your Flight
Find a cheap flight by using Skyscanner.
Book Your Accommodation
You can book your hostel, hotel, or apartments on Booking.com.
Don't Forget Travel Insurance
Travel insurance will protect you against illness, injury, theft, and cancellations. It's your protection in case anything goes wrong. You never go on a trip without it.
Best companies for activities
Check out Civitatis.com and find the best tours in English (French, Spanish and Italian)
Looking for the best companies to save money with?
Check out my resource page for the best companies to use when you travel! I list all the ones I use to save money when I travel – and I think will help you too! (Is in Spanish yet)
This post may contain affiliate links. That means if you click and buy, I may receive a small commission (at zero cost to you). The commission helps us to keep this project running and to continue creating useful content for your travels. Thank you so much for your support! Please see my Affiliate Disclosure Policy for more information.
We are not native English speakers but we have decided to translate our post to English so we can share it with the whole world. If you see any spelling mistake or something, please let us know, it is so important to us. If you do so, we can improve our post and also our English knowledge! Thanks in advance!!!