Last Updated on 17 December, 2020 by Veronica
We've slept in Grants, New Mexico, and we have an exciting day driving to Santa Rosa. Today, I propose a little detour on the route, but I really think you'll love it!
Route 66: Strecht from Grants to Santa Rosa
Let's start from Grants to Laguna
We are in Grants, and today we will cross pretty much of New Mexico. As you know, it is the original land of the Native Americans and therefore is where you can enjoy more their culture and their heritage.
As I always say, let's have a good breakfast and start the road trip.
Route 66 runs along I-40 to Laguna. I suggest you to go driving the old route. It's a little damaged in some sections. Keep that in mind.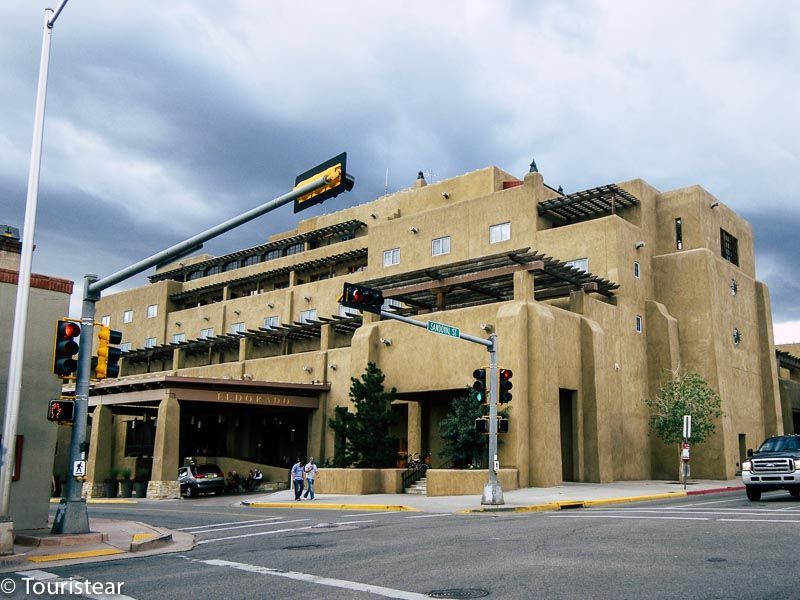 Between Grants and Laguna, you have the Indian Reservation of Laguna Pueblo and south the Acoma Pueblo Indian Reservation at the north. Just after Laguna, there is Cañoncito Indian Reservation.
Well, as you leave Grants, you can take the old Route 66 and continue directly to Laguna, sometimes you will be closer, and sometimes you will be further from I-40, pass through the center of the villages, straight ahead.
When you reach the lagoon, Route 66 gets you directly on I-40. 50 or 100 meters before the access to I-40, you can turn to the right that gets you through the old Route 66 and allows you to continue Mesita.
In this stretch between Mesita and Laguna, you have the Owl Rock. It is right after a rotation of about 180º, the only one after the lagoon. They call Owl Rock, well, because it is assumed that the center of the rock looks like the head of an owl. We must have enough imagination to see it, actually.
As you pass along Mesita, you have two alternatives for Route 66 since there are two paths.
The first design and the older one is before 1937. To take this route, as you reach Mesita, the route runs parallel to I-40. You don't leave it, although it deviates south. It joins Route 6 that was the Old Route 66.
You will not realize that is one of the oldest paths of Route 66 and, in fact, they have changed the street names and have repaired and resurfaced.
You should follow Route 6 until you arrive in Los Lunas, where you can see some of the businesses that remain since then. Sometimes only as elements of tourist or cultural interest.
Once you get to Los Lunas, you should take the 314, and when you enter Albuquerque, it will switch its name to Isleta Blvd ending in Bridge Blvd. Once you reach Bridge Blvd, turn right, and you will cross Rio Grande, Rio Grande! I think it's the river that appears in most Western movies.
The second alternative design is to reach Mesita and go on the I-40 to Exit 149, which takes you to Central Ave. In 1937 the design was modified to this new one and turned onto Central Avenue, which was continued in the I-40. In either case, you will end in Central Avenue, which originally passed Route 66.
You're in Santa Fe. It's the largest city in New Mexico. I recommend you to spend a while, have a drink, and watch some of the murals that are in the city. The buildings have a very particular style, with the Spanish colonial fusion of native Indians, something they are proud of.
What to see in Albuquerque?
Like any urban stretch of Route 66, it was full of roadside motels with its classic neon lights and typical parking for cars for travelers. These motels used to share the side of the road with car garages and cafes and restaurants. Buildings and businesses that have seen the evolution of Route 66 from the 30s to the 70s.
El Vado Motel: El Vado Motel has seen everything. Route 66 passes right in front of it. Its neons have been there for over 60 years. I say "have been" because apparently, it was purchased to build apartments. There were neighborhood protests, and I do not know how the situation is now.
Albuquerque's Dinner: With over 40 years of history. An atmosphere of the American '50s. Its spectacular shakes. The food was tasty and pretty good. Also, the cakes looked delicious.
Albuquerque – Santa Fe: Turquoise Trail
Once you decide to leave Albuquerque again you'll have two Route 66 designs.
The first path is to take I-40 to Santa Rosa, but you lose everything or almost everything.
The other option is to do the way I propose below. This is to go to Santa Fe, driving the old route (Route 14) and from Santa Fe to Santa Rosa. To go to Santa Fe using this alternative route, you have to take the 314, which is Avenida Cesar Chavez, and then take Broadway Blvd SE left to retake Central Avenue to the right.
This is the one that corresponds with the old design of Route 66. Keep going by Central Avenue; do not leave it!. Until you reach the village of Tijeras. Then you take the 14 north, which takes you directly to what is called the Turquoise Trail.
Turquoise Trail is a beautiful road that takes you to Santa Fe. It is considered by the US government a National Scenic Byway, or what is the same, a route with great views or points fascinating to be seen.
You can, if you want, to deviate in the 536 and take the path of the Sandia Mountains and then take the cable car linking the Sandia Mountains and Albuquerque. The views are spectacular, the Rio Grande, Mount Taylor, volcanoes, the Sandia Mountains, and the Sangre de Cristo Mountains.
It takes half an hour each way. Return driving the 536 to retake the Turquoise Trail and back to Santa Fe.
Turquoise Trail Stops
Let me list you the stops that may be interesting on the Turquoise Trail. I begin in Tijeras and end in San Marcos.
You may like to see the Cibola National Forest in Tijeras, but I do not know how your timing is; maybe you can have a coffee in Molly's Bar too.
In Cedar Crest, you can go to Talking Talons Thrift Shop. It is a second-hand store or bargain; you can go to RIBS – Hickory Smoked Pit Bar-BQ to have lunch.
At Sandia Park, you can visit the cable car that I have already mentioned.
Golden is one of the first cities in the gold fever, west Mississippi. You can see Henderson Store, a shop that sells handmade items by natives of fairly good quality.
You can see the Ghost Town Trading Post, the Gypsy Plaza, or the Madrid Old Coal Town Museum in Madrid.
At Cerrillos visit Casa Grande Trading Post.
You can choose either of two possible routes, I-40 or Turquoise Trail. I propose, as always, you choose.
Santa Fe, New Mexico
Santa Fe is one of the most typical cities of the route. Probably it is lunchtime or even later. It would be good to stop and have lunch in Santa Fe if you haven't had lunch already.
New Mexico's cuisine is typically Mexican, not American, be sure to taste it. In Santa Fe, you can visit the Cathedral and the Georgia O'Keeffe Museum. She was an artist and well-known modernist painter. You have to visit also The Original Trading Post.
Also, it's curious the Santa Fe Plaza. In Santa Fe, there is one of the oldest hotels in the United States: La Fonda Hotel; it's from the seventeenth century, and now it is a luxury hotel. Inside has a restaurant called La Plazuela, probably you should eat very well, but we didn't get in.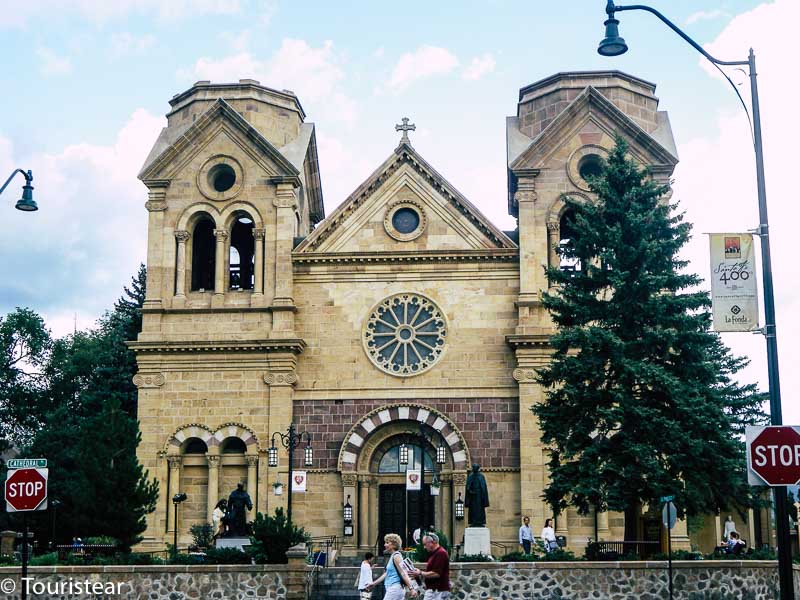 Strecht from Santa Fe to Santa Rosa
You leave Santa Fe driving Highway 25 that takes you to Las Vegas (watch out, of New Mexico, not Nevada !!), and about 8 to 10 km before arriving in Las Vegas, you deviate taking the 84 that returns you to I-40.
Finally, you arrive in Santa Rosa. Enjoy the journey through the middle of nowhere, quietly.
You are in the path of Route 66 that was operational from 1926 to 1938. As a curiosity, let me tell you that the design of Route 66 was amended by the New Mexico Governor at that time, Mr. Hannet.
He lost reelection and blamed the leaders and governors of Santa Fe, and in revenge, he spent his remaining months leaving Santa Fe off Route 66 and therefore leave them without a strong income. And he succeeded.
In this stretch, you will pass by the Santa Fe Trail. It was a transport route opened by the Spaniards in the eighteenth century passing through Glorieta. Here happened one of the most significant battles of the Civil War. When you get to the I-40, you will be very close to Santa Rosa. That's where we sleep today.
Best visits in Santa Rosa
In Santa Rosa, you can visit the Route 66 Auto Museum (closed at 17:00 if you arrive late you will have to do it the next morning).
You can eat dinner in Lake City Dinner, the Comet II, Joseph's Route 66 Dinner, Silver Moon, or the Sun n Sand. You can see today or tomorrow morning the Blue Hole is a natural swimming pool whose water is at a constant temperature of 17,7º.
This stretch is hard enough, and I think you will enjoy it. You'll end so tired, try to relax. You're only half the trip. In fact, tomorrow, we have prepared to go through the Midpoint, which is the point that indicates that we are just halfway. But I do not want to anticipate too much. Sweet Dreams…
"Travel is fatal to prejudice, bigotry, and narrow-mindedness". – Mark Twain
Route 66 Itinerary day by day
Did you like this post? Please share it, retweet it or whatever. Thanks!!
Book Your Trip
Book Your Flight
Find a cheap flight by using Skyscanner.
Book Your Accommodation
You can book your hostel, hotel, or apartments on Booking.com.
Don't Forget Travel Insurance
Travel insurance will protect you against illness, injury, theft, and cancellations. It's your protection in case anything goes wrong. You never go on a trip without it.
Best companies for activities
Check out Civitatis.com and find the best tours in English (French, Spanish and Italian)
Looking for the best companies to save money with?
Check out my resource page for the best companies to use when you travel! I list all the ones I use to save money when I travel – and I think will help you too! (Is in Spanish yet)
This post may contain affiliate links. That means if you click and buy, I may receive a small commission (at zero cost to you). The commission helps us to keep this project running and to continue creating useful content for your travels. Thank you so much for your support! Please see my Affiliate Disclosure Policy for more information.
We are not native English speakers but we have decided to translate our post to English so we can share it with the whole world. If you see any spelling mistake or something, please let us know, it is so important to us. If you do so, we can improve our post and also our English knowledge! Thanks in advance!!!