Route 66, Best Things to do Between Los Angeles and Amboy
Today's post will drive the stretch on Route 66 from Los Angeles to Amboy. It's 209 miles to leisurely drive and sees some of the most famous attractions on Mother Road.
At this moment, "Get your kicks on Route 66" makes a lot of sense.
That is the title of Bobby Troup's song. He composed it in 1946, and it was performed for the first time by Nat King Cole. Since then, more than 60 different versions have been created. And it has become the motto of Route 66.
Start Planning your trip on Route 66 here.
Stretch from Los Angeles to Amboy on Route 66?
Today's goes from Santa Monica Beach to Amboy, in the state of California. It takes about four hours by car to travel 209 miles (336 km).
Directions for leaving Los Angeles and heading Route 66
At this moment is when your GPS is your best friend. We leave you a few directions, but this can change over time, so don't forget your GPS.
At Santa Monica, take Route 10 until you see the signs to South Pasadena (Route 110).
The 110 takes you directly to Pasadena. If you continue until you cross E Colorado Blvd and turn right onto this avenue, it becomes Huntington Drive.
If you continue and do not leave, it becomes W Foothill Blvd, which continues to be called E Alosta Ave. Just after passing the intersection with North Barranca Avenue, this avenue is renamed West Route 66. You are already on Route 66!
You have not stopped seeing buildings on one side and another. I already told you that Los Angeles is huge, and the surrounding populations are glued to it, so you do not distinguish when you go from one town to another.
You must get to San Bernardino. So you will cross:
Pasadena,
Duarte,
La Verne,
Upland,
Fontana,
Rialto,
San Bernardino,
and you will take 215, which continues on route 15 toward Victorville.
These indications may change over time. It's best to get a GPS with U.S. maps and the internet on your mobile or rent a car with GPS.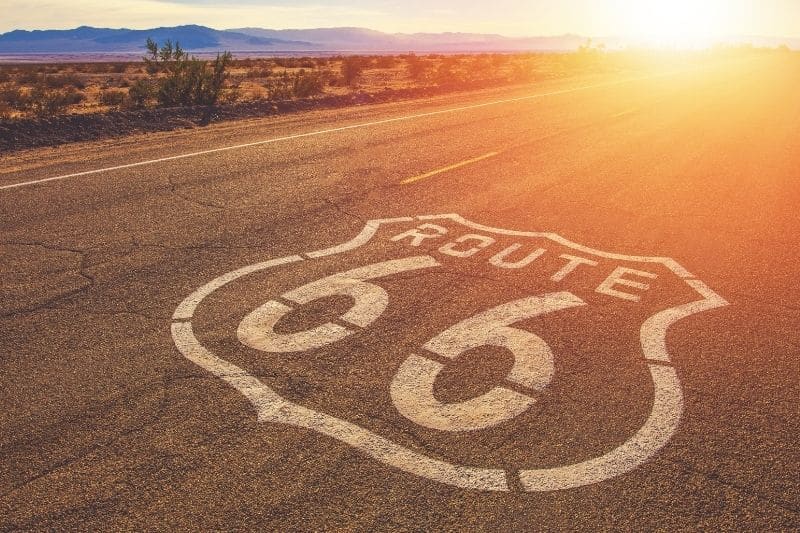 Route 66: from Los Angeles to Amboy
Madonna of the Trail
In Upland, you can see the Madonna of the Trail monument. It is not a monument dedicated to Route 66 but to the value of the women who pioneered the United States, especially during the nineteenth century during the great migrations to the West.
12 of these monuments were placed, one in each state that crossed the road between Washington DC and Los Angeles, the so-called National Old Trails Highway. Thanks to the efforts of the DAR (Daughters of the American Revolution).
Two of those monuments were placed on Route 66. One in Albuquerque, New Mexico, and the other in Upland, California.
Fontana
When you pass through Fontana, you can see a giant orange next to the road, which was actually a stall for selling oranges.
It's funny; it's called Bono's historic Orange; it's not the only one; a few are distributed throughout California.
Cajon Pass
We continue on Route 15, leaving San Bernardino behind us, and we have to go through Cajon Pass.
The mountain pass allows you to cross the San Gabriel Mountains (north of San Bernardino) and reach the South of the Mojave Desert. The highest point is at 4000 feet (approximately 1200 meters).
At this point was the Cajon Summit Inn Cafe, but a few years ago, it was burnt down.
It is a good place to make the first stop for a soda or coffee.
Victorville, Roy Roger Museum
The next stop is Victorville; in this town, you will find the Roy Rogers Museum. Then, it was a museum dedicated to the "King of the Cowboys." But now, it's currently in Branson, Missouri.
In Victorville, Route 66 separates from I-15; while Route 66 passes through Helendale and Lenwood, Highway I-15 travels a little further east. So logically, we go along Route 66.
If you start this journey early in the morning, you will be in Victorville around noon. So you can get to Newberry Springs to visit this must-visit place on Route 66 and get something to eat.
Barstow and House of the Desert
Between Victorville and Newberry Springs is Barstow. Here you have to visit the so-called "House of the Desert," part of which has become the "Mother Road Museum." Another must-see on Route 66.
It is part of a chain of luxury hotels that thrived while still traveling by train. They are an example of the lifestyle lived before the automobile boom. Several are distributed in California, New Mexico, and Arizona, three of the states you will cross.
If you want to visit the museum, go ahead. Just remember, there are a few along the route; you will visit all of them probably.
Starting in Barstow, Route 66 runs parallel to I-40.
Calico
A few miles from Barstow is Calico, a ghost town on Route 66. However, it is not the last that you will find during the route, but it is a good place to stretch your legs.
You have to deviate a bit to get there, but if you come from Los Angeles, it is one of the first ghost towns that you come across. Most likely, you want to visit it.
Newberry Springs, Bagdad Cafe
In Newberry Springs, you will find an icon of Route 66, the Bagdad Cafe, an essential stop in the middle of the desert.
This iconic place was the filming set of the German American film "Bagdad Café." A cult movie shot in the middle of the Mojave Desert.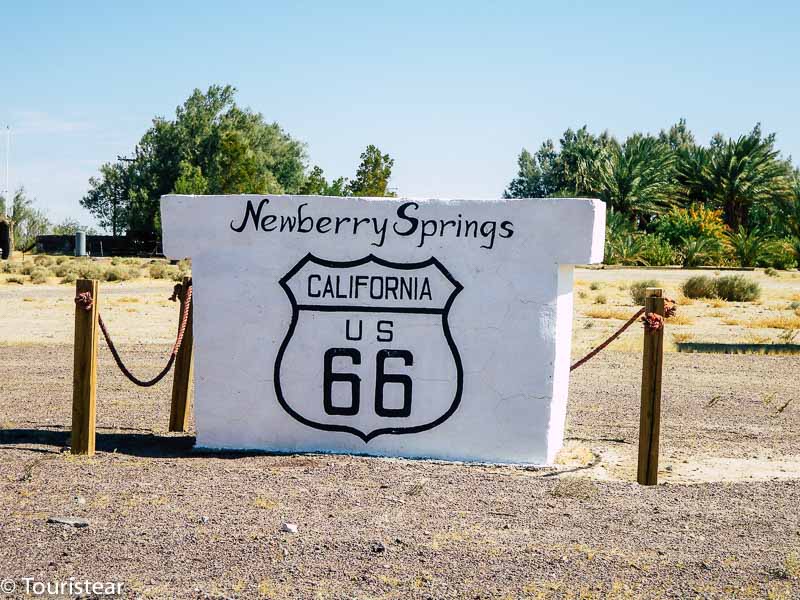 The Bagdad Cafe, the setting for German filmmaker Percy Adlon's 1987 cult classic of the same name, brought the Mojave Desert to fame.
It wasn't always the Bagdad Café. Until the producers selected it for their film location, it was known as the Sidewinder Cafe.
There is a ghost town called Bagdad, 50 miles east of Route 66.
The interior of the cafe speaks of the visitors received throughout the years. Flags of countries worldwide hang from the ceiling, stickers taped to every inch of the wall, and guestbooks filled with comments dating back several decades.
Bagdad Café is one of those places with history, and it brings to mind those images that one has about Route 66 or the typical cafes lost in the middle of the desert.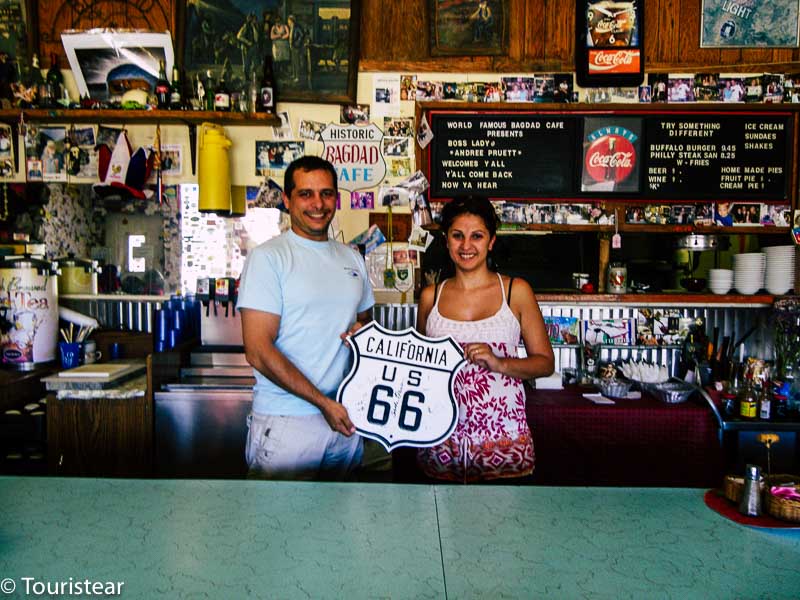 In Barstow, Route 15 continues on its way to Las Vegas. At the same time, the road we must take is Interstate 40, which crosses the entire United States from East to West, from Los Angeles, California, to Willmington in North Carolina, so you are going a few kilometers on this route.
Route 66. Ludlow
Once you start driving again, you leave Newberry Springs behind and continue towards Ludlow before reaching Amboy.
Ludlow is a small town on Route 66. It was named after William B. Ludlow, A&P Railroad master auto repairman.
Not only was it a stop to recharge water for the steaming machine after climbing Ash Hill (1,944 feet), but it was also a rail link to local mines.
The year it became Route 66 (1926), the highway had a straighter course, and Ludlow had a Hotel and gas station. The city changed from an economy based on mines and railways to one based on catering to commuters.
US 66 was improved, widened, and better bridges were built during the following years. Finally, it was paved in the early 1930s.
After World War II, diesel engines replaced the old steam locomotives. As a result, the water stops were no longer necessary. So the railroad became even less important to Ludlow.
The business focused on US 66 for the next 25 years until I-40 arrived in 1973. Without the arrival of travelers, Ludlow declined rapidly.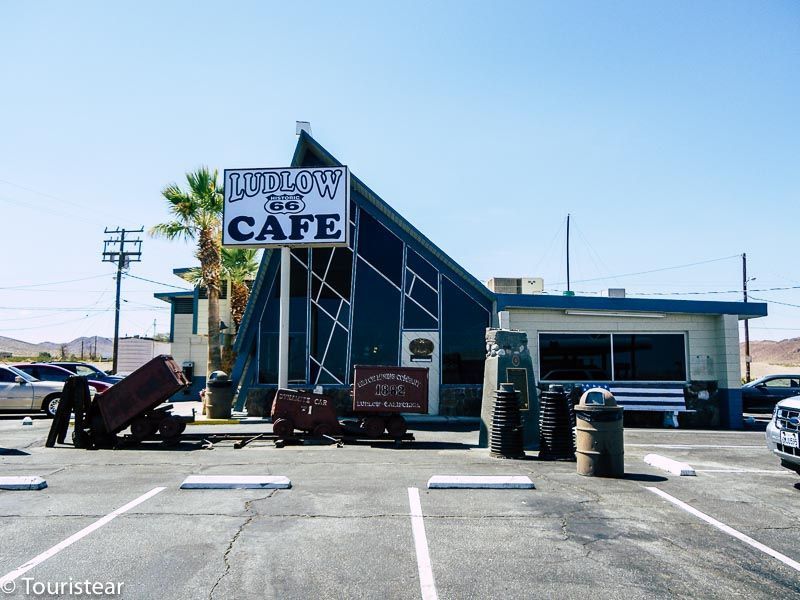 NOTE
Remember that Route 66 is NOT I-40, but the original route crosses I-40 from side to side and sometimes goes parallel, and sometimes it's a two-way road. My advice: go on Route 66; that's what you've come for, right?
Just after passing Ludlow, Route 66 and I-40 separate, and you continue on Route 66 to Amboy.
Detour to Joshua Tree National Park
This section will see a detour to Joshua Tree National Park. It is 49 miles away; you can plan your road trip to make time to visit this National Park.
The Joshua Tree (besides being the title of one of U2's best albums) is a very special indigenous cactus that practically only grows in this area and gives its name to the national park.
Amboy, Roy's Motel & Cafe
In Amboy, it's where you're going to do a night at Roy's Motel & Café (if it's open) or wherever you want, but don't miss it.
It is a complex that includes a motel, cafe, gas station, and workshop. It was built in the 1920s. Its signal, one of the many that you will see during the route, is a classic in the photos.
Roy's Motel & Café may no longer be working when you decide to make the route. If so, you'll have to sleep at "The Farm B&B" or the surrounding area (although there's not much to choose from) and drive this stretch again in the morning.
You can also sleep in Joshua Tree, there are several hotels, but it is further away. You can also continue to Needles, which is 81 miles ahead. You have options.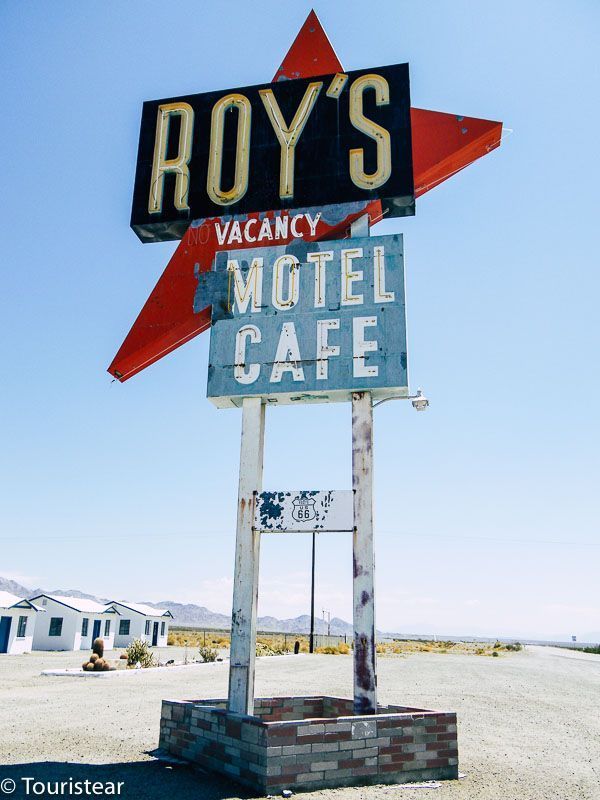 Amboy Crater
From Amboy, you can visit Amboy Crater, a 6000-year-old volcano.
Designated as a National Natural Monument in 1973 and located off historic Route 66, Amboy Crater is an example of geology that creates geometry: it is an almost perfectly symmetrical volcanic ash cone.
This 250-foot pothole, part of the Mojave Trails National Monument that partially surrounds the Mojave National Reserve, offers panoramic views of some amazing features, including a 26-mile-long lava flow, Bristol Dry Lake, and marble mountains." VisitCalifornia
There is parking for all types of vehicles, along with a platform to view the crater, picnic tables with and without shade, and restrooms. The best, the visit is free.
Directions on Google Maps
Remember that the route that I mark on these maps is when I try to be more faithful to the original Route 66.
If you notice, it does not run along the Highways, but through the route itself, except for those sections in which Route 66 and the highway are the same or because the section of Route 66 that corresponds to it has disappeared.
In some sections, you will know that you are going along Route 66 because it was built with pink concrete blocks with a characteristic triangular edge on both sides, approximately three meters long.
You will notice that each block you pass makes the characteristic noise when you pass an asphalt junction or a pothole with the car. You will see that they even reproduce that sound in some museums, like a kind of rattle. It's the sound of Route 66.
I include three links with the path in google maps divided into three parts. Since it does not allow me to define the route as I describe it in a single map.
Remember, these directions could change over time.
Detour to Las Vegas
This is when one thinks, "come on! That I will be 300 kilometers from Las Vegas, and I will not go?"
Okay, if that's what's on your mind, then add a couple of days to your planning, but don't go down I-15. Just go through today like that and when you get to Amboy, continue to 95, then go North until Las Vegas.
The first detour to Las Vegas is in Barstow. If you continue on I-15, you will arrive in Vegas.
The second detour is before reaching Needles. Here you take the US-95 that almost reaches Las Vegas. Put your hotel on the GPS 😉
The third detour is in Kingman, on US 93.
How Many Days to Spend in Vegas?
If you've already been to Las Vegas, skip this section and continue on Route 66. But Death Valley and Grand Canyon National Park are worth the visit and the detour.
Route 66 Day by Day Itinerary
Day 2. Los Angeles, California – Amboy, California. 209 Miles
Top on US Route 66
If you like the blog post, share it with your friends!
Happy and safe travels!
Last Updated on 1 September, 2023 by Veronica
Disclosure: Some of the links on this post are affiliate links, meaning at no additional cost to you, I may earn a small commission if you click through and make a purchase.