Now we are at the heart of this trip. First day of Route 66, stretch Los Angeles-Amboy. We still have 209 miles to go. Now takes sense one of the sentences that you are going to see in the souvenirs of Route 66, the famous phrase "Get your kicks on the Route" or "Get your kicks on Route 66".
As a curiosity, it is the title of a song composed by Bobby Troup in 1946 and was first performed by Nat King Cole, since then, there have been more than 60 versions of this song and it has become a slogan of the Route 66.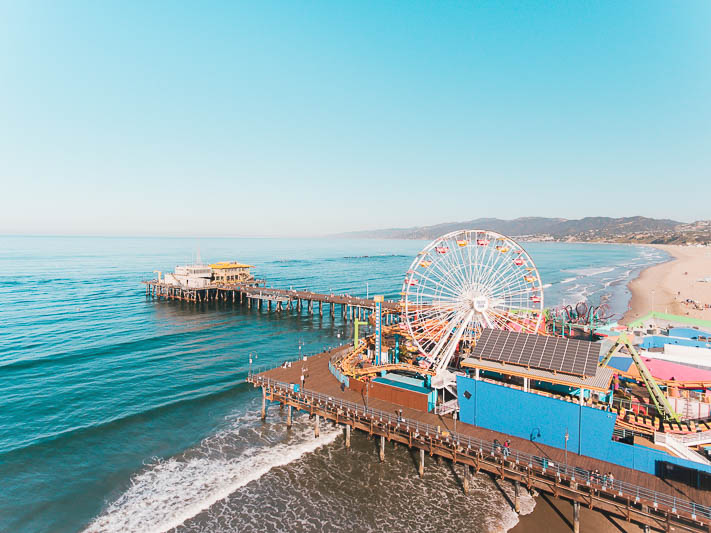 Los Angeles-Amboy
Today our tour is going to be from the beach of Santa Monica to Amboy, California. There's no need to start too early, since we have a four-hour drive way.
If you start by 09:00 or 10:00 would be good. It's going to be better if you're equipped with a GPS to get out of Los Angeles. If not, some aproximately indications are to take Route 10 in Santa Monica until you see the signs for South Pasadena (Route 110).
The 110 takes you directly to Pasadena and if you continue till cross with E Colorado Blvd and then you turn right to take this road and continue along it without ever leaving becomes Huntington Drive, if you continue and not stop becomes W Foothill Blvd which is then called E Alosta Ave, this road, just passed the intersection with North Canyon Avenue is renamed West Route 66.
You're on Route 66 ! You haven't stopped seeing buildings on either side of the road, I told you that Los Angeles is huge, and the surrounding towns and villages are glued to it, so you don't distinguish when you pass from one to the other. You must reach San Bernardino.
To do that you'll pass Pasadena, Duarte, La Verne, Upland, Fontana, Rialto and finally San Bernardino and you're taking the 215 which continues to Victorville.
In Upland you can see the monument to the Madonna of the Trail, it isn't a monument dedicated to Route 66, but to the value of women who were pioneers in the United States, especially during the nineteenth century during the great migration to the west. 12 of these monuments were placed, one in each state of the crossing the road linking Washington DC and Los Angeles, (this road was called National Old Trails Highway), thanks to the efforts of the DAR (Daughters of American Revolution).
Two of these monuments were placed in the place where later became Route 66. Albuquerque, (New Mexico) and Upland, (California).
When you pass through Fontana you can see along the road a giant orange, which was actually an orange selling point, it's funny, it's called Bono's historic Orange. It is not the only one, there are a few scattered throughout California.
We follow up on Route 15, leaving behind us San Bernardino and we have to go through Cajon Pass. It's the mountain pass that allows to cross the San Gabriel Mountains which are just to the north of San Bernardino and allows you to reach the South of the Mojave Desert, the highest point of this way is 4000 feet, and just at this point is the Cajon Summit Inn Cafe.
It's not the original of the 30s, as the route was changed and moved, but it dates back to 1950. Good place for a first stop to take a Coke or coffee.
The next point of our route is Victorville, we have not yet met those endless roads with desert on both sides, but we are already pretty close, we are approaching the Mojave desert, hot, lots of sand and nothing on either side.
But first, we must go through Victorville, in this town we'll find the place where the Roy Rogers Museum was. It was a museum dedicated to Roy Rogers, who was considered the "King of the Cowboys". It's currently in Branson, Missouri.
In Victorville, Route 66 is separated from the I-15. While the Route 66 passes through Lenwood and Helendale, the I-15 Freeway moves a little further east.
Obviously we keep on Route 66. If everything has been more or less under schedule, and we have started at a decent hour, we will be in Victorville around noon or one pm. So we have enough time to get to our next major stop and have lunch, Newberry Springs.
There is an icon of Route 66 here and it worths a stop. It's the Bagdad Cafe. On the road, between Victorville and Newberry Springs is Barstow where you can find the so-called "House of the Desert", part of which has become the "Mother Road Museum". It is part of a former chain of luxury hotels that flourished when still people was traveling by train or wagon.
They are an example of the lifestyle they had before the rise of the automobile and several of them are distributed in California, New Mexico and Arizona, three of the states that we are going to cross.
If you want to visit the museum, go ahead, depends on your timing. Let me tell you that there are a few along the route, and can visit them as you prefer.
Very close to Barstow is Calico is a ghost town. Not the last one you'll encounter during the tour and, if you want only for curiosity, stop.
In Barstow Route 15 continues its way to Las Vegas while the way we have to take is the Interstate 40 which crosses the United States from East to West, from Los Angeles, California to Willmington in North Carolina, so you will make a few kilometers along this route.
Right now is when you think "Come on! I'll be 200 miles from Las Vegas and I'm not going ?
No way." Well, if that's what's going through your head, as happened to me, then add a couple of days to your planning, but do not take I-15, continue the planning for today and when you get Amboy, take the 95, go north to Las Vegas, you throw a couple of days there (more days tires a little, really) and get down by 93 to Kingman.
But as this is not the subject of this serie of posts, better I leave it for another moment. If you've been to Las Vegas, then ignore this comment and go through Barstow, Calico and arrive in Newberry Springs and Bagdad Café.
Bagdad Cafe is one of those places with history that brings to my mind those images that one has of Route 66 or the typical cafes lost in the middle of the desert. It is the first important point to stop, eat and if you want take a break.
Bagdad Cafe was located in the town of Bagdad, California and inspired the film Bagdad Cafe, filmed in 1987. It is full of images and references to Route 66. Outside, nothing is closer, just desert and Bagdad Cafe.
Once we have the energy to keep going, we leave behind Newberry Springs and continue to Ludlow, careful, note that Route 66 is not the I-40. Actually, the original Route 66 will cross the I-40 from side to side like a snake. Sometimes it's a service road and sometimes a two lane road, my advice: Go through Route 66, because … it just worth it.
Just after Ludlow, Route 66 and I-40 get different ways, we continue on Route 66 to Amboy.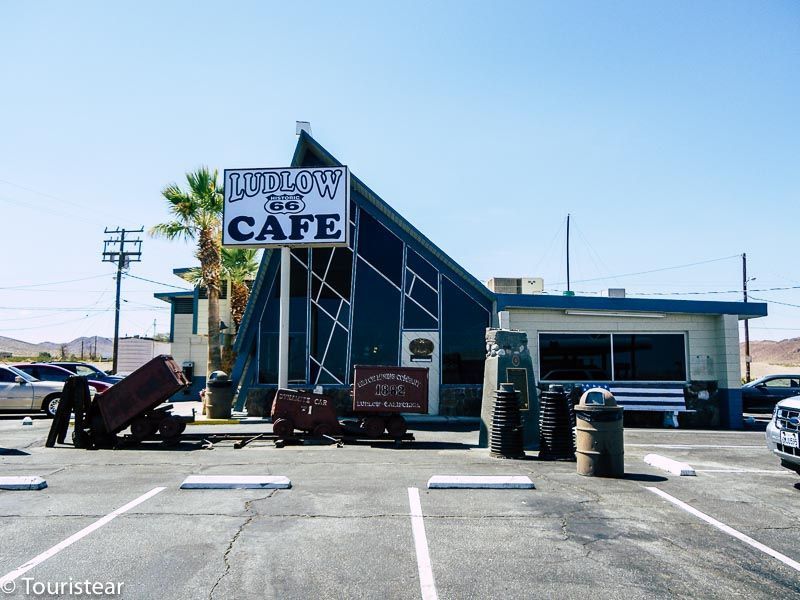 In this section you'll see a detour to Joshua Tree National Park, it is 49 miles ahead. Depending on your timing and energy you can go forward. The Joshua Tree or (besides being the title of one of the best albums of U2) is a very special native cactus that grows virtually alone in this area and gives its name to the national park.
Amboy is the final point of our route but we can't spend the night at Roy's Motel & Cafe. It is a compound that includes motel, cafe, gas station and shop, it was built in the 20s. Its signal, one of the many that you will see along the route, is a classic in the photos of Route 66.
You rest for tomorrow play more kilometers, more and more desert route. Unfortunately Roy's Motel & Cafe is not already running, so, you'll have to sleep in Ludlow and do this section again in the morning. You can also sleep in Joshua Tree, there are several hotels but it is further.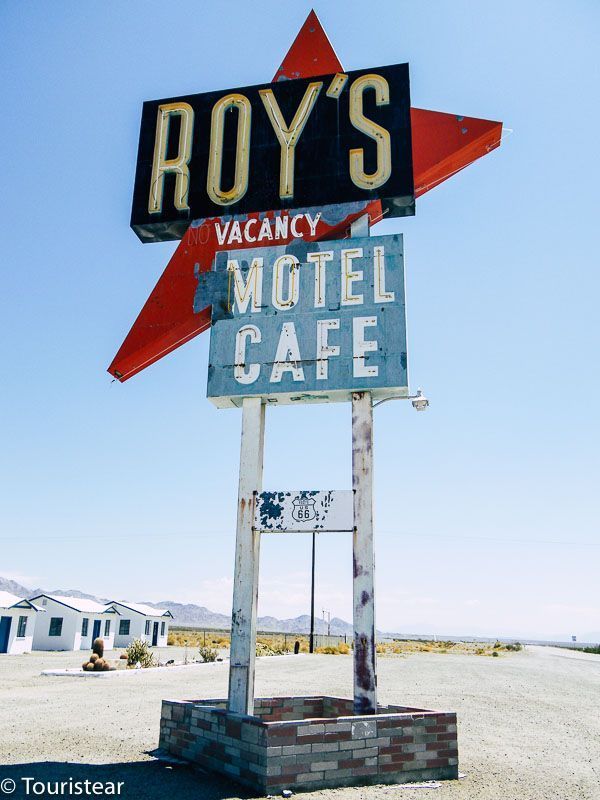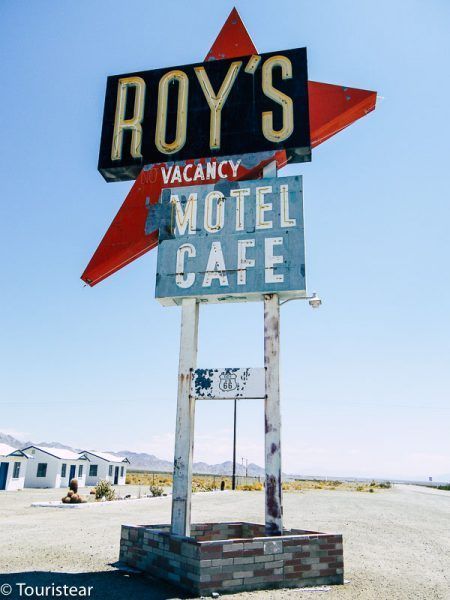 I have included three links with the route in google maps divided into three parts, as Google maps doesn't allow me toset the path as I describe in a single map.
Note that the route that I mark on these maps tries to be more faithful to the original Route 66, if you notice, it doesn't use the highways, but the route itself, except for those sections where the Route 66 and Highway are the same or because the stretch of Route 66 that corresponds is gone.
In some sections, not the ones of today stretch (as I remember), you'll know you're on Route 66 because it was built with blocks of pink concrete with a characteristic triangular edge on both sides and there are about three meters long.
You will notice that each time you cross the joint between two blocks it makes a characteristic noise. In some museums you will see that even you can reproduce that sound, like a kind of rattle. It's the sound of Route 66.
"Travel is fatal to prejudice, bigotry, and narrow-mindedness". – Mark Twain
This post is part of Serie of Post about Route 66 Itinerary.
Did you like this post? Please share it, retweet it or whatever. Thanks!!
Book Your Trip
Book Your Flight
Find a cheap flight by using Skyscanner.
Book Your Accommodation
You can book your hostel, hotel, or apartments on Booking.com.
Don't Forget Travel Insurance
Travel insurance will protect you against illness, injury, theft, and cancellations. It's your protection in case anything goes wrong. You never go on a trip without it.
Best companies for activities
Check out Civitatis.com and find the best tours in English (French, Spanish and Italian)
Looking for the best companies to save money with?
Check out my resource page for the best companies to use when you travel! I list all the ones I use to save money when I travel – and I think will help you too! (Is in Spanish yet)
In this post you may find affiliate links. This means that if you make any purchases by clicking on one of them, I will take a small commission, but you are not increased by the price. Why are we doing this? Because it helps us to keep this project running and to continue creating useful content for your travels. Thank you so much for the support!
We are not native English speakers but we have decided to translate our post to English so we can share it with the whole world. If you see any spelling mistake or something, please let us know, it is so important to us. If you do so, we can improve our post and also our English knowledge! Thanks in advance!!!