Best Things to do in Kingman AZ
Kingman is the capital of Mohave County in northwest Arizona, and it's the closest city to the Grand Canyon and is a must-visit place on your Route 66 road trip as Kingman is known as the Heart of Historic Route 66.
It has a good temperature all year long due to its 3,300-foot elevation.
If you have time, you can stay a few days to enjoy this city and its surrounding area.
Best Things to do in Kingman, Arizona
In Kingman, you'll find many exciting things to do. Check this list and pick the ones you like the most.
Kingman Visitor Center
Kingman Visitor Center it's probably the first place you have to visit in Kingman. You'll find free and updated information about this city and the area here. 
Ask for advice, a map and maybe, buy some souvenirs in the gift shop.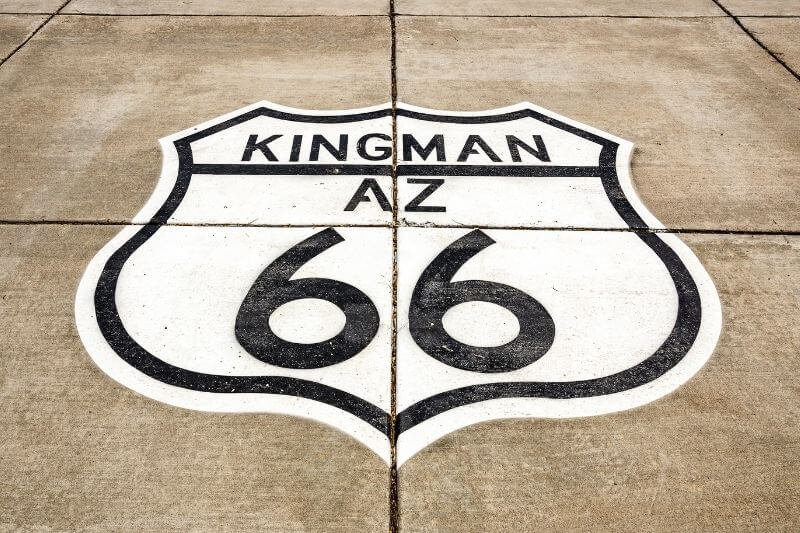 Historic Route 66 Museum
In Kingman, Arizona, the Historic Route 66 Museum was created to preserve Kingman's history on the famous Route 66.
It chronologically shows the history and uses of this route, from its commercial use by the Indians until its golden age in 1950.
The Kingman Historic Route 66 Museum has been collecting artifacts and memorabilia for many years to share Kingman's history.
It's located in the former Kingman Powerhouse, and it was opened to the public in 2001.
Address: 120 W. Andy Devine Ave, Kingman, AZ 86401
Mohave Museum of History & Arts
Mohave Museum of History & Arts is a historical museum in Kingman, Arizona.
The Daughters of pioneers founded the Mohave Museum of History and Arts in 1961 in a room within the Chamber of Commerce. Six years later, he moved into a new building with his own parking lot.
It is a private nonprofit museum dedicated to preserving the history of its ancient tribes, emphasizing Chemehuevi, Havasupai, Hualapai, Mohave, and Paiute people.
Lake Mohave
In Kingman, you can find Lake Mohave, a 67 miles' artificial lake on the Colorado River, between Hoover and Davis Dams.
Here, you can enjoy different water activities like fishing, jet skiing, kayaking. And also, hike the area.
Kingman Railroad Museum
The Whistler Stop Railroad Club, a volunteer railroad aficionados, develops the Kingman Railroad Museum. 
It's located in the former Amtrak Depot on Route 66. A vintage building from 1907.
This place was listed on the National Register of Historic Places in 1986 and converted into a public museum in 2011.
The Kingman Railroad Museum contains vintage model-train layouts from the 1940s through the 1960s, plus additional memorabilia chronicling the region's rail history.
Bonelli House
The Bonelli House is one of Kingman's most famous families. It was built by the prominent rancher and retail store owner George A. Bonelli.
The residence you can see today, it's the second one. The first one (1985) was burnt down in 1915 due to an electric fire.
This home remained in the Bonelli family for several generations until 1973, which Kingman purchased.
The Mohave County Historical Society later turned it into a living history museum, offering public tours of the house since 1978.
The 25-minute tours are available Monday through Friday. Here you will see the original architecture and furnishings of the house, along with the artifacts preserved after the first Bonelli house fire.
Black Bridge Brewery
In Kingman, Arizona, the Black Bridge Brewery is a local brewery that opened in 2013 and is Kingman's newest brewery.
If you like craft beer, you have to visit this brewery.
Cella Winery
Cella Winery is a Kingman's Winery created by Carlos Cella, who arrived from California in 2006.
In 2010, he produced his first wines. And in 2014, the winery was open to the public.
The grapes he planted are:
Cabernet Sauvignon,
Merlot,
Chardonnay,
and Syrah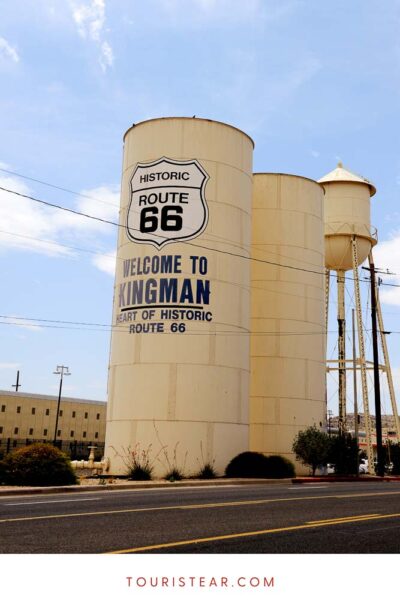 Stetson Winery
If you love wine and want to live the hospitality of northwest Arizona, you have to visit the Stetson Winery.
This winery created by Eric Glomski had been selected as the Official Wine that Arizona chose for the 2012 State Centennial Celebrations.
Desert Diamond Distillery
It's the oldest craft distillery in the state, opened in 2010. Located on Route 66, near the Kingman Airport.
The Patt family founded Desert Diamond Distillery.
This distillery produces 4 premium rum and 1 vodka. Their best are:
Gold Miner White Rum, won the a SIP Award in 2011,
Gold Miner Barrel Reserve Rum, won five awards from the San Francisco World Spirits Competition.
You can taste and buy the products in its bar.
Hualapai Mountain Park
Hualapai Mountain Park is the perfect place for outdoor enthusiasts. You can enjoy magnificent views of the desert and an unforgettable experience.
Hualapai's name means "People of the Tall Pines" and comes from the tribe that lived in these mountains until they were relocated in the 1870s.
In 1932-1933 work began improving and expanding trails within the range—they now include roads, trailheads with picnic areas including stone cabins, and pavilions that welcome visitors from everywhere in the world!
Hualapai Mountain Park has a little bit of everything from picnicking to camping and even cabins. Ten miles of trails offer plenty for hikers, mountain bikers, horse riders, and more!
There are many different elevations in the park (from 4,984 to 8,417 feet), so there's always something new to explore, no matter your skill level or motivation.
Joshua Tree Horseback Riding Tour
Feel like a real cowboy as you ride through the arid landscapes of Arizona's Forest with this Joshua Tree Horseback Riding Tour. You'll enjoy an unforgettable experience!
Grand Canyon Day Trip
Visit one of the world's seven natural wonders with this Grand Canyon Day Trip from Kingman. You'll also explore the arid landscapes of the Joshua Tree Forest and discover the curious flora around Arizona.
Oatman Village & Route 66 Museum Experience
Visit a typical western American village and learn about its history with the Oatman Village & Route 66 Museum Experience. You'll learn all about America's famous road trip.
Grand Canyon Stargazing Experience
Can you imagine admiring the night sky from one of the seven wonders of the world? Enjoy the Grand Canyon Stargazing Experience surrounded by a unique setting – a must if you're in Kingman!
Cerbat Foothills Recreational Area
Cerbat Foothills Recreation Area (CFRA) is a treasure of both history and natural beauty, with 35 miles' worth of hiking trails.
Hikers, cyclists, and joggers can explore over 11,300 acres of desert land. 
The trail system is 35 miles long with diverse terrain that will be sure to challenge you every time you visit Cerbat Foothills Recreation Area (CFRA).
Plants such as yucca trees and prickly pears provide delicious shade, while mesquite bushes offer a unique taste when roasted for dinner.
In addition, there's plenty of wildlife, like mule deer who come out from shady creosote thickets at dawn or dusk. 
Foxes stalk their prey on silent paws before making chase across open ground where they're vulnerable, so keep an eye peeled if you happen upon one!
Lewis Kingman Park
Kingman Park is a nine-acre green space with picnic facilities, grills, and restrooms. This pet-friendly oasis in the city offers plenty of room for relaxing without ever leaving town.
Alpacas of the Southwest
One of the more unique attractions in Kingman, AZ, is the Alpacas of the Southwest.
Alpacas of the Southwest is home to alpacas with Peruvian, Bolivian, and Chilean heritage that can be seen up close as part of guided photo opportunity tours.
Drop-in tours are available on Thursdays through Mondays, but reservations for smaller groups are also accepted during other days throughout the week.
Metcalf Park
Metcalf Park is a public park in Kingman, Arizona, where community members come to relax and enjoy the fresh air.
The compact green space features benches for those who want peace of mind and grills for cooking food with family and friends. 
It also has many great amenities like a playground area that's perfect for children ages three to six years old, making it easy enough so they can have fun while still being safe!
Metcalfe Park provides ample room on its stage both indoors or outdoors during concerts or events such as the Mother's Day Festival in May.
It always draws an immense amount of people because there are plenty of activities available here – everyone will find their favorite event no matter your age!
The Farmhouse
The Farmhouse is a store that specializes in vintage and antique decor pieces.
The shop was opened by Barb Charon, who had always had an interest in interior design, back in 2016 when she renovated her home to be both functional as well as aesthetically pleasing.
After hosting many events for friends while working on the remodel of her house, they encouraged her to turn it into a business so others could enjoy what she did every day!
Chalk Paint from Annie Sloan's line can also be found at this farm-inspired locale, where you'll find everything imaginable for your home needs, including furniture restoration services.
Desert Wonder Tours and Trips
Desert Wonder Tours and Trips is not just about touring the Mohave Desert region. It's also an opportunity to explore some of its natural, cultural, historical monuments as well!
All tours last between 1-4 hours and are narrated by local author Jim Hinckley with live narration during trips or guided tours at attractions destinations for those who want it.
Major attractions include Historic Route 66, the Grand Canyon & surrounding caverns in Arizona; Las Vegas (This one maybe a little less exciting considering how many people visit there but still pretty cool!)
Explore Sitgreaves Pass
Sitgreaves Pass is an awe-inspiring, two-lane road in the Black Mountains of Mohave County, Arizona.
The drive along this winding path can be treacherous as there are no shoulders and steep drop-offs to plunge down thousands of feet.
This area has seen mining ventures dating back many years ago with gold rush days near Cool Springs that have since ceased operations for those daring enough to take a ride on Sitgreaves Pass – also known as "the hairpin highway."
Visit Cool Springs Station
Cool Springs is located about 20 miles west of Kingman, Arizona on the Oatman Road (Old Route 66).
This stretch of Route 66 is one of the most unique to be found anywhere. Just before you climb into the Black Mountains up Sitgreaves Pass towards Oatman, Cool Springs will be seen on your right side.
Plan ahead and spend some time exploring this area with plenty of film for photos along history's path!
The trip from Kingman or Needles would make an exciting day-long excursion if taken by Old US Highway over these old alignments through colorful towns like those in Arizona and California such as Tonopah or Amboy, without a doubt are worth visiting first hand too when driving down historic Route 66.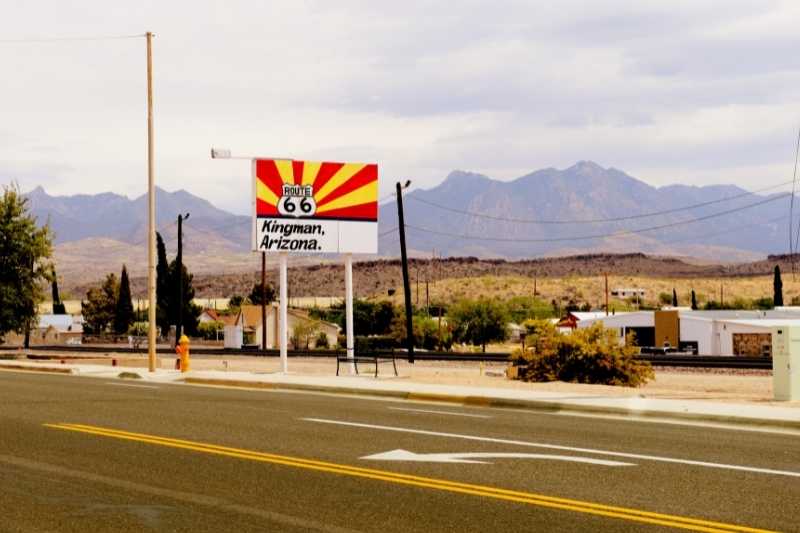 Where to Eat in Kingman
El Palacio, Mexican Food
El Palacio is a Mexican restaurant named one of the best in Arizona, with 6 locations and over 20 years' worth of industry accolades.
This family-owned business offers traditional dinner fare for lunch or dinner at any time to locals who are craving classic dishes like enchiladas or tacos al carbon.
El Palacio's first location was opened in 1992, and they continue to be an award-winning favorite among Arizonans today!
Mr D'z Route 66 Diner
Come to Mr. D'z Route 66 diner on historic route 66 for all your American food needs. From root beer floats and cheeseburgers, this place has it all! Don't forget its breakfast!
This fun-loving restaurant is situated along old Route 66, where diners can enjoy classic American fares such as frothy root beers or juicy burgers with golden fries.
Floyd and Company Real Pit BBQ
You know you've come to the right place when you walk in and see a huge smoker.
The smell of hickory smoke greets your nose, but it's not too overpowering – just enough for all those flavors to stay true during cooking.
Floyd and Company Real Pit BBQ is dedicated to making sure their Southern barbecue tastes like home with dishes such as real pit barbecue, pulled pork sandwiches, baby-back ribs; they even offer wood-fired artisan pizzas!
Route 66 Kingman Arizona FAQs
What is Kingman, AZ, Famous for? 
Kingman is known as The Heart of Historic Route 66, and it's easy to see why.
If you are traveling on Route 66, Kingman is the perfect stopping point. You can see historical landmarks in town and explore surrounding destinations like Hualapai Mountain Range or Cerbat Mountain ranges.
Kingman Arizona Weather
Average temperatures:
Summer: hoy, dry and clear
Winters: cold, dry and cloudy
In Kingman, the temperature typically varies from 32°F to 96°F and is rarely below 23°F or above 103°F.
Is Kingman AZ, Worth Visiting?
Are you already asking if you have to visit Kingman? Yep, it's totally worth it!
Kingman is one of the best places to start your Route 66 road trip. But, of course, with attractions like The Grand Canyon, you'll want a car that can handle all those miles on rough terrain!
But there's plenty in Kingman, too – historical landmarks and museums dot this charming town, and beautiful desert landscapes provide excellent hiking opportunities just 20 minutes away from downtown.
The Historic Route 66 Museum and Mohave museum are all worth a stop while you're here too!
Don't forget about those scenic hikes nearby through the Mojave Desert – they make excellent family getaways any time of year.
How to get from Needles, CA to Kingman AZ
From Needles CA on Route 66, you can get to Kingman, AZ, in two ways:
I-40: Needles, Topock, Kingman: 63.6 miles
Historic Route 66: Needles, Topock, Oatman, Kingman: 64.3 miles
I prefer the last option; Topock and Oatman are two places you have to visit.
How to get from Kingman AZ to Holbrook AZ
You can do this stretch on Route 66 or on the I-40.
I-40 Kingman AZ to Holbrook AZ: 236 miles
Historic Route 66: 252 miles and many places to visit.
Read this post with all the stops on this stretch on Route 66.
From Flagstaff to Kingman via Route 66
The same, you can do this stretch on Route 66 or I-40. In addition, there are many places to visit on Historic Route 66.
From Flagstaff to Kingman via Route 66 on Route 66: 162 miles
From Kingman to Grand Canyon Skywalk
There are only 74 miles from Kingman to Grand Canyon Skywalk. You can make this side trip on your own or with a guided tour.
If you choose the last option, you can buy your ticket online or in Kingman. But, if you're traveling in the high season, you must buy your tickets in advance.
Plan Your Route 66 Road Trip
Disclosure: Some of the links on this post are affiliate links, meaning at no additional cost to you, I may earn a small commission if you click through and make a purchase.
Last Updated on 14 March, 2023 by Veronica