Places in California You've Got To Visit At Least Once
It's not exactly a secret that California is one of the most diverse regions in the world. Rolling hills dotted by vineyards, dramatic coastlines, mighty mountains, and vast deserts are just a few of the sceneries you can expect to find in the Golden State.
Simply put, an entire life wouldn't be enough to see everything California offers, so narrowing down a list of places to visit in just one trip is a pretty difficult feat.
With that said, though, there are some destinations that stand high above the crowds, so I decided to put together a shortlist of the most epic places the Golden State has to offer. You know, the type you've got to see with your own eyes at least once in your life.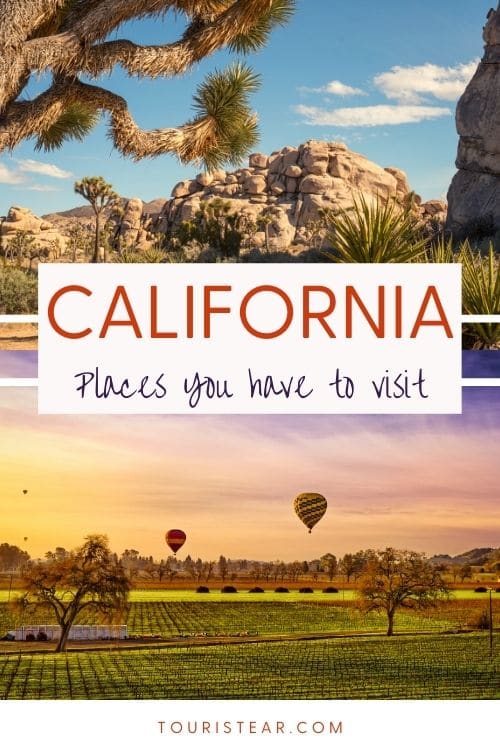 Sequoia and Kings Canyon National Park
Set on the slopes of the mighty Sierra Nevadas, Sequoia National Park is an absolute gem of a place.
Home to groves of sequoias, the largest trees in the world, walking under canopies backdropped by mountains dusted in snow will make you feel as though you're walking inside a fairytale.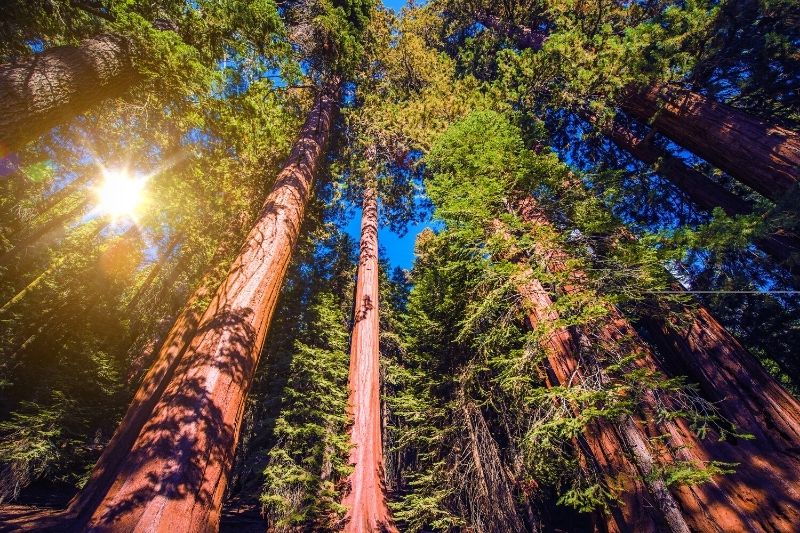 While here, make sure you go on a few hikes to take in the beauty of the place truly. Don't forget to check out General Sherman, which is the largest living tree in the world and proudly calls Sequoia National Park its home.
Aside from getting to witness the natural marvel that is sequoia trees, the park is also home to Mount Whitney, the highest peak in the continental United States as well as one of the deepest canyons in the country!
You also can or should visit Yosemite National Park. You can visit it on your own or on a guided tour from San Francisco.
McWay Falls
Big Sur is a region gem, and one of its most iconic sights is the alluring McWay Falls.
This 80-feet waterfall cascades down into a stretch of the beach inside a hidden cove, making the entire scene look just like one in a painting!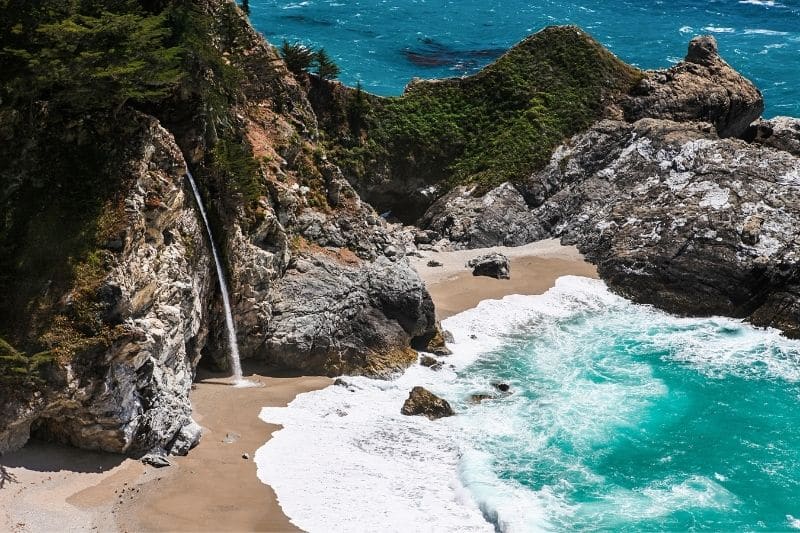 McWay Falls is set in the heart of Julia Pfeiffer Burns State Park, and while getting to them requires a little hiking, the scenery you'll get to see will make every step worthwhile.
Check out Pacific Coast Highway Self-Drive Tour. This is an app with an itinerary/guide to the Californian Coast. You can listen to audio commentary that plays automatically along the route.
Lake Tahoe
Lake Tahoe is a dreamy alpine lake that, once again, proves how varied California's landscapes can get.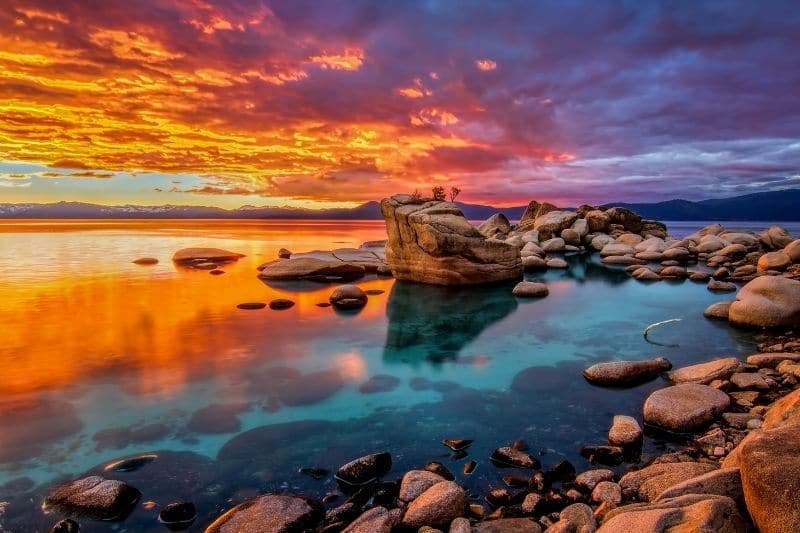 Surrounded by the Sierras, Lake Tahoe's shimmering sapphire blue waters and soft white sand could easily get you wondering if you were transported into a Caribbean island if it weren't for the sights of snow-capped peaks backdropping the scene.
During the colder months, Lake Tahoe is a mecca for world-class winter sports. With 14 ski resorts to choose from, skiing and snowboarding are favorite activities during winter, but adventures like ice skating, snowshoeing, and hiking on the snow are also on the menu!
Come summer, beach activities take the spotlight, with hiking, sunbathing, kayaking, canoeing, and other water sports becoming the top thing to do on the lake.
Embark on a 2-hour sightseeing cruise of South Lake Tahoe and the breathtaking Emerald Bay either at sunset or during the daytime. Enjoy snacks and beverages as you take views of Lake Tahoe, and more.
Joshua Tree National Park
Joshua Tree may just be California's most beautiful arid destination, making it the ideal place to get a taste of the state's desert magic.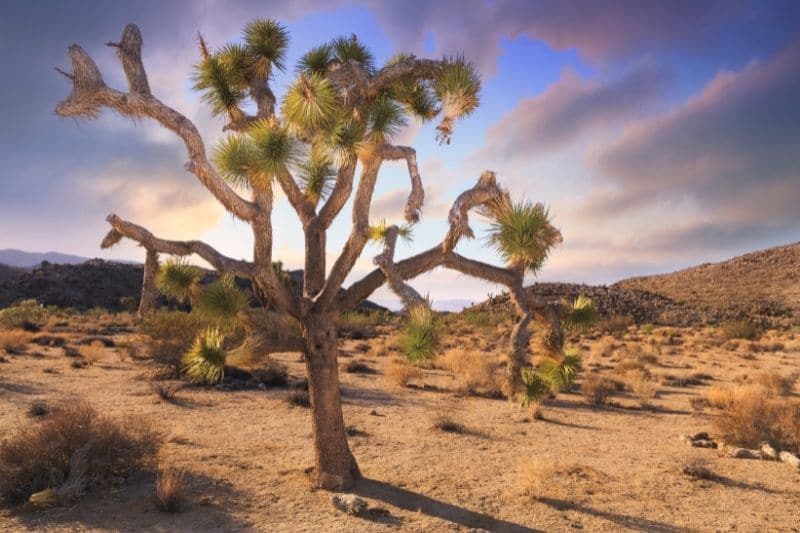 Set right on the spot where the Mojave and Colorado deserts meet, the combination of two entirely different ecosystems creates a pretty unusual-looking landscape.
Aside from simply taking in the views, Joshua Tree is a prime destination for desert adventures. With hiking, biking, camping, and rock climbing on the menu.
You could easily spend several days exploring the park and never have to do the same thing twice. Moreover, Joshua Tree is listed as Sky Dark Territory, so spending a night inside the park is an absolute treat!
Napa Valley
California's love for great wines is unparalleled, and Napa Valley is the most iconic destination to come and experience it first-hand.
Picture-perfect vineyards and wine farms dot the golden hills on the outskirts. If you want to explore downtown Napa, you'll be greeted with farm-to-table restaurants, cozy boutique hotels, and luxurious spas to relax in after a day spent wine tasting.
With so many wine farms to choose from, deciding where to go can be a bit tricky. Beringer is perfect for you if you're a newbie and want to take things slow, while Chateau Montelena is a great pick if an Instagram-worthy location is what you're after.
If you don't mind splurging a bit, you can't go wrong with a visit to Inglenook, which is a Francis Ford Coppola estate!
Embark on a guided wine tour in the renowned Napa Valley, the most celebrated wine region in North America. Discover boutique wineries that are hand-picked by your guide and enjoy a tasty picnic lunch.
Channel Islands National Park
Commonly referred to as the Galapagos of North America, the Channel Islands is a dream come true if great nature, wildlife, and absolute solitude sound like the ideal vacation.
Thanks to its remote location, the Channel Islands remains a bit of a secret in the national park system, making it the ideal location if you're the type of traveler who prefers staying away from the crowds.
Think vast ocean views, dramatic rock cliffs, and wildlife encounters you won't find anywhere else on the planet to get a pretty good picture of what a visit to this hidden gem is all about!
Travel Insurance
Do not forget to buy travel insurance to travel to the United States. Hopefully, you don't need to use it, but it is better to be prepared for any eventuality or emergency.
In my case, I have Chapka's annual insurance, with worldwide medical assistance with good coverage. Also, you can use our link to get a 7% discount on Chapka Insurance.
Choosing travel insurance will depend mainly on the duration and coverage of the insurance. Therefore, it is best to inform yourself well to choose the best insurance available.
If you want you can review our guide on how to choose travel insurance, where you will find comparisons, opinions, and discounts.
I hope this list of the best places in California to visit at least once helped you come up with the perfect bucket list! Even though there's plenty more on the menu, these destinations are an excellent way to get a little taste of each of the landscapes found in the state.
Have you ever visited any of these places in California? If not, which one are you looking forward to checking out the most? Let me know in the comment section below!
Plan Your Trip to California
Last Updated on 25 September, 2023 by Veronica
Disclosure: Some of the links on this post are affiliate links, meaning at no additional cost to you, I may earn a small commission if you click through and make a purchase.
Author: Veronica
Vero, a seasoned traveler, has explored 25 countries and lived in five, gaining a rich perspective and fostering an infectious passion for travel. With a heart full of wanderlust, Vero uncovers the world's hidden gems and shares insights, tips, and planning advice to inspire and assist fellow adventurers. Join Vero and let the shared passion for travel create unforgettable memories.