Renting a Car in Chicago: Your Ultimate Guide
Renting a car in Chicago can be a great way to explore the city and its surroundings. With so many rental car companies to choose from, it can be overwhelming to figure out where to start.
However, with a little bit of planning and research, renting a car in Chicago can be a stress-free experience.


Disclosure: Some of the links on this post are affiliate links, meaning at no additional cost to you, I may earn a small commission if you click through and make a purchase.
Choosing a Rental Car Company in Chicago
So, before you dive into renting a car in Chicago, let's start by figuring out exactly what you need. Take a moment to think about the size of your group, how long you'll be traveling, and any specific features like a GPS or a baby car seat that could come in handy.
Once you've got that sorted, it's time to do some research. Look into rental car companies both at the airport and off-site. You'll often find that the off-airport options in Chicago are a bit more budget-friendly. Oh, and don't forget to book your rental car in advance for the best deal.
Car Rental Companies with Rental Locations
Once you've considered any specific option you maybe need In the Windy City, we've got some awesome rental car companies like National, Enterprise, and Avis.
National offers a wide selection of vehicles and top-notch customer service.
If budget is a concern, go for Dollar or Enterprise and its affiliate Alamo. They have competitive rates and sweet discounts. And if convenience is a priority, Avis has rental locations all over the city.
However, for us, the best option is to use a metasearch engine for rental cars which searches in multiple platforms and proposes the solutions that suit best our requirements. The best for us without hesitation is Discover Cars.
Speaking of locations, it's important to consider what works best for you.
Some companies, have multiple spots around Chicago, giving you the freedom to choose.
If you're staying downtown, find a nearby location. And if you're flying in, an airport location can save you time and hassle.
Airport Car Rental Locations in Chicago
Both O'Hare International Airport and Midway International Airport offer a variety of rental car companies, including National, Enterprise, and Avis.
Choosing the airport as the pick-up location allows you to hop off the plane, grab your luggage, and head straight to the rental car counter to get on the road.
As a drawback, normally the prices and fees are more expensive and sometimes the offices are crowded and the pick-up time is much longer than in less crowded offices.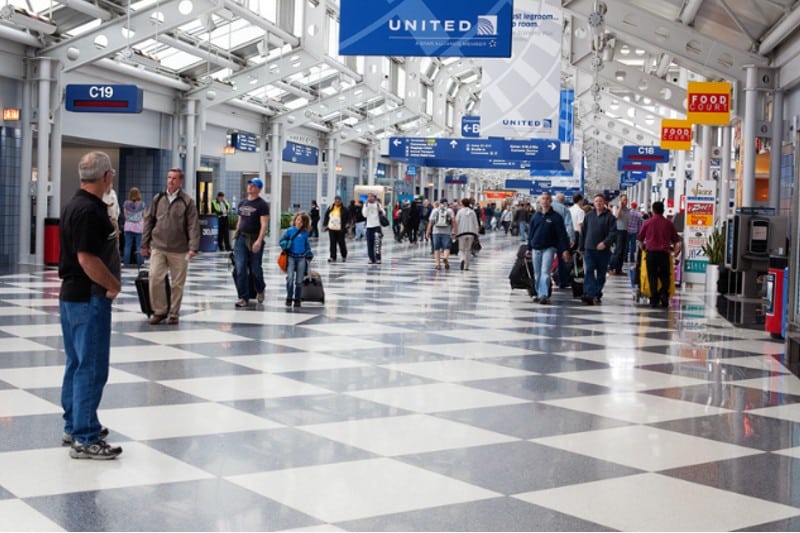 Now, here's an interesting fact: In Chicago you have one-way transfers available where they pick you up in a car with a private driver and take you directly to your destination.
They are not excessively expensive and save you the wait in queues at car rental offices or taxis. This flexibility is perfect for being able to go to a less crowded pick-up location in the city and allows you to save time and explore the city and its surroundings at your own pace.
Remember, when choosing a rental car company, consider your specific needs and budget. Research their reputation and check the rental locations that are most convenient for you.
By taking these steps, you'll ensure a smooth and enjoyable trip to the magnificent city of Chicago. Buckle up and get ready for an incredible journey!
Reserving a Rental Car
Renting a car in Chicago can be a convenient and affordable way to explore the city and its surrounding areas. Here are some tips on how to reserve a rental car for your trip.


Rental Vehicle
When making a reservation, consider the type of vehicle that suits your needs.
If you're traveling with a group or have lots of luggage, an SUV might be a good choice. For solo or duo travelers, a smaller car can be more practical and cost-effective.
Do not let it be only the economic question that makes you make a decision, you can regret it during your vacation and it is not worth it for a few dollars more.
For example, when we planned our trip which included the complete route 66 , but not only, we knew that we were going to drive about 7,000 miles.
It was out of the question to rent a small car or one that did not have certain extras. However, we did not take into account that sometimes we were going to get on unpaved dirt roads and we missed a 4×4 on certain occasions!
Most rental car companies offer a wide range of vehicle options, so take your time to browse and select one that fits your needs and budget.
Rental Period of Renting a Car in Chicago
Think about the duration of your rental period. Rental car companies typically offer daily, weekly, and monthly rates. Compare prices for different rental periods to find the best deal. Keep in mind that rates may vary based on the length of your rental period.
Optional Extras for Renting a Car in Chicago
During the reservation process, you may be offered optional extras like GPS navigation systems, Satellite Radio, baby car seats, or additional insurance coverage. Consider your needs and budget when deciding whether to add these extras to your reservation. Keep in mind that they can increase the overall cost of your rental.
Personally, we never rent a car without proper insurance coverage, for us is a must. You never know what can happen on the route, an incident without insurance can be catastrophic. We will talk a bit more about this below.
Estimated Costs and Fees
Rental costs can vary depending on the type of vehicle, rental period, and optional extras. As an estimate, daily rental rates for a compact car range from €40-60 EUR (around $45-67 USD), while SUVs can cost around €70-100 EUR (approximately $78-112 USD) per day.
Additional fees may include taxes, fuel charges, and airport surcharges.
Penalties and Restrictions of Renting a Car in Chicago
Be aware of penalties and restrictions. Common penalties include late return fees, underage driver fees (if applicable), and fees for returning the car with less fuel than when picked up. Familiarize yourself with the rental company's policies to avoid any unexpected charges.
Payment Methods
Rental car companies typically accept major credit cards, such as Visa, Mastercard, and American Express, for payment. Some companies may also accept debit cards or cash deposits, but check with the specific rental company beforehand to confirm their accepted payment methods.
You can also get a travel card and withdraw and pay anywhere! Create an account here.
Understanding Rental Car Insurance in Renting a Car in Chicago
When you're renting a car in Chicago, it's crucial to think about rental car insurance. Believe me, I learned this the hard way during my recent trip. Rental car insurance is like a safety net that shields you and the rental car from any unexpected mishaps, be it an accident or theft.
It's vital to grasp the ins and outs of the various rental car insurance options at your disposal and what exactly they cover.
Liability Protection
When you're renting a car in Chicago, don't overlook the significance of liability protection. This rental car insurance type shields you from the financial burden of damages or injuries you may cause to others while driving the rental car.
Keep in mind that liability protection might not cover damages to the rental car itself. So, be cautious and weigh your options before hitting the road. Oh, and just to be clear, those fees could range from 15 euros or 20 USD per day, depending on the rental company and the coverage limit.


Property Damage
Another critical aspect to consider is property damage coverage. This type of rental car insurance takes care of damages to the rental car or other property caused by you or another driver.
Before you take the wheel, make sure to thoroughly check the rental car agreement to see if property damage coverage is included. The fees for property damage coverage can range from 10 euros or 15 USD per day, providing peace of mind when you're navigating unfamiliar roads.
Damage Waiver
The damage waiver is like a protective shield that releases you from responsibility for any damage that might occur to the rental car. Although it may not cover every type of damage, it's a valuable addition to your rental car insurance.
Just be cautious if you're planning to drive off the beaten path, as damages caused by driving on unpaved roads might not be covered. Damage waiver fees could be around 20 euros or 25 USD per day.
Supplemental Liability Protection
To ensure you have ample liability coverage, consider opting for supplemental liability protection. This rental car insurance provides additional coverage beyond the limits of your personal auto insurance policy.
Double-check with your auto insurance provider to see if you already have this coverage to avoid redundant expenses. The cost of supplemental liability protection could vary but expect it to be around 12 euros or 15 USD per day.
Personal Effects Coverage
Don't forget about your personal belongings! Personal effects coverage takes care of theft or damage to your personal items while they're in the rental car.
Keep in mind, there may be limits on the amount of coverage provided, so be sure to evaluate your insurance needs. The fees for personal effects coverage could be approximately 8 euros or 10 USD per day, offering extra protection for your valuables.
Roadside Assistance Protection
While on the road, you'll appreciate the comfort of having roadside assistance protection. This rental car insurance offers assistance in case the car breaks down or you need any other help during your journey.
It's always wise to inquire with the rental car company if roadside assistance protection is included in your rental agreement. The fees for roadside assistance protection can range from 5 euros to 8 USD per day.
Loss of Use
Loss of use coverage is another aspect to consider. This rental car insurance takes care of the rental car company's loss of income while the car is being repaired or replaced.
Be aware that it may not be automatically included, so it's worth checking your rental agreement. Depending on the rental car company, the fees for loss of use coverage might be around 10 euros or 12 USD per day.
Picking Up and Returning Your Rental Car
When renting a car in Chicago, picking up and returning the vehicle is an essential part of the process. Here are a few things you need to keep in mind to ensure a smooth and hassle-free experience.
Rental Agreement
Before embarking on your rental car adventure, there's a crucial step: signing the rental agreement. This document outlines the terms and conditions that govern your rental experience.
The agreement covers essential aspects, starting with the rental period. It specifies pick-up and return dates and times to avoid late fees. The rental rate, including additional charges and taxes, is also clearly stated.
Fuel policy information is included, clarifying whether you need to return the car with a full tank or if there's a pre-paid fuel option. Pay attention to avoid unexpected charges.
Mileage restrictions may apply, so discuss any limitations for long journeys. Additional driver information may be requested for multiple drivers.
Review the insurance coverage provided. Understand the level of coverage, deductibles, and limitations. Consider additional rental car insurance if needed.
The agreement may address damage assessment, late return policies, and restricted use. Treat it as a binding contract and ask questions before signing
Driver's License
As you prepare to pick up your rental car, keep in mind that a valid driver's license is a must. The license should be issued in your name and be in good standing. If you're an international traveler, you may be required to present an international driver's license along with your regular license.
It's crucial to check the specific requirements of the country or state you're visiting to ensure compliance. Don't forget to carry both licenses to avoid any complications during the rental process.
Your driver's license serves as proof of your ability to drive and demonstrates that you meet the necessary legal requirements. So, double-check its validity and make sure you have it on hand when you arrive at the rental car counter.
Credit or Debit Card
Most rental car companies require a credit or debit card to secure the rental. The card should be in the name of the primary driver and have enough available credit or funds to cover the rental charges and any additional fees or charges.
Some rental car companies may also accept debit cards, but be sure to check with them beforehand. When returning your rental car, the rental company will typically place a hold on your credit or debit card to cover any potential damages or additional charges.
To give you an estimate, the hold amount can range from 300 euros to 400 USD, but it's always advisable to check with the specific rental car company for their exact requirements and hold amounts.
Here are a few additional things to keep in mind when using a credit or debit card for your rental:
Some rental car companies may only accept certain types of cards, such as American Express, Mastercard, or Visa. Check with the rental company beforehand to see which cards they accept. For online and over-the-counter payment, use a Wise travel card instead and create and account online.
If you use a debit card, the rental company may require a larger hold amount than with a credit card. This is because debit cards do not offer the same level of protection as credit cards.
Be sure to check with your card issuer beforehand to see if there are any restrictions or fees associated with using your card for a rental car.
By keeping these tips in mind, you can ensure a smooth and stress-free experience when picking up and returning your rental car in Chicago.
Exploring Chicago by Rental Car
Chicago is a vibrant city with endless attractions. Renting a car gives you the freedom to explore at your own pace. Here are top places to visit by rental car. Let's embark on this adventure together and discover the wonders of Chicago!
One of the best ways to explore Chicago is with the GoCity Pass, it allows you for a fixed amount of money to visit unlimited attractions in a certain time, 2 days, 3 days, a week, etc.
We, whenever we can, buy it for 2 or 3 days, visit the most important and save a lot of money.
Explore the Chicago City Center
Let me share with you some must-visit destinations, along with their intriguing histories, ticket prices in both euros and USD, opening hours, and why they should be at the top of your itinerary.
First up is the Willis Tower Skydeck, a true Chicago gem. Picture yourself standing on the 103rd floor, surrounded by panoramic views of the city. I still remember the exhilarating feeling of stepping onto "The Ledge," a glass balcony extending from the tower.
It's a breathtaking experience that will make you feel like you're floating above the city. Tickets are about € 30, and the Skydeck is typically open from 10:00 AM to 8:00 PM.
Next on the list is the legendary Magnificent Mile. The mixture of luxury retailers, department stores, and incredible architecture makes it a paradise for shopaholics and culture enthusiasts.
The best part? Exploring the Magnificent Mile is absolutely FREE, and you can plan your visit based on the opening hours of the specific attractions that catch your eye. But you can also book a guided tour for a more informative adventure!
Finally, the Chicago Riverwalk offers a unique perspective of the city's architectural wonders and provides a peaceful retreat right in the heart of downtown.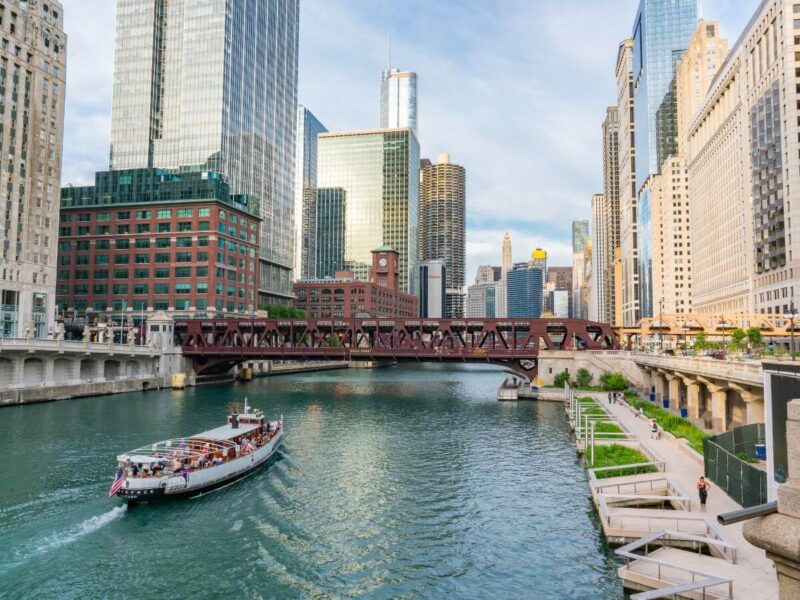 I highly recommend taking a leisurely stroll, renting a kayak or paddleboard, or simply finding a cozy spot at one of the riverside cafes to soak in the ambiance. It's open 24 hours a day, and you can visit at your convenience. Make sure you wear good shoes and carry a bag filled with snacks for riverside stopovers!
Renting a car in Chicago opens up a world of possibilities, allowing you to effortlessly explore these attractions and more.
Relax at the Lake Michigan
Lake Michigan, one of the largest freshwater lakes globally, is an absolute must-see when visiting Chicago. As you rent a car and set off on your Chicago adventure, be sure to include this stunning lake in your itinerary.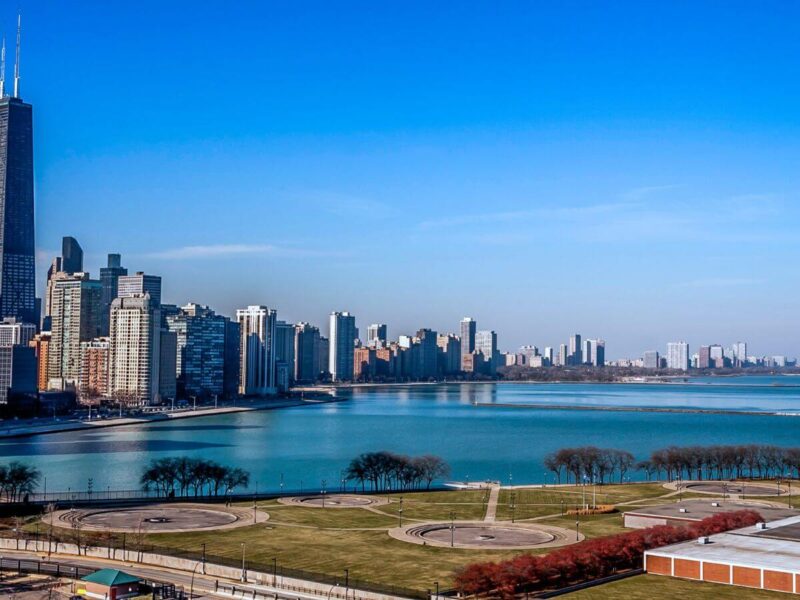 Drive along the scenic Lake Shore Drive, allowing you to soak up the beauty of the lake and the iconic Chicago skyline.
Take a break from your drive and visit one of the pristine beaches along the lakefront. Whether you fancy a swim in the crystal-clear waters or a relaxing picnic on the shore, these beaches offer a perfect retreat from the city's hustle and bustle.
If you have some time, park your car and embark on a cruise or speedboat ride!
See Animals at the Brookfield Zoo
The Brookfield Zoo, located just outside Chicago, is a must-visit destination for families and animal lovers. Spanning 216 acres, this renowned zoo is home to over 2,000 animals and boasts 20 fascinating exhibits.
Renting a car allows for easy access to the zoo, with convenient parking available in nearby lots. From the majestic lions and playful dolphins to the curious primates and colorful birds, you'll encounter a captivating array of wildlife.
To make the most of your visit, check the zoo's opening hours, which typically range from 9:30 AM to 5:00 PM. Ticket prices vary based on age and the time of year.
Explore the Windy City
Chicago, also known as the Windy City, is a fantastic place to embark on a car adventure. Renting a BMW X3 or BMW 3 Series allows you to explore the city's diverse neighborhoods, from the trendy West Loop to the historic Bronzeville district.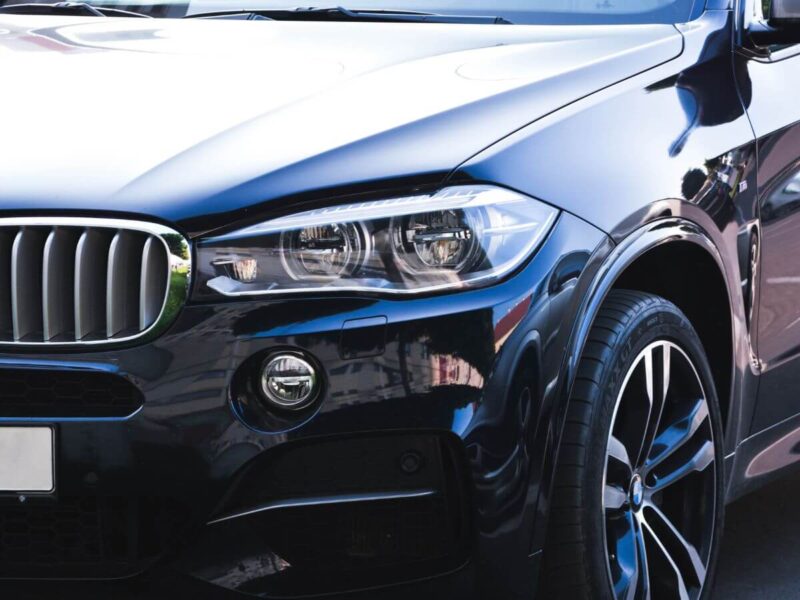 Discover the unique character of each neighborhood, from the artistic vibe of Pilsen to the lively atmosphere of Wicker Park. Allow yourself to get lost in the city's vibrant tapestry, and you'll be rewarded with unforgettable experiences.
While there are no specific opening hours or ticket prices for exploring the city by car, the freedom and flexibility it provides are invaluable. You can plan your Chicago adventure according to your own schedule and preferences, ensuring that you make the most of your time in this dynamic city.
Tips and Tricks for Renting a Car in Chicago
Renting a car in Chicago can be a great way to explore the city and its surroundings. However, it can also be a confusing and expensive process if you're not careful. Here are some tips and tricks to help you get the most out of your rental car experience in Chicago.
Cancellation: Understand the cancellation policy of the rental car company to avoid any surprise fees. Read the fine print, and don't hesitate to ask questions if you're unsure.
Fees: Be aware of additional fees such as taxes, airport surcharges, and extra driver charges. Don't fall for unnecessary upselling of services or insurance you don't need.
Below-Average Price: Book your rental car in advance and look for discount codes or coupons to secure a better deal. Consider renting from locations outside the airport or exploring smaller rental car companies for potentially lower prices.
Minimum Age: If you're under 25, be prepared for an additional fee and check if the rental car company has age restrictions. Review their policy before making your reservation.
Discovering More Options: Don't limit yourself to big rental car companies. Explore smaller companies that may offer better prices or more flexible policies. Research and compare before making a decision.
Research Fuel Policies: Understand the fuel policy of the rental car company. Some may require you to return the car with a full tank, while others offer options to prepay for fuel or charge you based on the fuel level at the time of return. Knowing the policy can help you plan accordingly and avoid unnecessary charges.
Check for Damage: Before driving off, thoroughly inspect the rental car for any existing damage and ensure it is documented. Take photos if needed. This step can protect you from being held responsible for pre-existing damage upon return.
Understand Insurance Coverage: Review your existing car insurance policy or credit card benefits to see if they provide rental car coverage. This may help you avoid paying for additional insurance offered by the rental company. However, if you're not covered, consider purchasing rental car insurance for peace of mind.
Familiarize Yourself with Rental Terms: Take a few minutes to read the rental agreement, paying attention to restrictions, mileage limits, and return policies. Understanding the terms can prevent unexpected surprises and help you plan your trip accordingly.
Reserve GPS or Mobile Wi-Fi: If you're not familiar with the area or rely on GPS for navigation, consider renting a GPS device or opting for a rental car with built-in navigation. Alternatively, you can reserve a mobile Wi-Fi device to stay connected during your journey.
Renting a car in Chicago has been an incredible adventure. The freedom to explore at my own pace and discover hidden gems made my trip unforgettable. Embrace the Windy City's charm with a car rental!
Plan Your Trip to Chicago
Last Updated on 6 September, 2023 by Veronica