13 Ghost Towns in New Mexico
Travel, tourism, culture, and museums owe much to the remains, the ruins, and everything that somehow survives its history or the passage of time.
However, some places are directly phantasmatic, that is, difficult to grasp and capture, that are and are not where they are located.
A ghost town, in particular, has been abandoned and yet retains a remnant of vitality or signs of the life forms that once inhabited it.
Such is the case of many New Mexico towns, reminiscent of the Wild West; that landscape assimilated with the mining industry and film industry, whose heyday in that art lasted until approximately 1960.
Traveling through New Mexico is a unique experience. A mixture of magic and devastation, oblivion and memory, beauty and desolation make each village a unique postcard between the attractive, the pleasant, and the eerie of the crossing of times. Let's go exploring!
13 New Mexico Ghost Towns You Can Visit
Shakespeare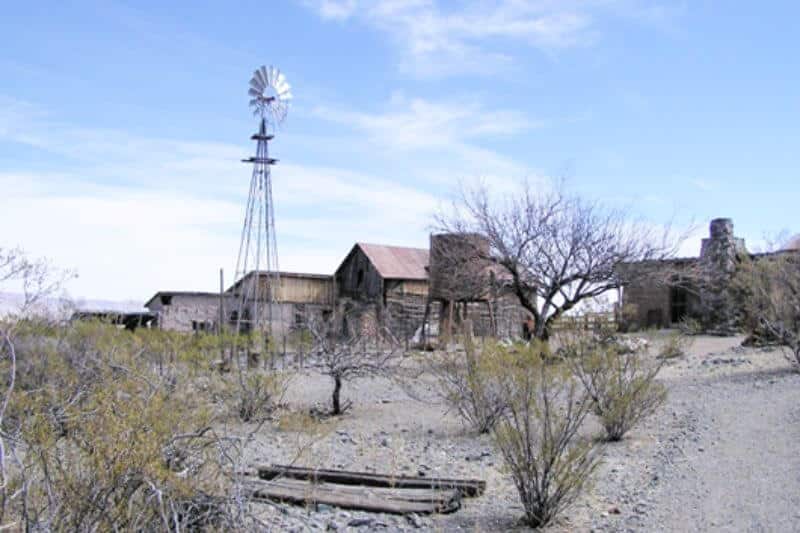 Shakespeare is a ghost town rooted in Wild West mythology, marked by the history of famous outlaws such as Billy the Kid, Johnny Ringo, and Sandy King.
Linked to mining and silver exploitation since 1870, it was for years a population marked by this type of search for wealth, gradually extinguished as the model was exhausted and people began to migrate to other towns.
Currently, Shakespeare is part of private grounds and can be visited on some weekends.
It was declared a national historic site in 1970.
Chloride
Chloride is five miles southwest of Winston on State Road 52. Its history dates back to 1870 when rocks containing silver ore or, to use the town's name, chloride (silver) were discovered.
Chloride had two thousand inhabitants, restaurants, stores, legal and medical professionals, a hotel… However, this boom in 1880 declined ten years later, when silver gave way to gold.
Today, much of the town's structure is still standing, and about 20 residents still live there. The town retains 30 original and 30 restored buildings, including a Pioneer store that serves as a museum, cemeteries and shops.
Cerrillos
The museum and gallery are open daily from 10 am to 4 pm.
Located approximately 28 miles south of Santa Fe on State Road 14, Cerrillos is linked to the history of mining, gemstones and the color turquoise, which has religious significance to many tribes that were located in its vicinity near Mount Chalchihuitl.
Until the mining boom of 1879, Cerrillos was the center of industry in the area, which included other towns such as Golden and Madrid (see below), where gold, silver, copper, lead, coal and other minerals were mined.
Today, stores and galleries, the post office and a health center are still standing. Stables and Cerrillos Hills State Park with five miles of hiking trails, can also be visited. St. Joseph's Church has mass every Sunday.
The Mining Museum of Cerrillos also deserves a special mention, with its numerous objects from the so-called "far west," as picturesque as it is charming and desolate.
As a colorful fact, it is worth mentioning that the city was the setting for several movies, including Walt Disney's Nine Lives of Elfego Baca and Young Guns.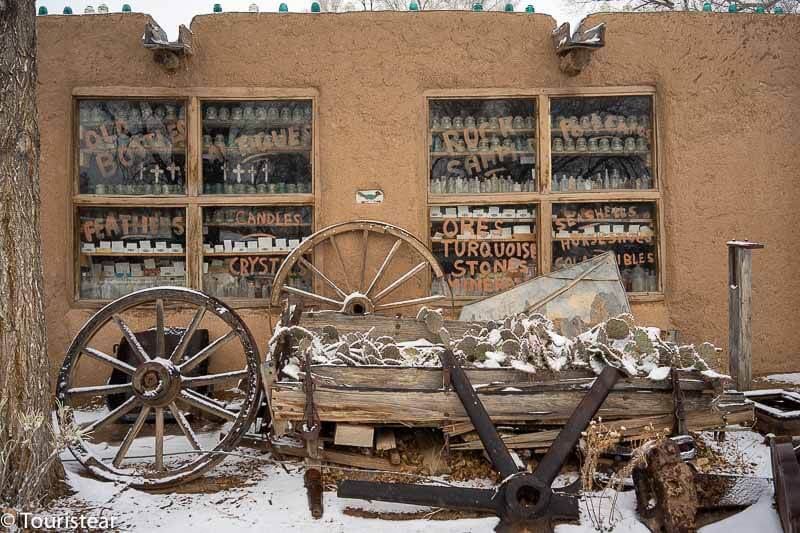 Madrid
Located 27 miles southwest of Santa Fe on State Road 14, Madrid is a mix of a ghost town and thriving redevelopment as it moved from abandonment to resurrection over the course of the 20th century.
Also linked to the history of mining, particularly coal, which boomed in 1880 until its decline in the context of the twentieth-century world wars, Madrid was abandoned to the wind and sun for a long time.
It was around 1970 that the houses began to be renovated and gradually populated again, until today, when it has about 40 stores and galleries, restaurants and a museum. Historical town with ghostly remains, it is a very interesting visit.
Madrid has been filmed in many movies, such as "Wild Hogs" or "Maggie's Diner", a place built for the movie and now a store.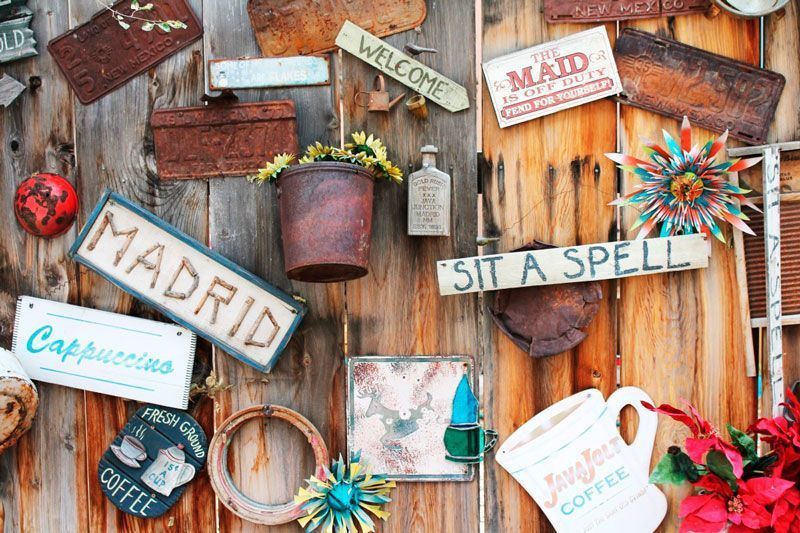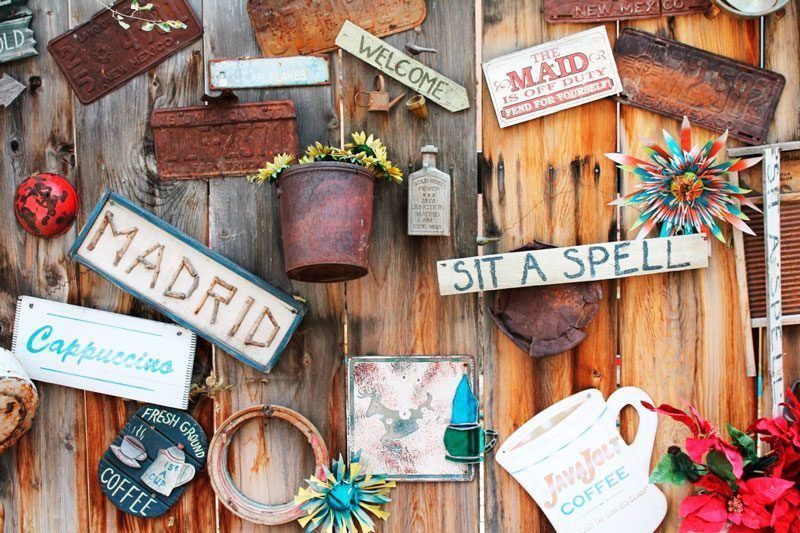 Golden
10 miles south of Madrid and 15 miles north of Tijeras on NM 14, Golden contains in its history that of Native Americans, Spanish settlers, and Americans.
Its growth was exponential since 1825, from small camps when gold was discovered in the area to the gradual construction of the city which, as its name indicates, became a center for the exploitation of that metal.
Saloons, post office, stores: Golden flourished with gold mining and boomed until the 1930s when it became a ghost town.
Their buildings remained in some cases and others, they collapsed or suffered sporadic vandalism. It is currently a very photogenic ghost town. Particularly the Catholic Church of San Francisco, restored around 1960.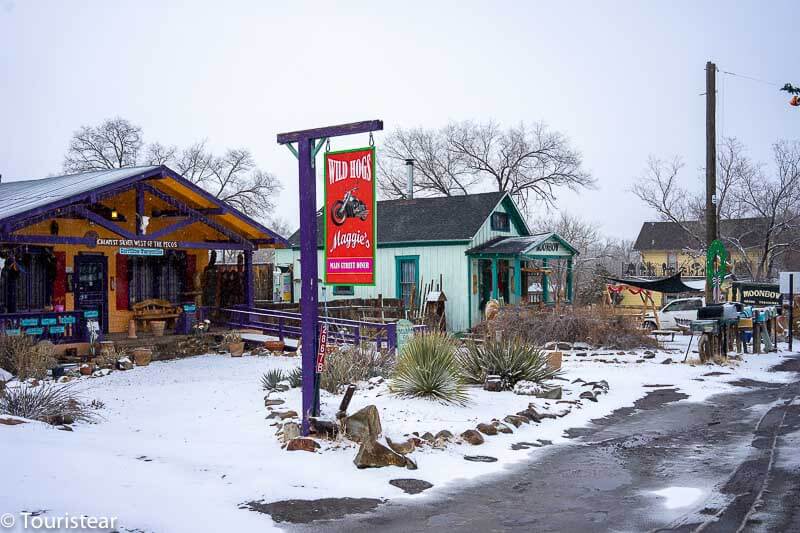 Hagan
Hagan is located east of Route I-25, beyond the San Felipe Casino north of Albuquerque and down a dirt county road toward Madrid.
Its history dates back to the beginning of the 20th century and the development of coal mines. The name Hagan was chosen for the site in 1904, in honor of a local AT&SF Railroad official (railroad, mining and ghost towns, an unfailing triad).
By 1924, both the railroad line and the construction of housing, mining buildings and a power plant were completed.
When coal production declined in 1930, the railroad, the school built, the bank, the post office, the saloons, the barbershop, the 200 people who lived there, the mining that powered it all were left behind.
Today, the foundations and some brick walls of the power plant, the general store, the warehouse and some smaller buildings remain.
The site can be seen from Indian Service Road 844/Madera Road, which follows the railroad grade from San Felipe.
The village ruins are located on private land owned by Diamond Tail Ranch and are generally not open to the public, except for occasional organized tours.

Montoya
West of Tucumcari on Old Route 66, the town of Montoya originated in 1902 with the expansion of the Southern Pacific Railroad. It served as a loading place and consisted of a store, the station, some houses.
Montoya's story is also related to that of Route 66. Route 66, when stores and services were opened for travelers and merchants who traveled its roads.
Today, you can visit the "Casa Alta", the old four-room house built in the early 20th century, and other houses such as the Hendren Ranch.
Around these old buildings there are relics of other times, houses and ranches from the prosperous times of the area.
Cuervo (*almost a ghost town)
Cuervo is easily accessible, just off I-40, east of Santa Rosa.
Its history dates back to the beginning of the 20th century, to the advance of the railroad and the construction of Route 66.
Abandoned buildings from that brief period of prosperity and the contemporary population can be seen today. Yes, Cuervo has some residents, almost 60. It retains its own zip code and, until 2011, had a post office.
Cuervo is one of those half-inhabited, half-ghost towns. Half present, half past. A sort of partially inhabited museum among ruins and remains. A visit is undoubtedly interesting for those who like to delve into the history of the west.
Lincoln
Lincoln is 57 miles west of Roswell and just south of the Lincoln National Forest. Its present name dates from 1869, although it was previously called Las Placitas del Río Bonito (a name given by the Spanish families who lived there around 1850).
The people's history mixes that of the Native Americans, the Spanish conquistadors, the Mexicans, and the Anglo-American colonizers. But one of its main attractions is having been the home of Billy the Kid.
So much so that each year a festival is held in August featuring an outdoor performance of The Last Escape of Billy the Kid.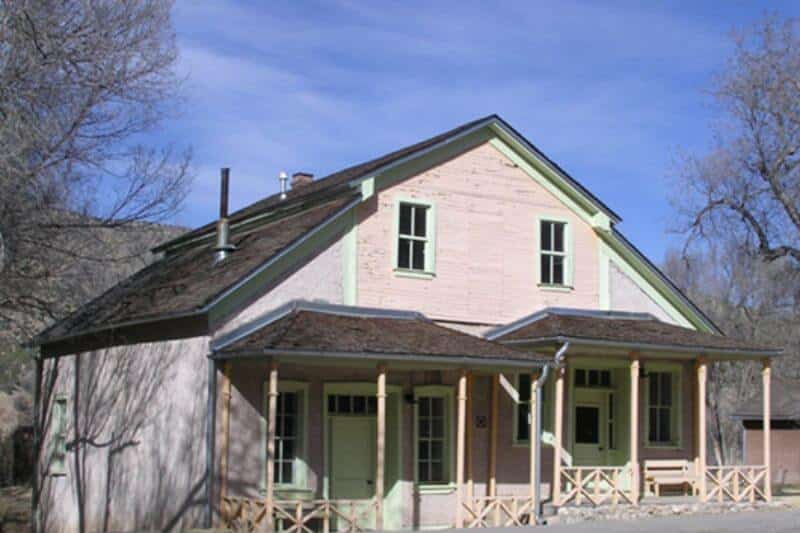 White Oaks
White Oaks is located three miles north of Carrizozo on US Hwy 54. It is a ghost town in the best Wild West style, cowboy and frontier territory mixed with the discovery of gold. Again, mining, cowboys, railroads, sunset.
White Oaks was the second largest city in New Mexico, behind Santa Fe. White Oaks lasted as long as the gold mining and the limit placed on the railroad.
Today you can visit several historic buildings, the Cedarvale Cemetery and the historic No Scum Allowed Saloon, where the spirit of Billy the Kid lingers in the air, as it was one of his haunts.
Kelly
Located south of Magdalena, just off US 60, Kelly encompasses a history that spans from the late 19th century to nearly its midpoint in 1947.
By 1884, mining attracted investors and settlers. The Kelly Township firm was established with banks, churches, saloons, a clinic and several mercantile stores.
Near Kelly, Magdalena was established 3 miles north as the AT & SF rail terminal to transport the precious minerals from these mines.
Today, you can appreciate the Kelly mine frame, a monument designed by Alexander G. Eiffel, an imposing monument representing the hard work of the miners and guarding the subway passages of kilometers of mines now closed.
Lake Valley
Located 17 miles south of Hillsboro on State Road 27, Lake Valley is a ghost town linked to mining, its boom and bust, and the railroad development in the area.
Founded in 1878 and virtually uninhabited by 1950, Lake Valley offers a tourist destination with partial restorations to appreciate the ways of life of that historical period in New Mexico.
Today, a few houses and a few other buildings remain of what was once a varied town, with its church and halls, taverns, post office, populated by blacksmiths, mine workers and merchants.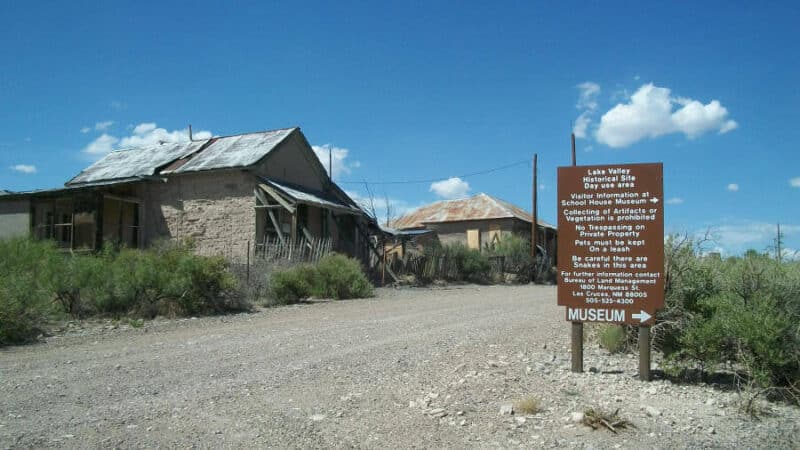 Colfax
Located about 15 miles northeast of Cimarron on US 64, Colfax owes its origin to Dawson, the coal boom and the development of the railroad, especially around 1890.
Today, you can still appreciate its hotel, some buildings, some houses that remain despite the passage of time.
At the time, the town promised great livestock and agricultural development thanks to the railroad and mining. It had its moment of glory and projection, which was short-lived but can still be visited on a self-guided tour.
How Many Ghost Towns are in New Mexico?
The number of ghost towns in New Mexico is very numerous and responds mainly to the different moments of development of mining, railroads and their production models. According to estimates, approximately 400 villages are involved.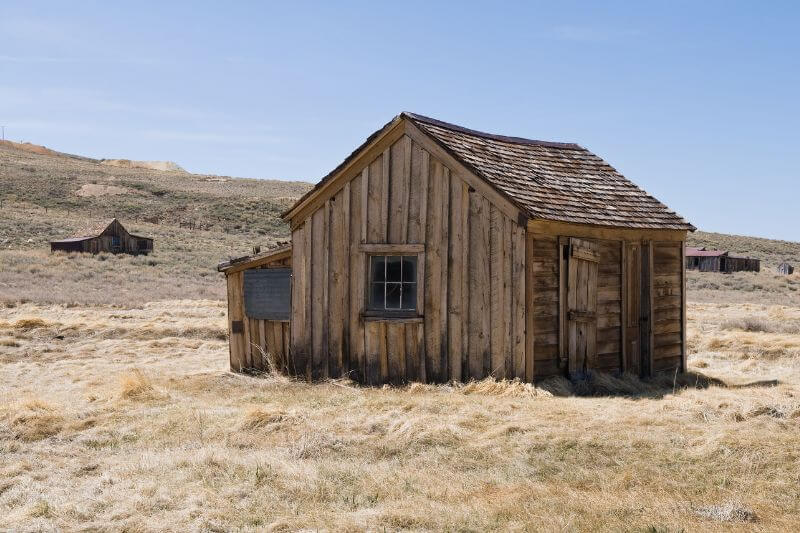 How Can I visit the Ghost Towns in New Mexico?
The best way to visit the ghost towns of New Mexico is by car or on specific tours, given the accessibility of each one and the proximity between them, which allows visiting more than one per day in some cases.
Plan Your Trip to New Mexico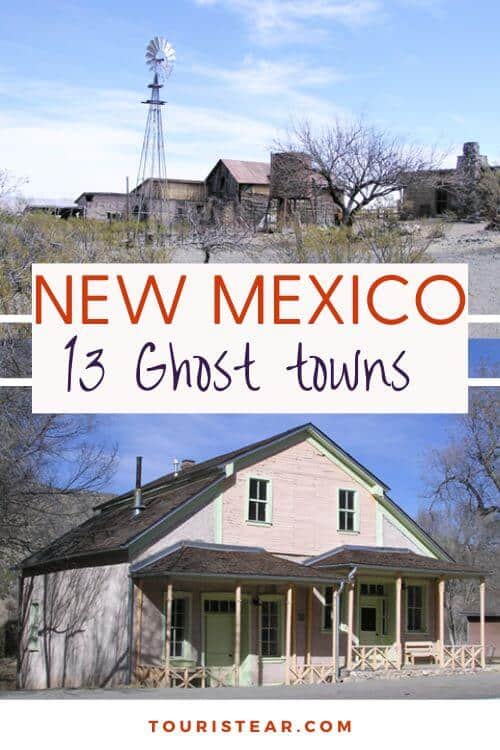 Last Updated on 25 October, 2023 by Veronica
Disclosure: Some of the links on this post are affiliate links, meaning at no additional cost to you, I may earn a small commission if you click through and make a purchase.
Author: Veronica
Vero, a seasoned traveler, has explored 25 countries and lived in five, gaining a rich perspective and fostering an infectious passion for travel. With a heart full of wanderlust, Vero uncovers the world's hidden gems and shares insights, tips, and planning advice to inspire and assist fellow adventurers. Join Vero and let the shared passion for travel create unforgettable memories.