Last Updated on 2 March, 2021 by Veronica
We start the seventh day of our route!. Today we'll cross the Midpoint. Midpoint is the point that indicates we're already halfway. Besides, we are going to change of state, and we'll pass New Mexico and get into Texas.
It's a journey of 172 miles. We are going to pass through Tucumcari, Vega, Adrian and will arrive in Amarillo, Texas. An important part of this section, Route 66, overlaps I-40, so, unfortunately, we will have to drive the Highway during some sections, especially before Tucumcari.
From Tucumcari, we'll find some sections of Route 66 well preserved, and they are worthy. Yet it is a section where we will not have many stops, though the ones we'll have are pretty good ones. At least, I liked them very much.
Route 66. Day 7. Santa Rosa – Amarillo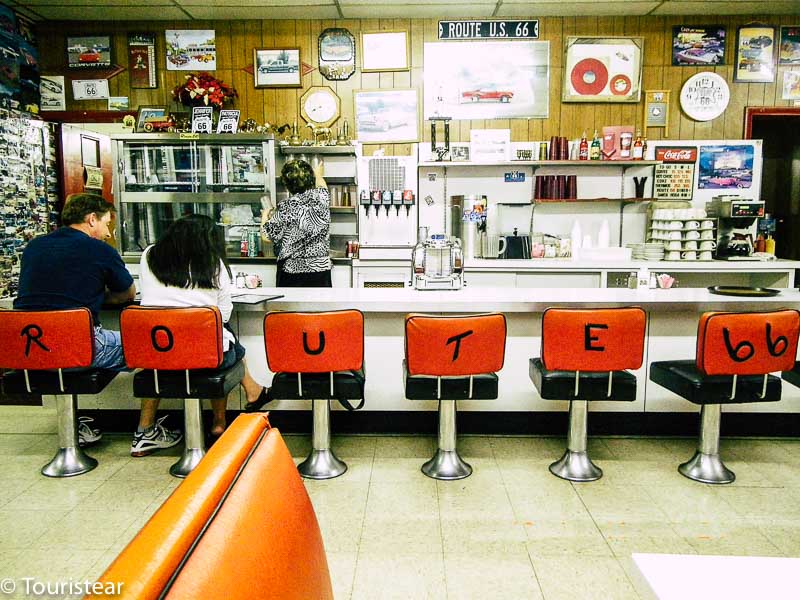 Today we can start easy, not like yesterday, it was a hard day. As I always say (I know I repeat myself a lot) a good breakfast and let's start the day.
What are the mandatory stops for today?, Tucumcari, Midpoint (Adrian), Cadillac Ranch (just before Amarillo) and Big Texan Steak Ranch (Amarillo). In Amarillo you can also visit antique shops and Texan stores that sell products for Texan people. What are those products?
Well, items such as cowboy boots, jeans, cowboy hats and those famous horns some people put just on the front of the car. But I don't want to go ahead (as always). So let's go step by step.
We start in Santa Rosa, at this point, the desert was beginning to make effect in my mood, and I really wanted to see more green landscape. But there are still remaining Texas and Oklahoma  before to start way up north towards Chicago. And here it is where you start to realize the vastness of this country.
Just stop and think how much have you alredy driven and today is when we pass the point that indicates that we are halfway ! Simply brutal.
Santa Rosa – Tucumcari
So we start driving today the I-40 since from Santa Rosa to Tucumcari Route 66 overlaps I-40. It's a stretch of about 58 miles. Nothing interesting along the way. In Tucumcari you find some classics you have to see like the Tucumcari Tonite, The Blue Swallow Motel, the Route 66 Restaurant or the Cactus Motor Lodge now called Cactus RV Park.
The Blue Swallow Motel is a motel that was built in the early 1940s, this hotel was given as an engagement present to Lillian Redman in 1958 and was open and working for the next 40 years. The Blue Swallow is very famous for its authenticity and mid-century style including of course its famous and unique neon.
As a curiosity let me tell you that Lillian Redman was a Harvey Girl, that is, she was recruited by the company of Fred Harvey who owned restaurants in cities connected by rail. And her contract specified that she had to have "good moral character" and also It specified that she couldn't marry and strictly adhere to all the rules of the company, at least during her job.
She became an institution, but due to health problems she had to sell it in 1998.
Tucumcari – Adrian (Midpoint Cafe)
We leave Tucumcari, here we can take some of the original sections of Route 66. From Tucumcari, the Route 66 runs parallel to I-40 on it's left side if you are going to Texas. In fact, the main street in Tucumcari at the exit of town is Tucumcari Blvd and then it's renamed to Rte 66. Keep on it and do not get into the I-40. You can follow the original route to San Jon easy.
From San Jon Route 66 disappears or the road is impassable and is practically a dirt track, the better unfortunately, is to get into I-40. You are about to cross the border between New Mexico and Texas. Again Route 66 and I-40 overlap at least up to Adrian. But you have to exit from the highway and get into Adrian !, you are on the way to The Midpoint Café.
You are exactly halfway. Leave behind 1139 miles and you have ahead other 1139 miles of route. It is a good time to stop and have a snack. Of course you'll have to take the picture of the signal at Midpoint Café.
Keep on Route 66 the continues to overlap the I-40 to Vega, is a short tour of about 16 miles. In Vega there is an old gas station called Magnolia Gas Station.
Vega – Amarillo
We are close to our destination, Amarillo. We have ahead 37 miles. We have to drive through the I-40. At Vega we saw a curious bikers bar named Roosters. It deserved a photo, you'll also see buildings that seem to have come from the western movies.
Leave Vega behind and keep driving, but be careful not get distracted! you must take exit 60!. Is an stop just before entering Amarillo, The Cadillac Ranch. We were unable to find any indication in internet at that time and it was a little hard to find it. You know you've picked the appropriate exit because there is a gas station called Love's Travel Shop.
Then, when you drive along the service road for 300 or 400 meters and to your right is the Cadillac Ranch. The Cadillac Ranch is a piece of urban art that was commissioned by the local leader Stanley Marsh to a group of artists who called themselves The Ant Farm. This group was founded by two architects in the 60s and they were many artists participating.
Cadillac Ranch consists of 10 Cadillacs partially buried into the ground at an angle pointing their trunks toward the sky. The tradition is to go with a spray can and do graffities on cars, don't worry, it is part of the work.
They are periodically repainted with a base color so people can return to graffity again. It's current location is not the original. It was moved when Route 66 was redesign and its original layout was moved.
Probably it's time for lunch, so I have kept a restaurant that is very famous and part of history, not only of Route 66, but throughout the US, is the Big Texan Steak Ranch. This restaurant is famous throughout the United States because everything is huge.
The most famous is the Steak of 72 ounces and the restaurant bets you that if you order a 72 ounces steak with all its side dishes and you completely finish it, then, you don't have to pay.
But you have to know there are $ 72, at least when It was 72$ when I was there. No need to say, it's almost impossible to finish it.
And after having a great lunch you can take a walk through the Boots & Jeans Store which is a very particular shop where they sell typical articles of cowboy. But not for tourists, but for them. The boots are fine, and jeans and hats too.
When I saw the bull horns to choose what to put on the front of your car, I didn't not know how to react. Actually, I was watching them as foolish. I leave the address if you want to go 2225 S Georgia St, Amarillo, TX 79109.
Finally, if you want to know more about the city you are going to find curious antique shops and some nice murals.
I let you rest. Although, today was light!
"Travel is fatal to prejudice, bigotry, and narrow-mindedness". – Mark Twain
This post is part of a Series about Route 66 Itinerary.
Did you like this post? Please share it, retweet it or whatever. Thanks!
This post may contain affiliate links. That means if you click and buy, I may receive a small commission (at zero cost to you). The commission helps us to keep this project running and to continue creating useful content for your travels. Thank you so much for your support! Please see my Affiliate Disclosure Policy for more information.
We are not native English speakers but we have decided to translate our post to English so we can share it with the whole world. If you see any spelling mistake or something, please let us know, it is so important to us. If you do so, we can improve our post and also our English knowledge! Thanks in advance!!!