Best Things to Do Along the Highline of New York: Top Attractions
The High Line in New York is an elevated park that offers tourists and residents a tranquil space with greenery, artwork, and views of the city skyline and Hudson River.
Transformed from a former rail line, it is both a refuge from the hustle and bustle of the city and an access point to landmarks such as Chelsea Market.
It also connects to lively areas such as Chelsea and the Meatpacking District, surrounded by galleries, boutiques and nightclubs. When you visit, bring a camera and comfortable shoes.
Read more: What to see in New York in 5 days.
A Brief History of the NYC Highline
The Highline was built in 1930 to improve the West Side of New York City.
It was built about 10 meters above the ground to reduce traffic and the dangers of having the train at ground level.
At that time trains and horses were mixed, and there were many accidents, they even called 10th Avenue "the avenue of death".
It went out of business in the '80s, and the Highline was on the verge of being demolished, but a group called the Friends of the Highline was formed in 1999, with Robert Hammond at the helm, who did everything they could to stop the demolition and reuse it as a public space.
Then there was a project approved in 2002, basically because it was very profitable for the city, and they turned these abandoned tracks into an elevated park about 2 kilometers long, which goes from Gansevoort St. Louis to Gansevoort St. Louis. Up to 34th Street.

Visit the New York Highline
Visit the Highline with an English-speaking guide to make your experience much more enriching. We hired one that is included in the New York Pass and also includes the vessel and the surrounding area.
The High Line is located on the west side of Manhattan in New York; it is a highly valued and unique park that offers an experience unlike any other public area.
Built on a former freight railroad line, this elevated park is different from the others.
Thanks to the efforts of local neighbors and the City of New York to save it from demolition, the site has become a multifaceted public space that combines nature, art, and design, providing a complete experience for visitors.
At 1.45 miles long, the High Line runs from the Meatpacking District to Hudson Yards in Midtown, offering a unique vantage point for viewing the neighborhood and the Manhattan skyline.
In its design, the park has cleverly integrated parts of the original railroad track, including preserving certain rails.
This harmonious combination of history, lush greenery and fascinating architectural structures makes the High Line a must-see destination for visitors to New York.
Numerous activities and attractions await visitors to the High Line. Strolling quietly through the park, you can find various art installations that show a dynamic artistic expression.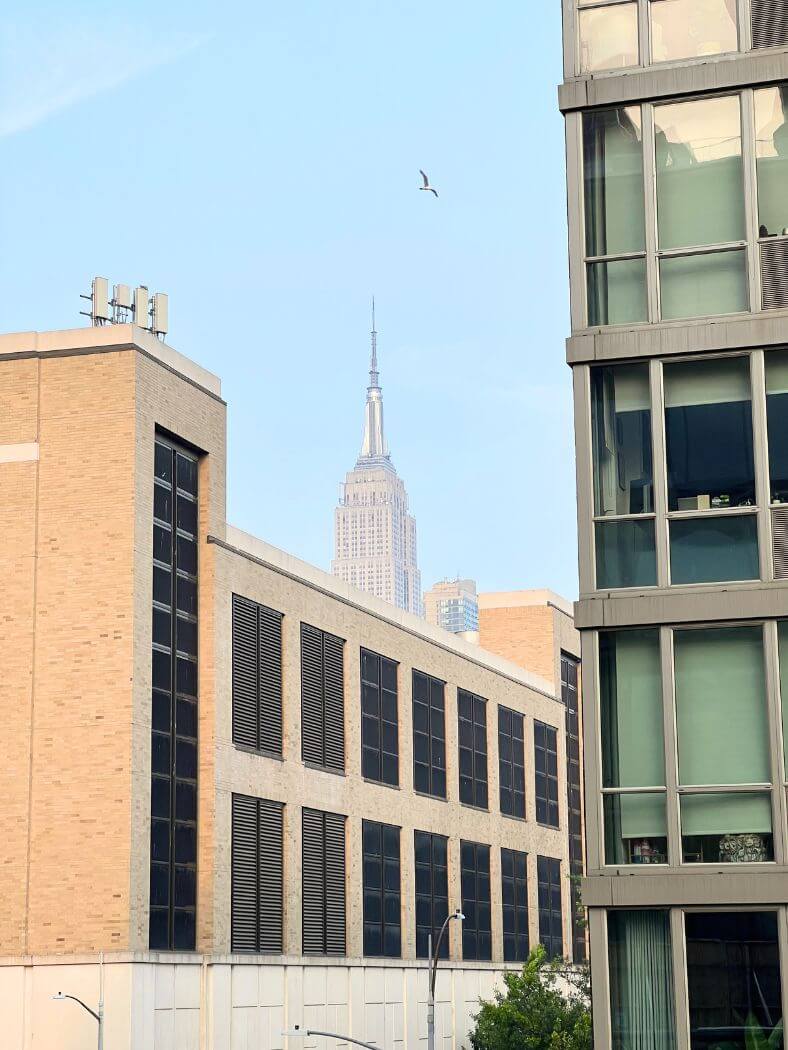 In addition, visitors can participate in different activities, such as guided tours, which provide a better understanding of the development of the park and the neighborhood in which it is located.
Accessible to all, the park has multiple entry points with elevators and stairs.
While you're here, you might consider visiting nearby Chelsea Market, a popular center for culinary delights and shopping, or enjoy the breathtaking views of the Hudson River.
We went to Miznon in Chelsea Market. Their signature dish was baked baby cauliflower, and it was surprisingly good.
Art along the Highline
As you take a leisurely stroll along the High Line, you'll discover that art plays an essential role in this unique urban sanctuary.
The High Line Art program is dedicated to enhancing the impact of contemporary art in public spaces, commissioning and creating remarkable art projects in and around the High Line.
The main objective of this project is to stimulate dialogue and provide an immersive experience for visitors, highlighting diverse artists and different art forms.
During a stroll along the High Line, you will encounter a variety of installations ranging from sculptures to light-based projects. The High Line is constantly transforming, continually introducing new artistic projects.
Be prepared for the possibility of seeing imposing sculptures, thought-provoking installations, and even visually captivating murals that bring a touch of originality and vitality to the park.
In addition to the works on display directly on the High Line, there are numerous renowned art galleries nearby. The Chelsea neighborhood has an impressive concentration of galleries exhibiting works by both established and emerging artists.
Among these are the Gagosian Gallery, the David Zwirner Gallery and the Pace Gallery, all of which have diverse styles and artistic interpretations in their exhibitions.
Be on the lookout for various artistic events taking place on the High Line, such as outdoor film screenings, dance shows and musical performances highlighting the skills of numerous artists.
You may even come across lesser-known artists showing off their skills, including painters, animators, and photographers.
When you visit the High Line, you will have the opportunity to fully immerse yourself in an experience that presents art in multiple ways.
Take time to actively participate, observe and admire the abundance of artistic expressions presented, making the High Line an ideal destination for anyone who appreciates art.
Places of Interest Near the Highline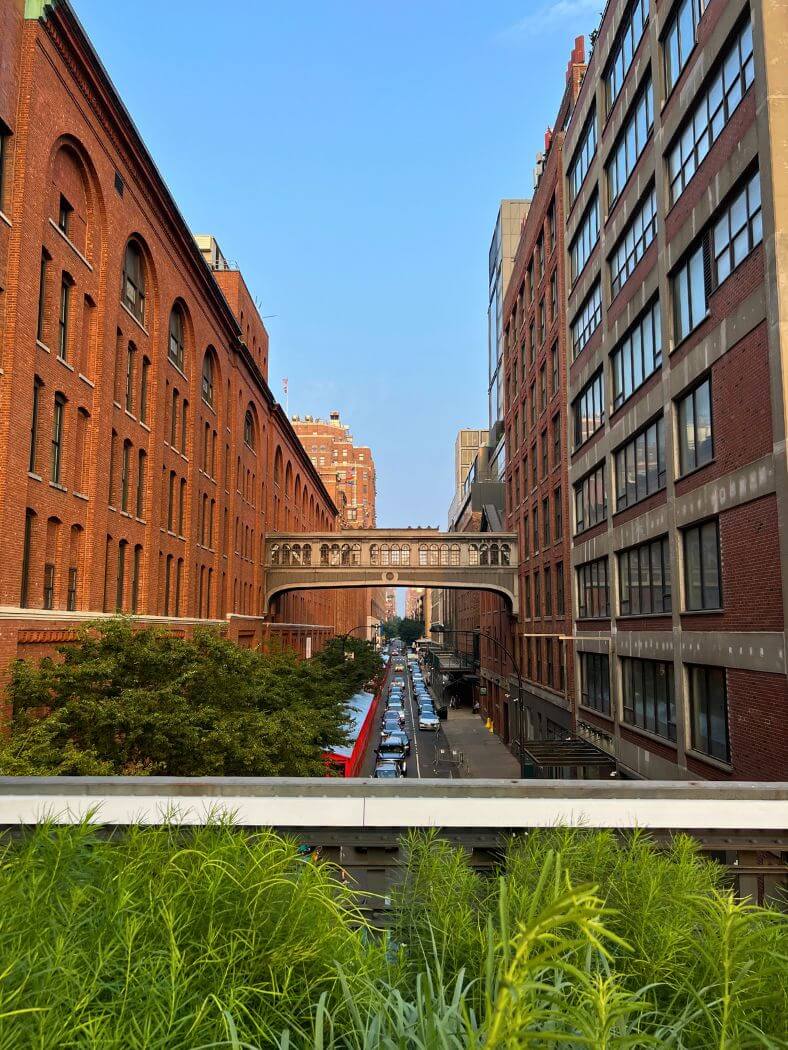 As you stroll along the High Line, you will find many exciting attractions. A trendy place is the Chelsea Market, a food market with many stalls, stores and venues for local artists. It's right next to the High Line, so it's easy to visit.
Near the High Line is the Whitney Museum of American Art. It was designed by the famous architect Renzo Piano and has many works of modern American art. It is near the end of the park, on Gansevoort Street, and is a place not to be missed if you like art.
West of the High Line is the Meatpacking District, famous for its nightlife, fashionable stores and restaurants. You can find places like Santina and Le Bain in the Standard Hotel. The Standard's rooftop bar has incredible views of the Hudson River and lower Manhattan.
Next to the High Line, on the west side, is Hudson River Park. It is a large park with picnic sites and water sports, such as kayaking at Chelsea Piers. From there, you can see the Statue of Liberty and the skyscrapers of New York.
If you like to shop, nearby is the Gansevoort market with fashion and food stores. Also, 23rd Street is a good shopping area with clothing and electronics stores.
For a unique experience, visit The Vessel, a modern structure at Hudson Yards with lots of stairs and views of the city.
Where to Eat and Drink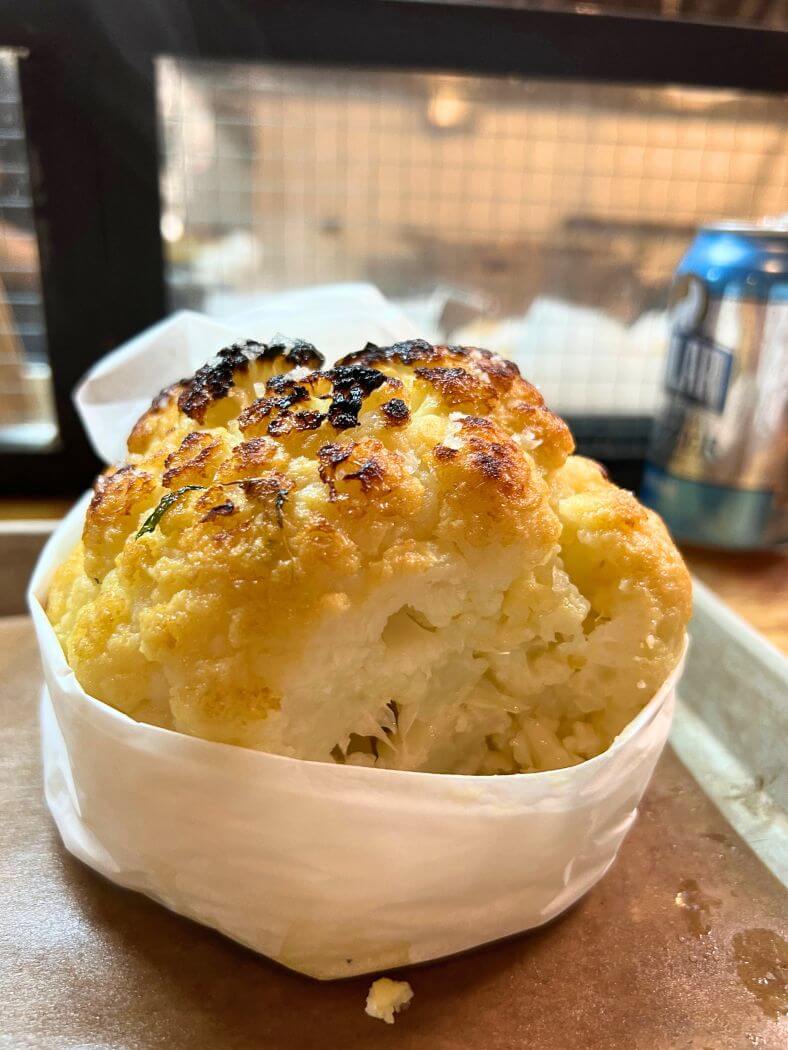 As you take a leisurely stroll along the High Line, you'll find plenty of options to satisfy your hunger or enjoy a quick caffeinated energy boost.
The area offers various places to eat, cafes and food stalls to satisfy all tastes.
A well-known destination on the High Line is the Chelsea Market, which is just down the road. This lively food market is home to several food stalls, offering a delicious variety of culinary options from different cuisines.
In addition, the market also provides shopping opportunities and exhibition space for local artists.
If you're in the mood for a more relaxed dining environment with stunning views, Hearth on the High Line in Chelsea is the ideal choice. This restaurant offers exquisite cheese and charcuterie boards ideal for sharing, along with ample outdoor seating options.
If you're looking for a dining experience on the High Line, The Frying Pan is worth considering. This quirky restaurant, located on a floating boat, offers delicious food and breathtaking views of the Hudson River.
To enjoy a pleasant coffee break, it is highly recommended to visit the following nearby coffee shops:
La Pecora Bianca is famous for its Italian cuisine and is located in the Meatpacking district. L'Arte del Gelato: Ideal for those looking for a refreshing dessert, offering a wide variety of ice cream flavors.
As you move along the High Line, be sure to take advantage of the various dining venues and cafes available, ensuring an unforgettable gastronomic journey during your visit.
Environmental and landscape design
As you take a leisurely stroll along the High Line, you will be mesmerized by the exquisite natural features and skillfully arranged gardens that surround you.
The design of the planted areas is inspired by the spontaneous vegetation that flourished for a quarter of a century after train operations ceased.
By making this design decision deliberately, a dynamic combination of textures and tones emerges throughout the year, with hardy perennials, grasses, shrubs and trees adapting to the changing seasons.
A highlight that will capture your attention is the abundance of flowers. The High Line showcases a variety of flowers, specifically selected for their hardiness and ability to thrive in the unique elevated environment.
As you stroll, be sure to take a moment to admire the changing combinations and tones they produce as they pass through the different seasons.
Within the natural setting of the High Line, the Grasslands Grove is an important element. This designated space is dedicated to protecting and admiring native grass varieties.
The meadows serve as an essential environment for various insects and birds while providing a quiet refuge where visitors can fully connect with the natural surroundings.
The High Line's distinctive landscaping sets it apart with its blend of artistic arrangement, careful plant selection and commitment to ecological responsibility, making it a truly unique destination in New York.
As you immerse yourself in this remarkable public area, let the splendid nature envelop you and be inspired by the ingenious initiatives that have contributed to the creation of such a charming environment.
The High Line offers a tranquil and rejuvenating retreat from the hectic urban environment, giving you the opportunity to connect with nature and gain a unique perspective of New York.
There is also plenty of place to sit or restaurants and bars to have a drink.
They say the Highline is very special because it is a public space that transforms the feeling people have about the city and how they interact with others. They say that New Yorkers behave differently when they are there.
What I liked most about this park was that there were not so many tourists and that it is very much designed for New Yorkers.
It also has incredible views of the city and was just a few steps away from the apartment we had rented by Booking.
Did you already know about the New York Highline?
Plan Your Trip to New York
Last Updated on 3 November, 2023 by Veronica
Disclosure: Some of the links on this post are affiliate links, meaning at no additional cost to you, I may earn a small commission if you click through and make a purchase.
Author: Veronica
Vero, a seasoned traveler, has explored 25 countries and lived in five, gaining a rich perspective and fostering an infectious passion for travel. With a heart full of wanderlust, Vero uncovers the world's hidden gems and shares insights, tips, and planning advice to inspire and assist fellow adventurers. Join Vero and let the shared passion for travel create unforgettable memories.