15 Best Things to Do in Verona: Discovering Timeless Charm
Verona is a city in Northern Italy, located in the Veneto region, famous for being the setting of William Shakespeare's Romeo and Juliet.
Step into the enchanting realm of Verona, where history, romance, and culture entwine to craft an unforgettable experience for those seeking things to do in Verona.
This captivating town, sheltered by its famed gate, invites you to traverse its cobblestone streets lined with historic buildings, including charming churches and the renowned Castel San Pietro.
Nestled in northern Italy, Verona's allure beckons with timeless landmarks and countless touristic spots.
Whether you're an art lover, history buff, or romantic at heart, Verona's diverse offerings promise unique experiences for every traveler.
15 Best Things to Do in Verona
Verona is a city brimming with history, culture, and romance. Here's a list of some of the best things to do in Verona. Yes! Verona is much more than Romeo and Juliet's balcony!
Visit Juliet's House (Casa di Giulietta)
Explore Verona's iconic Juliet's House, known as Casa di Giulietta, and stand on the very balcony that inspired Shakespeare's timeless tale of Romeo and Juliet.
The balcony is where countless individuals from around the world have left their love letters, creating a poignant tradition that adorns the walls.
Nestled in the heart of Verona's historic center near bustling Piazza delle Erbe, this 13th-century masterpiece showcases distinctive Gothic architecture. With its strong connection to Shakespeare's tragic masterpiece, "Romeo and Juliet," it has become a symbol of love and devotion.
The central point is the famous balcony, believed to be the same one from which Juliet called out to Romeo. You can stand there, capturing the romance through photographs.
Although, out of all the attractions in Verona, it might be the one I liked the least, it is one of the must-visit places in this city.
In the courtyard, there is a bronze statue of Juliet. You should touch her right breast; it is said to bring good luck in love.
Next to the courtyard is the Love Wall, a place to leave tokens of affection like notes and locks, further enriching the atmosphere of love. You can get to know more about Juliet's House through a guided tour.
Inside, explore a modest museum featuring Renaissance-era furniture and period costumes. This glimpse into the past enhances the immersive experience by connecting you to the world of Shakespeare's play.
Juliet's House hosts diverse events and celebrations, including Valentine's Day festivities, concerts, and special performances throughout the year.
Juliet's House Tips
Juliet's House can get crowded, so it's best to visit early in the morning or late in the afternoon for a more peaceful experience.
Consider purchasing the Verona Card, which provides skip-the-line access to Juliet's House and other popular attractions in the city.
The courtyard and balcony can be especially romantic when illuminated in the evening.
Explore the Arena di Verona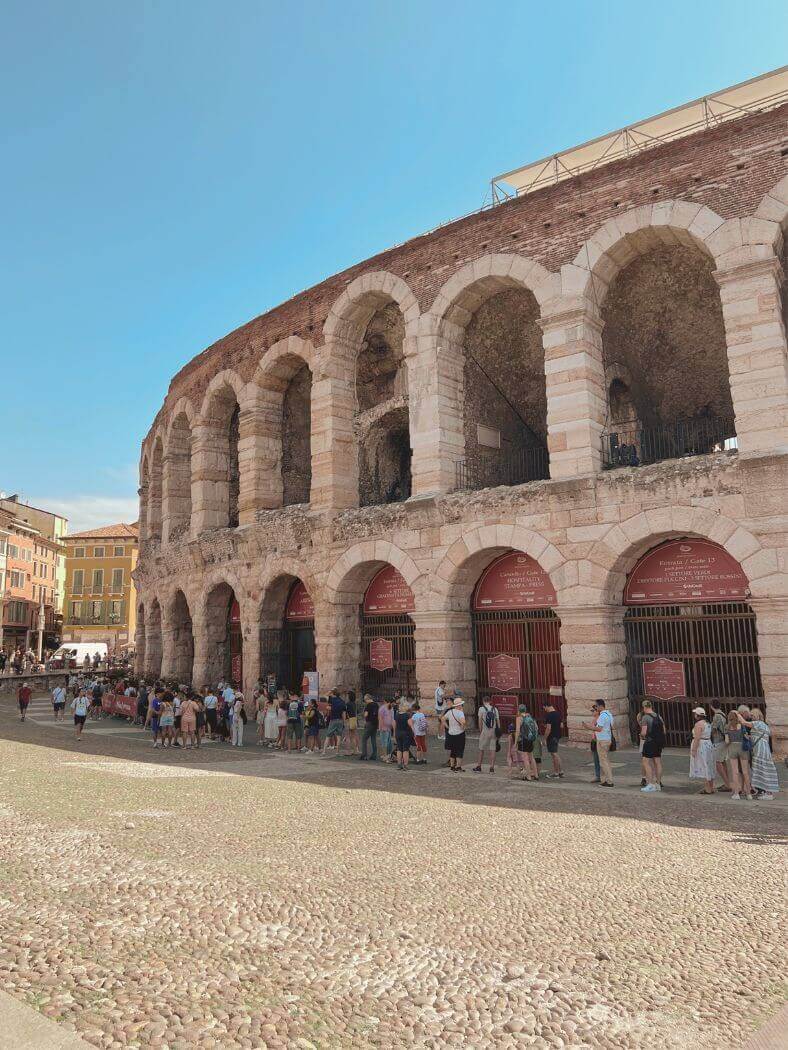 The Arena di Verona, an ancient Roman amphitheater in Italy, stands as an awe-inspiring testament to history's grandeur. This monumental structure, similar to the allure of Rome's Colosseum, hails as one of Verona's most prominent spots worth a visit.
Erected in the 1st century AD, this colossal structure once hosted gladiatorial contests, public spectacles, and theatrical marvels, accommodating up to 30,000 spectators.
Crafted from local limestone, its elliptical design showcases three tiers of arches adorned with quintessential Roman architectural motifs, soaring to around 30 meters (98 feet) in height.
While year-round exploration offers a glimpse into its past, the Arena's true splendor shines during the summer Opera Festival. From June to August, the amphitheater transforms into a stage of operatic enchantment, drawing aficionados from across the globe.
Beyond its artistic prowess, the Arena provides panoramic vistas of Verona's historic core, a photographer's haven and a testament to the city's charm. To ensure a seamless visit, consider booking skip the line entry tickets to save time and enhance your experience.
Attend an Opera Performance
Discover the enchantment of attending opera in Verona, a city steeped in cultural legacy, musical heritage, and grand museums. The renowned Arena di Verona stands as a distinguished opera venue, heightening the allure of the opera experience.
Opera performances at the Arena di Verona are unique open-air spectacles, merging music and drama under the starlit sky. The celestial backdrop adds an ethereal touch, infusing the event with enchantment.
The Arena di Verona takes the spotlight during the annual Opera Festival, occurring from June to August. Attending opera at the Arena di Verona, a tradition since 1913, transcends mere cultural exploration; it's a union of history, melody, and shared emotions.
Verona's Opera Festival unveils iconic operatic masterpieces by Verdi, Puccini, Mozart, and more. Despite its age, the Arena boasts exceptional acoustics that carry melodies throughout. Auditory finesse envelops the audience in a rich tapestry of sound.
Experiencing opera at the Arena is one of the best things to do in Verona, offering a remarkable blend of cultural immersion and musical marvel that resonates deeply with all who will join the live opera.
When planning your visit, review the Opera Festival schedule ahead of time. As you traverse the interior, sturdy footwear is advisable due to uneven surfaces and stairs. To savor the Arena's majesty without the bustling crowds, opt for early mornings or late afternoons.
Tips on Attending Opera Performance
Dress elegantly for the opera performance, as it's a special occasion.
Book tickets well in advance, as opera performances at the Arena di Verona are highly popular and can sell out quickly.
Arrive early to soak in the ambiance and explore the stunning Arena before the show begins.
Stroll through Piazza delle Erbe
Nestled in Verona's historic city center, Piazza delle Erbe offers a captivating blend of history, museums, and modern vibrancy.
With origins tracing back to ancient Roman times, this square has served as a hub for social and commercial interaction for centuries. It features shopping venues, places to eat, and charming gardens, adding to the diverse range of things to do in Verona.
You can join a walking tour to learn more about the city center.
Immerse yourself in the daily market's liveliness, where locals and tourists alike gather for fresh produce, flowers, and local delicacies. The vibrant stalls create an authentic atmosphere, letting you experience local culture firsthand.
The medieval Torre dei Lamberti dominates the square. Ascend this tower for panoramic views of Verona, capturing rooftops, hills, quaint gardens, and city life from a unique vantage point, a thrilling adventure adding to the variety of outdoor activities and day trips Verona offers.
At the heart stands the Fontana Madonna Verona, a fountain crowned with a statue of Madonna Verona. Cherished by both locals and tourists alike, it serves as a central meeting point, and a well-deserved pit stop during a busy day of shopping and exploration.
Overlooking the square, Palazzo Maffei boasts a stunning Baroque façade, contributing to the grandeur of the setting and giving you a glimpse into Verona's architectural marvels.
The square's perimeter is lined with numerous places to eat, as well as cafés and restaurants, providing the perfect setting to unwind, engage in people-watching, and immerse yourself in the vibrant ambiance. Piazza delle Erbe is a pedestrian area, so wear comfortable shoes for exploring the cobblestone streets.
Discover Piazza Bra
Piazza Bra in Verona, a vast and historically significant grand central square, lures explorers with its allure. As one of Italy's largest squares, an expedition here is an immersive journey through rich experiences, truly among the best things to see in Verona, Italy.
At its core stands the monumental Roman Arena, also called the Verona Arena. This venerable amphitheater, impeccably preserved, embodies Verona's storied past. It places as an obligatory inclusion in every itinerary Verona must see.
As the sun dips, casting its embrace, the Arena becomes aglow in breathtaking luminosity, transforming Piazza Bra into an irresistible haven for photographers. This substantiates its status as a photographic treasure among Verona's places to visit.
The square's perimeter embraces a charming collection of open-air cafés, restaurants, and bars, exuding a convivial ambiance. Here, you're invited to unwind, observe the rhythm of passersby, and relish authentic Italian cuisine, leisurely coffee, or gelato.
The stately Palazzo Barbieri, Verona's City Hall, alongside the neoclassical Gran Guardia, adds allure that enhances the square's inherent grandeur, rendering it a remarkable feature among things to see in Verona, Italy.
Designed with pedestrians in mind, Piazza Bra opens a haven for leisurely exploration by foot, enhancing the joy of discovering every corner it holds. It becomes an ideal starting point for traversing Verona's array of attractions.
If you plan to visit the Arena, consider booking guided tour tickets in advance to avoid long lines during peak tourist seasons.
Tour the Scaliger Tombs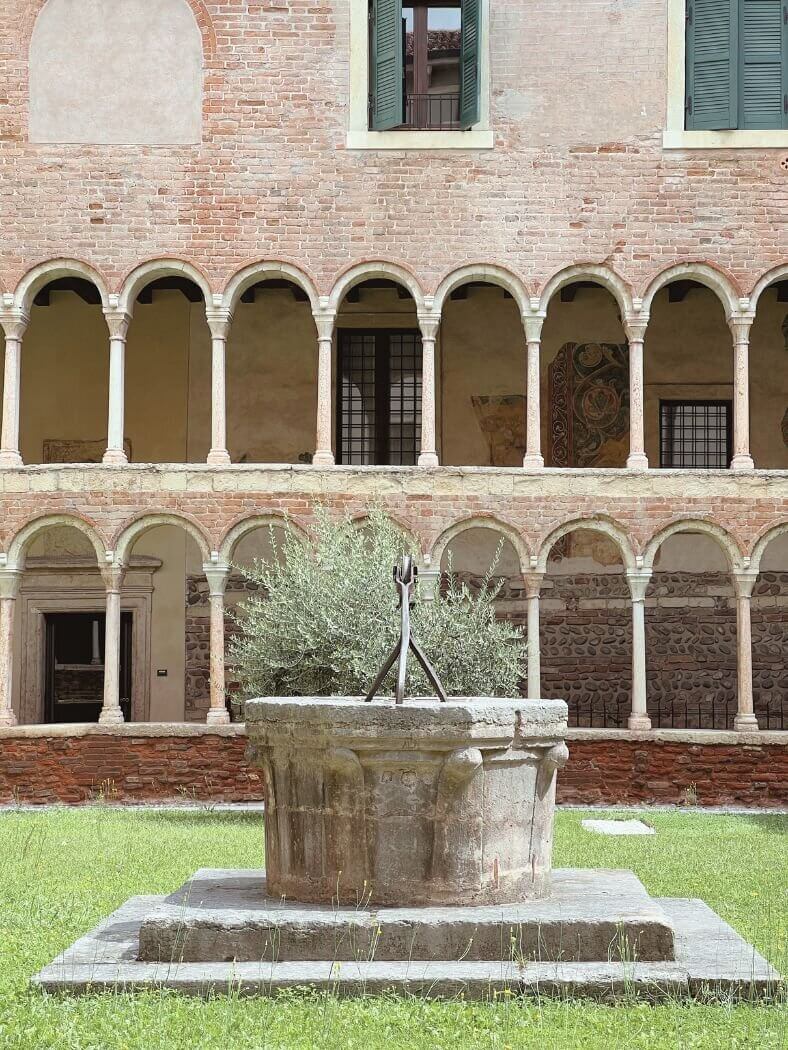 Nestled within Verona's narrative, the Scaliger Tombs, or Arche Scaligere, are Gothic funerary monuments. These structures serve as resting places for the Scaligeri family, who ruled during the Middle Ages. Exploring these tombs immerses you in history.
Emerging like threads from time's tapestry, the Scaliger Tombs embody the legacy of the Scaligeri lineage. From the 13th to the late 14th century, these noble leaders left their mark on Verona during transformative times.
Within, individual funerary monuments pay homage to Scaligeri family members. Notably, Cangrande I, Mastino II, and Cansignorio's tombs shine as luminaries.
The tombs are Gothic testaments, exemplifying the Middle Ages' architecture. Intricate designs showcase the era's craftsmanship, offering a glimpse into history.
Adornments include carvings, sculptures, and coats of arms, echoing family opulence. These elements reveal the grandeur of the Scaligeri reign.
Near Piazza dei Signori, the tombs seamlessly blend into Verona's story. Accessible and vital, they're Verona sights to see, especially on walking tours.
Visit the Verona Cathedral (Cattedrale di Santa Maria Matricolare)
Verona's religious and architectural heritage is best experienced by visiting the Cattedrale di Santa Maria Matricolare or Verona Cathedral. With roots tracing back to 1138, it spans a history that originated in the 12th century.
Seamlessly blending Romanesque and Gothic styles, the cathedral's façade showcases intricate sculptures. An ornate entrance, the Porta dei Mesi, boasts bronze panels narrating biblical tales, a testament to medieval craftsmanship.
The crowning jewel is the Baroque main altar, a dedication to the Virgin Mary. Within its walls, the cathedral safeguards the Sacra Sindone, the Holy Shroud, believed to enshroud Christ's burial.
Displayed selectively, this relic beckons both pilgrims and the curious. Venturing beneath leads to an archaeological haven, preserving remnants of a Romanesque church and ancient baptistery.
To elevate your experience, ascend the cathedral's tower. Capture images of everything you see, with photos that tell a story of Verona's historical nucleus and its surroundings from every side of the tower.
Opt for modest attire and note that while the entrance is typically complimentary, a nominal fee may be required for tower or crypt access.
Discover one of the top things to do in Verona and uncover its captivating attractions, each offering another piece of information to your memory bank.
Explore Castelvecchio
Embarking on a journey to Castelvecchio offers a mesmerizing passage through medieval Verona, rich in historical sites. For those seeking things to do in Verona in one day, exploring Castelvecchio is a captivating option.
Crafted in the 14th century as a stronghold and residence for the powerful Scaligeri family during the Middle Ages, the castle's architecture showcases medieval military design with imposing walls, battlements, and a moat.
Each stone can tell a story; each wall is a side of history.
Today, Castelvecchio houses the Castelvecchio Museum, a treasure trove of art and artifacts from Verona's history. The museum's collection includes sculptures, paintings, ancient weaponry, and medieval armor, reflecting diverse chapters of the city's past.
The museum's halls feature works by renowned Italian artists like Pisanello, Bellini, and Mantegna, showcasing frescoes, tapestries, and religious artifacts that narrate the artistry and devotion of the times.
Connected to Castelvecchio is the Scaligeri Bridge, spanning the Adige River and resonating with the medieval spirit. Climbing the castle's towers offers panoramic vistas of the city's historic core, the river, and the landscape.
Within the castle's courtyard and garden, an oasis of tranquility invites contemplation amidst the whispers of ages past. Consider a Verona Card for access to multiple attractions, including the Castelvecchio Museum.
Admire the Roman Theater and Archaeological Museum
Step into Verona's past at the Roman Theater and Archaeological Museum. The Roman Theater, a 1st-century AD amphitheater, once hosted lively performances and public events.
This historical gem reflects Verona's Roman heritage and design innovation with its semi-circular seating and natural hillside stage.
Adjacent, the Archaeological Museum displays artifacts revealing the daily life, customs, and artistry of Verona's ancient inhabitants. Sculptures, pottery, coins, and relics evoke Roman and pre-Roman civilizations.
Noteworthy is the "Ephebe of Caligola," a bronze masterpiece found in the Adige River—a testament to Roman artistry.
From the museum's terrace, absorb panoramic views of the Roman Theater, the river, and the surroundings, offering contemplative moments amid history's embrace.
A visit provides an educational immersion into Verona's archaeological legacy and its pivotal role in Roman culture. Get a combined ticket to explore both sites efficiently or opt for guided tours for deeper insights.
Climb Torre dei Lamberti
Embarking on the ascent of Torre dei Lamberti unveils a captivating journey through time, culminating in panoramic vistas that reveal Verona's past and present splendor. Here's a closer look at what awaits among the top things to do in Verona, Italy, enriching your list of Verona things to see:
Also known as Lamberti Tower, this emblem of Verona soars 84 meters (275 feet), leaving an indelible mark on the skyline. Built in the 12th century, it epitomizes medieval construction with robust stone, defensive features, and no external staircase.
The ascent narrates a captivating story, revealing a 360-degree panorama of Verona's historic charm—historic edifices, lively squares, and the winding Adige River converge in a mesmerizing tableau.
As a functional campanile, Torre dei Lamberti marks time and city events through its resonant bells. An intricate clock mechanism and a collection of melodious bells enrich the tower's historical aura.
For optimal photography and a serene ambiance, consider ascending early morning or late afternoon. In essence, the ascent transcends mere exploration; it's an odyssey weaving Verona's rich history and captivating beauty into your very being.
Torre dei Lamberti Tips for Your Visit
Opt for comfortable footwear, as the tower's steps can be steep and narrow.
Keep in mind that the tower doesn't have an elevator, so be ready for physical exertion.
While there is an entrance fee to access Torre dei Lamberti, the reward of reaching the summit and enjoying the breathtaking views more than justifies the experience.
Relax at Giardino Giusti
Step into Giardino Giusti, a timeless Renaissance haven that embraces you in tranquility. Conceived by the Giusti family in the 16th century, this garden epitomizes Italian Renaissance design, combining terraced landscapes, sculpted art, and the allure of nature.
Echoing the aesthetics of the era, the garden resonates with symmetry and geometry. Hedges, sculptures, and fountains harmonize in an elegant symphony of precision.
As you explore, terraces unveil captivating vistas, revealing hidden paths and serene corners that spark curiosity and wonder.
The awe-inspiring Great Cedar Tree stands tall, a majestic symbol of time's passage and nature's magnificence.
Enchantment resides within grottoes and a nymphaeum, enigmatic structures that infuse the garden with an extra layer of charm.
Climb to the Belvedere Terrace for panoramic views that unveil the very essence of Verona—a harmonious fusion of history and nature.
Giardino Giusti provides a tranquil refuge, a respite from the city's hustle. It extends an invitation to discover serenity amidst the interplay of artistry and nature, making it a must on any list of Veron tourist attractions.
Take a Boat Tour on the Adige River
Embark on an Adige River boat tour to intertwine Verona's history with its waters. The river showcases the city's architecture, bridges, and landscapes, offering a unique perspective on things to do in Verona. A leisurely rhythm lets you savor Verona's beauty amidst the river's embrace.
Elegant bridges like Ponte Pietra and Ponte Scaligero grace the journey, revealing their timeless significance as part of what to do in Verona. Iconic landmarks like the Roman Theater and Castelvecchio fortress acquire new allure from this aquatic view, expanding your itinerary.
Guided tours share historical insights, enhancing your connection with Verona's legacy. The boat's gentle sway crafts a romantic ambiance, perfect for couples seeking an idyllic experience in Verona.
Hop on a rafting activity or go for an evening boat tour under twilight skies enchanted with a glowing Verona. Dress comfortably, shield from the sun, and bring a camera to capture the vistas. Immerse yourself in Verona's history, nature, and allure on this aquatic adventure.
Take a Day Trip to Venice from Verona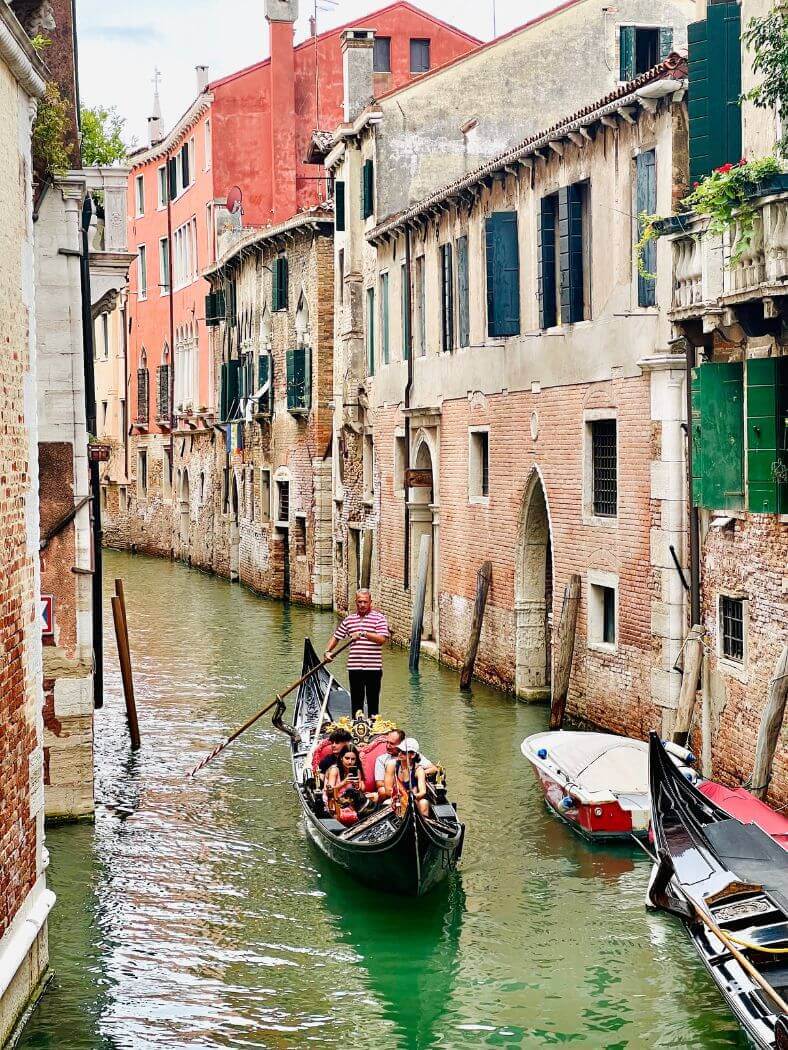 Duration: Approximately 12-14 hours.
Overview: A day trip from the romantic city of Verona to the enchanting waterways of Venice offers travelers a taste of two of Italy's most iconic destinations in a single day.
While a day is scarcely enough to absorb all of Venice's magic, for those short on time, this trip is a tantalizing glimpse into its beauty and history.
Is it worth it? Absolutely! Though both cities deserve individual attention, experiencing the juxtaposition of Verona's medieval charm and Venice's aquatic allure can be quite memorable.
Within just an hour or so of travel, you transition from the land of Romeo and Juliet to the city of gondolas and canals. The perfect combination for a romantic trip.
How to Get There:
By Train: This is the most convenient and fastest mode of transport. Direct trains from Verona to Venice (Santa Lucia station) run frequently throughout the day. The journey typically takes around 1 to 1.5 hours. Once you arrive in Venice, the Grand Canal and Vaporetto (water buses) are right outside the train station.
By Car: While driving might provide flexibility, it's not the most convenient option for Venice due to its car-free nature. If choosing this mode, park at one of the parking areas on the mainland (like Piazzale Roma) and then take a Vaporetto into the heart of Venice.
Things to Do:
St. Mark's Square (Piazza San Marco): Visit the iconic square, St. Mark's Basilica, and the Campanile for breathtaking views.
Gondola Ride: It might be a bit touristy, but it's a quintessential Venetian experience.
Doge's Palace: A masterpiece of Gothic architecture, this palace offers insights into the rich history of Venice.
Explore the Canals: Beyond the Grand Canal, Venice's smaller waterways offer charming views and hidden gems.
Rialto Bridge: Visit this iconic landmark and the surrounding Rialto Market.
Local Cuisine: Try seafood delicacies, risotto, and the famous Venetian spritz.
Tips:
Start early to make the most of your day.
Wear comfortable shoes; Venice involves a lot of walking.
Be mindful of high water (Acqua Alta) seasons which can flood parts of the city.
Pre-book popular attractions to avoid long queues.
Take a Day Trip to Lake Garda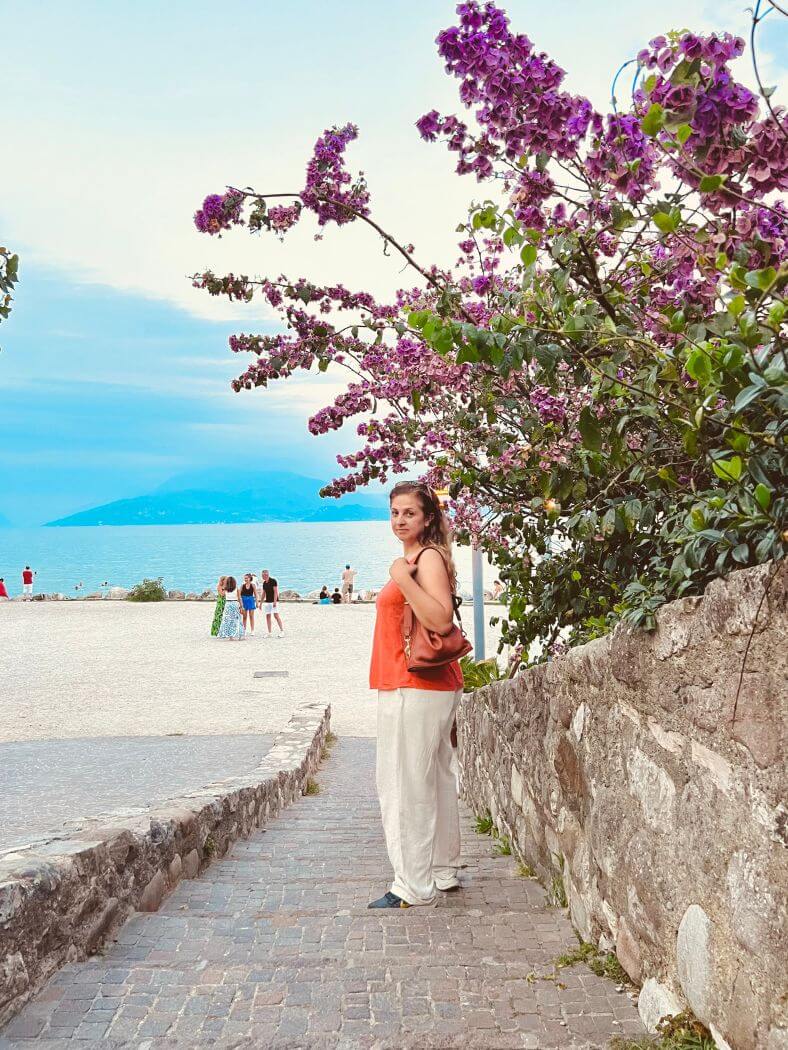 Duration: Approximately 12-14 hours.
Overview: A short drive from Verona will transport you to the mesmerizing shores of Lake Garda, Italy's largest lake. Surrounded by scenic towns, mountainous backdrops, and sapphire blue waters, Lake Garda promises a refreshing day trip filled with nature, history, and picturesque landscapes.
Is it worth it?
Most certainly! The proximity of Lake Garda to Verona makes it an easily accessible natural retreat. Whether you're a nature enthusiast, an adventurer, or someone just looking to relax by the water, Lake Garda offers something for every traveler.
How to Get There:
By Train: While not all towns on Lake Garda are directly accessible by train, Desenzano del Garda and Peschiera del Garda are major stations connected to Verona. The journey usually takes around 15-30 minutes.
By Car: A drive to Lake Garda from Verona typically takes about 30 minutes to an hour, depending on your destination around the lake. This mode offers the flexibility to explore multiple towns around the lake at your own pace.
Guided Tours: Several companies in Verona offer day trips to Lake Garda. These can include bus transportation, guided visits to popular towns, and sometimes boat tours. Check the tours from Verona to Lake Garda here.
Things to Do:
Sirmione: This charming town is known for its medieval castle, thermal baths, and the Grottoes of Catullus, ancient Roman ruins.
Riva del Garda: Located at the northern tip, it's a haven for windsurfers and offers stunning mountain views.
Gardone Riviera: Visit the Vittoriale degli Italiani, a grand estate with gardens, an open-air theater, and a museum.
Boat Tours: Take a leisurely boat ride to experience the beauty of the lake from a different perspective.
Bardolino: Famous for its wine, you can enjoy wine-tasting sessions here.
Limone sul Garda: Known for its lemon groves, this picturesque town offers lovely promenades and old fishing ports.
Tips:
Starting early ensures you can make the most of the daylight and explore multiple spots.
If driving, ensure you have some coins or a credit card ready for potential tolls.
The lake's microclimate can be a bit cooler than Verona, especially in the evening, so pack accordingly.
Consider taking a ferry between towns for a scenic trip across the lake.
Take a Day Trip to the Nearby Valpolicella Wine Region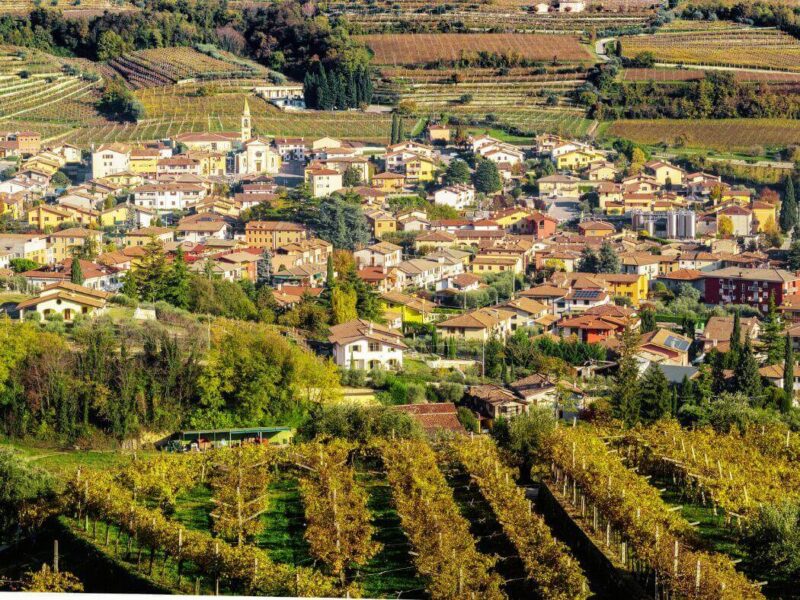 Duration: Approximately 10-12 hours.
Overview: Nestled just a short drive away from Verona lies the verdant and rolling landscapes of the Valpolicella Wine Region. Renowned for its rich viticulture heritage, this region is a paradise for wine aficionados and those looking to immerse themselves in Italy's rustic countryside charm.
Is it worth it?
Without a doubt! Valpolicella is not just a wine region; it's an experience. It allows visitors to delve into Italy's enological traditions with an intimate exploration of vineyards, wine cellars, and, of course, exquisite wine-tasting sessions.
How to Get There:
By Car: The most convenient way to explore Valpolicella's myriad wineries and charming hamlets. The drive from Verona to the heart of Valpolicella usually takes about 20-30 minutes.
Guided Tours: Many companies in Verona offer wine tours to Valpolicella. These often include transportation, visits to select wineries, guided wine-tasting sessions, and, sometimes, a traditional Italian lunch. Check out guided tours here, and pick the perfect for you.
Things to Do:
Wine Tasting: The region is famed for its Amarone, Ripasso, and Recioto wines. Visiting vineyards and cellars provides insights into the winemaking process and the opportunity to savor these wines.
Villa della Torre: A beautiful Renaissance villa, often used for wine events and surrounded by vineyards.
Sant'Ambrogio di Valpolicella: Explore this picturesque village with its ancient churches and captivating architecture.
Molina Waterfall Park: A serene spot with numerous waterfalls and pathways, offering a nature break from wine tasting.
Local Cuisine: Enjoy a hearty Italian meal in one of the region's traditional osterias or trattorias, complemented by a glass of local wine.
Tips:
Book winery visits in advance, as many vineyards require reservations for guided tours and tastings.
Designate a driver if you're traveling by car or ensure your tour includes transportation, especially after wine-tasting sessions.
The region can get quite warm during summer months, so dress accordingly and stay hydrated.
Don't rush; the beauty of Valpolicella lies in its leisurely pace, allowing you to soak in its essence.
Best Time To Visit Verona
When planning things to do in Verona, Italy, and exploring its captivating sights, it's crucial to consider the ideal time that aligns with your preferences for weather and experiences.
Verona boasts a mild climate throughout the year, but each season offers distinct charms. Whether you're looking to soak up the city's historical beauty or participate in local events, here's a breakdown of the different seasons in Verona:
Verona in Spring (March to May)
If sightseeing in Verona, Italy is your goal, spring presents an enchanting opportunity. The months of March to May usher in a picturesque scene with blossoming flowers and pleasantly mild temperatures ranging from 10°C to 18°C (50°F to 64°F).
This season offers a more tranquil ambiance as the city is less crowded. You can explore Verona's iconic attractions at a leisurely pace, soaking in its rich history and architectural marvels.
It's worth noting that while the weather is generally agreeable, April and May might bring occasional showers. Carrying an umbrella and raincoat, and wear waterproof shoes would be a wise addition to your travel gear.
Verona in Summer (June to August)
For those seeking vibrant events and embracing the outdoors, summer is the perfect time to be in Verona. This is the peak tourist season, courtesy of the warm weather. Temperatures range from 18°C to 30°C (64°F to 86°F), creating an ideal setting for various activities.
The city springs to life with an array of events, festivals, and open-air concerts. Of particular note is the renowned Opera Festival hosted within the Roman Arena. Some tickets for these concerts come with transfers, too.
While summer offers an energetic atmosphere, it also welcomes larger crowds and slightly elevated accommodation costs.
Verona in Autumn (September to November)
If you're keen on experiencing Verona's charm in a more serene setting, consider visiting during autumn, especially September and October.
The weather remains inviting, allowing you to explore the city comfortably. As the summer throngs gradually disperse, you'll find a more relaxed atmosphere.
Don't miss out on the unique cultural encounter provided by harvest festivals in nearby wine regions like Valpolicella. This is a chance to savor local traditions and flavors against the backdrop of the stunning autumn scenery.
Verona in Winter (December to February)
Verona's winter, while relatively mild, can bring a nip in the air, particularly during January and February. However, this is an opportune time for budget-conscious travelers.
The city's temperature ranges from 0°C to 10°C (32°F to 50°F), taking on a more tranquil demeanor, allowing you to appreciate its treasures with a sense of intimacy. Make sure you wear good winter base clothing to keep yourself warm during your trip.
Adding to the allure, the Christmas season blankets Verona with a touch of magic through festive decorations and charming markets. If you're intrigued by a quieter exploration, winter in Verona might be your ideal choice.
How Many Days to Spend in Verona, Italy
Deciding how many days to dedicate to Verona is all about tailoring your experience to your personal preferences, your style of travel, and the depth of exploration you crave.
For a truly immersive adventure, setting aside 2 to 4 days should strike the perfect balance. Within this span, you'll have ample opportunity to delve into the heart of Verona, uncovering its hidden treasures and soaking in its distinctive allure.
Where To Stay in Verona
When planning your adventure and discovering the finest things to do in Verona and the most captivating places to visit in Verona, finding the perfect base is key. Here are some remarkable accommodation options to consider:
Historic Center (Centro Storico): Stay within a stone's throw of Verona's gems like the Roman Arena, Juliet's House, and Piazza delle Erbe. This area boasts charming boutique hotels, inviting bed and breakfasts, and opulent luxury stays like Hotel Accademia.
Piazza Bra: Live in the heart of it all, near the iconic Verona Arena like the Hotel Milano & Spa. This bustling square is surrounded by eateries, cafes, and shops. Bask in Arena views from your stay and relish easy access to landmarks.
Piazza delle Erbe: Embrace the vibrant heart of Verona at Piazza delle Erbe, with its lively market and timeless architecture. Find yourself amidst the buzz, thanks to a variety of hotels, like Hotel Aurora, and guesthouses.
San Zeno: Unwind across the river, in San Zeno's peaceful neighborhood by staying in hotels and affordable apartments. Delight in the exquisite Basilica of San Zeno Maggiore and a relaxed, local ambiance.
Borgo Trento: Discover tranquility in this residential district. While a touch farther from the tourist hub, Borgo Trento offers a serene atmosphere with an array of options like the Nouva Opera Rooms.
Cittadella: Indulge in affordability with easy access to Verona's main attractions. Cittadella, near the historic center, is a superb blend of convenience and comfort of Pan di Zucchero.
How to Get To Verona
Getting to Verona is effortless due to its location in Northern Italy. You can opt for air travel through the Villafranca Airport, about 12 kilometers from the city center.
The airport connects to various European cities. The Porta Nuova railway station is a major hub for train travel, providing connections to Italian cities and neighboring countries. High-speed and regional trains tickets are available online.
For road trips, ride a car through highways like A4 and A22 connect Verona to Milan, Venice, Austria, and Germany. Buses are also convenient, with regional and long-distance services connecting to the city.
No matter your choice, Verona's accessibility ensures a seamless journey to this captivating Italian destination.
How to Get Around Verona
Discovering Verona is effortless with its array of transportation choices. Navigate cobblestone streets on foot, bike through lanes, or explore by public transport, taxis, and specialized tours.
Bicycles: Rent a bicycle for an eco-friendly tour, utilizing bike lanes and paths to explore at your own pace.
Public Transportation: Buses cover various routes, providing efficient access to farther destinations.
Taxis: Convenient taxis are available for direct rides to specific locations.
Hop-On Hop-Off Buses: Tourist buses offer flexibility to explore highlights and learn about the city's history.
Car Rentals: Rent a car for the outskirts or nearby attractions, considering restricted traffic in the historic center.
Ride-Sharing: Services like Uber offer an alternative to traditional taxis
Verona effortlessly intertwines history, culture, and romance, creating a captivating city. From the iconic Verona Arena to charming squares and medieval architecture, it's a journey through time and Italy's rich heritage.
For those seeking things to do in Verona, history buffs, art enthusiasts, or romantics, the city offers something special. Its blend of ancient history and modern allure makes it a must-visit for an authentic Italian experience.
Plan Your Trip to Italy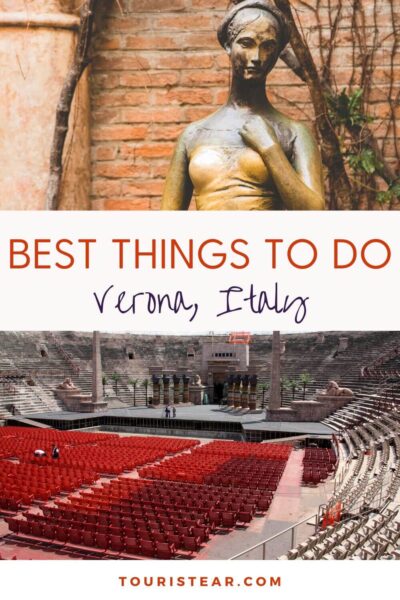 Disclosure: Some of the links on this post are affiliate links, meaning at no additional cost to you, I may earn a small commission if you click through and make a purchase.
Author: Veronica
Vero, a seasoned traveler, has explored 25 countries and lived in five, gaining a rich perspective and fostering an infectious passion for travel. With a heart full of wanderlust, Vero uncovers the world's hidden gems and shares insights, tips, and planning advice to inspire and assist fellow adventurers. Join Vero and let the shared passion for travel create unforgettable memories.