Best things to do in Florence in 3 days?
Florence is one of my favorite Italian cities. I have been twice, the first time I stayed about 4 days, that became very short, and the second time I stayed a month.
In this month I had the opportunity to visit not only Florence, but also the surroundings and other towns such as Fiesole, Lucca, Pisa, Siena, San Gimignano, among others.
In this post I give you a summary with the must-visit places. Especially if it's the first time you'll travel there and you don't have much time.
Do you have more days to visit Florence? You have traveled more times and want to see other things: Don't miss this post with 75 ideas to do and see in Florence.
What to do in Florence? Must-visit places
Do you feel like getting to know Florence? Do youwant to know what you can see in Florence in 3 days? Here are my must-sees. Let's Start!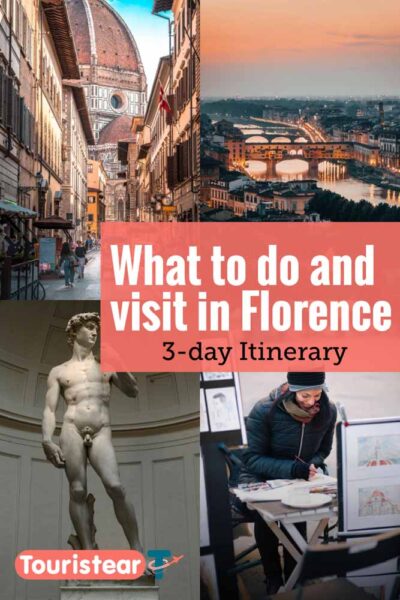 The Cathedral of Santa Maria del Fiore, the Campanile and the Battistero
When you think about what to see in Florence the first thing that comes to mind is "Il Duomo". Its magnificent cathedral leaves no one indifferent. Have you visited it yet?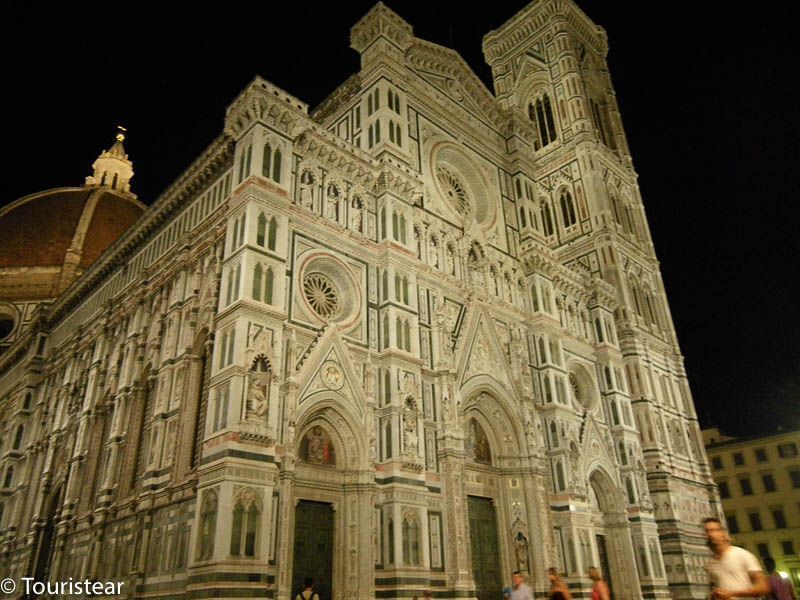 Admission to the cathedral is free. If you're a woman you have to go with your shoulders covered and long pants, but don't worry, if you don't wear them, there they sell you a kind of shawl for you to cover up, when I went it was 1.50€.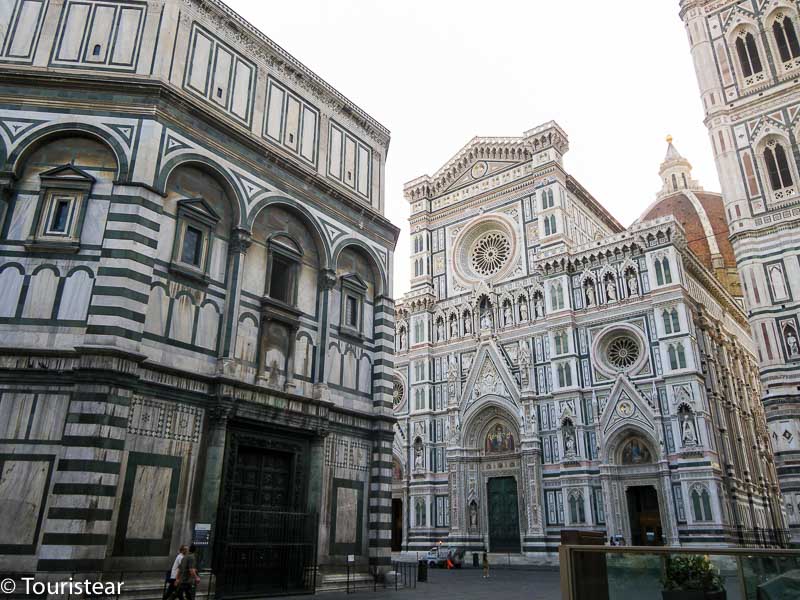 To visit "Il Duomo" in Florence and the religious area, you can buy different tickets. For example, there is an entrance that includes visiting the Campanile, where you can see the city from above. Or the Battistero inside or the Opera Museum, where most of the original artworks are.
For example, the Gate of Paradise, the one outside is a replica and the original is in the museum.
Piazza della Signoria
If you continue along the street "Via del Calzaiuoli", you reach Piazza della Signoria, where you will find Palazzo Vecchio and Galeria degli Uffizi.
In Piazza della Signoria, you will find a lot of masterpieces, of which many are original. You can see, the fountain of Neptune (1563-1575), the equestrian monument of Cosme I. The figures of the steps of Palazzo Vecchio are almost all replicas.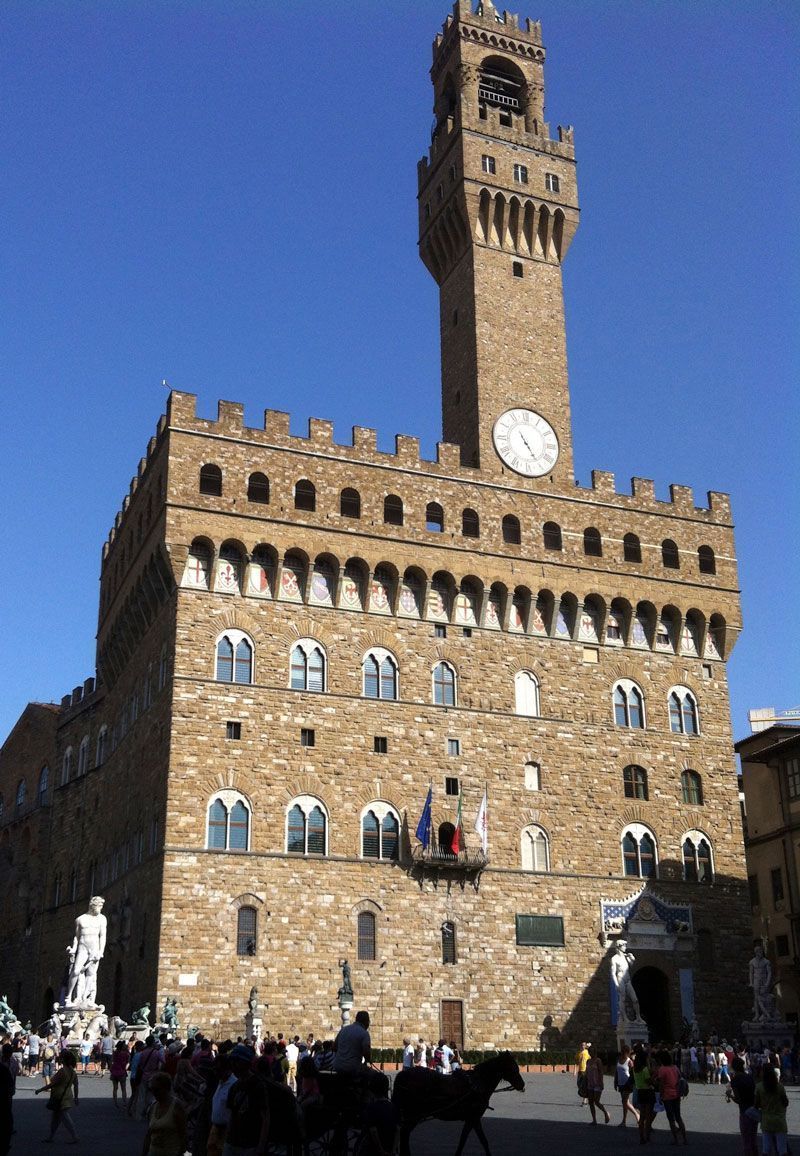 On the south side of the square is the Loggia della Signoria, where assemblies and public ceremonies were held. Over time it changed uses, until we reach this day, where we see an open-air museum.
You can see the statue of Perseus (1554), the abduction of Polyxena (1866). In the center of the portico is Menelaus holding the body of Patroclo (Roman copy of the Greek original of the 4th century).
In the arch on the right we can see the Rapture of the Sabines, considered the first statue that was created to be seen from all angles. Also, we can see Hercules and the Centaur Neso, among others.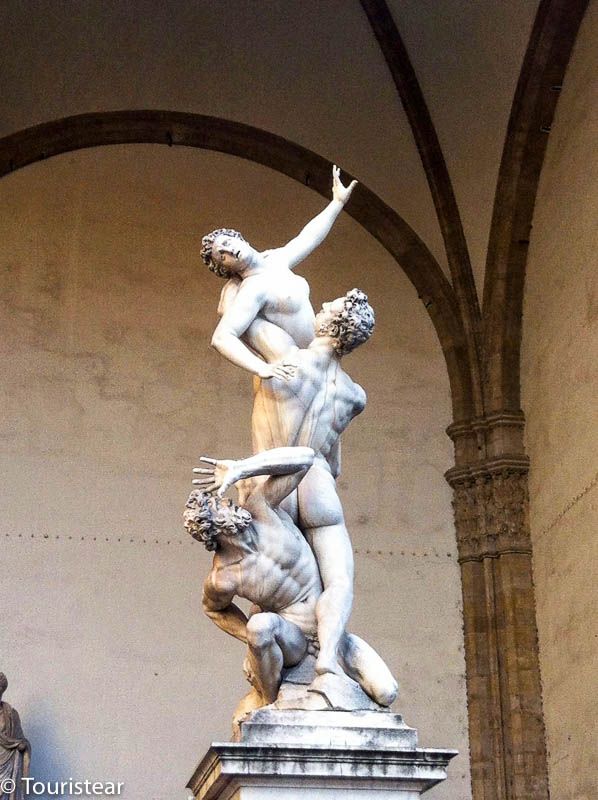 Palazzo Vecchio, Florence
Entering Palazzo Vecchio and seeing the Cinquecento Lounge and climbing the tower and taking a look at the city, it's spectacular. It is a rather short visit and totally recommended. Florence is art everywhere! You can do the guided tour, if you want more information, click here.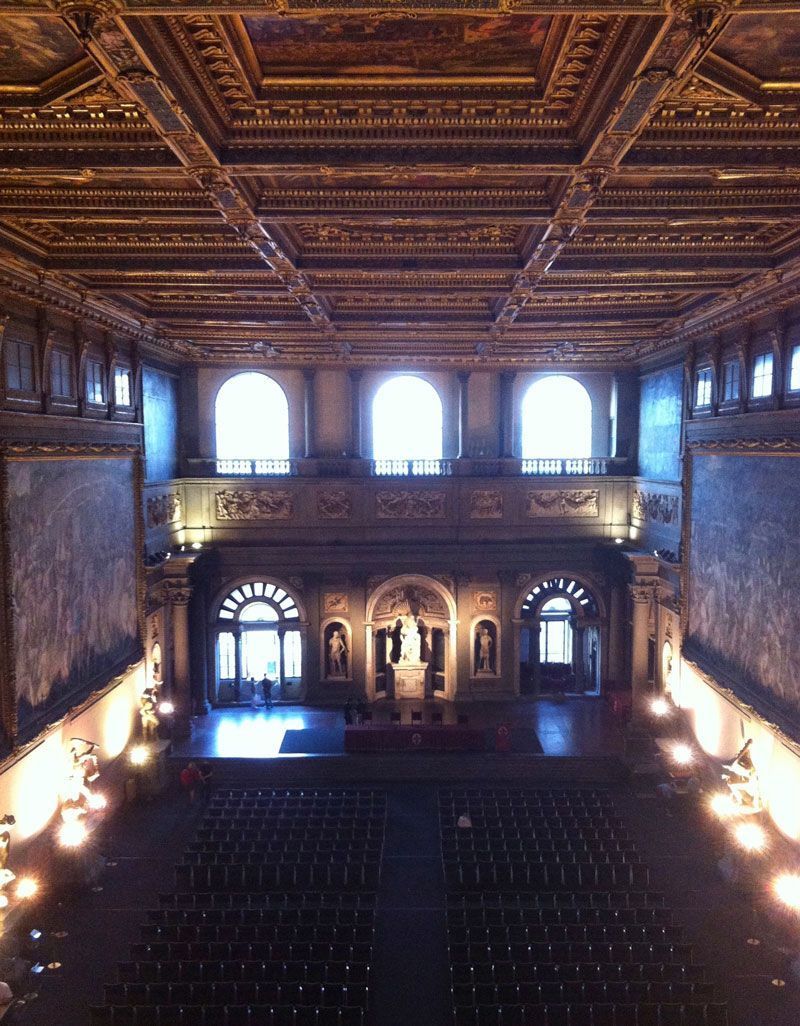 The Gallery degli Uffizi
The Galeria degli Uffizi you will find around 1600 masterpieces. With 45 rooms dedicated to the different artists. For me it's a must visit. When I was there, you could have the aperitif (in the afternoon) on the terrace and visit some rooms, for 15€ included a drinks, foods and entrance to the rooms.
When you go take a look at the website, it's a different way to see a museum, they also did it in the Gallery of the Academy.
The Galeria degli Uffizi can be toured with an English-speaking guide, who will tell you everything about the works of art you will see and make your experience incredible.
You can see the tours for your trip here and skips the lines. (if you are going to visit the Uffizi and the Accademia, you better buy this ticket where you will save 13% off, than if you buy it separately and also includes a visit to the center of Florence)
Al salir de los Uffizi, nos dirigimos hacia el río y giramos a la derecha por el Lungarno y llegamos al Ponte Vecchio.
The Ponte Vecchio
It is the oldest bridge in the city, it's a typical medieval bridge, which on both sides has shops of outstanding windows and wooden doors. In its beginnings were installed butchers and tanners (1565).
In 1588, Grand Duke Ferdinand, annoyed by smells, evicted them for the benefit of goldsmiths and silversmiths. Today it is the most visited bridge in the city. It's always crowded, sometimes there are street performers singing or painting.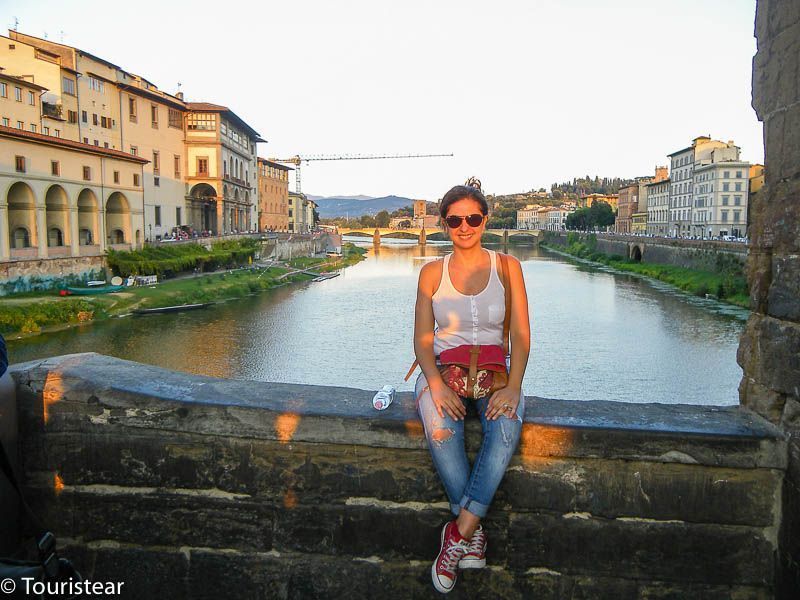 Academy Gallery
Another must-see is the Academy Gallery, where Michelangelo's David is located. This museum is quite smaller, but it deserves the visit only by the David.
Here you can also do the guided tour buying tickets online, or you can do the line and buy tickets at the museum itself, which I do not recommend, because the line is usually quite long and you would waste time. But it's up to you!
Piazzale Michelangelo
If you like to take pictures and want to make the best photos of Florence, you have to go to Piazzale Michelangelo, you can go walking or by bus, I have gone both ways, and I prefer to walk.
A good option is to go by bus and walk back, because if you go walking you will have to climb stairs.
Take the aperitif in Florence
In Florence they have a habit of having the aperitif. This appetizer starts in the afternoon. In many of the bars or pubs, they offer with the purchase of a drink aperitif, and this is like an open buffet.
Depending on the quality of the site, the variety will be higher. What you can do is, first take a look at the buffet and then decide whether to stay or not.
Where to eat in Florence?
One of the specialties of Florence is the bistecca alla fiorentina, it's a thick steak, which is usually sold to the weight.
If you want to eat a good bistecca alla fiorentina, you have to go to Piazza di Santo Spirito, which is located "oltrarno", on the other side of the river. When you arrive at the square, turning left the second restaurant "trattoria", it is good, obviously if you like meat!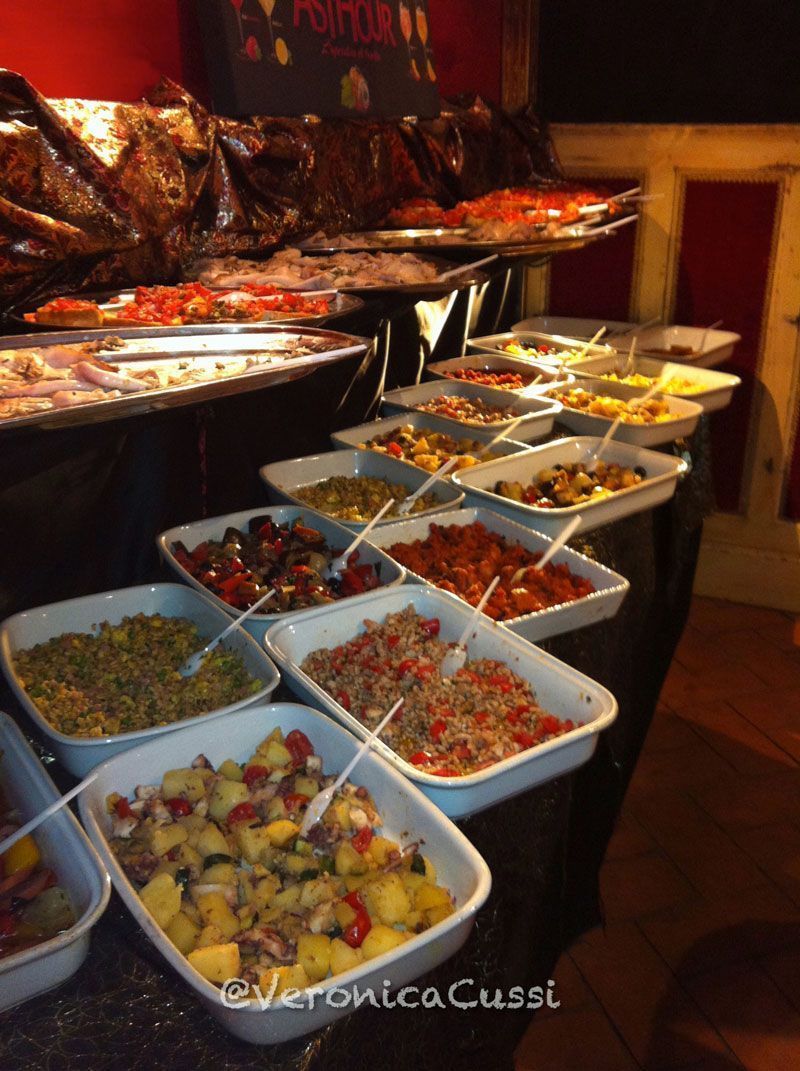 You can, go to a Tuscan cooking class, where they will teach you their specialties and you will eat what you prepare. But the coolest thing about the tour is that you start it by going shopping at the market with the chef. It's a different way to be in touch with the local culture, dine and have a great time.
Check out here for more information click on the link.
Having an Ice Cream in Florence
If you want to take a good ice cream,practically in any Italian ice cream parlour you have a very good ice cream.
Grom I think it must be the best known, it is very close to the Duomo, the ice creams really, is that they are very good, but you are in the center so get ready for the price of the ice cream!
There are also very good ice creams "oltrarno" crossing some of the bridges there are some ice cream shops with better prices than in the center and some ice creams that have nothing to envy to those of Grom.
If you are going to stay several days and want to take the best ice cream in the world, you have to go to San Gimignano. It is a village that is very close to Florence and has a couple of ice cream shops that have been awarded as the best Ice Cream in the world, besides being a very picturesque village with many towers.
More excursions you can do in and from Florence
Bike tour
Florence is a very easy city to cycle, you can rent one or you can do a tour with a guide in English,who will take you to get to know Florence from another point of view and also for 25 euros.
Evening tour with dinner in Florence
If you haven't eat fiorentina bistecca yet and also want to do a night tour of the city, this is your chance. The tour includes a walk through the center, piazzale Michelangelo and end up dining in a restaurant next to the cathedral.
Vespa Tour of the Chianti
This is an excursion that I was left wanting to do, but which I will definitely do at some point. Touring the Chianti in Vespa from Florence has to be awesome. I visited the Chianti and did some wine routes with a friend who is expert in it, but if you do not have a friend who will tell you, you can do this tour that looks fantastic.
Want more excursions?
You want to go to Rome, Venice, Cinque Terre, Pisa, etc.
Transfers in Florence
You can book your transfers to and from Florence Airport, the train station and from your hotel. The price varies depending on the type of vehicle you choose. It's a private door-to-door service.
In Florence there is a lot to see, it all depends on the time you have. The last time I was there for a month. So if you're planning to go there you can count on me to help you or recommend other things to see or do.
When to go to Florence?
The ideal time to visit the city is in spring or autumn, in summer it is very hot and there are many tourists. Ideally, go during the weekdays, but that's often tricky. But from my point of view, Florence is a city to visit all year round. When you have a few days, pay it a visit!
Where to stay in Florence?
With regard to accommodation in Florence you have options for all budgets. The Santa Maria Novella area, where the train station is located, is one of the most economical areas.
If you want to stay in a nice hotel, which is also well located I recommend the Atlantic Palace, it is not the cheapest, but surely you love it. I also leave this link to Booking to take a look at all the hotels in Florence.
The good thing about Florence is that you can walk everywhere, so the accommodation can get a little cheaper if you escape from the downtown area.
Have you been to Florence? Do you think I left some essentials?
Prepare your trip to Florence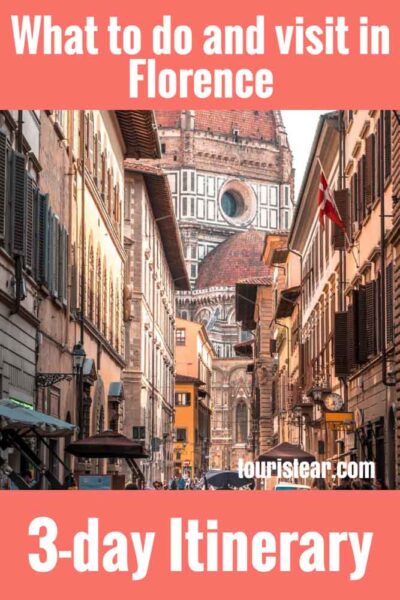 Book Your Trip
Book Your Flight
Find a cheap flight by using Skyscanner.
Book Your Accommodation
You can book your hostel, hotel or apartments on Booking.com.
Don't Forget Travel Insurance
Travel insurance will protect you against illness, injury, theft, and cancellations. It's your protection in case anything goes wrong. You never go on a trip without it.
Best companies for activities
Check out Civitatis.com and find the best tours in English (French, Spanish and Italian)
Looking for the best companies to save money with?
Check out my resource page for the best companies to use when you travel! I list all the ones I use to save money when I travel – and I think will help you too! (Is in Spanish yet)
We are not native English speakers but we have decided to translate our post to English so we can share it with the whole world. If you see any spelling mistake or something, please let us know, it is so important to us. If you do so, we can improve our post and also our English knowledge! Thanks in advance!!!
In this post you may find affiliate links. This means that if you make any purchases by clicking on one of them, I will take a small commission, but you are not increased by the price. Why are we doing this? Because it helps us to keep this project running and to continue creating useful content for your travels. Thank you so much for the support!