Best things to do in Rome in 4 days?
Rome is a city you have to visit at least once in a lifetime. It one of the Italian cities that is an open-air museum and wandering through its streets you will find monuments and works of art with many centuries of history.
It happened to me the first time I went to Rome, that we were walking through one of its narrow streets and suddenly we appeared at the Pantheon. It was awesome!
In this post I tell you what to see in Rome in 4 days and the itinerary I made with my sister.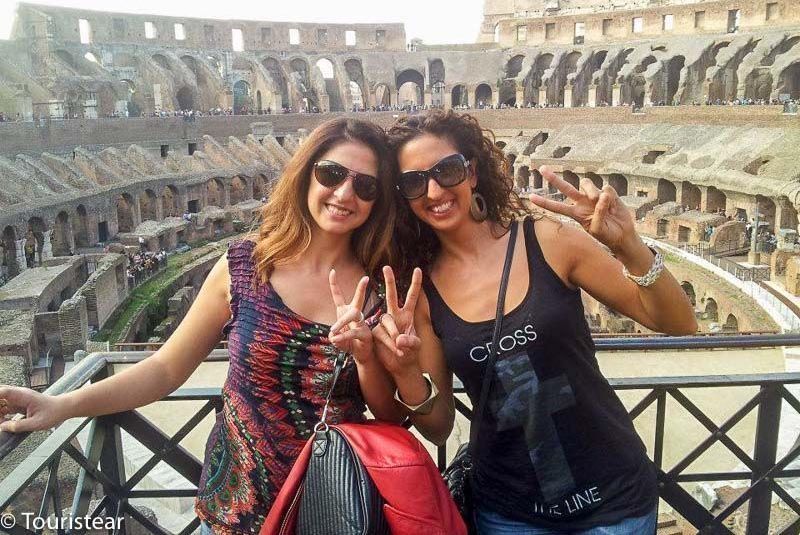 The first time I went to Rome was in August 2007, for my birthday, we went just a weekend, and I knew I would come back since I had tossed a coin in the Trevi Fountain 😉
My sister and I wanted to take a trip together, in October last year we had four days that were good for both of us and we chose Rome as a destination, she did not know it and I love Italy in general.
I took care of the plane tickets and she took care of the hotel, I didn't make a bad deal, hehehe. Needless to say, she chose a hotel with an unbeatable location, less than 100 meters from Piazza Venezia, the location of the hotel was very good, but the price a little high for what it was, since the rooms were so tiny.
The good thing was that we were able to walk almost everywhere, so we saved public transport or taxis.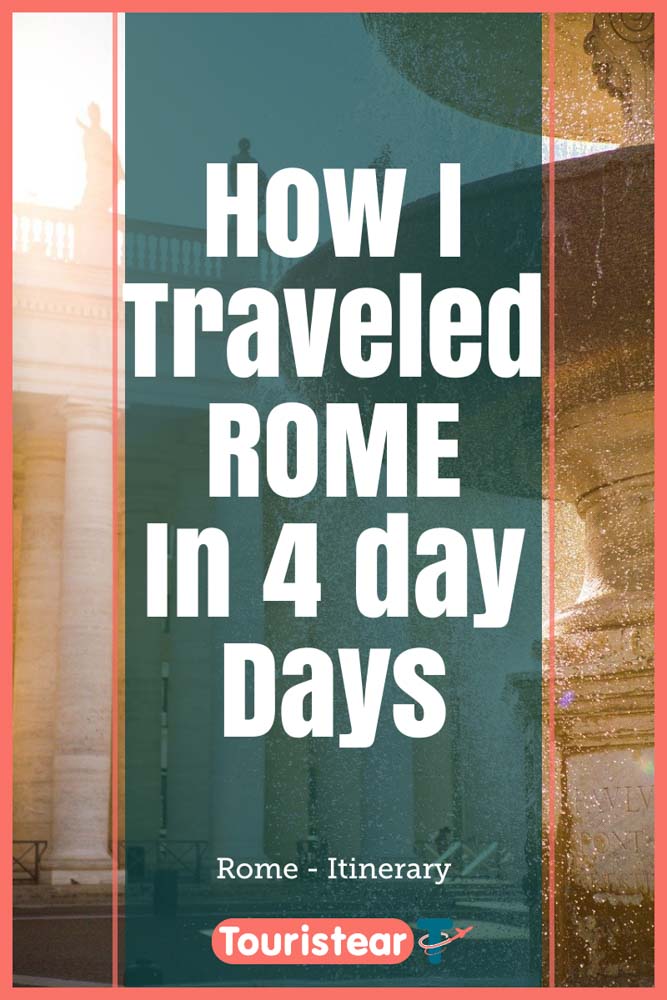 Although 4 days in Rome is short time. But gave us time to see the most important monuments. That said, getting up early and going to bed late some nights.
What to do in Rome in 4 days?
Day 1 in Rome
Colosseum and Roman Forum in the morning
The first thing we did when we arrived in Rome after leaving things at the hotel was to go to the Colosseum. We arrived at a good time. We visit the Colosseum, saw the Arch of Constantine, the Palatine and the Roman Forum. (We bought the tickets online and skip the line)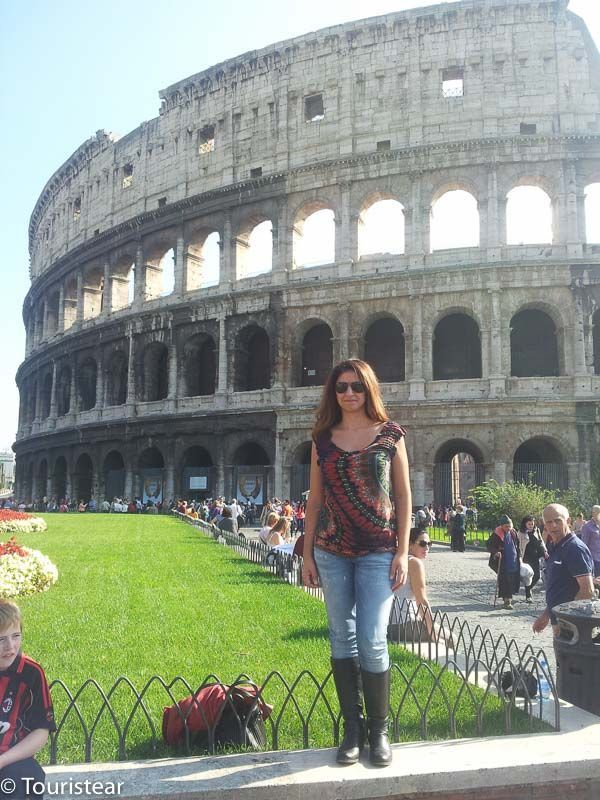 As the ticket we bought was worth to see everything, between one visit and another we made a stop at a pizzeria, that's where you go that the pizza is great!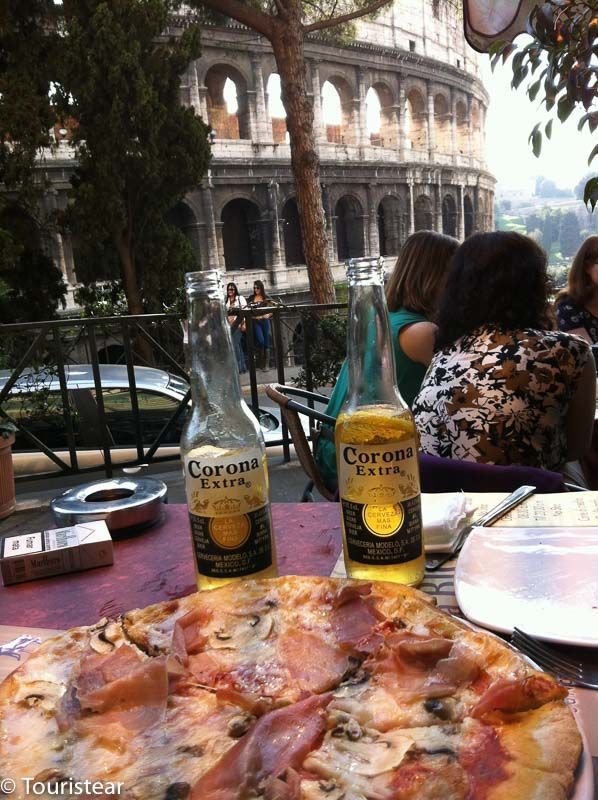 Visit the historic center in the afternoon
We continue our visit to Rome going towards Piazza Venezia,we took a tour of the historic center and walking we reach the Pantheon and the Trevi Fountain and to finish the afternoon we had a beer in Piazza Navona. The prices in this square are a little high, but we don't go every day, do we?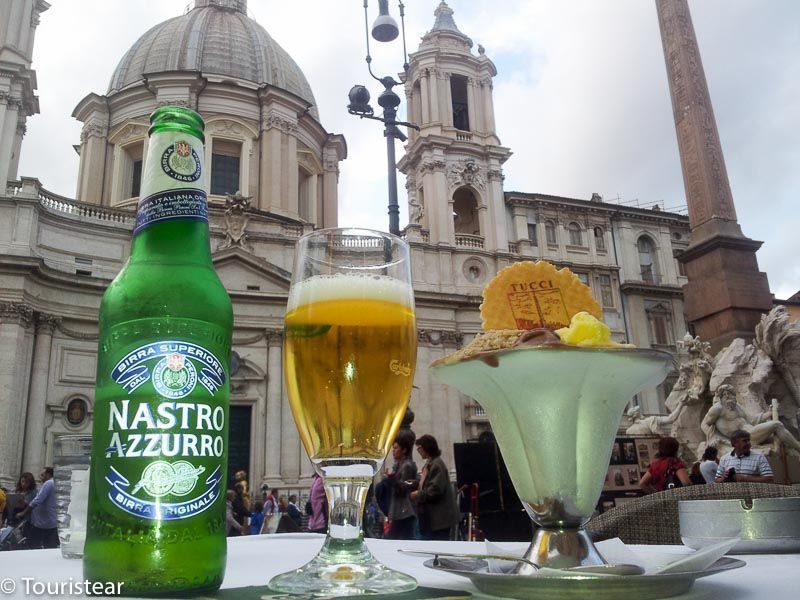 Do you want to visit the historic center of Rome with a guide? You can tour its most famous squares and fountains with a professional English speaker guide and for free!
Dinner in a boat on the Tiber River
Then we went back to the hotel to rest a little, because my sister had booked us a dinner boat down the Tiber River.
The dinner was really great, Rome's evening is awesome. This dinner costs about 65 euros, but for special occasions or to give you a treat is very good. The service and food is very good, the trip lasts about 2 and a half hours and includes everything.
It's more thought for couples, as it is very romantic, but it doesn't matter who you go because it's pretty cool. Dinner ended at about 23.30 and we returned to the hotel to rest for the next day. As you can see, if you plan your day in Rome you can visit and do a lot!
Rome day 2.
Vatican City Tour
Our second day in Rome we use it to go to Vatican City, here we hired a guide, it's much better when someone explain you everything. We were lucky and the guide was pretty good.
This visit is a bit long, so you have to take a good breakfast. Not like as, we leave the Vatican around 4 pm and we were starving. So on our return we set out to find somewhere to eat something at a reasonable price. We start walking along the Via della Concilliazione, it is the street that goes to Castel Sant'Angelo.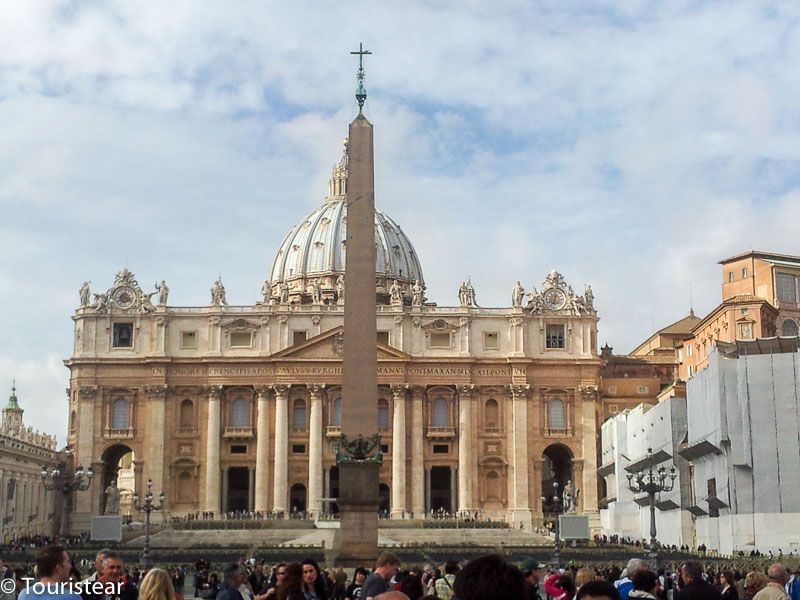 We found a place that served us some gnocchi at a good price, and I don't know if it was for hunger, but they were great! Then as we were close we went to see Castel Sant'Angelo and crossed to the other side to go to Piazza di Spagna and Piazza del Popolo (People's Square).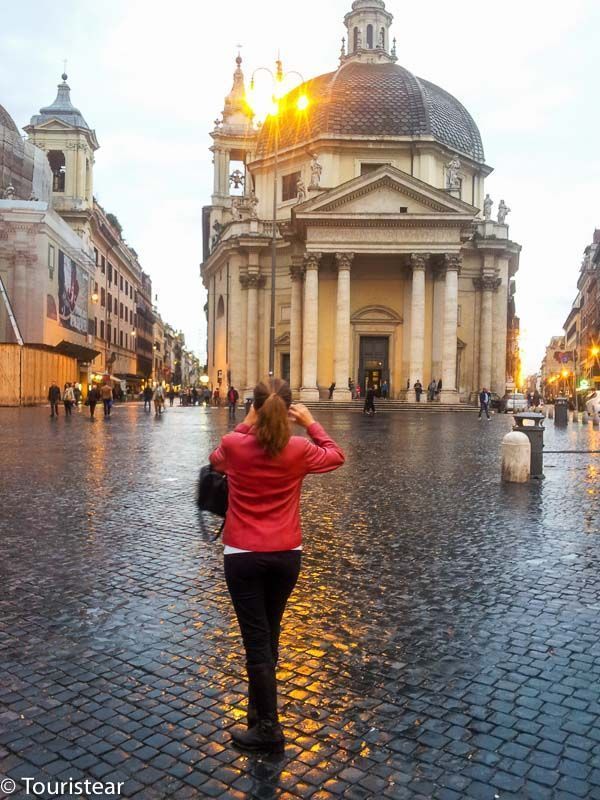 The truth is that this day was exhausting, as the whole tour we did on foot, minus the return to the hotel from Piazza del Popolo we returned by taxi.
The second day in Rome at night
In the evening, we asked where the Romans had dinner, and they recommended a restaurant that was very good. A typical restaurant of Roman food, in Trastevere and with few tourists. The Ristorante da Meo Patacca, by that name I would not forget!
We arrived without reservation to the restaurant that is in Piazza dei Mercanti, we were very well served, there was live music and the price quite reasonable. Totally recommendable, when I return to Rome I will have dinner there again.
Then we went out for a drink for Trastevere and the Testaccio that closed later.
Day 3 in Rome, What to visit?
As the day before was a very long day, the third day we took it more calmly. We visited Trastevere by day and ate there, We visited the Campo di Fiori and returned to the old area, starting with Piazza Bocca della Verita, which is in the Chiesa di Santa Maria in Cosmedin.
Piazza Bocca della Verita
Legend has it that you must insert your hand into the mouth of the statue and tell a truth, in case you lied, the statue would close its mouth, cutting off your hand. So you'd better tell the truth!!!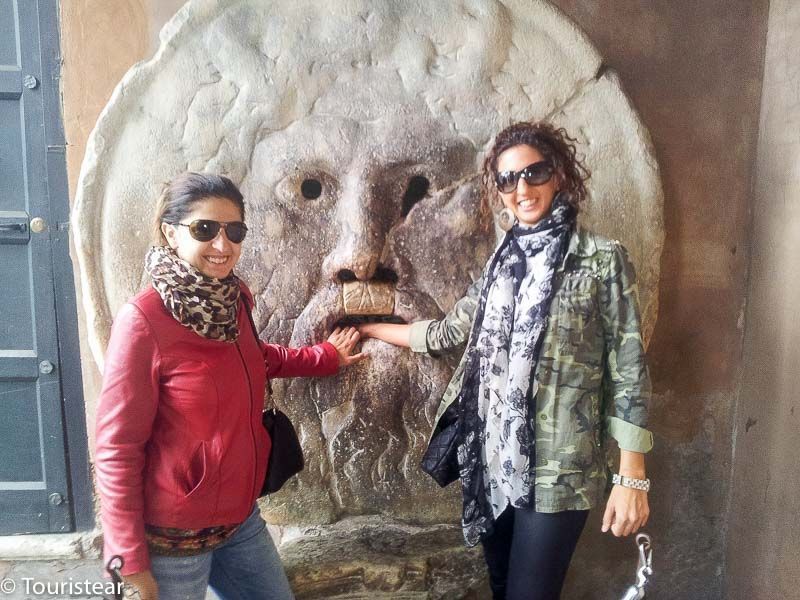 Then we continue along the Via del Circo Massimo and end up in the Baths of Caracalla.
Day 4 in Rome
The fourth day in Rome we were leaving in the afternoon, so we checked out, but left baggage in storage. We say goodbye to Rome by spin around the center, walking through its streets, buying the typical souvenir magnets, eating pizza and ice cream.
Rome is a city to know, it is impressive to walk through its alleys and suddenly meet the Pantheon or the Trevi Fountain. Or some lovely corner.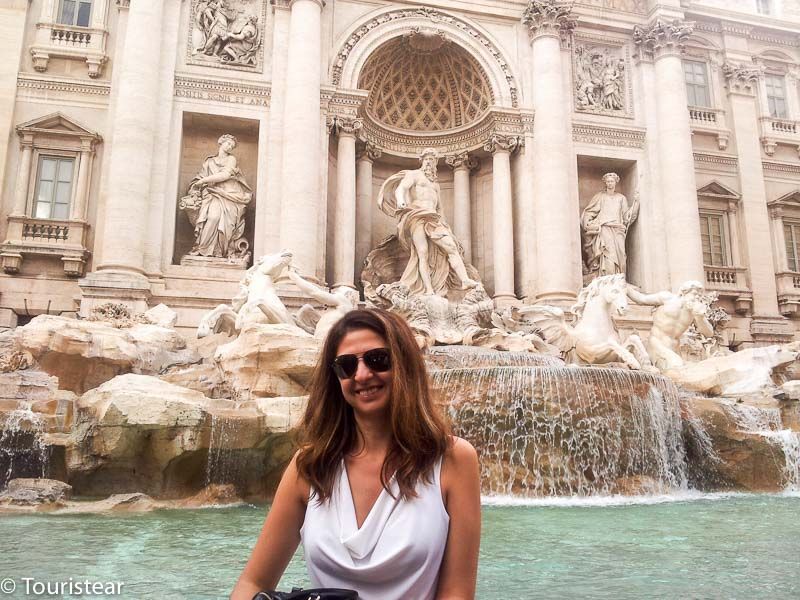 Prices in the eternal city are like in any European capital, if you have been to Florence or Venice, Rome is cheaper.
Where to sleep in Rome?
Accommodations are priced for all budgets. We stayed at the Piazza Venezia hotel which is a few steps from Piazza Venezia, the room was small, but the location was very good.
The first time I was in Rome we stayed at Hotel Inghilterra. It is a 5 star hotel that we arrived thanks to the overbooking at the hotel that we had hired. This hotel is a few steps from the famous steps of Piazza Spagna, it is quite expensive, but it is very nice, ideal if you go well on budget or want to treat yourself. In addition to this hotel change, when we hired the tour to the Vatican, we went to pick up a super Mercedes at the door of the hotel.
Flights to Rome are quite cheap all year round, and eat, you can eat very well for very good prices.
I hope your visit to Rome will be as good as mine! Tell me what places you've visited? so I'll get them in for the next one!!!
Book Your Trip
Book Your Flight
Find a cheap flight by using Skyscanner.
Book Your Accommodation
You can book your hostel, hotel or apartments on Booking.com.
Don't Forget Travel Insurance
Travel insurance will protect you against illness, injury, theft, and cancellations. It's your protection in case anything goes wrong. You never go on a trip without it.
Best companies for activities
Check out Civitatis.com and find the best tours in English (French, Spanish and Italian)
Looking for the best companies to save money with?
Check out my resource page for the best companies to use when you travel! I list all the ones I use to save money when I travel – and I think will help you too! (Is in Spanish yet)
We are not native English speakers but we have decided to translate our post to English so we can share it with the whole world. If you see any spelling mistake or something, please let us know, it is so important to us. If you do so, we can improve our post and also our English knowledge! Thanks in advance!!!
In this post you may find affiliate links. This means that if you make any purchases by clicking on one of them, I will take a small commission, but you are not increased by the price. Why are we doing this? Because it helps us to keep this project running and to continue creating useful content for your travels. Thank you so much for the support!