4-Day Rome Itinerary, The Best Things to Do
Rome is a city you must visit at least once during your lifetime. It is one of the Italian cities with an open-air museum, and while wandering through its streets, you will find monuments and works of art with many centuries of history.
The first time I went to Rome, we suddenly appeared at the Pantheon when we were walking through one of its narrow streets. It was awesome!
This post will tell you what to see in Rome in 4 days and the itinerary I made with my sister. Plus some tips to make the most of your visit.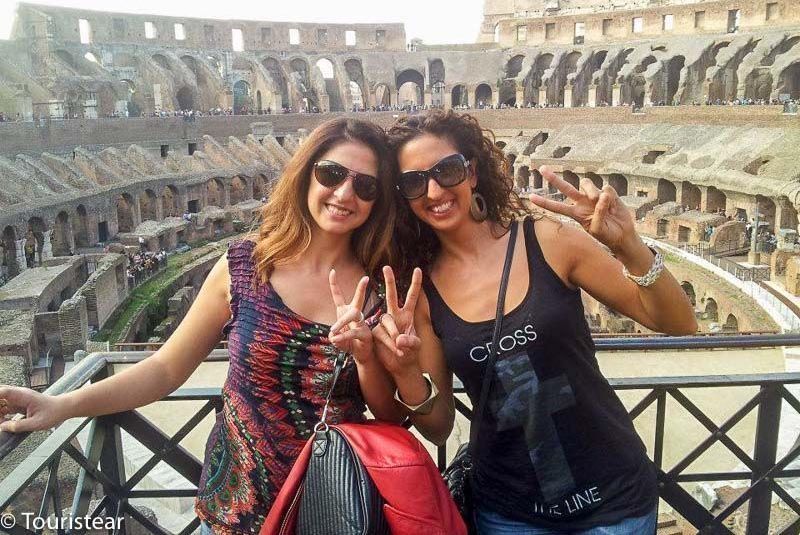 Best Things to Do in Rome in 4 days
The first time I went to Rome was in August 2007. We went for just a weekend for my birthday, and I knew I would come back since I tossed a coin in the Trevi Fountain. 😉
My sister and I wanted to take a trip together; in October of last year, we had four days that were good for both of us, and we chose Rome as a destination; she had never been there, and I love Italy in general.
I took care of the plane tickets, and she took care of the hotel. So I didn't make a bad deal, hehe.
She chose a hotel with an unbeatable location, less than 100 meters from Piazza Venezia, the location of the hotel was excellent, but the price was a little high for what it was since the rooms were so tiny.
The good thing was that we could walk almost everywhere, so we saved public transport and taxis.
Are you planning your trip to Rome? Check these 15 Travel Tips for Italy you have to know before you go!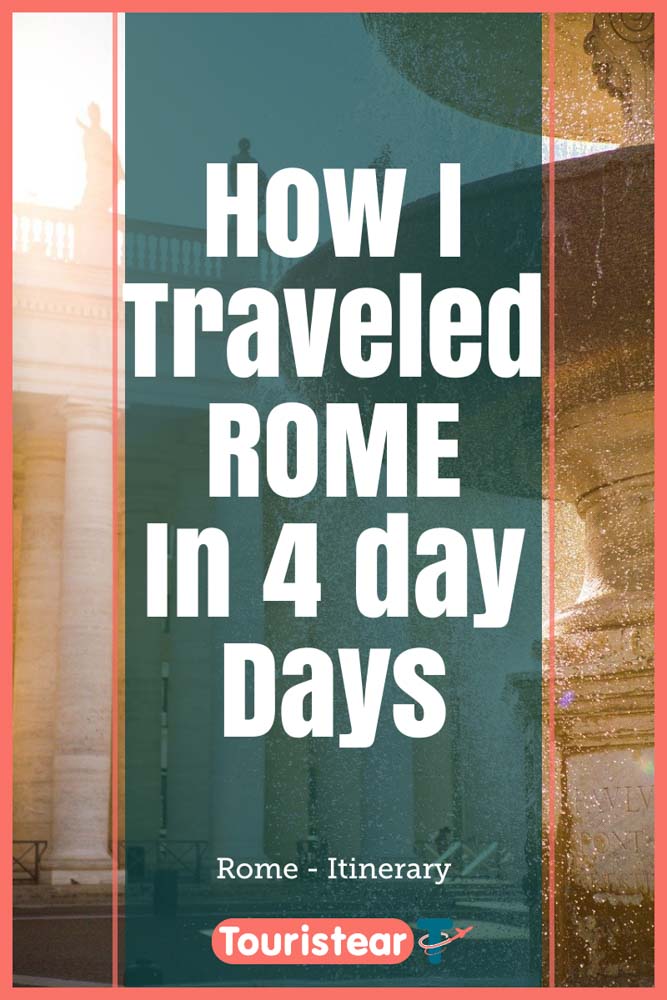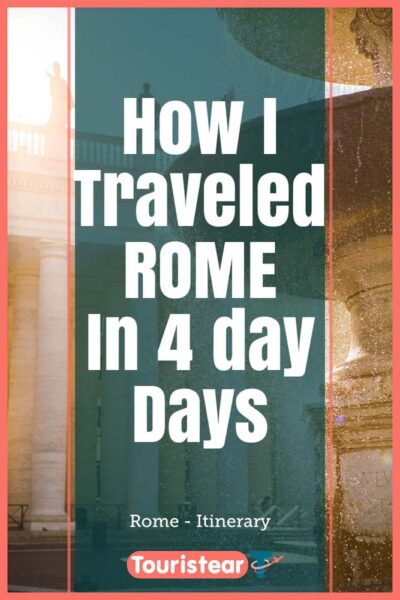 Although 4 days in Rome is not a lot of time, it gave us time to see the most important monuments. That said, we got up early and went to bed late some nights.
Day 1 in Rome
Colosseum and Roman Forum in the morning
When we arrived in Rome, after leaving things at the hotel, we did the first thing to go to the Colosseum. We arrived at a good time.
We visited the Colosseum and saw the Arch of Constantine, the Palatine, and the Roman Forum. (We bought the tickets online and skipped the line).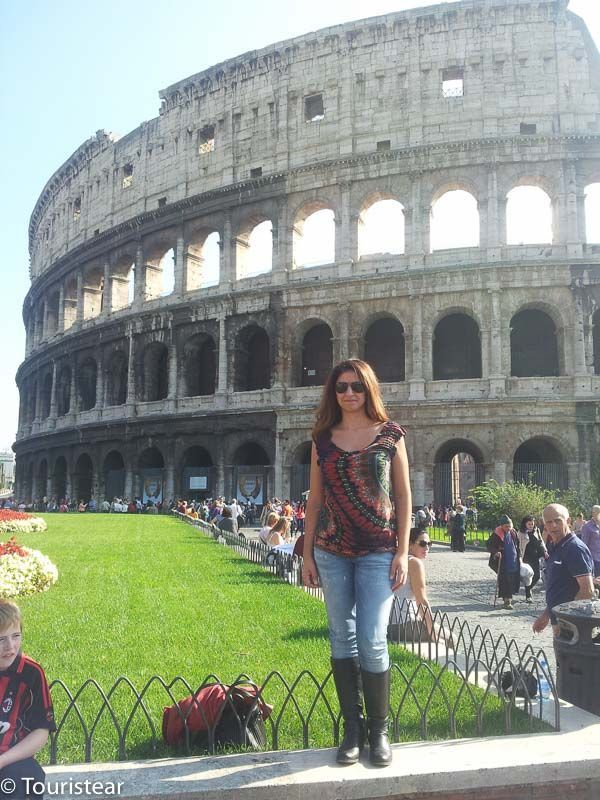 Since the tickets we bought were well worth seeing everything, we decided to stop at a pizzeria between one visit and another, that's where you go, and the pizza is excellent!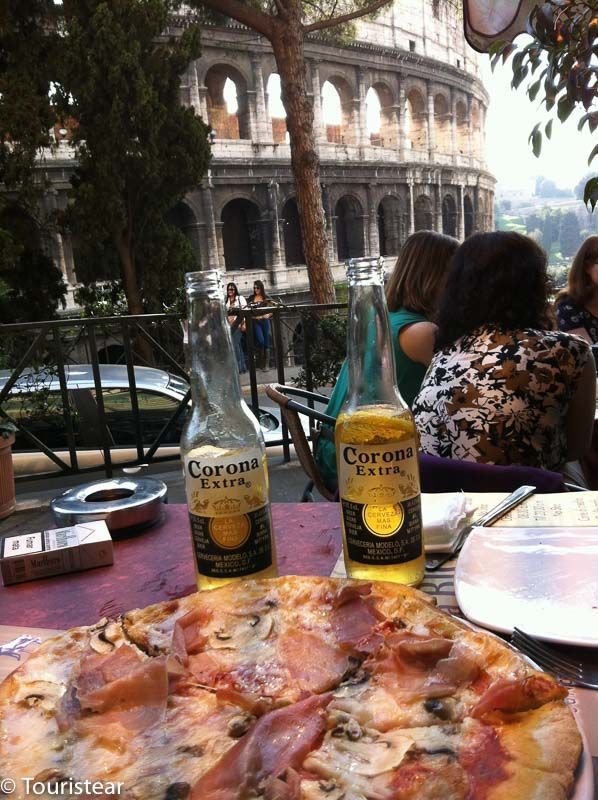 Visit the Historical Center in the Afternoon
We continued our visit to Rome, going towards Piazza Venezia; we took a historic center tour and walked until we reached the Pantheon and the Trevi Fountain.
To finish the afternoon, we had a beer in Piazza Navona. Of course, the prices in this square are a little high, but we don't get to be here every day, do we?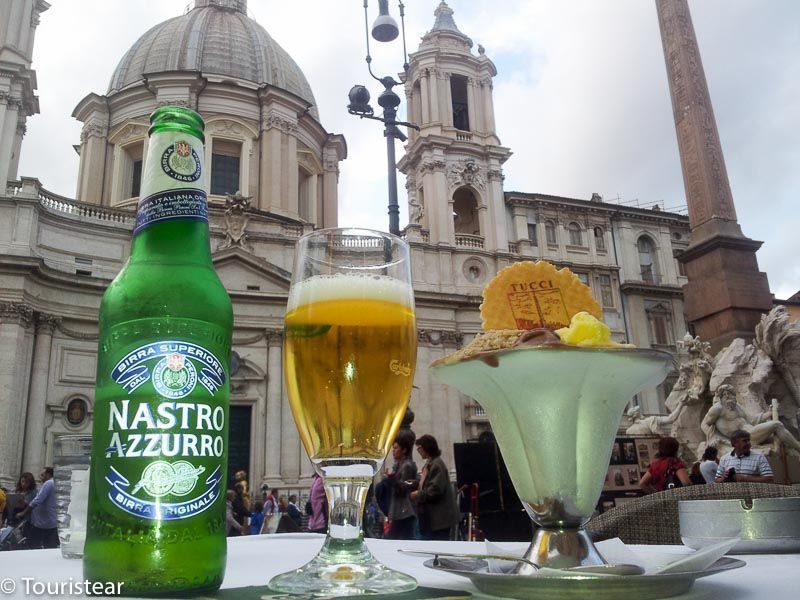 Do you want to visit the historic center of Rome with a guide? You can tour its most famous squares and fountains with a professional English-speaking guide, and it's free!
Dinner in a boat on the Tiber River
Then, we returned to the hotel to rest because my sister had booked us a dinner boat down the Tiber River.
The dinner was really great; Rome's evenings are fantastic. This dinner costs about 65 euros, but it is perfect for special occasions or to give yourself a treat.
The service and food are excellent. The trip lasts about 2 and a half hours and includes everything.
It's more thought for couples, as it is very romantic, but it doesn't matter who you go with because it's pretty cool. Dinner ended at about 23:30, and we returned to the hotel to rest for the next day.
Here you have ten places to eat in Rome, perfect for foodies. Buon Appetito!
So as you can see, if you plan your day in Rome, you can visit and do a lot!
Rome day 2. Vatican City Tour
We used it to go to Vatican City for our second day in Rome, where we hired a guide because it's much better when someone explains everything. So we were lucky, and the guide was pretty good.
This visit is a bit long, so you must have a good breakfast. Don't be like us when we left the Vatican around 4 pm; we were starving. So on our return, we set out to find somewhere to eat at a reasonable price.
We started walking along the Via Della Conciliazione, the street that goes to Castel Sant'Angelo.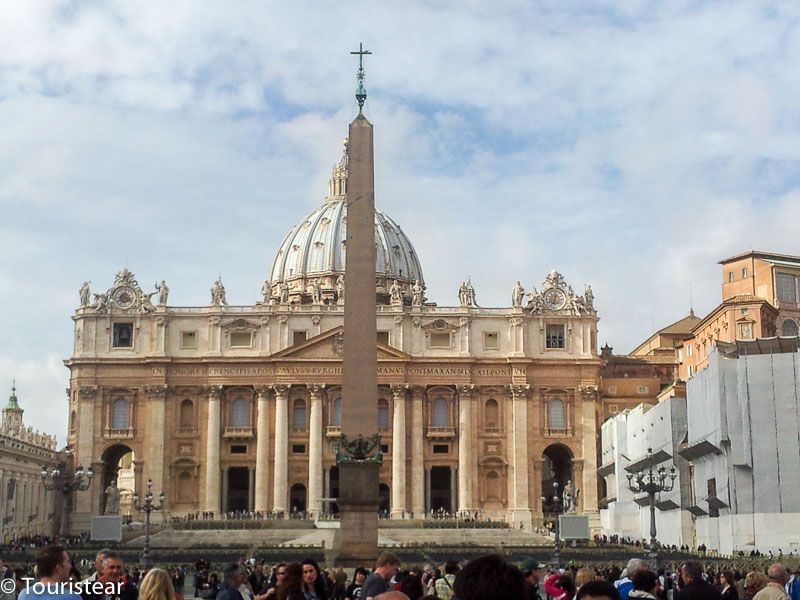 We found a place that served us some gnocchi at a reasonable price, and I don't know if it was because we were hungry, but they tasted great!
Then, since we were nearby, we went to see Castel Sant'Angelo and crossed to the other side to go to Piazza di Spagna and Piazza del Popolo (People's Square).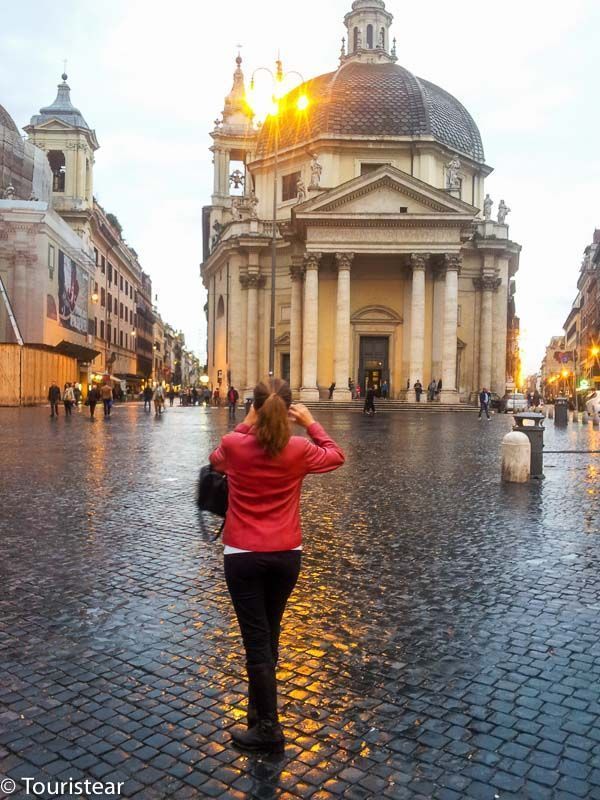 The truth is that this day was exhausting, as we did the whole tour on foot, minus the return to the hotel from Piazza del Popolo, where we returned by taxi.
The Second Day in Rome at Night
We asked where the Romans had dinner in the evening, and they recommended an excellent restaurant.
A typical restaurant of Roman food in Trastevere and with few tourists. The Ristorante da Meo Patacca, how could I forget such a name!
We arrived without a reservation at the restaurant that is in Piazza Dei Mercanti. We were very well served, there was live music, and the prices were quite reasonable. Totally recommendable. When I return to Rome, I will have dinner there again.
Then, we went out for a drink for Trastevere and the Testaccio that closed later.
Day 3 in Rome, What to visit?
As the day before was busy and full of action, we decided to take the third day more calmly.
We visited Trastevere by day and ate there; we saw the Campo di Fiori and returned to the old area, starting with Piazza Bocca Della Verita in the Chiesa di Santa Maria in Cosmedin.
Piazza Bocca della Verita
Legend has it that you must insert your hand into the mouth of the statue and tell the truth; if you lied, the statue would close its mouth, cutting off your hand. So you'd better tell the truth!!!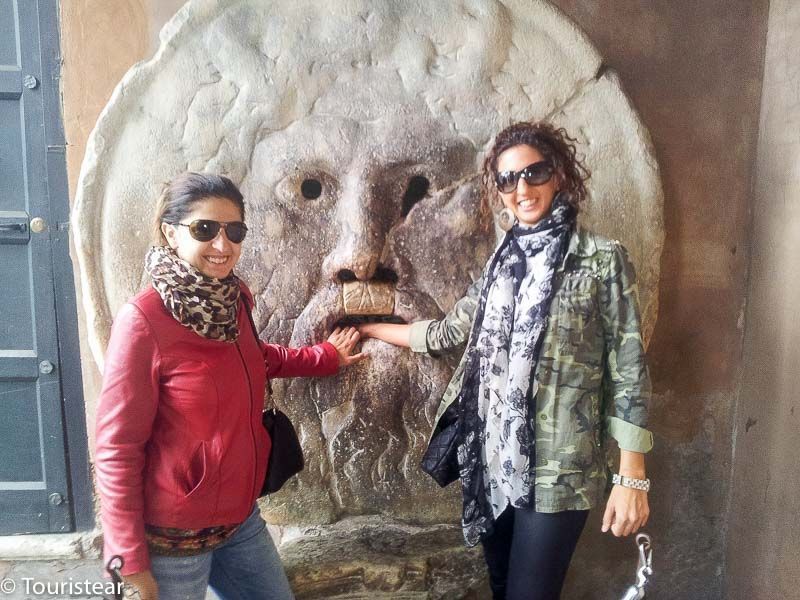 Then, we continued along with the Via del Circo Massimo and ended up in the Baths of Caracalla.
Day 4 in Rome
Since we were leaving in the afternoon on the fourth day in Rome, we checked out but left our luggage in storage.
So we said goodbye to Rome by spinning around the center, walking through its streets, buying the typical souvenir magnets, and eating pizza and ice cream.
Rome is a city worth getting to know; it is impressive to walk through its alleys and suddenly meet the Pantheon, the Trevi Fountain, or some lovely corner.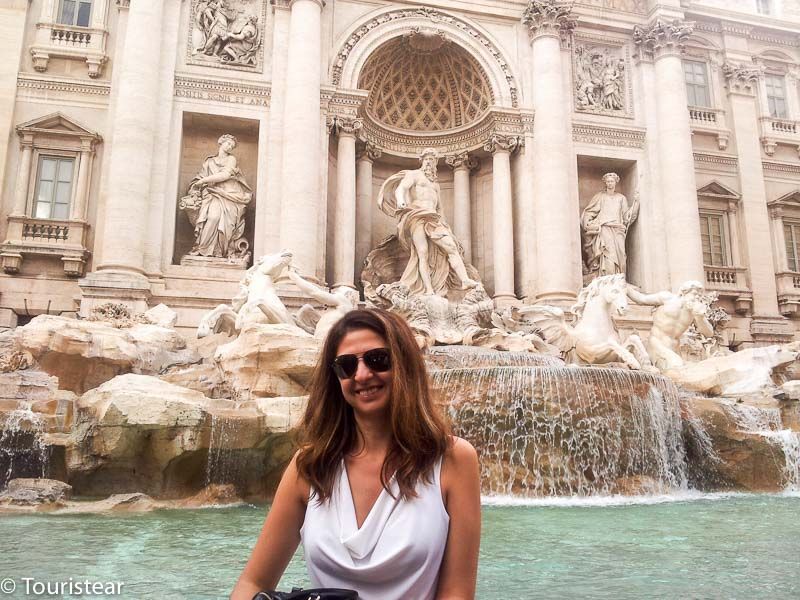 Prices in the eternal city are like in any European capital. If you have been to Florence or Venice, Rome is cheaper.
Where to Sleep in Rome?
Accommodations are priced for all budgets. We stayed at the Piazza Venezia hotel, a few steps from Piazza Venezia; the room was small, but the location was excellent.
The first time I was in Rome we stayed at Hotel Inghilterra. It is a 5-star hotel that we arrived at thanks to the overbooking at the hotel that we had hired.
This hotel is a few steps from the famous steps of Piazza Spagna, it is quite expensive, but it is very nice, ideal if you have a good budget or want to treat yourself.
In addition to this hotel change, when we hired the Vatican tour, we went to pick up a super Mercedes at the hotel's door.
Flights to Rome are cheap all year round, and you can eat well for excellent prices.
I hope your visit to Rome will be as good as mine! Tell me what places you've visited. So I'll get them in for the next one!!!
Tips for Traveling to Rome
Take one or several Free Tours
The first piece of advice I give you is to do one or more free tours on your trip to Rome. The best website to find free tours is Civitatis. There are currently 3 free tours; I leave you the links so you can book the ones you like the most.
Book your activities in advance
If you travel in high season, book all the activities that are essential for you in advance. Do not stay with the desire, and do not leave it for the last minute.
Book a Transfer
You can get comfortable in a transfer from the airport to the hotel and vice versa. But also by public transport, taxi or Uber. Choose the way that best suits your travel style.
Fiumicino Airport
The Fiumicino airport is located 30 kilometers from the city center. A bus leaves you at Termini station; from there, you can take a metro or walk to your hotel.
You can buy your ticket online here. It costs €7 and takes approximately 40 minutes.
The taxi costs around €50 and the private transfer in a Mercedes E-Class €65
Ciampino Airport
Ciampino Airport is 16 km from the center of Rome. The cheapest way to get to the center is with the bus arriving at Termini.
It costs €6, and you can buy the ticket here.
You can also take a taxi or hire a private transfer.
Trip Cancellation Insurance
Traveling with travel insurance today is essential. But if you are one of those who do not travel with insurance, at least buy trip cancellation insurance, just in case.
You never know what can happen, so you make sure you get your money back for excursions, accommodation, and flights.
Anything that is not refundable. Take a look; you will see that it is cheaper than you imagine. By clicking on our link, you have a 5% discount.
The Omnia Vatican and the Roma Card are worth it
This is an excellent pass if you want to see the main sights in a short time, avoid long lines to buy tickets, be able to see the sights of the Vatican, and take the hop-on hop-off buses.
At first glance, this may seem like an expensive pass, but if you are only in Rome for a few days and want to visit the most famous attractions, this pass can save you a lot of time and money.
This pass is made up of two cards. One is the Vatican Card, and the other is the Omnia Rome. The first is for visits and tours of Vatican City and unlimited use of the Roma Cristiana tourist bus.
The second is used to enter the main attractions of Rome.
If you buy the three-day pass, it includes the 3-day Travel Card, which means that you have 3 days of free transport in the city. You can use subways, trams, buses, and regional trains, in addition to other benefits.
What is included:
Free admission to the Vatican Museums and the Sistine Chapel (with a free downloadable audio guide for St. Peter's Basilica)
Free entry to your choice of 2 of the 6 top attractions in Rome, including the Colosseum, Roman Forum and Palatine Hill, Capitoline Museums, Borghese Gallery, and the National Museum of Castel Sant'Angelo
Priority entrance to St. Peter's Basilica, Sistine Chapel, and Colosseum
Free and unlimited use of the Roma Cristiana tourist bus
Free travel card for unlimited access to Rome's public transport system
Discounted entry to more than 30 sights, attractions, and museums in Rome
Free guide and detailed map.
Prices (2022) Card for 3 consecutive days
€129 for adults
€59 for children (from 6 to 17 years old)
Rome travel guide
If you're the traditional type and like to go with your paper travel guide, we recommend you bring the classic Rome guide. It is cheap, but the best thing is that it is very complete.
Travel Card Wise
The Wise card is perfect for people who come from a country that does not have a euro and to withdraw money from ATMs.
This card is free, has no commissions, and offers you the best exchange rate on the market. In addition, you can make two withdrawals per month of money in foreign currency from ATMs for FREE!
I use it for my daily life and for traveling it is great.
Best neighborhoods to stay in Rome
If budget is not a problem, here are the best neighborhoods to stay in in Rome. If you search early, you can also find good deals.
Pantheon, Piazza Navona, Campo de' Fiori: the best for first-time visitors to Rome. You can easily reach the city's main attractions on foot and enjoy the atmosphere of one of the best cities in the world.
Piazza di Spagna: The Spanish Steps and the neighborhood that surrounds it are considered to be the most beautiful part of Rome.
Neoclassical buildings in excellent condition line the streets. It's home to most of Rome's top attractions for first-timers, so staying here is fantastic.
We stayed here at the Hotel Inghilterra, a great 5-star hotel. All thanks to the fact that the hotel we had booked had been overbooked. We were forced to stay in an equal or better hotel, we were lucky, and it was much better.
Trastevere – Charming neighborhood near the historic center known for its small cobblestone streets and thriving restaurant scene.
Monti – Colosseum: an interesting mix of ancient sites and a bohemian neighborhood. The most interesting thing is the Colosseum, but there is nothing more to do here.
Vatican Surroundings: Elegant residential area that is a useful base for St. Peter's Square and the Vatican Museums.
Roma Termini – The best area in Rome for budget travelers and those who need quick transit out of Rome.
Testaccio: Interesting neighborhood with excellent restaurants, bars, and specialty shops. Great for nightlife.
How to Get Around in Rome
The best way to get around Rome is by foot and public transport. If you dare, you can also rent a scooter.
If you buy the Omnia Card, you have the tourist bus and a card for public transport included (in addition to the tourist attractions)
If you are going to do it on your own, there are several different ticket options for public transport in Rome.
All tickets are valid for travel by train, bus, and metro. They are also valid for commuter trains, but only within Rome itself.
Where to buy Rome metro tickets
Tickets can be purchased at automatic machines or ticket offices in metro stations, as well as at "tabachi" shops throughout the city.
Tabachi shops are usually marked with a blue sign with a large T.
How Many Days to Spend in Rome
Rome is a city with many sights, and you can spend weeks or months without even being able to see absolutely all of them in detail. They say that one life is not enough to get to know Rome.
The number of days to visit Rome depends greatly on your travel style. However, I highly recommend that you go calmly and without running so that you can enjoy yourself in a better way.
A minimum of 4 days is what I would personally recommend for visiting Rome (so you can still include a visit to the Vatican).
However, if you have more time, it is definitely worth staying longer than 4 or 5 days to enjoy the city fully and calmly.
As I said, I recommend a 3-5 day trip to Rome, even if you spend one of those days relaxing and living life the Italian way. Just remember to take in the sights, experience the culture and history, and cherish the time you spend in Rome.
If you visit Rome for history and museums, you have to spend at least four days visiting the main sights, such as the Colosseum, the Vatican, the Pantheon and the Forum, and many more attractions.
If you simply want to explore the local culture and go shopping instead of sightseeing, 2-3 days in Rome will do the trick.
You can spend a couple of hours shopping in Via del Corso and the side streets around Piazza di Spagna.
You can spend a morning touring the Trastevere neighborhood, which is famous for food and nightlife.
If you want to do a bit of everything from history, culture, sightseeing, and shopping. You should spend at least 5 days or a week in Rome.
If you have more days in Italy, you can also book day trips to Pompeii, Florence, or Venice from Rome.
Best Time to Visit Rome
Rome is a city that can be visited all year round. But if you want to avoid crowds, not find it sweltering or rainy all day, there are better times to go than others.
The best times to visit Rome are during April (except Easter), May, and September when the weather is warm but not too hot.
These dates are ideal to visit the main outdoor attractions, such as the Colosseum, Palatine Hill, and the Roman Forum.
I recommend you avoid visiting Rome in August when the weather is sweltering, and many Romans go on vacation all month long.
Winter brings cooler temperatures and rain; snow is rare. If you don't mind it raining, this is the best time to avoid the crowds at the most popular sights. And find better prices on accommodation.
15 essential places to see in Rome
The Colosseum, Forum and Palatine
Vatican City
Piazza Venezia
Piazza Spagna
The Pantheon
Piazza Navona
Fontana di Trevi
Castel Sant'Angelo
Saint Peter's Square
Trastevere
Campo di Fiori
District of San Lorenzo
Catacombs
Villa Borghese
Piazza dei Poppolo(Town square)
Plan Your Trip to Rome
Last Updated on 19 September, 2023 by Veronica
Disclosure: Some of the links on this post are affiliate links, meaning at no additional cost to you, I may earn a small commission if you click through and make a purchase.
Author: Veronica
Vero, a seasoned traveler, has explored 25 countries and lived in five, gaining a rich perspective and fostering an infectious passion for travel. With a heart full of wanderlust, Vero uncovers the world's hidden gems and shares insights, tips, and planning advice to inspire and assist fellow adventurers. Join Vero and let the shared passion for travel create unforgettable memories.