Review about the Road Runner Laptop Pocket 20″ Carry-On
If you've been reading us for a long time, you know that we only travel with a carry-on suitcase or a backpack. Having our things with us makes us feel more relaxed, travel lighter, and avoid problems such as losing our luggage.
Besides, this way, once the plane lands, you go through the controls and leave.
Traveling only with carry-on size luggage, we tested different suitcases and backpacks. And different sizes.
I bring our opinion on the LEVEL 8 brand carry-on luggage in this post. A New York brand with minimalist and resistant suitcases that I really like so far.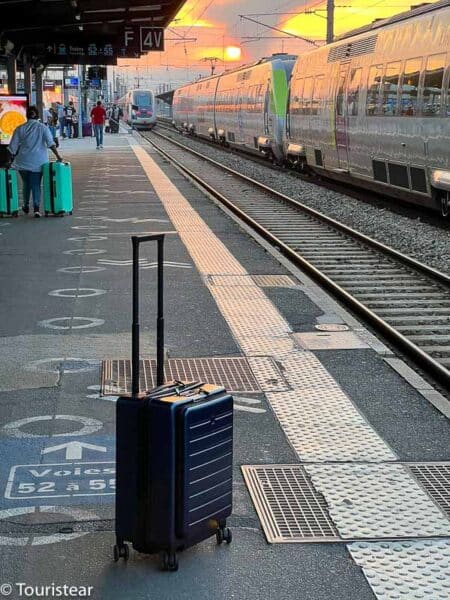 Our opinion about Road Runner Laptop Pocket 20″ Laptop
Our hand luggage from LEVEL8 is the Road Runner Laptop Pocket 20″ in navy color.
It is lightweight, minimalist, spacious (for a carry-on suitcase), has a design we like a lot, and the best thing is that it is comfortable to travel with.
The wheels run super well and have a 360º movement, which makes the suitcase weightless. Also, it stands very well; you don't need to lean it against the wall.
Another interesting thing, especially for those of us who live in rainy areas, or if you are going to a rainy place, is that it is water resistant, so your belongings will be protected.
It also comes with a bag to store in a closet or under the bed.
Lifetime Warranty: The company is so confident in the suitcase they have created that they give a lifetime warranty and cover any functional damage to the case, wheels, grips, zippers, or anything else that impairs the use of the luggage.
One of the things I like the most is the front pocket of the laptop. Traveling by plane and going through the controls is very convenient. But simultaneously, it is the drawback I see to the suitcase.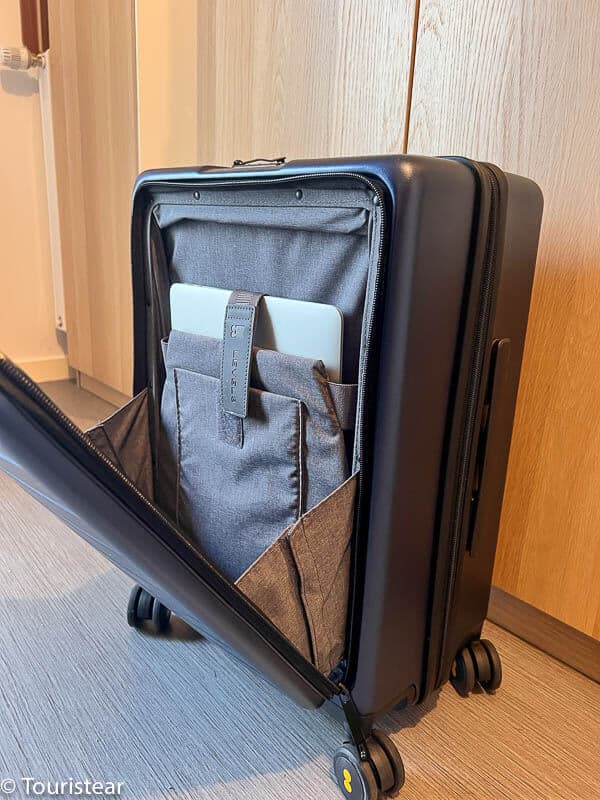 Why? Because it makes it a bit wider and its size makes it unsuitable for some European low-cost airlines.
Measures and European Low-Cost Companies
For example, Ryanair. On this airline, only one 40x20x25 bag is allowed in the cabin. You must pay extra if you want to take a carry-on or backpack of up to 10 kg.
The size of this suitcase, which you have to check in, is 55x20x40, and the Road Runner Laptop Pocket 20″ is 55x23x37. As you have to check it in, you have no problem with the size.
In the case of Easyjet, it is a little easier since the size of the hand luggage included is 45x20x36. At the airport we use, we have had no problems. But, it depends on the person doing the check-in.
Continuing with Easyjet, if you pay for the carry-on bag and the priority pass, the size is 56x25x45. In this case, the suitcase is perfect, and you can take it with you to the cabin.
Volotea is another low-cost airline that we use a lot. The carry-on baggage included in your ticket is 40x20x30, almost like Ryanair.
In the case of priority boarding, you can take on board a carry-on bag or backpack of 55x20x40. In this case, the Road Runner case from LEVEL 8 is tight due to its width.
We have had no problem with these 3 centimeters, and Fer's suitcase is much wider than this one.
We have used the Volotea and Easyjet of these three companies in the last two years. We have traveled with hand luggage of different sizes, the Tropicfeel Shell Backpack and the Nest.
For airlines such as Iberia or AirFrance, the maximum dimensions for cabin baggage are 55x25x35 for AirFrance. And for Iberia 56x25x40
So you have no problem. In any case, I recommend you look at it when booking the flight or, better yet, when you are doing the flight search.
A flight may seem very cheap, but it is not so cheap if you are then charged for the seat and hand luggage.
What we like the most
Lightweight weighs only 4 kilos
The four 360º wheels make the case very easy to carry.
Lifetime Warranty (read the details here)
Laptop pocket
Water-resistant
Perfect for 3 to 5 days to a week trips if you travel in summer.
The design may not be the most important thing, but it is beautiful.
Bag to store the suitcase.
Get a 10% discount with the code Touristear10
What we like least
What we like the least are the 3 centimeters of extra width that some European low-cost airlines can make you check in your suitcase.
This model only comes in black or blue (The Textured Carry-On 20″ model has many more colors available).
VERDICT
I really like the suitcase; I love how easy it is to maneuver it and carry it through the airport, a train station, and when commuting home, subway, hotel, or tram.
It is very good value for money. The delivery time is correct, they send it to you by private courier, quite fast.
If you pack well, it is very spacious. It is perfect for a long weekend and also for business trips.
I have asked Fer to take it on business trips, both by train and by plane, and I have asked him for feedback, and he has liked it a lot.
Here is Fer's feedback:
He always travels with a suitcase and backpack. He uses the backpack to take it to meetings, so he usually carries his laptop in it.
He has used the Road Runner Laptop Pocket 20″ to carry his laptop and finds it comfortable. But he prefers to carry it in his backpack.
Also, he told me that if he doesn't use the laptop compartment, he has more room in the suitcase to put clothes in.
Fer's verdict is that he steals the Level 8 carry-on from me for his business trips (if I don't have to use it myself). Lol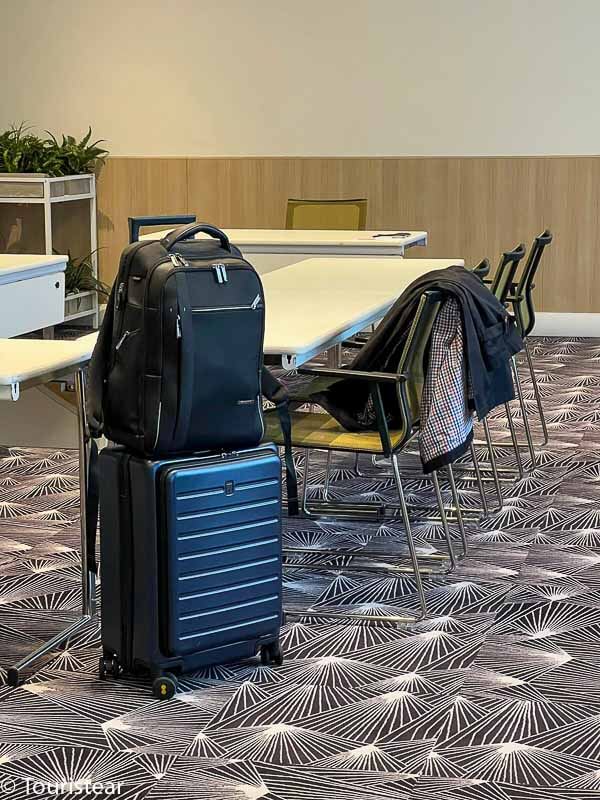 If you like Fer's backpack, here you have the link.
Where can you buy it?
The Road Runner carry-on case is available on the LEVEL8 website and on Amazon in some countries. If you buy it on their website, use the discount code Touristear10 to get 10% OFF the shopping cart.
Features
Size: 55x23x36.8cm (14.5 "L x 9.1 "W x 21.9 "H)
Capacity: 38 liters
Weight: 4 kilograms (8.9 lbs)
Opinion after traveling by train and plane
Ease of use
Honestly, very easy to use and carry at the airport or train station and in the city (cobblestones included).
360º wheels
The wheels in this carry-on are surprisingly good. You could say they are all-terrain.
I have taken it through the streets of Paris, cobblestones included, and the truth is that they are still intact, and it was very comfortable to wear it around the city.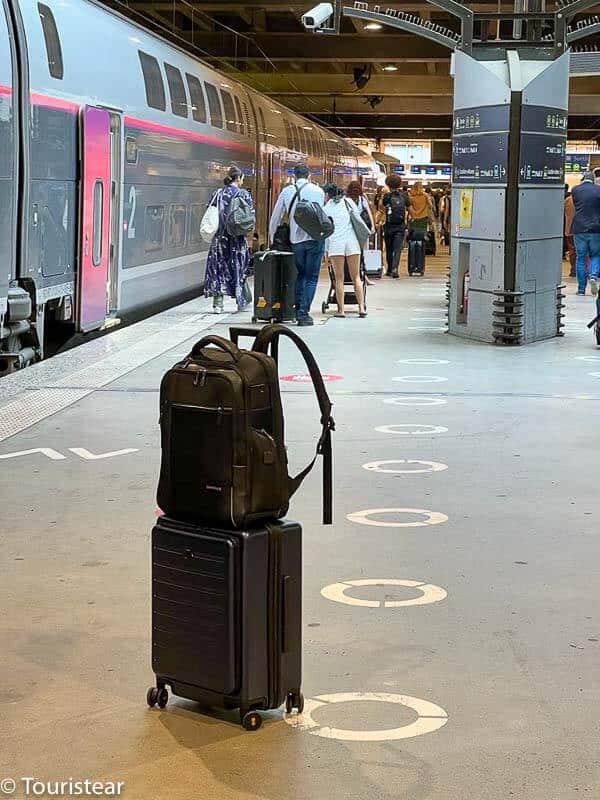 Special features: Safety Lock
The Road Runner case comes with a fully customizable security system. Changing the password to the one you will remember is very easy.
In addition, it has two independent systems, one for the laptop pocket and one for the main compartment.
To be honest about the security system. I have only used it when I have traveled by train, and I have to leave the suitcase at the entrance of the carriage and once I left the suitcase in the luggage room. On air travel, I have not used it.
Capacity
It has a capacity of 38 liters. It is quite spacious and perfect for weekend, long, business trips.
We have found that using the laptop pocket takes space away from the interior. So I recommend that you don't overfill it.
Interior pockets
Perfect for those who love organization 😉
The interior of the case is divided into two parts. The front features a large zippered divider pocket.
This large pocket has a few small pockets to organize your things better.
Water-resistant
The Road Runner carry-on case is water-resistant. It's perfect if you live, like me, in a place that gets a lot of rain or if you travel to a place that gets a lot of rain.
The good thing about it being waterproof is that your belongings will stay dry. It is certainly important if you carry your laptop or other electronic equipment.
Durability
The case is made of Bayer Makrolon polycarbonate. Therefore, in addition to being very resistant, it is scratch resistant. And I have been able to prove that with my cats. The first thing they did was to investigate my new suitcase.
Value for Money
It is excellent value for money for a design suitcase, water resistant and with all the features I mentioned above.
Conclusions
I think the LEVEL8 Road Runner Carry-on is an excellent acquisition, and I recommend it, especially if you will use it on non-low-cost airlines in Europe or train travel.
It is very easy to carry and organize.
So far, I am very happy with the Road Runner carry-on case from LEVEL8. If I change my mind at some point, I will write about it here.
Anyway, if you have this suitcase or any other from this brand, please leave us a comment with your experience.
Alternatives to Carry-on Suitcases or Backpacks
If you need your suitcase to comply with European low-cost airlines, here are some alternatives.
Tropicfeel Nest Backpack
The Tropicfeel Nest backpack is perfect for short trips; read the full review here.
Tropicfeel Shell Backpack
The Tropicfeel Shell backpack is perfect for short and long trips. Read the full review here.
Amazon Carry-on Suitcase
Rollink Amazon Carry-On suitcase: Measurements: 22″ x 14″ x 9″ when expanded. Capacity 10.5 gals.
Keep Planning Your Trips
Disclosure: Some of the links on this post are affiliate links, meaning at no additional cost to you, I may earn a small commission if you click through and make a purchase.
Book Your Trip
Book Your Flight
Find a cheap flight by using Skyscanner.
Book Your Accommodation
You can book your hostel, hotel, or apartments on Booking.com.
Don'torget Travel Insurance.
Travel insurance will protect you against illness, injury, theft, and cancellations. It's your protection in case anything goes wrong. You never go on a trip without it.
Best companies for Tours
Check out Civitatis.com and find the best tours in English (French, Spanish and Italian)
Are you looking for the best companies to save money with?
Check out my resource page for the best companies to use when you travel! I list all the ones I use to save money when I travel – and I think I will help you too! (Is in Spanish yet)
Last Updated on 16 March, 2023 by Veronica