16 Tips to Help You Plan Your Trip Step by Step
Want to know how to plan your trips? Are you planning a trip and don't know where to start?
Read on that here; we will tell you step by step how to organize your dream trip on your own and save you some unnecessary expenses. Let's Start!
How to Plan Your Trips: Easy step-by-step plan
Planning a trip can be a bit stressful if you don't know where to start, if you're short on time, if it's a long trip, or if you've never done it before. If you're stressed about arranging a trip on your own, read on because this guide is for you.
In this post, I will share the best tips to organize the holidays on your own. The best websites to make your reservations are the same websites that I use and many other travel bloggers.
Don't know where to start when you plan a trip? This guide will help you whether you're traveling alone, as a couple, or with children or friends.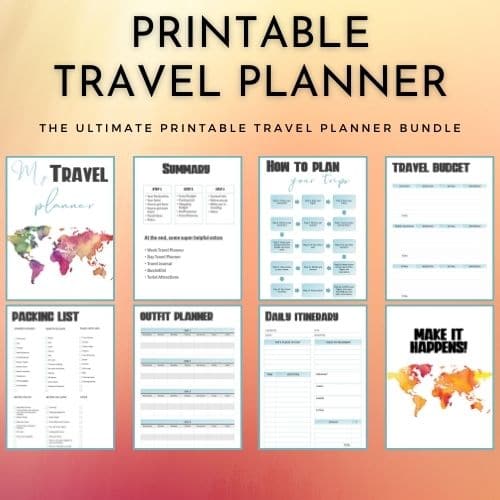 Step 1. Choose Your Destination
Where do you want to go?
The first step in planning a trip is knowing where you want to go. Next, choose a destination that fits your interests and budget.
Where do you want to travel? Inside your country? Overseas? Do you want to visit a neighboring country? These are the first questions you have to answer.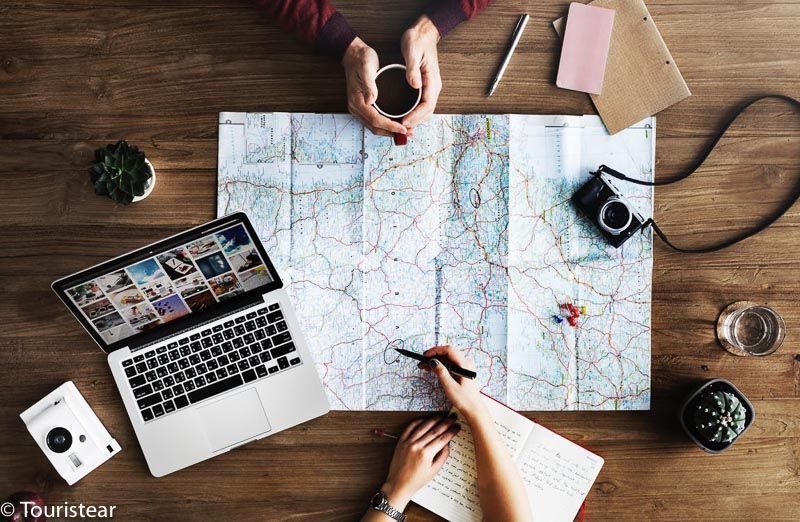 How much time do you have?
Depending on how long you have for your trip, you can choose a more or less distant destination.
For example, if you have a week of vacation, choose a destination that is as far away as 5 hours by plane (or car), do not waste your time on the route, and better enjoy it in your chosen place.
If you have more than two weeks of travel, that's something else. You can choose longer trips or make a stopover to make your flight cheaper.
Who are you traveling with?
When planning a trip, you have to take into account the opinions and tastes of others.
What I do, as I usually am the one who organizes the trip, is: first I choose the destination, then I tell the others. Sometimes, my uncles, sister, and brother-in-law sign up, but mostly I travel with Fer.
In all cases, I tell them to look at the destination, what they want to do and visit, if there is something essential for them, something they do not want, etc.
I give you a deadline to tell me so I can continue with the planning of the trip. And you should do the same if not; it's neverending…
If they tell you "whatever you want," you need to clarify that then you don't want to see ass faces because you didn't guess the "whatever you want."
Write it all down in the travel planner so you can keep everything tidy and don't forget anything. It also works for your companions.
What kind of experiences do you want to have?
When planning a trip, you must choose a destination that allows you to enjoy the experiences you want.
Think, what would you like?
Relax or adventures
Beaches or mountains
Summer or winter
Cities or nature
Road trip or a single destination
Festivals or culture
Shopping or enjoying the gastronomy
Luxury, medium, or tight budget
Are you the kind of person who enjoys reading a book on the beach all day, or are you a restless ass who wants to know as much as possible?
Answering these kinds of questions will help you choose your dream destination.
When's the best time to go?
If your travel days are who they are and your company decides them for you, you can skip this step.
But if you are one of the lucky ones who can choose your vacation days, you can take into account the high and low seasons of the destination you are going to visit when it is rainy or hurricane season, when it is cheaper, when is the festival you want to enjoy, etc.
Step 2. Book Air Tickets for Your Trip
Congratulations! You have already chosen your ideal destination for your next trip. Now it's time to book your plane tickets.
Air tickets usually take an important part of the travel budget, so looking for the cheapest flight is best. How to do it?
First, look at a flight comparator like Skyscanner, and find the flight that best fits your budget. Then look for it on the airline itself, sometimes it surprises you, and you find them cheaper.
If you find what you were looking for buy it. In case you don't have the money at the moment, you can fund it.
Search for the best-priced flights
We usually search Skyscanner first to get an idea of prices and schedules. It is a very visual and easy-to-use platform.
After searching Skyscanner, we go to Momondo, which usually has different connections and works very well (it is the one we are currently using the most).
Now, you already have an excellent idea of how the flight prices are for your trip by doing these two searches.
Search directly on the airlines
After searching the flight comparators, we go directly to the airline to see if it's cheaper. Of course, it's rarely cheaper, but just in case, we look at it.
Step 3. Book accommodation for your trip
Accommodation is another of the great expenses that a trip usually has. But it doesn't have to be.
If you haven't read it yet, click on the link to this post to tell you the different accommodation types in the market right now. They range from totally free to what you can afford.
For example, when we travel alone, we try various accommodation types, such as hotels, bed, and breakfast, and camping, depending on the type of trip we will make. We don't usually go to the cheapest, but looking for good value for money.
But when we travel with more people, it usually makes up for going to apartments. Booking.com has a great selection, and for four people, it usually comes out cheaper than 2 rooms in a hotel. It is also a good idea for families, as you can cook, wash clothes, etc.
Find the best accommodation prices
If you are a follower of this blog, you know we use booking.com to make reservations. The accommodations have more than 1 million accommodations in 200 countries, and surely you'll find the one that best suits your tastes and budgets.
Also, if you travel if you live in the US, a great option is Hotels.com. You can find very good bargains on this website if you book in advance.
Step 4. How to get around at the destination
Another thing to remember when planning your trip is to know the different transportation options in the destination you have chosen.
Do you need to rent a car? Need a city pass? Metro card? Do you prefer Uber? Are you going to tour the destination on foot?
During your trip planning, include this search. Knowing what means of transport are at your destination and how to use them will save you time and stress!!!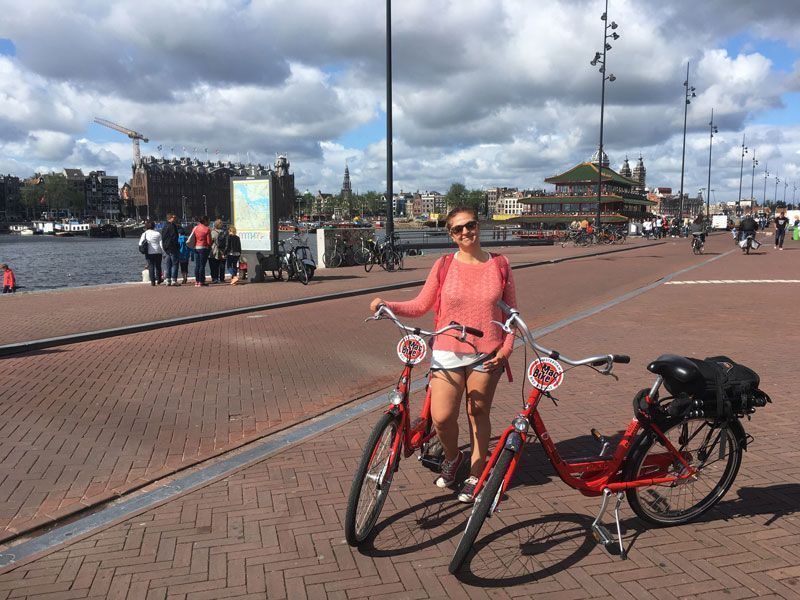 Car rental
If you need to rent a car, the best thing, as I always say, is to book it in advance. This way, you make sure you have a car for your trip dates, and the best thing is if you do it online and in time, you can save good money.
The best way to compare rental car prices is with Discovercars.com. They compare the prices of different car rental companies, have the best price, and there are always plenty of options to choose from.
We usually book rental cars with RentalCars.com. We have done so in the United States and some European countries such as Holland or Portugal.
Tourist bus
The tourist bus is usually a good option for getting to know the cities. With this mode, you buy a ticket that allows you to get on and off the tourist bus and visit the most important places.
Some of these buses go with a guide person (you usually leave some tip if it's good), but most have an audio guide, you choose the language, and it tells you the most interesting things about the places you're going through.
Biking
This option is excellent, sustainable, and cheap. If you're used to cycling or if the destination you choose has a good network of bike lanes, it's a great way to get to know the cities, you get less tired than walking, and you can get to many more places in less time than on foot.
We tried it in Amsterdam and some cities in the Netherlands and on Barcelona's outskirts; we did a 10km tour along the coast, and it's super cool!
Those who lazily their bike can choose electric bike or electric scooters are increasingly seen in the cities.
Step 5. What to see and visit?
When planning your trip, you want to know the essential places to visit, the best free things to do, and the best tours & excursions at your destination.
Although we love to improvise on our trips, it is always good to know what can be done, the must-visit places, the most popular, where to picture beautiful sunsets, etc.
There are top-rated attractions that you have to book months in advance. For example, if you want to go to the Alhambra of Granada, you have to book at least one month (if you do not go in high season).
The Caminito del Rey in Malaga if you want to go on weekends, there are times you need more than two months in advance!!! And so many others.
Organize your tickets, and find out if your destination has a City Pass. It usually saves you a lot of money on tickets to attractions.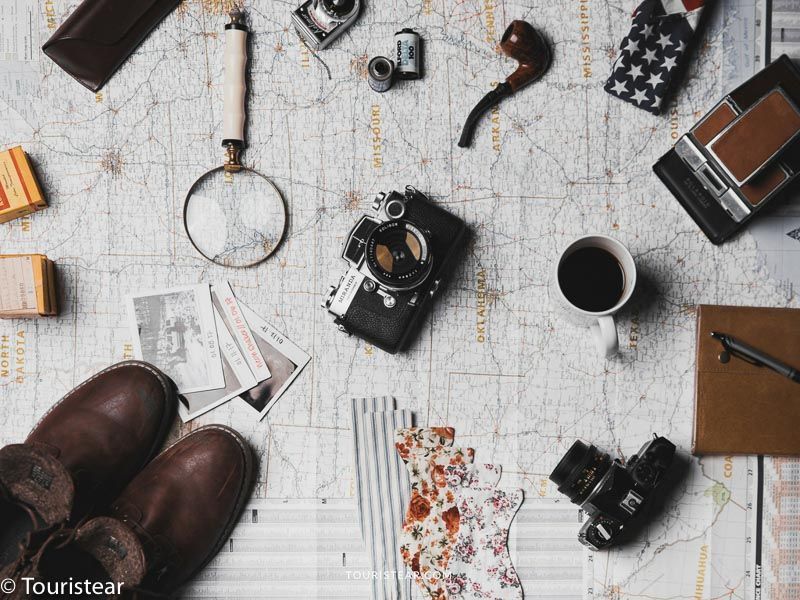 What to do on your trip? Some ideas
Plan and book tickets in advance so you don't miss any experience on your trip.
Take a pen and your travel planner and make a list of
Free things to do
Parks to rest or famous, such as Central Park
Better routes
City tours
Side Trips
Where to find ideas for your trip?
Blogs and Google are good sources of inspiration.
Pinterest (I love it, it's awesome for finding inspiration). Do we follow?
Tourist offices
Ask family and friends
Facebook, Twitter, Instagram
Need help choosing tours or activities or want more ideas?
Civitatis has many tours in many countries and always adds more tours and experiences to discover the cities you visit. Free tours are also available.
Step 6. Make the travel itinerary
Once you're clear about where you're going, it's time to put together your travel itinerary. And… How to make a travel itinerary? Very simple, print the travel planner, take a pencil, and let's get started.
You can start with the weekly or daily itinerary, as you find most comfortable. I prefer the diary, and then I adapt it.
Select 5 essential places you want to visit (they can be more or less, it's up to you). Write them in the section for this.
Write down the activities that need booking, make the reservation and write down the schedule.
On your daily itinerary, write down where you go for breakfast, lunch, dinner, a drink.

Call to book if necessary (or do it online if possible)

Leave time to rest
Take note of the expenses and write them down if you want to track them.
Step 7. Where to eat and have a drink?
Food and drink are excellent way to get to know a destination. Moreover, many people organize their trips around this topic, and it has become a favorite way to travel more than one. Is it yours, too?
We love to try the local cuisine and its drinks. We like to know the restaurants, bars, and cafes that locals visit; we also visit tourist areas when you have no choice, although these are usually more expensive.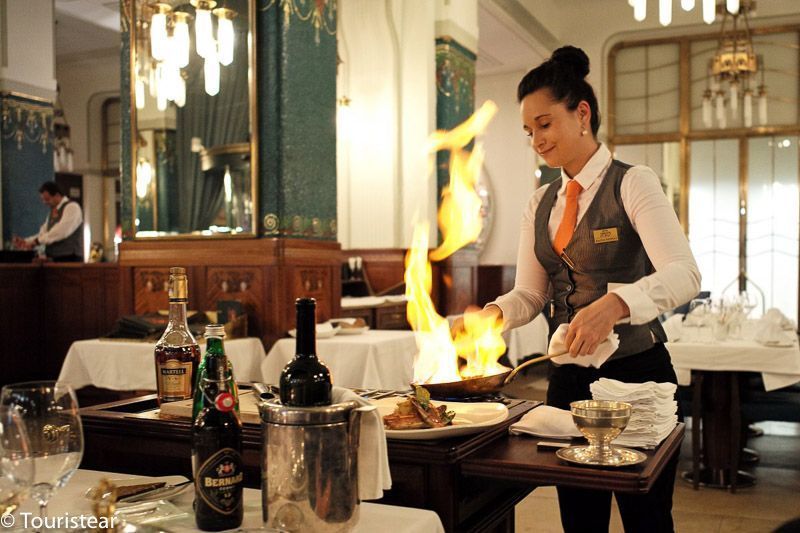 Do you need ideas? You can search for
Cafes. They can be theaters converted into bookstores like in Buenos Aires.
Restaurants
Famous street stalls like in New York
Food Tucks
Bars
Pubs
Picnic with views, ideal for watching the sunset in summer
Gastronomy: what are the most famous or essential local dishes?
Step 8. Check your passport (and that of people traveling with you)
If you plan a trip abroad and must carry a passport, you must check that it is in force. At least it must be valid for 6 months from the date of departure of your flight and that it takes place to put the entry and exit stamp and/or visas.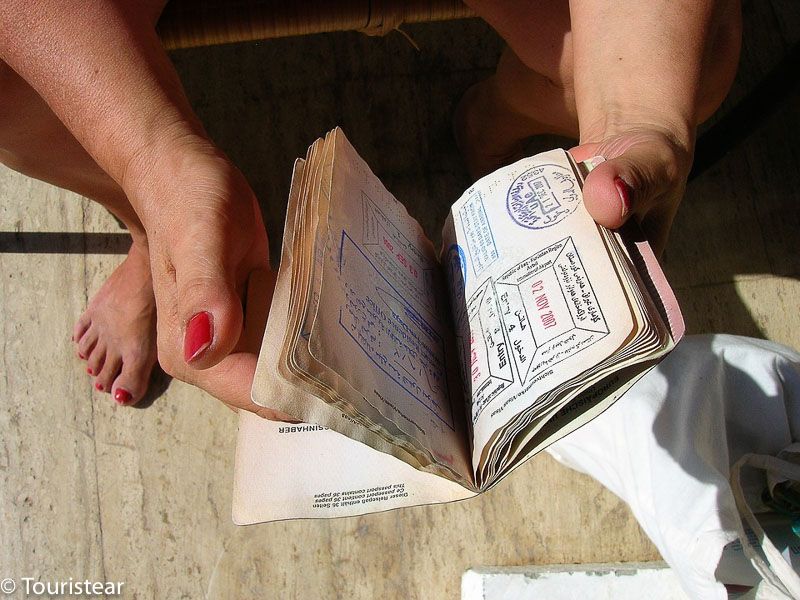 Step 9. Do you need a VISA?
Are you going to travel to a destination that needs a VISA to enter? First, you need to know what VISA you need and what you need to do to get it.
Each country is different, and it is also different for each nationality. So please don't leave this for the last minute.
If you need to apply for a French Visa, check this post.
Step 10. Do You Need Vaccinations?
To travel to some destinations, you need to be vaccinated. In some cases, it is mandatory, and in others, it is recommended.
In my case, for example, to travel to Peru, Bolivia, and northern Argentina, I was recommended a few vaccines, but only yellow fever in Bolivia was mandatory (although I was not asked).
Step 11. Make Copies of the Most Important documents
When you plan a trip, you have to make copies of the most important documents not to be lost.
You often don't need to print them, but if it's more than recommended, you have a copy of your bookings (for example, in Dropbox o google drive). See if you're asked to bring your printed tickets or vouchers.
Make copies of the following documents.
Passports
Visas
Air tickets
Itineraries
Hotel reservations
Car rental reservation
Booking tours and activities
Driver's license
Credit cards
And anything else you've booked
Print copies, save one in the cloud (Dropbox, iCloud, etc.), create a folder in your email with all booking confirmations, etc.
When you leave the hotel, leave your original documents in the safe or stored in the room and go out with the copies on the street. Better to lose the copies than the originals, right?
Step 12. Phone and internet connection
Currently, everyone or almost everyone travels with a Smartphone, laptop, or another device that needs an internet connection.
As travel bloggers, we are always connected to update our social networks, upload stories to Instagram, tweet, upload photos, and use GPS (both by car and walking).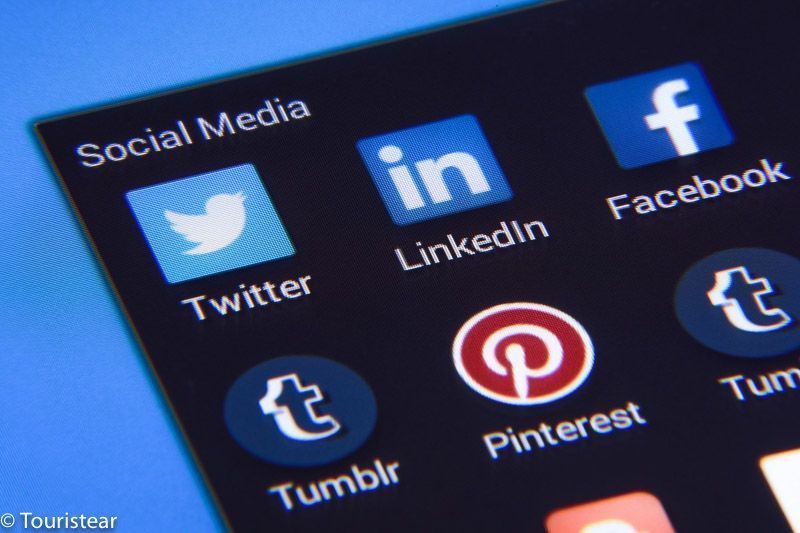 When we travel to places not covered in our data plan, we buy a SIM card at the destination.
We have a "MIFI," a device with portable wifi, and you can connect your phone, laptop, tablet, etc. The great thing about this is that by purchasing a single SIM, you can access the internet to more than one device.
You have to put on a SIM card that you have bought with data, and of course, check the battery of your MIFI. It can be charged in the car or with a portable battery, so you never run out of internet!!!
The one we have is the TP-link M5360, it works well, but there are already more modern things, hehe, like the TP-Link M7350 that has 4G or NetGear Mobile (Amazon Choice).
Step 13. Have access to your money
When we travel, we want to have access to our money without our bank charging us many commissions, or worse, see that a purchase is made abroad and block your card because you didn't notice you were going on a trip.
How to carry your money?
From our experience, the best way to carry money on our trips is a combination of cash, credit card, and prepaid money card.
Cash
The more money you have in your pocket, the more you will spend… We usually carry some cash for small expenses that cannot be paid by card.
If we need to make a currency exchange, we never do it at the airport or in a mega-tourist area as the exchange is usually worse.
Debit cards
The debit card is carried just in case, but we have not needed to use the usual debit card since we have the other card.
Credit cards
A credit card is required for almost the entire planning and purchasing part of your trip. For example, you need to rent a car, as they don't usually support debit cards.
You can use debit and credit to purchase flights, accommodation reservations, tour bookings, etc.
Find a credit card that has the following characteristics:
Don't charge commission for taking money out at foreign ATMs
Don't have the commission to pay in another currency.
Don't have annual commissions
Give you points as miles for upcoming flights or hotels.
Tell your bank
Then, before you go on a trip, contact your bank and let them know you're going on a trip. Tell them when and where they don't block your cards if they see a strange charge on your account.
Step 14. Buy Travel Insurance
I recently read this phrase: "If you can't afford travel insurance, you can't afford the trip," and it's absolutely right.
When you travel, you always carry travel insurance. Anything can happen. Sometimes, nothing happens, but you appreciate having insurance that responds the day that happens. It is a crucial step when planning your trip.
Travel insurance is designed to cover unexpected medical emergencies and other events such as cancellation of a flight, your personal effects, the loss, theft, damage of your baggage by the airline, COVID-19, and other things that may occur during your trip.
The best travel insurance we've ever taken out.
We have already been using Mondo travel insurance for a while now. However, we have recently started using Chapka travel insurance because they have different modalities and are highly customizable to each traveler's needs.
Also, because you are a blog reader, you have a 5% and 7% discount when you take out your travel insurance from this link.
Step 15. How to pack your carry-on or backpack?
Thinking about packing or backpacking can be stressful when planning your trip. The best thing you can do is pack as little as possible; you can always buy something during the trip.
Choose comfortable and versatile clothes with neutral colors to combine with your other clothes.
The best way to accommodate clothes is to make them tight rolls, so it wrinkles less and takes up less space.
In the Travel Planner, you'll find a packing list and a daily outfit planner.
In the packing checklist, you will find several sheets, some empty for you and others with recommendations that vary depending on the trip you make.
5 tips for packing
Finding out what the weather is like in the destination you're going to visit helps you avoid "the ones just in case"
If you only travel with a carry-on, go to point 3. But if you check your luggage, bring a change of spare clothes in your carry-on bag, just in case your bag arrives late.
Learn about the activities you will do to wear the right clothes. You're going kayaking, and you're not wearing a swimsuit?
Know the type of accommodation where you're going to stay. Do you need to bring towels, sheets, etc.?
Carry your charged electronic devices (mobile, laptop, smartwatch, tablet, etc.). You'll be asked to turn on your laptop and tablet at many airports for security.
Step 16. Confirm flights and check-in online
Wow, we've reached point number 16! You've got almost everything ready, all you have to do is confirm flights and check-in online, and you'll have finished planning your trip.
The day before you leave, confirm your flight schedule, the time it takes to get to the airport, and the transportation that will take you.
Check-in online! Even if you have to check in your bag, do it! This way, you can choose the seat (if the company allows you), and sometimes you're even lucky and get the emergency door to travel more comfortably.
Latest Recommendations
Finally, I want to give you some travel tips and because we recommend using the trip planner.
The trip planner is a PDF document that you can print at home. You can print the entire document or only the sheets you need. It will serve you for all the trips you make.
The trip planner is divided into three main parts.
Before traveling, destination search, hotel, how to go, get there, etc.
Travel budget, ready with the things you have to carry (packing list), a template to create your wardrobe and know that you put on every day, and templates to make the itinerary travel.
The last part has recommendations for before you go on the road while you're away, contact information, etc.
You'll also find more than 40 pages of the trip planner, a weekly planner, a daily planner, a travel diary, a wish list, and more.
The best thing about the planner is that you can easily organize everything and follow the different steps.
What's more, if you're traveling with more people, you can delegate some tasks included in the scheduler, and they'll just have to find the information and fill it out. Easy, huh?
Finally, Enjoy your trip!
If you liked the post, share it with your friends on social networks. I look forward to your feedback below. Where are you planning your next trip?
---
Disclosure: Some of the links on this post are affiliate links, meaning at no additional cost to you, I may earn a small commission if you click through and make a purchase.
Last Updated on 14 March, 2023 by Veronica
Disclosure: Some of the links on this post are affiliate links, meaning at no additional cost to you, I may earn a small commission if you click through and make a purchase.
Author: Veronica
Vero, a seasoned traveler, has explored 25 countries and lived in five, gaining a rich perspective and fostering an infectious passion for travel. With a heart full of wanderlust, Vero uncovers the world's hidden gems and shares insights, tips, and planning advice to inspire and assist fellow adventurers. Join Vero and let the shared passion for travel create unforgettable memories.