Top 12 Best Tours You Should do in Paris
In this post, you'll find out about 12 must-see tours in Paris. Those attractions that you can't leave the city without experiencing.
Paris is the city that everyone loves, and besides, every time you visit it, you fall in love again. Today, I want to tell you about some of the essential visits and tours. I'm sure you'll want to do it in Paris.
I'm sure you'll enjoy them, and you can do them all on your visit to the capital of France.
In Paris, there are tours for all tastes and budgets! You can choose from dining at the Eiffel Tower or on a Seine cruise to cultural walks, guided tours of museums, or just walking through this beautiful city and letting yourself be surprised.
Essential Tours in Paris?
Visit the Eiffel Tower: skip the endless lines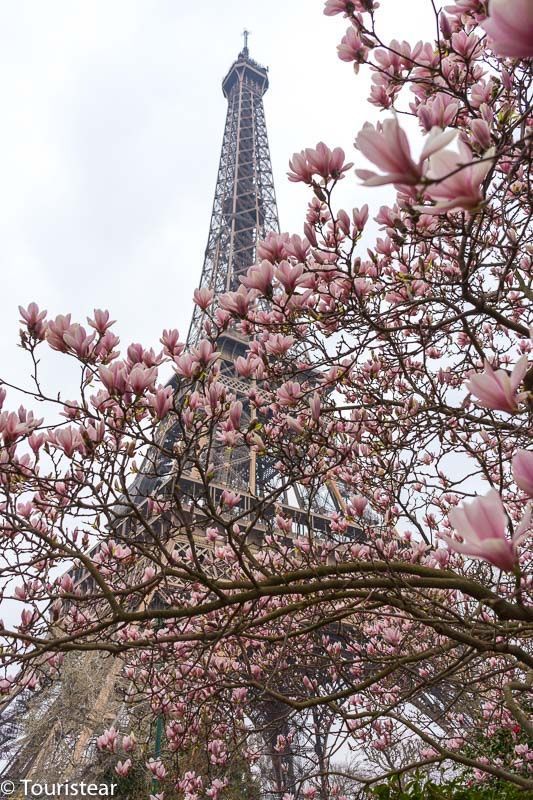 A visit to the Eiffel Tower is mandatory, you cannot go to Paris and not climb (or take the elevator) the Eiffel Tower, and it's much better if you don't have to wait in endless lines.
When you visit such for just a few days to such a big city with so many things to see, saving the queues is a huge advantage!
To do this, you have to buy the ticket online, allowing you to climb without waiting. That's a good idea, isn't it?
Visit the Moulin Rouge
The Moulin Rouge is the famous Parisian cabaret, and for more than 120 years, it has been one of the centers of Montmartre. So it has a long history that is interesting to discover.
Currently, you can dine and watch a show, but you have to make the reservation in time because tickets sell out, especially the weekend ones.
You, like many people, can just stroll outside, take pictures and walk through its streets, reach the Artists' Square and dine in Montmartre.
Check out: Moulin Rouge, everything you need to know before visiting it.
Walk Through Montmartre and Sacre Coeur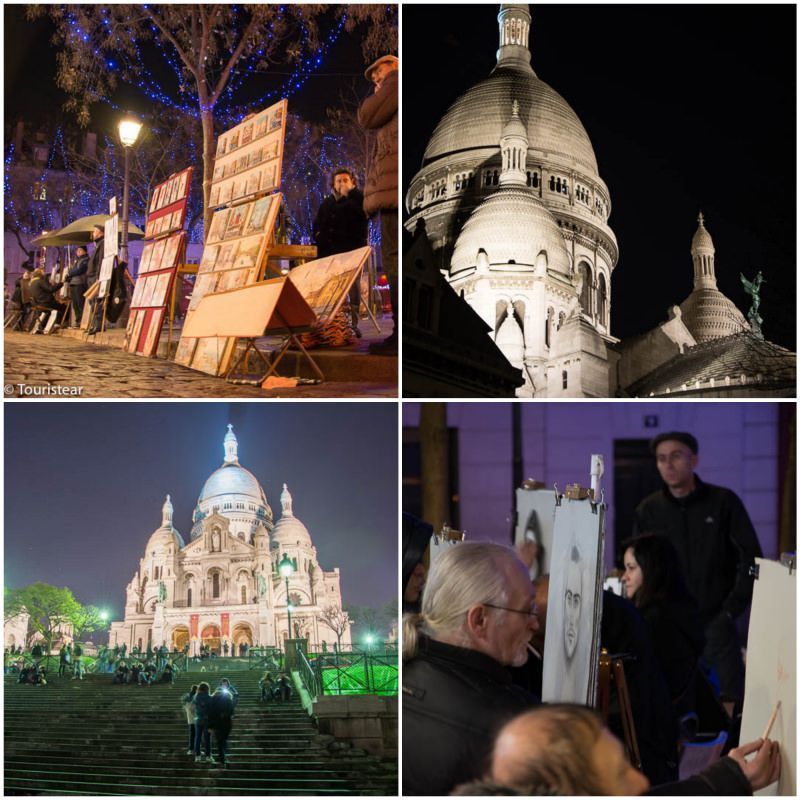 One of my favorite neighborhoods in Paris is Montmartre, topped with the Sacre Coeur. You can visit this neighborhood day or night; I prefer it at night since it has more charm.
Both day and night there are many people, by day there can be street shows. At night with the lights, the Sacre Coeur seems much more imposing.
But for the sake of it, you can try going by day and night and tell me which one you liked the most!
Guided Tour of the Louvre Museum
Visiting the Louvre museum is a must, but the experience will be much better if you make it guided.
With the guided tour you avoid the queues (included with the Paris Pass). However, this visit starts in the Tuileries Garden. And then you go to the Louvre.
You will visit the most important rooms with an expert in art and of course the most important or famous paintings of the Louvre, such as the Venus de Milo, the Coronation of Napoleon, and the Mona Lisa. The visit lasts 2.5 hours and is in English.
Notre Dame, Conciergerie, Pantheon
These three places are quite close to each other, in total it does not reach two kilometers and can be done easily by walking.
The Cathedral of Notre Dame is very nice, although what I liked the most was climbing the towers, there is no hunchback… *(Update: It's close by the fire)
From there, you can walk to the Conciergerie and Sainte Chapelle, which are a few meters away, and then continue on your way to the Pantheon and eat there. Tickets are included in the Paris Pass.
Visit Trocadero
From Trocadero there is a fantastic view of the Eiffel Tower, go at night with your camera and tripod or just walk whenever and wherever you want!
Latin Quarter
The Latin Quarter is very lively, ideal for dining. Afterward, to digest everything you have eaten, you can approach the Ile de la Cité, where the Cathedral of Notre Dame is located, cross the Saint-Michel Bridge and have a beautiful night view of one of the most beautiful cities in Europe.
Check out: Day trip to Mont St Michel.
Arc de Triomphe
The Arc de Triomphe in Paris is one of the city's symbols, with its huge roundabout and crazy traffic.
You can visit and climb to see the wonderful views of the Champs-Elysees if you go during the Christmas season. It is awesome at night (after 5 pm)
Seine Cruise with Gourmet Dinner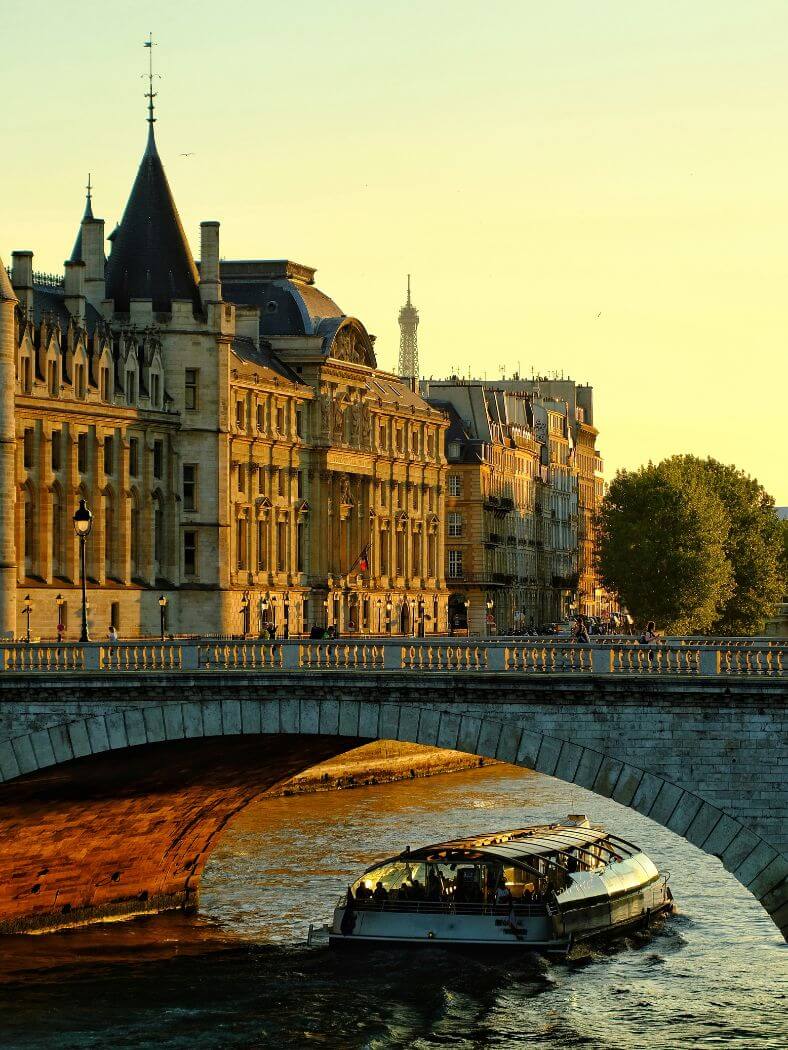 I lived this experience in Rome and loved it. Browse while dining typical food and see the city at its best time.
Crossing under its most famous bridges and seeing its most characteristic monuments is an incredible experience.
Tourist bus
For the lazy, those who don't have a car or those who want to, there's the tourist bus. The typical hop-on hop-off with many stops, where you can get off and climb wherever you want.
We usually use it in cities where there is a lot of distance between tourist attractions or many slopes!
The good thing about these buses, besides that they make your trip less tiring, is that they have guides, sometimes it is a person, and sometimes it is audio.
Excursion to the Palace of Versailles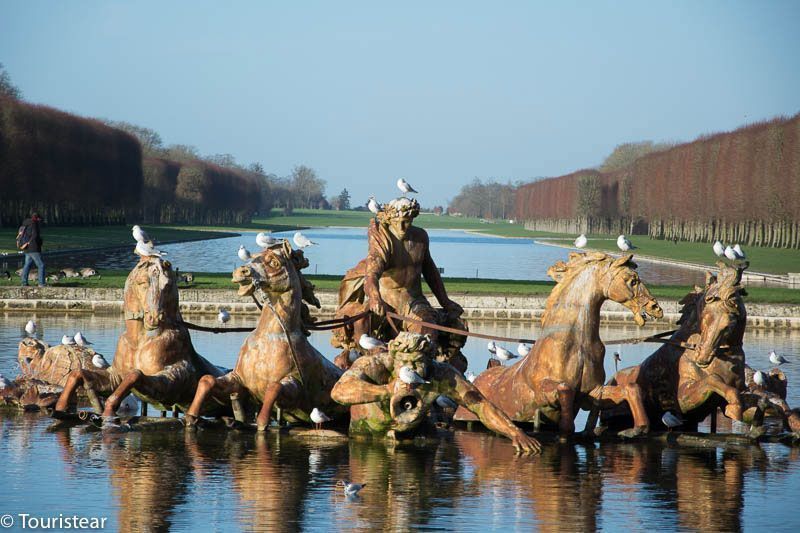 If you have read our post about 5 days in Paris, you will know that we did not like visiting the Palace of Versailles on our last trip.
There were too many people, everyone was pushing you, the guards rushed you out, it was winter, and the statues were covered with tarpaulins in the gardens.
It wasn't the best day to go to Versailles, but the good thing is that I have a memory of an earlier trip we went on in summer, which was totally different.
Even after this experience, I tell you, if you haven't been to the Palace of Versailles before, you have to go anyway, whether winter or summer, although in spring and autumn it should be pretty for sure.
You can go on your own; I recommend you buy the online ticket, so you don't have to make two queues there (the one to buy the ticket and the one to enter).
Do not take the tripod, or you will have to leave it in storage, and after your visit inside the palace, you have to look for it again.
Day Trip to Amboise
You can visit Amboise and its castle in a day trip from Paris. Read this post and plan your trip!
Let me know what your must-see visits to Paris are!
Plan Your Trip to Paris
Last Updated on 9 October, 2023 by Veronica
Disclosure: Some of the links on this post are affiliate links, meaning at no additional cost to you, I may earn a small commission if you click through and make a purchase.
Author: Veronica
Vero, a seasoned traveler, has explored 25 countries and lived in five, gaining a rich perspective and fostering an infectious passion for travel. With a heart full of wanderlust, Vero uncovers the world's hidden gems and shares insights, tips, and planning advice to inspire and assist fellow adventurers. Join Vero and let the shared passion for travel create unforgettable memories.