Best Things to Do in Colmar in 2-day?
Colmar is a city that you will fall in love with
With its colorful houses and half-timbers. In the heart of the Alsace and its wine-growing area, we find this town that opens its doors to visitors and looks like an open-air museum.
We use Colmar as the base of our 4-day Alsace road trip, as we found many accommodations here, and it is close to everything and is a charming city.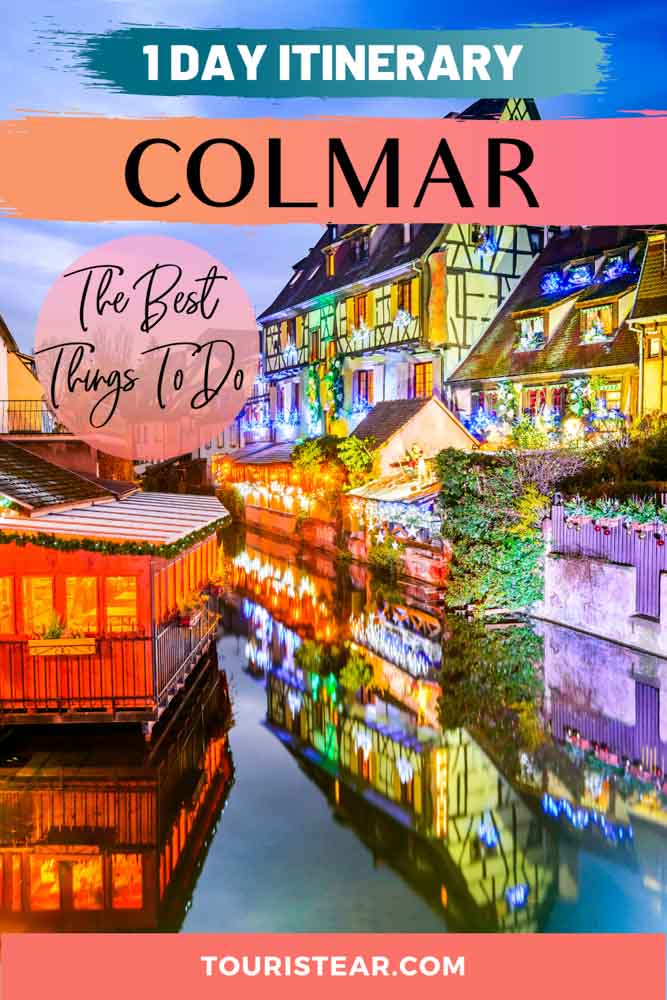 Best Things to Visit in Colmar in 1 Day
If you only stay one day in Colmar, there are must-see places, and I will detail them below with an itinerary that you can follow very easily.
If you stay a second day, we will also tell you what you can visit in this beautiful Alsatian town.
Don't forget to visit Strasbourg too, the Capital of Alsace is pretty awesome.
The must-sees in Colmar are exploring the Old Town and Little Venice.
A recommended route would be to start on Rue des Marchands. It is the most characteristic street of the old part of the city and is almost all pedestrian.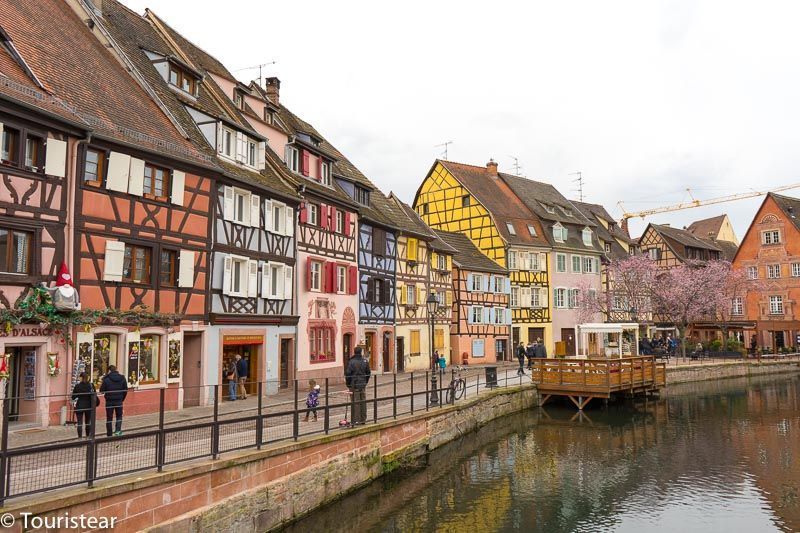 We entered the wide part of the street because we parked near the Chocolaterie Richon, and from there, we walked.
Finally, we stray on the street to the cathedral and continue along the Rue des Marchands.
Catedral St. Martin
Continuing along rue des Marchands, you will arrive at the Rue des Tourneurs, which takes you to the Cathedral St.-Martin.
Please pay attention to the buildings surrounding the cathedral; we will find the Adolphe house of 1350 and the Old Guard Corps of Renaissance style of 1575.
The Cathedral is Gothic style and began to be built in 1237; the works of the choir and the absidial part ended in 1366.
The facade is divided into three parts; on the right side; we can see the bell tower of the fourteenth century (finished in 1572) with reliefs representing the final judgment and the Adoration of the wizards.
The cathedral's interior is very nice; it is divided into three parts and surrounded by chapels.
La Rue des Marchands
You will find picturesque houses, restaurants, and different businesses on Rue des Marchands.
One of the most characteristic houses is the Pfister House, alsatian style of 1537, opposite the Schongauer House and the Swan House.
A few steps further on is the Bartholdi museum, set up in the birthplace of sculptor Auguste Bartholdi with works by the master and halls dedicated to the city's history.
At the end of the street, you will find a half-timbered house, which is the building of the Old Customs from 1480 that has suffered some additions over the centuries.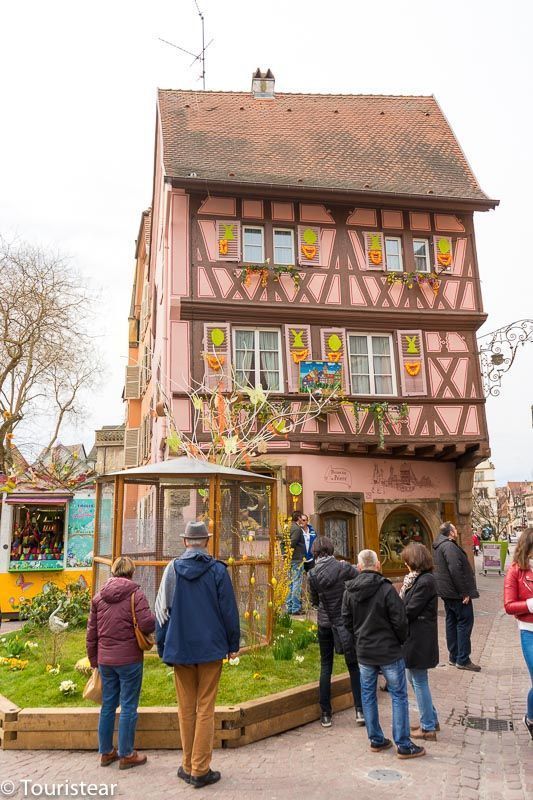 Marché-aux-Fruits Square
In this square, you will see other buildings of different styles, for example, the 17th-century Renaissance-style Kern House, the classic and late 18th-century civil court, and the old Town Hall of 1580.
On St.-Jean Street is the House of the Knights of St. John of 1608.
Grand Rue de Colmar
I know you feel like getting to the little Venice of Colmar, but before we get there, we're going for a walk on the Grand Rue.
At number 15, you can see the Maison des Arcades of 1609, and the Gothic church of St.-Matthieu is very close. Today it is a Protestant church, but before, it was Franciscan.
Behind the church is the old Hospital of 1736, which is now home to the university's headquarters.
From the square of the Ancienne Douane, take the rue des Tanneurs, and after crossing the bridge over the Lauch, we will reach the Krutenau district, also known as the Petite Venise.
Petite Venise or Little Venice
This area is named for its bridges and canals that, at the time, were streets of intense commercial barter.
It is one of the most visited areas of Colmar due to its numerous half-timbered houses and its cheerful colors.
It is ideal to go in the spring, Easter, or Christmas. With its flowers, it fills with color in the spring, and if you are already going on Easter, you can enjoy the Easter decorations, with colorful eggs and rabbits everywhere.
At Christmas, markets predominate, which are very picturesque.
Walk these streets without haste, and if you want to treat yourself, you can eat at noon or night in JY'S with two Michelin stars located in a privileged place.
Two days in Colmar
Your second day in Colmar can be dedicated to visiting the places you have not been able to enter the previous day or to visiting some of the places I will tell you about below.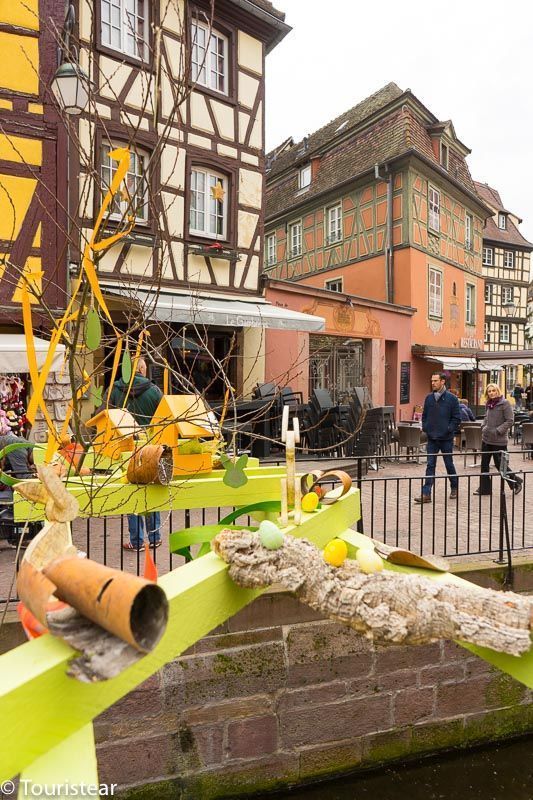 Musée Unterlinden
It is located in an ancient Dominican monastery and is currently dedicated to the art and traditions of the Alsace. It has many works of the Upper Rhineland.
Toy and Train Museum
This museum, located in a former cinema, is dedicated to toys and electric trains. Collect all kinds of old animated toys that work.
Electric trains and a lively circus attract attention.
Colmar Christmas Markets
If you go during Christmas time, you will find several markets dedicated to Christmas and Santa Claus.
In addition, to the beautiful decorations with Christmas lights and motifs, you will meet troubadours and minstrels playing the flute, a living nativity, traditional concertos, skating rinks, and typical Alsace products such as mulled wine with cinnamon and orange.
Definitely, a time highly recommended visiting the Alsace.
Date: Between (approximately) November 23rd and December 30, you will find these markets and Christmas decorations in Colmar.
Alsace Wine Route
Colmar is located in the heart of the Alsace wine route. Therefore, if you like wine, you must taste it in this area.
You can visit a winery in Colmar or do half-day or full-day tours from Colmar, so you don't have to drive. 😉
Where to Sleep in Colmar
Colmar has many accommodations for all tastes and budgets. We stayed in an apartment for four people because it is cheaper than two hotel rooms. But if only two people go, a hotel room is the most recommended.
If you are driving and want to stay close to the center, make sure your hotel has parking.
Here's a link to the accommodations in Colmar. Check out the prices for your travel dates.
Plan Your Trip to France
Pin this image on your Pinterest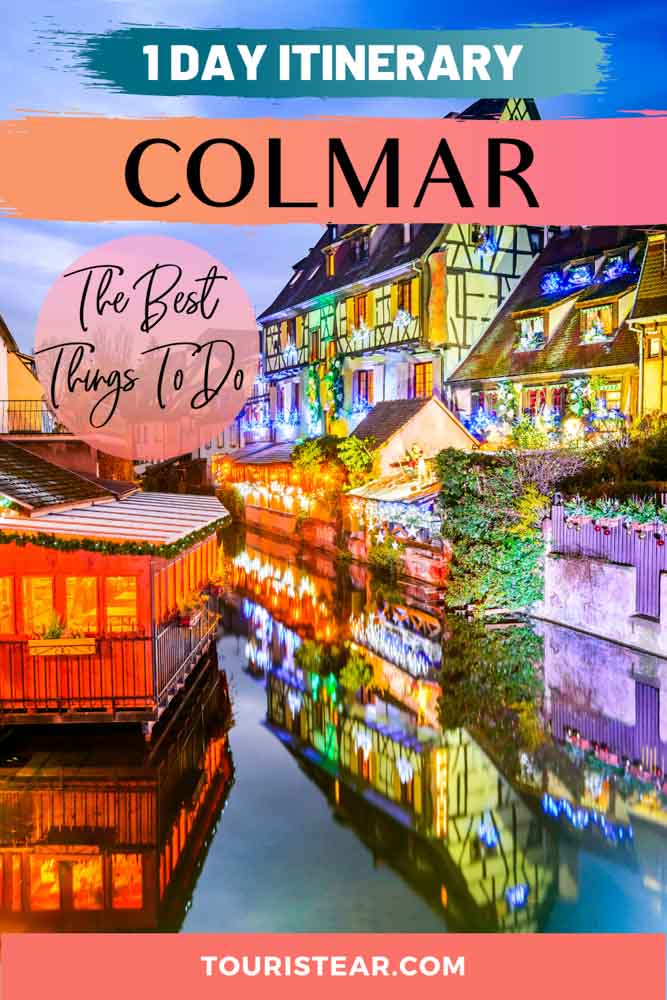 Book Your Trip
Book Your Flight
Find a cheap flight by using Skyscanner.
Book Your Accommodation
You can book your hostel, hotel, or apartments on Booking.com.
Don'torget Travel Insurance.
Travel insurance will protect you against illness, injury, theft, and cancellations. It's your protection in case anything goes wrong. You never go on a trip without it.
Best companies for Tours
Check out Civitatis.com and find the best tours in English (French, Spanish and Italian)
Are you looking for the best companies to save money with?
Check out my resource page for the best companies to use when you travel! I list all the ones I use to save money when I travel – and I think I will help you too! (Is in Spanish yet)
Last Updated on 21 September, 2022 by Veronica