Magical European Christmas Markets
Visit these beautiful and charming Christmas Markets in Europe. Discover why millions of people embark every year on their European winter-wonderland vacation during the holiday season.
If you can travel this year, let your imagination guide you through the stalls of magical European Christmas markets in some of Europe's most beautiful cities.
Close your eyes, feel the cold on your nose, and a hot cup of mulled wine in your hands. Then, start planning your next Christmas trip!
European Christmas Markets You Want To Visit
Discover these beautiful Christmas markets. They are ordered from A to Z. Please, in the comments, tell us which one is your favorite, and if it is not on the list, we will add it!!!
Aachen, Germany
Each year in early December, the holiday season descends on Aachen. The Cathedral area is revamped into a haven of twinkling lights, vibrant colors, and holiday aromas.
This magical European Christmas market is sensory heaven for visitors of all ages.
Thanks to its awe-inspiring and festive charisma, the Aachen Christmas Market has gained fame far outside the Aachen region. People from all over Europe come to mingle, purchase handmade crafts, and indulge in traditional foods from the area.
The children will fall in love with the carousel (and the adults will take comfort in the copious amounts of mulled wine). Potato fritters are a popular snack option, and Christmas sweets and marzipan bread.
Close to 1.5 million visitors find joy in the Aachen Christmas Market each year!
Bath, UK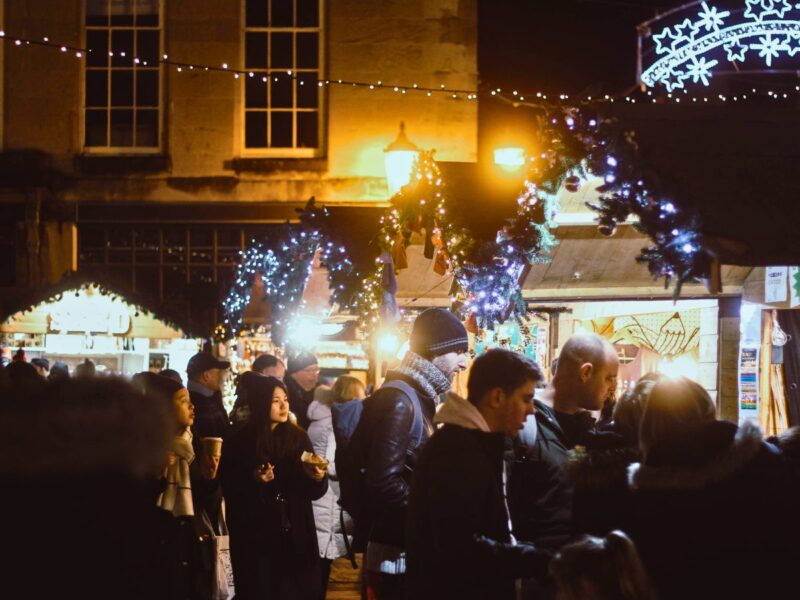 You will find one of the most beautiful Christmas markets in England, in Bath. The beautiful city becomes even more charming during the winter holidays. The entire center is dressed with lights.
The streets are taken over by stalls selling traditional crafts, handmade gifts, and, of course, food and drinks.
One of the main attractions of the Christmas market in Bath is the Victorian merry-go-round, which spreads joy among both children and adults.
During the festive period, the streets of Bath become an open-air performance stage of singing and dancing. In addition, the Cathedral in Bath also organizes carol concerts during this time.
You will find many traditional Christmas market foods borrowed from mainland Europe when it comes to food. You'll have no problem finding bratwurst and mulled wine.
You'll also find hog roasts and hot toddies, which make wonders in warming you up. You can easily explore the Christmas market during a day trip to Bath, as it's so close to London. With trains leaving Paddington station several times an hour, it takes around 1.5 hours to reach Bath.
Berlin, Germany
Did you know that the Christmas market (Christkindmarkt) originated in Germany? Every year, the Christmas cheer and spirit fill the air during the four weeks of advent.
Visitors love the local food, handicrafts, decorations, and festivities. Soon the tradition spread all over Germany and many other countries throughout Europe.
There are a few Christmas markets in Berlin, and they are as diverse and exciting as Germany's capital city.
Gendarmenmarkt stands among some Berlin classic monuments, concert halls, and French & German Churches. It has a more elegant and classic vibe with the backdrop of magnificent architecture.
The Berliner Weihnachtszeit am Roten Rathaus takes place right in front of the Red City Hall and Berliner Fernsehturm. Families gather here to enjoy a great time with a good sausage, ice skating ranch, and a Ferris wheel ride.
Many Christmas markets open up until New Year's Eve but check the opening hours before visiting. Some may close early during Christmas.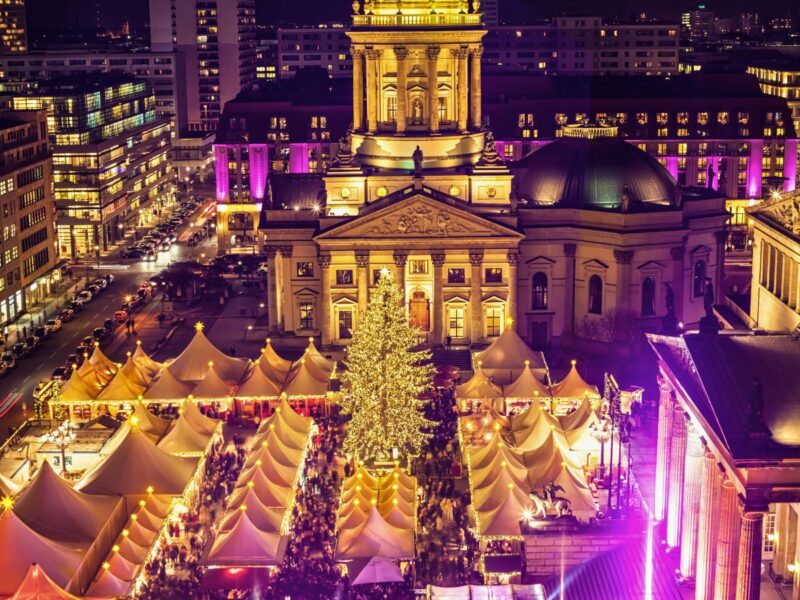 Also worth noting is that stalls usually charge you a deposit for the mugs when you purchase beverages. This is because they have a unique design and are nice collection items.
You may return the mug and get your deposit back, or you could keep them as a souvenir.
Bolzano, Italy
Bolzano Christmas Market is Italy's most significant in the region of South Tyrol.
Established almost twenty years ago, the Bolzano Christmas market is fairly well-established. Visitors from near and far gather to admire the splendor of lights and festivities in Piazza Walther.
Piazza Walther even boasts an indoor area where local artisans can be observed in action creating their handicrafts.
Festive foods abound, with products ranging from mulled wine to apple fritters. Children will adore the miniature train, carousel, and horse-drawn carriages that meander through the city streets.
The market lasts for about a month in total. The town is brimming with holiday smells and sounds, the romantic glimmer of lights and candles, and an overall magical aura.
If you're lucky enough to see snowfall, Bolzano truly transforms into a winter wonderland.
Bratislava, Slovakia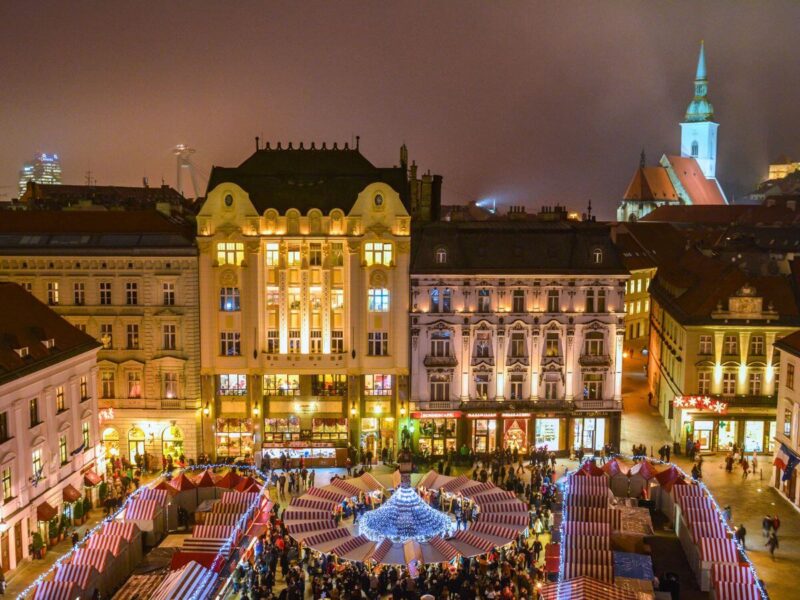 Come visit the Slovak capital to enjoy the most romantic time of the year.
There are many different Christmas markets in the city, so spend a few days. You can explore all the festive wonder Bratislava has to offer – an excellent addition to your Slovakia bucket list.
The city center squares (Hviezdoslav Square, Eurovea) allow strapping on some skates and hit the ice. Try not to enjoy too much-mulled wine before doing so!
On the Christmas market stages, enjoy performances by local singers and dancers. For example, the Advent concert in Bratislava showcases holiday songs, arias, Slovak, and world carols performed by the choir Lúčnica.
A unique feature of Christmas in Bratislava is the special addition of the lit-up tram. Its interior is decked out in festive reds and greens, complete with a fireplace and carols being sung by locals.
Take a ride into the city center on the holiday tram, one of the most beautiful in all of Europe.
Come to Bratislava to soak in the realm of child-like simplicity and infinite reverie.
Immerse yourself in the world of childhood innocence and boundless fantasy at the Bratislava Christmas markets.
Brussels, Belgium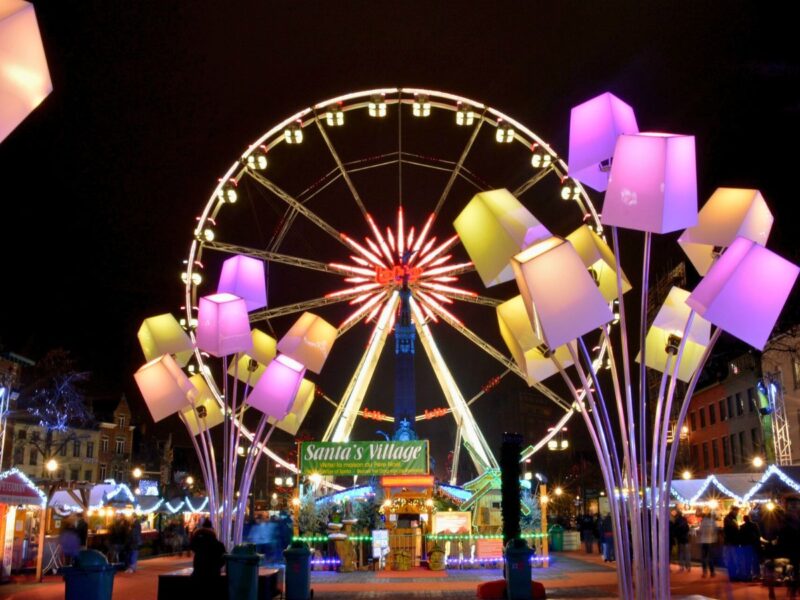 If you're visiting the land of chocolate and waffles during the holiday season, you MUST check out one of the city's numerous Christmas markets.
The Christmas markets in Brussels are among the most magical in Europe.
Depending on your preference, there are Christmas markets for everyone.
From traditional and classic to artisanal, gastronomy-focused – Brussels has it all. The Belgian capital even boasts alternative and vintage markets!
The Christmas markets in Brussels are scattered throughout the city. These span the cobblestone streets of the Grand Palace to the green city quarters, to the city's fairytale castle.
Wander through enormous tents with covered stalls, enjoy the warm flavors and aromas of the season, and don't forget to pick up some chocolate gifts for your loved ones.
Budapest, Hungary: The Best Christmas Market of 2023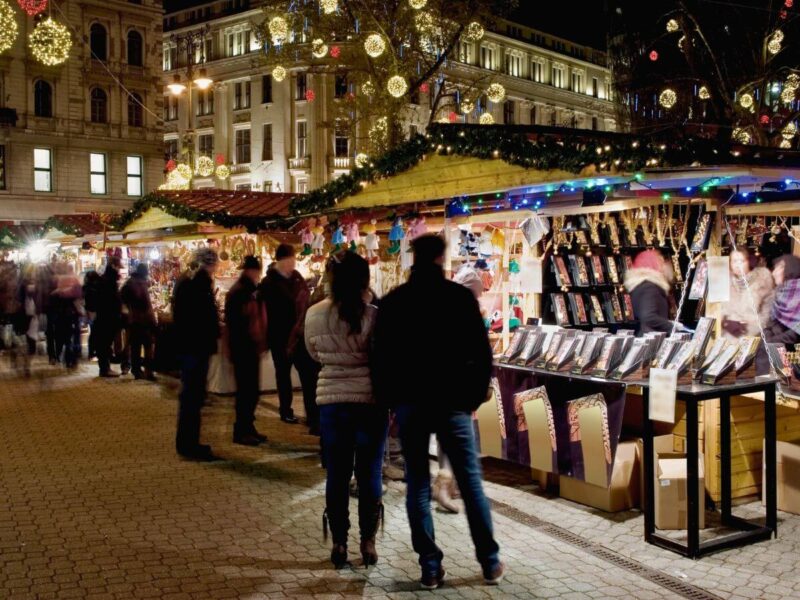 Budapest boasts two main Christmas markets, one at St. Stephen's Basilica and one at Vorosmarty Square. Both markets have food stalls and handicraft shops, but each has its own distinct season flavor.
At Vorosmarty Square, you'll find the oldest, most beautiful, and internationally-recognized market offering free concerts. Hang out by the Basilica for Hungarian delicacies like chimney cake and enjoy a Christmas laser projection on the Basilica.
The festive Christmas markets highlight local talents of Hungary, who infuse their products with love and personalization.
Artists take pride in carrying on traditions of blown glass, knit goods, wood carvings, homemade candles, handcrafted pottery, as well as leather trade and traditional Hungarian embroidery and lacework.
The best part of the Hungarian Christmas markets is preserving genuine folk art and traditions.
This goes hand-in-hand with the production of excellent quality handicrafts instead of more commercial, kitsch Christmas gifts.
At the Budapest Christmas markets, enjoy sipping steaming cups of mulled wines, snacking on traditional Hungarian pastries, nibbling authentic street foods (sausages, snacks, a roast chestnut, etc.), and getting the best-quality gifts for friends and family.
Colmar, France
The Christmas Market of Colmar is one of the most beautiful Christmas Markets in Alsace. Colmar is a lovely city to visit all year round. It's consistently voted one of the most beautiful cities in Europe, but Colmar at Christmas time is pure wonder.
The Christmas Market of Colmar is divided into six different locations, usually linked through a path of light.
This means that there are no significant concentrations of people in one site, and the festive atmosphere is everywhere in the city.
Everywhere, there are wooden chalets selling all kinds of handmade products. The artisans are carefully selected, which means you are buying only quality and regional products.
There are also chalets selling beer, mulled wine, and food and sweets. Alsace's traditional snacks include pretzels, bredeles (Christmas biscuits), and mannele (brioche gingerbread men).
Colmar is also well-connected to some of the prettiest villages in Alsace. If you have the time, you can visit other neighboring Christmas markets.
Copenhagen, Denmark
As in many other European capital cities, Christmas is a magical time in Copenhagen. Bask in the streets tastefully adorned with twinkling lights and friends & family gathering with beaming smiles.
Nothing else quite embodies the spirit of 'hygge' like Denmark during the holidays.
While the temperatures are markedly lower than other times throughout the year, enjoying outdoor activities is still doable.
There are so many things to do in Copenhagen during the colder months! Still, among the most popular remain to visit the city's iconic Christmas markets.
Several markets are held from early November – to late December. One of the local favorites is the Nyhavn Market in the harbor.
The festive decorations and docked boats make for a unique Christmas environment exclusive only to Copenhagen.
Rows of little wooden stalls house vendors selling traditional Danish handicrafts, authentic food, and hot drinks.
Stroll along the pier and take in the surroundings.
The aromas of freshly baked goods and hot wine linger in the chilly winter air as local musicians fill the waterfront with sounds of traditional Christmas songs.
Christmas markets in Copenhagen are among the most magical (and the most romantic) in Europe.
Dresden, Germany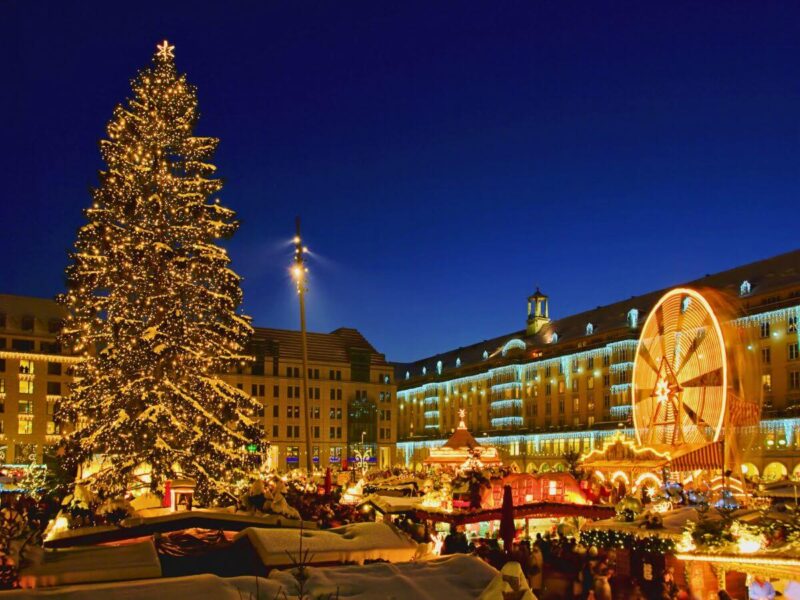 No list of most magical European Christmas markets would be complete without mentioning the oldest Christmas market in Germany – Dresden. Locally referred to as Striezelmarkt, Dresden's Christmas Market dates all the way back to the 15th century.
The name is derived from Hefestriezel, a sweet treat known as "Dresden Christstollen" (German Christmas Cake).
The Dresden Striezelmarkt is situated in Altmarkt Square, in the old city center. It is surrounded by various Christmas Markets of different themes, spanning all the way up to the train station and the Albertplatz.
Many authentic German Christmas gifts and décor were originally created centuries ago in the Erzgebirge (Ore Mountains). The Erzgebirge is located just a couple of kilometers outside Dresden, near the border of Czechia.
Presently, many of the Christmas Markets in Germany are still supplied with handicrafts from this area. Striezelmarkt, with its whimsical and convivial appeal, is a splendor in itself, an aggregation of traditional handicrafts and authentic gastronomy.
Each visitor will discover something to suit their taste. For example:
Christmas pyramids,
smoking figures and candleholders from Erzgebirge Mountains,
indigo-dyed printed textile products and pottery from Lusatia,
gingerbread from Pulsnitz,
filigree lace products from Plauen,
Herrenhut Advent stars, blown glass tree decorations from Lauscha,
and of course, specialties from Dresden itself, such as the traditional 'Pflaumentoffel,' a chimney-sweep figurine formed with dried plums.
Edinburgh, Uk
Meander through a fascinating winter fantasia in the center of a stunning medieval city.
Edinburgh's Winter Festivals unite Edinburgh's Christmas and Edinburgh's Hogmanay in a marvelous culmination of shimmering lights, cheerful sounds, and festive flavors.
Taking place from November – to January, Edinburgh's Christmas offers a plethora of things to see and do. Enjoy sweeping views of the Scottish capital from the top of the Ferris wheel, ride around on the carousel or dare a spin on the 60-meter-high Star Flyer.
The wee ones will be awe-struck by Santa Land! This is a festive fairground with fun rides and a children's market brimming with toys. Check out Santa's Grotto to meet the man himself!
St Andrew Square is home to an ice rink, which loops around the Melville Monument. Rent some skates and twirl across the ice behind a stunning backdrop of sparkling city lights.
Savor tasty food and drink or shop for authentic handicrafts at the Scottish Market on George Street. Alternatively, stock up on eclectic presents and handcrafted items at the European Market in the Mound Precinct.
Erfurt, Germany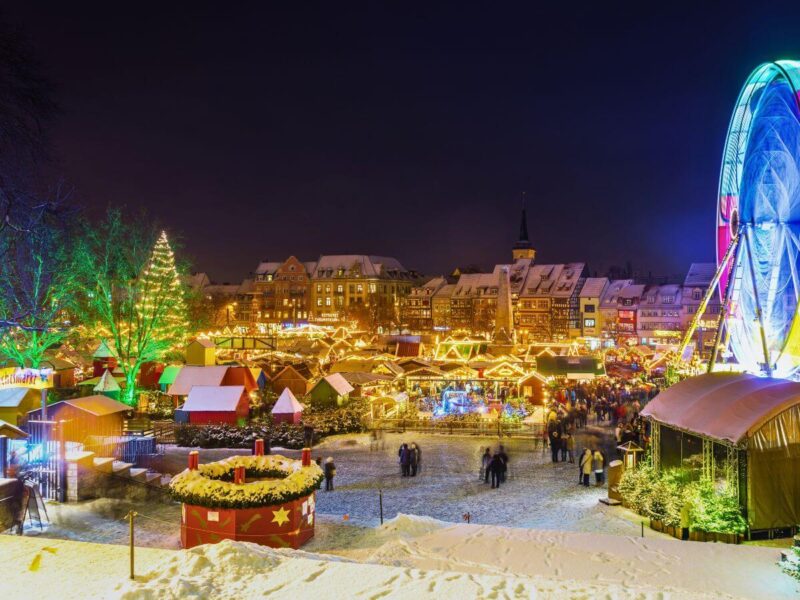 Erfurt's Christmas market is the largest in the region of Thuringia. It's consistently ranked one of the best Christmas markets in Europe to visit.
Erfurt's historic old town is focused on the cathedral square, providing an idyllic setting for a romantic holiday environment.
What makes the Erfurt Christmas Market distinct is the epic 25 meters tall Christmas tree adorned with hundreds of candles. A tall Christmas pyramid with a traditional nativity scene is also surrounded by a charming winter-wonderland forest.
The Christmas pyramid with its traditional Erzgebirge characters, recalls the tale of those who have taken part in Erfurt's history. Here, you'll be whisked away into the alluring, medieval old town.
Be sure to take a peek at the Floral Christmas exhibition in the underground cellars of Erfurt Cathedral.
At the Erfurt Christmas Market, you will find around 200 little wooden huts with traditional treats, handmade crafts, and other charming items to buy for loved ones.
With the seasonal aromas of glühwein and Thuringian bratwurst permeating the chilly Christmas air, Erfurt boasts one of the most magical European Christmas markets.
Frankfurt, Germany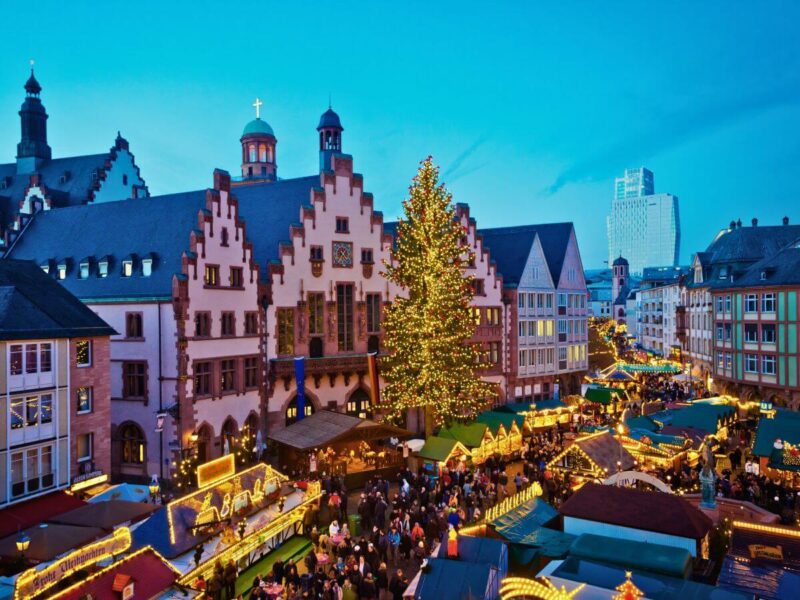 One of Europe's oldest and best Christmas markets, welcome to Frankfurt! This Christmas market has been held for over 600 years!
Full of history and traditions, the Frankfurt Christmas Market is one of Germany's most famous Christmas markets in Europe.
Upon first laying eyes on the Frankfurt Christmas Market, your senses take you away to a bygone era in a land of sheer magic.
Strolling around the market, you'll bask in the heavenly aromas of freshly baked sweets, roasted chestnuts, spicy gingerbread, and, of course, glühwein.
Its masterfully adorned stalls sell a variety of arts, crafts, seasonal food, and drinks.
There's a wide range of entertainment options, from concerts to Christmas plays, guided-themed tours, and seasonal storytelling.
Geneva, Switzerland
The Christmas markets are a great place to not only do your Christmas shopping but to immerse yourself in the Christmas fever. If you decide to celebrate Christmas in Switzerland, Geneva is optimal due to its picture-perfect surroundings, Swiss traditions, and many markets.
Two of its famous markets are close to each other and can be walked from one to another.
They are on either side of Geneva Lake, and the route between them is decorated with beautiful fancy lights. So the best would be to stick to the Lake Geneva region.
Your accommodation should also be near the lake, the center of the city. The most traditional-style Christmas market is held on Rue du Mont-Blanc. The other and bigger is the Christmas Village at the Parc des Bastions.
Shops are selling the best of food. Geneva has built a reputation as a destination for cuisine from every part of the world. Still, at Christmas, everyone wants to try the traditional vin chaud with gingerbread cookies and hot chestnuts. And don't forget to try the Swiss Fondue!
Among other things, explore the old town area on foot, and go to Cathedral de Saint Pierre. Palais des nation, Vielle Ville and Jet d'Eue are some other places to visit. In addition, the Red cross museum, Ariana museum are not to be missed.
Gothenburg, Sweden
Gothenburg has many Christmas markets during the holiday season, the most famous being Jul på Liseberg, held at the Liseberg amusement park. Not only is it the largest in Sweden, but it's also the largest in all of Scandinavia!
The Christmas market at Liseberg is without-a-doubt among the most magical in all of Europe. The park is filled with trees, and in an area of the world where darkness falls a bit earlier, the millions of twinkling fairy lights cast a magical glow.
Fire pits abound amidst the Laplander teepees and wandering reindeer (yeah, that's right – reindeer). There's also an ice bar that serves drinks in frozen mugs (the glögg, of course, is served in a regular cup).
Other traditional components of European Christmas markets can also be found here, such as an ice rink and designated areas for children's toys and activities.
Helsinki, Finland
Finland is synonymous with reindeer, the northern lights, and the north pole. So, it's no wonder that winter is the most magical time to visit.
The traditional Christmas markets that take place in the capital of Helsinki make this time of year particularly special for Finns.
Helsinki Christmas Market (in Senate Square) is Helsinki's oldest and most renowned Christmas market. Still, there are other smaller offerings throughout the city as well.
The market bustles with activity and is lit up after dark, providing a bounty of one-of-a-kind gifts, mouthwatering food, and spiced glögi (Finnish mulled wine) to beat the cold.
There are over 100 stalls at Helsinki Christmas Market offering a gorgeous selection of traditionally-crafted Finnish gifts, ornaments, in addition to local produce, fish, meats, and prepared foods.
Santa Claus pays daily visits and the old-fashioned carousel whirls in the center of Senate Square. They offer free rides for children and a fix of nostalgia for the adults.
Innsbruck, Austria
Innsbruck is a small, charming town with many interesting things to offer visitors. It's the capital of Tyrol and the fifth-largest city in the country. Innsbruck is considered one of the most popular destinations in Austria for winter sports enthusiasts.
With its colorful buildings set against the white backdrop, it's a magical city to visit. This is especially true during Christmas time, and the Christmas Markets in Innsbruck is considered one of the Best Christmas Markets in Austria.
The markets open as part of the mountain Christmas from mid-November in multiple locations in the city, remaining open until early January.
Among the stalls, you'll find plenty of food and drinks like Christmas-inspired decorated cupcakes, unique homemade liquors, chocolates, and waffles.
The Christmas Markets in Innsbruck take place against spectacular mountain backdrops.
They combine tradition and modernity, mountain adventure, and urban sophistication in the midst of Innsbruck's picturesque, medieval town center.
Stroll through the cozy alleys and let yourself be enchanted by the delicious smells of Christmas delicacies. Each evening you can enjoy live Christmas music.
Krakow, Poland
Wandering the streets of Krakow at Christmas time is a wonderful experience. Many people flock to the Old Town Square to take in all of the Christmas cheer they can get.
There are small wooden stalls everywhere! They sell everything from Polish souvenirs to some of the tastiest food imaginable.
You can find a stall with an empty seat and grab some pierogi or sausages as you watch a live concert. If there are no empty seats, grab a takeaway plate or warm yourself up with the Polish version of mulled wine. One thing you must try is a Grzane Piwo, hot spiced beer!
Spend some time joining in on the carols. Even if you don't speak Polish, you can join in with the tune!
From there, you can leave the main tourist area to find some of the smaller, more local markets in some of the other squares. While they may be smaller, they are beautiful and have a truly local feel to them.
Many people don't think of Poland as a vacation destination, but if you are looking for an amazing Christmas city, then Krakow is the perfect place.
Kyiv, Ukraine
In the country of Ukraine, Kyiv sits as the capital and largest city. While the size is immense, the high magnitude of the city's energy is felt exploring this charming town.
Imagine giant squares, golden domes, and tasty Ukrainian food afoot as you delve into this city's exquisite cultural scene.
During the holidays, the already magical ambiance of Kyiv turns into a Christmas wonderland with streets brimming with holiday cheer.
Bundle up as you explore one of the most beautiful European Christmas markets around the world, as snowfall is typically this time of year.
Enjoy the hearty mulled wine, or indulge in the copious amounts of traditional Ukrainian food found at the market.
Snacks include everything from plump cabbage rolls to pungent rice dishes and freshly charred veggies.
While Ukraine is a very meat-centric destination, there are a surprising amount of vegetarian or vegan restaurants in Kyiv to suit all diets.
For the adventure seekers, there's an ice rink, a giant slide for children (adults can attempt it too), and a giant Ferris wheel. Saint Sophia Square hosts more Christmas festivities with a giant gastronomy section, musical performances, and a small Ferris wheel.
As you roam through each of the markets, you'll find festive stalls selling artisanal items, homemade ornaments, and much more.
Maastricht, Netherlands
The Christmas market in Maastricht – Magical Maastricht on the Vrijthof – is one of the most magical Christmas markets in Europe. It's organized annually from the end of November till the end of December and is held on the iconic Vrijthof Square in the city center.
The giant Ferris wheel and skating rink are the highlights of the market, but there are plenty of other forms of entertainment for young and old alike.
At the Christmas stalls, you can buy handmade gifts and Christmas ornaments and sample many local treats.
Some of the popular snacks include mini pancakes (poffertjes) and deep-fried dough balls (oliebollen). As Maastricht is near the German and Belgian borders, you can find waffles, bratwurst, and potato pancakes (reibekucken) as well.
When in Maastricht, don't miss the Bonnefanten Museum and one of the most beautiful bookstores in the world. The Dominicanen Bookstore is housed in a former Gothic church building!
Manchester, Uk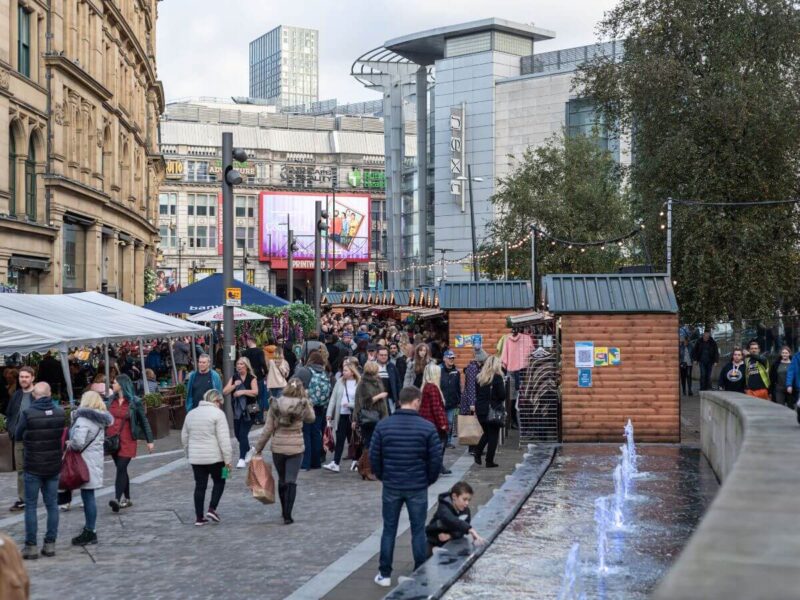 Regarding Christmas markets in the UK, Manchester sets the standard! The northern city hosts nothing less than 9 Christmas markets each year! They are all scattered around the city center, from Piccadilly Gardens to Albert Square!
They are extremely popular and considered as one of the best things to do in Manchester in winter.
The biggest market is located on Albert Square. Not only is it the most beautiful, but it also has more to offer in terms of food, drinks, and products.
Installed at the bottom of the stunning Town Hall, the German village boasts wonderful bars and food stands. Pretzels, wursts, mulled wine… you name it!
You will also find a lot of stands serving local delicacies such as pulled pork baps and Eccles cakes.
For activities, head to Cathedral Gardens. There is an ice rink (you will need to book in advance, though) and the ice village. Children love it!
Please note that most shops don't take cards. ATMs get overly crowded in town, so it's preferable to have cash.
Montreaux, Switzerland
By far, one of the most magical European Christmas markets is the Montreux Christmas market. Not only is it a perfect size and an epic Christmas market, but it isn't just a Christmas market.
Located on the perimeter of Lake Geneva, the Swiss town of Montreux's Christmas market works its way around the edge of the shore, seemingly endless.
There's everything expected in a Christmas market, with many gift stalls and food & drink options over 172 chalet-style stalls.
Christmas carols play over speakers, and a few times an evening, Santa flies over Lake Geneva on his sleigh (arranged on cables, but it looks surprisingly legit!).
Adjacent to the market is Elves' Square, focused on family entertainment, with activities and workshops as well. You can experience everything from chocolate workshops to candle-making.
The best part is that this is just part of Montreux Noel, Montreux's Christmas festival. There are many other Christmas activities and attractions to visit while in town.
UNESCO-listed Chillon Castle is set up so visitors can experience a medieval Christmas. Santa's house is open for visits at the top of Rochers-de-Naye mountain, which is accessed by the cogwheel railway.
For anyone looking for a magical Christmas market and the ultimate holiday experience, Montreux is definitely the place to head.
Nottingham, Uk
Nottingham Christmas Market is located just off the Old Market Square in the center of Nottingham. It has a wonderful traditional European Christmas market vibe with over 70 Bavarian-style market stalls.
These feature traditional handcrafted Christmas gifts, decorations, and treats from different sellers. It is the ideal destination for a Christmas day trip or a Christmas break in the UK.
The Christmas market, with its twinkling Christmas lights, enormous Christmas tree, and beautiful decorations overhead, is just one part of Nottingham Winter Wonderland.
Nottingham Winter Wonderland is the largest Christmas event in the East Midlands of England.
Its highlights include an outdoor ice skating rink, Santa's grotto, various traditional fairground rides, live music, and a magical Alpine Ice Bar.
Here, fur coats and gloves are provided, and the drinks are served in glasses made from ice.
As it's in the center of Nottingham, there are many cozy cafes, bars, and restaurants to enjoy the festive atmosphere.
Nuremberg, Germany
The southern German town of Nuremberg, located in beautiful Bavaria, is one of the best places to visit for a truly magical Christmas experience in Europe. Nuremberg is home to one of Germany's largest and most famous Christmas Markets.
The renowned market offers authentic festivities that are perfect for the entire family.
Christkindlmarket is the main central market and is packed with hundreds of charming stalls.
Each one is beautifully decorated and sells all kinds of traditional gifts and toys, from tree decorations to keepsakes and souvenirs, as well as delicious, home-cooked treats.
These are sure to warm you up in frigid temperatures. Definitely try the famous Nuremberg gingerbread, called Lebkuchen. This has been baked in the city for over 600 years!
Christkindlmarket gets extremely busy once the sun has set and into the evenings. Huge crowds descend on the market and gather around vast cauldrons of Glühwein – the atmosphere is complete magic as everyone sings and drinks together.
There's also a smaller Children's Christmas Market, which offers dozens of family-friendly activities. From the opportunity to meet Santa to enjoying its charming merry-go-round. Another attraction in Nuremberg not to miss is the Market of the Sister Cities.
Here, visitors can purchase gifts and souvenirs from all over the world, such as charming Czech wooden angels hanging on the tree to delicious French marmalade and jams.
One essential tip for Nuremberg during Christmas time is to make reservations for dinner well ahead of time as the crowds are so large. You do not want to be queuing in the cold waiting for available tables!
Oslo, Norway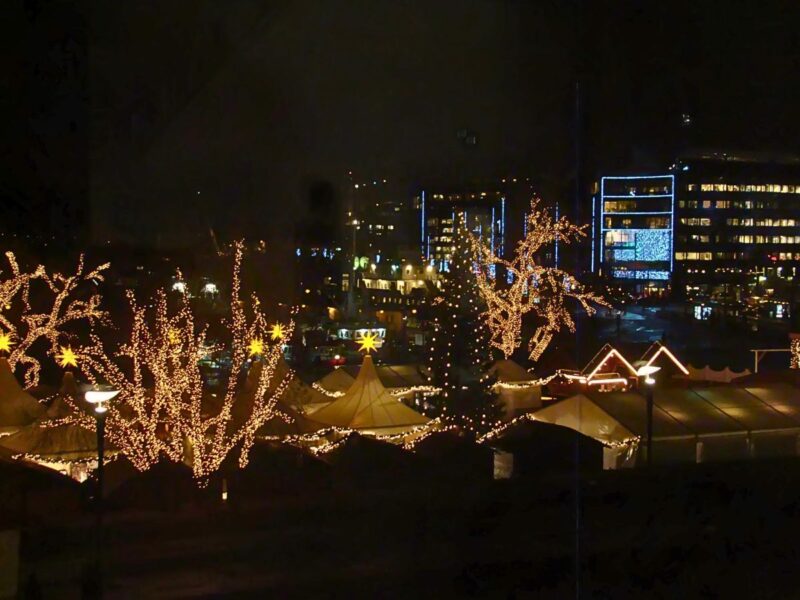 Some places just look better in winter, and Oslo is a great example. In the Norweigan capital, there's plenty of snowfall and an overall ambiance that embodies the Christmas spirit.
While the days are shorter, the sparkling lights, a mug of hot gløgg, and some Christmas gift shopping keep people's spirits high.
Jul i Vinterland is the primary Christmas market in Oslo, situated in front of the Royal Palace. The artisans at the intimate wooden houses sell arts and crafts, Norse treats, and hot drinks.
Visitors can purchase house-cured meats, smoked fish, and cozy Norwegian sweaters.
The young ones can enjoy gingerbread workshops, Santa's home, and a myriad of toys and gifts to suit any preference.
For activities, there's an enormous ferris wheel and an ice rink to enjoy.
In addition to the main market, you can also check out the annual Norsk Folkemuseum's Christmas Fair.
Here, you'll find more than 100 stalls, pony rides, farm animals to pet, Santa's workshops, a candle-making factory, and exhibits showcasing Norwegian Christmas traditions.
Paris Christmas Markets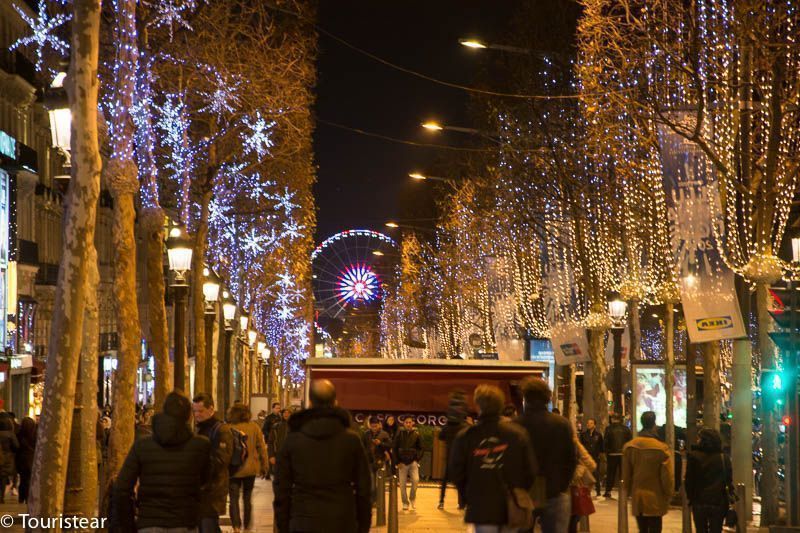 If you are visiting Paris at Christmas time, don't miss the Christmas markets in Paris. The first Christmas markets open their doors around mid-November, and they last until the first week of January.
The Tuileries Christmas Market is the most popular among all the Christmas markets in Paris. It's located in the Jardin de Tuileries, just in front of the Louvre.
This Christmas Market has more than 300 traditional chalets selling all kinds of handmade products, from scarves and soaps to toys and home décor.
There are also some chalets selling food (crêpes, raclette, or hotdogs) and drinks. Among the drinks, the vin-chaud is the most traditional, and it helps to warm up when it's too cold outside.
Kids will find a small funfair, an ice rink, and other fun games, making it a fun place to visit for the entire family.
Learn How To Plan Your Trip To Paris
Prague, Czechia
Prague is a wonderful Christmas destination, and its Christmas atmosphere can hardly be matched. It starts with the many Christmas markets, which Prague traditionally holds.
The Old Town Square Christmas Market in the heart of Prague Old Town is the largest and the most traditional. It occupies the whole Square and turns it into a fairy tale land.
It starts with the tree-lighting ceremony and continues with Christmas festivities aided by frequent performances on the stage.
Another Christmas market worth mentioning is the one at Prague Castle. It's the best setting and becomes absolutely magical, especially once dusk sets in.
It's small, and the prices are a bit higher, but that shouldn't put you off. If you get lucky, you might witness a performance by the Prague Castle Guards Choir.
Strolling to smaller Christmas markets in Prague's neighborhoods comes highly recommended too – for example, at the Namesti miru in Vinohrady or at Tylovo namesti just below.
When you're not visiting the Christmas markets, check out one of the many hidden gems in Prague, especially if you've already seen the main tourist attractions the city has to offer!
In all Prague Christmas markets, you can look forward to warming drinks such as mulled wine, hot mead, or grog.
Hearty meals are the standard and absolute heaven for meat-eaters.
With Prague being the Czech capital, beer is always available too. You can satisfy your sweet tooth with Trdlo/Trdelník, a chimney cake originating from Transylvania.
Riquewihr, France
Riquewihr is officially one of the most beautiful villages in France! Located in the region of Alsace in the east of France, this village is standing atop a hill surrounded by vineyards.
For the holiday there is a Christmas market organized in the Old Town. You will enjoy visiting Riquewihr at this time of the year!
There you can wander in the cobbled streets and admire the colorful half-timbered houses all decorated for the occasion. There is Christmas music playing, and you can buy traditional Alsatian food and Christmas delights everywhere!
Some of the local specialties you can try are the flammekueche (like a pizza with a thin crust topped with crème fraiche, onions, and bacon) and the kouglof (a yeast-based brioche with raisins and almonds): both delicious!
The Alsace region is a great place to celebrate the holidays in France. The best way to come to Riquewihr is by car as it's relatively remote. And you can do plenty of other things in the area!
The famous cities of Colmar or Strasbourg are gorgeous, and you can enjoy their Christmas markets and decorations. For those who like hiking, there are more than 17,000 km of marked trails in Alsace.
Last but not least, you can also visit one of the beautiful castles in the area: the Haut-Koenigsbourg Castle or the Hohlandsbourg Castle are two great examples.
Sibiu, Romania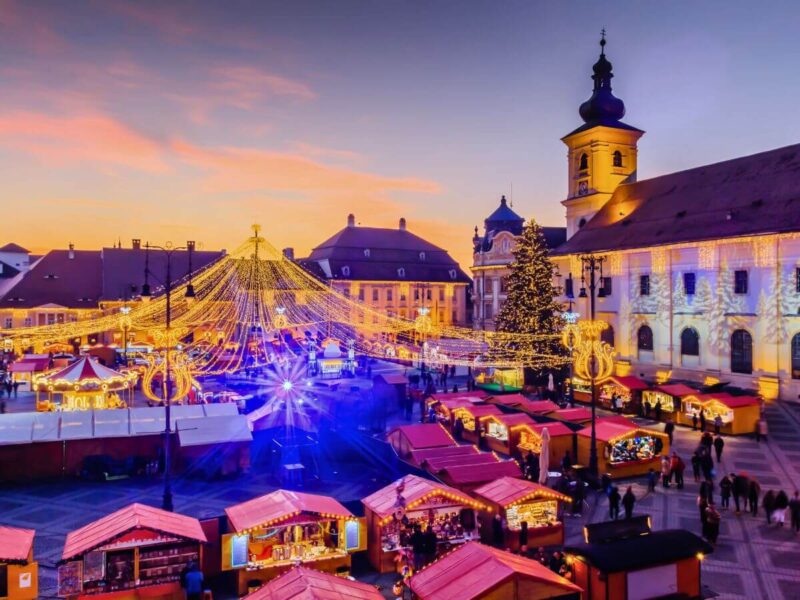 The Christmas market in Sibiu is undoubtedly one of the most magical European Christmas markets. So much so that it receives international accolades each year!
Vendors from other countries, such as Germany and Austria, also join the festivities.
Sibiu is a magical place to visit during any time of year. Whenever you decide to visit, there's no shortage of things to do in Sibiu.
If you happen to find yourself there during the holiday season, bask in the glow of the twinkling lights strung throughout the squares and through the narrow cobblestone alleys and stair passages.
The market is in Piața Mare, the Main Square in the old town. 
Surrounded by the looming gothic and art deco buildings in the Square, visit the cozy wooden cottages to find a variety of souvenirs to suit your tastes.
You can find handcrafted ornaments, hand-painted Romanian pottery, Romanian treats such as covrigi, and (in keeping with the trend of Christmas markets around the world) plenty of hot wine.
Depending on the year, you can find an ice rink or bumper cars for family-friendly entertainment. The focal point of the market is a large Christmas tree, from which thousands of strung lights are hung overhead, strewn out to the market's perimeter.
Strasbourg Christmas Market East France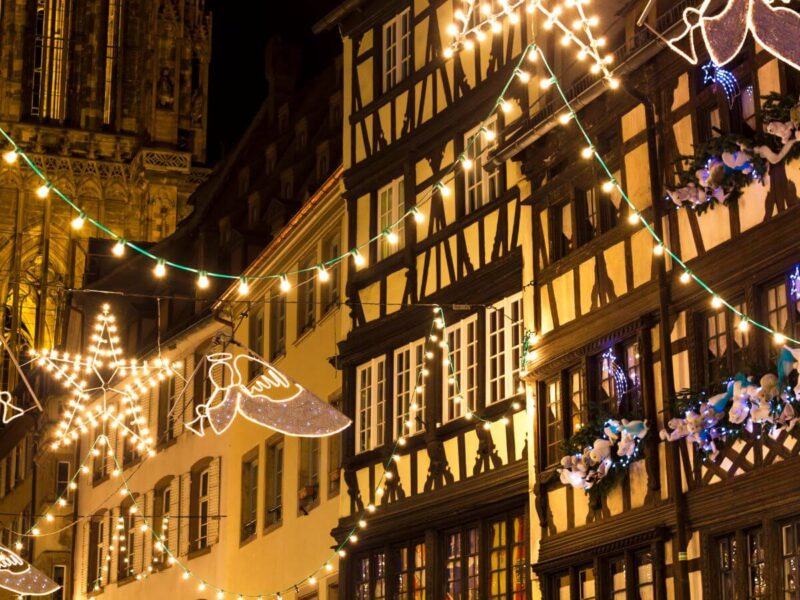 Strasbourg Christmas Market is the most famous Christmas Market in the Alsace region of France.
Every year for the five weeks leading into Christmas, the Strasbourg Market pops up in alleyways, small city squares, and around the cathedral area.
Strasbourg has numerous open space areas in the city center, including the tourist area of La Petite France and along the Riverfront.
All these areas are full of Christmas stalls selling locally made crafts, foods, and drinks. If you venture inside the Strasbourg Cathedral, you will see the large nativity scene set up.
The streets are decorated with tinsel, and the shop windows are dressed for Christmas.
Christmas Market stalls are filled with traditional regional crafts such as handmade toys, embroidered tablecloths, and linen, pottery, and jewelry.
If you are looking for Christmas decorations, you'll find them in abundance with figurines to hang from the tree to table-size nativity setups.
The food stalls will have your mouth watering. Some of the most popular Christmas foods include traditional sweets and cakes, mulled wine, foie gras, choucroute garnie, flammkuchen, and more await you.
Being a big wine-producing area, you'll for sure see people walking around with cups of warm mulled wine and buying local varieties such as Gewürztraminer.
We recommend taking a cruise on the canals to get a better feel of the Strasbourg Christmas spirit. If you're in town for a few days, there are plenty of day trips from Strasbourg to experience the area further!
Stuttgart, Germany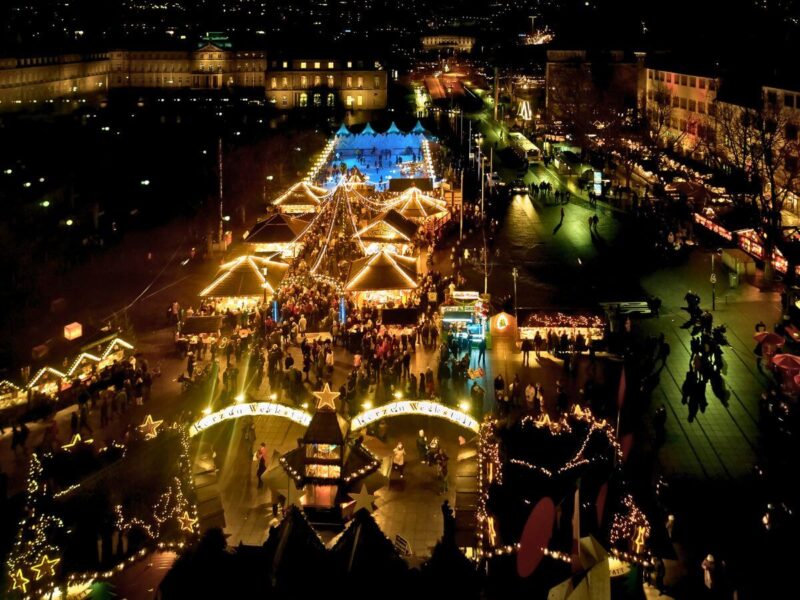 The Stuttgart Weihnachtsmarkt is one of Germany's oldest and largest Christmas markets.
Given that fact, it's obviously one of the best Christmas markets in Europe! Located in southwest Germany, Stuttgart is one of the largest cities in Germany.
The market is spread out over several main areas in Stuttgart. The Rathaus area has beautiful wooden houses of vendors selling everything from local gifts to delicious bakery items. One of the buildings has an entire side with windows decorated with an advent calendar.
There is an area with an ice rink as well as a small steam train for small children and their parents. Other festival rides are also available to children and families.
Many vendors have great shops set up selling traditional German food such as bratwurst, though some of the best foods are cheese Kasespatzle as well as glühwein, which is warm mulled wine.
The area around the Christmas market is quite special as it is the downtown area of the city. There is a lot of shopping as well as access to the city's well-known walking district.
As Stuttgart is in a valley, it's nice to look up and see houses high above the city, with glittering Christmas lights on the market below.
Tallinn, Estonia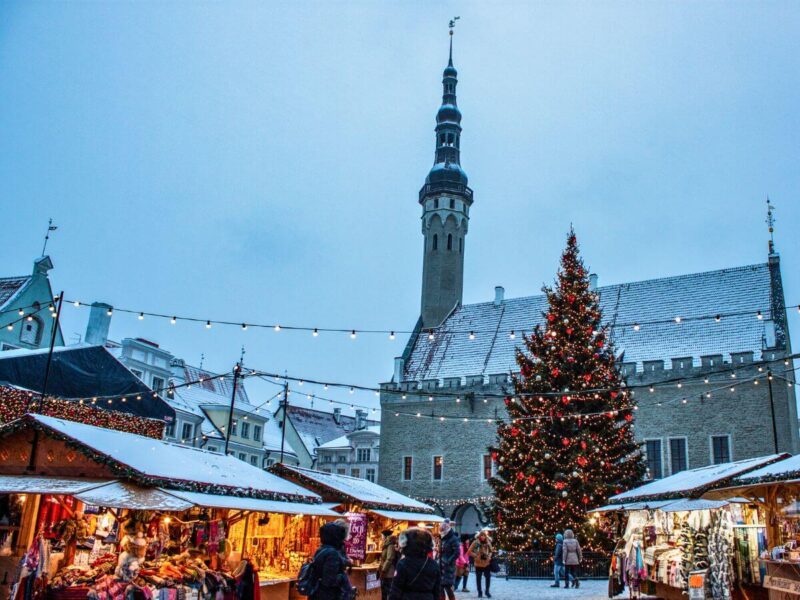 Tallinn's annual Christmas market is consistently ranked among the best in the world. So, of course, it made it to the list of the most magical European Christmas markets!
Estonia's capital city is also known as being one of the safest Christmas destinations in all of Europe.
Christmastime is the most important time of year in Estonia. It dates all the way back to bygone pagan observances of the winter solstice!
The main draw in Tallinn is the Christmas market, which serves as a meeting point for friends and family from near and far.
Given its close proximity to Finland and Russia, it should come as no surprise that Estonia is a superb choice to spend a winter-wonderland holiday.
Be sure to dress for the occasion, as temperatures can get quite cold.
As with other traditional Christmas markets, you can find gifts exclusive to the region. In Estonia, this includes fur products, knit sweaters, and socks, hand-carved wooden decorations.
You can enjoy the flavors of traditional Estonian foods such as spiced gingerbread, mulled wine (clearly the official drink of Christmas markets worldwide), and blood pudding.
Timișoara, Romania
Timișoara's Christmas Market generally begins on December 1, Romania's National Day. This is usually commemorated by a concert by a local artist as the featured highlight. The festivities will last until the first week of January.
The market spans two squares, Victoriei and Libertății, where local artisans offer their goods and demonstrations.
Given Romania's tendency toward family values, there's no shortage of activities and entertainment to keep the kids happy. In fact, there's an entire Children's Village complete with Carousel, Santa, and a miniature train that runs on Saturdays and Sundays.
The adults will love the traditional foods and drinks that are offered and the gorgeous selection of handcrafted goods and artisanal products. 
Vienna, Austria
At Christmastime, the city of Vienna becomes a festive fairytale. Streets are adorned with twinkling lights, and every Square and palace in the city welcomes its own Christmas market.
There are over 20 Christmas markets in Vienna, each with its own style. So whether you're traveling with kids, with friends, or on a romantic getaway, you'll find one to suit.
In the center of town, you'll find the Viennese Christmas Dream at Rathausplatz. This is one of the most magical Christmas markets, complete with an ice skating rink, kids' rides, and many stalls selling everything from gingerbread treats to trinkets for your tree.
Head to Maria-Theresien-Platz for a stroll among the beautifully decorated huts. Then, walk around the corner to Spittelberg for a more low-key vibe and international flavors.
Karlsplatz has a more rustic and arty flair, while Belvedere and Schonbrunn Palaces put on shows to remember!
Warm-up by drinking mugs of hot punch or snacking on potato spirals and deliciously sweet krapfen. The markets are all fairly close together, making them easy to reach on foot.
Wroclaw, Poland
During the most wonderful time of the year, the heart of Wroclaw city starts beating faster, as the Christmas market creates an incredible atmosphere on Rynek Square and Solny Square.
Among the many Christmas delicacies, visitors will find traditional Polish smoked cheese (oscypek), more than ten types of mulled wine (grzaniec)!?!, sausages, gastronomy from different countries, and numerous sweets.
Fairy tales get magical visualizations in the fantasy quarter. The smallest visitors are happy to find "Snow White," "Little Red Riding Hood," and "The Brave Little Tailor," and other incredible adventures.
You may wish to visit Wroclaw for at least a few days to have more time to explore the two-three storied mulled wine houses located in both squares.
They have the cutest balconies overlooking the market! It's one of the few markets which serve mulled wine in ceramic mugs in the shape of a shoe, which makes a popular collectible.
If you're looking for a souvenir to take back home, local Christmas gingerbread is the most delicious and hearty option!
One piece of advice for fellow travelers – wrap up well to enjoy the holiday spirit.
Zagreb, Croatia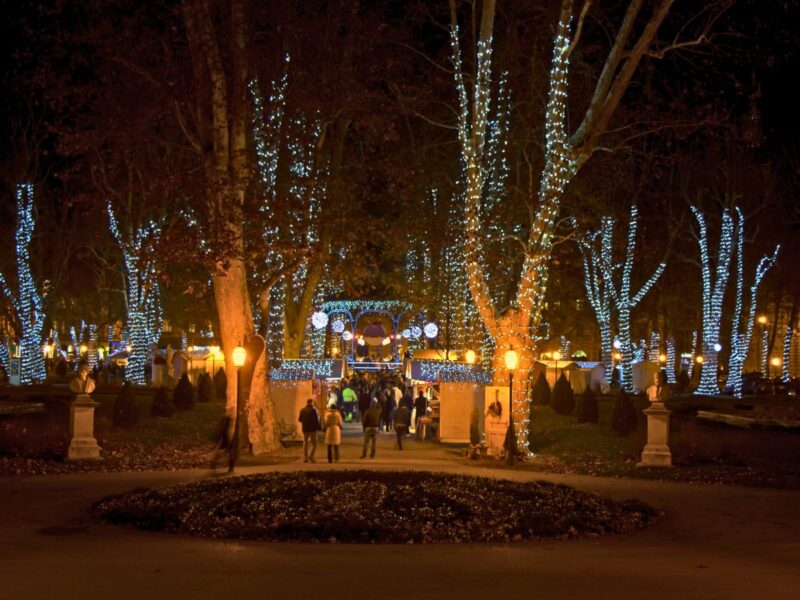 Zagreb, the capital of Croatia, has been voted three times in a row (2016-2018) as the best Christmas market in Europe. So if you enjoy the Christmas spirit, this is a place to visit between the end of November and the beginning of January.
It surpassed Vienna, Prague, and other similar cities in Europe.
You can start with the funicular to the older Upper town (Gradec),
visit Lotršćak tower with cannon firing at noon,
Marko's Square with parliament seat (Sabor),
and Stone gate (pilgrim spot).
In Lower Town, you will find Lenuci's Green Horseshoe, a U-shaped system of city squares with parks, statues, fountains, and neoclassical 18-century buildings.
The Christmas market's core with lights, concerts, a beautiful ice rink, a gigantic Christmas tree, stands with local and tasty food, mulled wine and gingerbread, or original and handmade gifts.
At Zagreb cathedral, you can adore a live nativity scene. The main venue for concerts is the Ban Jelačić square and a popular spot to wait for the new year and fireworks.
Zagreb has different influences from Slavic, German. Mediterranean and Turkish. This is visible in cuisine. Typical dinner would be stuffed turkey with mlinci and lunch with mashed potatoes next morning hangover sarma.
As for drinks, mead and mulled wine are popular at this time. In this wine country, you could try something local like Graševina. Beer is a popular drink, from big breweries to small craft ones. Spirits are also common, plum, and pear variations of rakija would be a good choice.
Have you been able to decide which is the next Christmas Market that you are going to visit? Tell me in the comments.
READ: How to plan your trip easily
Plan Your Trip to Europe in the Winter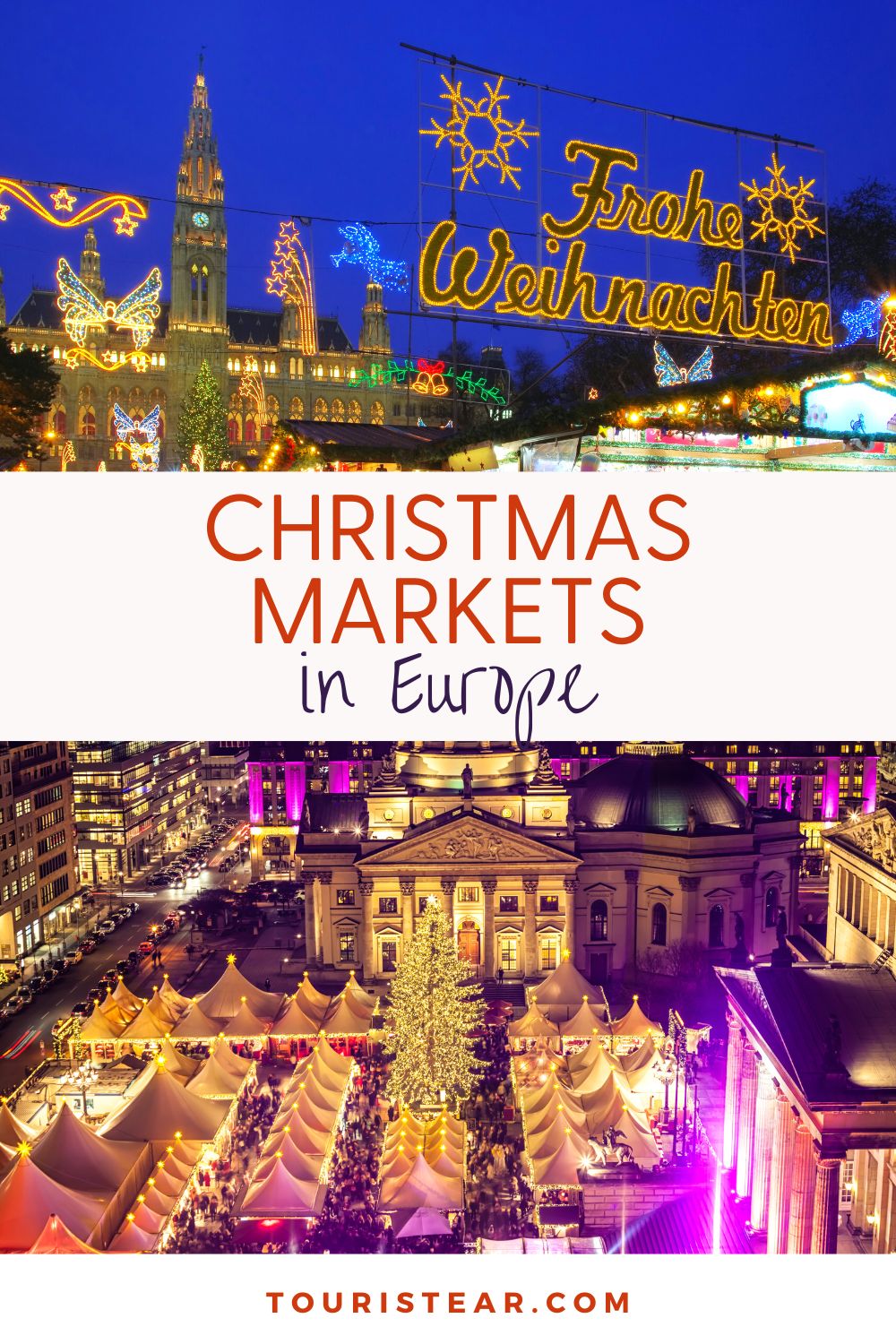 Last Updated on 25 September, 2023 by Veronica
Disclosure: Some of the links on this post are affiliate links, meaning at no additional cost to you, I may earn a small commission if you click through and make a purchase.
Author: Veronica
Vero, a seasoned traveler, has explored 25 countries and lived in five, gaining a rich perspective and fostering an infectious passion for travel. With a heart full of wanderlust, Vero uncovers the world's hidden gems and shares insights, tips, and planning advice to inspire and assist fellow adventurers. Join Vero and let the shared passion for travel create unforgettable memories.