The 15 Best Things to Do in Brasov
Brasov is, without a doubt, one of the most (if not the most) popular cities in Transylvania to visit.
Its proximity to Bucharest gives it the designation of 'Gateway to Transylvania' coming from other Romanian regions. Many people like to base their stays in Brasov due to its epic day trips, such as Bran Castle or skiing in Poiana.
But, there are so many things to do in Brasov proper, whether it's exploring museums, squeezing down the narrowest street in Europe, or walking along the city's original fortifications. Happy exploring!
Firsts Recommendations: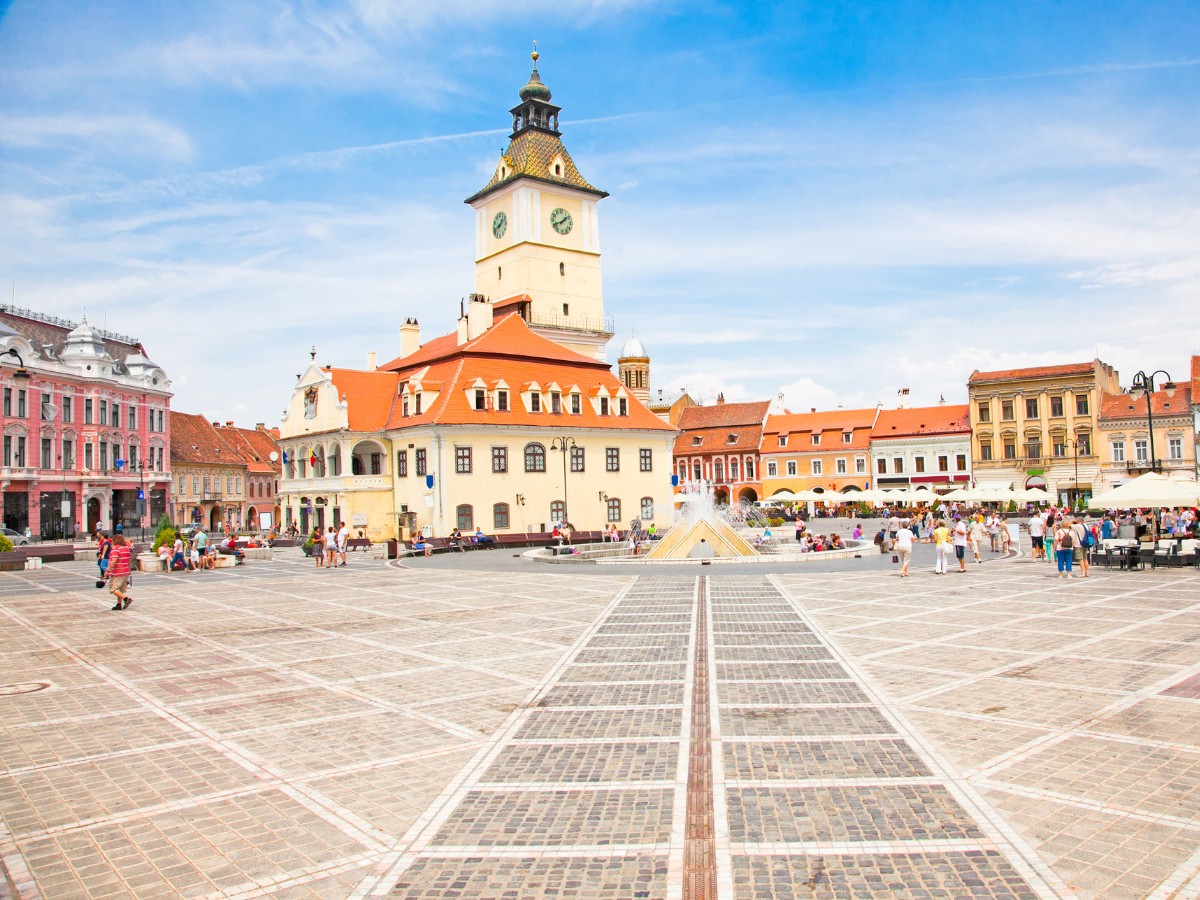 Top Things To See and Do in Brasov
City Tour of Brasov
One of the best things to do when first arriving in any new city is to check out a guided walking tour! Not only does this give you a concise history of the place you're visiting, but it also gives you a 'lay of the land' to get your bearings before venturing out on your own.
Many of the buildings around town have a fascinating history that you'd never know without the stories and anecdotes from an expert guide.
The tour primarily takes around Old Town and explains the important history and places of historical significance.
The meeting is at the fountain in Piaţă Sfatului daily at 11:30. Don't forget to charge the battery of your camera fully!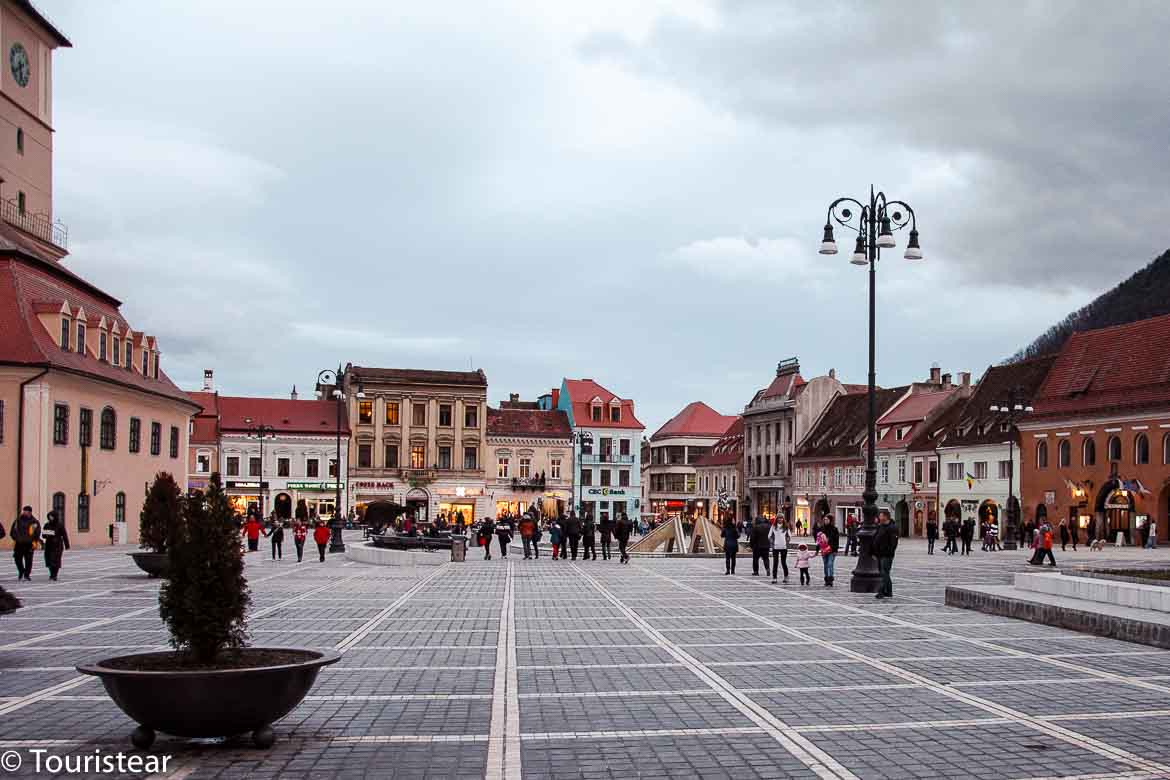 Biserica Neagră
Biserica Neagră, the Black Church, is undoubtedly one of the most popular things to do in Brașov.
It's one of the best examples of Gothic architecture in Europe, and is actually the largest Gothic church in southeast Europe – it's got a capacity of 5,000 people!
If you opt to take the free walking tour of Brașov, you'll learn all about the Great Fire of 21 April in the 17th century. The fire was detrimental to the city, and the church suffered extensive damage.
However, the charred stone walls gave the church its name.
Tâmpa Mountain
One of Brașov's most iconic sights, the 'Hollywood sign,' is situated on Tâmpa Mountain. Making your way to the top of Tâmpa is one of the very best things to do in Brașov.
You can reach the top via hike or cable car.
The cable car costs 17 RON for a round-trip ticket, taking you up and then back down to the base of the mountain. Be aware; the cable car is closed on Mondays.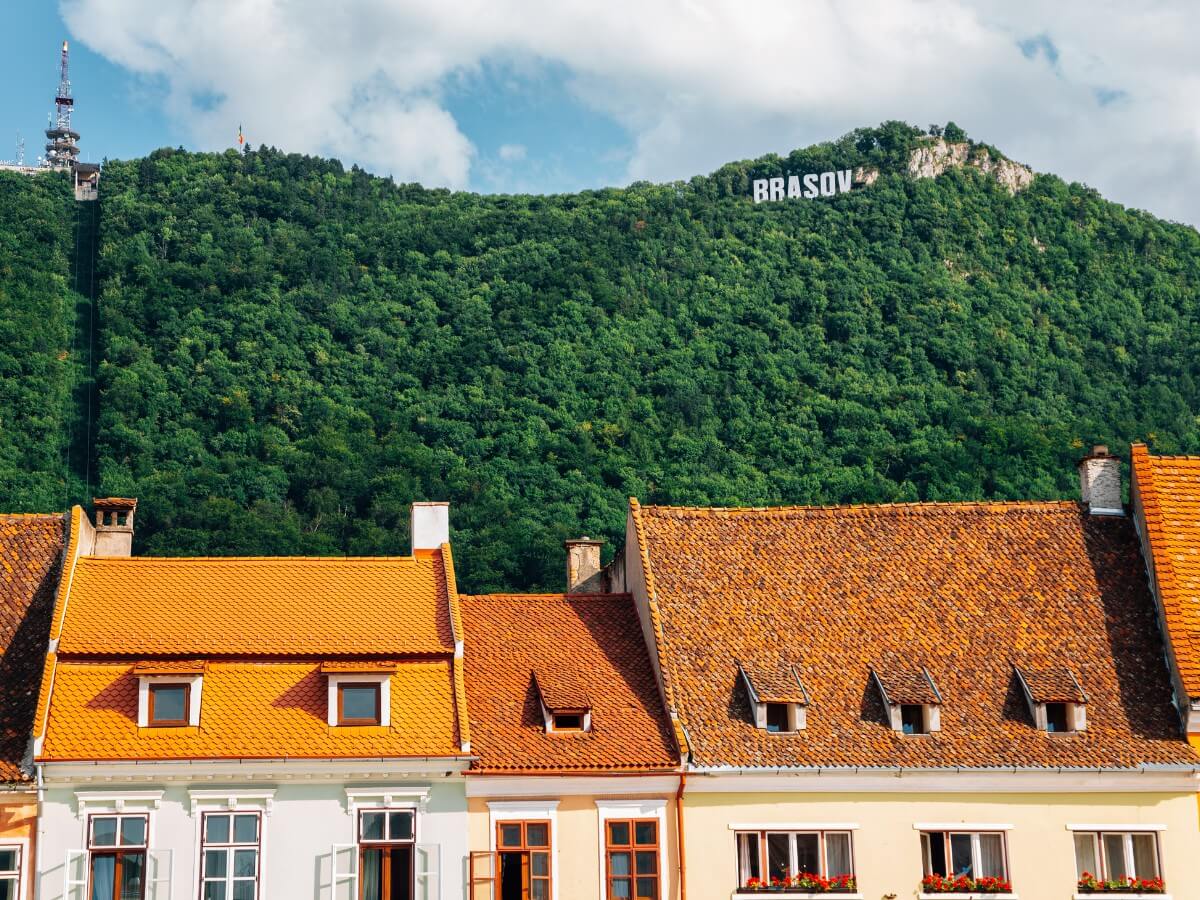 The ride takes about three minutes each way.
If you're up for a little physical exertion and don't have any mobility issues, hiking is a great option to experience the mountain first-hand. Spring and autumn are both excellent times to visit Brașov and hike Tâmpa Mountain.
Many different hiking trails lead to the top, most of which originate at the outskirts of the Old Town.
The hiking trails can take as little as an hour (but usually much more, around two hours) depending on which path you choose and your level of physical fitness.
Be sure to go with a friend and bring a set of emergency phone numbers with you – there are some dangerous critters that live on the mountain, such as brown bears and wild boars.
Piața Sfatului (Council Square in Brasov)
Piaţa Sfatului (Council Square) is a large square in the city center and the heart of medieval Brașov.
The square is lined with charming buildings, restaurants, and terraces and makes for an ideal spot to grab a bite to eat, a glass of wine, or simply sit and people-watch.
The square is a popular meeting place for tourists and residents alike. Bring the kids on a hot summer day to play in the fountain!
For holidays and special events, you may be able to see some temporary craft stalls or Brașov's epic Christmas market.
Strada Sforii in Brasov
Strada Sforii, aka Rope Street, is among the narrowest streets in the entire world, clocking in at a mere 1.3m wide (44-53 inches depending on where you measure).
It seems a little redundant as it is so narrow; however, the street, which links Portii and Cerbului streets, was a necessary passageway for firefighters in medieval Brașov.
My advice? Go early in the morning. This is one of the most photographed and popular things to do in Brașov, so you can only imagine how confining it is with many people around!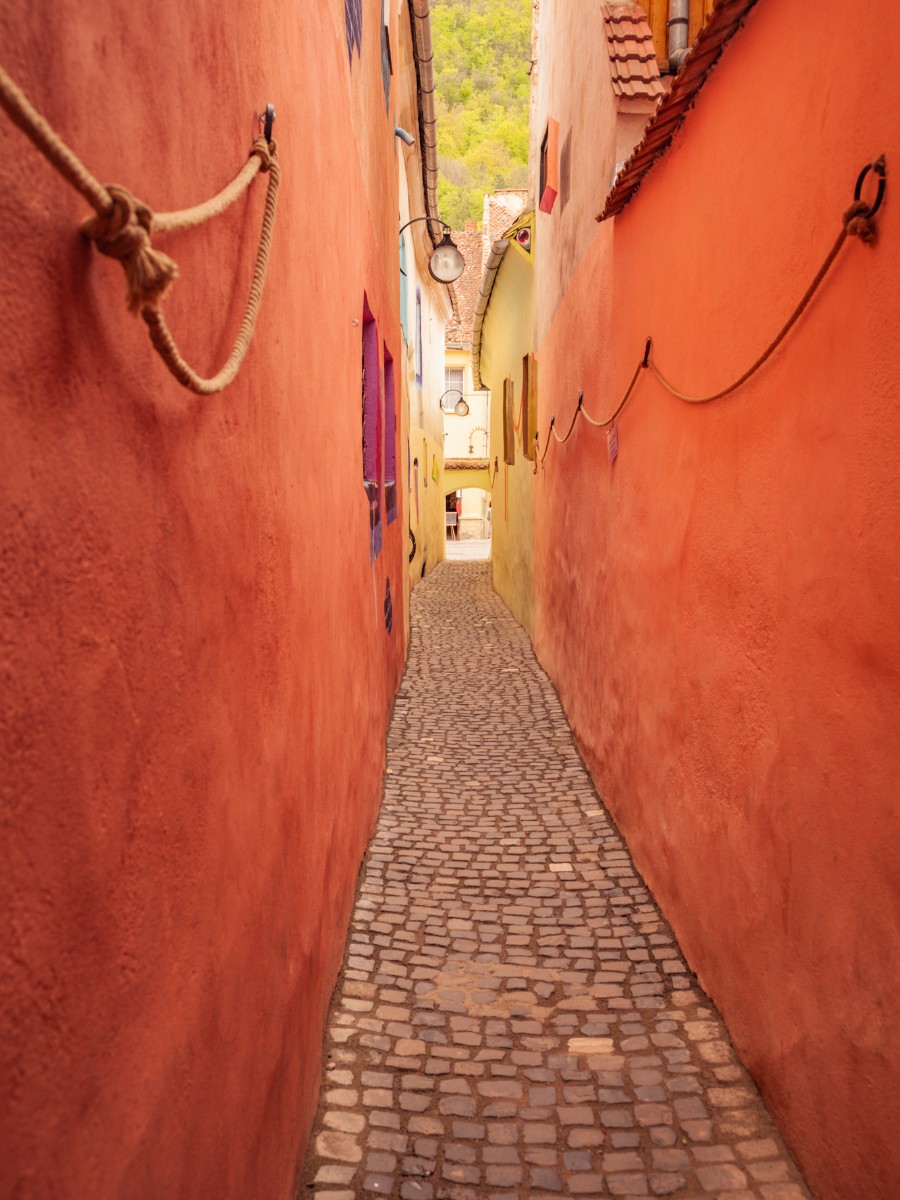 Schei District in Brasov
From the 1200s to 1600s, the German-Saxon settlers did not permit Romanians to reside within the confines of Brașov's fortified city walls.
So, most Romanians lived in the Schei District, a quaint area filled with narrow cobbled streets and colorful buildings.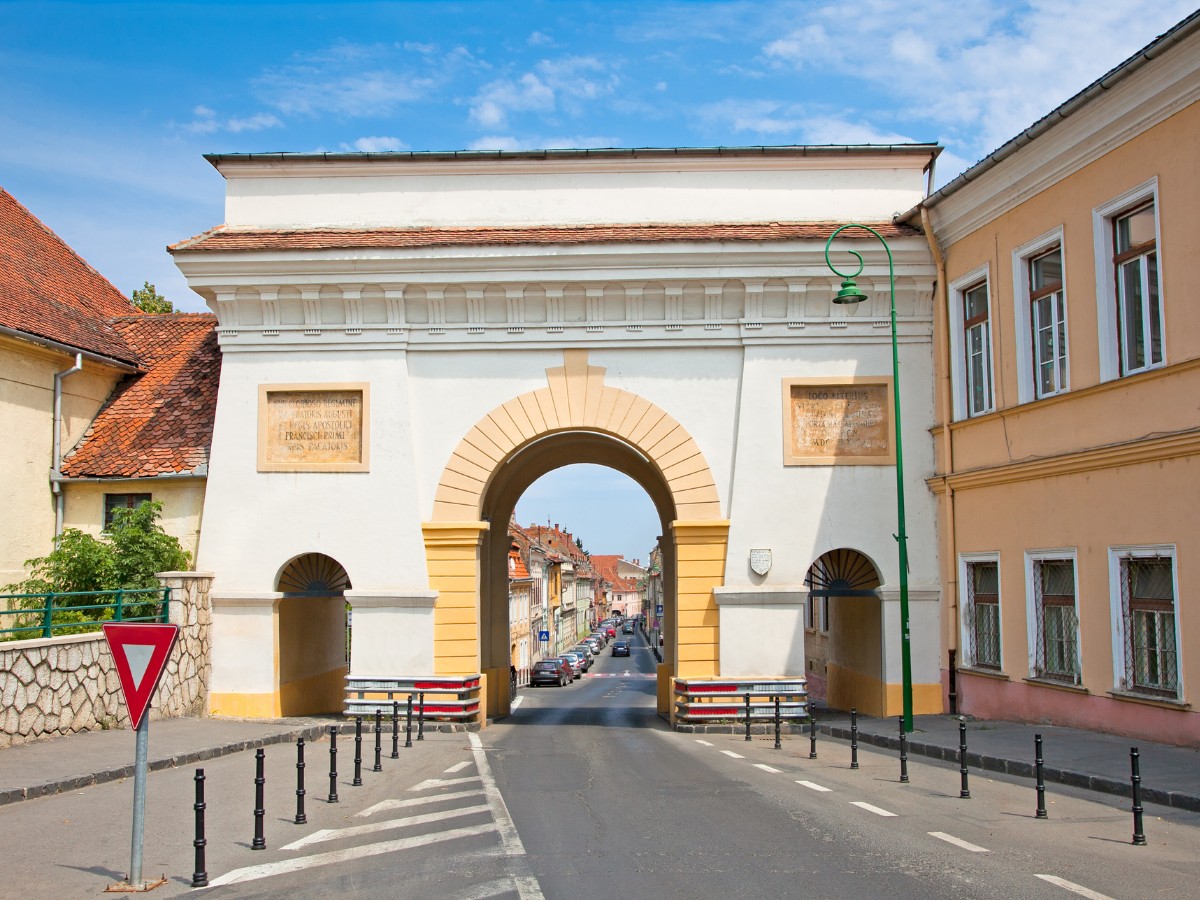 The area is reminiscent of Sibiu's Lower Town, with small settlements established right outside the historic city center, creating their own communities. As a result, you'll find fewer tourists, more residents, and a bit more authenticity.
Catherine's Gate in Brasov
Catherine's Gate was erected in order to restrict entrance to and from the fortified city center of Brașov to the Romanian residents of the Schei District.
As I mentioned above, the German-Saxons did not allow Romanians to live in or own property in fortified Brașov.
Romanians had to pay a small fee and were only permitted to use the Gate at certain times.
The original Gate was demolished in the 19th century after its purpose was made obsolete and replaced shortly thereafter with the current Gate (pictured).
Nicholas' Church
Situated in the Schei District of Brașov, St. Nicholas Orthodox Church is one of the most beautiful places to visit in Brașov outside the Old Town. The church is located just off of Piaţă Unirii.
A visit to the church won't take long, as it's tiny and a bit out of the way. There are gorgeous icons and ornate frescoes inside, though the interior lighting leaves something to be desired.
The caretaker was quite strict about not photographing the interior. Still, another couple was there sneaking some photos when she wasn't looking.
Godspeed if you decide to try!
First Romanian School
The First Romanian School Museum is actually located on the same grounds as St. Nicholas' Orthodox Church. In the 16th century, it was here when the very first books in the Romanian language were published.
Today, the museum holds literally thousands of rare books – among them, the oldest Bible in Romania.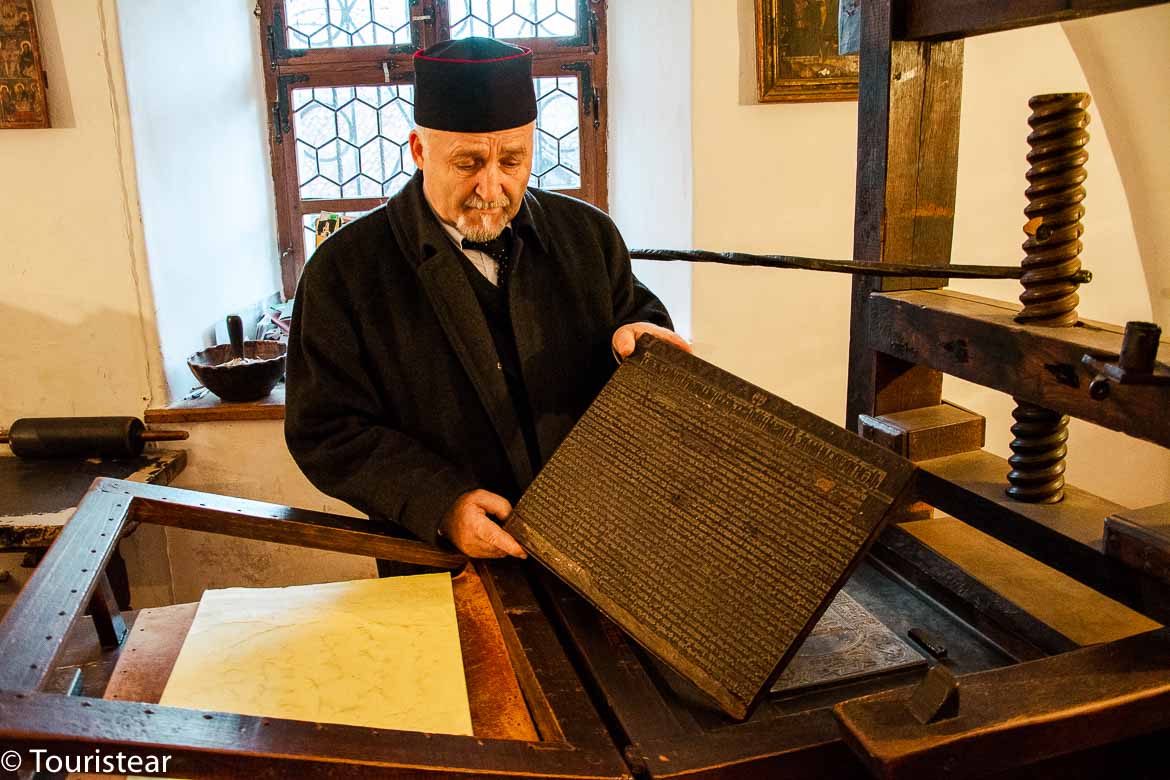 Weaver's Bastion
Weaver's Bastion is right at the base of Tâmpa Mountain, on the outskirts of the Old Town.
Amid all of Brașov's extensive fortifications, Weaver's Bastion is actually one of the most beautifully-preserved examples.
The entrance is a mere 7 RON, with a supplementary charge if you want to take photographs. This is a common practice throughout Transylvania, particularly in some older structures.
Strada Republicii
Strada Republicii is one of the main pedestrian streets in Brașov, which connects Piaţă Eroilor to Piaţă Sfatului. In the warmer months, the entire street is essentially one big terrace, with the sounds of laughter and glasses clinking, people exclaiming 'Noroc!'.
If you're looking for a great environment to enjoy a snack or a cocktail, look no further.
Be forewarned, however, that these restaurants and bars are more touristy (read: expensive) in comparison to their counterparts in other areas of the city.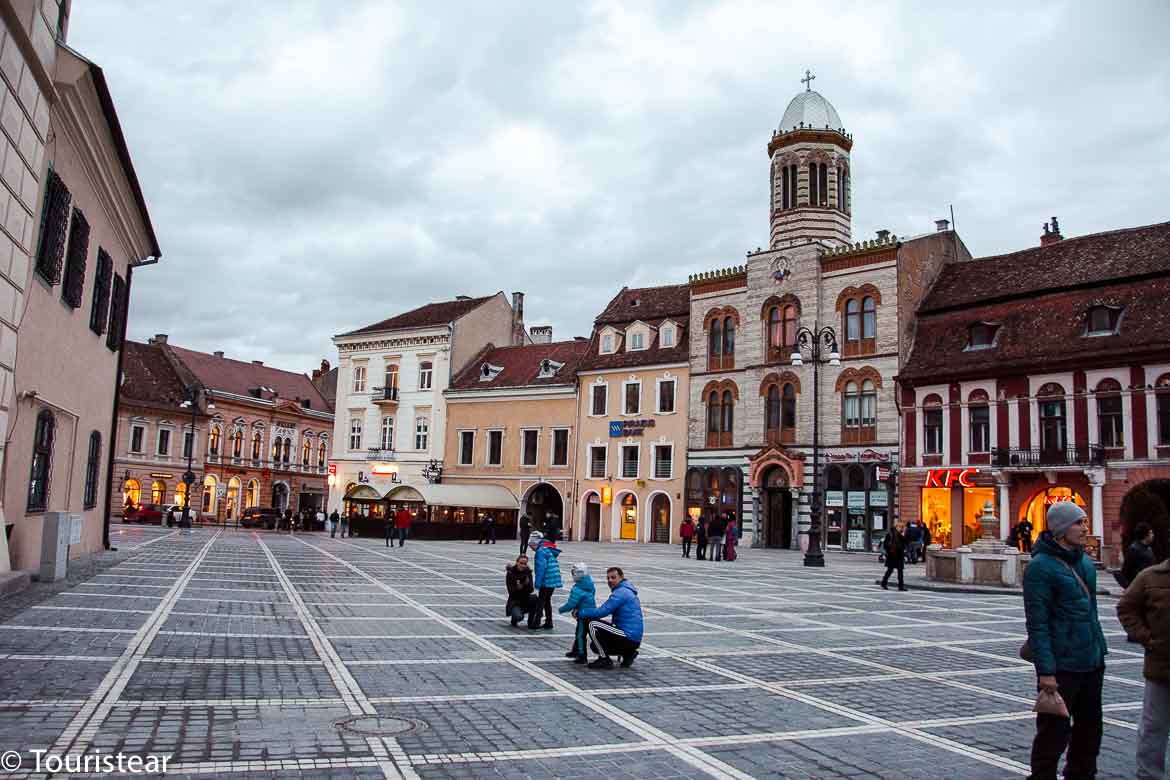 Beth Israel Synagogue
Beth Israel Synagogue is a stunning example of a neo-Gothic structure with some Moorish attributes.
These characteristics make it one of the most beautiful synagogues in Europe.
Jewish people began settling in Brasov in the early 1800s, and shortly after that, they built Beth Israel Synagogue. The community still plays an active role in Brasov's daily life, maintaining the Jewish tradition.
In the courtyard, you can find a Holocaust Memorial that was dedicated in 2019.
There is a nominal fee (5 RON) to enter and explore the gorgeous structure. While the exterior is beautiful on its own, the entrance fee is well worth it to take in the stunning, ornate white details accented in royal blues of the interior.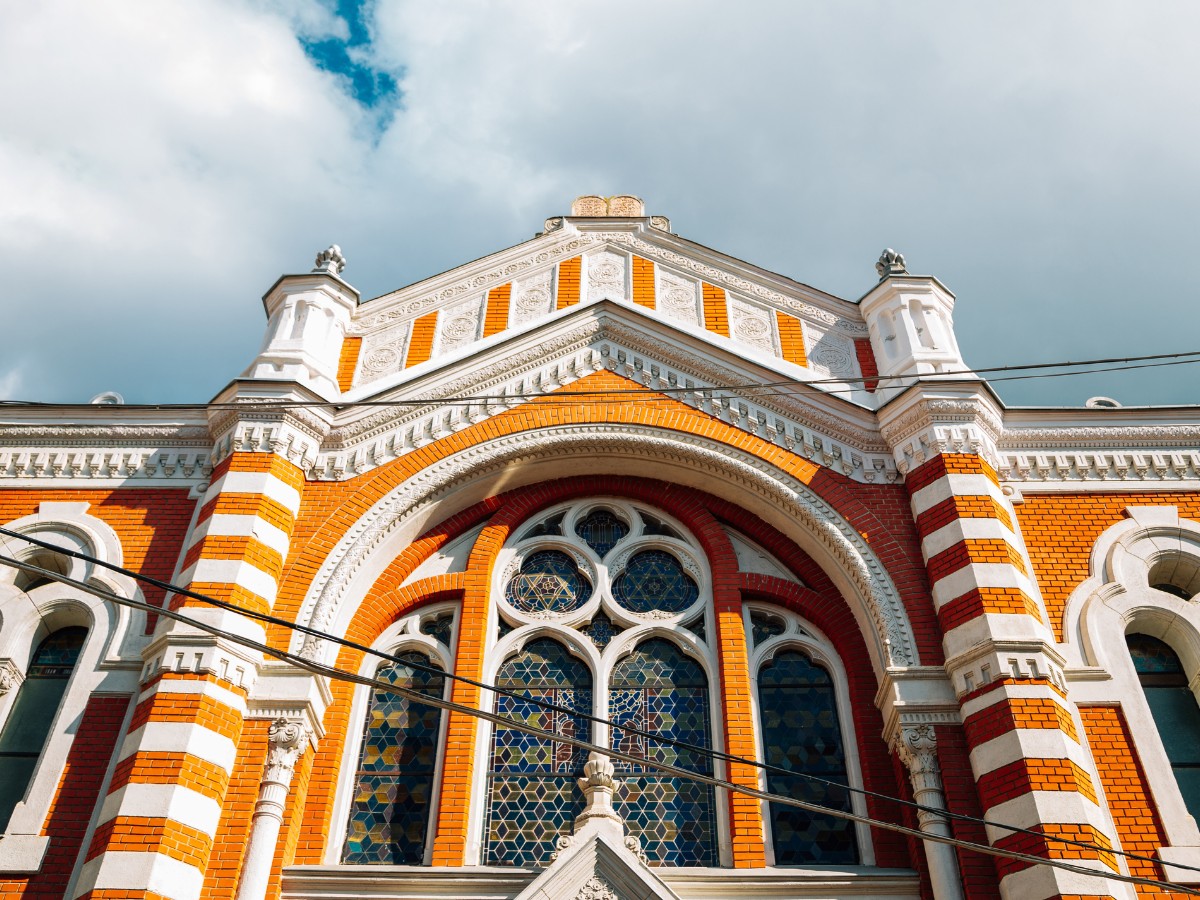 Black and White Towers
Brasov's Black and White Towers have been part of the city's fortified structure since the 1400s.
The White Tower (Turnul Alb – pictured) was the tallest part of the fortifications. The tower suffered extensive damages in the late 17th century and underwent full renovations in the 18th century.
Today, a museum inside lends some insight into the tower's history. Be sure to climb the five floors to get the sweeping views of the Old Town!
The Black Tower (Turnul Negru) is from the same century.
It is called the 'Black Tower' due to the charred walls that are the result of a lightning fire. There's another museum in the Black Tower.
Turnul Alb (The White Tower) is definitely the more impressive of the two, in my opinion, yet both are worth a visit.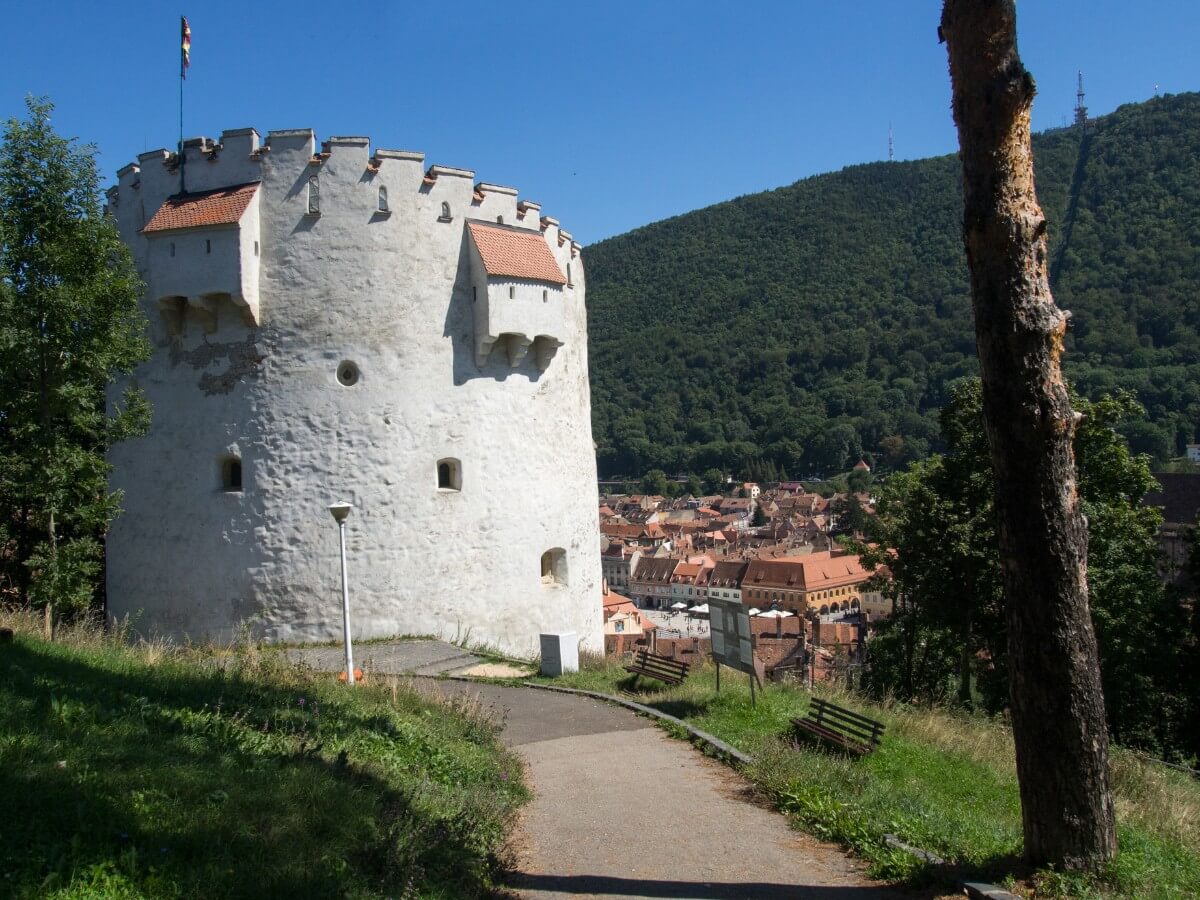 Ethnographic Museum of Brașov
This Transylvanian Ethnographic Museum places a particular emphasis on textiles.
Step back in time to discover traditional Romanian folk outfits, weaving techniques, and original (yet still operational!) looms.
There is a photo exhibition as well to show actual people donning their Romanian folk outfits.
Embroidery is a staple of Romanian textiles, and you can learn all about it here to fully appreciate the intricacies and skills required.
Museum of Living in Communism
This is an Airbnb experience that I stumbled upon when searching for my accommodations in Brașov. Spend just over three hours in a teeny-tiny, 49 square meter apartment to experience the living conditions of the average working-class family in communist Romania.
Heating, water, and electricity outages are normal occurrences.
Watch communist-era TV shows or documentaries on Romanian communism (with VHS cassettes, of course).
It's like stepping into a nightmare from the past (depending on what privileges you grew up with) – a 5th-floor apartment with no elevator, cable, or air conditioning.
Have fun! Side note – if you want a comical look into communist Romania, check out Tales from the Golden Age, a Romanian spoof comedy on communist life. It has English subtitles and is absolutely hilarious!
Day Trips From Brasov
Sure, there are plenty of things to do in Brașov! However, to fully appreciate the gateway to Transylvania, designate a day (or a few) to escape the city limits and explore what else the area has to offer. For Example, Visit the famous Castles of Bran and Peles.
These guided day trips from Brașov are perfect for anyone looking to explore more. You can check out Bran Castle, Libearty Bear Sanctuary, climb mountains, see the fortified churches of Transylvania, go hiking, enjoy winter and summer outdoor activities, and more.
How to Get to Brasov
Brasov is often considered to be the gateway to Transylvania due to it being the closest Transylvanian city to Bucharest, which is where most tourists arrive in Romania.
Getting to Transylvania is pretty straightforward. If you are flying into Otopeni (OTP) airport in Bucharest, there are a few options from which you can choose.
If you are renting a car, the drive takes about 2.5 hours. Therefore, renting a car in Romania is cheap, but be sure you have your IDP (International Drivers Permit) if necessary.
A taxi will take the same amount of time as driving and will cost roughly $110-$130, which is still cheap, considering the duration of the trip.
There are a couple of different train options, ranging in duration from 2.5-4 hours depending on the departure time. A bus will take around 3.5 hours.
Also, you can get to Brașov on a guided tour from Bucarest. Often these tours include Dracula Castle and Brasov as a day trip.
How to Pronounce 'Brașov'
The thing to remember here is the 'ș' – this letter, unique to the Romanian language, is pronounced like the English 'sh.' The word sounds like 'Bra-shov.'
Be sure to check out some common travel-related words and phrases in Romanian.
Travel Insurance
Do not forget to take out travel insurance if you are going to travel to Romania. Hopefully, you don't need to use it, but it is better to be prepared for any eventuality or emergency.
In my case, I have Mondo's annual insurance, with worldwide medical assistance with a coverage of $ 10,000,000. Also, you can use our link to get a 5% discount on HeyMondo Insurance.
Choosing travel insurance will depend mainly on the duration and coverage of the insurance. It is best to inform yourself well to choose the best insurance available.
If you want you can review our guide on how to choose travel insurance, where you will find comparisons, opinions, and discounts.
Plan Your Trip To Romania
Pin it for later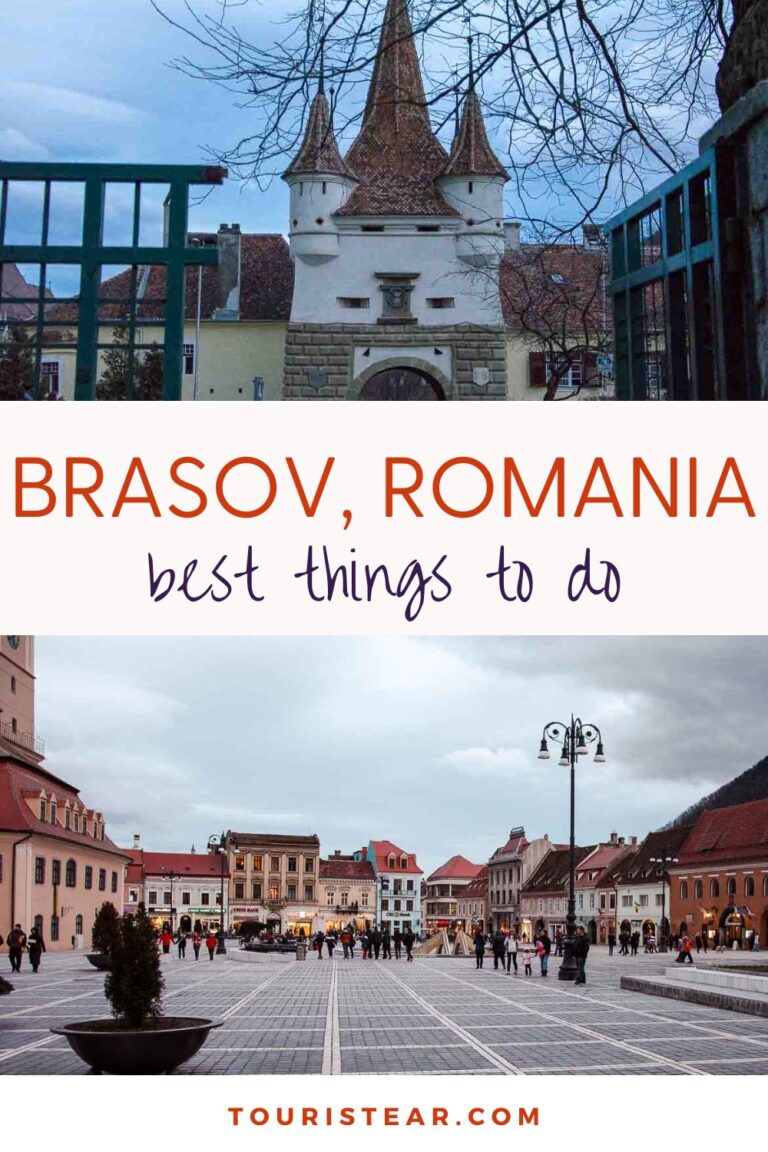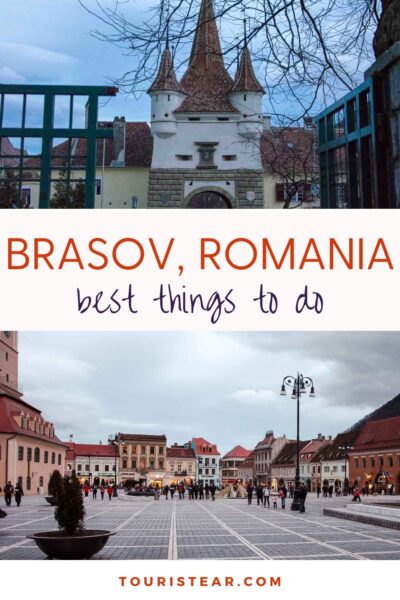 Last Updated on 25 September, 2023 by Veronica
Disclosure: Some of the links on this post are affiliate links, meaning at no additional cost to you, I may earn a small commission if you click through and make a purchase.
Author: Veronica
Vero, a seasoned traveler, has explored 25 countries and lived in five, gaining a rich perspective and fostering an infectious passion for travel. With a heart full of wanderlust, Vero uncovers the world's hidden gems and shares insights, tips, and planning advice to inspire and assist fellow adventurers. Join Vero and let the shared passion for travel create unforgettable memories.