15 Legendary Things To Do In Transylvania
Transylvania is just one of those places you have to see to believe. The region has so much culture, history, folklore, and tradition. Not to mention, no shortage of things to do!
Transylvania has it all between UNESCO World Heritage Sites and Medieval cities, from mountain sports to Coachella-Esque music festivals.
Start planning your trip now with these legendary things to do in Transylvania.
Disclosure: Some of the links on this post are affiliate links, meaning at no additional cost to you, I may earn a small commission if you click through and make a purchase.
Explore The Major Cities in Transylvania
Here you have the best things to do in Bucarest.
Chances are, your primary stops in Transylvania will be a couple of its major cities. Cluj-Napoca is the unofficial capital of Transylvania and is its largest city.
Other popular cities to visit in the region are Timișoara, Brașov, and Sibiu. Târgu Mureș, Oradea, Sighișoara, and Baia Mare aren't as large or busy as the former but still have much to do and lots to discover.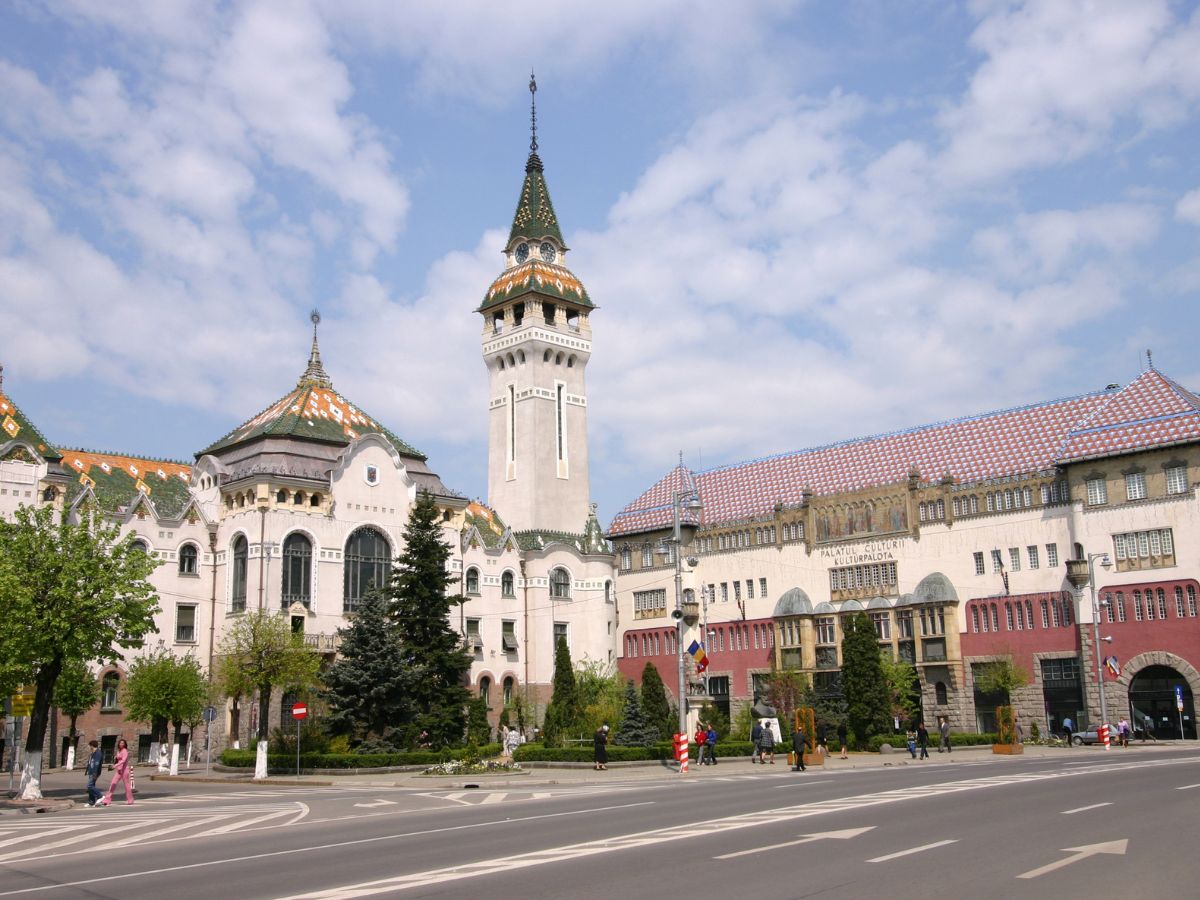 The Transylvanian cities offer a unique amalgam of cultures, such as Hungarian, Saxon, Romanian, and Austrian. Each truly has its own personality.
So, you can choose the most appropriate for your tastes depending on your interests.
Cluj-Napoca
Hungarian and Saxon Landmarks, Botanical Garden, Matthias Corvinus House, Old Town, Hoia Forest, Ethnographic Museum, Festivals, College City.
Check Out the Guided Walking Tour, one of the best-rated!
Sibiu
Houses with Eyes, Astra Museum Complex, Stair Passages, Brukenthal Fine Arts Museum, Climb the Council Tower.
Visit Sibiu with a small guided tour.
Brașov
Brașov Sign, Bran Castle, the Black Church, Black and White Towers, Bears.
Check Out: Best Things to do in Brasov
Timișoara
Memorial Museum of 1989 Revolution, Orthodox Metropolitan Cathedral, Secessionist Architecture, Roses Park, Museum of the Communist Consumer.
READ: Best Things to do in Timisoara
Sighișoara
Clock Tower, Citadel, Scholars' Stairs, Church on the Hill, Casa Vlad Dracul.
Get to know the sightseeing of Sighisoara with a guided walking tour.
Oradea
Petofi Park, Black Eagle Passage, Neolog Synagogue, Moskovits Palace, Palace of Greek-Catholic Bishopric.
TIP: You can book a private cultural guided tour to get to know this city.
Târgu Mureș
Palace of Culture, Târgu Mureș Fortress, Orthodox Cathedral, Fortress Church.
Baia Mare
Stephen's Tower, Museum of Mineralogy, Butcher's Bastion, Holy Trinity Cathedral.
Travel Insurance
Do not forget to take out travel insurance if you are going to travel to Romania. Hopefully, you don't need to use it, but it is better to be prepared for any eventuality or emergency.
In my case, I have Mondo's annual insurance, with worldwide medical assistance with a coverage of $ 10,000,000. Also, you can use our link to get a 5% discount on Hey Mondo Insurance.
Choosing travel insurance will depend mainly on the duration and coverage of the insurance. It is best to inform yourself well to choose the best insurance available.
If you want you can review our guide on how to choose travel insurance, where you will find comparisons, opinions, and discounts.
Charming Towns & Villages in Transylvania
To see Transylvania in its rawest form, you have to get outside the cities and head into the local villages, where tradition is alive and well.
Discover daily rural life in the mountains and plains of Transylvania, where the locals are a perfect combination of curious and gracious hosts.
Some charming villages worth visiting include Viscri, Mărișel, Cisnadioara, Rimetea, and more. There are hundreds upon hundreds of towns throughout the region, so you'll be sure to find a lovely place to visit!
Visiting the local villages is absolutely one of the top (if not the top) things to do in Transylvania.
Insider tip: Visit Mărișel in December or January to take a beautiful horse-and-carriage ride through the snow-covered village. It's straight out of a fairy tale!
Visit The Most Beautiful Transylvanian Castles
Transylvania is perhaps best known for being the location of one of the most famous castles in the entire world – Bran Castle, aka Dracula's Castle.
Though Bran Castle is certainly one of the most spectacular in the region (and undoubtedly the most popular to visit), there are many other stunning Transylvanian castles to visit in the area.
Some are fully restored, while others exist only in ruins. Either way, each has played an important part in regional history and is worth a visit!
In addition to proper castles, you can also check out some fortresses and citadels as well! Though slightly different in definition, these structures are an integral part of Transylvanian history and definitely worth a visit!
See All Seven Fortified Churches Of Transylvania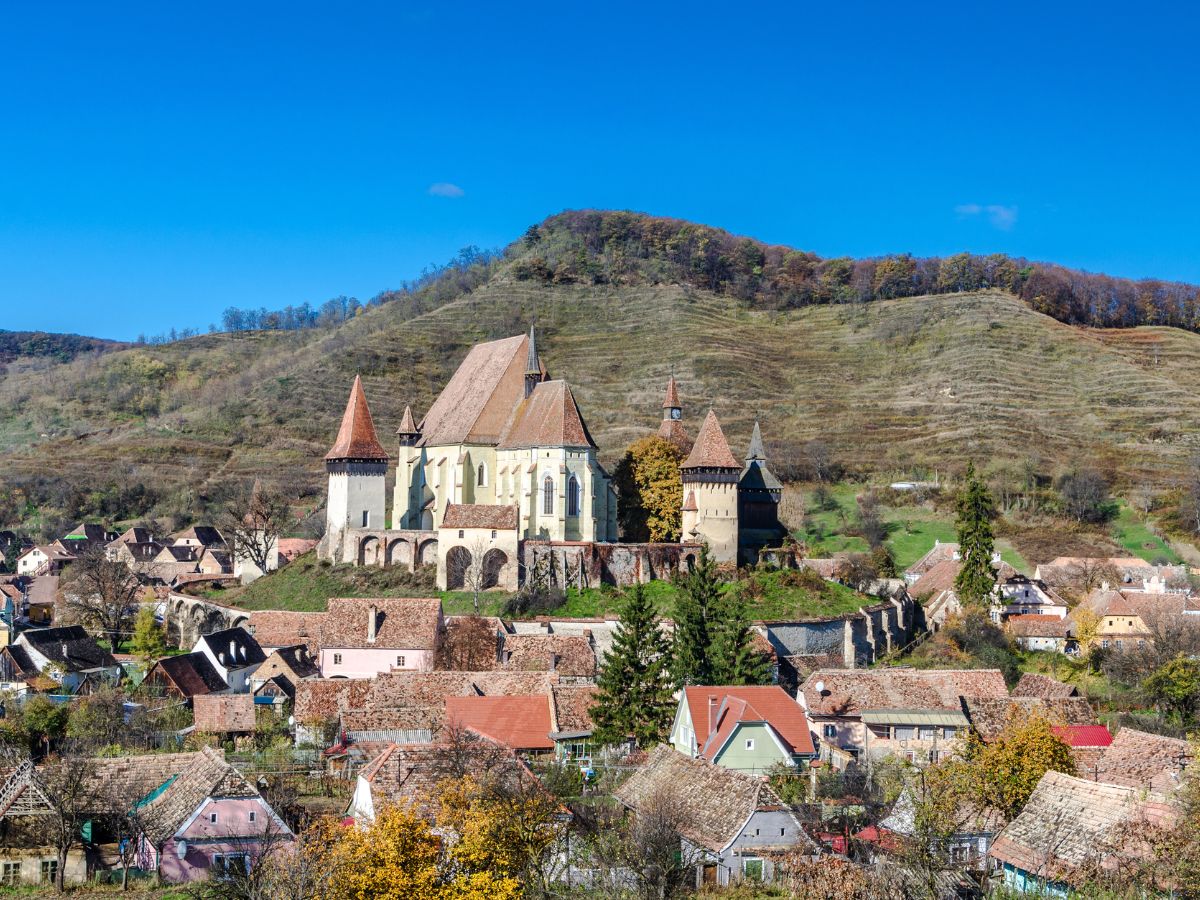 One of Romania's UNESCO World Heritage Sites is the collection of Transylvanian Villages with Fortified Churches. There are seven in total, all of which are accessible to tourists.
Transylvanian Saxons founded these villages when they settled in Romania. Six of the villages are Saxon, and one is Székely.
The seven villages with fortified churches include Biertan, Viscri, Saschiz, Prejmer, Valea Viilor, Calnic and Darjiu.
Biertan, Viscri, and Prejmer are the most popular to visit with tourists, and you can almost always find a small group heading to one of these.
The others may require a bit of due diligence and your own transportation to visit. Visiting the fortified churches is one of the top things to do in Transylvania, particularly if you visit UNESCO sites.
Pay Your Respects At The Merry Cemetery
Visit northern Romania to visit Cimitriul Vesel is another great thing to do in Transylvania. It exhibits a beautiful example of the Romanian sense of humor.
Vibrant poetry is inscribed on hand-crafted wooden crosses in this alternative cemetery inspired by the deceased.
Some are heartwarming, while others are meant to make you laugh, but they all will make you smile.
It's no issue if you can't read Romanian, as the crosses also have a painting depicting imagery from the poem.
Experience Snow Sports In Poiana
Poiana is the largest and most luxurious mountain resort in Romania. It's an internationally esteemed snow sports haven situated deep in the Carpathian Mountains, easily accessible from Brașov.
Poiana is great for budget-conscious travelers, especially if you're looking for EU vibes. It's an excellent value for the money, consistently voted one of the most affordable ski resorts in all of Europe.
So, if you're into skiing or snowboarding and happen to be in Transylvania during the winter season, definitely spend a couple of days soaking up the mountain views and thrilling slopes of Poiana.
Hike Any Number Of Mountain Trails
For lovers of hiking, climbing, and utterly breathtaking views, Transylvania will not disappoint. In fact, it has some of the most spectacular mountain ranges in Romania.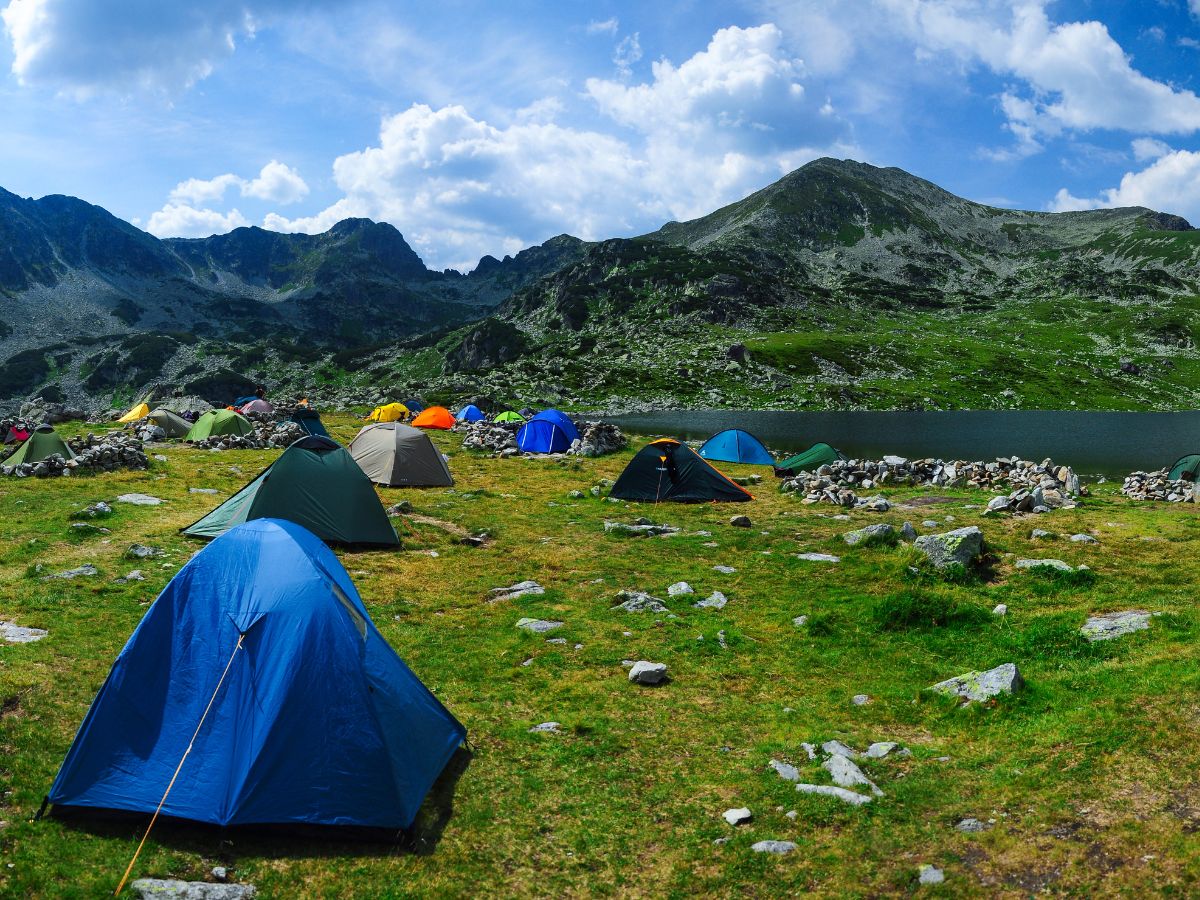 The Western, Southern, and Eastern (Romanian) Carpathian Mountains flank the Transylvanian plateau, giving ample opportunities to explore the country from higher altitudes.
Popular hikes in Transylvania include the Apuseni Mountains, Bucegi Mountains, Retezat National Park, Piatra Craiului, and Făgăraş.
You should always go hiking with a guide, friend, or group. Still, if you opt to go alone, let someone know your intended route and how long you plan to be gone.
Visit An Underground Salt Mine
Take a day trip from Cluj-Napoca to immerse yourself in this subterranean wonderland! Salina Turda is located in the small city of Turda, just about a 40-minute drive outside of Cluj-Napoca.
Salina Turda first opened in the 17th century, served as a bomb shelter during World War II, a theme park in the early 1900s, and is now a unique amalgam of its past.
As you continue to descend, you'll find a Ferris Wheel, paddle boats, a space for spa treatments, and even a mini-golf course. The paddle boats cost extra, but the ride is well worth it.
An alternate underground salt mine to visit is Praid in Harghita County.
Hit Up An Epic Music Festival
The unofficial capital of Transylvania, Cluj-Napoca, is home to some of Europe's most spectacular festivals.
Every summer, throngs of visitors visit the 'Silicon Valley of Romania' to attend festivals such as Untold, Transylvania International Film Festival, and the tour de force – Electric Castle.
Untold is an electric music festival whose past headliners include Armin van Buren, Avicii, Tiesto, and David Guetta, among others.
TIFF (Transylvania International Film Festival) is Romania's most renowned film festival. TIFF usually sets up a weekend in Cluj-Napoca and a weekend in Sibiu during the summer.
Electric Castle is akin to Romania's version of Boston Calling or another high-profile US festival that takes place in a city.
It's got a wide variety of genres represented and takes place throughout a long weekend at Banffy Castle just outside of Cluj-Napoca.
Former headliners include Florence & the Machine, Skrillex, Fatboy Slim, Die Antwoord, and more. EC wasn't held in 2020 and will not be held in 2021 due to the ongoing pandemic.
However, scheduled headliners for 2022 include Deftones, Gorillaz, and Twenty One Pilots. See you there?
Drive The Transfagarasan Highway
You can't possibly visit Transylvania without taking a drive down one of the most iconic roads in the world!
This 150km paved mountain road winds through the Southern Carpathians with plenty of twists, turns, and tunnels to keep your adrenaline going.
It is no easy feat to take on, however, and the road itself is only open from July to October. The road is only open during daytime hours (07:00-21:00) for drivers' safety.
The northern and southern sides of the road meet at Balea Lake (see below), another worthwhile thing to do in Transylvania!
If you're renting a car in Transylvania, be sure to obtain your International Drivers Permit (IDP) if required. Access to the Transfagarasan Highway is easiest from Sibiu.
Take A Dip In Bâlea Lake
As if the exhilaration of the Transfagarasan Highway weren't enough, halfway through your drive, you can stop at Bâlea Lake and Bâlea Waterfall.
If you're coming from Sibiu, you'll see the waterfall first, which is about 10km away from the lake.
If you're visiting during the summer months, take a dip in the cool glacial waters, have a picnic, or go for a hike. You can still visit in the winter, too.
The waterfall freezes, offering a unique opportunity for ice climbing as well as skiing and snowboarding.
Worth noting – if you're visiting during the winter, driving from Sibiu, you will only get as far as the Bâlea Waterfall. The rest of the road is closed, but you can take a cable car to the lake from the waterfall.
There are plenty of places to stay in the area, including an ice hotel! But we recommend you to stay at Art Hotel. It's in the historic center, includes breakfast and has lovely rooms. And the best is its price.
Discover The Clay Castle Of The Valley Of Fairies
Come to the Clay Castle of the Valley of Fairies to indulge in some adolescent fantasies about exploring Hobbit houses!
This eco-friendly 'castle' is located just 40km outside of Sibiu, making it especially doable as a day trip if you're looking for photo ops.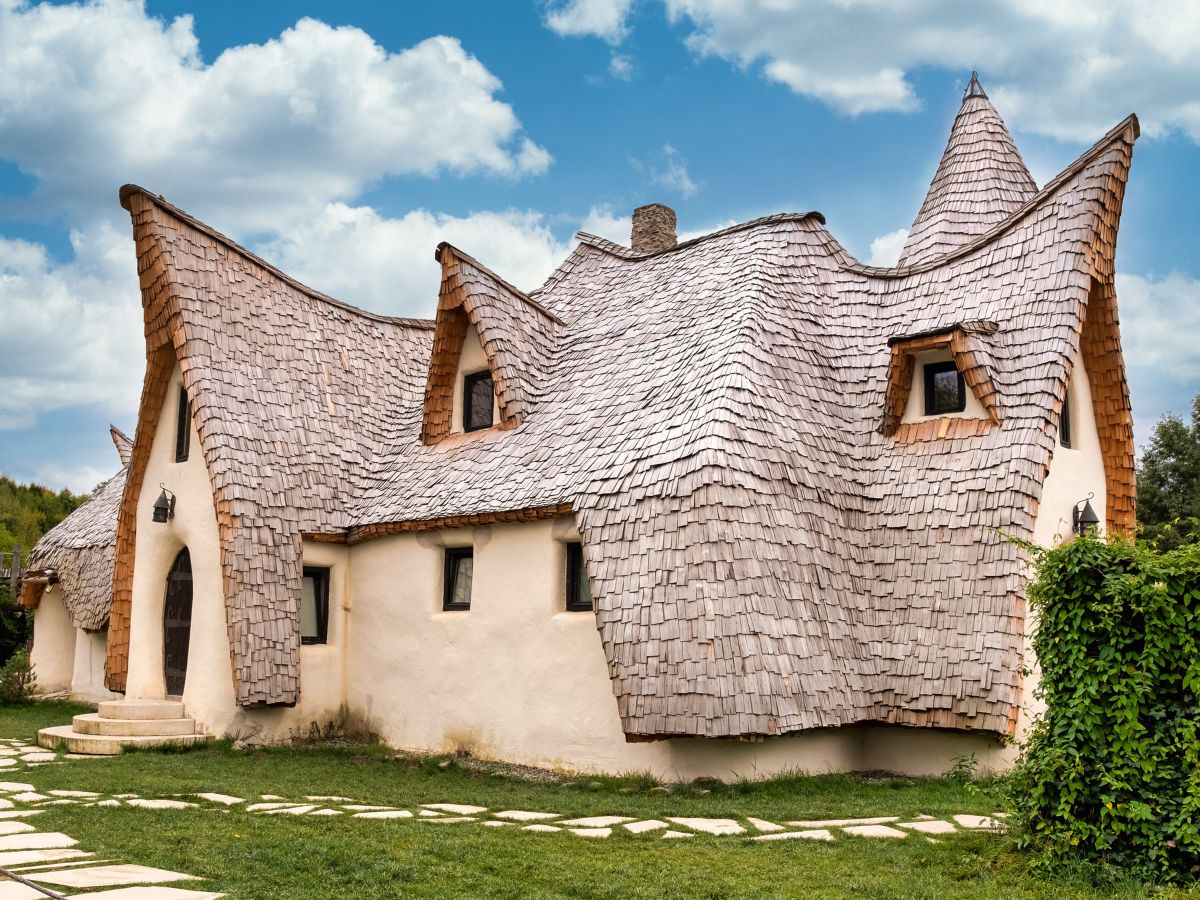 The castle is made from organic clay, straw, sand, and other natural materials. In fact, no synthetic paints or varnishes were used, either!
Currently, you can come to take photos for a visit or hold a private event. Eventually, Clay Castle's owners plan to open a restaurant and hotel.
Imagine sleeping here!? Plus, its proximity to fairytale Sibiu, the Transfagarasan drive, and the snow-capped Carpathians make it an ideal holiday destination.
See The Romanian Stonehenge At Sarmizegetusa
Deep in the forests of the Sureanu mountains, you can visit the awe-inspiring 1st century BC Dacian ruins at Sarmisegetuza.
Often called the 'Romanian Stonehenge,' Sarmisegetuza was the Dacian capital and the most important political, military, and spiritual center before the conflict with the Roman Empire.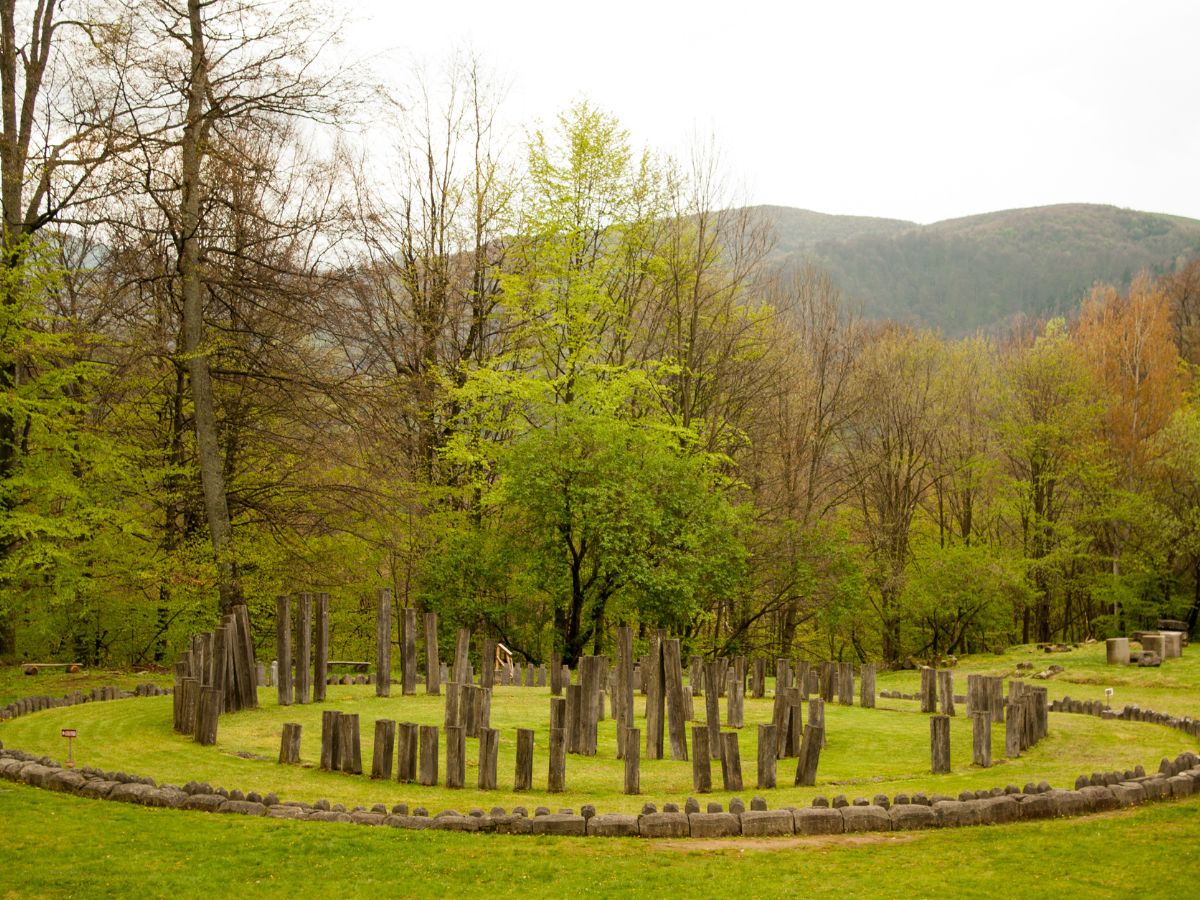 The Dacian ruins of Sarmisegetuza are one of the six UNESCO World Heritage Sites in Romania and one of the most remarkable and unforgettable things to do in Transylvania.
Just be sure to wear comfortable shoes and be ready for a bit of a trek!
Go Bear-Watching In The Land Of Volcanoes
Want to go bear-watching in the land of volcanoes? This full-day, guided tour in Transylvania will take you from Brașov to Romania's only volcanic lake and the largest natural gas bath in Europe.
You'll also get the opportunity to check out some hallucinogenic and carnivorous plants!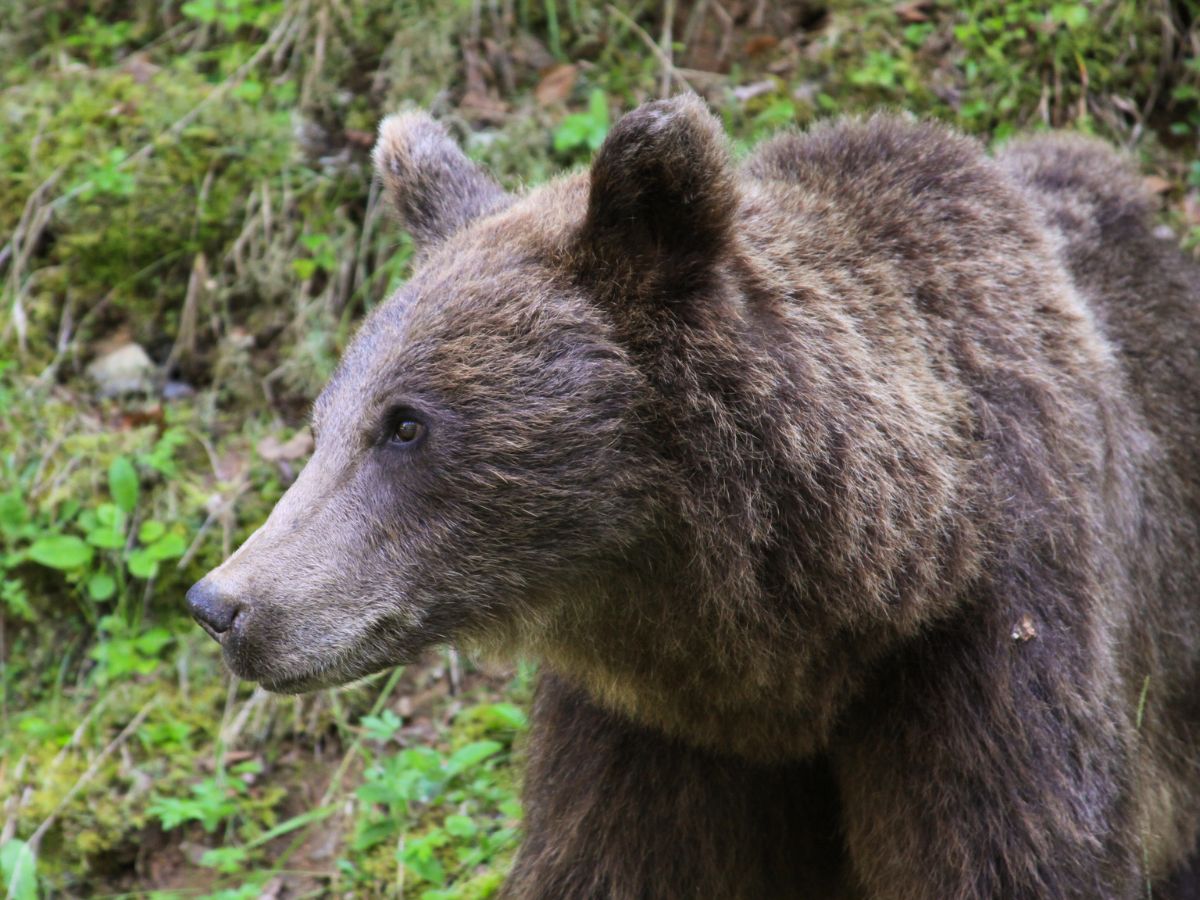 After lunch, your guide will take you into the depths of a Transylvanian forest to a safe house where you will get the opportunity to check out Carpathian brown bears in their natural habitat!
Prices start at $50 per person – book it here.
Indulge In Some Of The Best Romanian Cuisine
Traditional Romanian food is soul-warming, hearty, and stick-to-your-ribs good.
Whether you prefer sour soups and smoked meats or tend to prefer sweet Romanian desserts, the local cuisine will not disappoint.
Particularly in Transylvania, where there is a heavy (and delicious) Hungarian influence as well.
For the best foodie cities in the country, Cluj-Napoca is an excellent choice, and you'll never worry about where to eat in Sibiu. Take a local food tour to sample local delicacies!
Plan Your Trip to Romania
Save it for later!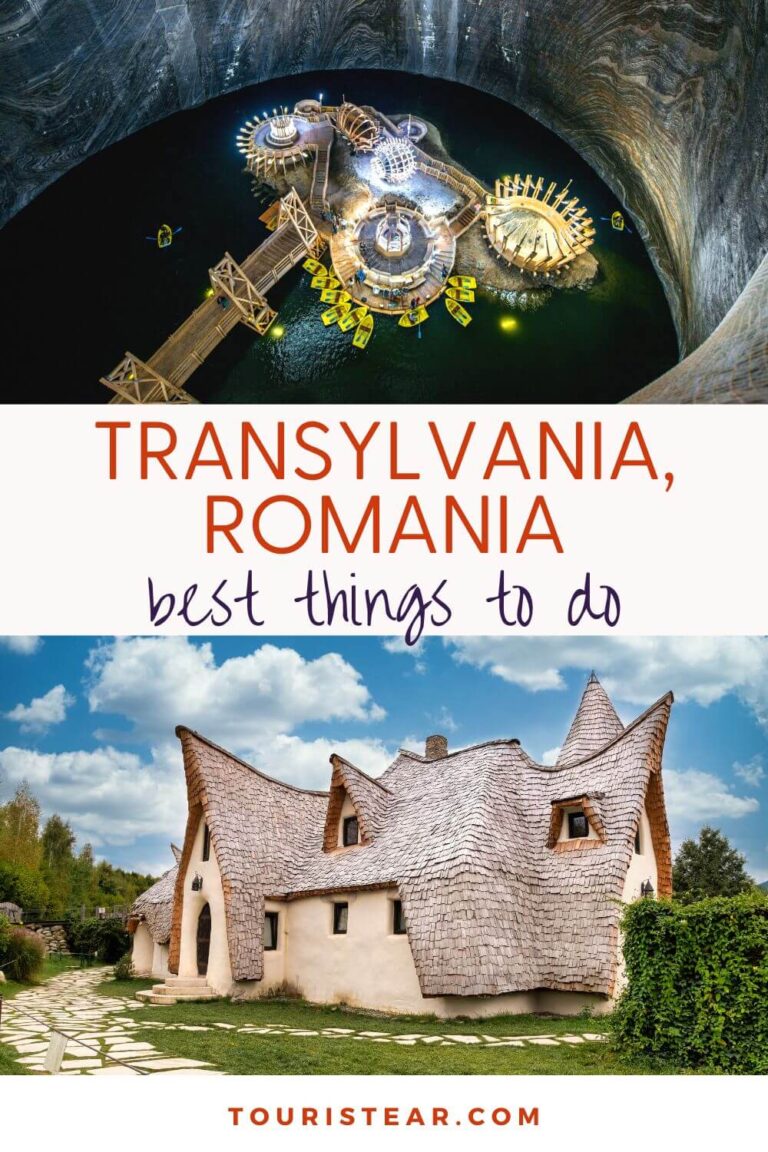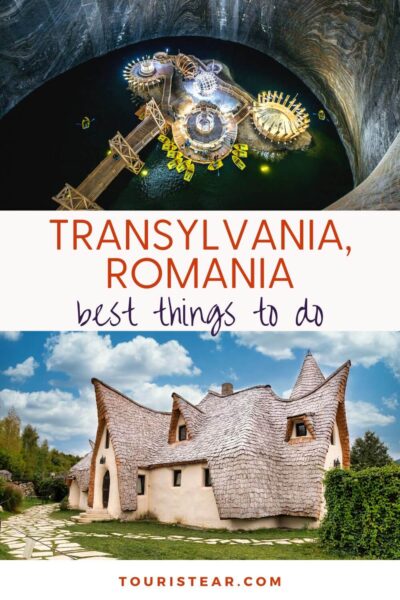 Last Updated on 1 September, 2023 by Abby