The Best Things to Do in Paris in December
Are you planning to visit Paris in December? Wrap up warm and soak up the Christmas spirit in the French capital.
From mid-November until the end of the year, Paris, the city of lights, dresses up.
The Christmas decorations in Paris are impressive; the store windows and shopping malls create real works of art to attract visitors' attention.
Christmas lights illuminate the Parisian avenues and streets, and Christmas markets begin to appear all over the city.
In addition, there are different BUS TOURS along the city to see the Christmas lights.
And, of course, you can't miss the outdoor ice skating rinks. You will be spoiled for choice near the most famous attractions in Paris.
In this post, we share our tips on the best things to do in Paris in December, including some indoor activities for when you need to escape the cold weather.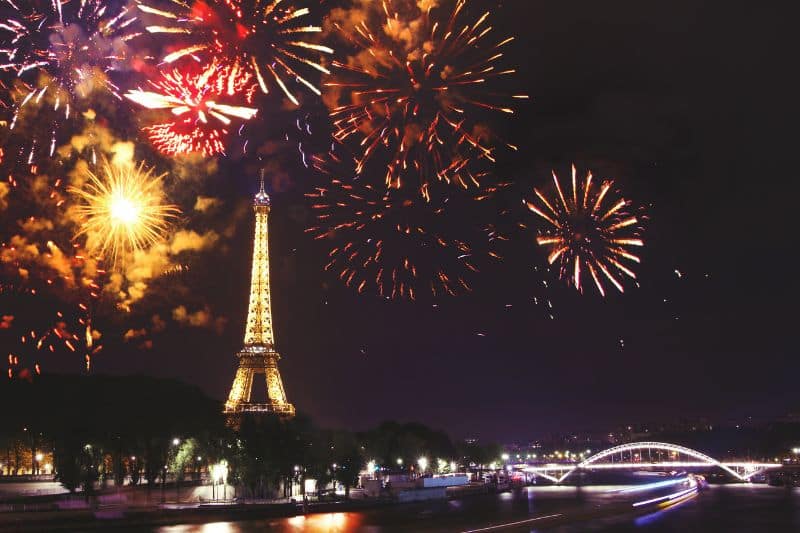 Why You Should Visit Paris in December
Paris is a wonderful city to visit all year round. I love this city, and it has a unique charm at Christmas.
Here are my reasons for you to visit Paris in December.
It's cold, but Paris is more charming than ever.
Christmas lights beautifully decorate the city. You have to see it!
The shop windows of shopping malls. They strive to create unforgettable and different window displays every year.
Christmas markets in and around the city. Simply unmissable!
Visiting Disney during the Holidays. Do you like the magic of Christmas?
Fireworks on New Year's Day.
Ice Skating Rinks.
What You Need to Know Before Traveling to Paris in December
Paris in winter is a cold city, where it can rain at any time. With some luck, you can see it snow; it changes spectacularly.
Although the temperature is quite cold during these months, this is the ideal time to experience Paris without the chaos of the high season.
Christmas in the city of light warms up with its charming Christmas markets that appear almost everywhere in the city.
Paris in December also allows you to settle into a café with a book, enjoy a hot chocolate or go shopping in the city.
It's also the perfect time to test your skills on the many ice skating rinks in Paris during the day.
Paris in December is a great way to escape the high-season crowds.
But don't think you'll be alone, in December you won't find the summer crowds, but you will find many people who want to enjoy this wonderful time in Paris.
Especially if you are traveling to spend New Year's Eve in Paris, remember to book your restaurant in advance to find a seat in your favorite place.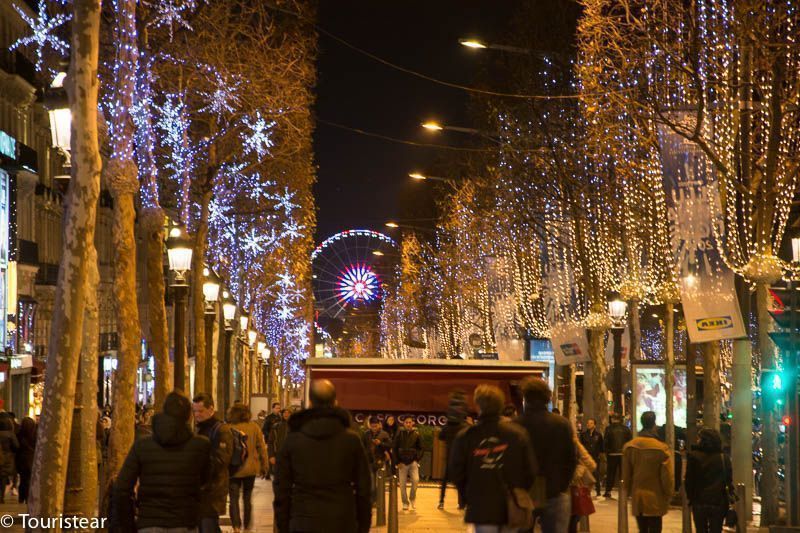 The Weather in Paris in December, Average Temperature
Average temperature
Paris in December experiences cold weather. It could range from a light snowfall to rain or just a cool wind.
The average temperature during December is around 7 degrees Celsius maximum and 3 degrees Celsius minimum.
Although snowfall in Paris this month is rare, it is best to wear rain boots to avoid possible sleet or rain that may fall during your visit.
Maximum average temperature: 7ºC
Average minimum temperature: 3ºC
Rain in Paris in December
The 31-day average precipitation during December in Paris is essentially constant, i.e., it drizzles practically every day but not all day.
Rainfall amounts remain around 43 mm (1.7 inches) at all times and rarely exceed 78 mm (3.1 inches) or fall below 15 mm (0.6 inches).
The highest 31-day average accumulation was 46 mm (1.8 inches) on December 16.
Wind
The average hourly wind speed in Paris increased in December, rising from 17 km/h (10.5 mph) to 18.5 km/h (11.5 mph) over the month.
The windiest month in Paris is January.
Snow
December is the first month in which it can snow in Paris. The average number of snow days is 1.8, with an amount of 11mm of snow, almost nothing.
It can also snow from January to March. On average, Paris snows about 7.9 days a year.
So if you're looking to find Paris snowed in, you will have to get pretty lucky.
What to Wear in Paris in December
December is cold in Paris, so wear a winter coat, warm hat, gloves, and a blanket scarf for winter.
I also recommend you bring a good pair of boots and walking shoes if they can be waterproof, all the better.
Also, bring an umbrella or raincoat to protect yourself from the rain.
In addition, if you are a person who suffers a lot from the cold, bring thermal T-shirts and socks to wear under your clothes.
In this article, you can read what to wear to Paris according to the season.
Here are my favorite items for Paris in December.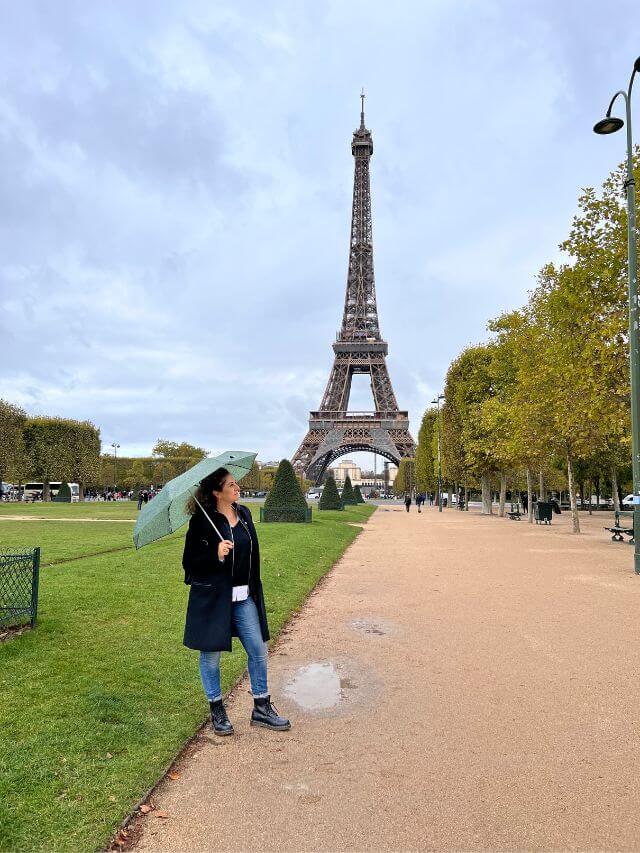 When Christmas Decorations Start in Paris
One of the questions we get asked most often is when it starts putting up Christmas decorations in Paris.
Christmas decorations in Paris begin to be noticed in the second or third week of November.
Typical Christmas markets usually start in December, and the Christmas lights in Paris, Paris Illuminations, can be seen in the most famous streets and avenues.
The Champs Elysées dress up. You must walk down this street and let yourself be carried away by the Parisian Christmas spirit.
Christmas decorations in Paris are removed at the beginning of January. Some Christmas markets begin to close on December 25.
The Best Places to See Christmas Decorations in Paris
Champs Elysées
From the Arc de Triomphe to the Place de la Concorde, the Champs Elysées are filled with lights and spectacular Christmas decorations.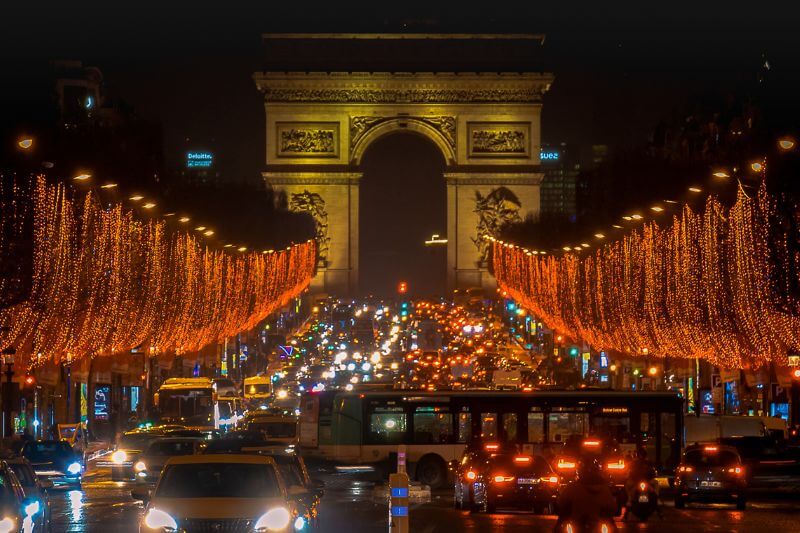 It is probably one of the most beautiful Christmas decorations I have ever seen. Along the way, you will find candy, mulled wine stands, and store windows with dreamy decorations.
I recommend you walk along this avenue and continue to the Jardin des Tuileries or from Tuileries to the Arc de Triomphe, as you prefer.
Jardin des Tuileries Christmas Market
The largest Christmas market in Paris is located in the Jardin des Tuileries.
This Paris Christmas market has grown to the size of an authentic Christmas village with food stalls, Christmas shopping, and a Ferris wheel, among other attractions.
La Magie de Noël, the name given to this Parisian Christmas market, can be compared to Winter Wonderland in Hyde Park, London, which has similar stalls, stores, restaurants, and attractions.
La Magie de Noël is a real treat, and here you will find many regional specialties, from sausages to cheeses and even oysters.
On the other hand, you can also order a glass of wine or champagne, or if you are freezing, you can order a mulled wine or a piece of bûche de noël, a perfect sweet.
You can also skate on ice, as La Magie de Noël offers a large ice skating rink in the center of the Christmas Market.
You can experience the magic of Christmas in a Parisian Christmas market! Don't miss it! It can get a bit crowded, but there is plenty to see and do at this Christmas market in Paris!
The Christmas Tree at Place Vendôme
If you are in Paris in December and want to visit the most beautiful places with Christmas decorations, you must go to Place Vendôme.
Here you will see some of Paris's most beautiful Christmas lights and decorations.
This beautiful square near the Tuileries Garden offers a fantastic view of the Eiffel Tower, and you can also marvel at the beautiful Christmas trees.
Every year, two beautiful Christmas trees are placed in the Place Vendome, giving the whole square a lovely Parisian Christmas atmosphere.
The Christmas tree at the Galeries Lafayette
Another must-see during the Christmas season in Paris is the Galeries Lafayette with its huge tree under the dome.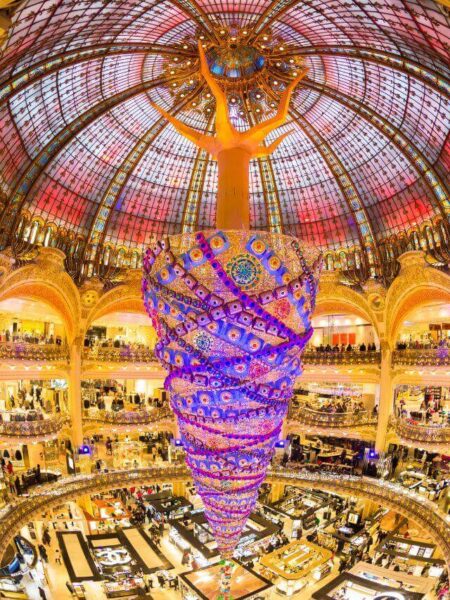 If the dome of the Galeries Lafayette is already spectacular, imagine Christmas decorations.
I also recommend you walk around this area; the Printemps windows are amazing!
La Defense, Christmas With a Modern Twist
The Defense zone is not just towers, each one taller than the last, and shopping malls.
It is a diverse area that offers exhibitions, festivals, and events throughout the year.
Since 1995, every year, the Christmas Market has been held and has become an unmissable event in the La Défense district.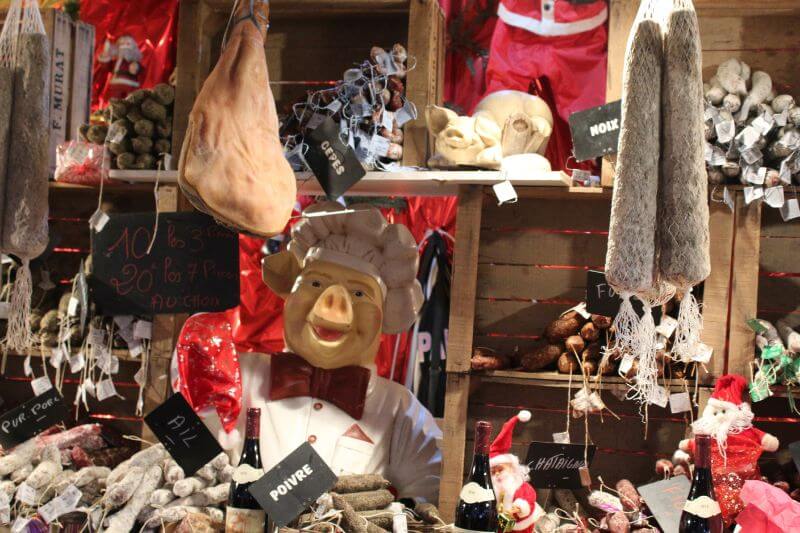 This Christmas market is more than a market; it is a small village of more than 13,000 m², with 350 themed stalls on offer:
Gift ideas from France and the four corners of the world,
Traditional products of the region,
Charcuterie, cheese, foie gras, and other delicacies to prepare Christmas Eve dinner.
To really live the Christmas atmosphere, restaurants and trendy places will offer you good eggnog or mulled wine as is tradition.
This unique market will make you lose track of time and immerse you in the festive atmosphere. The program has many events throughout these five weeks, so take advantage of the holiday atmosphere.
Come to this market, where the lights of the towers of buildings and Christmas lights create a unique atmosphere in Paris.
Tree Lights on Avenue Montaigne
Christmas begins on Avenue Montaigne and rue François 1er in mid-November with enchanting Christmas lights.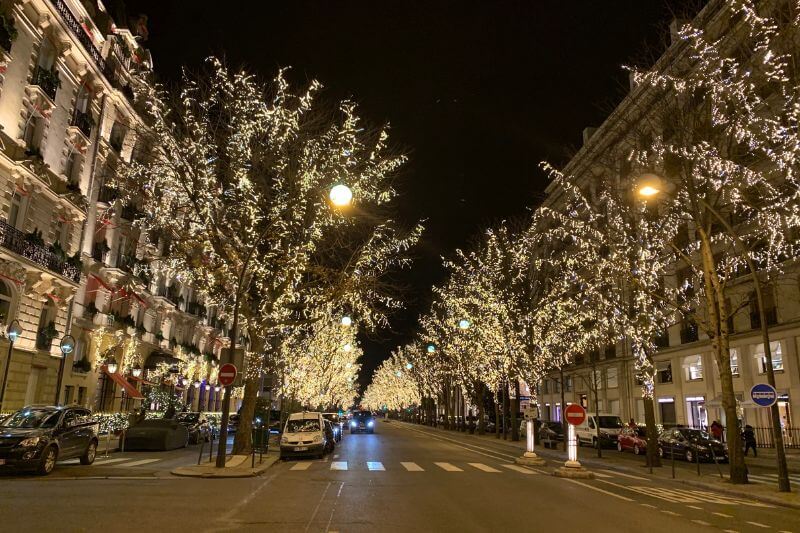 Every year, the streets are decorated with garlands of lights on trees and in stores to the delight of Parisians and visitors alike.
Another one of the most beautiful streets to walk during Christmas in Paris.
Saint Germain des Prés Christmas Market
You will find this magnificent Christmas market on the Boulevard Saint-Germain, close to Saint Germain des Prés church.
The Saint-Germain-des-Prés Christmas market is an opportunity to marvel and delight your palate, thanks to the many gourmet stalls.
It usually begins around November 20 and ends after Christmas.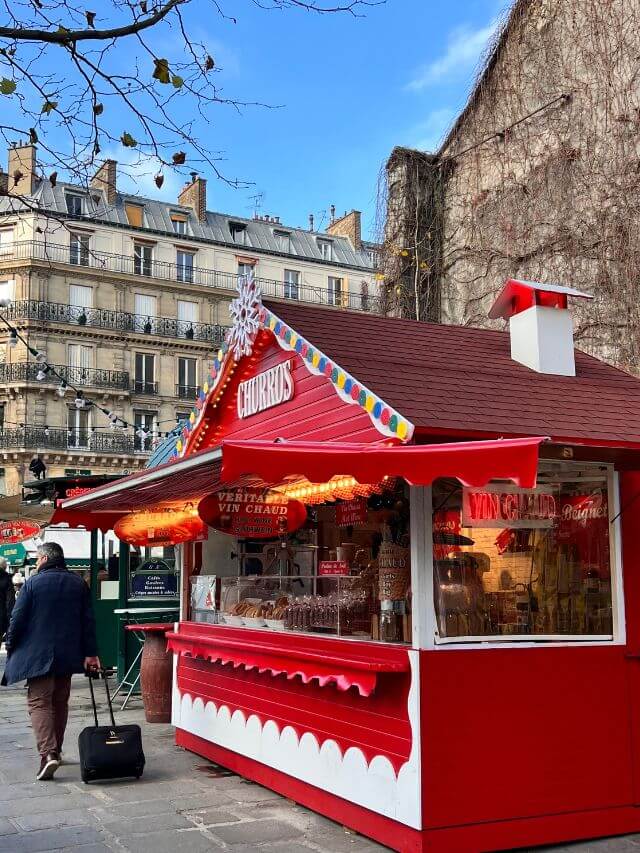 Notre-Dame Christmas market
A Christmas market ideal for the whole family, with Santa Claus and activities, drawing contests, and storytelling for children. You can taste some specialties and drink mulled wine.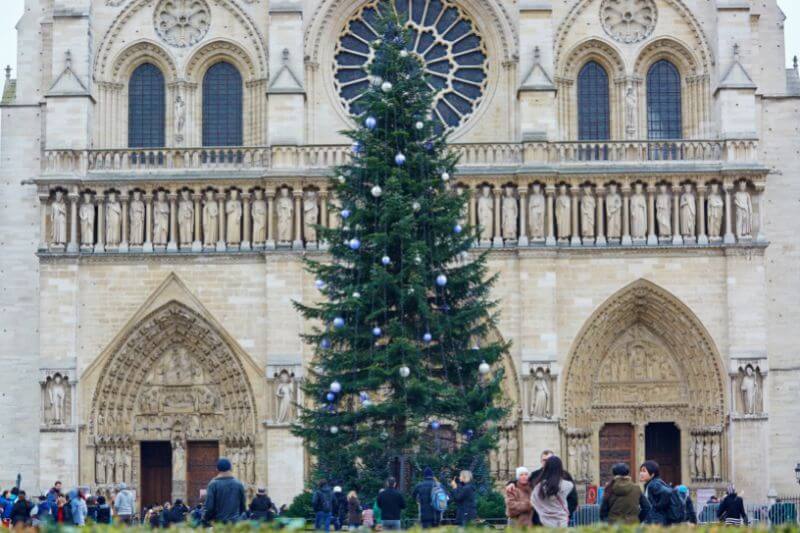 You will see real artisans and designers offering jewelry creations, objects of different materials, ceramics, textiles, leather, calligraphy, and painting.
You will also find stalls with regional gastronomy, where you can taste sausages, foie gras, macarons, cheeses, fruits, and more.
With its charming, picturesque village aspect, the Place des Abbesses will be transformed into a magical Christmas market.
From the end of November, Montmartre will be dressed in its finery to welcome you to its Christmas market.
In the Sacré Coeur area, you will also find the typical wooden stalls with handmade products, local products, and lovely gift ideas, 100% Made in France!
You can also take a free walking tour and discover much more about this fantastic Parisian neighborhood.
Christmas market in the Eiffel Tower area
From Trocadero to Champs de Mars, you will find over a hundred wooden stalls with traditional products and an ice rink allowing you to skate with a view of the Eiffel Tower.
This Christmas market is usually set up at the beginning of December and lasts until January 2.
This and the Tuileries are probably the most visited Christmas markets in Paris.
Update for the 2022 Christmas in Paris. There was no Christmas market on the Champ de Mars or skating rink… Maybe next year?
What to Do in Paris in December
In addition to the typical visits to do in Paris, here I propose winter visits and things you can only do at this time of the year. Shall we start?
Enjoy a hot chocolate at any of the Christmas markets.
Try mulled wine at a Christmas market.
Warm up by ice skating in Paris.
Visit the Christmas markets. There are many!
Look for Christmas decorations in large shopping malls.
Visit the Galeries Lafayette and take a picture of the big tree in the dome.
Eat raclette to your heart's happiness!
Make a cheese tasting.
I don't think it's done anymore, but we were able to ice skate on the Eiffel Tower (a few years ago).
The Best Places in Paris in December
Champs Elysées and its lights
Christmas markets
Christmas or New Year's Eve Dinner on a Cruise Ship
Place Vendome and its Christmas trees.
Latin QuarterTake a free tour and discover this Parisian neighborhood.
Jardin des Tuileries, with one of the largest Christmas markets.
Moulin Rouge Why not make a reservation for your Christmas dinner?
COMPLETE PARIS TOUR with TICKETS. Perfect for people who want to see Paris with a guide who will care for everything.
Plan Your Trip to Paris
Last Updated on 19 September, 2023 by Veronica
Disclosure: Some of the links on this post are affiliate links, meaning at no additional cost to you, I may earn a small commission if you click through and make a purchase.
Author: Veronica
Vero, a seasoned traveler, has explored 25 countries and lived in five, gaining a rich perspective and fostering an infectious passion for travel. With a heart full of wanderlust, Vero uncovers the world's hidden gems and shares insights, tips, and planning advice to inspire and assist fellow adventurers. Join Vero and let the shared passion for travel create unforgettable memories.