Best Day Trip From Paris by Train
While Paris may be one of the most magical places in the world, it's necessary sometimes to get out of the city. So here is the ultimate compilation of 25 easy options for a day trip from Paris.
Not to mention, all are doable by public transportation!
*Don't Forget Your Travel Insurance and Travel Cancellation Insurance*
Best Places to Visit 1 hour from Paris
You can visit several places within 1 hour from Paris by public transportation. By car, it just depends on traffic.
Check Out: France Travel Guide on Amazon
Giverny
Giverny is a small village in the Normandy region of France, famously known as the residence of Claude Monet.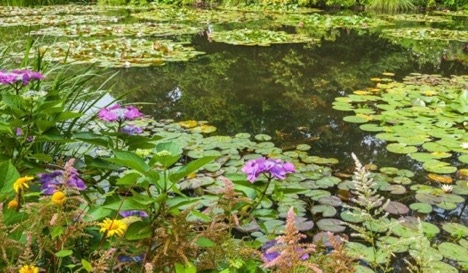 One of the main attractions is visiting Claude Monet's residence and walking through the gardens. 
Visitors can experience and see for themselves the exact inspiration for his most famous impressionist paintings, including the water lilies. Monet's tomb is also located in Giverny at the Saint-Radegonde Church. 
Giverny is full of impressionism, not just Monet. Visitors can go to the Museum of Impressionism or walk along the road near Monet's home to visit other impressionist artist homes, including Claude Cambour, Florence Ramier, and Christophe Demarez. 
To be further inspired by the village, there are plenty of surrounding hills perfect for nature walks and hikes.
Giverny is 45 miles northwest of Paris, and there are a few ways to get there. The train takes 40-60 minutes from Gare Saint-Lazare.
Buy a ticket for Vernon, which is the closest stop to Giverny.
From there, Monet's home is 5km (1 hour walk, or take a quick cab ride). Visitors can also travel to Giverny and Monet's house via mini-bus or tour if preferred.
Try to get there when it opens to avoid the crowds and get some of the most stunning photos.
*You can book a half-day trip with a small group.
Château De Vaux-Le-Vicomte
Château De Vaux-Le-Vicomte is located in Maincy. It's a stunning example of a Baroque French château.  
Although it may not be as famous, it served as King Louis XIV's inspiration for Versailles. 
Less famous means fewer crowds!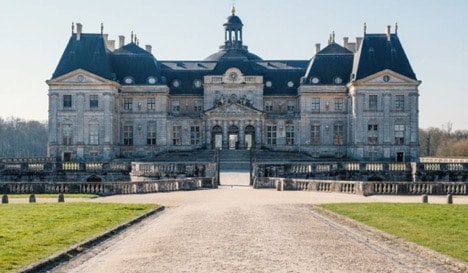 Head to the ramparts for sweeping views that overlook the entire estate, including the classical French gardens. The château was completed in 1661 for the finance minister to King Louis XIV.
One of the shorter day trips on this list, Château de Vaux-le-Vicomte, is only 40 minutes from Paris. The journey requires a train, followed by a brief taxi ride.
*You can book the visit to De Vaux-le-Vicomte Castle and Fontainebleu with a small group.
Château de Chantilly
Contribution: Chrysoula, Historic European Castles
Château de Chantilly is a great alternative to the Palace of Versailles as it is just as absolutely breathtaking but has much fewer crowds.
There are loads to discover about the Château de Chantilly, from its unusual shape and tumultuous history to the engineering feats required to make the gardens so stunning.
Thankfully, the Château de Chantilly offers a free audio guide experience so you can learn all about the history of the palace. Be sure to explore some of the highlights, such as the Duke d'Aumale's Library, the Picture Gallery, and the Grand Écuries stables.
As Henri d'Orleans was an intelligent and eclectic character, many displays and performances hark back to his interests, such as equestrian shows, art exhibitions, and historical walking tours.
Travelers can easily visit the Château de Chantilly as a day trip from Paris. Simply take the TER train from Paris Gare du Nord to the Chantilly-Gouvieux station (25 mins).
From here, it is a gentle 15-minute stroll to the château. Alternatively, you can take the RER D line to the same stop.
Visitors can purchase a TER/Château entrance ticket for 25 from the Gare du Nord. This includes a round trip and a castle ticket (chateau, gardens, stables, and exhibitions).
If you go by car, you can book in advance the entrance ticket.
Fontainebleau
Contribution: Erica, Travels with Erica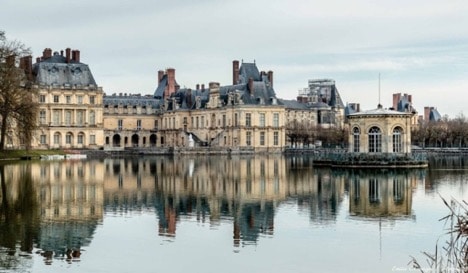 Château de Fontainebleau is one of the most underrated French palaces and is the perfect place to visit on a day trip from Paris!
The palace was used by French royalty as a place to escape their busy lives in Paris and relax in the countryside.
It is close enough to Paris that kings and queens could visit the palace for short country breaks without having to worry about spending too much time getting there.
Inside Château de Fontainebleau there are four museums and three chapels! The painting gallery and Napoleon I museum are not to be missed! If you enjoyed the Louvre, you'll love the museums in Château de Fontainebleau!
You should also leave enough time to explore the palace gardens.
There are over 130 hectares of gardens and an entire forest you can explore.
Even if you're visiting when the flowers aren't in bloom, you should dedicate an hour or two to exploring the green space around Château de Fontainebleau.
The best part about going to Château de Fontainebleau on a day trip from Paris is that it is incredibly easy to get there! It is only a short 40-minute train ride.
Trains to Château de Fontainebleau depart from Gare de Lyon train station and depart once every hour. You get off at Fontainebleau-Avon and then take a short bus ride into the city.
Château de Fontainebleau is the perfect alternative to Versailles.
It is less crowded but still packed with history and beauty.
Reims
Reims is a place that should not be missed on any itinerary in Northern France. It's a city steeped in history and glorious architecture.
One of the best things to do in Reims, especially if you are interested in WWII, is the Musée de la Reddition (the capitulations museum).
This discrete brick building is where Germany signed surrender to the Allies, ending WWII with the capitulation of the Third Reich. It's an incredibly moving experience.
In addition to Reims' role in WWII history, it's also in the champagne region of France. The city is home to some of the most renowned champagne maisons in the world.  
Champagne is just one aspect of French culture that has people worldwide enamored. Do you have a France-lover in your life? Check out this ultimate guide of French gifts!
Explore a bit of history and a bit of architecture – the Reims Cathedral and Palais du Tau are both UNESCO World Heritage Sites. Then, head to some underground cellars for an authentic champagne tasting in Reims.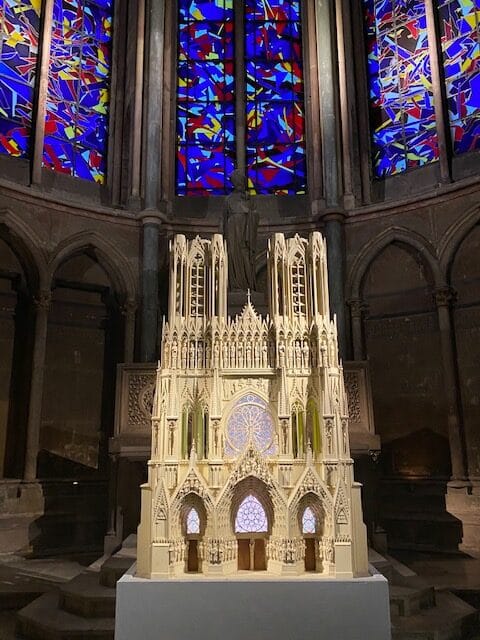 Reims is one of the shortest destinations from Paris on this list, at less than an hour by train.
Must-Visit Places 1 ½ hour from Paris
Versailles Palace
Contribution: Lee, The Travel Scribes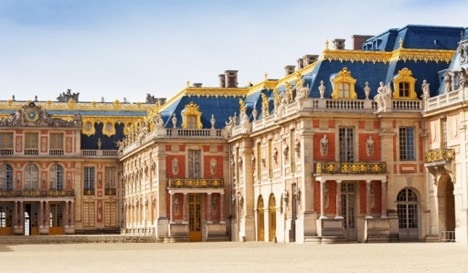 It's probably the most obvious day trip out of Paris – Versailles! Hop onto the railway to Versailles to descend on the exquisite Palace of Versailles. 
Simply head to any Metro or RER station in Paris and key in the Versailles Château Rive Gauche station to get your tickets to this historical sight.
The home of the royal family, Versailles was the political epicenter of the country during Louis XIV's reign. The Palace of Versailles was where he and his family called home until it was attacked in 1789.
This imposing chateau is a huge tourist attraction not just for the exquisite buildings but for the picturesque gardens that surround the property.
Dating back to the 1600s, you'll find yourself transported back in time as you wander the halls, taking in spectacular rooms like the Galerie des Glaces, the huge central 'Hall of Mirrors,' which boasts more than 350 mirrors. 
Or make like Marie Antoinette and visit the Queen's Apartment where she once lived (and escaped from during the Revolution!).
Stroll through the expansive gardens to gasp over the mile-long Grand Canal, witness the epic fountain displays (one of the best spring celebrations around the world!), or just get lost in the many garden groves.
The train journey on the RER Line C takes between 60 and 90 minutes, depending on your starting point. Actually, it has several other key stops (like the Eiffel Tower, Invalides, or Notre Dame, to name a few) that you could add to your Paris itinerary.
*You can book a guided day trip from Paris, this includes lunch. But you have to book in advance.
Provins
Contribution: Claire, Curious Claire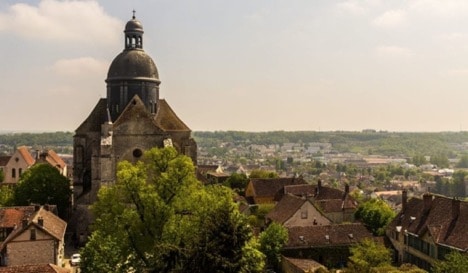 A great day trip to take from Paris is to the medieval town of Provins. The medieval architecture is so impressive that in 2001 it became a UNESCO World Heritage Site.
The well-preserved fortification walls, which are over 1,200 meters in length, are magnificent to see. The best attraction, though, has to be Tour César or Cesar's Tower in English. 
This remarkable tower has been around since the 12th Century and offers spectacular 360-degree views of the surrounding countryside.
Provins is easy to get to from Paris, with trains running every hour from Gare de l'Est. The journey takes about 1 hour and 24 minutes in total, with the first train leaving at 6:46 am. 
Trains back to Paris Gare de l'Est also run once an hour until late in the evening. This means plenty of time to make the most out of your time in Provins.
Provins is within Zone 5 of the transport zone, so train fares are included within the Paris Visite zone 1-5 travel card. If you only have the zone 1-3 travel card, the train fare will cost €12 each way.
Chartres
If Gothic architecture is your thing, come to Chartres. Here you'll see one of the best-preserved Gothic cathedrals in all of France, if not the world. 
Designated a UNESCO World Heritage Site in 1979, the 13th-century cathedral is remarkably preserved, especially its original stained glass windows.
In fact, in Chartres, you will also find Le Centre International du Vitrail, a workshop museum dedicated to stained glass art.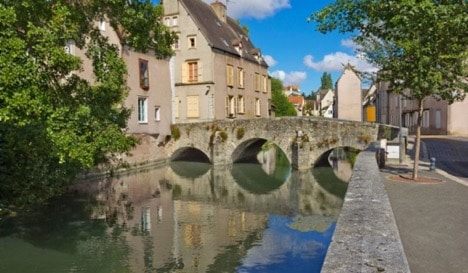 Other areas of the Old Town were mostly destroyed during the 1944 bombings.
The Church of Saint-Aignan is another gorgeous place to visit, with its cerulean blue interior accents and wooden barrel-vault roof.
Chartres is a mere hour and fifteen minutes from Paris by train.
Metz
Contribution: Martina & Jürgen, PlacesOfJuma
Pictures by me 🙂
The beautiful city of Metz is in the Northeast of France, near the borders of Germany and Luxembourg.
On a day trip from Paris, you will have the chance to explore many lovely places in that town. Imagine picturesque gardens, a historic old town, the many delicious French restaurants, and noble boutiques.
These are just a few of the top highlights on any trip to Metz.
This charming town is settled directly on the marvelous Moselle River. Bridges here connect to the island of Saulcy, a charming area with many buildings from the 18th Century.
On warm summer days, people love to stroll along the riverbanks, have a picnic, or take a romantic boat ride on the beautiful river.
The main attraction and an absolute must-visit is the Metz Cathedral. It's positively one of France's most beautiful and largest Gothic church buildings.
Also interesting is the Opéra-Théatre de Metz Métropole, which is one of the oldest opera houses in Europe.
Another highlight is the Place Saint-Jacques. This spot is well known by locals and tourists for its many lovely cafés and restaurants. Grab a spot on the terrace, a popular option in summer.
All in all, Metz is truly outstanding and with lots of historic charm and plenty of wonderful attractions. For sure one of the best villages to visit in the area surrounding Paris.
If you go in Christmas Time, don't forget to do the Christmas Magic Walking Tour.
Get into the holiday spirit on this guided Christmas walking tour in Metz. Together with a professional local guide, visit the most beautifully decorated places and hear local Christmas stories and legends.
Visits To Do 2 hours from Paris.
Rennes
Rennes is the capital of the region of Brittany. It is best known for its art, history, and lively university vibes. It was also voted 'most liveable city in Paris' by L'Express in 2018.  
The medieval streets of its picturesque old town are well worthy of a day or two of exploration. Most of old Rennes was burnt down in a city-wide fire during the 18th Century.
Still, there are some preserved and authentic spots to explore.
The streets around Place Ste-Anne are lined with gorgeous, half-timbered houses. Place des Lices is home to the magnificent Saturday-morning market, one of the largest in France.
Near the old town are the Thabor Gardens, created in the 19th Century. The public gardens are laid out over 24 acres and include a French garden, an English garden, manicured lawns, an aviary, and a noted botanical garden.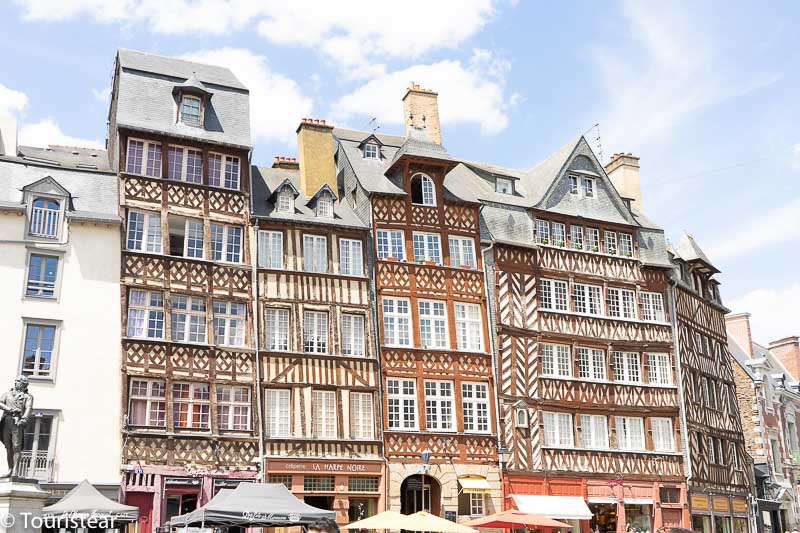 You'll find around 3,000 species of plants here!  
There are also frequent events hosted at the gardens during the summer months.
Rennes can be reached from Paris in just under two hours by train.
Rouen
Rouen is a city also located in Normandy. It is most famous for its Notre Dame Cathedral, the Joan of Arc Tower, and the Gros Horloge, a gorgeous clock located in the Old Town.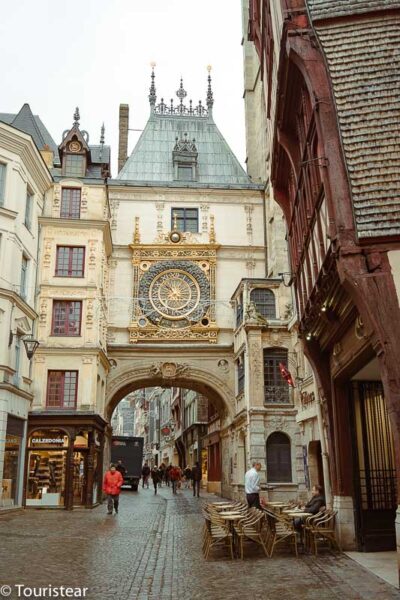 Rouen Cathedral is a stunning example of Gothic architecture and is the burial site of Richard the Lionheart! The Tour Jeanne d'Arc (Joan of Arc tower) is a monumental piece of history. 
Only this tower remains of the 13th-century castle where Joan of Arc was imprisoned in her last days. She was burnt at stake in Rouen in 1431.
The market square and old town of Rouen are absolutely stunning. The focal point is the Gros Horloge, and the streets are lined in half-timbered houses, giving it a somewhat Germanic feel.
Aside from the churches and Joan of Arc sites, the best thing to do in this city is to wander around, gawk at the endless beauty, and eat cheese.
Who's complaining!?
Rouen is a short 1½ hour train ride from Paris. But if you prefer to go on a guided tour, you can book it here.
Senlis
Senlis is a quaint medieval town that can easily be doable paired with a day trip to Château de Chantilly. If old-world French charm is what you're after, Senlis is perfect.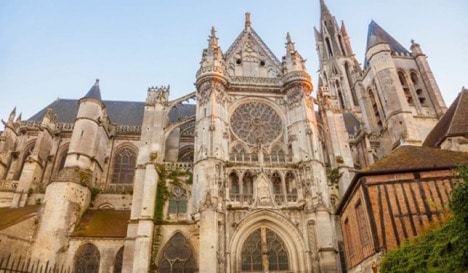 Popular things to do in Senlis include exploring the picturesque old town, walking along the city ramparts, and taking in the epic beauty of the cathedral.
Senlis isn't too far from Paris, making it an easy day trip. By train, take the regional line from Gare du Nord to the Chantilly station, then the local bus to Senlis.
Lyon
Contribution: Emma, Travel on a Time Budget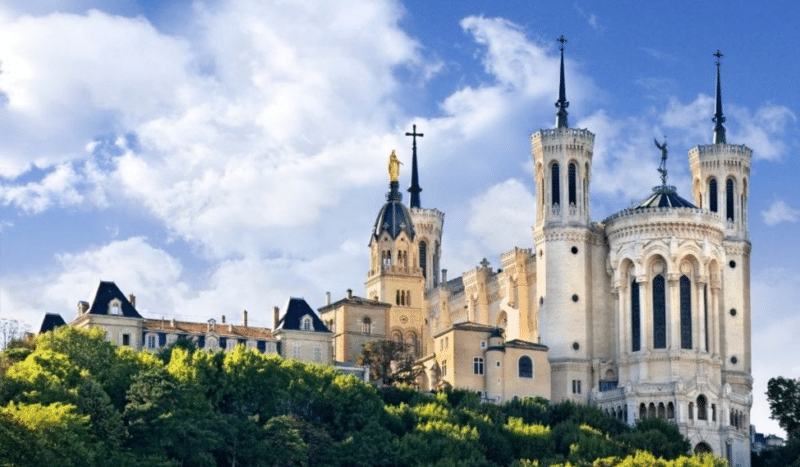 Lyon is perfect for a day trip from Paris. Situated in central France, it takes only two hours to reach by train (driving takes longer).
France's third-largest city is recognized as its gastronomic capital. So if you want to visit Lyon, make sure you try some of its eateries; you won't be disappointed. But there's much more to the city than just the food and plenty to see and do.
Many of its attractions are located around Vieux Lyon. Characterized by its warren of narrow cobbled streets, covered passages, and mix of medieval and Renaissance architecture, it's lovely to potter around here. It's also where you'll find the Cathedral St-Jean.
Elsewhere, there's the Place des Terreaux, with its impressive 19th-century fountain, and the Place Bellecour, one of Europe's largest squares. 
On the hill in Fourviere, there's a magnificent basilica. From here, you can enjoy panoramic views of Lyon and the two rivers flowing through it – the Rhone and Soane.
Lyon is a truly walkable city, as most of its main attractions are located in only a few neighborhoods. It may not have the glitz and glamour of Paris, but it has a real understated charm to it.
One of the best spots in Lyon is the Passerelle Saint-Georges, a small red bridge straddling the Soane.
From halfway across, you get a fantastic view of Vieux Lyon and the hill above. It's the perfect place to reflect on your visit and to take in Lyon's beauty.
Best Places to Go within 2 ½ hours from Paris
Amboise
Many tourists in Paris dream of taking a trip to the Loire Valley to see the famed châteaux. However, getting to the Loire Valley requires either a rental car or a private tour, as the public transportation options are not conducive to a day trip.
Thankfully, the town of Amboise has a few châteaux in its vicinity on the Loire River. This includes the former residence and burial place of Leonardo da Vinci. And it's completely accessible by train!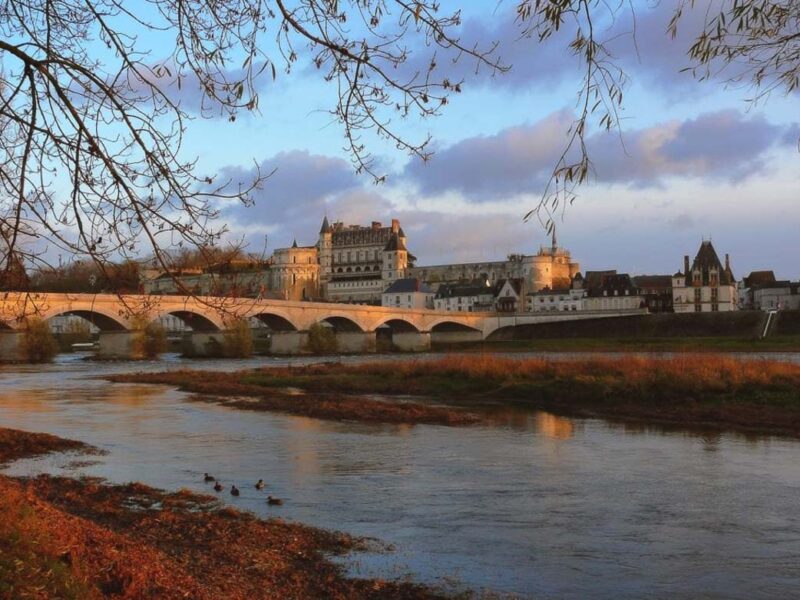 You can have a full day enjoying the châteaux of Amboise, including the Château Royal d'Amboise, Château du Clos Lucé (Leonardo da Vinci's last residence before his death), and Château Gaillard.
Amboise is a quaint, charming, and classic French country town. A day exploring châteaux in Amboise is a day well-spent.
Take the train from Paris and arrive in Amboise in just under 2½ hours.
Deauville & Trouville-Sur-Mer
An option by the sea, Trouville & Deauville is located in the Calvados department of Normandy.  
These communes are often considered the Parisian Riviera. At Deauville & Trouville, you'll find sandy beaches, casinos, horse racing, marinas, and even an International Film Festival.  
The area is considered by many to be one of the most prestigious seaside resorts in France.
If you decide to spend more than a day in the area, consider going to Honfleur! Honfleur is GORGEOUS, but it's three hours by bus from Paris.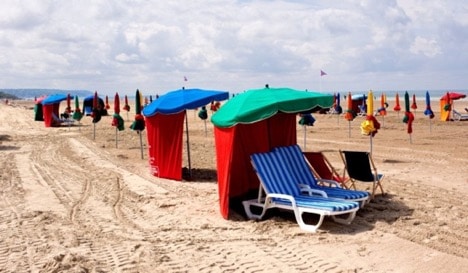 Perhaps, make a weekend out of it and take an excursion to Honfleur to see a picturesque medieval port city where the Seine meets the English Channel.
By train, expect to arrive from Paris in just over two hours.
Strasbourg
Contribution: Sharon, Exploring Our World
Hop on the train in Paris, and in just over two hours, you can arrive in the fairy tale town of Strasbourg. Located near Germany in French Alsace, Strasbourg combines German and Latin culture.
The result is quaint architecture, winding cobbled streets dating back to Roman times, and an iconic cathedral in the main square. The entire center of the town is an island known as the Grand Ile.
This UNESCO World Heritage site is compact enough that you can explore it all on foot.
Walk from the train station about 20 minutes to peruse the main car-free boulevard of shops and sidewalk cafes. Then you arrive at the lively market square, with people crisscrossing to visit eateries and the cathedral.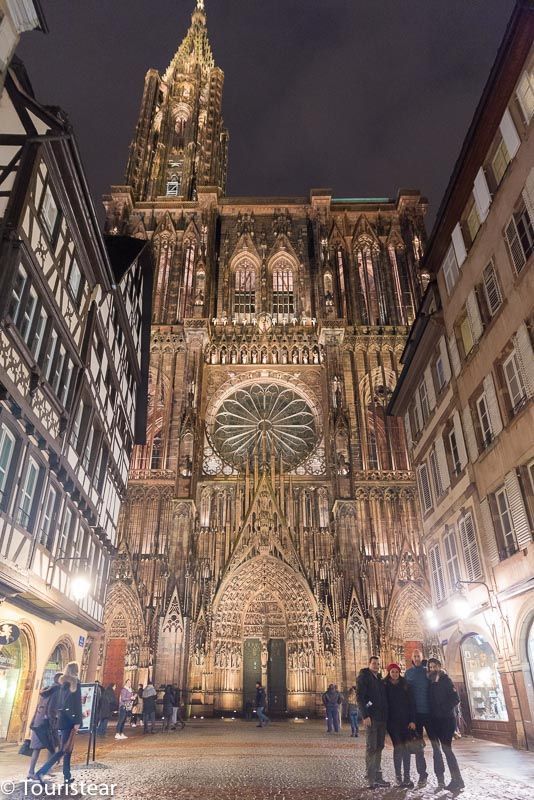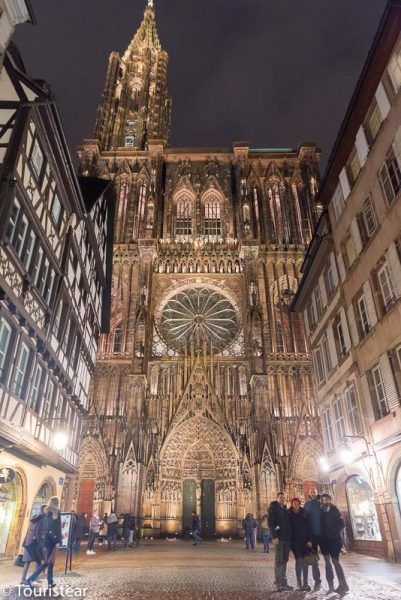 This fine example of late Gothic architecture was the world's tallest building in the mid-1600s to the mid-1800s. It is certainly ornate, and it soars skyward.
You can tour the church and time your visit to see the historic astronomical clock that chimes each day at 12:30.
Especially charming is Petite France at the western end of the island. Canals, bridges, flowers, and cafes make this a picturesque place wherever you wander.
The half-timbered homes and shops are dated to the 1500s when Strasbourg bustled as a center for the tanning industry. Be sure to look for the Ponts Couverts, the three towers on the canal that date to the 1300s.
Strasbourg lies at the heart of the wine route of southern France, so enjoy a lunch of fresh local food and a glass of Riesling. Then train back to Paris full of Alsatian cuisine and treasured memories.
Bayeux
Bayeux is a town located in the Calvados department of Normandy.
Located on the Aure River, the town has a Medieval center and a gorgeous 13th-century cathedral.
Bayeux is best known for its Bayeux Tapestry, which depicts the 11th century Norman conquest. Musée de la Tapisserie de Bayeux holds the actual tapestry as well as other artifacts from the period.
Another museum worth visiting is the Museum of the Battle of Normandy. This place has many D-Day artifacts and interesting historical information relative to the battle.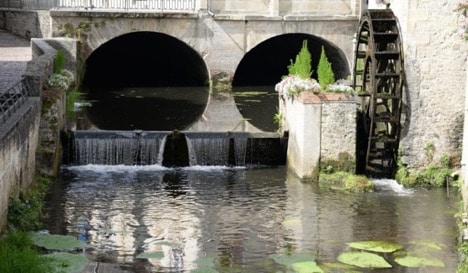 On the outskirts of the city is a Botanical Garden in case you need a reprieve from war memorabilia! Be sure to drink some Calvados while you are here, as well! Calvados is a classic pear or apple brandy that is exclusive to the region.
From Bayeux, if you're interested in WWII history, you can take a bus to Colleville-Sur-Mer, followed by a brief walk to the Normandy American Cemetery & Memorial.
Bayeux takes less than 2½ hours by train from Paris.
London
Contribution: Darek, Darek & Gosia
A trip to Paris is an unforgettable experience. The number of monuments and interesting places that can be seen and visited there are just countless.
But there are also many great please around the capital city you can easily visit on a day trip. And one of them is… London!
Come to Paris to go on a day trip to London? You have to be a bit mad, right? Not really, as this will be a very interesting one-day adventure.
The Eurostar train journey through northern France, under the English Channel, and southern England is a great attraction itself. And one day in London will be a great choice as your trip from Paris.
London is one of the most beautiful cities in the world with attractions such as Big Ben, the London Eye, Tower Bridge, and Buckingham Palace.
The peak of the tourist season is from June to August. During this time, expect Eurostar train tickets to also be a bit more expensive. It's best to go on the trip in early spring or fall.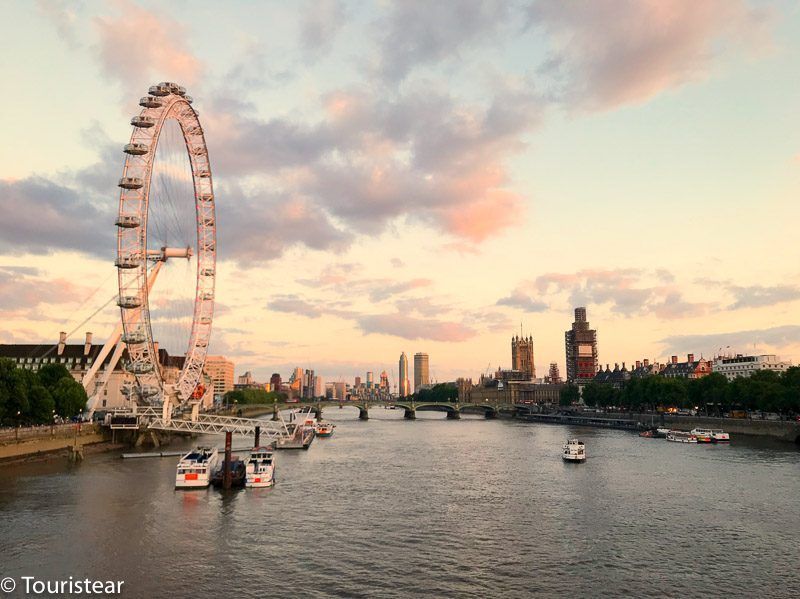 The journey from Paris takes around 2 hours and 30 minutes. The good news? You will save one hour – you are changing the time zones!
If you leave Paris in the morning, you can spend about 10 hours in London. Lots of time for sightseeing and souvenir shopping. Are you ready to visit London on a day trip from Paris?
Luxembourg
Luxembourg City is the capital of the teeny-tiny country Luxembourg. Constructed among the deep valleys cut by two different rivers, it's best-known for its medieval ruins.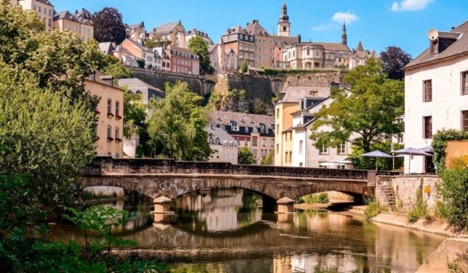 Along ramparts above, the Chemin de la Corniche promenade offers dramatic viewpoints.
Head to the Grand Ducal Palace (residence of the Grand Duke), explore the Bock and city casements with all the narrow, winding tunnels, or head to one of the museums for some contemporary art.
Head to this tiny country in only 2½ hours by train.
Brussels
Contribution: Bhushavali, My Travelogue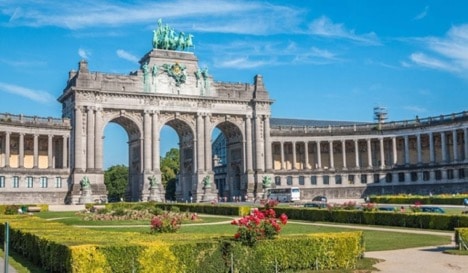 Brussels is a fast, budget-friendly day-trip from Paris, thanks to the Izy train.
The journey time of 2hrs starts at just €10 one way! While Brussels has so much to see and do that you could do a weekend trip or longer, it is possible to see the highlights in one day or just do a thematic tour.
Brussels is well connected by metro, bus, and tram, so a 24hr ticket (€7.50) on STIB is all that's needed.  
Begin with the super popular peeing boy Mannekin Pis and don't miss his sister & dog – Jeanneke and Zinneke Pis. Continue to the gorgeous Grand Place. It's totally free to see all these places, and they are open 24×7. 
While here, check out the Belgian Beer museum to see the historic equipment used to make beer. Indulge in some yummy waffles and sip a couple of local beers at Delirium!
The Comics culture of Brussels should definitely be experienced if you're with toddlers or interested in comics. 
Don't miss Belgian Comic Strip Museum and/or MoOF museum. And take a portion of the Comic Strip walk to see at least some of the murals & street art.
If interested in art history or architecture, Koekelberg Church's unique art deco architecture is a must-visit. Very close to it is the Belgian Chocolate Village. Wrap up with the very special must-see place – Atomium!
Must-Visit Places at 3 hours from Paris
Colmar, Charming Day Trip From Paris
Colmar is truly the stuff fairytales are made of. Serving as the inspiration for the setting of Beauty and the Beast, It's one of the prettiest places on this list.
Colmar is situated in the Haut-Rhin department of Northeastern France, close to Germany.
This gives it a distinctly Germanic feel, with its half-timbered houses and Alsatian cuisine.
Colmar is best known for its marvelously-preserved Old Town, giving picture-perfect views around every corner.
An area that was formerly designated as the fishmonger's quarter is a winding maze of canals of the river Lauch.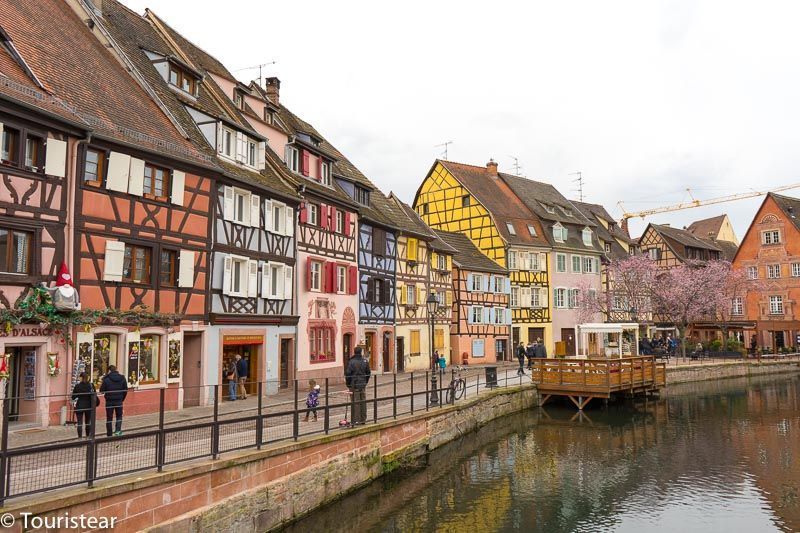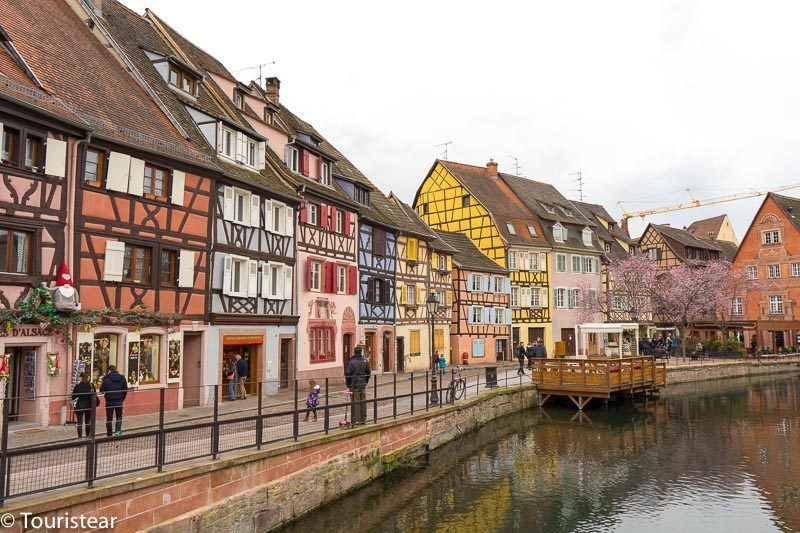 This crisscross of canals is affectionately known as la Petite Venise (Little Venice).
A train ride from Paris to Colmar will take just over 2½ hours.
Bruges, Go to Belgium from Paris
Contribution: Lyubomira, Bulgarian On The Go
Bruges is one of the most picturesque towns in Belgium. It's a perfect day trip from Paris, even though once you set foot there, you might not want to leave. 
Also known as the "Venice of the North," Bruges has been an important economic center in the past because of its port. 
Getting to Bruges from Paris is quite easy. Regular direct trains connect the two cities daily, and the journey takes about 2.5-3 hours each way.
Make sure you book your tickets as early as possible since prices can become a bit steep.
Once you're in Bruges, getting around by foot is your best option. The city is very compact, and the main attractions can easily be reached by walking. 
Since you'd only have one day, it's recommended to go on a free walking tour. It would help you get a quick overview of the city and the historical landmarks of Bruges. 
Not to mention, the tour guides are very helpful if you have any additional questions. English tours are available a few times per day, with occasional tours in French and Spanish.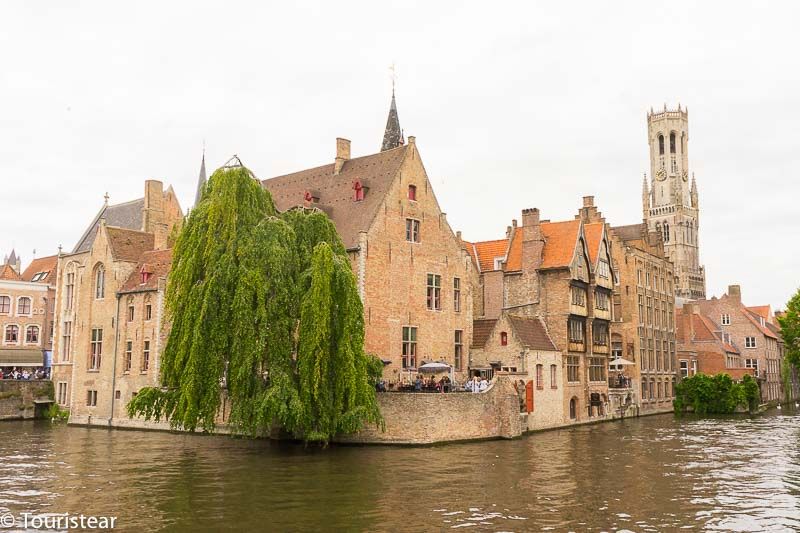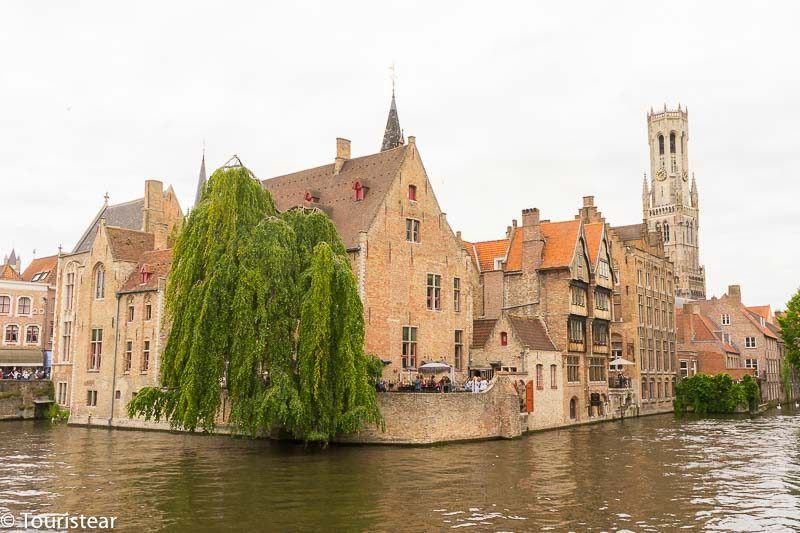 There are many places to see in Bruges, including the colorful historic town, the Minnewater park, the Belfry, the market, and more.
Don't forget to try some Belgian waffles and Belgian chips – some of the typical local food they are very proud of!
Omaha Beach, Historical Day Trip from Paris
For WWII enthusiasts, Normandy is too easy a day trip to not pay homage at Omaha Beach. Omaha Beach was the landing area in northern France used by the Allies in the D-Day offensive.
Today, the beach is littered with the remnants of German bunkers. Ashore, the steel sculpture Les Braves, commends American soldiers. Just in the back of the beach, you'll find the Musée Mémorial d'Omaha Beach.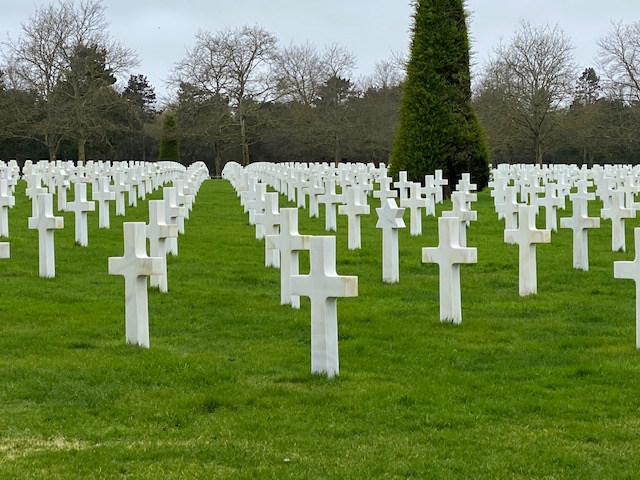 Another nearby visitation site, the Overlord Museum, displays WWII tanks and artilleries.
Étretat
Are you looking for something by the sea? Although one of the further day trips on this list, consider it well worth the journey.
Famous for its wondrous white rock formations that jut into the sea, Étretat is a nature lovers' paradise.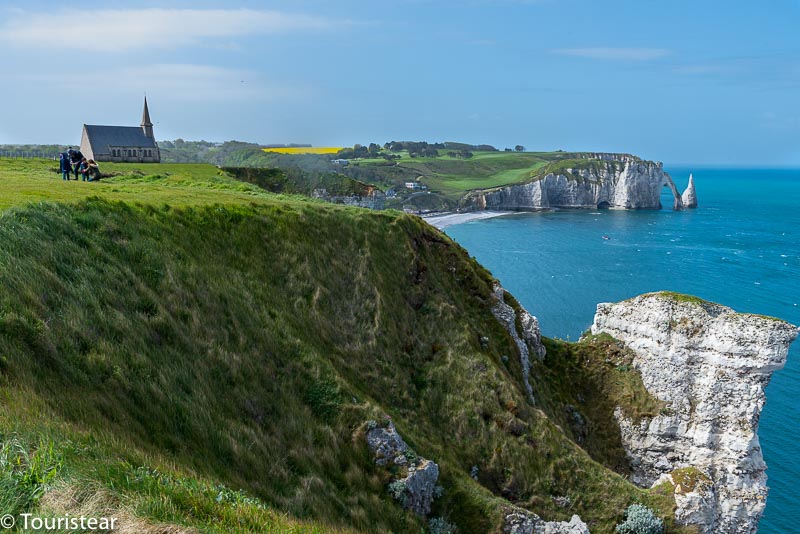 A church on the cliff, Chapelle Notre-Dame de la Garde, offers awe-inspiring panoramas of the Atlantic. Come to Étretat for fresh seafood, salty air, and gardens inspired by Monet – there's even a casino!
Étretat is two hours and forty-five minutes by train, so, a doable day trip from Paris.
Best Things to do at 3+ hours from Paris
Mont-Saint-Michel
Contribution: Jenna, I Know The Pilot
Mont Saint Michel is a breathtaking sight – rising from the waters off the coast of Normandy, this famous tidal island is well worth a visit.
A causeway traverses the tidal flats to the base of the island, where ramparts surround and protect the medieval village within. Home to around fifty residents, the island has experienced a broad range of occupants across the years.
Strategically located off the French coast, the island has served both religious and military purposes throughout history. Now, the Abbey, perched atop the island, is home to several Nuns and Monks who still worship daily.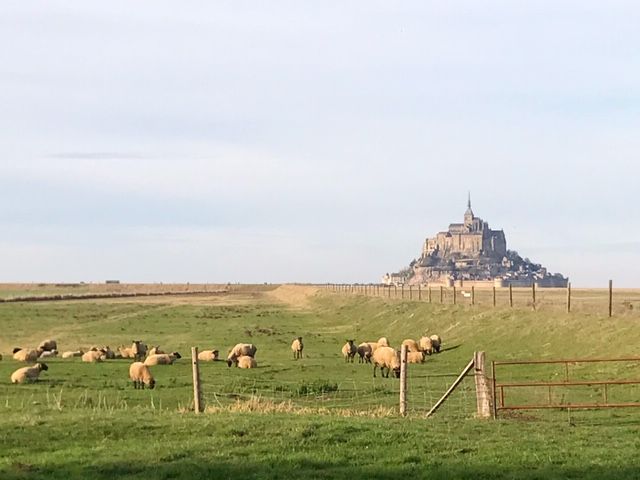 Full of quaint shops, museums, churches, and the 'best omelet in the world,' a visit to Mont Saint Michel has something for everyone.
A walk along the ramparts will give the best views, and no trip is complete without popping in to 'La Mère Poulard,' the famous omelet restaurant. 
The winding, cobbled streets and steep staircases culminate in the Abbey, with its medieval architecture and beautiful cloisters.
The island is completely free to visit if you walk across the causeway. If the walk isn't appealing, you can hire a shuttle bus or carriage.
Travelers can easily visit from Paris – but get an early start!
Summertime is best to visit as the village is open later, giving you more time to explore! There are also summer concerts at the Abbey.
The quickest way to get there is to take the TGV train from Paris Montparnasse to Rennes or Dol de Bretagne, then switch to a coach for the rest of the journey.
If you have a spare day in Paris and want to experience something truly unique, a visit to Mont Saint Michel is a must!
Plan Your Trip to Paris
Last Updated on 23 February, 2022 by Veronica