Last Updated on 15 December, 2020 by Veronica
Clisson is a medieval town with Tuscany architecture. But it is very close to Nantes, in the area of the vineyards. It's a surprising city, and you'll love it!
In today's post, I want to tell you what to see in Clisson, its main attractions, and why you should go.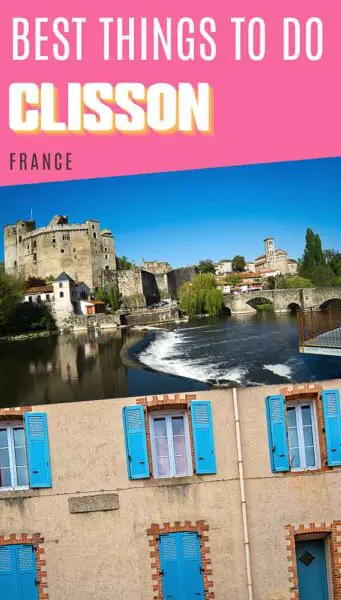 Clisson's (short) history
Before joining the Loire Countries (Pays de la Loire), Clisson was a city that belonged to (French) Brittany. Furthermore, the last Duke of Brittany, Francois II, was born here.
After the French Revolution, in the 19th century, Clisson became an Italian-inspired landscape. FF Lemot, Napoleon's sculptor, settles near Clisson and performs a neoclassical landscape inspired by central Italy. Clisson's décor is the Italian surprise in western France.
Related: What to see in Nantes in two days
Why should you visit Clisson?
Clisson is an amazing city. Historically, it belonged to Brittany, born the last Duke of Brittany, Francis II, father of Anne of Brittany (that of Nantes's castle).
It has a medieval market that shows us the economic dynamism of this city in its best years. It is one of the largest and oldest in France.
After the French Revolution, the city was practically in ruins. But from the 19th century, it underwent a great transformation and became a town and landscape inspired by Italy.
The city is very close to Nantes and has 13 registered historical monuments. Also, it is the most important historical place in the Nantés vineyard area.
It is an ideal place to visit all year round, enjoy its market, small shops, historical heritage, wine and gastronomy, and hiking trails.
The Best things to see in Clisson
Clisson has a lot to do, here you'll find the most important places to visit in the city.
Le Pont de la Vallée (Bridge)
This bridge is a historical monument. It was built in the 15th century, probably by Duke Francois II, to connect the city with the surrounding area. The particularity of this bridge lies in the presence of its 6 waterways and arches of different dimensions.
From the Best Western hotel, you have a great view of the bridge and Clisson Castle. A very typical photo to take on your visit to this beautiful town in western France.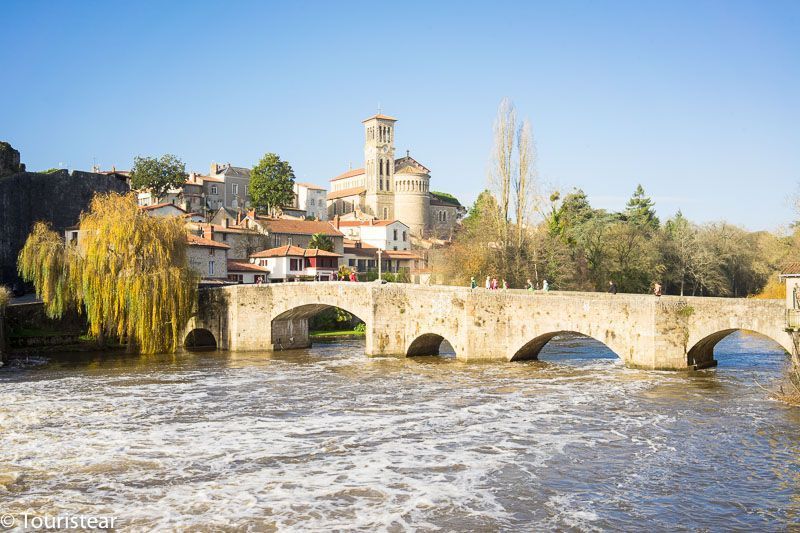 The Medieval Castle
Clisson's Castle has been an impregnable fortress for centuries. Built between the 12th and 17th centuries, this castle protected the border of the Duchy of Brittany.
During the Vendée Wars, it was set on fire. But in 1807, the artist Francois-Frédéric Lemot bought the castle already in ruins and preserved it from destruction.
In 1924, Clisson Castle was declared a historical monument.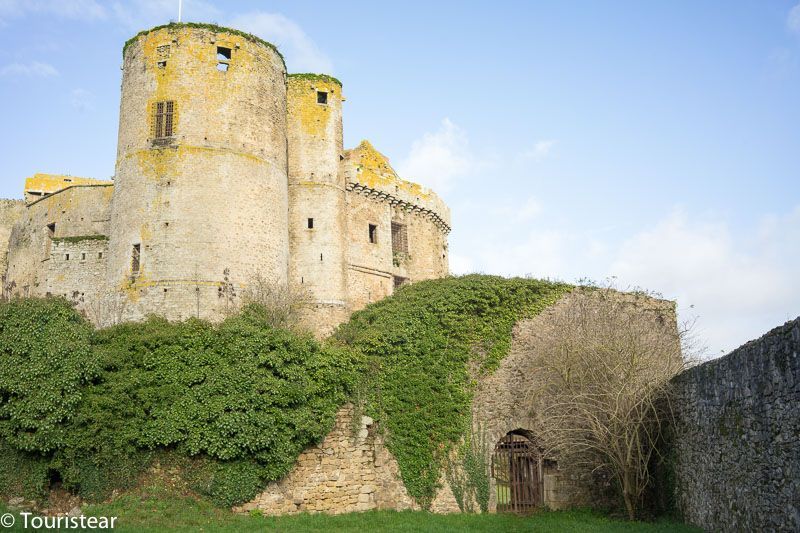 The castle offers themed workshops during the holidays: medieval fabrics, assault on the fortress… Definitely an essential visit.
Garenne-Lemot in Gétigné
It is a romantic and historical walk through Italian-inspired architecture. At the top are the two main buildings: the Villa Lemot and the Gardener's House, the first model building of rustic Italian architecture.
Read: What to see in Guerande in 1 day
Read: A road trip through southern Brittany
The Temple of l'Amitié (Temple of friendship)
It is very curious to find these kinds of monuments in Clisson. You can see it located on the hillside of Saint Gilles. It was built thanks to the sculptor Lemot, in front of his villa.
Its construction was carried out between 1812 and 1825 and is inspired by Greek temples. It was restored in 1995.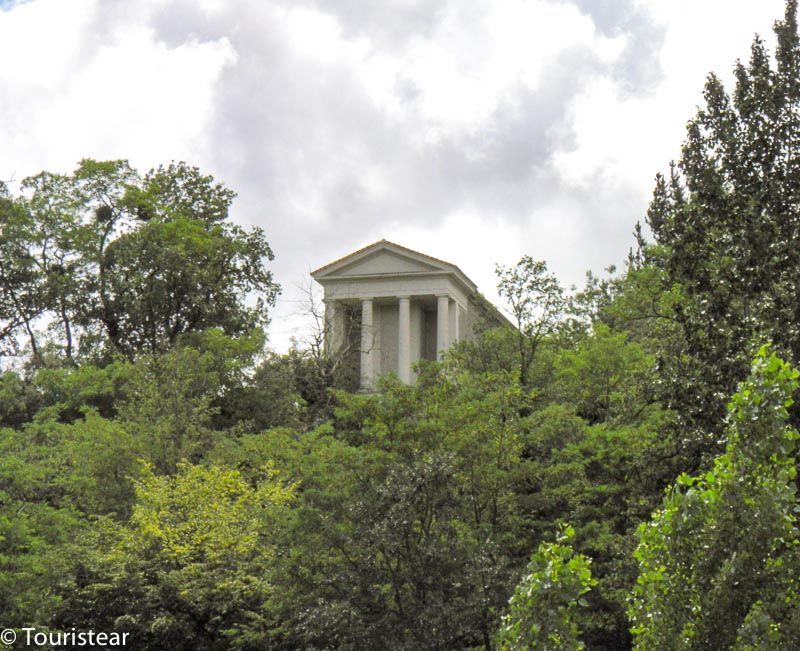 Vesta Temple
We can also find it inside the La Garenne gardens. Built by Lemot, the French sculptor and artist in love with Italy.
Gallery du Minage
This Clisson gallery is an exhibition space in the city center. Both amateur and professional artists exhibit here. There are a variety of styles, painting, sculpture, photography.
Admission is free of charge. Get to know the art of the area.
Read: Visit Bordeaux and get to know its World Heritage Site
Les Halles de Clisson (Medieval Market)
This is where the Clisson market is held. It has been registered as a historical monument in 1923. According to recent reports, it's from the 14th Century. But there is little information about this market before the eighteenth century.
What is known is that it was a prosperous place, and the lords of Clisson helped make it prosperous. They charged taxes on the sale of certain goods.
During the Vendée War, the city was burned and almost completely devastated.
It is said that the city's own extinguished the fire of Les Halles to have a refuge within the city.
Several restoration works have been done to preserve the elements that give authenticity to this monument.
Saint-Jacques Church
The old church of St Jacques is from the XII century and has become a cultural space of the city of Clisson.
It was a Church of Romanesque-style pilgrims. IT suffered big damage during the revolution.
After being restored by the town hall of Clisson, it became a cultural space for the city. People of all ages gather here, and shows and exhibitions are held.
The Gervaux Mill
It is a textile and flour mill more than 600 years old. The owner has documents dating back to 1360.
It was in operation until 1987. But the mill wheel has kept its mechanism intact.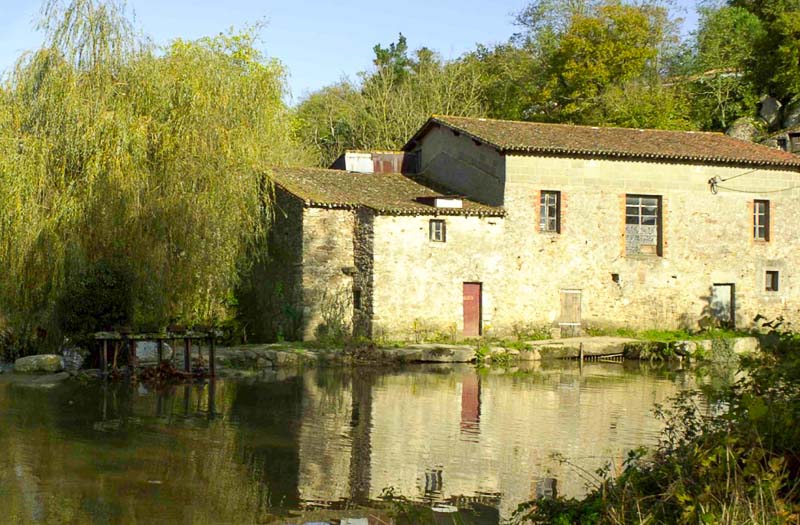 The Plessard Mill
A gem of Clisson's architecture. This flour mill from 1634 has gone through several stages. From flour mill in its beginnings to the electric factory in the early twentieth century.
In 1821, Lemot's son bought it to avoid noise pollution in front of Garenne Park. He expanded it and transformed it into a beautiful Italian-style factory.
St. Antony Bridge
The St. Antony Bridge (le Pont de Saint-Antoine) was built in 1430 by Richard d'Etampes. It is Gothic in style and was one of the main accesses to the city during the Middle Ages.
Trinity Church and Garenne Valentin Park
The Trinity Church is the oldest church in Clisson and the inspired convent of Fontevraud. Its construction dates from the twelfth century, although it has been greatly modified in the seventeenth century and the centuries to come.
In the seventeenth century, the priory of Fontevraud was installed, and many modifications were made.
In 1970, a choir tomb was exhumed that was probably from the church's origin in 1149.
It was badly damaged during the Vendée Wars. In the 19th century, it was acquired by Valentin, a friend of Lemot's. Who made it his summer residence.
Garenne Valentin Park is very bucolic and smaller than Garenne Lemot's, as it has 4 hectares, Lemot's is 13!
The Church of Notre Dame de Clisson
It was built in the old Collegiate Church. It was reformed in the nineteenth century in the Italian style. As you can see, its bell tower is a Tuscan style, and a Basilica of Rome inspires its main buildings.
To take the best photos go to the terrace of the Best Western hotel or the Valley Bridge.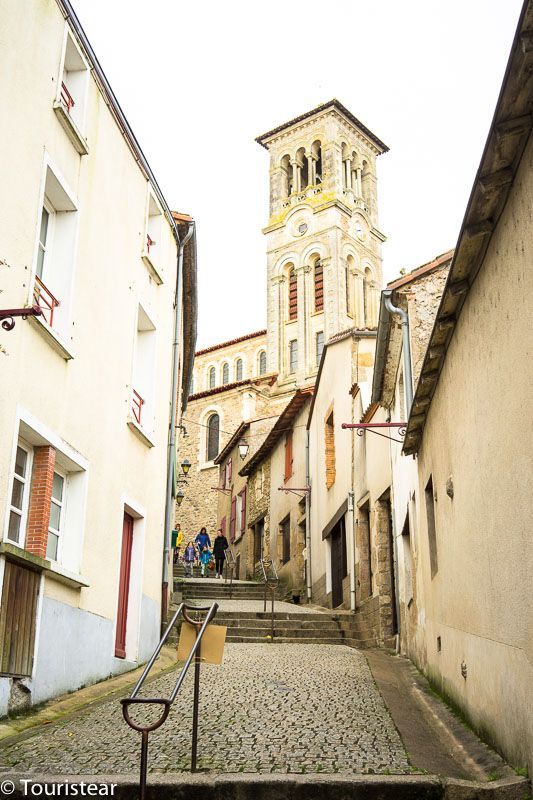 Le Couvent des Cordeliers
The Cordeliers settled in Clisson in 1410 by Olivier de Clisson's daughter. On the outskirts of town, in the suburb of the trinity. The monastery caught fire in 1793-94.
There is only one fragment of the chapel's facade, a door with 16th-century moldings and some church arches.
The convent is located within a private property but is visible from the street. Owners allow access at certain events, such as Heritage Days.
Vineyards near Clisson (Le vignoble de Nantes)
Clisson is located in the so-called Nantes vineyard (Le vignoble de Nantes). It is about 15,000 hectares, with a great diversity of landscapes that can be explored all year round.
The Muscadet, the star wine of the Nantes vineyard. It is a dry white wine produced in this region that you can enjoy with good fish, white meat, and cheese, especially goat.
It is a typical wine of this area. Please take the opportunity to try it in one of the restaurants and bars in Clisson or on a visit to the vineyards.
The Clisson's Festivals
Montmartre to Clisson Art Festival
The best-known festival in Clisson is Hellfest. But for those who prefer other art, there's the Montmartre Clisson festival.
It is celebrated on the first weekend of June. In 2019 it was May 25th and 26th. Artists invade the streets of Clisson with their works. There are paintings, photography contests, and the atmosphere is vivacious.
Hellfest, Clisson Rock and Metal Festival
Every year, in June, Clisson hosts the most important music festival in France. Hellfest is a rock, metal, and hard rock festival, the most important in the country and of the most important in Europe. They play world-renowned bands, and tickets are purchased well in advance because they sold out super fast.
Hotels in Clisson. Where to Stay
The Best Western Hotels
The most in-demand hotel in Clisson is the Best Western. This is because you are on the site with the best views of the town. So if you want to stay here, you have to make the reservation in advance.
Hotels near Clisson
There are also more places to sleep in Clisson or very close. Like the Chateau de l'Oiseliniére just two kilometers from the center of Clisson.
Planning a visit to Clisson? It is a very picturesque and very close town to Nantes. Add it on your road trip or your Nantes side trip.
Where is Clisson, France
The town of Clisson is located 35 kilometers (21,7 miles) from the center of Nantes. In the department of the Loire Atlantique (Loire-Atlantique) west of France.
How to visit Clisson as a day trip from Nantes
Getting Clisson by train
Driving to Clisson from Nantes by car
By Bike
By train: regional trains depart daily from central Nantes, taking you to Clisson less than 30 minutes.
Price: € 6 round trip
By car: you can rent a car in Nantes to visit Clisson. The price of the car rental varies depending on the car you choose.
My recommendation is to book it online and pick it up at the Nantes train station (very close to the castle). From there you can take the highway very easily.
To park in Clisson, it is better to do so on the village's outskirts or in the area behind the castle.
By bike: there are cycle routes that link Nantes to Clisson. The journey is between 28 km and 33 km, depending on which one you choose. These routes are quite well indicated on Google Maps.
Prepare your trip to Clisson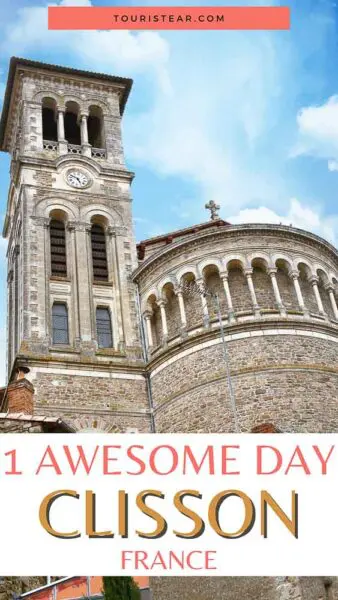 We are not native English speakers but we have decided to translate our post to English so we can share it with the whole world. If you see any spelling mistake or something, please let us know, it is so important to us. If you do so, we can improve our post and also our English knowledge! Thanks in advance!!!
This post may contain affiliate links. That means if you click and buy, I may receive a small commission (at zero cost to you). The commission helps us to keep this project running and to continue creating useful content for your travels. Thank you so much for your support! Please see my Affiliate Disclosure Policy for more information.
Book Your Trip
Book Your Flight
Find a cheap flight by using Skyscanner.
Book Your Accommodation
You can book your hostel, hotel, or apartments on Booking.com.
Don't Forget Travel Insurance
Travel insurance will protect you against illness, injury, theft, and cancellations. It's your protection in case anything goes wrong. You never go on a trip without it.
Best companies for activities
Check out Civitatis.com and find the best tours in English (French, Spanish and Italian)
Looking for the best companies to save money with?
Check out my resource page for the best companies to use when you travel! I list all the ones I use to save money when I travel – and I think will help you too! (Is in Spanish yet)