What to see in Bordeaux in 1 or 2 days?
Bordeaux, the capital of the Aquitaine region, is a city in southwestern France that is a UNESCO World Heritage Site. It has also been on the list of recommended cities to visit by Lonely Planet and we are the second time we have visited it.
The first time we went to Bordeaux we arrived in the afternoon/night, with the idea of taking a walk and resting, as our trip was to England and Scotland. But we were able to do some sightseeing in Bordeaux and what we saw of the city we loved and on this second trip we spent a little more time.
So if you are looking for information on what to see in Bordeaux and what to visit in a day or two in this city, here we tell you.
We did the circuit for the UNESCO World Heritage site of Bordeaux, for the places and monuments that led UNESCO to distinguish this city as a World Heritage Site.
Bordeaux: UNESCO World Heritage Tour
Monument des Girondins
This route begins at the monument to the Girondins, which was erected in tribute to these deputies who were guillotined because they were accused of conspiring against the Republic in 1793. In theirs honor, this 43-meter-high column was erected between 1895 and 1901.
Gobineau House
This building is called the Flatiron Bordeaux. If you have been to New York or have seen photos, series or movies you will know this famous building. And… in Bordeaux they have their own Flatiron that was built in 1788 and inside you'll find the houses of the Interprofessional Council of Bordeaux Wine and its wine bar which is an institution of the city.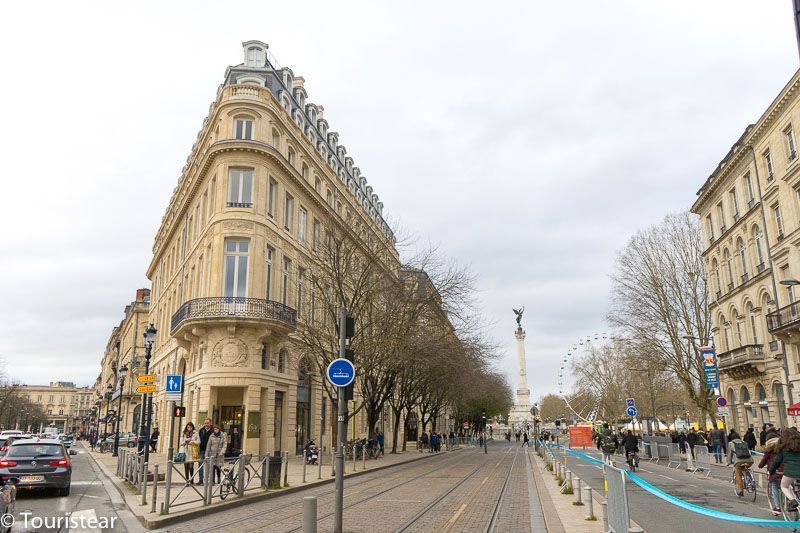 Grand Theatre
They say that the staircase of this beautiful building inspired the architect of the Opéra Garnier in Paris and it's a must visit place in Bordeaux.
It is preceded by a portico with twelve stone statues, they are nine muses accompanied by Minerva, Venus and Juno. Access can be done with the City Pass.
Notre-Dame Church
The Church of Notre-Dame has nothing to do with the Parisian of the same name. It was built by the Jacobins and has a Baroque style. The entrance square has been used to shoot several films.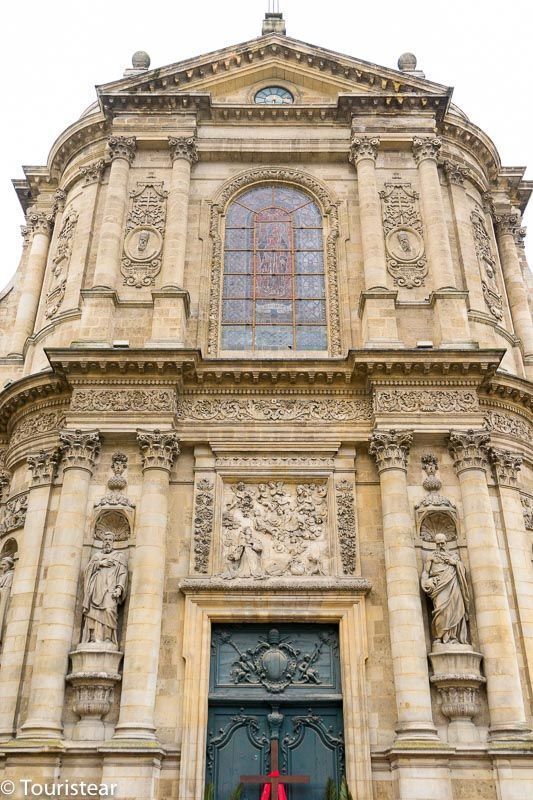 Porte Dijeaux
It is the gateway to the western part of Bordeaux since Roman times. The one we see today was built by Voisin between 1748 and 1753. It bore the name of Gate of the Dolphin until the French Revolution.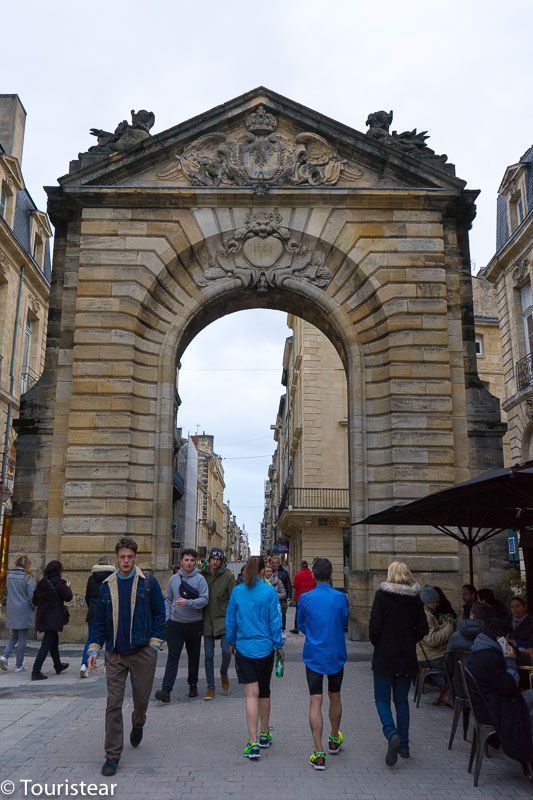 Palais Rohan
You'll continue walking along Rue des Remparts and arrive at Rohan Palace and the City Hall. This palace was first an archbishop's palace in 1784, later in 1800 it became the prefecture of Gironde, imperial palace, royal residence and then in 1837 in the town hall.
It's accessible with the City Pass.
Saint-André Cathedral and Pey-Berland Tour
A few steps away we find the Cathedral Saint-André and the Pey-Berland Tower. It was built between the 12th and 16th centuries. It is a Cathedral in Gothic style.
Two royal weddings were held here, one between Leonor of Aquitaine and the future Louis VII and later, between Anne of Austria and Louis XIII.
The Tower of Pey-Berland is a bell tower that is separated from the cathedral and you can visit and contemplate the fabulous views that it has of the city.
Aquitaine Museum
It is the museum of history of Aquitaine, and in particular of Bordeaux, from prehistory to the present day. You can access it with the city Pass, if you visit it, tell us what you thought, since we only passed outside.
Grosse Cloche
It is the historic bell tower of the city and a vestige of the old defensive gate of the thirteenth century. Their bell weighs 7800 kilos! (17196 pounds!)
It's one of the prettiest gateways to a city I've ever seen. You have to visit it in your trip to Bordeaux and tell me what you think.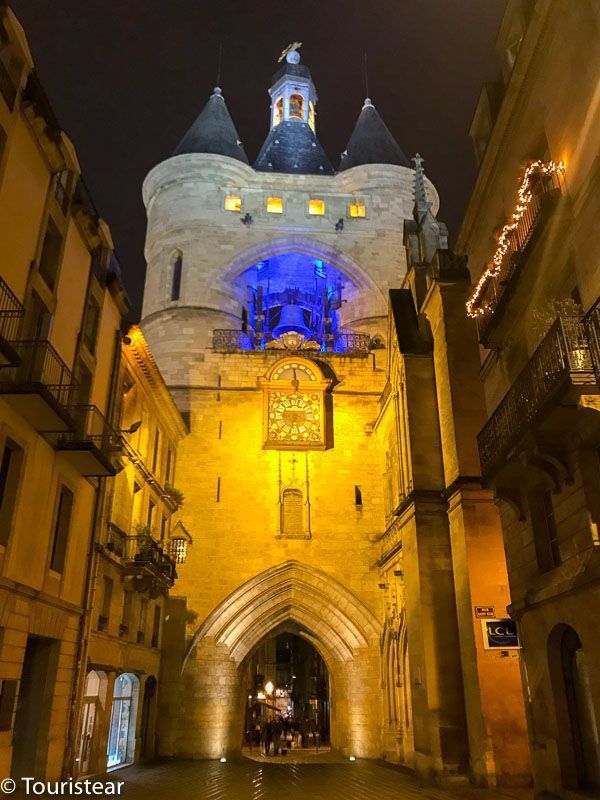 Place Fernand-Lafargue
A few centuries ago it was the market square, also here was installed the pillory and today together with the Rue de Saint James is one of the most fashionable places in Bordeaux. Here you can stop for a drink.
Porte Cailhau
This beautiful gate dedicated to King Charles VIII, was the former defensive gate of the city between 1493 and 1496. It is located in front of the Garonne River and can be accessed with the City Pass. Don't you tell me it doesn't look like a little castle?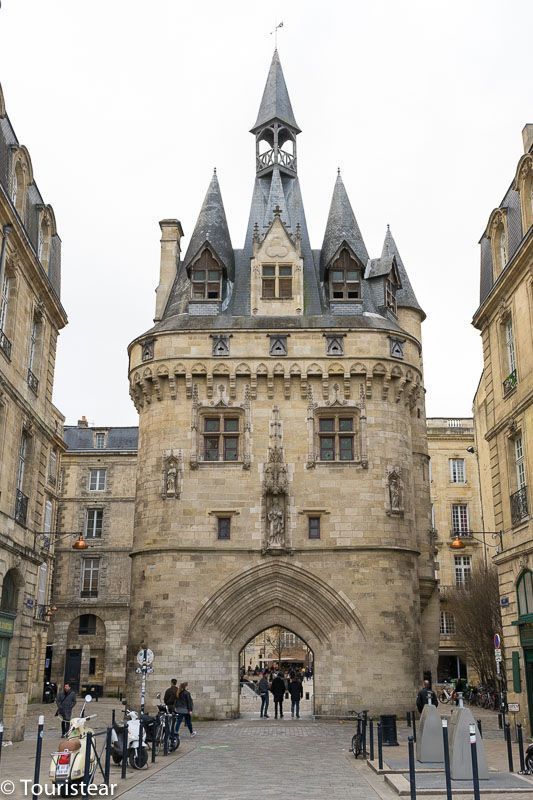 *Note: our tour of Bordeaux's UNESCO World Heritage Sites stops here and we'll have dinner at The Central Pub, which is just across the river by the Pierre Bridge.
More dinner options
Saint-Pierre Church
The tour continues here, although we this point and the next we skip it.
This church was built between the fourteenth and fifteenth centuries on the site of an ancient Gallo-Roman port. The square and the narrow alleys around the area make up old Bordeaux.
Place du Parlament
Just behind the Place de la Bourse you'll find this Italian-style square. It was created in 1754 by decision of Mayor Tourny and in the center you can see a fountain from 1865.
Place de la Bourse
If you've done the tour by stopping for dinner and have gone to The Central Pub or taken a boat tour of the river, take the opportunity to take photos or just look at this beautiful square at night, the lighting is awesome.
Place de la Bourse is a creation of the Century of Lights. Then get closer, slowly, until you get to the Water Mirror.
Water Mirror (Miroir d'eau)
The good thing about going back to the places you've visited is that there are times that by plays or by some event you run out of something.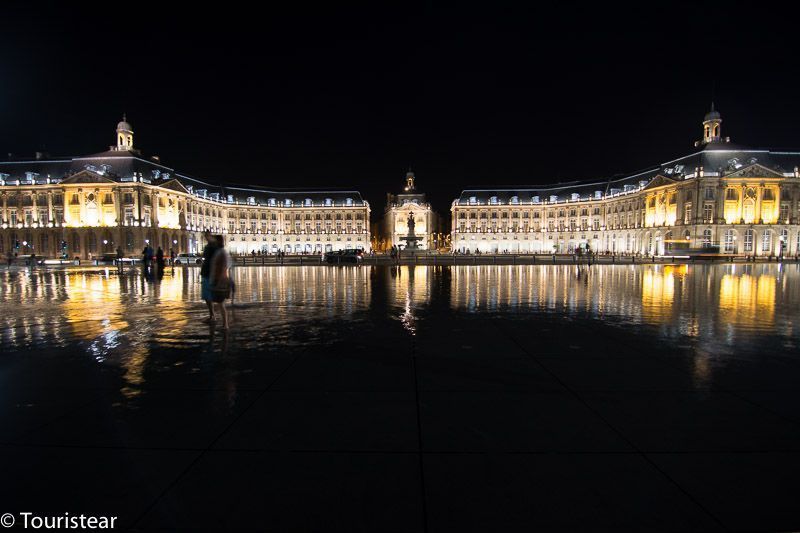 In our case, we were lucky the first time we went to Bordeaux and were able to see the water mirror in operation. But we weren't as lucky this last time, as this area was being used as a goal of the Bordeaux Marathon, so my sister and brother-in-law were left unable to see this emblem of the city and in one of the places preferred by the Bordeaux and children.
How to get to Bordeaux?
By Car. As roadtripers we are, we've been in Bordeaux the two times by car. Although you can do it in a rental car, but if you prefer you can get there by plane.
By Plane. Getting to Bordeaux by plane is a very good option, as there are many low-cost flights that bring you to this magnificent city which is ideal for a weekend getaway.
Where to sleep in Bordeaux?
As we mentioned in the post of the itinerary of our road trip through Bordeaux, Paris and the Alsace. In Bordeaux we slept in an apartment a few meters from the Cathedral. The apartment cost us EUR 124, to divide between four people we would go out at EUR 31 a night each and for the location was definitely a great choice.
The name of the apartment is LumineuxT2 "Hotel de ville & Pey-Berland", we made the reservation through Booking, but it seems that it is no longer on this platform. From here you can get to know Bordeaux by walking and forget about the car for 1 or 2 days. Also, if you plan to stay more than a few days and your budget is tight, you can have breakfast, lunch and dinner in the apartment.
Where to eat in Bordeaux?
We ate at noon in Utopia and at night we had dinner at The Central Pub.
Utopia. It is an old church that has been transformed into cinemas and has an area to eat, sandwiches, salads and the good thing is that the kitchen works late.
The Central Pub. We're repeating again. This pub loved it the first time and this time we are back dining here. The place is very nice, you have food for all tastes, few tourists (but it is always full) and in addition, you can enjoy magnificent views. What more can you ask for?
These two boat trips around the Garonn looks very nice, ideal for a romantic getaway. Take a look and tell me which one you're staying with!
Prepare Your Trip To France
Do you know Bordeaux? Tell me about your experience!
Book Your Trip
Book Your Flight
Find a cheap flight by using Skyscanner.
Book Your Accommodation
You can book your hostel, hotel or apartments on Booking.com.
Don't Forget Travel Insurance
Travel insurance will protect you against illness, injury, theft, and cancellations. It's your protection in case anything goes wrong. You never go on a trip without it.
Best companies for activities
Check out Civitatis.com and find the best tours in English (French, Spanish and Italian)
Looking for the best companies to save money with?
Check out my resource page for the best companies to use when you travel! I list all the ones I use to save money when I travel – and I think will help you too! (Is in Spanish yet)
We are not native English speakers but we have decided to translate our post to English so we can share it with the whole world. If you see any spelling mistake or something, please let us know, it is so important to us. If you do so, we can improve our post and also our English knowledge! Thanks in advance!!!
In this post you may find affiliate links. This means that if you make any purchases by clicking on one of them, I will take a small commission, but you are not increased by the price. Why are we doing this? Because it helps us to keep this project running and to continue creating useful content for your travels. Thank you so much for the support!