Visit the Iguazu Falls in 4 days, Brazil & Argentina
Iguazu Falls are one of the most spectacular natural wonders in the world, located on the border between Argentina and Brazil, and can be visited in 4 days.
In this post, you'll find a 4-day Iguazu Falls itinerary for both Argentina and Brazil sides. And also a quick practical guide to getting there, where to stay, and much more.
Do you know, that Iguazu is one of the world's seven natural wonders, according to the contest organized by the New Open World Corporation? So, it should be on everyone's bucket list.
I'm here to tell you how you can see this incredible place in just 4 days!
I'll walk you through what to do when visiting Iguazu Falls with my complete guide. You're going to love this post, so let's get started!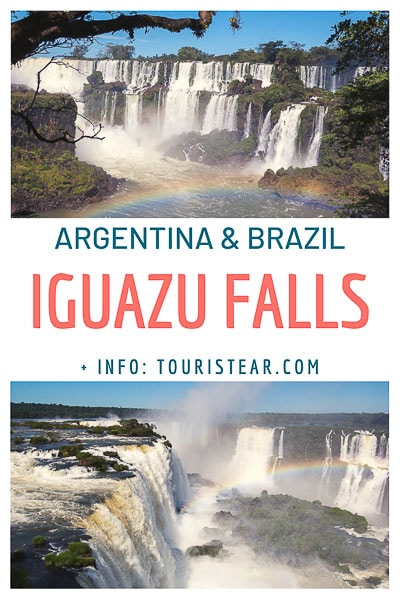 How to Get to Iguazu?
We found on Lastminute.com a good deal that included Flight + hotel from Buenos Aires for 193€, with three nights on the Argentine side of Iguazu.
The hotel is a youth hostel that is a member of Youth Hostelling International, so if you go with your hostess card, you'll have a better price.
They are dormitory rooms, but since we went with three friends, we could hire a shared room for four and pay for the extra bed (it cost us 16€/night) so that the room is only for you and your friends.
If you are two people, they have double rooms, but make sure to look at the prices because they are completely different.
The flight is from Buenos Aires and departs from the airport "Aeroparque Jorge Newberry," instead of Ezeiza. It is much better since "Aeroparque" is in the city, and Ezeiza is far away. The flight takes about two hours.
You can go by bus, but it takes about 15 hours to arrive.
How to Get Around in Iguazu
The first detail that you have to take into account before you even reach Iguazu: is transport.
As you go by plane, you have no transport of your own, which means you will need transportation from the airport to the hotel.
Furthermore, from the hotel to the National Park on the Argentine side (about 16 km) and the Brazil side (about 25 km), you will also need transportation to the airport.
We didn't think about this and were looking and asking when we were already there.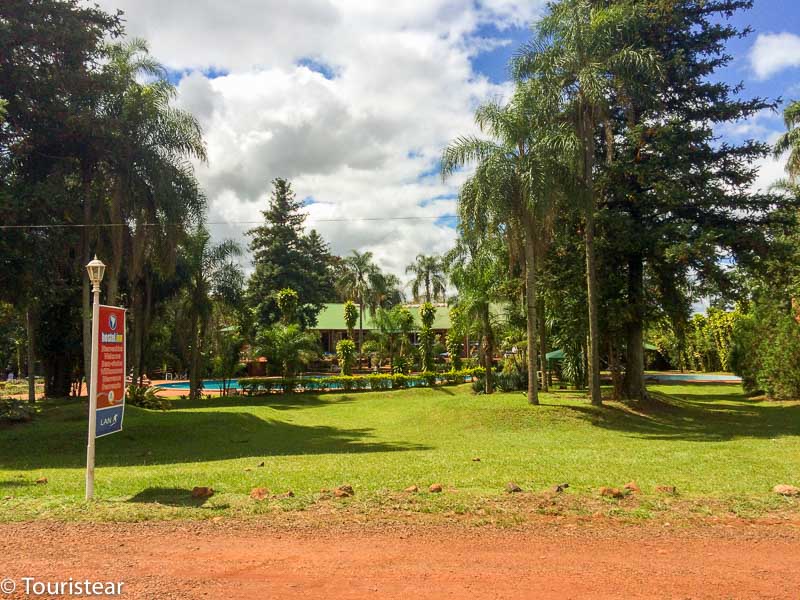 By bus
You have two options for the park on the side of Argentina. The first is to go by bus to the visitor center.
Taxi or Remis
The second option is to go by taxi or remis (there are both, they are not the same but the difference is small).
You get the same price for the bus if you are four people.
Also, for the Brazilian side, you need a remis or a taxi.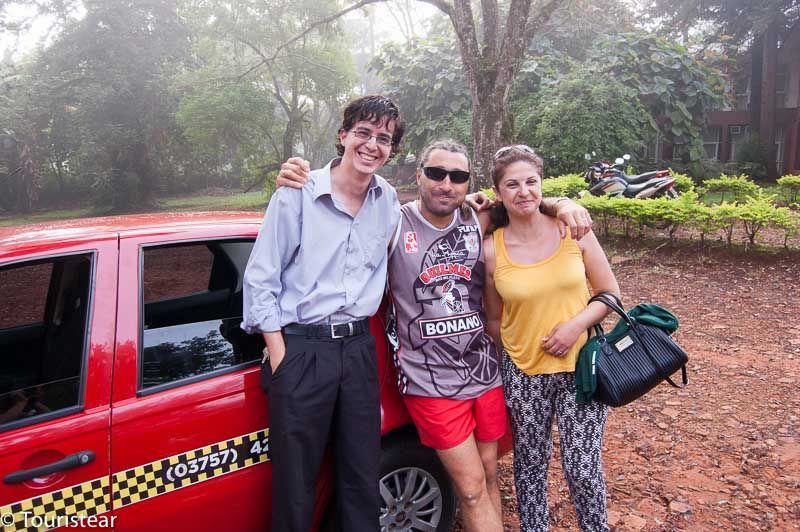 *NOTE: these prices are from 2015, most likely, they will have risen, but the change to the euro or dollar will be more or less the same.
Here, we were lucky and found Diego, who went from being our taxi driver to our friend.
He lowered the price by 100 pesos for each trip. So he charged us 400 pesos to take us to waterfalls on the Argentine side and 450 pesos to take us to falls on the Brazilian side.
We got the same price as the bus, but we were going much more comfortably. We would get picked up at an agreed time, and if we finished before, we would send a message, and he would come early.
So if you want Diego to be waiting for you at the airport with a pre-agreed price and peace of mind, call him or email him. He treated us so well that he deserves it that we put his details here.
But as I always say, this is an option for you. If you prefer, search for yourself and call whoever you want.
These prices are from April 2015, attention to inflation
Name Diego Alberto Riquelme.
Phone: +54 93757 15459620
e-mail: [email protected]
If you prefer to enjoy roundtrip transportation from Puerto Iguazú to Iguazú National Park with an English and Spanish-speaking guide (Click on this link)
Accommodation in Iguazu
Well clarified the subject of transport, I will now tell you about the accommodations.
The hotels are not very expensive. We found the offer with a youth hostel that went out for 55 pesos (5.5 euros) per night. For me, I've been to the best youth hostel, and I've been to quite a few.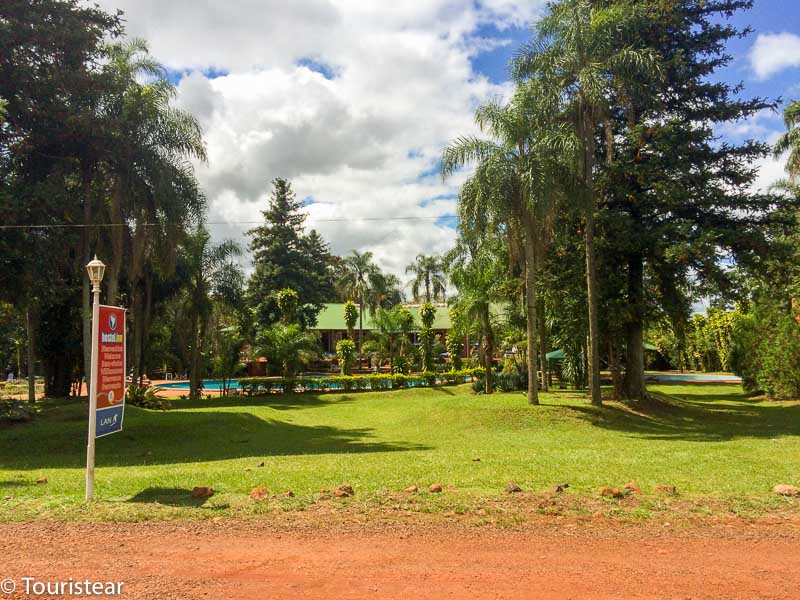 It had a swimming pool, music bar, a restaurant where they prepared some huge sandwiches for 60 pesos (6€) of churrasco or Milanese, and some cheap beer, for example, 1 bottle of 3/4 liter of Quilmes at 35 pesos (3.5 euros).
And the people who cared for us were very friendly, young people who didn't give us a bad face, very cool.
Rooms are cleaned once a day, and bathroom facilities are shared. As I said, if you prefer a hotel, you have a lot to choose from, and they are not overly expensive, you can see them here.
What to See in Puerto Iguazu
Puerto Iguazu is a relatively small city whose main source of income is from the tourism generated by the falls and, to a much lesser extent, mining or agriculture.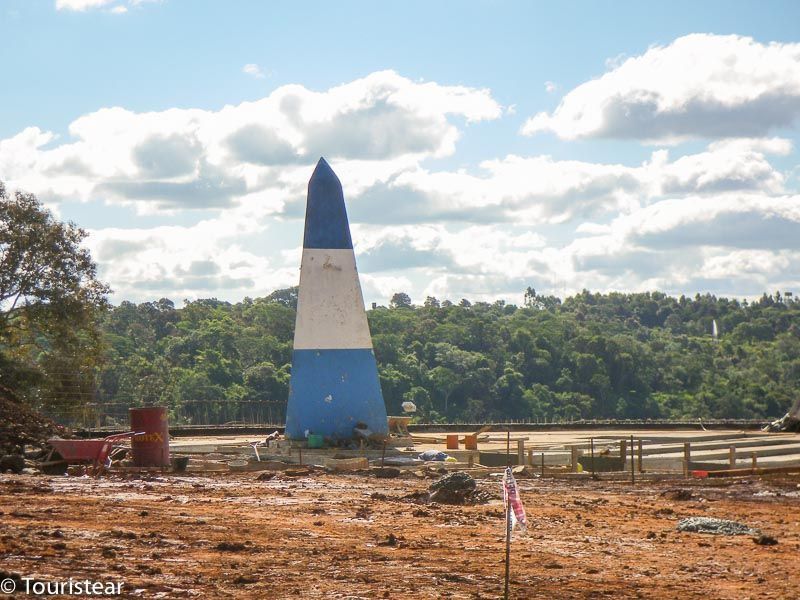 The center of Iguazu is, I would tell you, the most interesting area. You can see that they are taking care of it and improving it for tourism. I liked it, actually. The treatment of the tourists is good, and the city is not expensive.
Milestone 3 borders and Identity Square
In Puerto Iguazu, you can visit the Milestone of the Three Borders and the Identity Square (Plaza de la Identidad).
At the junction point of the three borders, where the Iguazu River and Paraná meet, each of the three countries, Brazil, Argentina, and Paraguay, placed a pyramid-shaped landmark or column with the colors of the country.
From each milestone, you can see the other two. Everyone takes the picture at the milestone.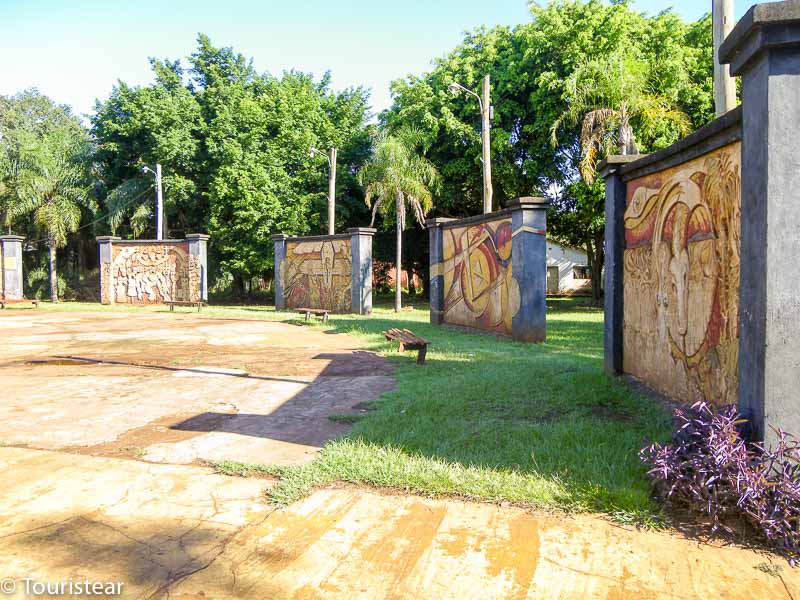 They are now under construction and have built a new milestone elsewhere, but we sneaked into the work and took the photo to the original… hehe.
The Place of Identity collects stone murals with important moments of history.
The Best of Iguazu Waterfalls in 4 days
The Visit the Iguazu Falls
The Iguazu Falls are on the border between Brazil and Argentina. The Iguazu River is the natural border between the two countries until it joins the Paraná. At this point of the union are the three borders between Brazil, Argentina, and Paraguay.
You can see the falls from Argentina (Iguazu National Park) and Brazil (Parque do Iguaçu).
The 80 waterfalls are on the Argentine side, and the most panoramic view is on the Brazilian side.
Our friend Maxi said that the Argentinians have the show, and the Brazilians have the seats.
I'm not going to tell you if one side is better than the other; visit both because each side has its unique things, and on each side, you'll see things that you can't see on the other side.
If you prefer to enjoy roundtrip transportation from Puerto Iguazú to Iguazú National Park with an English-speaking guide, click here.
Iguazu Falls, the Argentinian side
We visited the waterfalls on the Argentine side on the first day.
You have to pay for the ticket entrance. One thing and is that foreign tourists (differentiating Mercosur and not Mercosur) have a different prices for things.
For example, to enter Iguazu National Park, a European tourist pays 260 pesos (about 26 euros) while an Argentine pays 160 (about 16 euros).
Still, I can understand why they set a lower price for Argentines because they want the people of Argentina to be able to experience it themselves.
But we went to a private business, for example, the Ice Bar, and the entrance for a European was 200 pesos (20€), and for an Argentine, it was only 100. So I don't think it's the best way to encourage foreign tourism, but they'll know.
Leaving this nuance aside, Iguazu is spectacular. When you get to the park, you must go to the "Central Station," where the little trains that lead you to the Devil's Gorge (Garganta del Diablo) come from.
There are four main tours. The lower path, the upper path, the macuco path, and the path of the devil's gorge. You will need to walk the first three while going to the Garganta del diablo, you must take a little train.
The first thing everyone does is take the train that goes to the Devil's Gorge. If you do that, get ready to wait at least an hour and a half.
The best thing from our point of view is to do first the pedestrian routes that will take you about three hours between the lower and the upper and another three hours the macuco trail and when you return to the central station, there are no long lines, and you can go more comfortably.
Iguazu Falls Bottom level
You can see the Dos Hermanas falls, Chico fall, and Bossetti fall on the lower course, which you see from below, and the Alvar Nuñez and Lanusse fall you will see from above stand out.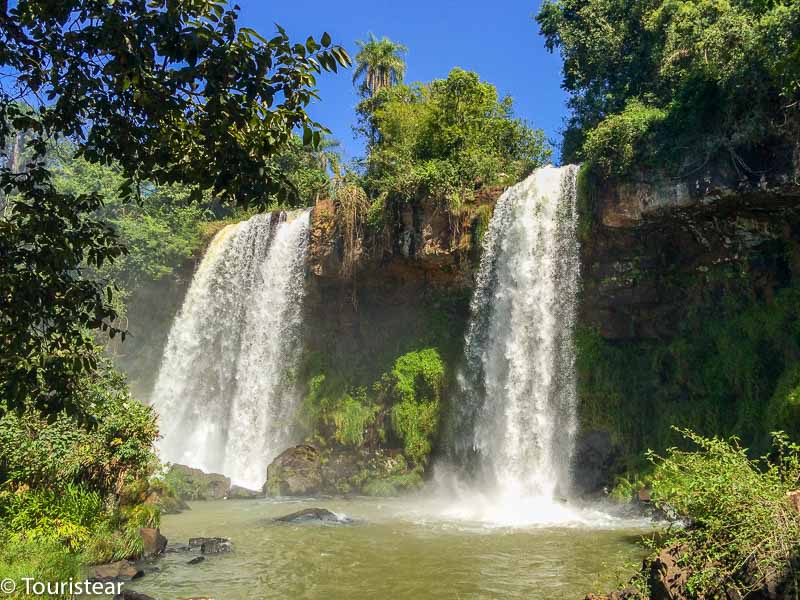 Iguazu Falls. The Upper Path (recorrido superior)
You see these same falls from above on the upper path, and you also see Adam and Eve, the Bernabé Mendez, and the Mbigua Falls.
In addition to these tours included at the entrance, you have several routes for which you have to pay an additional cost.
The safari or the great nautical adventure is the best known. However, if you only have one day, you will have to choose between one or the other because it will not give you time to do it all on the same day.
Personally, the boat is not what attracts me the most, we already did it in Niagara Falls, and although it was not bad, you get wet, and you can not take good photos because of the water splashing all around; I prefer the safari or the tour of the jungle.
But do whatever it is you want to do the most.
One of the things that I liked the most, not only of the natural park but of the destination and the place, is the vegetation.
You're in the jungle, literally. When you leave the airport, you see a green vegetation wall on either side.
It's spectacular, at least for me, that I'm not used to it at all. I loved looking anywhere and seeing lush, super green, and unknown vegetation.
The soil is red, with an ochre red color permeating everything. Humidity is about 90%, and considerable heat averages about 30 degrees Celsius during the day, but it is cool and refreshing at night.
I would have liked to have seen more animals than I saw, although I had the opportunity twice to see a toucan relatively close. It's beautiful, especially to see them in the wild.
The beak is impressively big and colorful. I don't know if it's because I watched it live and wild, not at a zoo, but I was quite impressed. I was able to take a picture of him.
La Garganta del Diablo (Devil's Gorge)
The top of the visit to the Argentine side is the Devil's Gorge, "la Garganta del Diablo." It is an immense waterfall about 80 meters high. It is hard to describe.
The waterfalls are so hard that the same waterfall generates a column of vaporized water that rises into the sky.
It's AWESOME!!!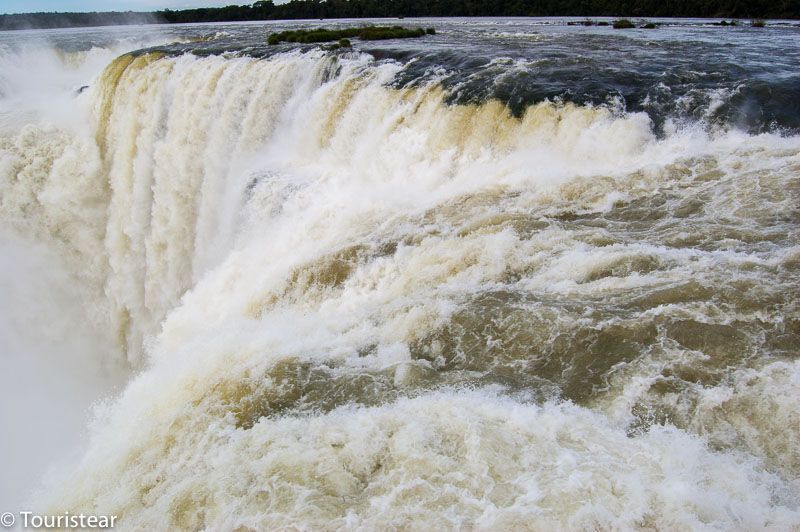 We finished the day super tired, so we went to rest to get ready for the next day, where we went to Iguazu Falls from the Brazilian side.
Brazilian side: Parque de Iguaçú
The Brazilian side is a shorter path, about two and a half hours if you take it easy.
The entrance to the park also has different prices for nationals and foreigners. You can buy it online.
When you enter the park, you are taken by bus to the beginning of the tour. You do it quietly until you get to the end, where a walkway gets inside the falls (you get quite wet), and you see the Garganta del Diablo in the background.
What do you see? All the falls are on the Argentine side but in "panoramic mode." You can almost touch them on the Argentine side, but you don't have such a general view, while on the Brazilian side (except in the end part), you see them from afar.
In the end, you have a pretty big waterfall; by the way, it's on its side. Once this is done, take the bus back that takes you out of the park.
In addition to this, you have paid for extra excursions, just like on the Argentine side. Also, you can book a tour to go to the Argentinian side with a guide.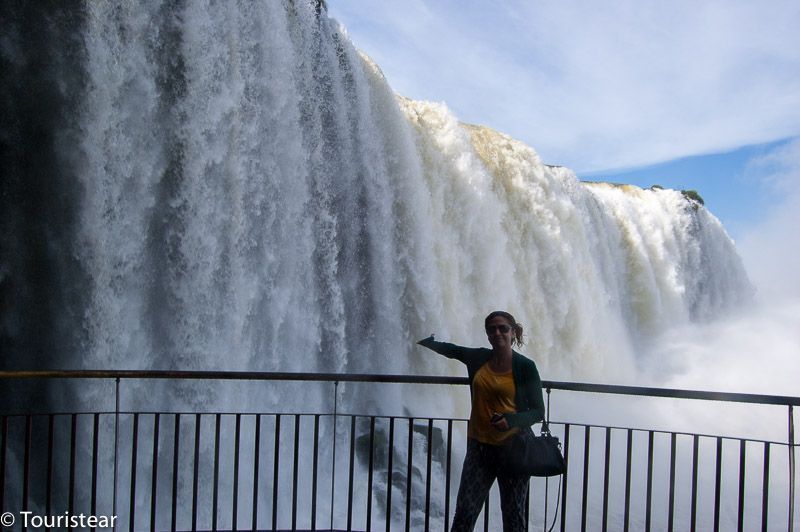 Recommendations for Your Visit to Iguazu Falls
Some recommendations I can make you: take "anti mosquitos" bug repellent. If you didn't buy it beforehand, the shops at the park entrance sell it to you. The one they use is the brand OFF! and it is excellent.
Take the sandwiches made in advance; eating will be much cheaper. But look, do not eat them on the picnic areas' terraces.
Why? Because there are some cute little and funny animals called Coatíes who steal your food, and they do it without contemplation.
We knew we shouldn't feed them (they tell you everywhere on billboards), but not that they stole your food, so we sat quietly to eat our sandwiches at the tables at the picnic area.
You see them hanging around and sniffing on the floor, and you don't give it any more importance.
Then, without realizing it, they went up from behind me; I got up fast, Vero and Maxi sat there looking at them, and before we knew it, one of them bit the bag with one of Vero's sandwiches and ran away.
We watched like five more circlings; they appeared out of nowhere like twenty more and mounted a tremendous stir, swirling around Vero's sandwich.
As you might assume, it does cross your mind to put your hand in to get it back. Nothing was left in a matter of five or 10 seconds; there was not even the bag left.
From that moment on, we walked, paying more attention to these cute Coaties.
You have during the tour places to have a snack while watching a beautiful waterfall.
Visit the Aripuca
The Brazilian side of Iguazu was done by morning, so by lunchtime, we were already back in Puerto Iguazu, Argentina.
We took the opportunity to visit a store of gemstones in the afternoon that they mine directly in the area, especially geodes, expensive, by the way, and ARIPUCA.
ARIPUCA is a center that claims the care and maintenance of plant species in the area, especially the jungle trees of the province of Misiones.
They show you interesting things about Guarani culture and have made a building emulating a trap for birds made by the Guarani called Aripuca.
The trap is tiny, but this building is huge, almost 20 meters high. It is built with trees that were recovered from illegal logging in the jungle of Misiones.
Instead of burning or destroying them, they used them to make this monument to the conservation of nature. So just for that, it's worth helping them out and going.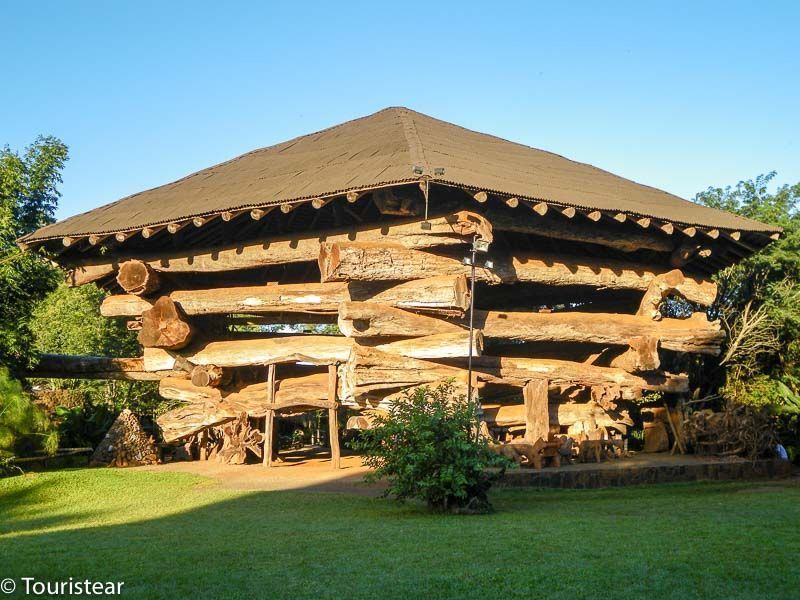 You also have the possibility of sponsoring a tree for 10 years for 200 pesos (20 Euros), they guarantee that the tree will be cared for and will not be felled. So we think they're a very good initiative and will sponsor one.
In addition, they do not charge different entries for nationals or foreigners; we all pay the same. So, for me, one more reason to go.
It's a great excursion that is worth doing if you decide to visit Argentina. For me, it is a place to visit at least once in a lifetime.
And if you liked this post, share it with your friends. In any case, thank you for reading my post.
"Travel is an exercise with fatal consequences for prejudice, intolerance, and narrow-mindedness." – Mark Twain.
Plan Your Trip to Argentina
Book Your Trip
Book Your Flight
Find a cheap flight by using Skyscanner.
Book Your Accommodation
You can book your hostel, hotel, or apartments on Booking.com.
Don'torget Travel Insurance.
Travel insurance will protect you against illness, injury, theft, and cancellations. It's your protection in case anything goes wrong. You never go on a trip without it.
Best companies for Tours
Check out Civitatis.com and find the best tours in English (French, Spanish and Italian)
Are you looking for the best companies to save money with?
Check out my resource page for the best companies to use when you travel! I list all the ones I use to save money when I travel – and I think I will help you too! (Is in Spanish yet)
Disclosure: Some of the links on this post are affiliate links, meaning at no additional cost to you, I may earn a small commission if you click through and make a purchase.

Book Your Trip
Book Your Flight
Find a cheap flight by using Skyscanner.
Book Your Accommodation
You can book your hostel, hotel, or apartments on Booking.com.
Don'torget Travel Insurance.
Travel insurance will protect you against illness, injury, theft, and cancellations. It's your protection in case anything goes wrong. You never go on a trip without it.
Best companies for Tours
Check out Civitatis.com and find the best tours in English (French, Spanish and Italian)
Are you looking for the best companies to save money with?
Check out my resource page for the best companies to use when you travel! I list all the ones I use to save money when I travel – and I think I will help you too! (Is in Spanish yet)
Last Updated on 20 October, 2022 by Veronica