Most Beautiful Villages in South of France
Visiting the most beautiful villages in the south of France is something you have to do.
In general, you will like visiting France for many reasons, it is a beautiful and safe country, and for us, it also has a border with Spain, which allows us to go by car and make a route very easily.
But at the time of this translation, we are living in France. Yep, we fell in love with this country; we could help it.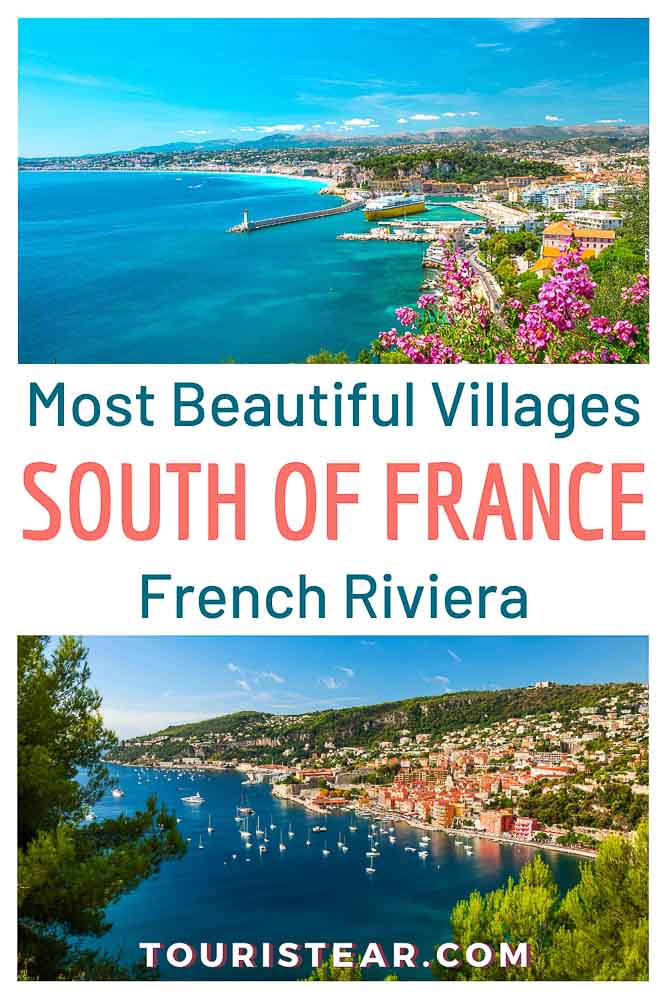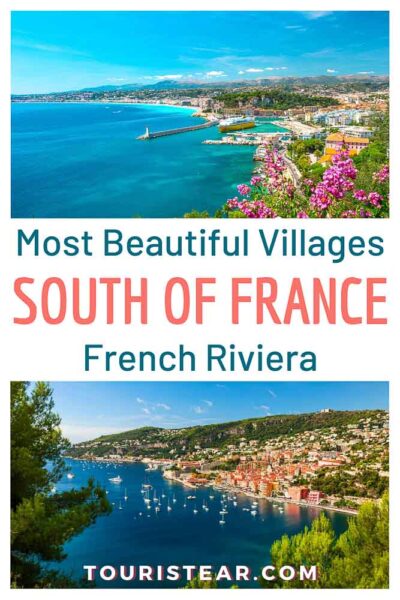 In the south of France, you will find charming villages. Some of them are included in the most beautiful villages in France's official list and deserve a visit on your trip.
If you are going to travel through the northeast of Spain and the south of France or if you are going to make a road trip along the Cote d'Azur (French Riviera). Read this post, because we will tell you what to see in the south of France and its most beautiful villages.
Among the cities we visit on this road trip through the south of France are:
These cities were also part of our trip, but I'll tell you about them in other posts. Click on the links to access the different articles.
If you want to see the second part of the most beautiful villages in the south of France, click on the link.
7 most beautiful villages in the South of France
I am writing this article to tell you about those beautiful little villages hidden in nature parks or near the mountains, with beautiful medieval characteristics, full of history and very picturesque views.
Many of them are kept intact so visitors can recreate the past just by walking.
In this post, you will find the first part of the most beautiful villages in the south of France. Then, starting with those closest to Spain.
Peratallada (Before leaving Spain)
It wouldn't be fair to say that only these beautiful villages exist in France. In Spain, we also have a good amount of them, and in fact, one of them, was where we started our itinerary, in the beautiful village of Peratallada.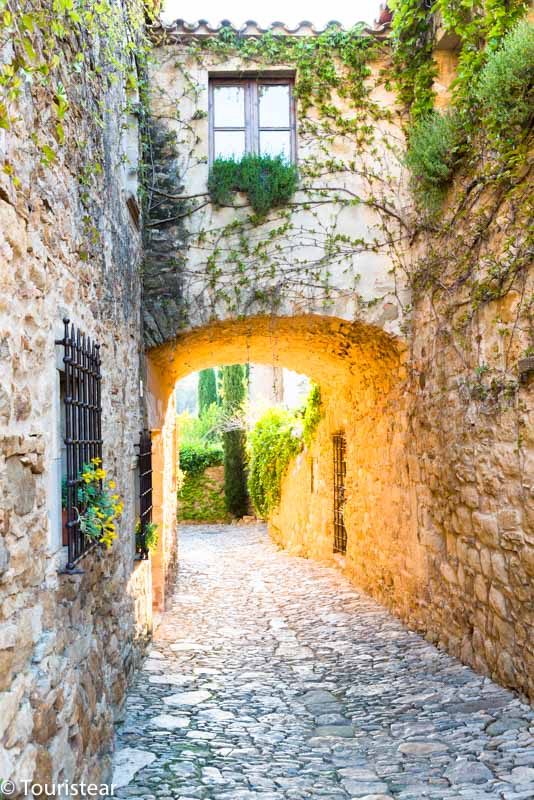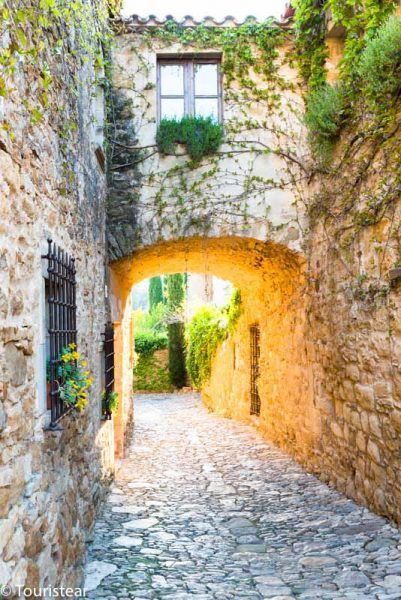 I visited thanks to my good friend Ricard. When I told him about our road trip through the south of France and the Cote d'Azur and that we were going to stay the night in Girona and he did not hesitate for a moment to respond: "we see each other in Peratallada, and there we dine," he told me.
I took a little more than half a second to say "done" without having the slightest idea where we were going.
We enjoyed its streets, its bars, and the company of good friends and set out on our way the following day. Our first stop in France is in the village of Castelnou.
Did you like the village of Peratallada and want to sleep here? We recommend Hotel Aatu, which is for adults only, but you have more options if you travel with children.
Castelnou, First Stop in France
Castelnou is the first of the most beautiful villages in the south of France that we have visited.
It is close to Spain, in the foothills of the Pyrenees. When you approach by the road, you can stop at a secluded area that allows you to enjoy a great view.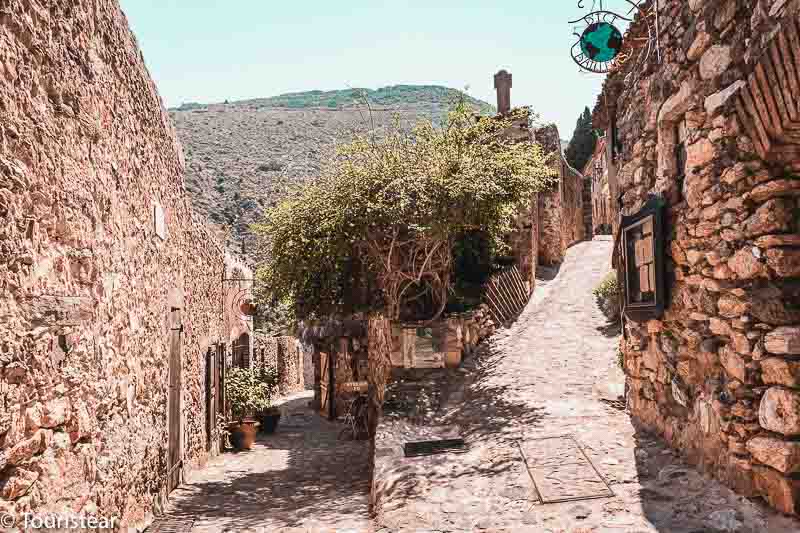 They call it Castelnou because a new castle was made over the previous one made of wood around 1400. But come on, call it the new one?
It was abandoned until it was bought by a private individual who restored it.
The castle is visitable and keeps some secrets inside, as I will tell you in another article in much more detail. Still, I will tell you that the entrance to Castelnou Castle is not expensive, five euros per person and the visit is entertaining.
Visiting the village is a matter of half an hour; it is small, and any little street has a special charm.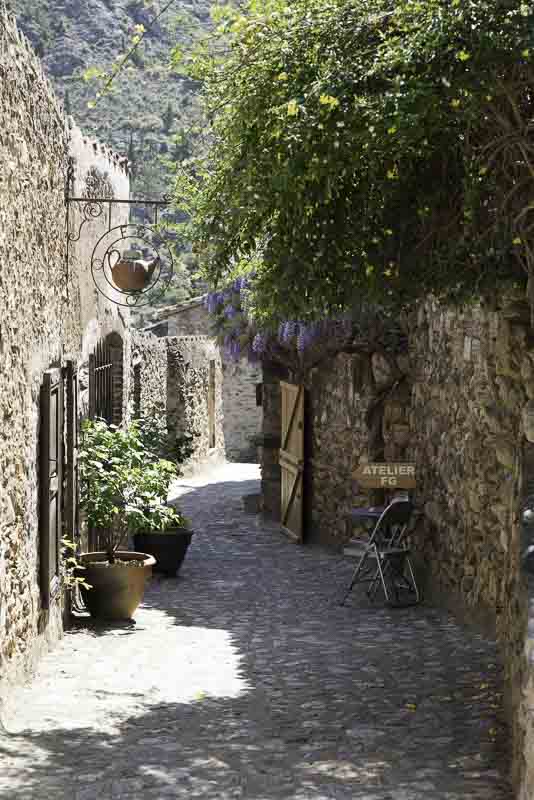 Lagrasse, a mountain village in the south of France
Lagrasse is one of the most beautiful villages you can see in the south of France. It is already slightly further from the Pyrenees; although the landscape and the surroundings are a mountain, you have to get away about 80 kilometers to the north.
We're approaching Carcassonne; I'll tell you about it later.
Lagrasse is a village that has an absolutely unique view when you arrive on the road. It is a pity that you do not have any parking area or viewpoint to be able to admire it.
I had to stand in the middle of the road to take the picture (not recommended).
Walking through its streets is more than recommended, and in addition, you can visit the abbey of St Marie d'Orbieu.
The village itself is a National Heritage, and 1900 is a museum that transports you back to the early twentieth century.
You can sleep in Lagrasse if you feel like it; there are accommodations for all tastes and pockets.
Conques, Aveyron
In the heart of the Lot Valley, is an essential stage of the Camino de Santiago.ç
You will find this beautiful village that contains many treasures: you will see very picturesque half-timbered houses, the abbey of Sainte-Foy of the 11th and 12th centuries, its 250 capitals, and its contemporary stained glass windows of Pierre Soulages.
But also Le Trésor, that of Sainte-Foy, a reliquary covered in gold and precious stones.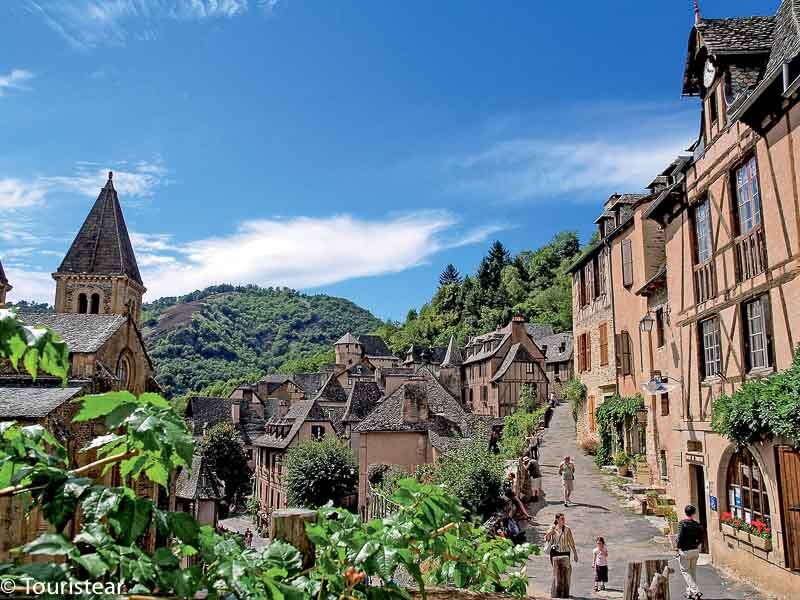 No doubt, you have to make time on your road trip to the south of France to visit it.
Carcassonne, a fairytale place
Carcassonne is one of the villages of the South of France that needs its own article of it, without a doubt, it is wonderful and very touristy.
You can't leave Carcassonne without walking around its citadel, of course.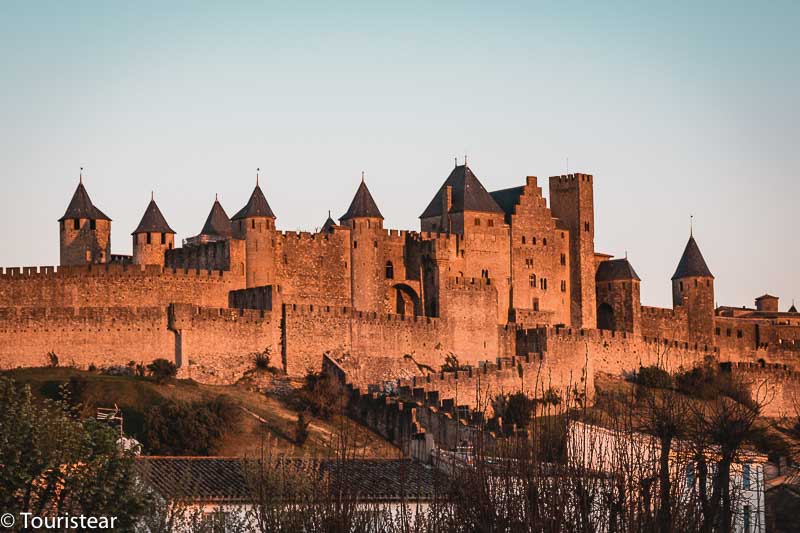 I also recommend you walk a little along the city and the bridge to admire the views of the citadel from a good point, especially during the sunset in which the yellow ochre of the light is reflected in the citadel wall.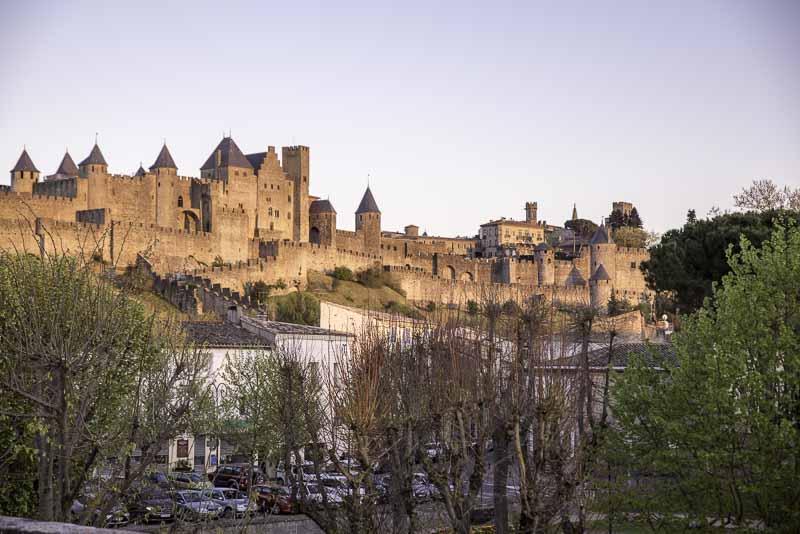 You can also enjoy a beautiful view of the bridge that passes over the Aude River.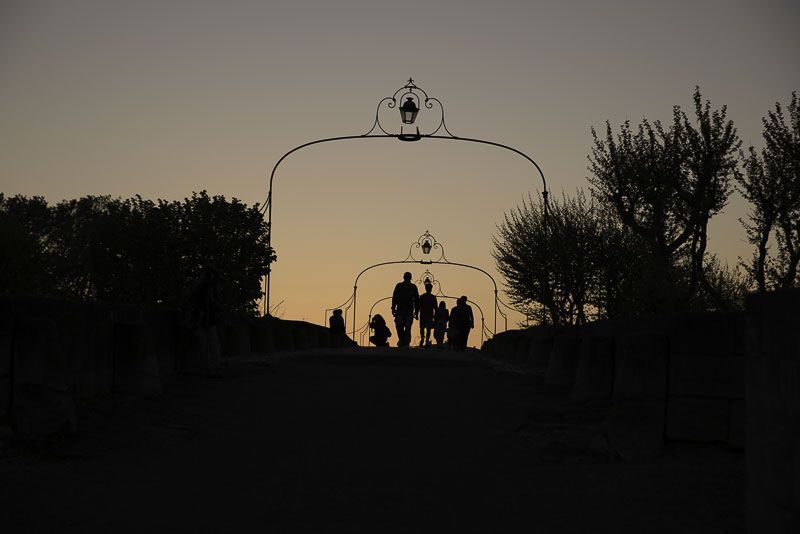 Do you want to sleep in this fairytale town? You have a lot to choose from. It is recommended that you stay within the walls or perhaps overlook them. If you want views, you'll like Hotel Du Chateau.
Minerve, beautiful villages in the south of France
Minerve is another beautiful little village in the south of France. Hidden and surrounded by a natural canyon resulting from the erosion of limestone caused by the Brian River.
When you're visiting, you can get an idea of the town, but it gets better as you get closer. It has a parking lot at the top of the village that, although you have to pay, is cheap and from there, it is 3 minutes of walking to get to the town.
It's the most comfortable thing.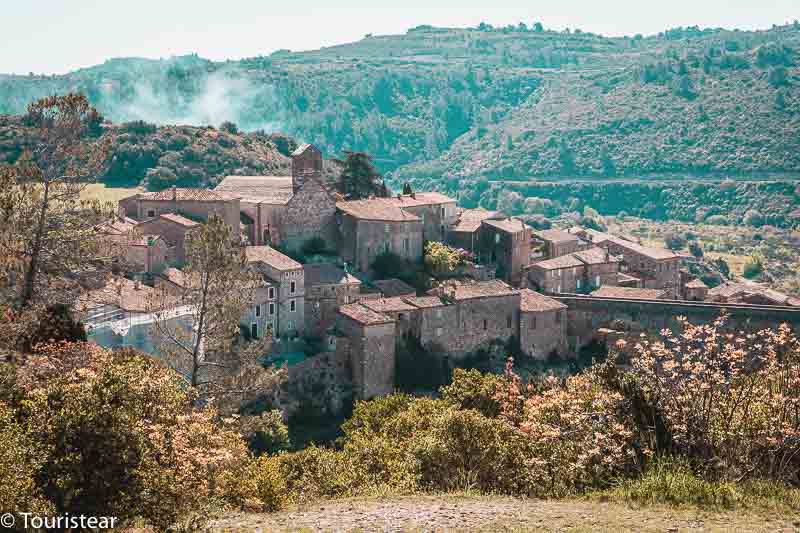 The village is tiny and rather quiet. Walking through it allows you to transport yourself to the middle ages with tremendous ease. You're already starting to see references to lavender in their stores; if you keep going east, you'll get tired of seeing it.
Lautrec, Tarn
This is the birthplace of the family of the painter Toulouse-Lautrec; the village is also known for its pink garlic, the capital.
From its walls, you can visit the Porte de Caussade, which leads to the central square, where you can still admire the Corbeladas of the 14th century.
The pastel blue of the Saint-Rémy collegiate reminds us that we are in the land of Cocagne.
The Cocagne Region is named after the grass from which a pastel blue tint is extracted.
There are many smaller towns to visit, but I think you have a good sample with these. I hope you liked it!
Plan Your Journey on the South of France
Book Your Trip
Book Your Flight
Find a cheap flight by using Skyscanner.
Book Your Accommodation
You can book your hostel, hotel, or apartments on Booking.com.
Don'torget Travel Insurance.
Travel insurance will protect you against illness, injury, theft, and cancellations. It's your protection in case anything goes wrong. You never go on a trip without it.
Best companies for Tours
Check out Civitatis.com and find the best tours in English (French, Spanish and Italian)
Are you looking for the best companies to save money with?
Check out my resource page for the best companies to use when you travel! I list all the ones I use to save money when I travel – and I think I will help you too! (Is in Spanish yet)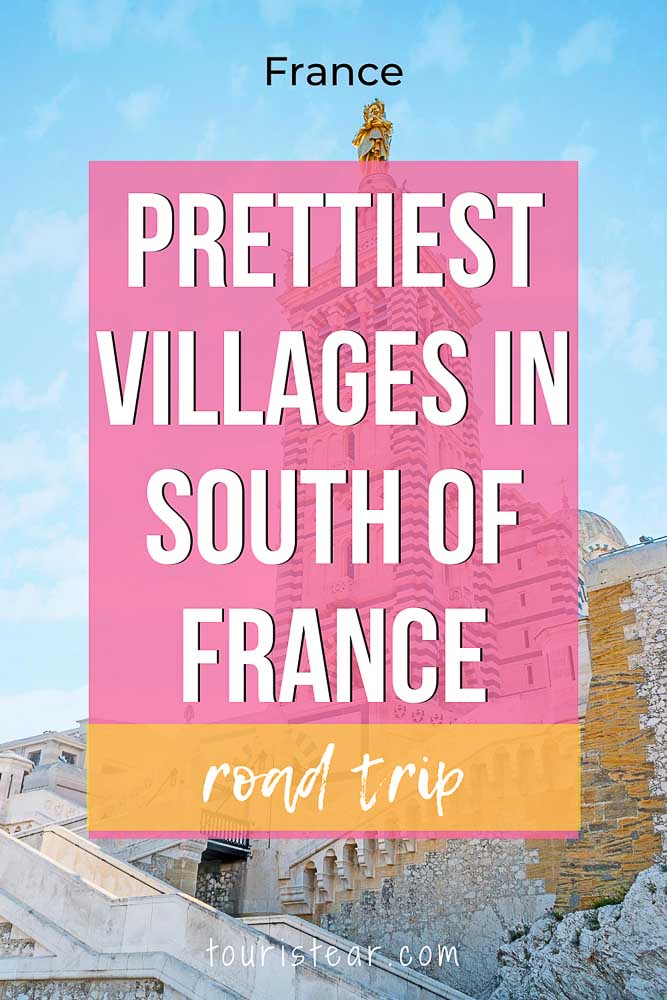 Last Updated on 9 March, 2023 by Veronica