When and Why Visit Casa Batllo in Barcelona
An essential visit to Barcelona is Casa Batlló, one of Antoni Gaudí's most outstanding works and a UNESCO World Heritage Site since 2005.
In today's post, we will tell you about our visit, the most outstanding works, and some recommendations to make your visit to Casa Batlló great.
What to See at Casa Batlló?
A Little History of Casa Batlló
Casa Batlló dates back to 1875, although it was nothing like the building we know today. It was built by one of Gaudí's architectural professors, Emilio Sala Cortés.
In 1903, the house was bought by Josep Batlló I Casanovas, a prominent businessman from Barcelona that had several textile factories. He hired Antoni Gaudí, whom he gave total creative freedom for the renovation.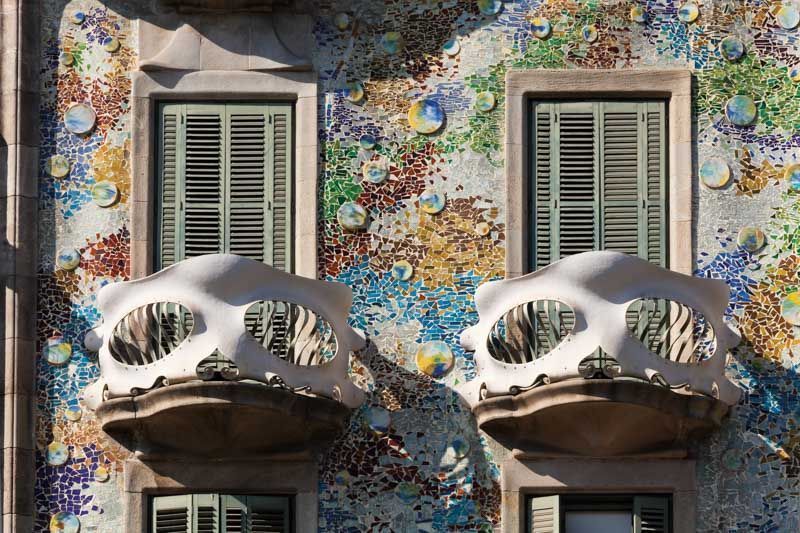 Initially, the entrepreneur wanted to demolish the building and build a new one. Still, thanks to Gaudí's audacity, the collapse was ruled out, and a comprehensive reform was made, lasting two years, from 1904 to 1906.
Gaudí completely restored and modified the facade, the courtyard of lights, and the interior, turning this building into a work of art and an icon of Barcelona's city.
In the 1950s, Casa Batlló changed owners and ceased to belong to the Batlló family. After that, it was in the hands of different private companies and individuals and, since the nineties, belongs to the Bernat family.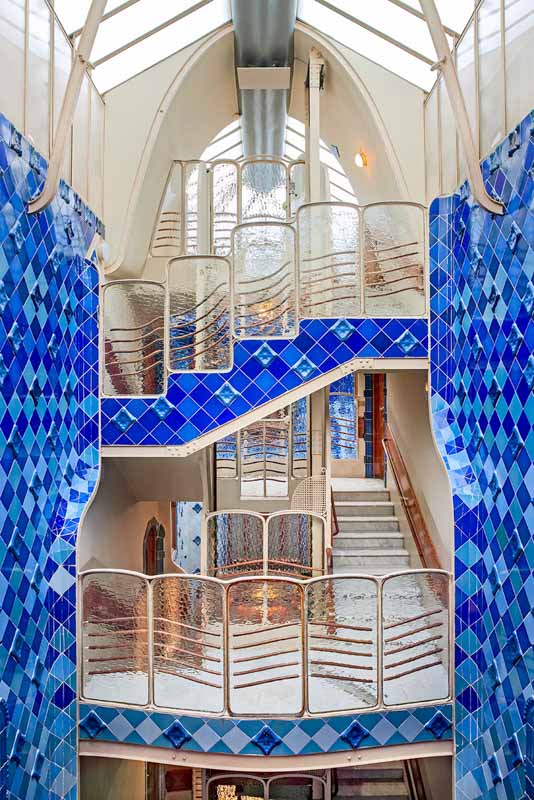 The Bernat family has been in charge of fully restoring the house and opening it to the world. First, by offering the space for events, then for cultural visits, and finally innovating its offer and content.
Since 2005, Casa Batlló has been a UNESCO World Heritage Site, one of Barcelona's top-rated attractions, and has 1 million visitors a year. So without a doubt, this is an essential visit while staying in the city of Barcelona.
The Works of Casa Batlló
As I told you above, Josep Batlló gave Gaudí total creative freedom, and Gaudí was inspired by nature to create this work of art, which we know as Casa Batlló.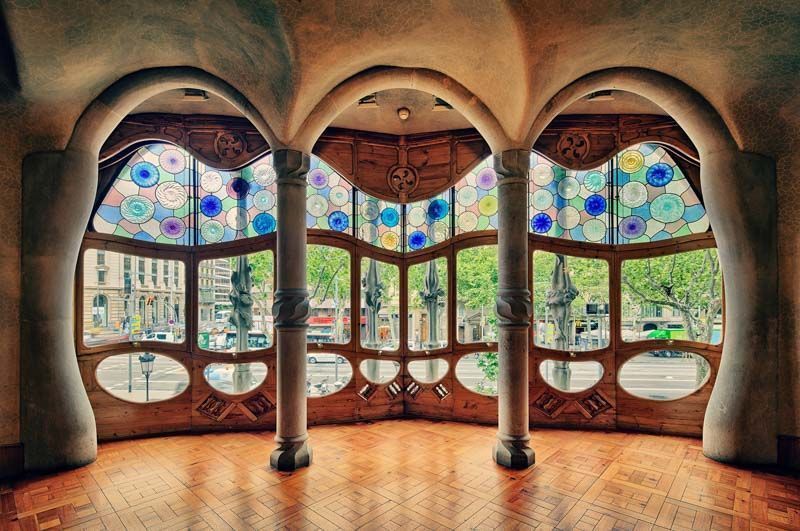 Many of the shapes we see in this famous House are of animals. You will see elements such as skulls, bones, and you will not see straight lines. However, you will probably see the water's shape, many colors, and even a dragon on the roof.
But you better visit and find out on your own. I'll leave you some pictures.
Video Guide
The video guide at Casa Batlló seems like a blast to me. However, when you enter, instead of the typical audio guide, you get a mobile augmented reality app.
Where you can see what the house was like when the Batlló family still resided there. Plus, you have the feedback you can hear in the audio.
This video guide is included in the ticket price.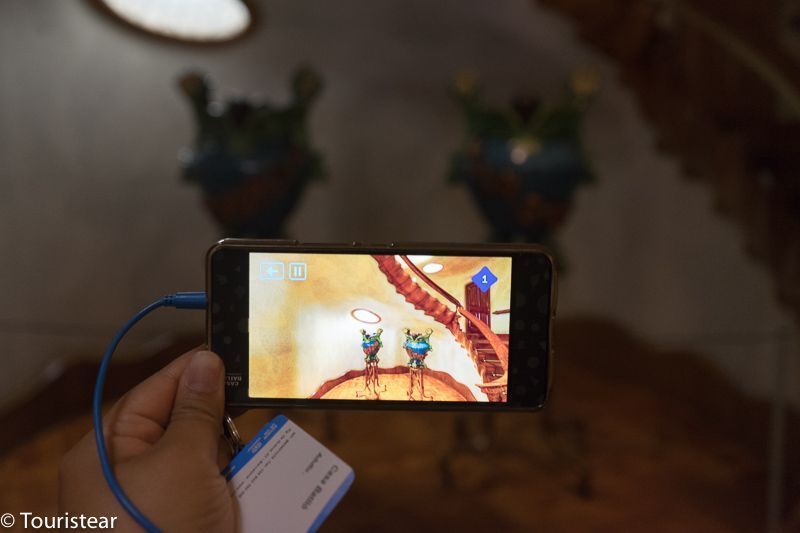 Curiosities of Casa Batlló
Gaudí is said to have not used plans to do the works of Casa Batlló
He's got a dragon on the roof.
It's on the apple of discord. It is named after the 5 modernist buildings that are side by side in the Passeig de Gracia. The name "discord" comes from the strong professional rivalry between Domenech i Montaner, Puig i Cadafalch, and Antoni Gaudí.
Some of the interior furniture was also designed by Gaudí.
This work by Gaudí was presented to a contest of artistic buildings in 1907 and went totally unnoticed by the jury of the time.
Enric Bernat, the "inventor" of Chupa Chups, bought the Gaudí House, which still belongs to the Bernat family.
It has more than 1 million visitors a year.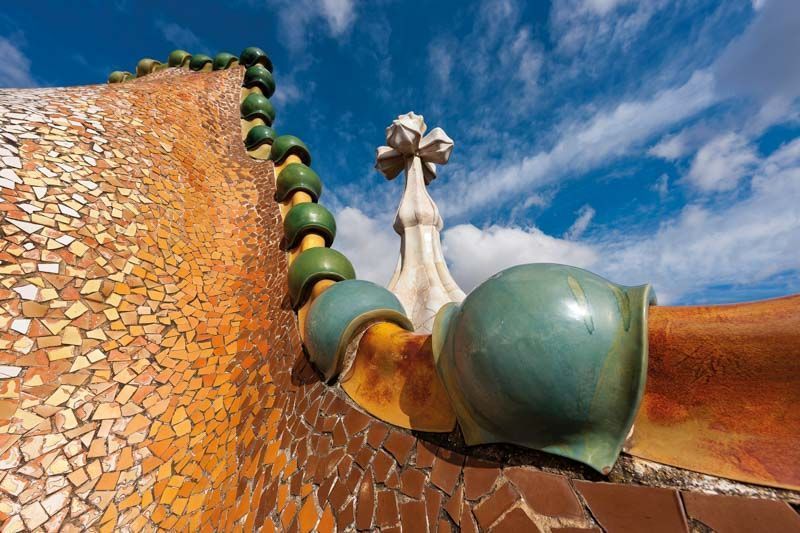 Recommendations
The best time to visit Casa Batlló is when it is just open, at 9 a.m. Weekdays are better.
Buy tickets online, so you avoid queuing to buy the ticket and just queue in.
You can make the visit at your own pace but set aside at least 1 hour, so you don't miss anything.
It's allowed to take photos.
Visit the stairs enjoying each stay.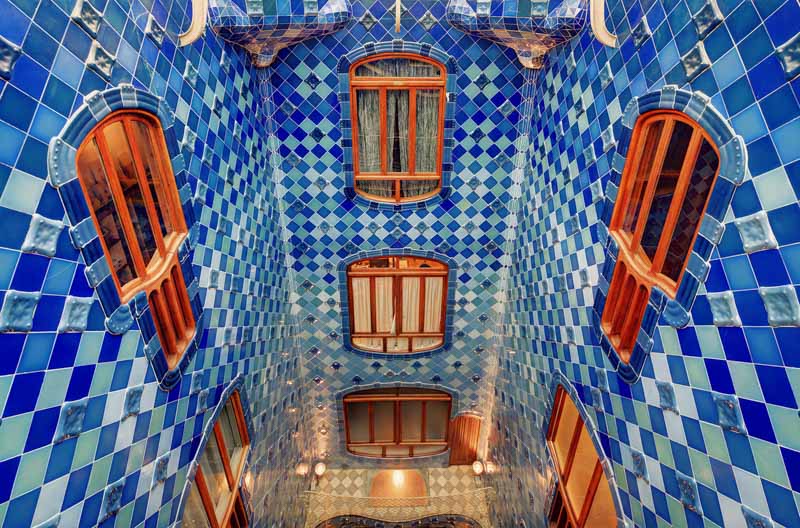 General Information of Casa Batlló
Hours: 9 to 21 hours every day of the year.
Address: Passeig de Gracia, 43 – 08007 Barcelona
How to Get There?
Getting there is very easy as Casa Batlló is in the city's heart. You can get there by tourist bus, by metro, walking.
Metro lines: L2, L3, and L4
Train: Passeig de Gracia Station
Bus: H10, V15, 7, 22 and 24
Tourist Bus: red and blue route.
More Activities Around Barcelona
Some of the images have been ceded by Casa Batlló.
Last Updated on 9 October, 2023 by Veronica
Disclosure: Some of the links on this post are affiliate links, meaning at no additional cost to you, I may earn a small commission if you click through and make a purchase.
Author: Veronica
Vero, a seasoned traveler, has explored 25 countries and lived in five, gaining a rich perspective and fostering an infectious passion for travel. With a heart full of wanderlust, Vero uncovers the world's hidden gems and shares insights, tips, and planning advice to inspire and assist fellow adventurers. Join Vero and let the shared passion for travel create unforgettable memories.