2-Day Malaga Itinerary: Best Things to Do
Malaga is the perfect destination for a weekend getaway or a week. The best way to spend your time there is by exploring all of the things that make Malaga so special.
Whether you are looking for history, culture, or just someplace beautiful to take in an amazing sunset – Malaga has it all!
I've compiled this easy-to-follow list of the top sights and attractions in and around Malaga with everything from detailed descriptions to picturesque views. Enjoy!
For these reasons and much more, in today's post, I want to tell you what to see in Malaga, where to eat, and where to stay, so that your experience is unforgettable and I'm sure you'll want to repeat it.
Must Visit Places in Malaga
Malaga was my home for almost a year two times, the first time was 5 months, and the second was 6. Besides, my sister lives there, so I visit the city more often than usual, and I know places for tourists and locals alike.
So, the getaway I propose to you today is not to make the classic beach visit and know the nearby towns such as Fuengirola, Marbella, Torremolinos or Benalmádena, in which almost all of them deserve another weekend.
The proposal I make you is to visit the city of Malaga itself. Malaga has always been a very nice and pleasant city, but I must admit that it changes a lot in recent years and in a good way.
The idea is to spend the weekend, 2 or 3 days to visit, depending on the arrival and departure time.
The Best Things to Do in Malaga: Itinerary
Day 1 in Malaga
On Friday, if you're late, go out to dinner downtown. On my last visit to Malaga, I went to the 12 Pulgadas (12-inch) restaurant. My sister really liked and where we ate great, and it was very well priced for those who live outside.
In the center of Malaga, you have many options, like El Perroloco and La Gloria are super recommended, you can eat really well, and they are less touristy.
A super famous site is El Pimpi before, it was a place where people of Malaga and tourists went, but today it is only for tourists. As a result, the quality has dropped a bit, the prices have risen, and it is always full.
If all that does not matter to you, here, the typical thing was to drink sweet wine (Málaga Virgen) and fried fish "pescaito."
Take a walk through Malaga at night. The center is very well adapted to the pedestrian. Try not to drive, or you will go crazy. Leave the car at your hotel or go downtown on foot.
Day 2 in Malaga
Saturday is the busiest day of your trip to Malaga. I recommend visiting Gibralfaro and the Alcazaba in the morning, and at noon you eat at Palo or Pedregalejo.
You cannot leave Malaga without eating "espeto de sardinas" -sardine skewer- here.
In the afternoon, walk Pier 1, drink something on one of the terraces, or just take a walk, and then visit the center of Malaga, it is very close.
Gibralfaro Castle and the Alcazaba
The first visit of the day is to Gibralfaro Castle and the Alcazaba. They are close to Pedregalejo beach, but you have to go by car or public transport without a doubt because the climb up to the Castle is quite long and steep.
Each monument has different access to buy a ticket for each monument or one for both.
Without a doubt, what is worthwhile about the Castle is its views of the city of Malaga and its beaches that clearly dominate the view of the entire area.
It is quite well preserved, although, in some remodeling works, they have not respected the antiquity of the monument, and they look very modern. But overall it is very good. It has a bar with a terrace inside and toilets.
We leave the Castle and visit the Alcazaba, which is a fortress Palace of the Muslim era. Be sure to visit the Roman theater at the foot of the Alcazaba.
IMPORTANT DATA
Address: Camino de Gibralfaro, 11
Hours: 9 to 18 in winter and 9 to 20 in summer.
It has disabled access.
Eat in Pedregalejo
Pedregalejo is the place you have to visit to eat espeto in Malaga (sardine skewer), and this is something that Malaga people say, so you have to pay attention to them.
Pedregalejo is located east of Malaga and can be accessed by the promenade directly (taking a good walk) or by road.
You can park in the parking lot in front of the Balneario de Los Baños del Carmen; they charged us one euro regardless of the time we were parked.
Although it depends on the time you arrive because it is always busy and finding a place is almost a miracle if you get there late.
There are many beach bars and restaurants to choose from, and all are full of people. You will see that there are small boats on a support on the beach; they are grills when eating, roasting fish, or meat.
I do not know whose idea to put the first one, but it was clearly a good idea because no place has been copied.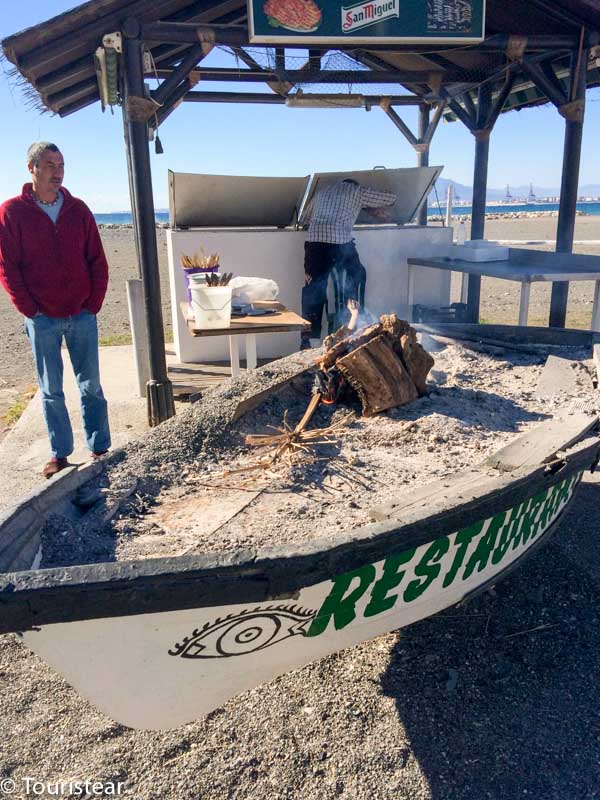 Eat ESPETO is a must and the paella is also delicious.
If you arrive in the afternoon or after lunch, I highly recommend that the place to have coffee or tea is the Baños del Carmen.
And on my last visit, we went to "La Chancla," the cakes are delicious. Also, you have different restaurants to choose from: cocktails, organic food, fried fish, etc.
Pedregalejo is a coastal area full of bars and restaurants on the beach, where you can have breakfast, lunch, or dinner and have a nice walk.
Visit the Pier 1
Malaga Pier 1 is very close to the center and is an area that was restored a few years ago. It is full of bars, restaurants, and shops and makes for an enjoyable walk.
You can come to eat here too, but the prices are higher, and I don't know if it's worth it. What do you think? What's your experience?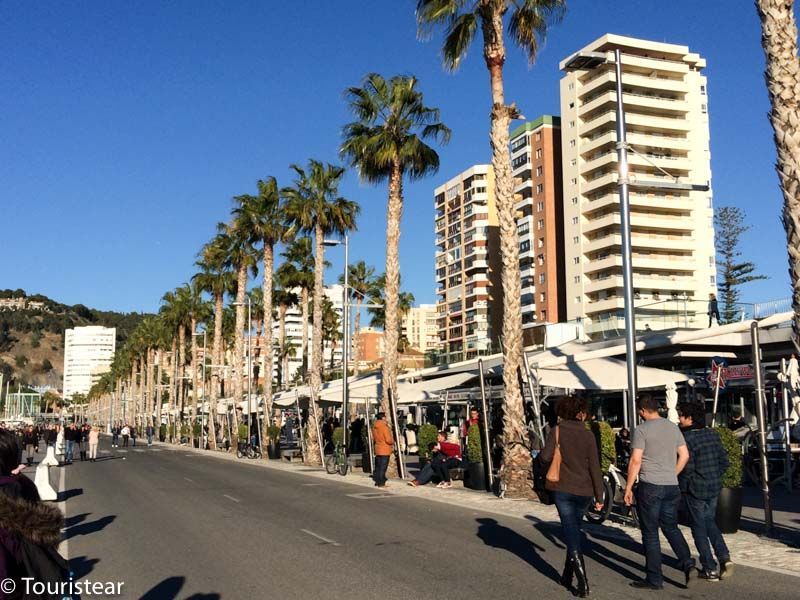 Then take the opportunity to walk the center of Malaga, where the pedestrian zone is getting bigger every time I go.
Visit the center of Malaga
As you go along Larios Street, the most famous street in the city, about 300 meters on the right, you'll find the Cathedral.
They call it "la manquita" (the translation is something like the little one-handed) because it only has one tower; the other tower was unfinished and remains incomplete.
It is worth going to visit it, the general price of admission is € 5.
It has disabled access.
Once you leave the Cathedral, following Larios Street, take Santa María Street to the left; continuing along this street, you arrive at Plaza de la Constitución, it is the central square of Malaga.
Instead of giving you a closed tour, the ideal thing to do is to lose yourself in its streets and stroll, enjoying every corner.
Yes, I will recommend that you do not forget to visit some sites but at your leisure. Be sure to see:
La Plaza de la Merced,
Picasso's birthplace,
the Picasso Museum,
the Church of Santiago where Picasso was baptized,
the Cervantes Theater,
and the Thyssen Museum.
La plaza de la Merced (Merced Square)
In the Plaza de la Merced is the Picasso Casa Natal Foundation. There are also many bars where you can have a drink if you want to rest, although I must tell you that it is very touristy and full of people, maybe too many, it depends on what you like.
100 meters from the Plaza de la Merced is the church of Santiago Apóstol, and 100 meters below is the Picasso Museum. The rest of the places I have recommended are five minutes or less walking from the Plaza de la Constitución.
Day 3 in Malaga
Sunday is an ideal day to do something like a "malagueño" (people from Malaga) do, go to eat at "Las Ventas" de Los Montes.
The Montes de Málaga
Montes de Málaga is about 15 minutes by car from the city (if there are no traffic jams)
Once you start up the road, you will start to see what they call "Ventas," which are homemade and very familiar restaurants where you eat a lot, well and super cheap.
We ate at "El Mirador," but if it is very crowded, you can also go to Venta Carlos or the one you like best.
You have to ask for the dish of the mountains (Plato de Los Montes), whole crumbs or the beast (Migas completas o a lo bestia), and croquettes were spectacular (Croquetas de Rabo de toro, the best ever).
You can order half portions; keep that in mind because the quantities are huge. And the price, with everything (wine, dessert …) you will be around € 10-15 per person.
If you want to eat different types of rice like paella, you have to go to the Limonera dam or the Málaga reservoir. Visit "La Venta las Pitas".
Carmen Market (Mercado del Carmen)
Another place that I love to go to when I visit my sister is Mercado del Carmen. It is quite close to the train station, and you can eat very fresh and very well fish, seafood and traditional dishes.
The Carmen market is a place where food is from markets and prices are very low. It is always full, unless you go early*, before 2 pm. *Early for Spanish people. Not too early because the kitchen is closed.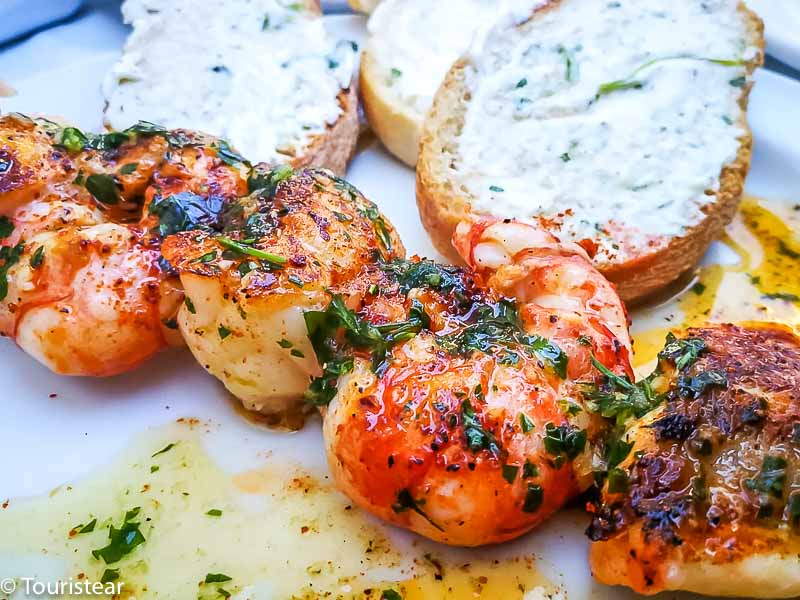 An essential here, "pincho" (skewer) scallop and prawn or scallop and monkfish, fried anchovies, and any fish you like will be of the day.
You can also go to the central market, you eat very well, but it is more focused on tourism and higher prices.
Recommendations for your trip
Where to sleep in Malaga
Stay at the Novotel Suites Malaga Centro Hotel; you can leave your car in the parking lot and walk downtown. It is only 10 minutes from Calle Larios and 15 from the AVE station.
Where to eat in Malaga
This will be another post, but here, I will briefly summarize where to eat in Malaga. (just a few)
In the city center
12 pulgadas restaurant
Perroloco
La Gloria
Mercado del Carmen
Mercado Central
Pedregalejo
Here you must choose many beach bars, the "espeto" is essential.
En los Montes
In the mountains, you will taste homemade food in the "Ventas," many people go, but most are from Malaga.
How to Get to Malaga?
The AVE is the best option, although probably the most expensive.
The car is the usual option, keep in mind that the entrance to Malaga is complicated and is full of radars, especially of section (they have put two new ones very recently). You can go on the highway, you avoid speed cameras, and it is quite cheap.
Rental car: If you travel by train, I recommend renting a car to go to the Malaga mountains and the reservoir sales.
I hope you find this post useful and enjoy a great weekend in Malaga.
Plan Your Trip to Malaga
Last Updated on 9 October, 2023 by Veronica
Disclosure: Some of the links on this post are affiliate links, meaning at no additional cost to you, I may earn a small commission if you click through and make a purchase.
Author: Veronica
Vero, a seasoned traveler, has explored 25 countries and lived in five, gaining a rich perspective and fostering an infectious passion for travel. With a heart full of wanderlust, Vero uncovers the world's hidden gems and shares insights, tips, and planning advice to inspire and assist fellow adventurers. Join Vero and let the shared passion for travel create unforgettable memories.