10 Must Visits Places in Toledo, Spain
Get to know what to see in Toledo, a World Heritage City since 1986. It is a great city with an extraordinary history and culture.
In addition, it is located half an hour from Madrid, with the AVE high-speed train and bus stops 15 minutes walk from downtown.
Disclosure: Some of the links on this post are affiliate links, meaning at no additional cost to you, I may earn a small commission if you click through and make a purchase.
10 Best Places to Visit in Toledo
On a day trip, you can see quite a few things, but the truth is that you have everything and it has been difficult to choose only these points.
Important: be prepared to go up and down hills 😉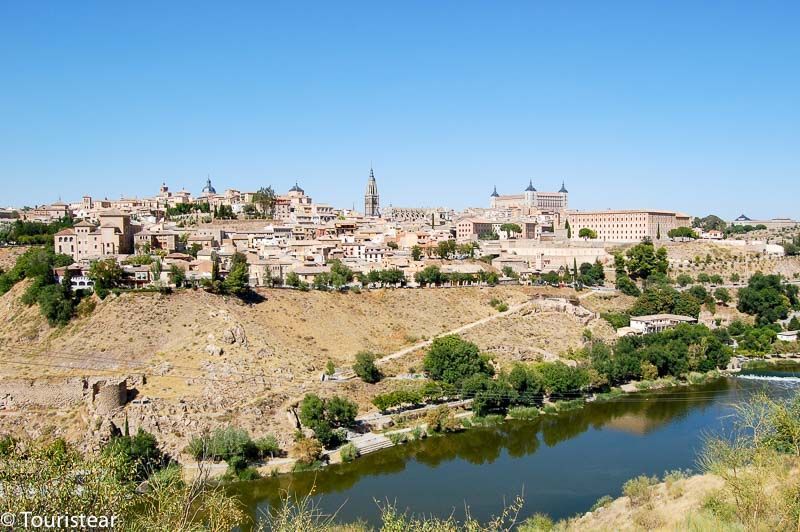 It has free Wifi points, which are very useful for foreigners who do not want to pay for roaming.
If you plan to enter the different museums, churches, and mosques, the ideal is that you buy the Tourist Bracelet here, as you will save time (avoiding queues) and money. You have to take into account the opening and closing times.
Puerta de la Bisagra
The Puerta de la Bisagra is of Muslim origin. The door has undergone the fewest transformations throughout history and retains its front structure with just a few touches, as it was walled up for many years.
It has been the main entrance to the city and where many of us enter today. You will always see people taking pictures! A visit here in Toledo is a must.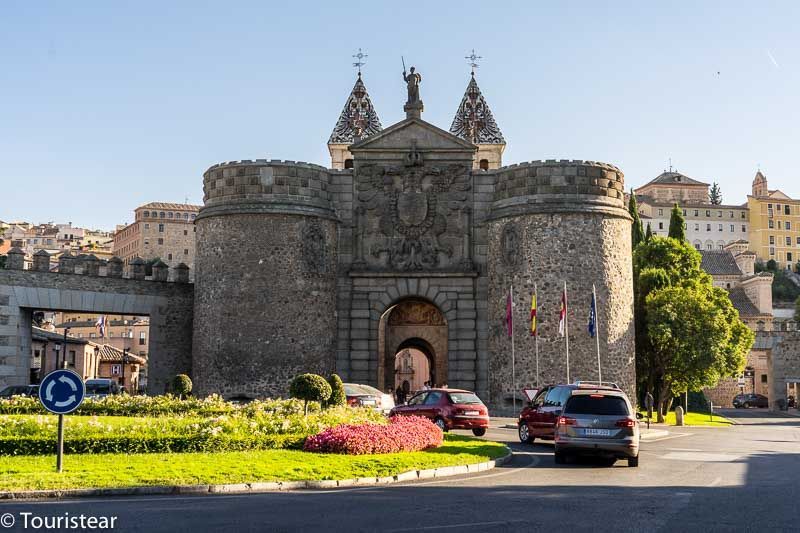 Santa Cruz Museums
It houses three sections: Archaeology dedicated to the Roman, Visigothic, Arab, and Mudéjar cultures.
Fine Arts: with exhibitions of Toledoan painting and Industrial Arts that showcase examples of local popular culture and craftsmanship.
The building was built in the Renaissance and housed a hospital.
The Alcazar of Toledo
An imposing structure that dominates the hill where Toledo is located was burned by French troops and subsequently rebuilt, only to be destroyed again during the civil war and restored once more.
It dates back to Roman times, used as a military garrison praetorium. Inside, you can see the siege museum, the white weapon museum, and the army museum.
Admission is FREE on Sundays. But if you don't want to hop on a bus tour in Alcaraz and the rest of Toledo, make sure you have a handy travel card from Wise. This will help you pay for your admission and pay for other expenses!
The Prime Cathedral, a Must-See in Toledo
The church's floor plan is one of the widest in Christendom, 120 meters long and 60 meters wide, with the main nave reaching 33 meters in height.
It's fascinating how Alfonso VIII and Archbishop Ximenez de Rada came together to celebrate the triumph of the Battle of Las Navas de Tolosa in 1212. They decided to honor the victory by building the Cathedral, but unfortunately, Alfonso VIII passed away in 1214, causing a delay in the construction.
Finally, in 1221, they could begin the work, and the official ceremony for laying the first stone took place in 1226. It's incredible to think about the history and effort that went into creating such a remarkable place!
The Cathedral was officially completed with the construction of the Transparent in 1732. Even though the stone skeleton was completed in 1493, it took 272 years to finish.
The main facade stands out, along with the Lions' Gate, the Emperor's Organ, and numerous pictorial works by artists such as Goya, Van Dyck, and El Greco.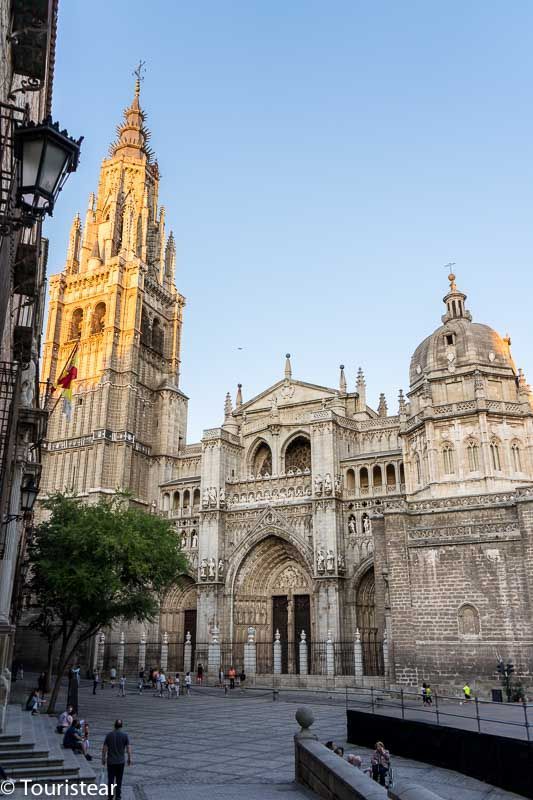 TIP: Admission is FREE on Sunday afternoons. Get a guided tour here!
El Greco's House and Museum, a Must See Destination in Toledo
What is referred to as the house of El Greco were the palaces of Samuel Leví, treasurer of King Don Pedro, although El Greco resided in the abandoned palace of the Marquis of Villena.
Among the numerous paintings are the tears of St. Peter, St. Bernardino, visit and plan of Toledo or St. Tome. Burial of Count Orgáz.
In 2014, in celebration of the anniversary of El Greco, numerous works of his from different countries were brought and temporarily exhibited at the Museum of El Greco.
Admission is FREE on Saturdays starting from 2 PM and on Sundays.
The Jewish Quarter of Toledo
As you approach the Jewish quarter, you'll see Hebrew symbols and letters on the walls and sidewalks.
In the Jewish quarter, you can visit the Sephardic Museum, the Synagogue of Samuel Leví or del Tránsito, the Synagogue of Santa María la Blanca, the Church of Santo Tomé, and the Monastery of San Juan de los Reyes.
After the expulsion of the Jews in 1492, the synagogues passed into Christian hands, and luckily, they were preserved.
When you hop on a tour of the Jewish Quarter, be sure to wear a comfortable pair of shoes.
Museum of Councils and Visigothic Culture
This museum is located in the Church of San Román, which is already unique in Toledo due to its Arabic inscriptions and 13th-century murals with strong Muslim influence.
Inside, you can see reproductions of Visigothic votive crowns.
There are also some artistic testimonies from the Visigothic era, although they are scarce. A piece that stands out as unique and exceptional is a fragment of the Toledo liturgy, corresponding to the text of the Creed, and a collection of goldsmithing.
Mosque of Las Tornerías
It dates back to the mid-11th century. It retained its religious use until 1498, when the Catholic Monarchs revoked its sacred status.
Today, it houses a center for promoting crafts. The distinctive feature of this building is that it has two floors (an unusual fact) due to the uneven terrain.
Hot Air Balloon Ride over Toledo
An unforgettable experience is undoubtedly taking a hot air balloon ride over the city of Toledo. You can do this with a company specialized in flying over World Heritage cities.
We recommend booking this experience in advance, but if you are already in Toledo, you can use this travel sim to get this tour.
Where to Eat in Toledo?
On my last visit to Toledo, we dined at a Santa Fe Street restaurant close to Zocodover Square. It was delicious and affordable, especially if you like grilled dishes – highly recommended.
The restaurants we liked the most in Toledo during the nine months we lived there in 2018.
El Mirador del Valle
And if you have a car, you must not leave Toledo without visiting the viewpoints on the other side of the river, known as "El Mirador del Valle," where you'll have a fantastic view of the city.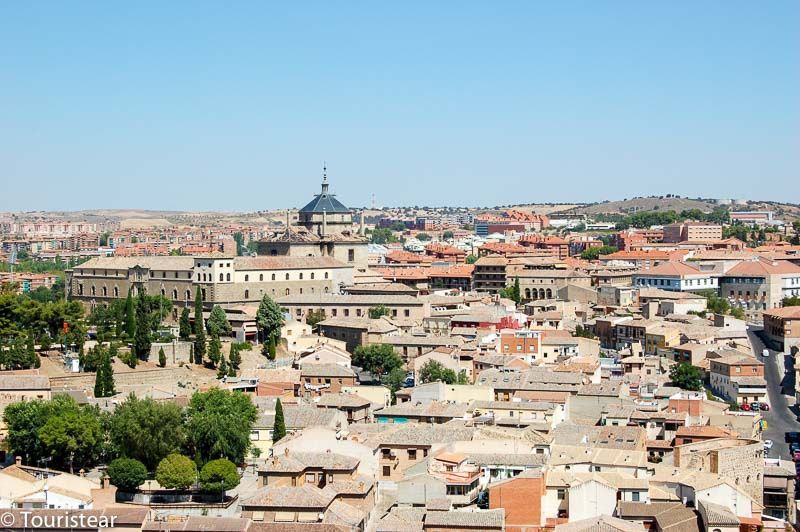 when exploring what to see in Toledo, Spain, prepare to be mesmerized! From awe-inspiring cathedrals to charming medieval streets, this captivating city promises a journey through history you'll treasure forever.
FAQs about What to See in Toledo, Spain
Is It Worth Visiting Toledo, Spain?
Absolutely worth it! Toledo, Spain offers a captivating blend of rich history, stunning architecture, and vibrant culture.
What Is Toledo, Spain Best Known For?
Toledo, Spain, is known for its ancient heritage and as a UNESCO World Heritage Site. It's famous for its impressive cathedrals, beautiful synagogues, and being a historical melting pot.
How Do You Spend a Day in Toledo?
Start with a guided tour of Alcazar, delve into the medieval streets, visit the stunning Cathedral, savor local cuisine at a quaint restaurant, and end the day admiring the Tagus River.
Is Toledo a Walkable City?
Yes! Toledo's compact layout makes it highly walkable. Stroll through narrow alleys, across historic bridges, and explore the city's wonders on foot!
Plan Your Trip to Toledo
Last Updated on 6 September, 2023 by Veronica