Top 10 Things To Do In Cabo De Gata, Almeria
The Cabo de Gata region is one of the most picturesque places to visit in all of Spain.
It's full of beautiful landscapes and incredible scenery, but deciding where to start exploring can be tough because there are so many great options!
Here I present what I consider the absolute best spots you shouldn't miss when visiting this amazing region.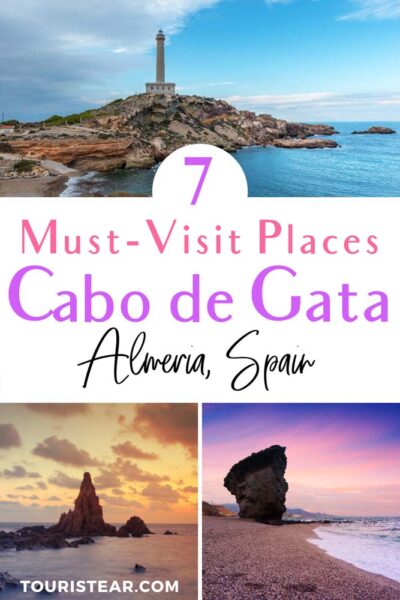 Where to Start Your Visit to Cabo de Gata?
Normally, when I visit Cabo de Gata, I stay in Mojácar, which is the ideal place to stay.
You have to wake up very early in the morning, so you have time to go through everywhere without going in a hurry.
Nothing is worse than visiting Cabo de Gata in a hurry. Also, look at the picture that I find myself in the morning. This is not paid with money.
On the road from Mojácar to Cabo de Gata, you will also find some things to see and do; I'll tell you about them.
Visit Cabo de Gata: A Must-Visit Place
The Castle of Macenas
The Castle of Macenas is a defensive construction from the 18th century. Later, it was used by the civil guard. It is on Macenas beach, and from here you can access the Pilurico Tower.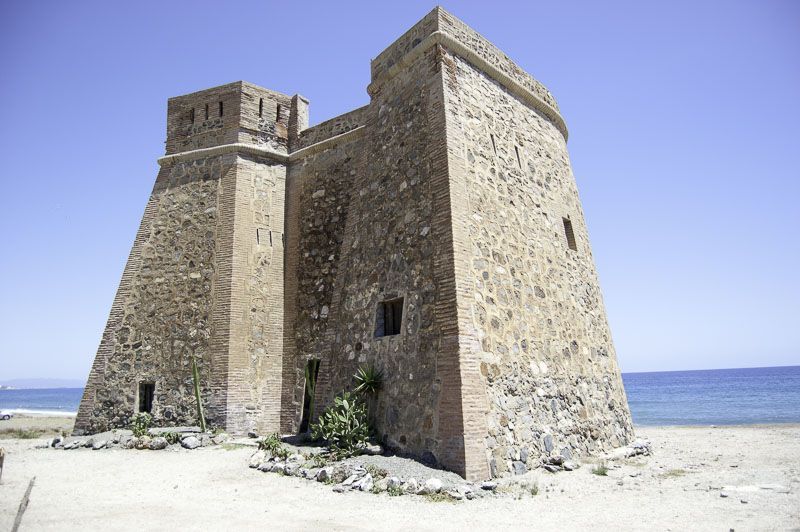 The Pilurico Tower
This tower is much older than the Macenas Castle since it is from the Nasrid period. They used it to watch the coast. You can climb it since it has been restored and the view of the coast is gorgeous from there.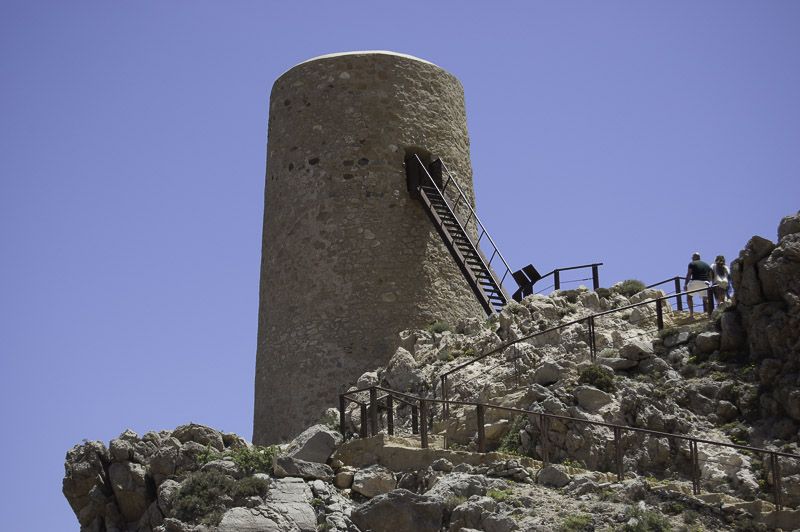 You can see the whole coast; the truth is that it was not fools who put it here.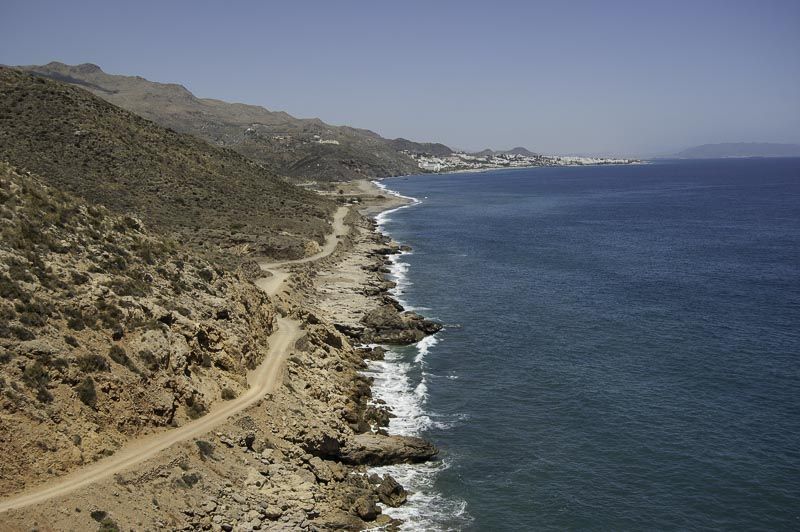 Sopalmo, on your way to Cabo de Gata
Sopalmo is a village that is on the way to Carboneras. When I arrived, I thought it was hilarious that there are two streets in the village, one that goes to the right and where all the pots and windows are blue, and one that goes to the left, where they are red.
I laughed because an inhabitant said that it seemed that some are left and others right (Politically speaking).
In Spain, the 2 main political parties are identified with blue and red, the blue ones are those of the right, and the red ones are those of the left. But it has nothing to do with that!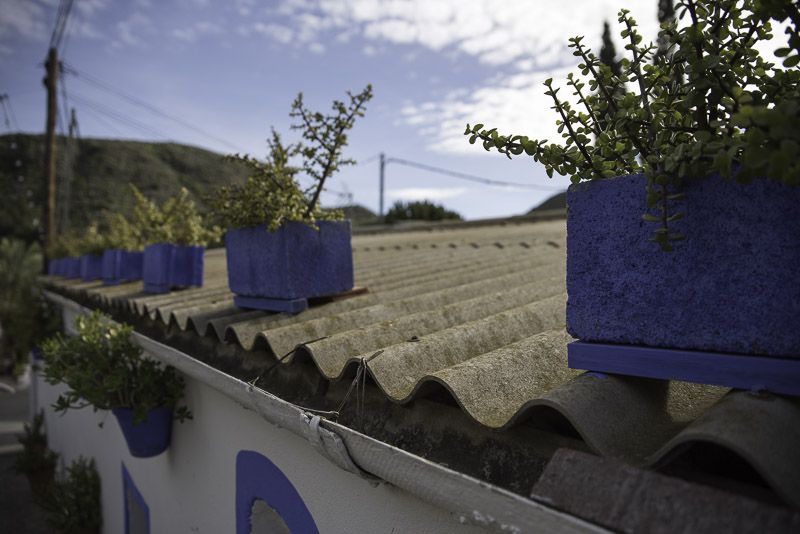 Also, in a little garden, I saw a "Panda Seat" (small old car) turned into a car planter! A very picturesque place that is definitely recommended.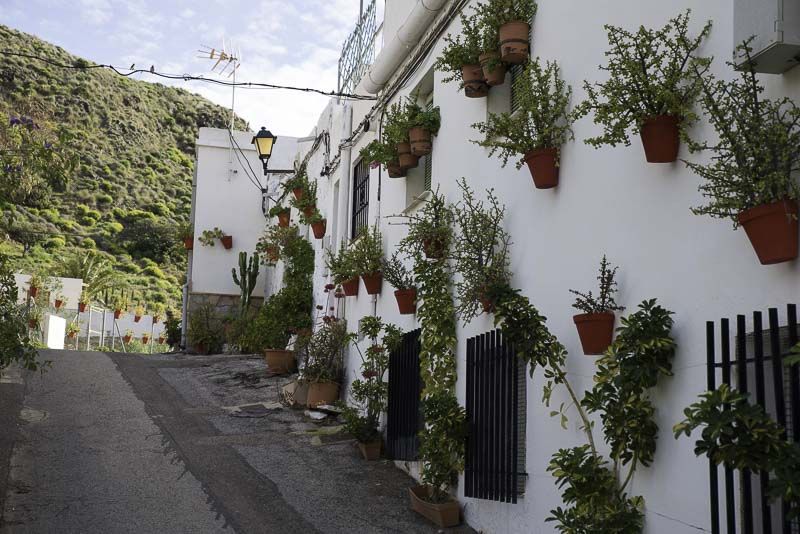 Granatilla's Viewpoint
From this viewpoint, you can see the Sierra de Cabrera, the Algarrobico beach, and the horrible half-built hotel that has made this beautiful beach famous.
If you can take a walk through it, I recommend it. It's a beach with dark and fine sand and very quiet.
Lighthouse of Mesa Roldan
From this viewpoint, you can see a good part of the coastline of Cabo de Gata. It has castle-like Macenas that you can climb as well—a more than recommended view. Unfortunately, the lighthouse is private property and cannot be accessed.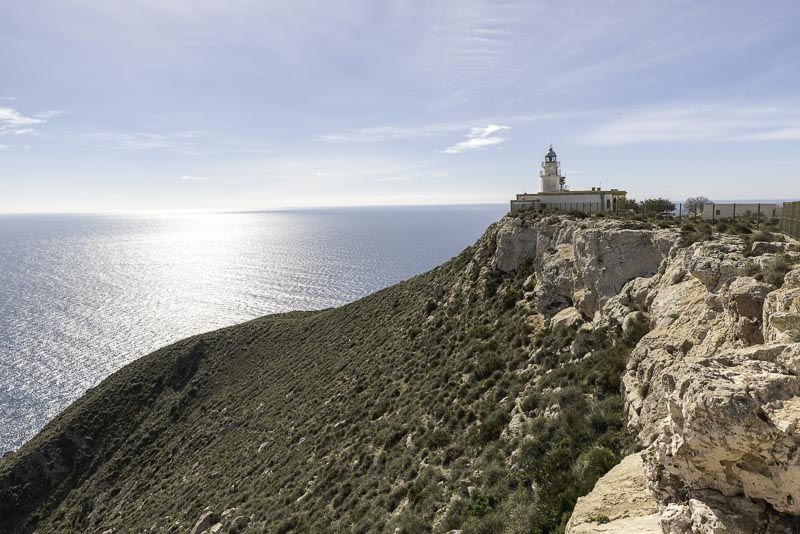 Beach of the Dead, Cabo de Gata
The name of the beach has its origin in the bitter story of the dead that the sea spits on this beach; pirates, merchants, sailors … all were dragged here by the dangerous currents that exist, something you realize when bathing in it.
The Beach of the Dead is one of the largest in Cabo de Gata Natural Park and is well known.
In it, countless advertisements and scenes have been recorded both on television and in the cinema.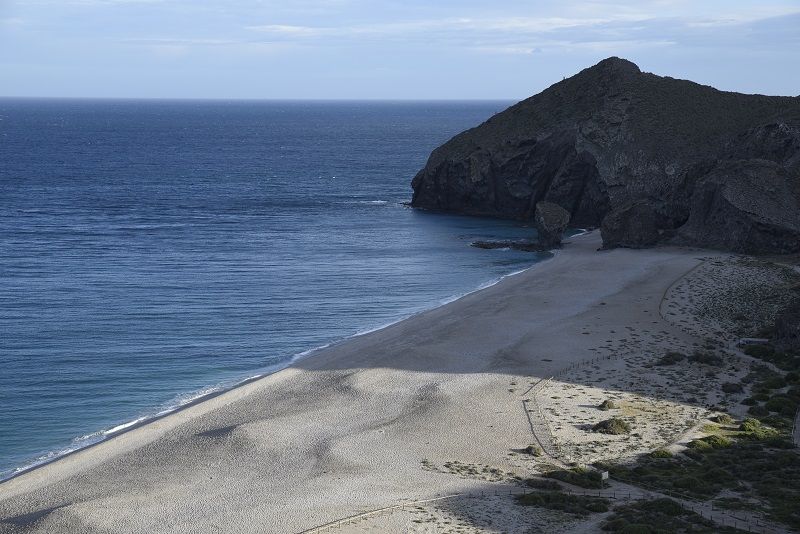 It is not that it has super fine sand or anything like that; what I like most about this beach are the water and the environment.
Although it is normal to be super clean and well-maintained, please leave your footprint on the beach.
Access is not easy; you must walk a goat trail for a good distance. Although, the difficult thing is not to go but to return.
The path is the descent from the hill to the beach, and it tests the hiker, but hey, you know what they say, if you want something, it's gonna cost you!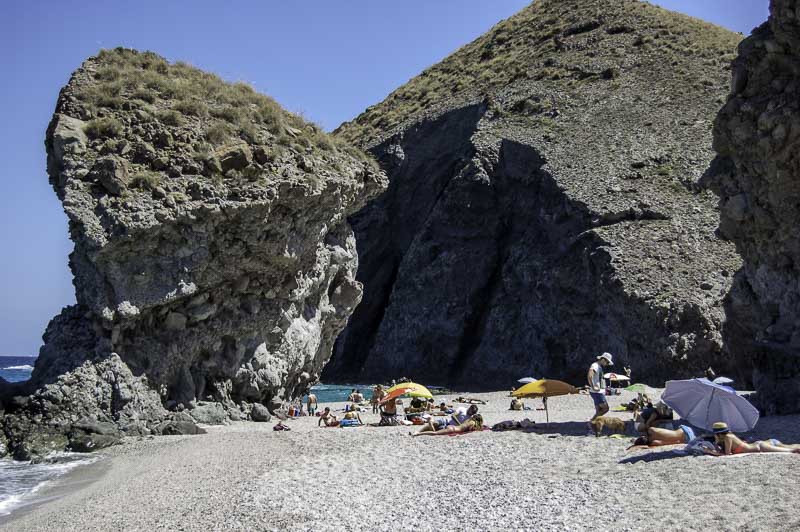 The beach is spectacular, at least I believe it is.
The part I like the most about this beach is the corner that is in the southern area, which is more collected between the rocks and, if there are few people around, it gives you a certain sense of privacy, yes, it is right at the end of the beach so you'll have to put some effort to get there.
In high season, they charge you for leaving the car in the parking lot for saying something I do not like.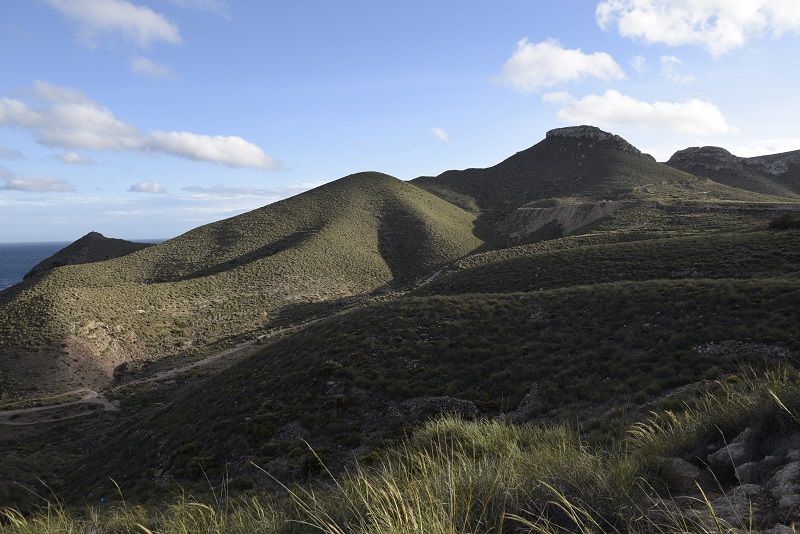 El Cargadero de Mineral de Aguamarga
The first time I visited, it was a great discovery for me. In this area of Cabo de Gata, mining excavations were made to obtain iron ore.
Then, several railroad lines were made to take the mineral to a dock for loading it onto the boats.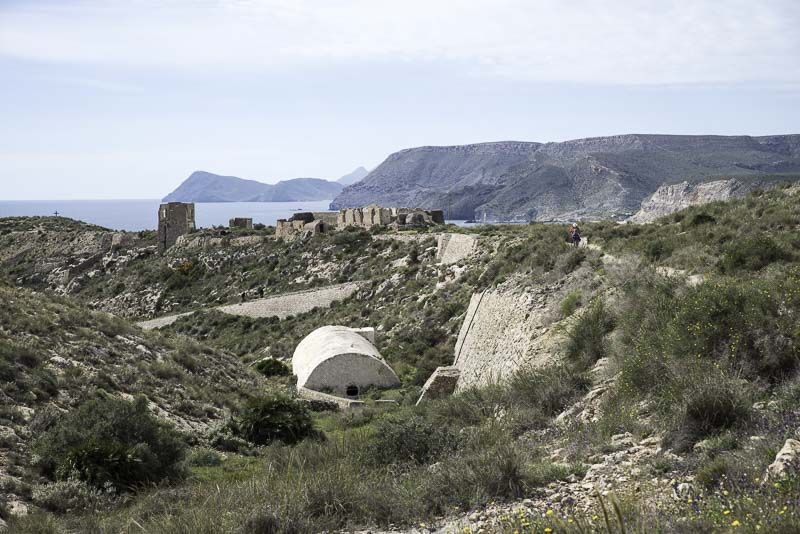 The mine was operational until 1942. You can visit the ruins of the facilities, but be careful because there are not many security measures and it can be a bit dangerous.
From up there, the view of the small village of Aguamarga and its beach is amazing.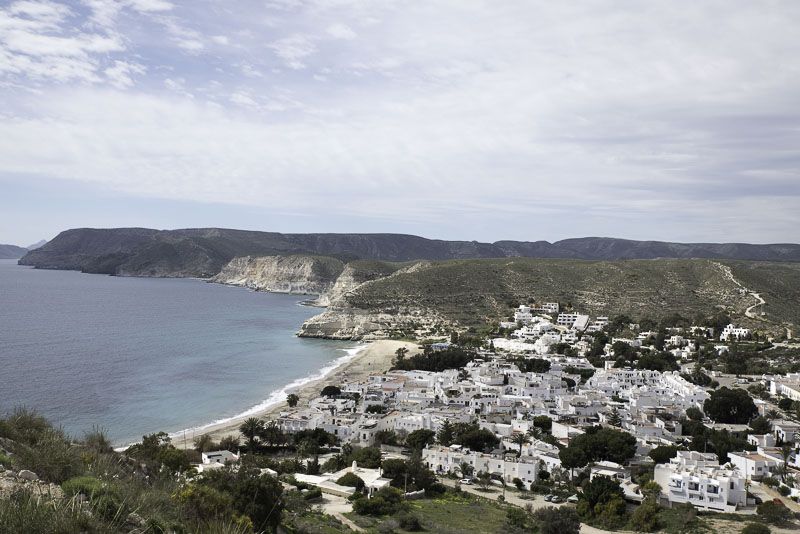 The Gold Mines of Rodalquilar
Although it may not seem like it, gold was extracted in Cabo de Gata until not long ago. The gold mines are now abandoned, and you can visit them with total freedom.
But, again, I warn you that it is dangerous, so be careful.
This mine was operating from 1883 until 1966, at which time the mine ceased to be productive. At that time, Rodalquilar's population increased.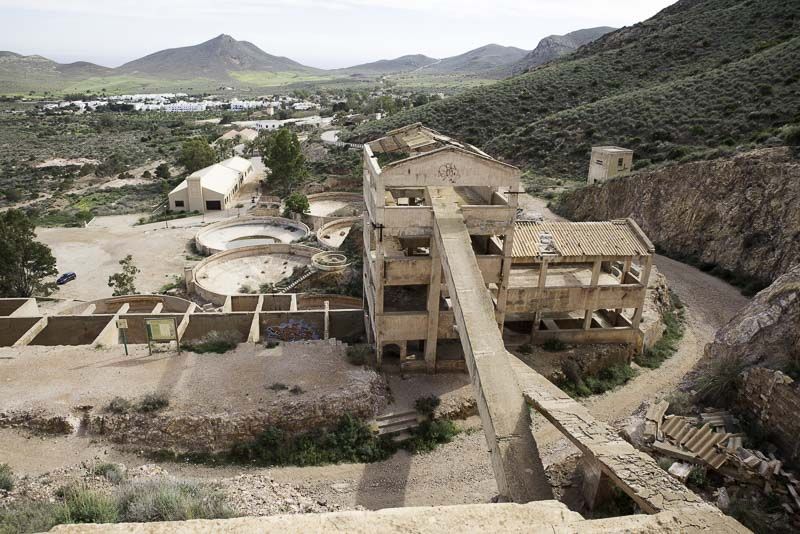 Behind the mine, there is a path that goes a little further into the mountain and, if you follow it, you can also see open-pit mining for ore.
El Cortijo del Fraile, Cabo de Gata
The Cortijo del Fraile is an 18th-century building built by the friars of Santo Domingo de Almería, but in the 19th century, it passed into private hands.
Here, a passionate crime led to the novel by Federico Garcia Lorca Bodas de Sangre.
But it is even better known because it was the setting for several Western films, the best known being The Good, The Ugly, and The Bad.
The best way to get here is from Rodalquilar, as a dirt road goes straight.
On other roads, it is more complicated and easy to get lost.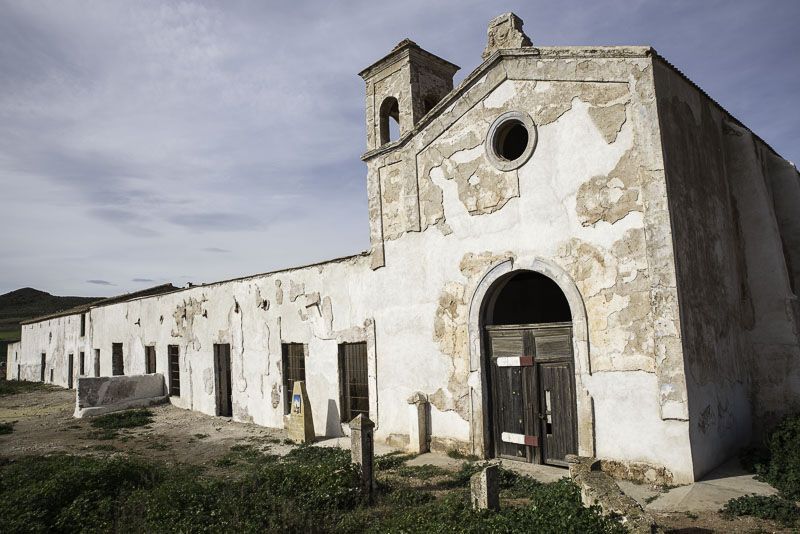 Mirador de la Amatista
Returning to Rodalquilar, you can visit the Mirador de la Amatista. At this point, in addition to having an information point, you have one of the best views of the coast of the natural park of Cabo de Gata.
You can also see some coves, the Isleta del Moro, and the Pico de Los Frailes, the highest mountain in the park. It's located on a curve, and I can not help but stop every time I pass it. I love this view.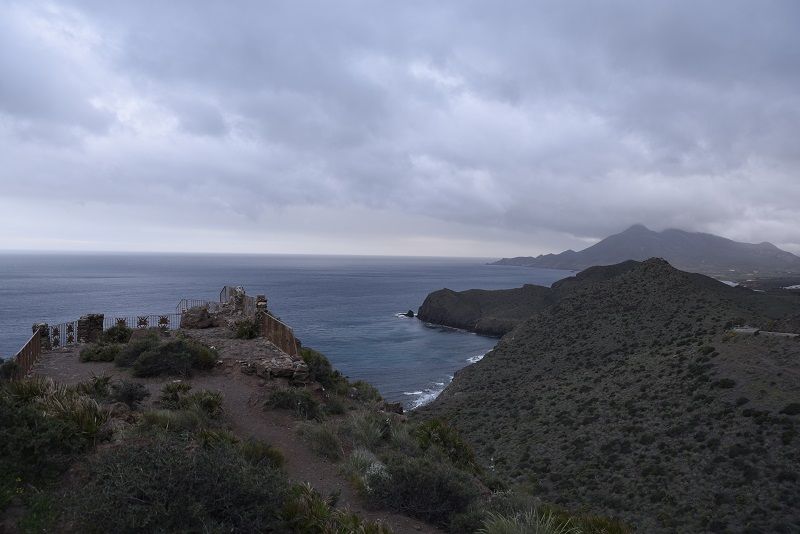 Oolitic Dunes of Los Escullos
These dunes can be up to 250,000 years old and are fossilized. The oolites are like small balls formed and added and accumulated until they form the dune that is then petrified. I thought it was fascinating.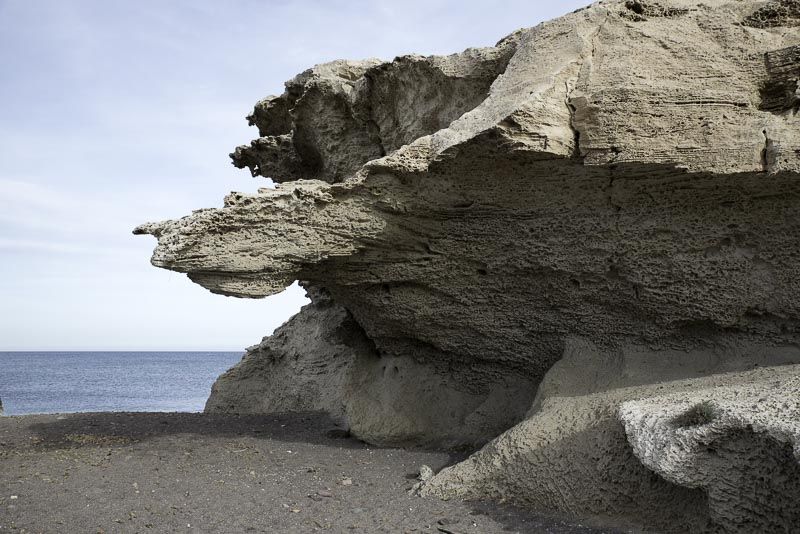 Las Salinas de Cabo de Gata
Las Salinas is a beautiful corner that also serves as an observatory for birds. It is surely the most famous place in Cabo de Gata, and it is more than recommended to know it.
You can go along the road in the salt pans while you have the Mediterranean Sea on one side and the saline on the other.
It is where multiple advertisements and video clips are filmed, such as Jamiroquai and his cosmic girl song recorded here.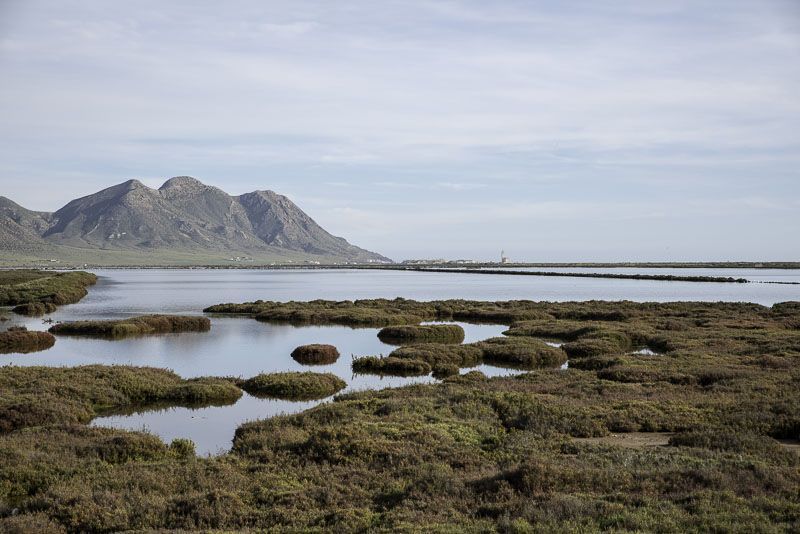 It also highlights the salt flats, the Almadraba Tower, or the church of the salinas, which is an icon of this area and for which this point of the Cabo de Gata park is perfectly distinguished.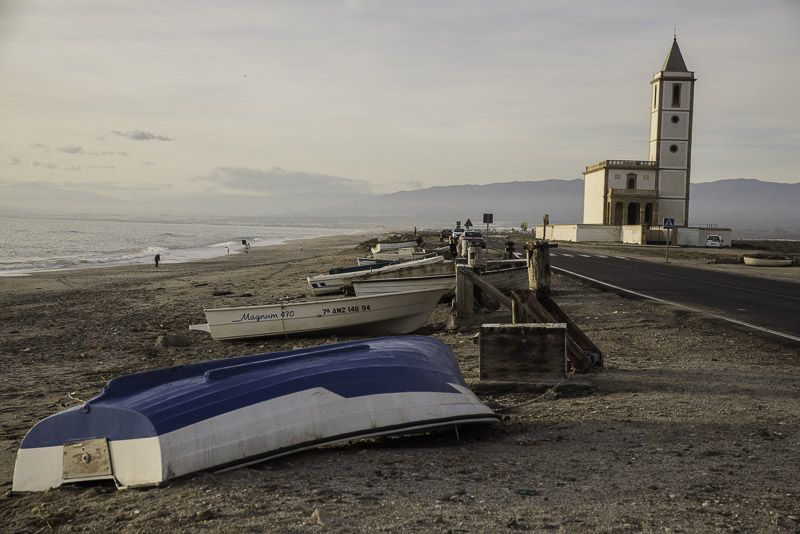 Mermaid's viewpoint
The Mermaid's Viewpoint is probably the best-known point of Cabo de Gata Park. To get to the viewpoint, it is necessary to leave the salt flats behind and head towards the Cabo de Gata Lighthouse.
Once you have passed the infinite straight line of the salt flats, the road becomes more complicated and twisty, and you will even find some stone that has fallen from the walls of the mountain.
The curves are very narrow and dangerous; sometimes, a car passes by, so please be careful.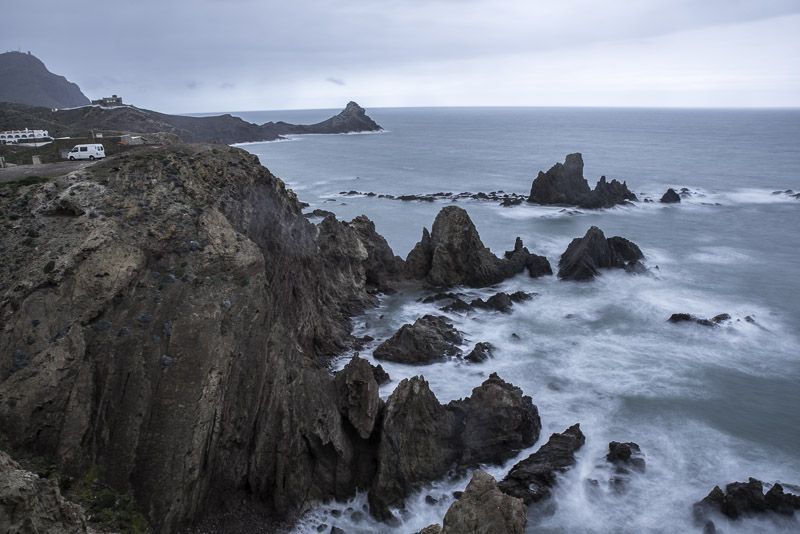 When you arrive at the Cabo de Gata Lighthouse, on the right, you have the beach of Cabo de Gata, and on the left, the view of the sirens reef is a recommended place to stop and observe.
Sometimes, the best thing you can do is stop and contemplate what surrounds you. I believe that is the only thing one can do in this place.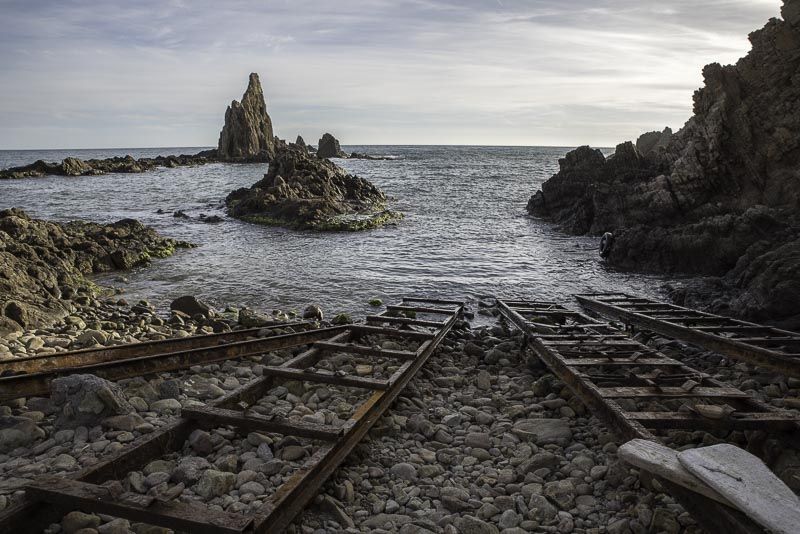 In addition to these beautiful places in the natural park of Cabo de Gata, you can visit cities and towns that are very close to Cabo de Gata and deserve a visit.
Níjar
Níjar is the name of the natural park. Although it is more known for its crafts, its ceramics and its tomatoes are also popular. You can not leave Níjar without trying or buying Raff tomatoes from Níjar; you will not regret it.
Mojácar near Cabo de Gata
Mojácar is surely the town I know best in this area because I have been visiting it for the past 25 years. It is a town with a special charm.
You can visit Mojácar village on a mountain, which is the oldest and most typical of Mojácar.
Also, you have to visit Mojacar Playa, which is full of places, restaurants, and hotels where you can spend a few days and relax.
And you? What do you recommend visiting Cabo de Gata?
More Visits in Andalusia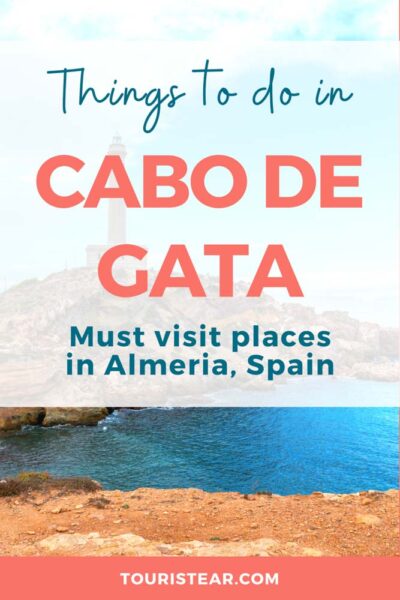 Book Your Trip
Book Your Flight
Find a cheap flight by using Skyscanner.
Book Your Accommodation
You can book your hostel, hotel, or apartments on Booking.com.
Don'torget Travel Insurance.
Travel insurance will protect you against illness, injury, theft, and cancellations. It's your protection in case anything goes wrong. You never go on a trip without it.
Best companies for Tours
Check out Civitatis.com and find the best tours in English (French, Spanish and Italian)
Are you looking for the best companies to save money with?
Check out my resource page for the best companies to use when you travel! I list all the ones I use to save money when I travel – and I think I will help you too! (Is in Spanish yet)
Disclosure: Some of the links on this post are affiliate links, meaning at no additional cost to you, I may earn a small commission if you click through and make a purchase.

Book Your Trip
Book Your Flight
Find a cheap flight by using Skyscanner.
Book Your Accommodation
You can book your hostel, hotel, or apartments on Booking.com.
Don'torget Travel Insurance.
Travel insurance will protect you against illness, injury, theft, and cancellations. It's your protection in case anything goes wrong. You never go on a trip without it.
Best companies for Tours
Check out Civitatis.com and find the best tours in English (French, Spanish and Italian)
Are you looking for the best companies to save money with?
Check out my resource page for the best companies to use when you travel! I list all the ones I use to save money when I travel – and I think I will help you too! (Is in Spanish yet)
Last Updated on 14 October, 2022 by Veronica