Last Updated on 20 August, 2020 by Veronica
If you live in Madrid or you are visiting the capital, you have to go to Avila. It is one hour away by car or train.
Today we tell you about what to see and do in Ávila in one day. Meet the city that belongs to the World Heritage UNESCO.
Ávila is that type of city that you visit occasionally because it is not so far. Also, because it is beautiful and it has fabulously tasty food.
There are many things to look out for in Ávila. Since you will probably run short in time, I will tell you the essential things that you can do in a day.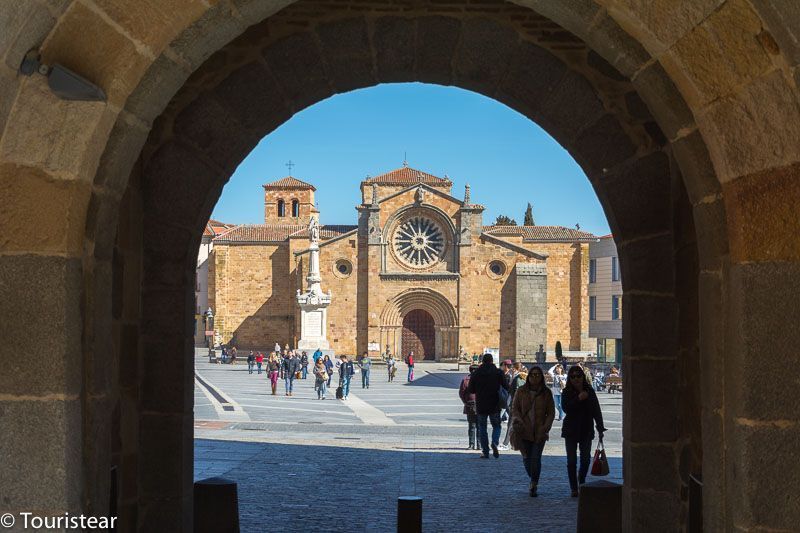 Where to start the visit to Ávila
To begin with, you can start Ávila any way you like. You can go for tapas depending on the time you arrive, or you can visit its most important museums.
Nonetheless, what brings most the attention when you get to Ávila is its great wall that surrounds it. You can tour through a pretty big stretch of it and be able to have a general look of the city.
What to do and see in Ávila? Essential places.
Butcher´s House (Casa de las carnicerías)
At the old Butcher´s House (Casa de las Carnicerías), we will find one of the entries to the Wall and the Tourist Office of Ávila.
They were built at the end of the XVI century. Its main goal was to sell the wine that entered the city and housed two of the biggest butchers of the city.
It is a great spot to begin the visit of Ávila, due to the fact that you can ask for a map of the city, visit the building and get access to the wall.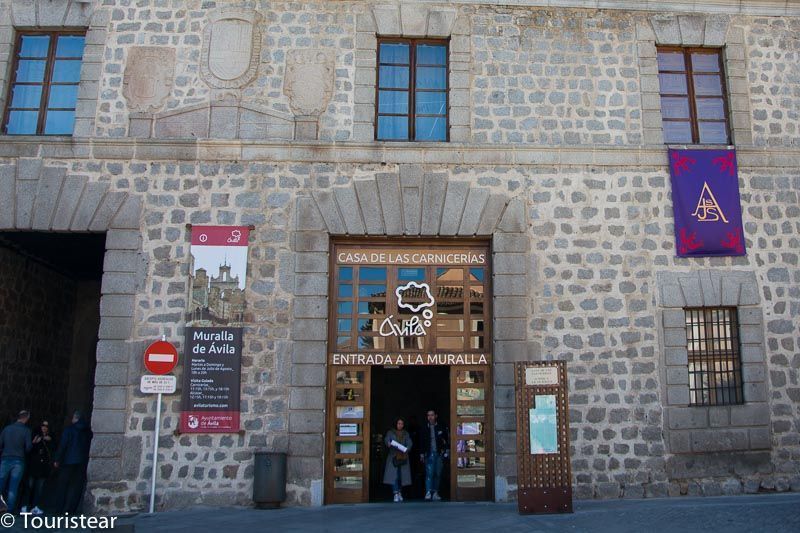 Walk the Wall of Avila
Every time I go to a walled city, I like to enjoy a walk through it and discover the views that it has to offer.
In Ávila, the wall is well preserved. It is a belief that it is from the eleventh century, but there are other experts that assert that it was built the following century. Neither of them get to a concrete agreement of its origin.
What is more interesting is that you can visit the wall. In order to go up and tour it, you have to pay a small amount of 5€ that helps preserve the wall.
When visiting the wall, do not forget to bring your photo camera! Also be careful with the steps because they are higher than normal.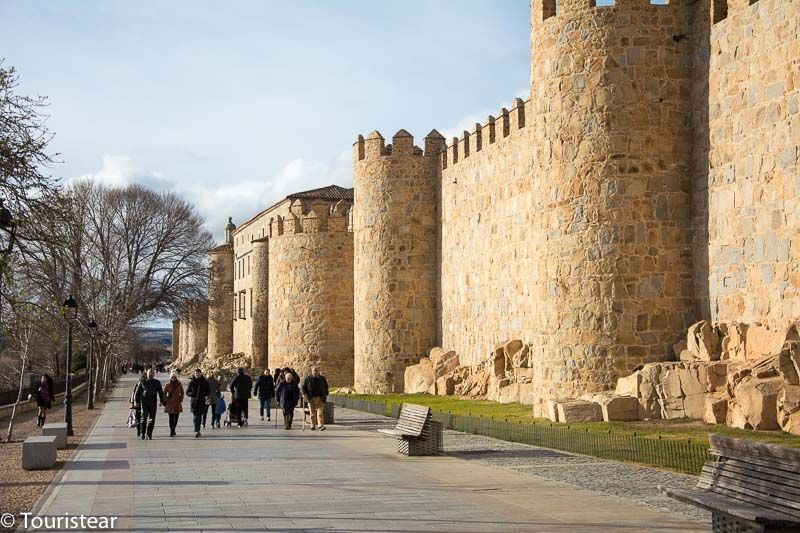 Square and gate of Alcázar (Plaza y puerta del Alcazar)
Another place that we should definitely see in the city is the gate of Alcázar, which is the most important of the wall. It is the one closest to the old castle.
This gate has two towers with battlements, which they were used by soldiers to protect themselves from the enemy attacks behind it. This entrance had different elements to defend the city. One of them was an embrasure, its purpose is to allow weapons to be fired out from the fortification while the firer remains undercover.  It also has a drawbridge and a moat.
This entrance is located at Great Market Square Park (Plaza del Mercado grande) or Santa Teresa Square Park.
San Pedro Church and the Great market
The Great Market Square Park is really Santa Teresa Square Park, you can reach this place through the gate of Alcázar as I said before. This park is at the center of Ávila where parties and fairs are celebrated.
In one end of the Square, we can see the church of San Pedro with its romantic style. Its rosette stands out from far away.
Visiting the Cathedral of Avila
In the center of the city we will find the Cathedral of Ávila. It is a national Monument and belongs to the World Heritage. Also recognized as the first goth cathedral in Spain.
It is quite easy to get to the cathedral. It may be curious to you as it was to me, that it seems to be hidden. It is interesting to see how the city started growing around it.
The cost of visiting the cathedral of Avila is 5 €.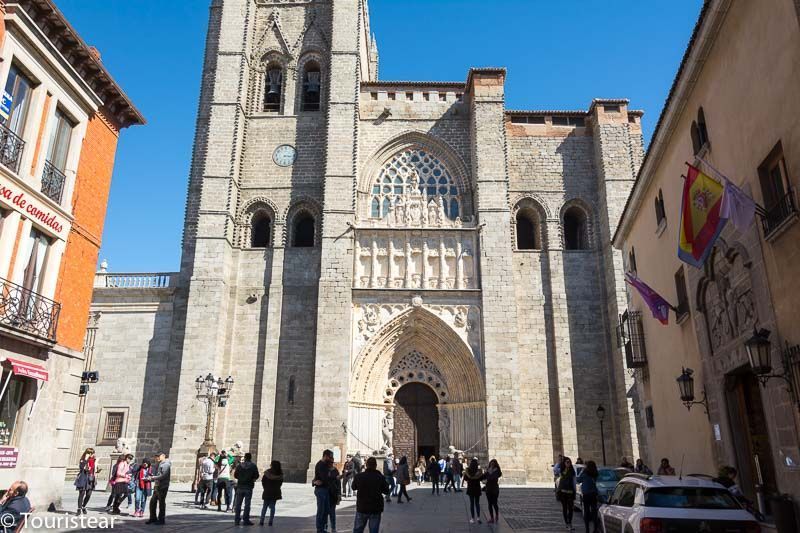 Town Hall and Small Market Square
The Small Market Square Park begin to form at the end of the XI century. However, the Town Hall building was built in the era of the catholic kings, when they found out that there was no room for the council to meet.
The building that we see today preceding the park was built around the XIX century.
There are many typical places below the porches to have some beers and taste the local cuisine.
Basilica of San Vicente
The Basilica of Saint Vincent is a church that was built in the XII century. It is dedicated to Saint Vicent, Saint Sabina and Saint Cristeta. Three siblings that were sent to be killed by the roman emperor Diocleciano.
This church has romantic style and is one of the best examples in Ávila. In front of the Basilica there is a gate of the same name, where there is outside the wall.
Monastery and Santa Teresa Museum
Santa Teresa was born in Avila in march of 1515. Santa Teresa was always proud of being born in Ávila, as Ávila was also proud of being the cradle of Santa Teresa.
It is a must to visit the Museum of Santa Teresa. Same rule applies to the museum of Dalí in Figueras or the San Isidro Museum in Madrid.
Turret of the guzmanes
The turret of the Guzmanes (Torreón de los Guzmanes) is an imposing building, very well preserved, which is also the headquarter of the deputy of Ávila. It is from the XVI century. Alfonso XII was housed in here also. It is also known as the turret of the Mujicas that belongs to the palace that is attached. Enrique Larreta used it as a stage in his play: ¨La Gloria de Don Ramiro¨.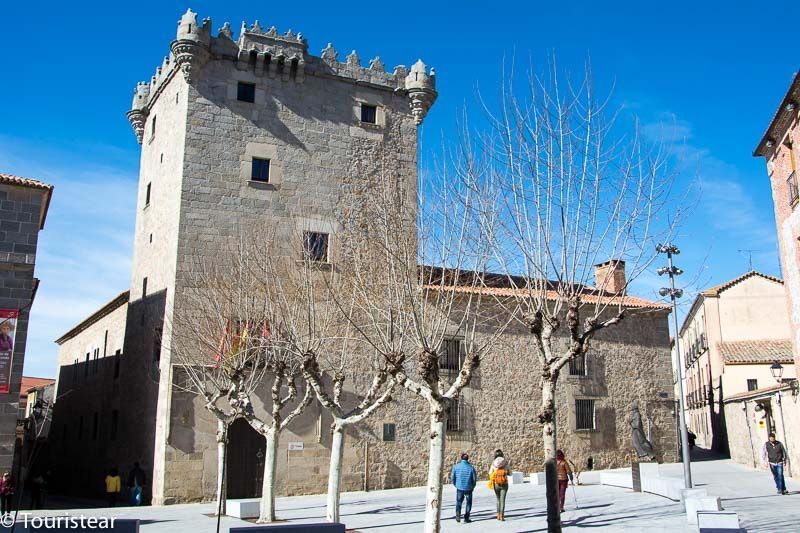 The four poles of Avila (Los 4 Postes)
There are amazing views of the wall from the four poles. The best time to be there is at the beginning of the evening, when you can take the most beautiful pictures. However, in the weekends there will be many people trying to take the best pictures of the walled city. There is a legend going around that says that the four poles were erected on that spot because Santa Teresa washed her feet there. Is it true?
Recommendations in Avila
Guided tour of Ávila
Legends tour
Cathedral and San Vicente tour
Tour from Madrid to Ávila and Segovia
Tour from Madrid to Ávila and Salamanca
Where to Eat in Ávila
A trip to Ávila will not be fulfilled if you do not go for tapas. There are plenty of places to enjoy some tasty tapas, paired with Table Wine or a beer.
Here there are some of our favorite spots.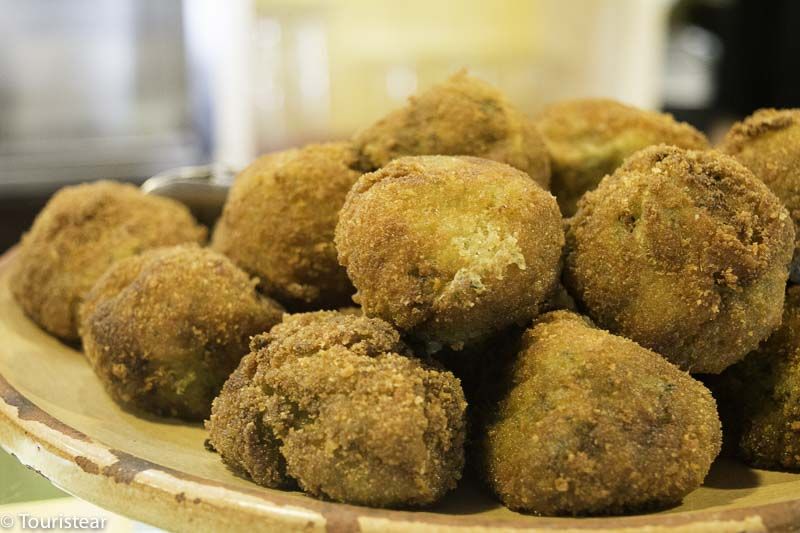 Where to sleep in Avila
Almost every time we go back to sleep at our place but there was one time we stayed in Ávila. We slept at the Sercotel Hotel 4 postes, where you will find great views of the Wall. Be sure to request at the check-in counter for a room that has those views!
Search on Booking your hotel in Avila
Do you also like walled cities like Ávila? Which one is your favorite?
How do you get to Ávila?
As I was telling you at the begining of the post, you can get to Ávila by bus or train since it is well connected from Madrid.
If you are driving your car or the one you rented and it is the first time going, you will have to take the A6 highway and pay the toll (12€). If you want to save the toll, you must take the same A6 highway and take the exit that leads to the national VI road. This way will take more time, since you pass a port and a bunch of towns.
If you are renting a car, you can do it through here (which is the site where we do our bookings of cars). You can save more money in comparison to other sites.
Do you also like Walled cities like Ávila? Which one is your favorite?
Prepare Your Trip to Avila
Book Your Trip
Book Your Flight
Find a cheap flight by using Skyscanner.
Book Your Accommodation
You can book your hostel, hotel, or apartments on Booking.com.
Don't Forget Travel Insurance
Travel insurance will protect you against illness, injury, theft, and cancellations. It's your protection in case anything goes wrong. You never go on a trip without it.
Best companies for activities
Check out Civitatis.com and find the best tours in English (French, Spanish and Italian)
Looking for the best companies to save money with?
Check out my resource page for the best companies to use when you travel! I list all the ones I use to save money when I travel – and I think will help you too! (Is in Spanish yet)
We are not native English speakers but we have decided to translate our post to English so we can share it with the whole world. If you see any spelling mistake or something, please let us know, it is so important to us. If you do so, we can improve our post and also our English knowledge! Thanks in advance!!!
This post may contain affiliate links. That means if you click and buy, I may receive a small commission (at zero cost to you). The commission helps us to keep this project running and to continue creating useful content for your travels. Thank you so much for your support! Please see my Affiliate Disclosure Policy for more information.