Last Updated on 6 July, 2021 by Veronica
Segovia is a beautiful Spanish city that has many must-see places. In just one day, you can explore the Roman Aqueduct and Plaza Mayor.
If you're hungry for some delicious tapas, stop by Mesón Restaurante Las Cuevas del Duque for their famous patatas bravas or cordero asado (roasted lamb). You'll never regret visiting Segovia!
Segovia has been a UNESCO Heritage city since December 1985, and when you walk through its streets, you will see why!
Segovia is commonly known for its aqueduct, but this city has so much more to offer, which I will tell you about in this post.
I hope you like it as much as I do!
What to see and do in Segovia in a day
Here, you will find parts of the traditional visit to Segovia, part of the Jewish quarter, and the Segovian wall. Are you ready?
Roman Aqueduct
The Aqueduct of Segovia is a work of the Romans. It was built to bring water to the city; however, it is not clear at what time it was built, whether it was in the 1st century with the Flavius or during the time of Trajan.
It has 167 arches of granite stone and what makes it even more grandiose is that it does not take any kind of mortar to join it; it "simply" stands after so many centuries by the "balance of forces." The work of the ingenuity of the engineers of the time.
In this area, you can go for tapas, something essential in Segovia.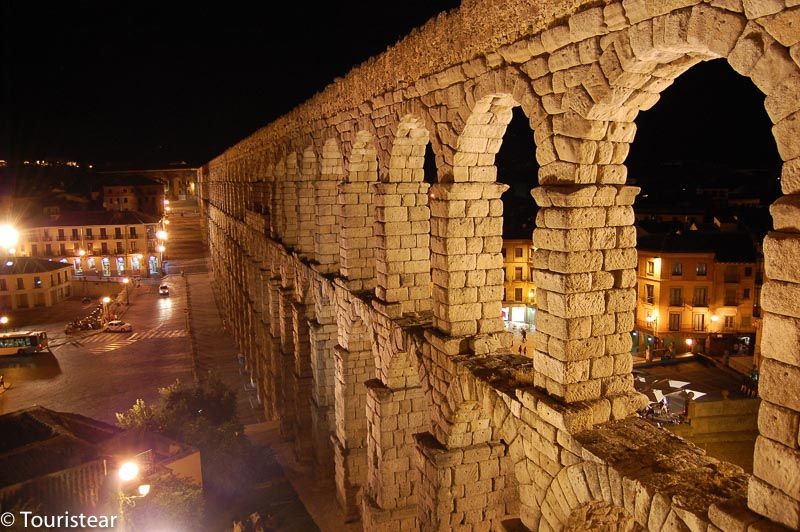 Calle Real and Casa de los Picos
Calle Real is the most commercial street to visit in Segovia, and it takes you directly to the Plaza Mayor and the Cathedral, passing before the Old Synagogue Major.
It changes its name on some occasions (Cervantes, Juan Bravo, Plazuela del Corpus and Isabel la Católica).
We continue along this street until we reach the Mirador de la Canaleja; from it, we can see the mountain of the dead woman and the neighborhood of San Millán.
The Casa de Los Picos is currently the School of Applied Arts and Artistic Crafts.
It is from the sixteenth century and is believed to have been built to defend the city, although it is also said to have been from a Jew or the city's executioner.
Plaza de Medina del Campo and San Martín
We continue walking along the Segovian Royal Street (Calle Real) and arrive at the Medina del Campo Square, where you'll see:
The Church of St. Martin of the twelfth century,
an old palace of the Tordesillas of the fifteenth century,
the Tower of Lozoya of the fourteenth and sixteenth centuries,
the House of Solier,
and the House of Bornos of the 16th century Renaissance style.
Undoubtedly, a square that goes back 5 centuries in time deserves us to stop and contemplate this architectural ensemble.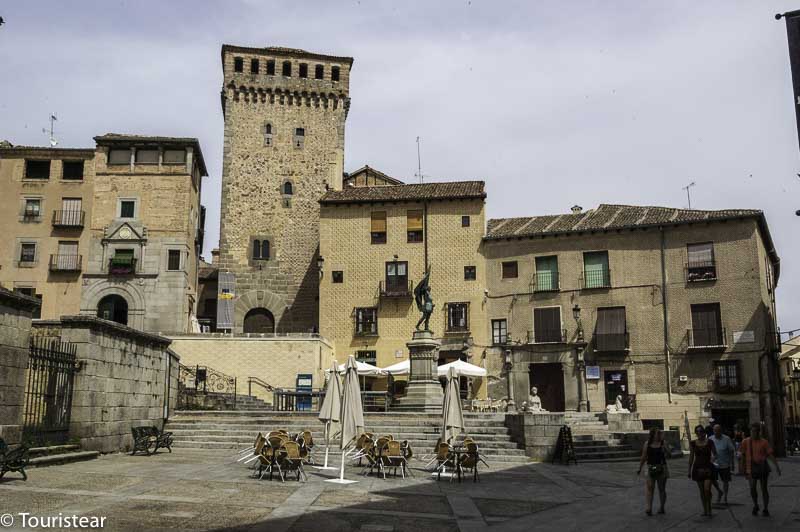 Plaza Mayor and Segovia Cathedral
The Plaza Mayor is the heart of Segovia. Here we find the Town Hall and the new Church of San Miguel since the previous one was located in the center of the square and sunk and was consequently moved to one side.
In the Plaza Mayor, we can also see the Cathedral of Segovia and a few bars and restaurants where tourists and locals eat tapas, lunch, or dinner.
The Cathedral of Segovia is a late Gothic style, and it began construction in 1525. The main facade is Puerta del Perdón (Door of Forgiveness, literal translation in English), and in the bell tower lived the bell ringer until the twentieth century, great views had!
The interior of the Cathedral houses has 18 beautiful chapels from 16th-century and fantastic stained glass windows that are worth the visit.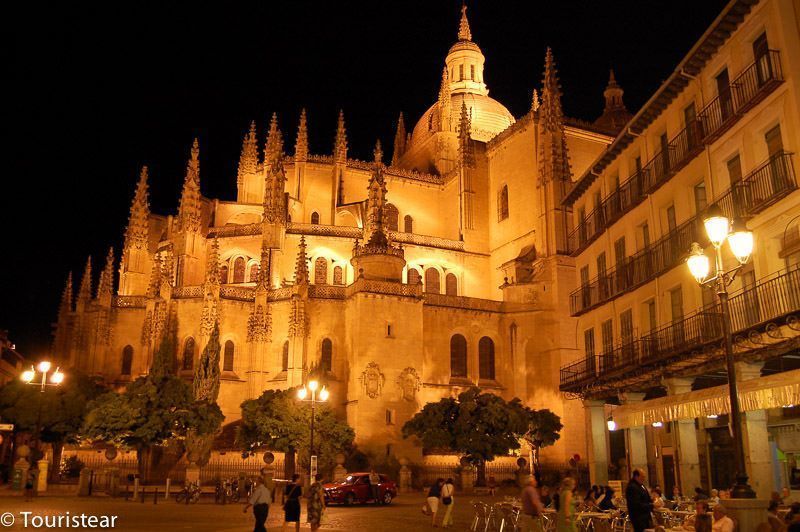 The Jewish quarter of Segovia
The Jewish quarter of Segovia is located in what is now the commercial area. At the time, there were 5 synagogues, but today only remains the Major Synagogue, which is now the convent of Corpus Christi.
In the Jewish quarter, a teaching center aims to show, teach, and disseminate to visitors the history of the Jews of Segovia. It's very interesting, and the general entrance only costs 2 euros and is free on Thursdays.

Former Major Synagogue
It is the best-preserved synagogue in Segovia. It is believed to have been built in the 13th century and functioned as a synagogue until 1410, when it was converted into a Catholic church.
Its caretakers are the Clarissa nuns. So if you feel like visiting it through the inside, you can do it in these hours:
Monday and Wednesday from 10:30 a.m. to 1:45 p.m.
Saturdays from 10:30 a.m. 1:45 p.m. 16:00 a.m. 17:45 a.m.
Sundays from 11:00 a.m. to 14:15 p.m.
Closed: Tuesday, Thursday, and Friday.
And the entrance fee only costs 1 euro.
The Segovia Wall
Although many people do not know, in Segovia, there is also a wall. The thing is, it only got three miles left because when it was no longer needed as a defensive element.
It was considered more of a nuisance, and they either demolished it or built on or stuck to it. Then, until the twentieth century, they began to preserve it and restore it.
In 1941, UNESCO declared a World Heritage Site to the entire walled compound and its aqueduct.
The entrance to visit the wall of Segovia is only 1euro.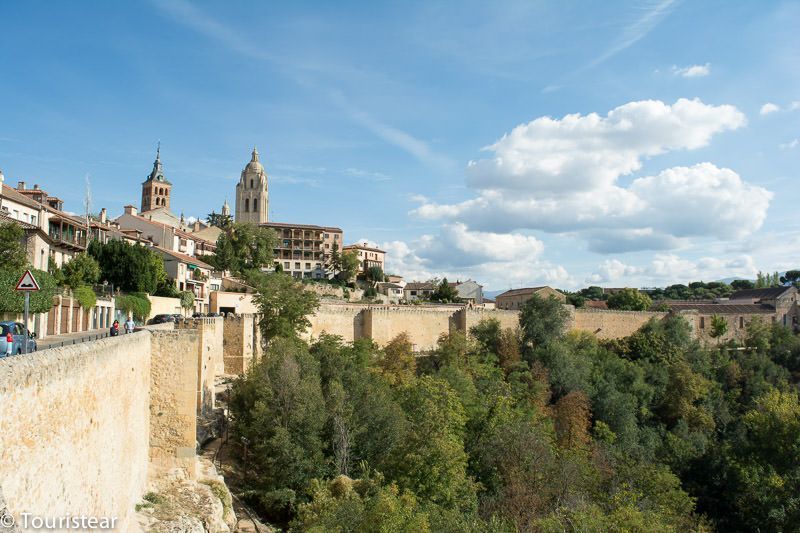 Alcazar de Segovia
The Alcazar of Segovia looks like a fairytale castle on top of a hill. However, before you arrive, you find green gardens that are very well maintained.
You will have great views on the right, and you can see the Church of Vera Cruz and Zamarramala. Finally, the end of the gardens reaches the Alcazar, where you can see the moat with a drawbridge.
Some say that the profile of the Alcazar of Segovia looks like a ship over the river; give it a little imagination, and you may see it!
To enter the castle, you have to pay for a ticket, depending on where you want to visit you can spend 2, 5.50 or 7.50 euros.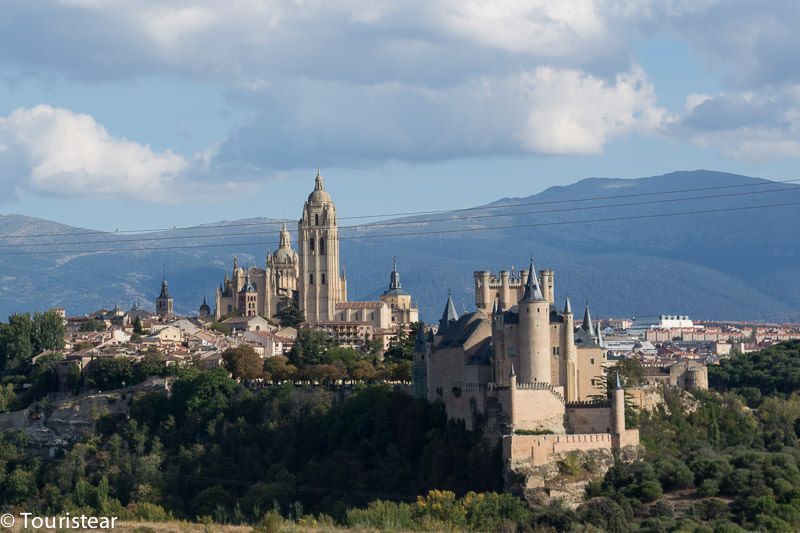 Flying in Globe in Segovia
One of the activities that I have pending in Segovia is climbing a balloon and seeing the city from the heights. It has to be a marvel and an unforgettable experience.
The tour departs at 8 am and lasts in total about 3 hours. It's an hour's flight and then includes a toast with cava and lunch, video, certificate, and the super experience recorded on your retina.
It is also an activity for the whole family, as children from the age of 6 can climb.
However, to do the balloon ride through the sky of Segovia, you have to make the reservation more than two days in advance.
Recommendations
Where to eat in Segovia?
Segovia is also well known for its gastronomy that will not leave you indifferent.
If you want to get out and enjoy tapas from around the city, visit this post with 11 tapas places around Segovia, you will love it!
Where to sleep in Segovia?
As you can see, there are many things to see in Segovia in a day!
So the chances are that you will want to sleep to enjoy the city of the aqueduct to the fullest. To do this, you can take advantage and stay to sleep. 
They have a wide range of hotel offers. So tell us what your choice was!
Tell us what your choice was!
Book Your Trip
Book Your Flight
Find a cheap flight by using Skyscanner.
Book Your Accommodation
You can book your hostel, hotel, or apartments on Booking.com.
Don't Forget Travel Insurance.
Travel insurance will protect you against illness, injury, theft, and cancellations. It's your protection in case anything goes wrong. You never go on a trip without it.
Best companies for activities
Check out Civitatis.com and find the best tours in English (French, Spanish and Italian)
Are you looking for the best companies to save money with?
Check out my resource page for the best companies to use when you travel! I list all the ones I use to save money when I travel – and I think will help you too! (Is in Spanish yet)
Disclosure: Some of the links on this post are affiliate links, meaning at no additional cost to you, I may earn a small commission if you click through and make a purchase.