Road Trip Through the North of Spain
The ideal road trip awaits you in the north of Spain, with beautiful beaches along the coast, mountains, and beautiful places wherever you decide to stop. This destination is undoubtedly a 'top' among travelers every year. It never gets old-fashioned!
The northern part of Spain has a lot to offer. This article will focus on the Basque Country, Cantabria, Asturias, and Galicia; These regions are internationally known for their rich gastronomy and wild landscapes that dazzle their visitors yearly.
We recommend making this trip on four wheels to enjoy the wonders of the road. Take a leisurely trip and stay at campsites that you will find throughout the territory of Green Spain.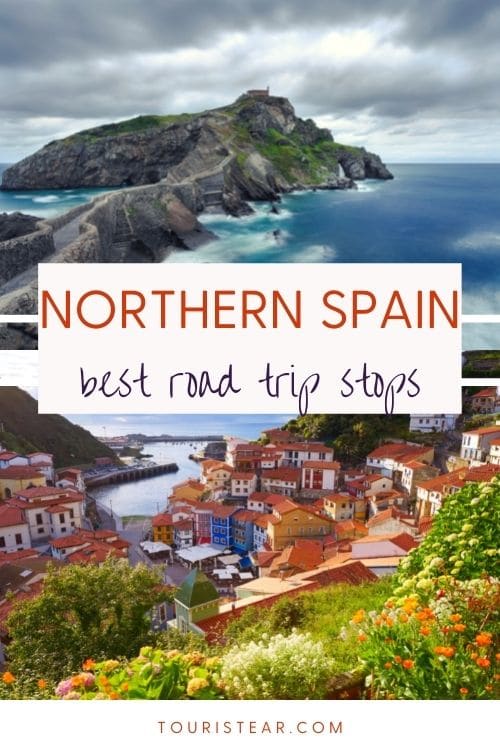 Plan Your Road Trip Going Camping
Planning a road trip is always a bit more work than planning a weekend getaway.
If you travel in the high season, one of the main things you must consider is where you will sleep. Why? Because campsites and hotels are booked fast, you can run out of space or have to pay a lot more for a place to sleep.
Throughout the north coast of Spain, you will find very well-equipped campsites to spend a night or a great vacation.
Staying in campsites can be the most comfortable option for this type of trip since it gives you some flexibility in terms of arrival times, and you can also stay in a tent, or bungalow, or even have your own plot for your van or motorhome.
Rates are usually affordable and offer all the amenities needed to spend a night and get back on the road the next day.
Every one of these regions they have good camping options. I repeat, if you travel in high season, you have to reserve your place. Because it is a very popular area that gets busy quickly, it's perfectly ideal for a summer road trip.
To make it easier for you to plan your trip, I recommend that you read these two posts that we have prepared for you:
Places You Should Not Miss in the North of Spain
There is so much to see in the North of Spain, especially in Cantabria, Asturias, the Basque Country, and Galicia. It seems almost impossible to choose just a couple of places to visit. So here we did that task for you.
So that you do not break your head too much trying to make this impossible decision, we share with you the best sites you have to visit.
626 km separate Galicia from the Basque Country, where our journey will begin by visiting the city of San Sebastián. Located on the Bay of Biscay coast, it is a tourist attraction, full of history, promoter of culture, and enviable architectural beauty.
Basque Country
You can start your trip in beautiful San Sebastián; it is a good point of origin. Then, dedicate at least one day to visiting the city.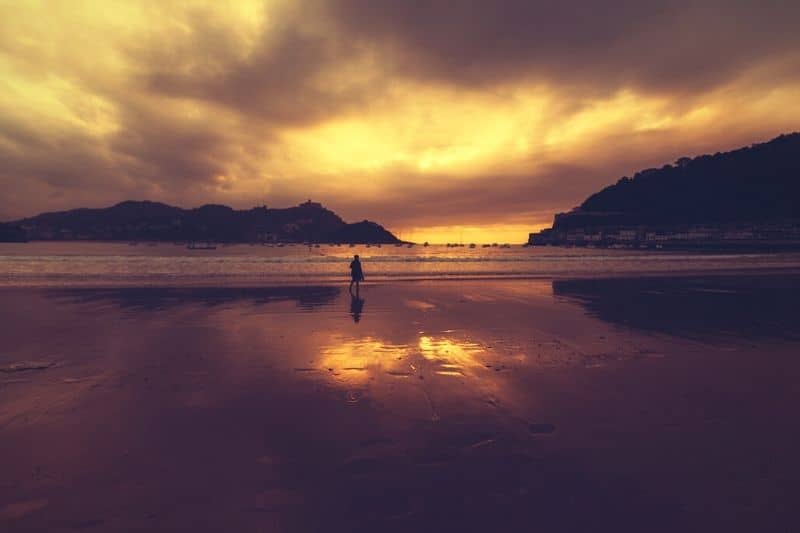 I recommend walking along the beautiful Playa de la Concha in San Sebastian or even taking a bath. If you like the sea, this beach offers multiple water activities such as paddle surfing, diving, or canoeing.
However, if the weather does not allow it or the sea is not your thing, you can climb Mount Igueldo. A very picturesque and fun amusement park is ideal for enjoying the family. In addition, you can capture the best view of the city from up there.
Then you can continue your way to the place that some call 'the paradise of the north' – La Costa Quebrada has wild and unique beaches that leave anyone breathless before such beauty.
Fishing Villages of the Basque Country
After visiting this wonderful city, we moved away a little to some of the beautiful fishing villages that we could find along the Basque coast. Orio, Zarautz, Getaria, and Zumaia are some that you cannot miss.
Orio
Orio is located at the mouth of the Oria river, where the sea and mountains merge. It is ideal for strolling through its medieval streets and enjoying Basque cuisine in front of the sea.
Zarautz
Nearby is Zarautz, which has the largest beach in the entire Basque Country.
Surfers worldwide visit it every year since many regional championships are held, and it has even hosted the world circuit on several occasions.
Getaria
Getaria is the land of the first man to go worldwide, Juan Sebastián Elcano. It is considered a UNESCO World Geopark, thanks to its eroded slopes.
In addition, it offers other attractions you would not expect to find, such as the museum of one of the town's children—the Fashion and Design Museum of designer Cristóbal Balenciaga.
Zumaia
Zumaia connects with Zarautz in an ideal place for hiking. You can do the Flysch route.
There you will enjoy the views of unique rock formations in the world thanks to many years of marine erosion.
San Juan de Gaztelugatxe
Another of the places highlighted for its rocks is San Juan de Gaztelugatxe, a small peninsula that stands out for its height. You will have to climb no more and no less than 241 steps to visit it.
The visit to its hermitage is free, but you must pay 1 euro to take photos.
If you are a Game of Thrones fan, this is the place that brings Dragonstone to life, where Daenerys had her castle.
Very beautiful at any time of the day, but the sunset (in good weather) is magical.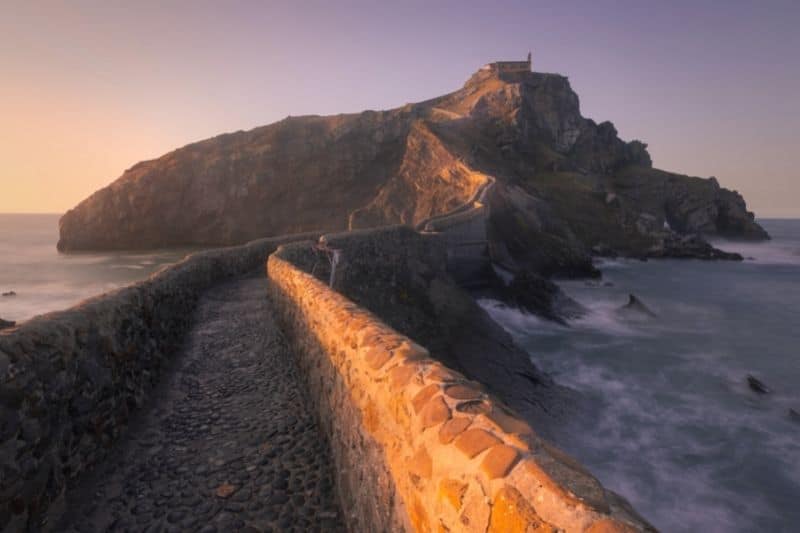 Guernica
Finally, we will visit the interior and turn off the AP-8. Then, finally, we will arrive at Guernica and Luno, where the barbarism occurred on April 26, 1937.
There you can visit the Museum of La Paz, where you will see images of that fateful day and learn about the sad history of this place.
Then you can visit the meeting house, and if you buy your combined ticket at the tourist office, you can save a few euros and then have a chacolí.
Cantabria
Just a few kilometers from Santander, this stretch of coast has to be on your list to spend a few days on the beach surrounded by the beautiful views of the Spanish north coast.
As you make your way to each site, we recommend one option worth considering camping sites.
An alternative where you will be immersed in the beauty of the north, embracing nature and the beautiful views that unfold before your eyes.
As a plus, it is a cheaper option. But above all, it allows you to really experience the area while traveling site by site. Here we share the best-located and most popular campsites in the area that are worth taking into account for your trip.
As a first option, we recommend Camping Playa Joyel. Why is it better than sleeping just a few meters from one of the most beautiful beaches on the north coast?
This campsite has direct access to Ris beach, a beautiful beach with golden sands and a coast that lets the waves fall. Imagine waking up and going out for your coffee in the morning on the beach.
Imagine seeing that blue sea stretched out before your eyes as you savor the beauty and tranquility of your journey. In addition, this campsite has facilities of all kinds for everyone to have fun.
If you are not a fan of spending the whole day on the beach, Camping Playa Joyel has three swimming pools, a restaurant, tennis, and a paddle court.
Asturias
On our way to Galicia, we will pass through Asturias, enchanting us with its green forests and fairytale lakes that paint us a picture worth seeing at least once in a lifetime.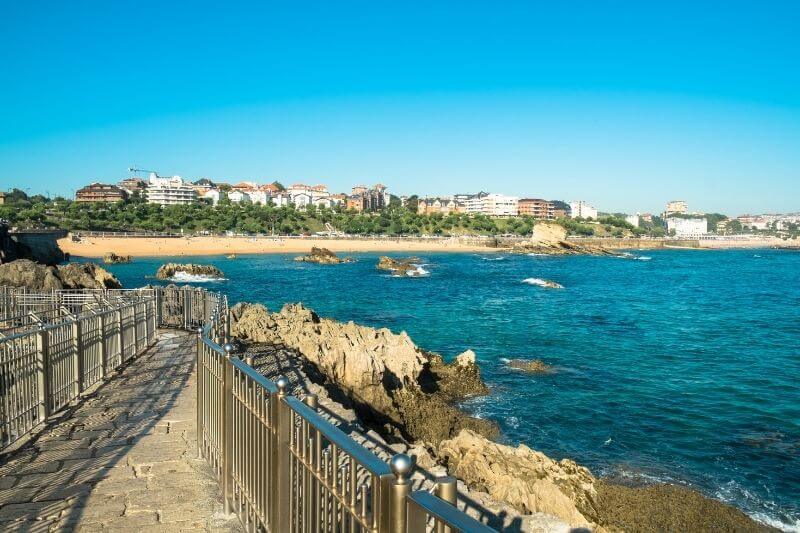 The first stop in the Principality of Asturias will be in Colombres. This small municipality has an architecture that is almost impossible to find in other areas of the Spanish territory.
Colombres
The inhabitants of Colombres, like many Asturians, had to emigrate to America in the 19th century. Years later, some of them returned to their places of origin, bringing part of the culture of Central America and South America.
An example of this is the Indian houses that we find in Colombres. Large, luxurious, and exotic houses symbolized the social ascent that these families had experienced. In this way, they changed a rural village into a modern villa worth visiting.
Ribadesella
Our next stop will surely not surprise you. Ribadesella is a well-known place for all those adventure lovers who go every year to make the descent of the Sella. If you still do not know it, going with friends or family is recommended.
There is no doubt that they will spend a fun day in a canoe in direct contact with nature. In addition, you will have no problem finding nearby accommodation since it is a very popular place in Asturias.
As a piece of advice, we recommend going in spring to have a more satisfying experience, since it is usually very visited in summer.
Lakes of Covadonga
The Lakes of Covadonga attract thousands of people each year. This beautiful enclave shows some beautiful lakes and great mountains to visit in spring. After the thaw, you will enjoy a beautiful green color that generates a magical landscape.
You can practice various hiking trails in the Lakes of Covadonga, but we want to propose a different plan in this post. Book a nearby accommodation and go to the lakes at night when everyone has left to enjoy a clear sky full of stars.
Taking advantage of the proximity, we recommend visiting the Cabrales area. In addition to seeing charming towns that offer rich gastronomy, you will also learn from the grandmaster cheesemakers in this area.
In the council of Cabrales, you can visit the caves where these cheeses, so characteristic of Asturias, mature and are desired by cheese lovers worldwide.
Sotres
Sotres is one of the towns with Cabrales cheese caves, but it is also the highest town in the entire Principality of Asturias, located at 1050 meters altitude.
Some say that if you want to touch the sky, you should go to Sotres; from there, many mountaineers leave for the Picos de Europa. Some of the most daring leave this town towards the Naranjo de Bulnes peak.
A summit is appreciated by the most professional climbers due to its difficulty and its altitude of 2,500 meters.
At the end of our trip through Asturias, we head to the land of meigas (witches in Galician, Spanish dialect), where we will discover some of the points that you should not miss on your visit.
Galicia
Santiago de Compostela is visited every year by thousands of parishioners who, after their long and tiring journey, arrive at the Plaza del Obradoiro to observe the majestic facade of the cathedral.
There are several routes if you would like to live the Camino de Santiago experience. You can do it on foot or by the road, where you will find multiple campsites and hostels along your path and dreamlike landscapes.
Without a doubt, Santiago is the best known in Galicia due to its religious and cultural values, but there is much more.
In the year 25 BC, the city of Lugo was founded, our next destination that you cannot miss. There is the best-preserved Roman wall in the entire Roman Empire.
It is hard to believe that such a noble construction is still standing and looks that way. In fact, you can walk on it and enjoy the views of the city from above. You're going to freak out!
Near Lugo is the Ribeira Sacra, another attraction worth discovering. It is believed that its name, "sacra" is due to the number of monasteries that are located in the area. Currently, you can visit up to 18 monasteries near Ribeira.
Here we can see how three rivers converge: Cabe, Sil, and Miño. If you are a mountaineer, go on this adventure because it will not disappoint you.
To close, I could not fail to name Aguas Santas Beach. They are commonly known as Playa de las Catedrales due to their cliff formations.
Make sure you book your visit if you go during the summer or Easter period, and keep in mind that it is better to visit it at low tide so that you can walk between the doors of those rocky temples that Galicia gives us.
Tell us, in the comments, which are your favorite places in the north of Spain. Safe Travels!
Don't Forget Travel Insurance
Do not forget to buy travel insurance to travel to Spain. Hopefully, you don't need to use it, but it is better to be prepared for any eventuality or emergency.
In my case, I have Chapka's annual insurance, with worldwide medical assistance with good coverage. Also, you can use our link to get a 7% discount on Chapka Insurance.
Choosing travel insurance will depend mainly on the duration and coverage of the insurance. Therefore, it is best to inform yourself well to choose the best insurance available.
If you want, you can review our guide on choosing travel insurance, where you will find comparisons, opinions, and discounts.
Plan Your Trip to Northern Spain
Last Updated on 25 September, 2023 by Veronica
Disclosure: Some of the links on this post are affiliate links, meaning at no additional cost to you, I may earn a small commission if you click through and make a purchase.
Author: Veronica
Vero, a seasoned traveler, has explored 25 countries and lived in five, gaining a rich perspective and fostering an infectious passion for travel. With a heart full of wanderlust, Vero uncovers the world's hidden gems and shares insights, tips, and planning advice to inspire and assist fellow adventurers. Join Vero and let the shared passion for travel create unforgettable memories.