What to Pack When You Go Camping
When you go camping or are planning to go camping, there are some basic things you have to take with you.
You can travel by camping and do it very comfortably or by carrying the minimum things necessary or something in between.
Here, I'll tell you what are the essential things you have to take and also, some extras that can make your life more comfortable.
If you travel by van, many of these tips are also helpful. We went from camping with a tent to using a van, and we kept many of the camping gear that we used in the van, for when we traveled with 4 in the van even though we only had room for two.
Disclosure: Some of the links on this post are affiliate links, meaning at no additional cost to you, I may earn a small commission if you click through and make a purchase.
What to Pack When You Go Camping
A Tent is Essential 😉
We start with the obvious, hehe, the tent cannot miss. There are many models, sizes, and prices.
We have the Decathlon Arpenaz for 3 people, although there are two of us, this one is more comfortable. The store is fine, nothing from the other world, it does its job.
That said, don't buy, please, the one that's (supposedly) sets itself up; I've seen people fighting to keep it, it's fun for those of us who see it from the outside, but I doubt it's for the one who has to fold it.
As you can see on Amazon, there are many models and prices.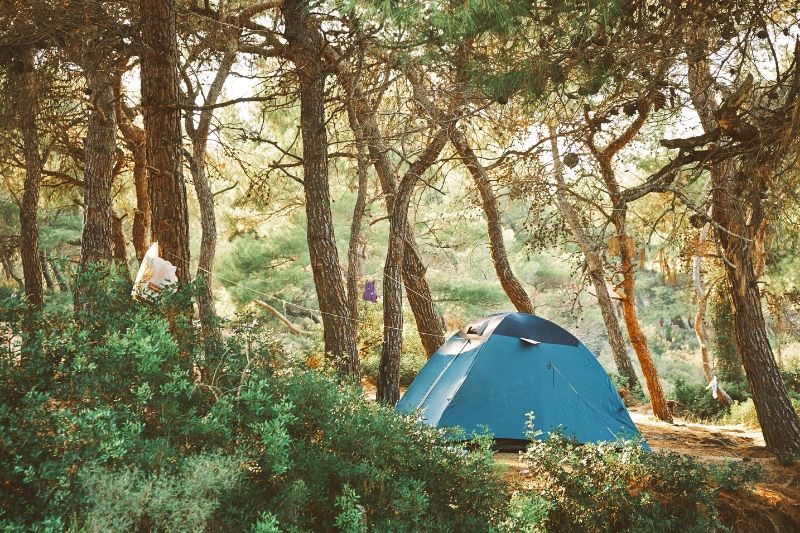 Tent Extended Dome
When you travel with many people or want privacy, you can take a tent with an extended dome and become a more private place, which also protects you from the bad weather that you might encounter.
Sleeping bags
Here you will also find a great variety of sleeping bags. The most important thing is that they adapt to the temperature of where you are going to travel.
The temperature you can get in southern Portugal in summer is not the same as the temperature you can find in Scotland in the same period of the year.
*Figure out the estimated temperatures at night for your destination and buy sleeping bags accordingly.
Inflatable mattress (air-bed)
Camping does not mean uncomfortable travel. You can bring an inflatable mattress and sleep much more comfortably than on the floor.
My recommendation, even if you're wearing appropriate clothes, is an inflatable mattress that insulates the floor from the tent.
Portable Shower
Just because you are camping does not mean you have to be filthy the entire time! Believe it or not, some incredible camping showers out there do not require a ton of resources and still clean you up on the trail.
Flashlight
The flashlight is essential for going to the bathroom at night or look for things around the tent when there is no light.
Lantern
For evening dinners, a lamp o lantern is ideal. You can buy a battery-powered led or USB lantern so you don't rely on electricity.
Camping table and folding chairs
When you go camping, you have to bring a table and folding chairs to be able to eat comfortably.
But in case you don't travel by car, you can take a blanket to eat on the floor. We bought one in Scotland that has the bottom waterproof.
It is super cool and comes phenomenal for areas where it rains or where there is a lot of dew or humidity.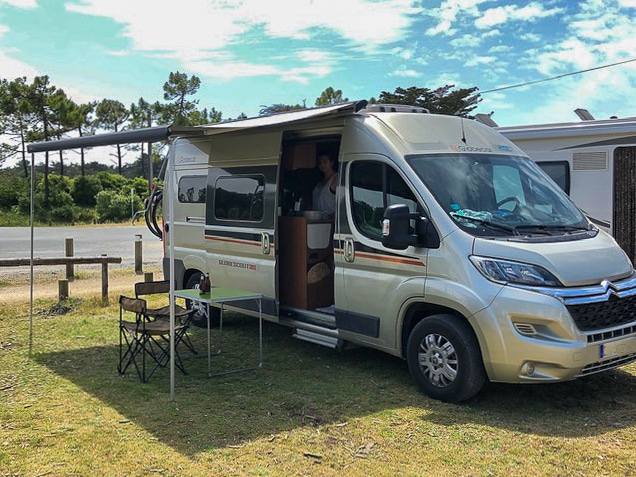 Portable fridge
Portable refrigerators there are many. You have the typical ones that you fill with ice, the electric ones, the ones that connect to the lighter of the car, etc.
We've traveled a lot with the one stuffed with ice, and it's great for drinking or keeping something fresh for a while. But you can't leave vegetables or cold cuts for long, as the ice melts and the rest rots.
Check Our Review about the best portable fridges to travel.
Camping utensils
Camping utensils you have to choose from. We hadn't realized all the options there.
The basics: dishes that serve you as bowls and as flat plates, cutlery, and glasses. If you look online you will find many different models.
If you go to Decathlon (or any camping store), you have some very normal things, but they do their job.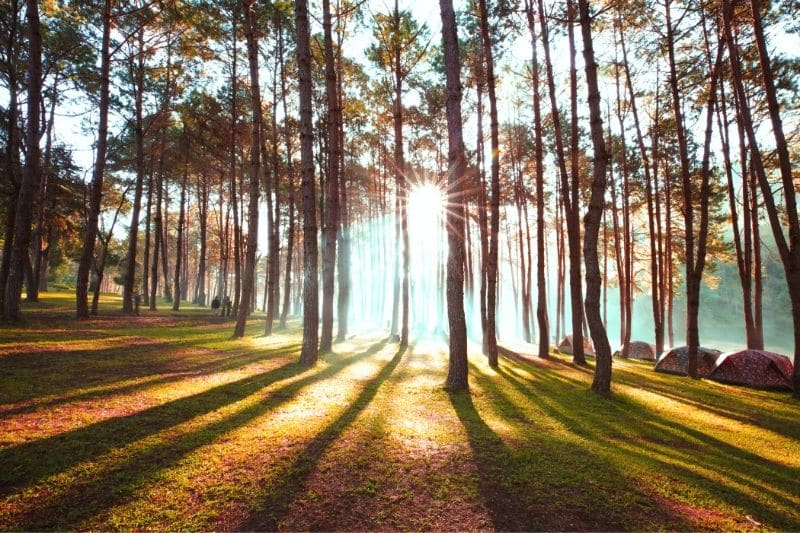 Camping Cooking Gear
Here you have the full article about Camping Cooking Gear
Camping stove
There are several models and brands. My recommendation is that you buy the fuel bottle with the stove and a piece to stabilize it. Without a doubt, it is the best going, has more power, and lasts longer.
We have also tested the flat Campingaz (the one that goes with the cartridge that is like a spray), it is comfortable and stable, but it has less strength and lasts less and in the end, it gets more expensive than the other.
Tip: there are stoves that accept different brands of cylinders. Take a look at that when you go to buy (ours is Primus and goes with several canisters).
Coal or gas barbecue
When we started camping, the barbecue we were carrying was a mini charcoal barbecue, cheap and took up no space in the car.
When we moved on to the first van, we bought a bigger portable barbecue. It also took up little space, but this one already has high legs and is more comfortable.
Take a look at this one from Amazon and tell me your opinion
Since we lived in France and have the big van, our second van, we have encountered many limitations to make fire, so we have moved on to the gas barbecue. The initial investment is bigger, but you can use it anywhere, as if it were a giant Campingaz, hehehe.
Our portable GAS BBQ is Weber Q1200, you can get it here.
Check our full review of Weber Q1200 Barbeque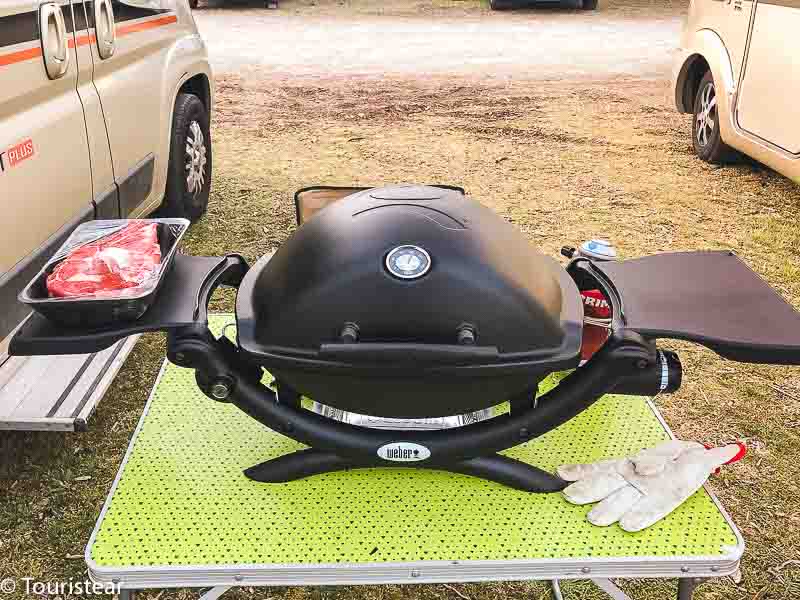 Cook pots and utensils
To prepare breakfast, lunch, or dinner, you will need some utensils. It is best to take those from home unless you prefer to have some for camping exclusively.
With regard to pots, take a large one for cooking and a small one to heat milk or water for coffee or to make sauces.
Look at the Dutch Oven; it is a pot serving as an oven. You can cook almost anything in there (pizzas, cobblers, etc).
You also have to bring little things to clean, such as sponges, dishwashers, rags, etc.
Cocktail book
Camping cocktails. If you have a legal age and like cocktails, I recommend this cocktail book when you go camping or for your van or RV trips. Obviously, if you are not going to drive after drinking!
You will find plenty of ideas to easily do outdoors or in your campervan or motorhome.
Camping clothes
Here it depends a lot on where you go camping; ask yourself these questions and all the questions that you can think of to go well: beach or mountain? Summer or winter? Can it rain? Is it cold at night? Try to carry just enough so you don't carry things you won't use!
Hygiene
Don't forget the toothbrush, toothpaste, soap, shampoo, conditioner, comb or brush, towel. And also, bring a rope to put the towels to dry.
In the comments, tell us what your must-haves to take camping are.
Plan Your Camping Trip
Book Your Trip
Book Your Flight
Find a cheap flight by using Skyscanner.
Book Your Accommodation
You can book your hostel, hotel, or apartments on Booking.com.
Don'torget Travel Insurance.
Travel insurance will protect you against illness, injury, theft, and cancellations. It's your protection in case anything goes wrong. You never go on a trip without it.
Best companies for Tours
Check out Civitatis.com and find the best tours in English (French, Spanish and Italian)
Are you looking for the best companies to save money with?
Check out my resource page for the best companies to use when you travel! I list all the ones I use to save money when I travel – and I think I will help you too! (Is in Spanish yet)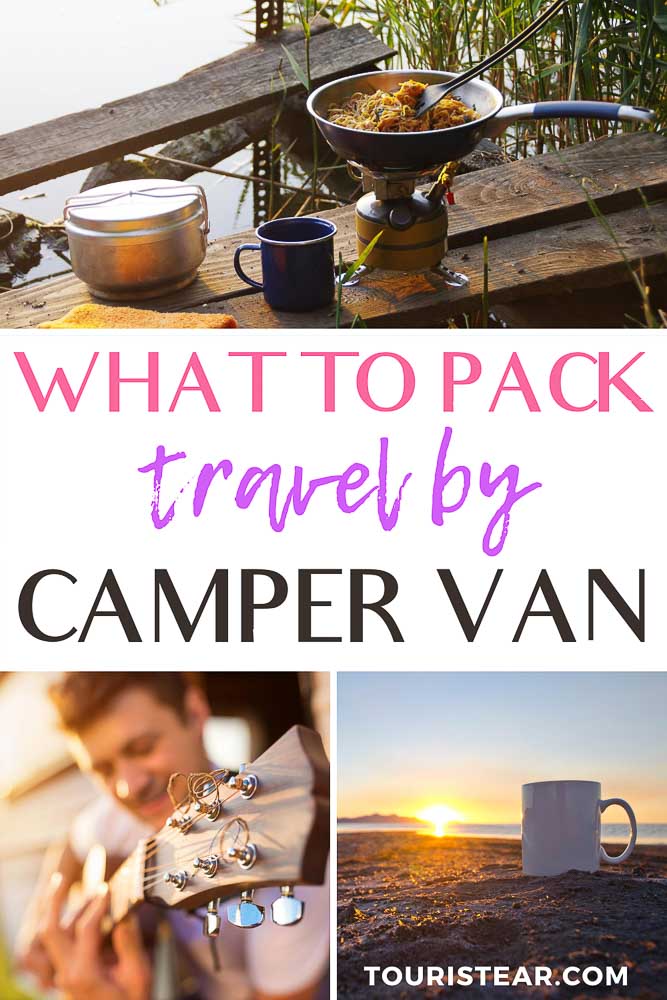 Last Updated on 11 April, 2023 by Veronica