Weber Q1200 Portable Barbecue Review
In today's post, we tell you our experience and opinion about the Barbecue Weber Q1200 after a year of using it to travel and on the home's terrace.
One of the things I enjoy the most is when we go around with the van and have a good barbecue.
I am very classic and always carried in the van all the equipment to make the charcoal barbecues. I took up a lot of space, but I didn't care until it started to be banned almost everywhere except certain campsites (not all), and only electric or gas barbecues were allowed.
There began my search for the ideal gas barbecue for the van which ended with purchasing the Weber Q1200 barbecue. A posteriori was also ideal for barbecues on the house's terrace (confined but with our bbq).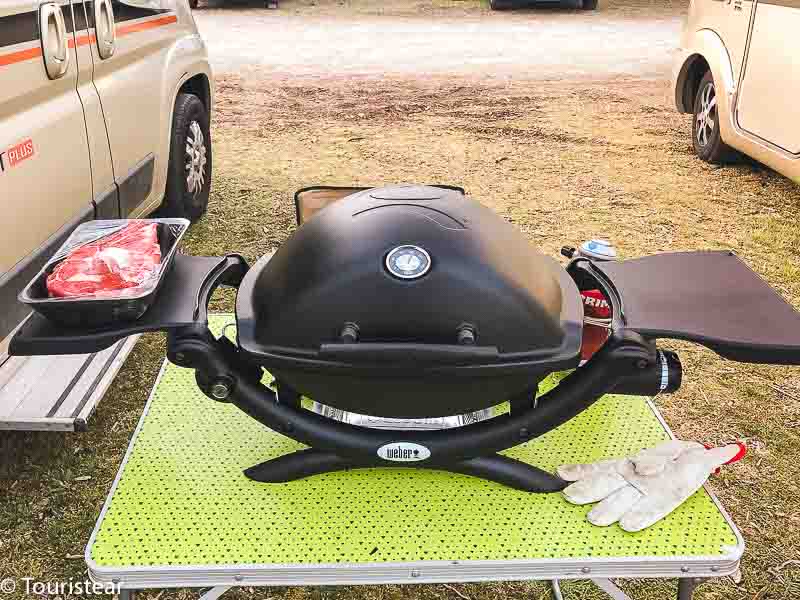 What was I looking for at a camper van barbecue?
I think it's imperative to note that it was for the van because that defines everything. The portability, which did not weigh much and took up little space, was fundamental without penalizing the quality and cooking power. With a capacity for four people.
Another important feature is that it had excellent resistance to the wind because 95% of the barbecues I make outdoors.
In addition, the materials had to be high quality because I have already learned that buying cheap is expensive later, and I wanted something that lasts me many years.
Read on because I detail our experience and reviews with the Weber BARBECUE below.
Features of the Weber Barbecue Q1200
I took measures because the measures on Amazon are not correct.
Weight: 14 Kg
Dimensions with wings and lid closed (width x bottom x height): 70 x 43 x 40 cm
Dimensions with open wings and lid (width x bottom x height): 104 x 52 x 62 cm
Cooking surface: 43×32 cm
Grill: 2 halves of vitrified cast iron
Power: 2.49 KW
Ignition system: electronic piezoelectric (requires AAA battery)
Fuel: 500g propane gas bottle. Optional large cylinder hose.
2 drop-down wings as tables.
Removable and interchangeable bottom tray to collect grease
Available colors: Fuchsia, black, blue, green, orange, purple, red, titanium
5-year warranty on grill, burners, lid, plastic components, and cooking area, rest of the pieces 2 years.
Pros
Cons
Barbecue Weber Q1200 vs Q2200
In the range of small weber barbecues, we find the Q1200 and its older sister, the Q2200.
They differ in very little except in size and price.
The Q2200 is simply larger in everything than the Q1200, has 50% more cooking surface, more power (3.5 KW), weighs 19 kg, that is, much more, and is more expensive.
So if you are looking for a barbecue for family or a group of friends between 4 and 6 people, then the Q2200 is your most reasonable option.
Other Similar Barbecues (our search)
It isn't easy to find gas barbecues that met the requirements that I had. Below I show you the options we shuffled and ended up discarding, but that may be the most suitable option for you.
Barbecue Weber Go-Anywhere Black Gas
Ultra BBQ – 7 Kg portable gas and with a 10-year warranty. Very well built and light for very occasional uses for 2 people. However, I was looking for something more powerful. The burner is 2.1 KW and only uses a gas cylinder, which does not connect with the big gas cylinders.
This ends up being expensive, and it gets empty relatively fast and doesn't work well at (outside) low temperatures.
It makes sense if you are looking for a barbecue to take with you anywhere because you are not going to carry a 5 Kg gas cylinder, but for the van or the terrace, in my opinion, it is not the best option.
Char-Broil Grill2Go Grill
This barbecue looked very good, weighs little (9.7 kg), is manageable, and of acceptable power (2.8 KW). The main disadvantage is that it only works with a 400g gas cylinder and does not connect to a large cylinder.
CAMPINGAZ Attitude 2100 LX Portable table
Another barbecue that looked good. Constructively it is of top quality and with excellent materials.
Frankly, my final decision was between this barbecue and the Weber Q1200, since the prices are similar, being the CampingGaz the double powerful (5KW vs. 2.5 KW).
I finally derailed CampingGaz because it weighs 27 kg, and the Weber weighs 14 kg. And considering that it is for the van and that I put it in and take it out every time I use it, the weight difference seemed a determining factor.
If, on the other hand, you are looking for a barbecue to have on your home terrace, the Campingaz Attitude 2100 LX would probably be my recommendation.
Our Opinion After a few years with the Weber Q1200
Here's our opinion after using the Weber Q1200 bbq for a year. We have used it both on the road trips with the van and on the terrace of the house.
How portable is the barbecue?
The barbecue is designed as a portable barbecue but is not the most comfortable to carry as it does not have a handle or a system to carry it comfortably.
In addition, while they have controlled their weight, 14 kg is not super light to carry with them. Therefore, it is an ideal barbecue to remove and put in the van, motorhome, the trunk of the car, or even the balcony of your house.
However, if you are looking for a barbecue for walking or cycling tours, clearly this is not your best option.
Who is it created for?
Overall, road trip travelers are perfect, whether in your car (you need an acceptable trunk), van, or motorhome. Also, for those who like to make a BBQ on the terrace or balcony of the house, because being gas, you avoid many regulatory problems.
It is also super useful as an oven. If you have a metal and non-stick baking tray that fits well in the barbecue (30×20 cm is perfect), you can use it without a problem as an oven and cook wonderfully. However, keep in mind that it consumes a lot of gas.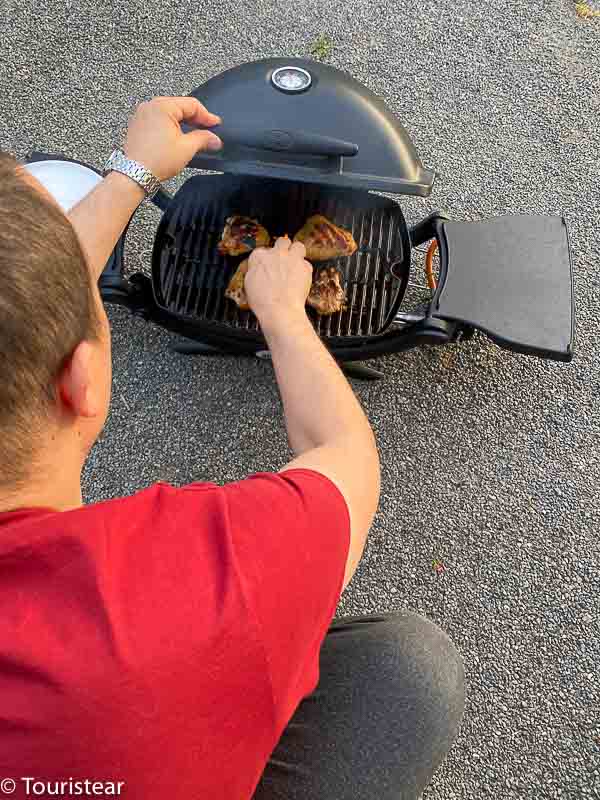 Cooking capabilities
The cooking capacity of the Weber Q1200 varies quite a bit depending on the outside temperature and whether you are using a 500 gr gas cylinder or a big one cylinder.
In very cold weather, the small cylinders don't work properly, and you may have a hard time maintaining the temperature.
Otherwise, under normal conditions, and once it has reached temperature, you can put a couple of steaks and some sausages in it and cook them without problems.
Does the Weber Q1200 cook well?
The barbecue cooks very well; I admit that I was surprised about how well cooks, especially the steaks and the chicken. You grab a good thick steak (2 fingers), and when the grill is at 250 C, you put it in 6 minutes on each side. And it's perfect (for me)
We have also once made a barbecue of chicken and pork, and the chicken was succulent; the skin very crisp and tender inside. I was impressed
As an oven cooks very well but has a disadvantage: it is not easy to control the temperature, so you must be careful.
You can also use it as a pan with the pan attachment in cast iron; you can use half a surface like a pan and the other half as a grill. For two people, it's my favorite combination.
Wind resistance
Weber's Q1200 withstands the wind very well. We could say it's practically immune to the wind. Practically. Even if it winds, even strong wind, the ignition of the barbecue and flame will not be affected.
If the lid is raised, it weighs enough so that a normal wind does not close it at once.
The only thing that can be affected or that I've seen moving a little bit is the bottom tray to pick up the fat drip. But it's never come out, or I've needed to hold it.
What inconveniences have we encountered?
The disposable gas cylinder system I do not like in general. Fortunately, this barbecue can be connected to a standard propane cylinder with the Weber gas adapter.
A 445-gram gas cylinder will last you about three hours over normal heat, and if you use it over low heat, it can last you 4.
The disadvantage is that it is affected by the temperature because if it is cold, the cylinder gets to catch very low temperatures and the flow low, lowering the performance of the barbecue.
Also, they are much more expensive than a standard rechargeable cylinder (5 to 6 times more expensive). That's why if you're going to use it often, you quickly amortize the purchase of the adapter.
Another slightly loose point you have is that sometimes it costs to regulate the temperature because the regulator with the gas flow is not very accurate, but it has not been a problem of use either.
Cleaning the Weber Q1200
For me, a big advantage of the Weber Q1200 is that it is relatively easy to clean. The grease pick-up tray is to use and pull, although it allows for various uses before you have to throw it away.
I like it a lot because you don't leave traces of fat where you prepare a barbecue and take care of the environment. It's like you've never been there.
The cast iron, and enameled grill, is very easy to clean with a scouring pin. That said, have a scourer just for that because it gets blacker than the coal. There are also specific black sponges for BBQ Weber 17688 – Black Sponges (2 pcs) on Amazon.
The burner hardly needs cleaning because the grill is designed to prevent fat drops in the burner, avoiding annoying flames when burning fat.
The interior can be cleaned with a fat-removing product without a problem. However, make sure it is not very corrosive. This is recommended by weber: Weber 17685 cleaning products for grills and ovens on Amazon.
Weber Portable Barbecue Quality
The quality of this barbecue is beyond doubt. The materials are of good quality and have not given me any problems. As I've already mentioned, the gas flow regulator may be a little imprecise, but nothing more.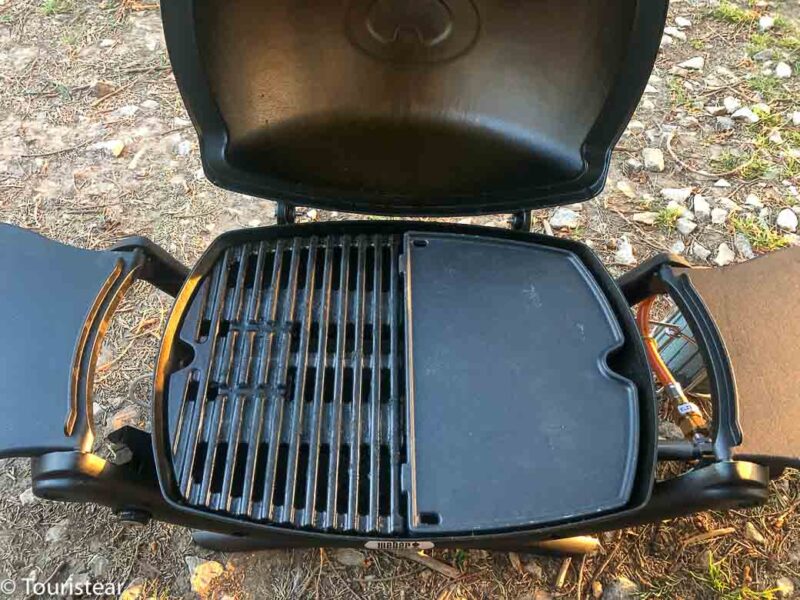 Guarantee
The warranty conditions are clear in the case of Weber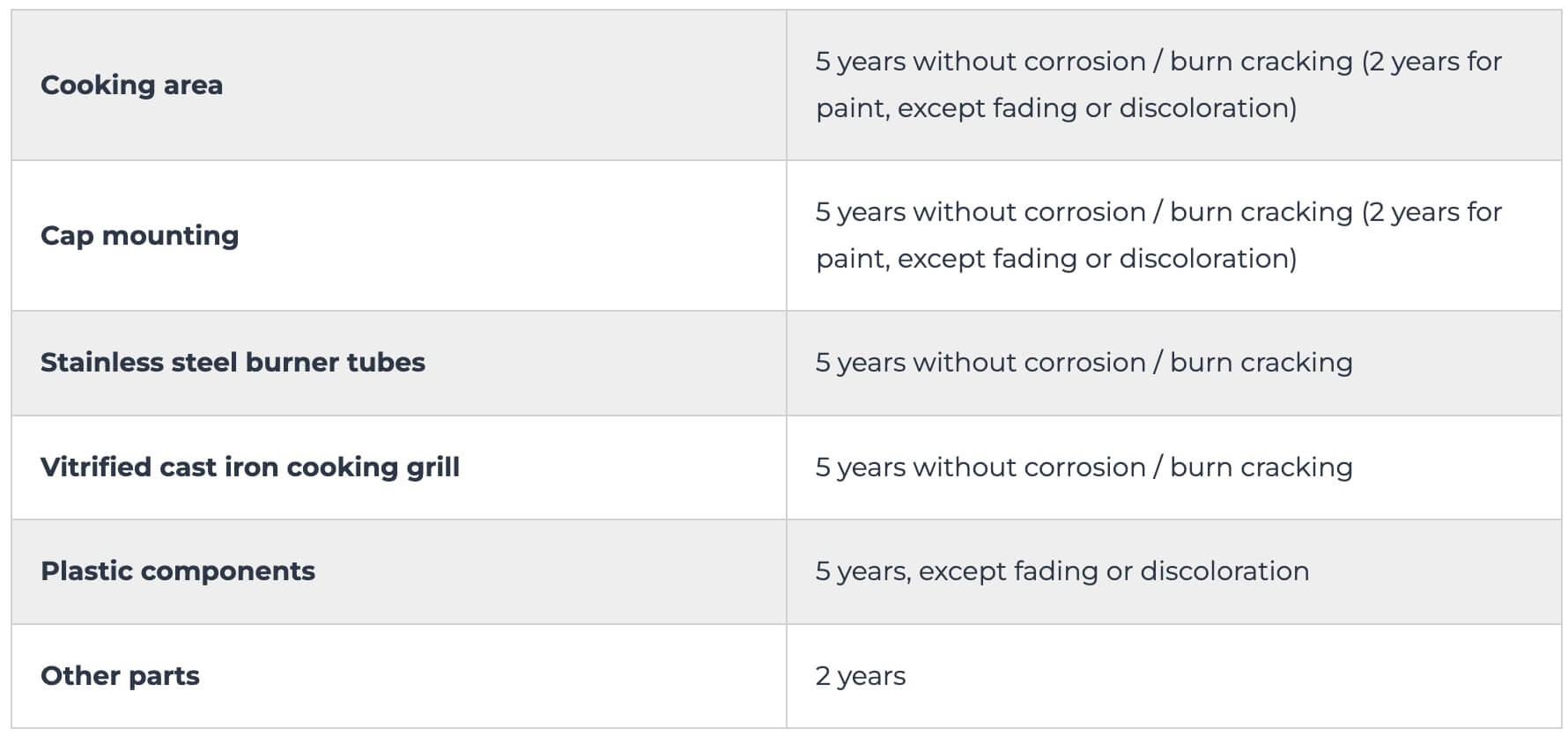 Is it mounted on shipping?
It's 90% mounted. There's mounting the handles, the thermometer, and a couple more things. But it's very easy to do it.
Weber Q1200 BARBECUE Accessories
This is another great advantage of this barbecue, and it has a good range of accessories that allow you to take care of or get more out of the barbecue.
Cover. It is beneficial to protect it when you transport it or leave it outside the house's terrace.
Pan. I love this accessory: half grill and half pan.
Cart Table. For use on the terrace or balcony is super comfortable. For the camper van or the RV or car, I don't see any use.
Gas adapter. For me, it is essential.
Fat Trays. I have needed to buy the first game after a few uses, but I love to use the barbecue, and that when I pick up, it seems that no one has gone through there.
Gas cylinder. The default fuel option.
Metal brush (for cleaning). Very useful to clean the grills, but not essential.
Cleaning product. Very useful, but not essential. Any detergent is good too.
Conclusions
For us, the Weber Q1200 is a barbecue very well thought out as a portable barbecue, ideal for road tripping, camping, and outdoor, with your vehicle or to use on your terrace or balcony.
It is built in an excellent way and with good materials that ensure the durability of the product. Weber's warranty is pretty good, and the important elements of the barbecue are 5 years.
It is perfect for 4 people, a maximum of 6. The Weber Q1200 cooks very well both as a pan, as a grill, and as an oven.
However, sometimes it is difficult to control the temperature correctly and raise it a little more than desired, which has not been a big problem when it comes to cooking.
Equip Your Camper Van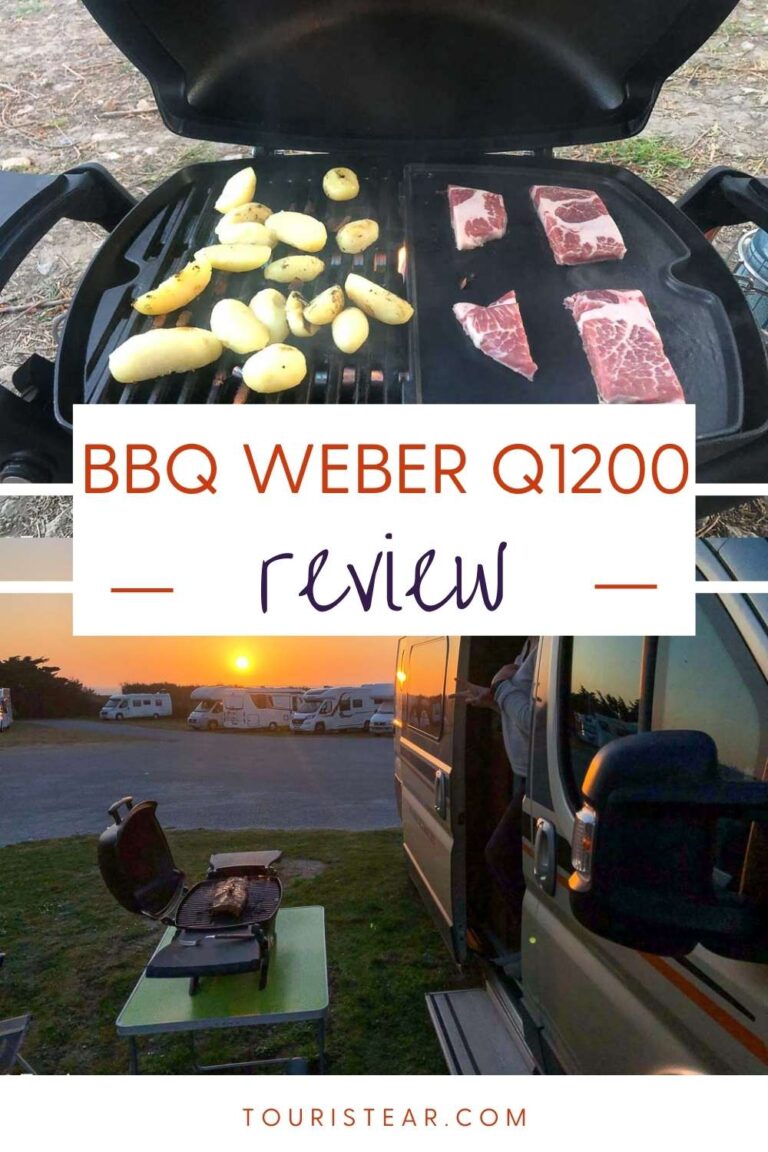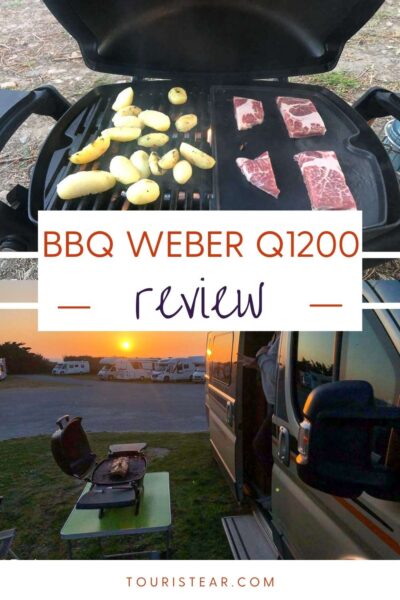 Last Updated on 27 September, 2023 by Veronica
Disclosure: Some of the links on this post are affiliate links, meaning at no additional cost to you, I may earn a small commission if you click through and make a purchase.
Author: Veronica
Vero, a seasoned traveler, has explored 25 countries and lived in five, gaining a rich perspective and fostering an infectious passion for travel. With a heart full of wanderlust, Vero uncovers the world's hidden gems and shares insights, tips, and planning advice to inspire and assist fellow adventurers. Join Vero and let the shared passion for travel create unforgettable memories.