Best Things To Do in Tarifa (Cadiz, Spain)
In today's post, I want to talk to you about our trip to 4 Tarifa by van. But, first, we will tour the most southern point of the Iberian peninsula and know its monuments and beaches.
This trip was the first we did with our first van in July 2018. It was a trip with my sister and Henry (who is from there), in our van and theirs.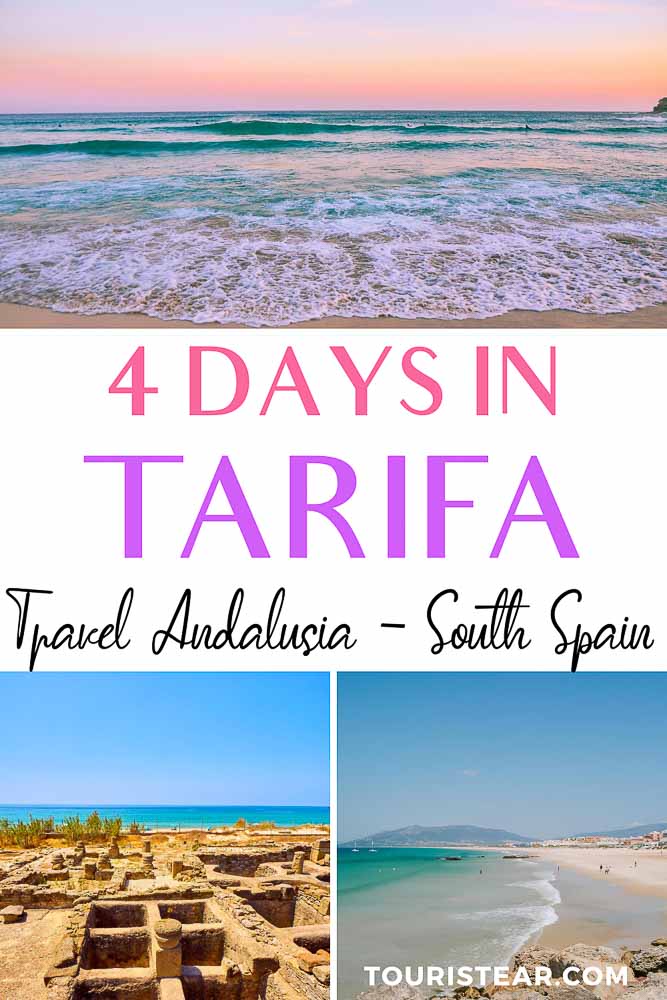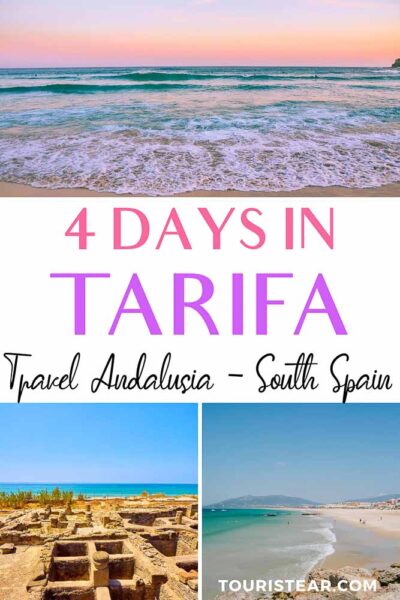 What to See in Tarifa? Van Road Trip Itinerary
A brief of the trip to Tarifa
The visit started in the village, but as we arrived in the evening, we first went to dinner at the restaurant N6 and then partied through the town center.
The next day in the morning, we had breakfast at Café Azul, then visited the town center, and the castle, and went to the market to buy red tuna and what we needed to eat and dine in the vans.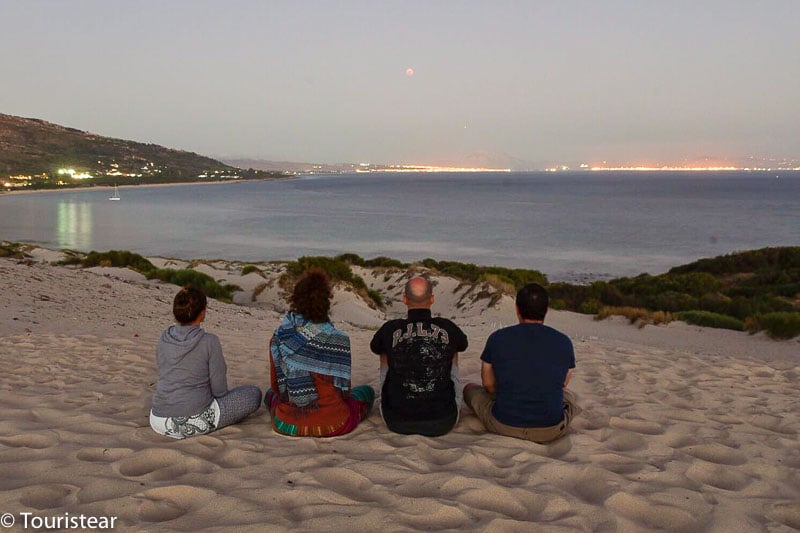 We found a very cool place where we were able to barbecue and spend the night. We visited the most beautiful beaches of Tarifa.
I'll tell you everything else here; read on.
Best things to do in Tarifa Town
The center of Tarifa is tiny but has a lot of people in summer. Moreover, the nights in the center are lively and crowded, and you can even see some famous people in its bars and restaurants.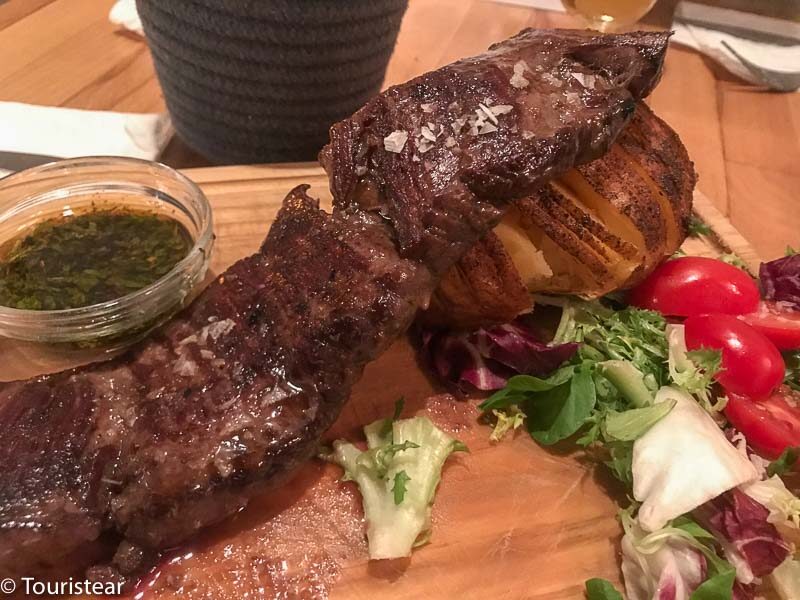 Puerta de Jerez (Sherry Gate?)
Tarifa had four doors on its walls, and the Puerta de Jerez is the only one that still stands and is one of the city's emblematic monuments.
It is of Muslim origin and a symbol of the reconquest. At the top is a sign that reads, "Very noble, Very loyal and Heroic city of Tarifa. Won the Moors, Reigning Sancho IV the Brave on September 21, 1292"
Puerta de Jerez is located in the north and gives access to the city and the walled enclosure of Arrabal. Parts of the original wall have been integrated with buildings that were built in the 19th century.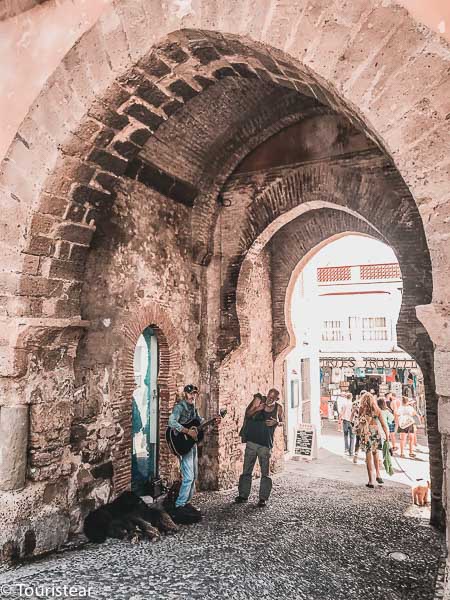 Castle of Guzman el Bueno
Guzman el Bueno Castle was built in 960 by Caliph Abderraman III. It passed through different hands until Christians conquered it in 1292. It's at a strategic point in the city. From here, you can see the entire coast and the whole city.
It owes its name to Alonso Pérez de Guzmán, who in 1294 defended the castle of the Muslim army.
They urged him to deliver the castle in exchange for the life of his firstborn, but Alonso Pérez de Guzmán continued to fight, defend the castle and be loyal to his king.
It is said that he himself threw a dagger at the Muslims to kill his son.
The castle underwent several renovations over the centuries to defend itself from different enemies.
In 1960, they put up a statue in honor of Guzmán el Bueno. Today, it is in what we know as the Paseo de la Alameda.
Port of Tarifa
This small port, Schengen Border, has commercial, fishing, and nautical sports activity, but especially because the boats depart for Tangier (a getaway that you can make from here).
Santa Catalina Castle
A few meters from the Castle of Guzmán el Bueno is the hill of Santa Catalina, which owes its name to an old hermitage dedicated to Santa Catalina de Siena.
In 1928, a castle was built to complement the island's lighthouse and house the port traffic light. It was completed in 1933 in a historicist style.
During the Spanish Civil War, defenses were reinforced with several bunkers intercommunicated through tunnels.
The Lighthouse of the Island of Tarifa or Punta Marroquí
It is the first lighthouse in Tarifa and the most southern Iberian Peninsula and is located on Isla Las Palomas.
Originally it was a tower that served to alert the arrival of Berber pirates in the time of Philip II.
In the nineteenth century, under the reign of Ferdinand VII, it became a lighthouse to serve as a reference to the navigation of the Strait.
There is a document dating back to 1826. From there, you can see the Cadiz coast and the mountains of Morocco in Africa.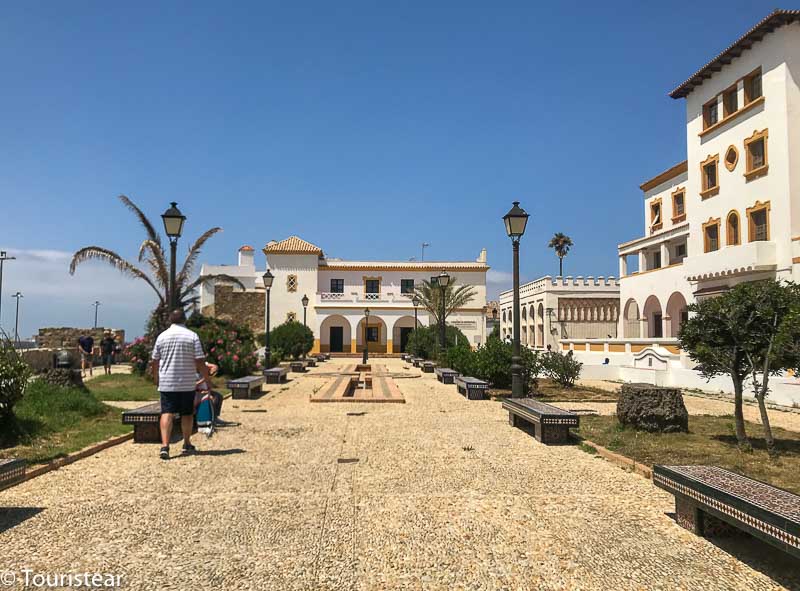 The Medieval Walls
Tarifa has three walled enclosures that were built consecutively to protect the city: the wall of Almedina, the wall of the Aljaranda, and the arrabal wall (where the door of Jerez is)
Some sections of the old enclosure are preserved in their original place, and others are integrated into the buildings (pay attention to the Alameda Area). Of the three doors, all that's left is Jerez's.
St. Matthew's Church
The Church of San Mateo is the main church of Tarifa and is located in the historic center (Sancho IV el Bravo street).
Its construction is supposed to be 1506, and there are documents confirming its existence since 1534. From this time is the primitive plant of the church, the three naves, and the Gothic cross vaults. The main facade is from 1774, in Baroque style.
Strolling through the center
Of course, stroll through the historic center of the city. Enter through the Puerta de Jerez and let yourself be carried away by the narrow white alleys, have a drink in one of its bars and restaurants.
If you are traveling by van, camping, or staying in an apartment, you have to visit and buy at the market. Here you will find fresh products from the land and its famous freshly caught tuna.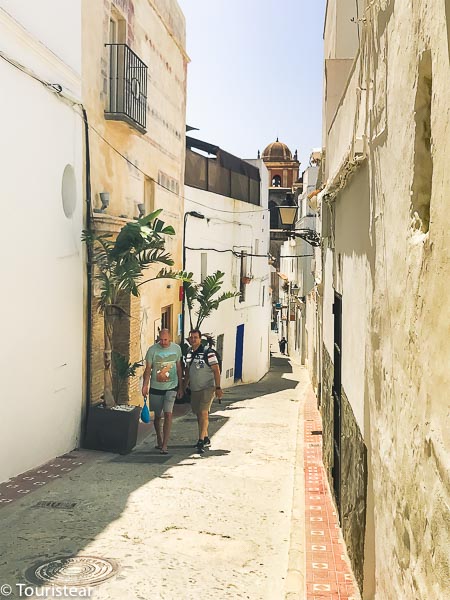 Tarifa beaches and surroundings
Tarifa has some very famous beaches, and others are less well known. Here, I'm talking about some of them.
Playa Chica (small beach)
If you do not want to suffer the wind of Tarifa and you like the calm sea, this is your beach. Moreover, it is ideal for going with children; it is close to the city.
The South Lances
Ideal for those who go to the beach means going beach bars. In winter, it is filled with surfers and kitesurfers.
The Northern Lances
If you want to learn to kite, this is your beach. Here are the schools for this sport. Obviously, there are also beach bars to eat or have a drink on the beach.
Valdevaqueros
This beach is really cool. Here you have beach bars with good music, and good food. It is also the place where kite and windsurfing professionals come.
Punta Paloma
From Punta Paloma, you can see Africa. So you arrive early to be able to park and enjoy the views and its beautiful coves.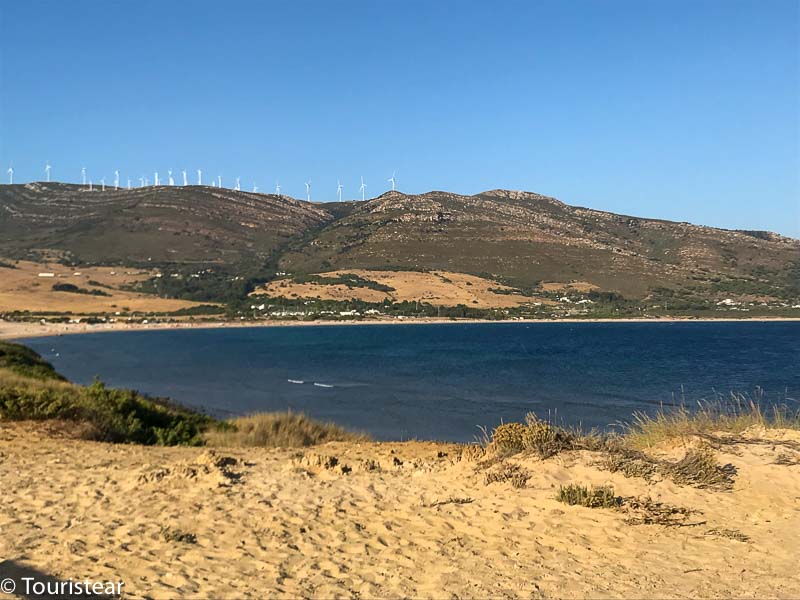 Bologna Beach
Bologna Beach is the most famous of all. Here, you will find the Roman ruins of Baelo Claudia and an immense dune.
In the part where the beach narrows (direction Tarifa), small coves form; here is the nudist area.
Playa de los Alemanes (Germans' Beach)
If you like wild beaches, you will like the beach of the Germans. It is located in a very nice area, with chalets scattered on the mountainside. Although there are no services like the others, this beach is very visited.
Water Activities
Enjoy the Tarifeño wind and learn water sports. Sign up for a school to learn to surf, kitesurf, or windsurfing.
In the areas with the quietest sea, practice surf paddle, diving, and kayaks. Take boat trips.
Hiking trails and parks
Nature parks surround Tarifa, so if you are a hiking lover, you will find routes to do. There are routes with different difficulties and lengths.
If you want to make one easy, make Playa de Los Lances a natural place. It is a linear path of low difficulty. You can start it in the center of Tarifa, and it is about 30 minutes on the way.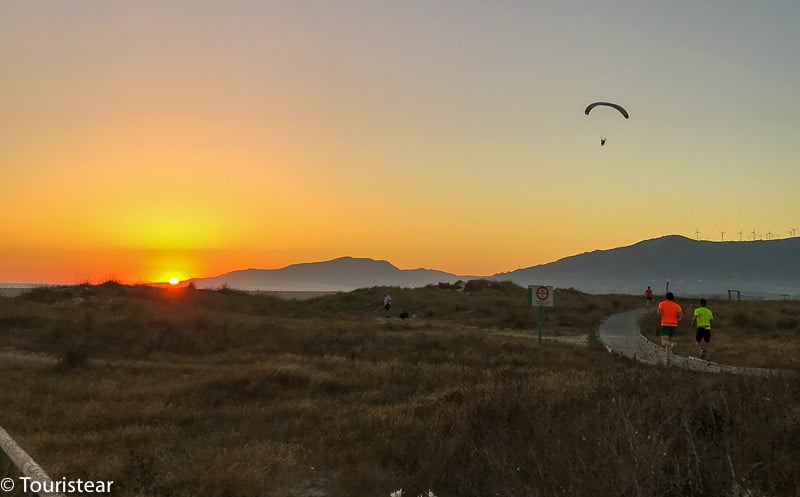 If you want something more difficult, make the route Frente Litoral Tarifa-Algeciras. It starts in the center, passes by de Guzmán el Bueno and the seaport, and ends at the Visitor Center and Orchard Grande ecotourism complex.
This stretch is 16 km away, and the difficulty is average.
Eating red tuna from the Strait of Gibraltar
One of the typical things to eat in Tarifa is The Red Tuna that fish all year round in the Strait. This species is protected, and its fishing is controlled.
So please don't buy it for poachers, which can endanger this species.
If you travel by van or are camping or staying in an apartment, you can buy it at the market and do it on the grill; it is delicious. If not, you can taste it in the restaurants of Tarifa.
Dolphins and whales in their natural habitat
What is Cetacean Sighting? It is the practice of seeing whales, dolphins, and other cetaceans in their natural habitat.
Tarifa is a unique place in Europe to do this practice. This sector has been professionalized, and you can see dolphins and whales in their natural habitat safely, both for you and for animals.
Did you know that it has been discovered that the defines live in complex social groups, can be recognized in a mirror, have personality, and feel empathy?
In the Strait, small orcas have learned that when they catch tuna from fishermen's rods, they have to leave the fish's head so they don't get hurt with the hook.
The dolphins also collaborate in hunting, raise their cubs together, and are in solidarity with those of their species and with others as well.
It is a fascinating animal, and here you can see them in their habitat and learn more about them.
In addition, from the sea, you will enjoy fantastic views of the coast of Tarifa.
Have breakfast at Café Azul
Here, we arrived because my sister told us who had already been and loved it. Totally a hit. They have fabulous breakfasts, natural juices, smoothies, sandwiches, fruit, etc.
All very tasty and fresh. That said, there's usually a queue on the weekends. But totally recommendable.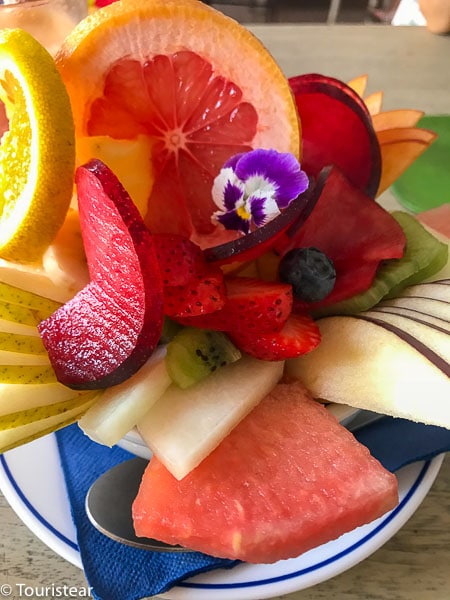 Where to Stay in Tarifa
It depends on what you are looking for on your trip to Tarifa; you can stay in Tarifa village or near your favorite beach.
You could say there is a great hotel offer in Tarifa village, but the truth is that the space is limited, there are many travelers, and the hotels' rooms book out fast.
Many of the inhabitants of Tarifa have apartments or rent rooms for tourists.
My recommendation is to book your accommodation in Tarifa in advance.
Where it is Allowed to Sleep in a Camper Van
Tarifa is surrounded by protected natural parks, where it is not allowed to stay overnight or make a barbecue. But the number of people who travel in vans of all sizes is increasing. And that's why there are places enabled.
To find these places, it is best to download the Furgoperfecto and Park4night apps. The first works very well in Spain has many free places to stay, and you can read other people's opinions.
The second one is very similar, although in this you will find free places, paid areas, campsites, and filters work very well. Now that we have a grand volume van, the height filter greatly helps.
Pay attention to sleeping inside the natural park or protected areas; guards guard and fining.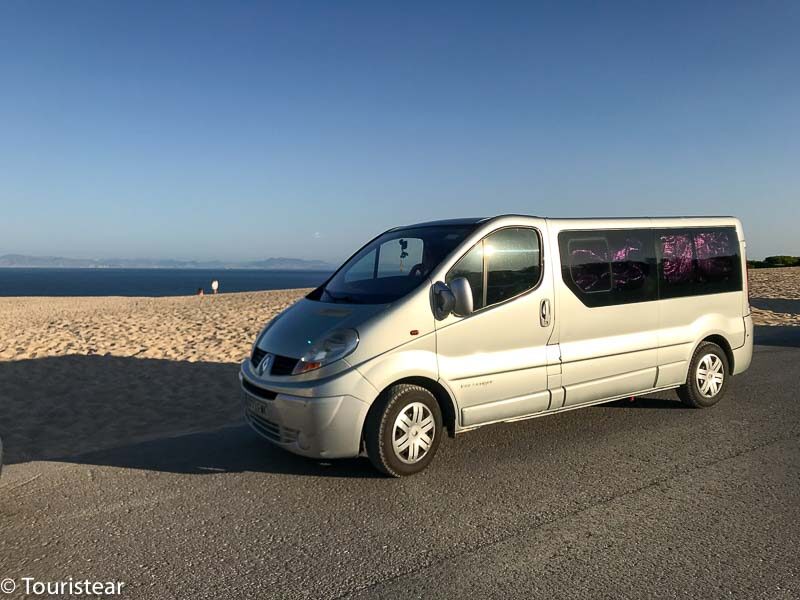 There is a van-enabled car park near Camping Jardin de Las Dunas, in Punta Paloma.
Do you know Tarifa? Leave your recommendations in the blog comments.
Plan Your Trip to Andalusia
Last Updated on 4 December, 2022 by Veronica
Disclosure: Some of the links on this post are affiliate links, meaning at no additional cost to you, I may earn a small commission if you click through and make a purchase.
Author: Veronica
Vero, a seasoned traveler, has explored 25 countries and lived in five, gaining a rich perspective and fostering an infectious passion for travel. With a heart full of wanderlust, Vero uncovers the world's hidden gems and shares insights, tips, and planning advice to inspire and assist fellow adventurers. Join Vero and let the shared passion for travel create unforgettable memories.