Tropicfeel Shell Backpack Review (After 3 years of use)
The Tropicfeel Shell is a high-quality travel backpack that serves as one of the brand's best creations. This piece of top-notch travel gear has revolutionized the way of organizing your adventure essentials and has left me truly amazed.
Tropicfeel has created the Shell backpack intending to make it the only backpack you need, for urban use (22l) or for traveling (40l). It is simple on the outside and innovative on the inside, the backpack boasts a sophisticated feature list.

If you are looking for a small backpack, something you can use daily and in your getaways, check the Tropicfeel NEST Backpack. It's smaller and cheaper than the Shell but without giving up support and storage capacity, a true testament to practicality.
If you want more ideas about Tropicfeel Backpacks, check out this site! There are always sales and promotions!.
Full disclosure: Some of these Tropicfeel backpacks were provided to us for free so that we could use and try them and let our audience, including adventure lovers, know about them. Please note that our reviews are 100% our own and we have never been and will never be paid to write this article or promote the shoes.
What do We Like Most and Least About the Shell Backpack?
Pros
Carry-on compliance with the majority of Airlines
Functional and versatile (22l, 30l, and 40l)
Clamshell Opening + top Opening
Very good craftsmanship and materials
Several hidden pockets to keep your valuable items + kangaroo pocket
Wardrobe system
Well-padded back
Comfortable
Hidden hipbelt
Made with recycled materials
Waterproof
Cons
The Tech Pouch could be bigger or better adapted to tech needs
Aesthetics is not the best
No side compression straps
No space for a laptop and an iPad, you'll have to choose
Pockets of the laptop compartment are not as useful as they should
It's an ideal size to use on a day-to-day basis and for small trips such as weekend trips and backpacking. The Shell bag provides you with ample storage and practicality. I love the kangaroo-style pouch which offers an additional feature of easy access to your items
Adventure-ready with a highly adjustable strap, this travel bag is well-designed, with sustainable materials and impeccable craftsmanship.
The top feature of this bag is how it supports all your travel needs, making your journey seamless. Is very versatile; it expands and contracts according to your needs.
You can use it in three sizes that adapt to suit your items. For day-to-day, you have the option of 22 liters, for a weekend getaway: 30 liters, and for a long trip, expand it to 40 liters.
Technical features
Features
Compressed
Standard
Expanded
Capacity
22L
30L
40L
Weight
3.3 lb (1.5 kg)
3.3 lb (1.5 kg)
3.3 lb (1.5 kg)
Sizes
20"x12"x7.5" (51x30x19 cm)
20"x12"x7.5" (51x30x19 cm)
24"x12"x9" (60x30x23 cm)
Materials
Nylon, Polyester, YKK Zippers, Woojin Hardware
Laptop Compartment
15"
Warranty
2 years since the date of purchase.
The warranty can be another one if specified in a campaign.
Technical features of TropicFeel Shell Backpack
Shell Backpack Materials and Aesthetics
Tropicfeel has created the Shell backpack as a unique piece of travel gear, aimed to work for everything.
With its versatility, you can use it in different scenarios and for different styles of travel, just like they did with their travel shoes. Check out our review of Tropicfeel travel shoes.
Sustainability
As always, at Tropicfeel, they bet on recycled materials. For example, 100% of the nylon used is recycled, and 60% of the polyester. This is a significant point that must be highlighted about the brand and its mission to be eco-friendly in all its creations.
Colors and Aesthetics
The Shell backpack is available in 3 colors: red, green, and black, each with its unique accompanying accessories for all your adventure needs. I love the red one by the way.
Sometimes, they launch a limited edition or a Kickstarter for new sustainable products. Check out their web for more details on these campaigns.
When it comes to the overall appearance of the backpack, beauty is in the eye of the beholder. In my opinion, this is a point to improve for Tropicfeel, while I find the backpack impressive in functionality, I believe Tropicfeel could enhance its aesthetic appeal.
If Tropicfeel is not your brand, you can also check Horizn Studio backpacks, they have a wide variety of maximum quality and durable travel backpacks. Praised for their versatility, these waterproof backpacks range from day-to-day use to long trips. You'll be spoiled for choice with a lot of colors and different prices available.
Outside and design of the Shell Backpack
From a simple, urban-looking 22-liter backpack, it becomes a robust and complete travel bag, demonstrating the flexibility and versatility of Tropicfeel Shell travel backpack.
The backpack is waterproof so that it can be used in any situation and weather. Its design and durability ensure sustainable use, regardless of the weather conditions.
You will see these 4 dots in the front of the backpack, those are the magnetic Fidlock mounting points for the two external accessories it comes with to increase its capacity and organization. The Tech pouche and the dopp kit pouche.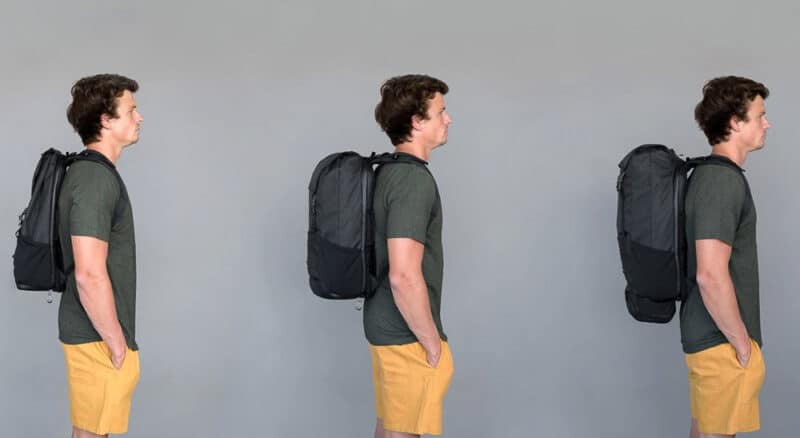 The zippers are waterproof and the closing buckles are sturdy and easy to use, complementing the backpack's overall durability.
Carry your Shell backpack as you like: either on your back and secured by its adjustable sternum strap and waist strap or as a side bag by the handle. It comes with a top handle and a side handle in the left side in case you don't want to carry it on your back.
If you want to use it as a second bag with your luggage, there's an elastic strap to hold the handle of the luggage so you can place the backpack on top of the luggage and it doesn't fall down. I'm not sure if this is the intended use of this strap but I used it in this way.
This makes the Shell backpack a perfect travel companion that is suitable as an additional bag on top of carry-on for flights, at 22l version. Or a carry-on itself on the 22L or 30L version.
A nice touch is that It has two side pockets to carry a bottle of water. It is made of elastic fabric so don't store something valuable and heavy like a power bank for example, I lost mine while travelling because I kept it in this pouch.
At the bottom, there is an independent kangaroo pouch that is used to put your travel shoes or any dirty clothes that you want to keep separated.
Hidden Pockets
At first glance, it seems that someone might think the Shell backpack has only one pocket, the one on the flap. But it has much more than one.
First of all, hidden behind the 4 magnetic points of the accessories, there is another pocket ideal for a diary, a Kindle, or even a phone. For complete security and to avoid pickpockets, the zipper is completely covered.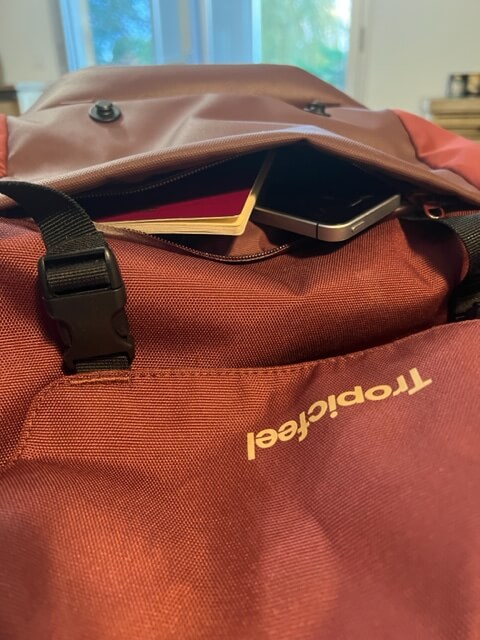 There's another hidden pocket, bigger than the first one at the hip's height, on the side, which comes in handy to keep travel documents like passports, flight tickets, money, etc., close at hand and well stored.
Inside the Shell Backpack
Laptop Compartment
In our opinion, this feature needs to improve. Not the laptop compartment itself but the additional pockets.
When you open the Shell backpack as a clamshell, the laptop compartment shows immediately. The laptop pocket is absolutely great. We can place our 17″ MacBook Pro perfectly and well protected, bravo.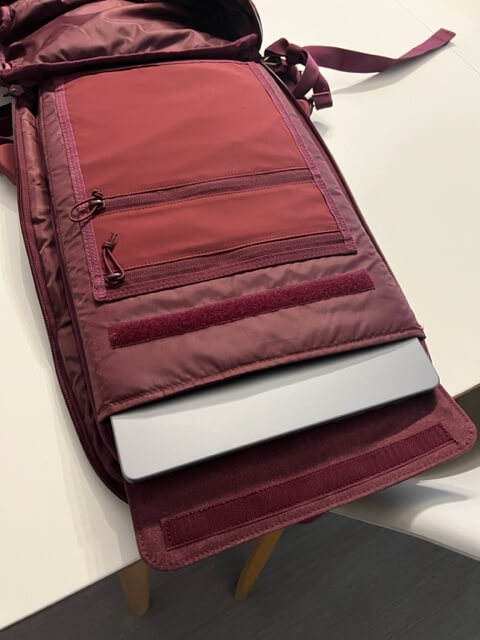 On the other hand, what happens with the pockets that come with it? The upper pocket is too small, is not comfortable to keep anything there. A USB charging cable maybe?
The bigger one could be great to keep an iPad for example, but is too small for that. Then maybe the charger of the laptop, but is too tight to put inside a charger. Thus, for us, these pockets are kind of useless and the design needs to be revised.
Wardrobe
The signature trait of the backpack has to be the ingenious detachable internal storage system. Made from durable materials and designed with handy compartments, it truly stands out for its exceptional organizational capability.
To use the removable inner wardrobe, you have to use the backpack in normal or expanded mode.
You can put on 20% more clothes and keep everything organized. And when you arrive at your destination, you take out the wardrobe, let it expand, and hang it out for use.
This clever daypack guarantees that your belongings are well-arranged, allows for increased capacity, and provides constant awareness of the packed items.
The design is "perfect" for those who value meticulous organization in their travels. Tropicfeel shell wardrobe system is a truly awesome addition to the luggage market.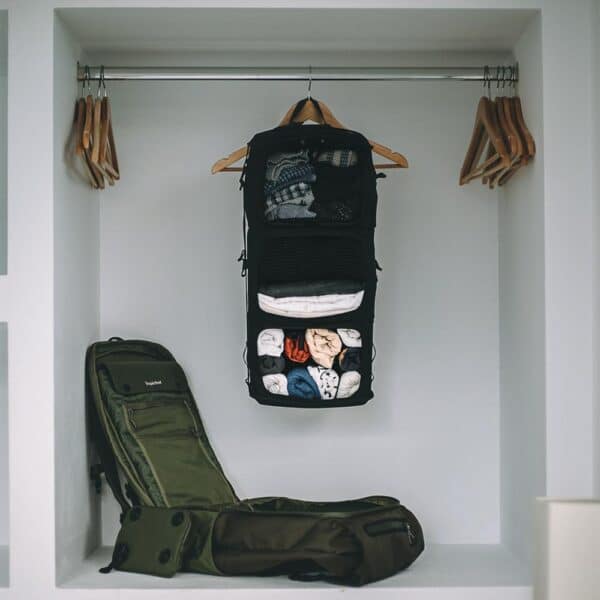 The organization system of the wardrobe
Your thoughts will immediately turn to how to make use of its compartments, appreciating the versatility of this accessory.
The upper part, where underwear and socks can go is subdivided into two compartments.
The center section is the widest, and it is up to you that you want to fill it. But it is an ideal place for jeans, t-shirts, and larger clothing.
The bottom section, where a mix of ten smaller compartments invites you to stow away your clothes in rolled-up, neat bundles.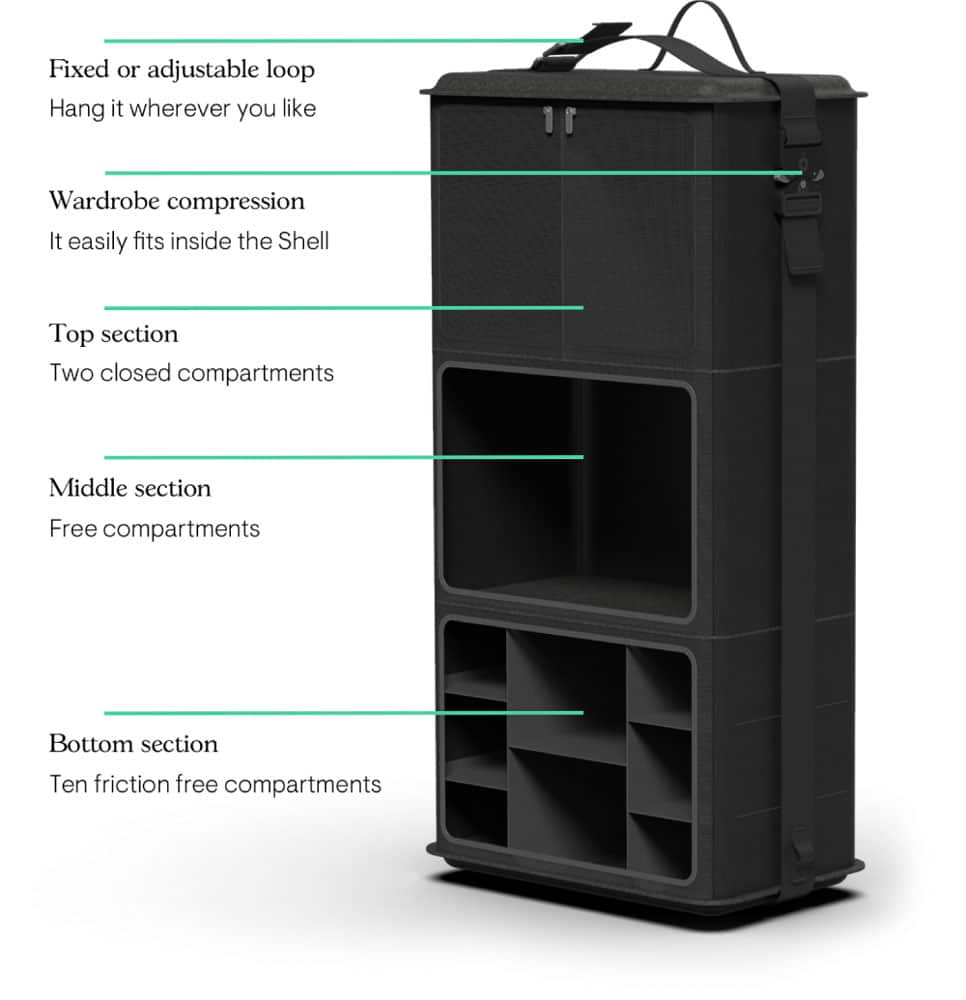 Once your clothes are packed away, it's time to use the side compression straps. By tightening a little on each side, you can evenly compress your pack, making it ready for your journey.
Upon arriving at your accommodation, take out the inner wardrobe system from the Shell backpack, hang it on the bar of your wardrobe, and prepare for a seamless transition from travel to living, which all experienced travelers hold dear.
Then you can use your now-emptied backpack for your future adventures and day-to-day activities during your trip. Don't forget to pack your passport in the dedicated pouch for safe and convenient storage.
Shell Backpack Accessories
As we have seen before the Tropicfeel Shell backpack comes with several accessories. The Dopp kit pouche, the Tech Pouch, and the camera cube.
The Dopp kit pouche and the Tech Pouch are held with the magnetic fidloc system while the camera cube is not magnetic and it fits perfectly in the bottom of the backpack.
The system may seem unsafe but it really is not. The accessories must be aligned with the four points you can see on the backpack's front. Although I have not tried to tear it off, the grip is strong.
Toiletry Bag (Magnetic)
A clamshell opening pouch designed for your personal hygiene needs. In this way, everything about hygiene is separate, and you can put it on the outer magnets; they are safe and do not fall.
From my personal perspective as someone who carries a bit of makeup when traveling, I prefer to use the tech pouch as a toiletry bag and the toiletry bag for makeup.
But Fer prefers to use both bags in the way it's intended.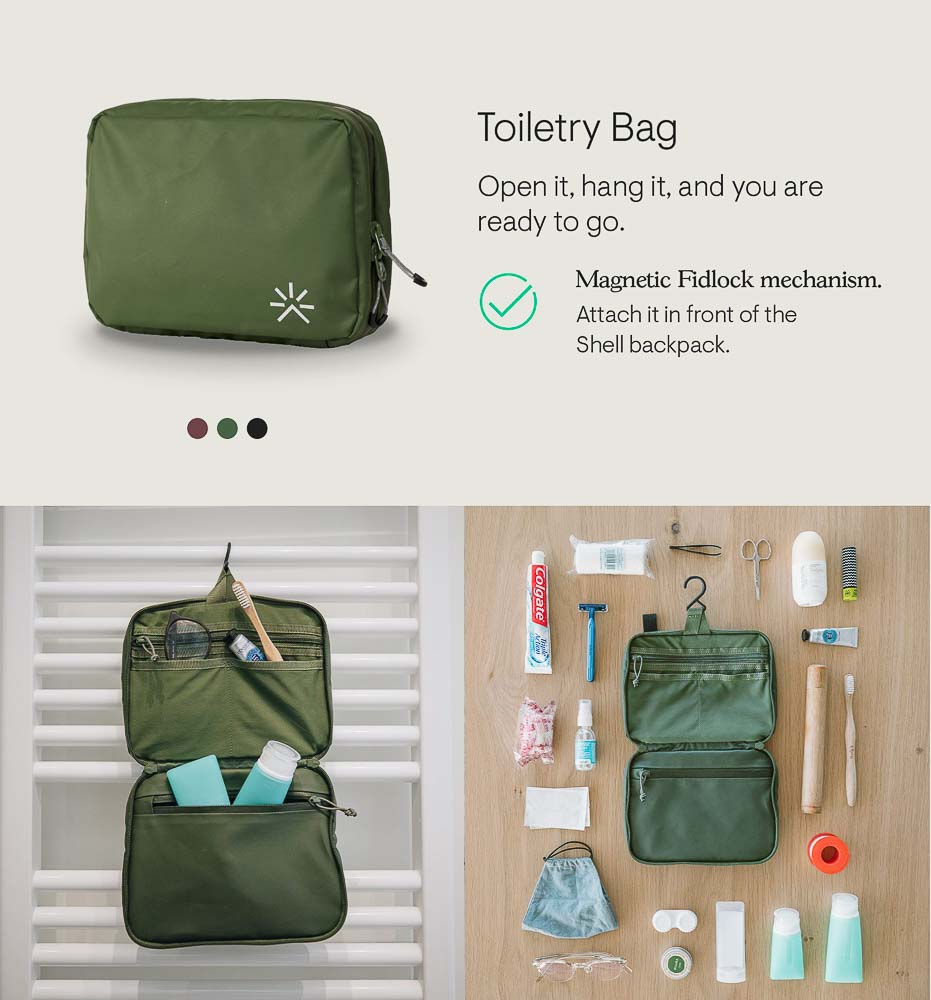 Tech Bag (Magnetic)
An additional bag to store your chargers, memory cards, external battery, etc. It also sticks on the outside of the backpack, on the 4 magnets.
Camera Cube
It is a bag to store your camera and accessories. It is not intended for photographers with multiple lenses. It does a fine job for an SLR camera, a lens, spare batteries, portable hard drive, chargers, etc.
The thing I like the most is that is waterproof and protects your equipment from water. Plus, it comes with many dividers to configure the space to your liking.
This is how my camera (Sony Alfa 7II) with its 28-70, my wallet, and a 35mm lens fit perfectly in the camera cube. Check them out here.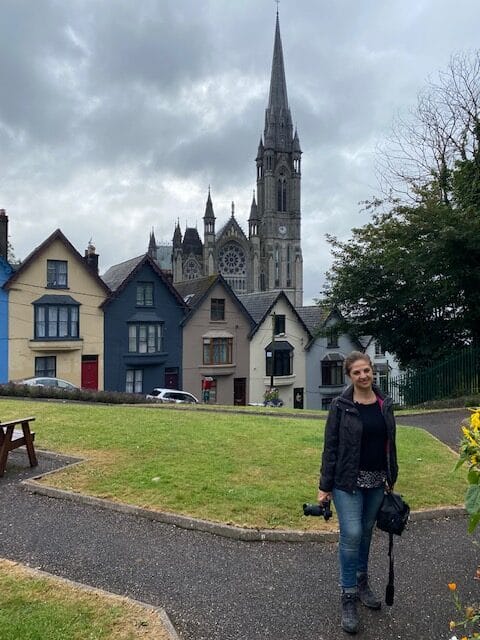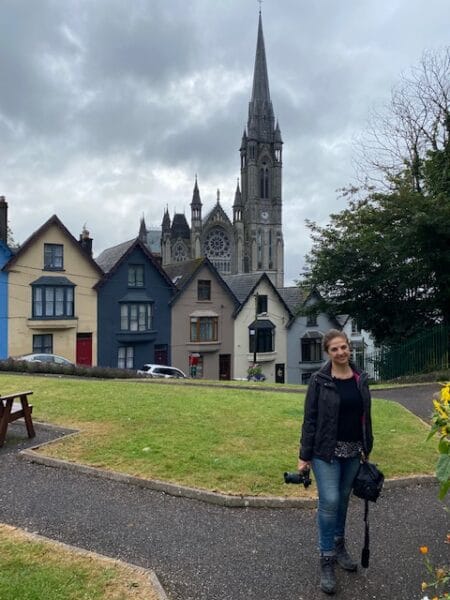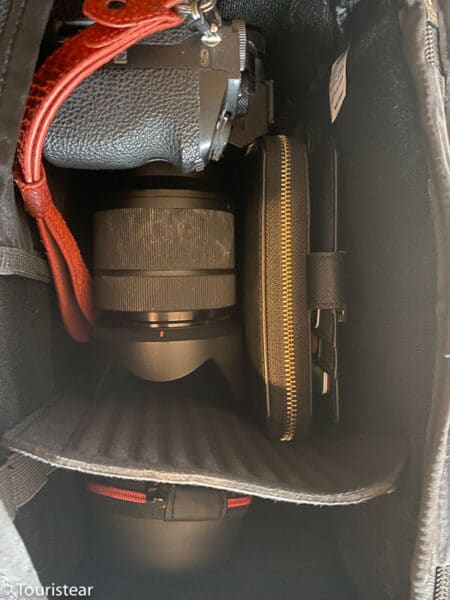 Where to buy the Tropicfeel Shell backpack?
You can already buy the Tropicfeel Shell backpack on the Tropicfeel website; click on this link.
The delivery time is between 2 and 10 days. It took us 8 days.
The Tropicfeel Shell backpack at the moment (March) is in "pre-order," this means that you can order it, and you will receive it later. At the time of writing this review, the delivery date is April.
The advantage of buying it at the "pre-order" moment is that you save 20% on the real price.
Another of the great advantages is that overstocking is avoided. This is good for the planet because only what will be consumed is created, and less pollution is generated.
You can buy the Shell backpack on the Tropicfeel website through this link. And by the way, take a look at the all-terrain shoes.
Packaging
Here I almost died of disappointment, and I thought I'm going to say nasty things about them when I do the review. But thank goodness I'm an observer. Otherwise, you were going to say no lovely things about me, lol.
When I opened the backpack box, I saw everything wrapped in "plastic," I could not believe it. One of the things I love about Tropicfeel is that they are environmentally friendly and use recycled products.
So when I started to take the products out of the bags, I read what it said in each of the supposed plastic bags:
"I am not a plastic bag. I am made entirely out of renewable resources to help reduce plastic pollution. I have the ability to rapidly decompose. I am protecting your new gear and I'll be kind to our environment."
Such a relief! And I wanted to share it with you, in case anyone gets the same surprise.
Conclusions
I think I've already told you about everything the Tropicfeel Shell Backpack has to offer. Simply put, this backpack is an all-in-one solution that any travel lover will be happy to have.
Maybe if you already have your backpack assembling routine on your travels, this may not be too attractive to you, as you should start over, but for a person who is starting or never knows how to pack, this is an all-in-one solution magnificent.
It is also useful for people who travel by camper van or RV, sporadically or who rent them at their destination.
The reason is that this backpack can be carried as a carry-on on the plane and then in the closet, you can put it directly in the compartment to store the clothes of the van, so you will have everything neat and accessible.
At first, the backpack may seem expensive, but the Shell backpack is for life since it has a lifetime guarantee (only for bakery).
Furthermore, it's super versatile. You can use it in your everyday life and on all kinds of trips.
I honestly think it is worth the investment.
Tell me in the comments what you think of the backpack. Will you buy it?
Plan Your Next Trip
Last Updated on 22 October, 2023 by Veronica
Disclosure: Some of the links on this post are affiliate links, meaning at no additional cost to you, I may earn a small commission if you click through and make a purchase.
Author: Veronica
Vero, a seasoned traveler, has explored 25 countries and lived in five, gaining a rich perspective and fostering an infectious passion for travel. With a heart full of wanderlust, Vero uncovers the world's hidden gems and shares insights, tips, and planning advice to inspire and assist fellow adventurers. Join Vero and let the shared passion for travel create unforgettable memories.