Tropicfeel's Shoes Review & 5 Items You'll Love
In today's post, we review and tell you our opinion about Tropicfeel Shoes and other new products of this travel brand.
Sure, you know them for the all-terrain traveling shoes, but do you know that the brand has grown and already has five models of shoes, one of them waterproof, 3 fab backpacks, and clothes for travelers?
Read on, and we will share our opinion about this brand, with versatile and sustainable travelers' shoes and other products.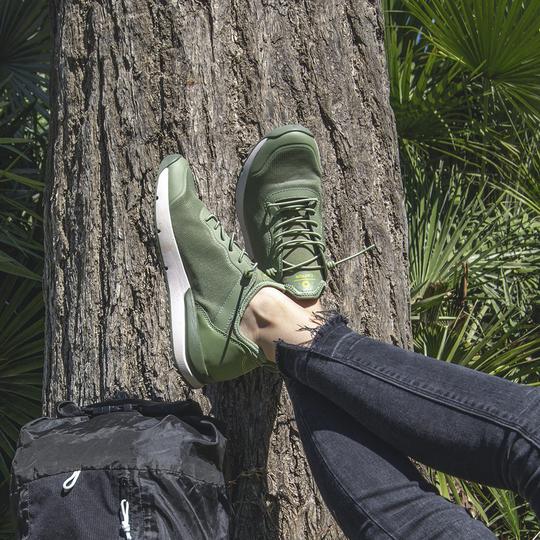 Disclosure: Some of the links on this post are affiliate links, meaning at no additional cost to you, I may earn a small commission if you click through and make a purchase.
Tropicfeel Jungle Shoes
Before you start reading the Tropicfeel shoe review, let me tell you about the new model that Tropicfeel has released, which I'm already looking forward to trying.
They are the Jungle sneakers, and they are awesome. It's the first word that comes to mind. They are perfect for travel and outdoor and urban activities. What I mean is that they are all-terrain, versatile, and chic. They are ideal for any lifestyle and (almost) any occasion.
And you know, with crowdfunding, they are much cheaper. So take the chance and buy them at a discount!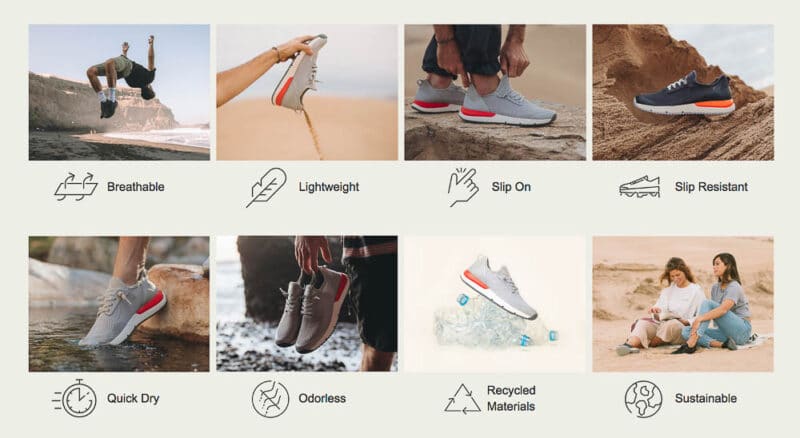 They are also responsible, sustainable, and work only with suppliers that offer 100% traceability of the materials and manufacture of the products.
Tropicfeel inspires authentic and conscious travel. A moment to reconnect with nature or enjoy a unique experience, alive, awake, and aware of what surrounds you. Be responsible. Be respectful. Always leave a positive footprint.
The Best Travel Shoes?
Tropicfeel shoes are the ideal footwear for travelers. They are light, comfortable, waterproof, and also beautiful. They are designed for long walks, get them all kinds of paths, do water activities, and the best, ultra-fast drying.
We've had the Canyons and Monsoons, and we've already got the Cala model on the way.
*Update June: I've been wearing or testing the Tropicfell Sunset sneakers for more than 6 months, and I love them. They are my favorite so far.
Honestly, we are delighted with Tropicfeel footwear and recommend it for all kinds of activities.
At the time of writing this post, there are 4 models of Tropicfeel shoes for travelers.
Tropicfeel Sunset (formerly Cala): The Tropicfeel Cala model arrived in November 2020. I think it's the most beautiful model of the four of them and the most versatile. You can use it every day!
Tropicfeel Monsoon: super versatile and comfortable shoes. You can find them in awesome colors. Just pick your favorite!
Tropicfeel Canyon: Canyon is the all-terrain sneaker with 4-in-1 versatility: providing the benefits of aqua shoes, the comfort of sports shoes, the technical outsole materials of hiking shoes, and the styling of your favorite daily pieces
Tropicfeel Jungle: the latest arrival. It looks awesome, and I love the new colors.
Tropicfeel Geyser Sneakers are weatherproof travel sneakers. The first travel sneaker blending thermoregulating Merino Wool and a technical waterproof membrane to keep you comfortable and dry come rain or shine. Turn unpredictable weather into unexpected adventures.
Other features
The 4 models are all-terrain and have the benefits of footwear for water, the comfort of sneakers, the technical outsole materials of hiking shoes, and the style of your favorite daily garments.
Other features of this footwear are that it is lightweight, does not slip, makes your feet breathe, and are created responsibly with the environment.
In addition, for every pair of Canyon and Cala models they manufacture, they use 6 recycled plastic bottles.
They come in sizes 36 to 47 (European measure) and 6 to 10.5 for women (US measure), and 6 to 12.5 for men (US measure).
Take a look at the web because are almost always offers or discounts.
Tropicfeel Cala / Sunset Review
I have the Sunset Chocolate Red sneakers and Fer the Sunset Night Blue.
For me, they are the most beautiful shoes that Tropicfeel has created so far. They also have the same characteristics as the Monsoon and the Canyon: they are resistant to water, have a good grip, are ecological, etc.
You can use these shoes on any occasion; they are more urban and seem less sporty than the other models.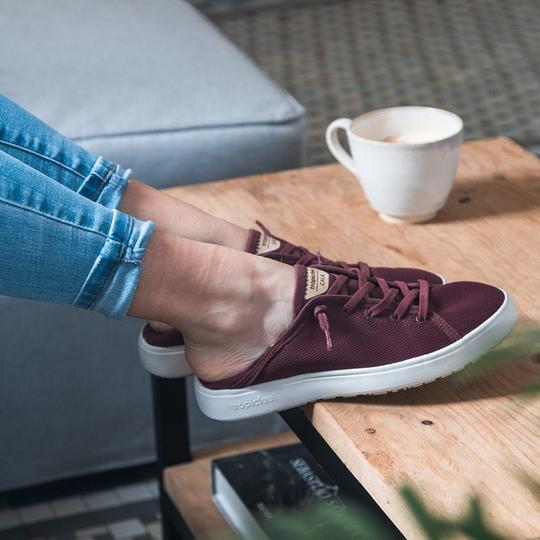 What we love about Tropicfeel Cala Shoes
Its lightness and comfort. Thanks to the material with which it is made, they weigh almost nothing and are super comfortable.
The elastic on the heel adapts to your foot without having to tie it, and they fit perfectly.
I love the heel design. You can use it as a sneaker or as slippers. Super useful in the van.
They are recommended for water activities. The best? They dry very quickly, and in half an hour or so, you have them completely dry.
I like their design very much. You can use it every day.
Also, they have an excellent grip.
What we don't love about Tropicfeel Cala
One of the things I like least is that my feet get cold. Let's see, I like to wear these shoes without socks, and I live in Nantes (north-western France), and it rains quite often, and you feel the cold of the water on your feet.
I don't like the limited colors very much. I have the chocolate Red and Fer has the blue night. But I'd like ones in total black. Because I love black shoes, but also, because the white part gets dirty easily. (I live in a city that rains a lot…)
They fit super well, you don't have to tie the laces, and they are comfortable without socks.
As you can see, they are my favorites and those I use the most, without a doubt. Ideal for traveling and for going for a walk or having a beer.
By the way, Fer's favorites are the Canyon.
Tropicfeel Canyon Review
From the Tropicfeel Canyon shoe model, Fer has the black one, and I have the green one. Of the 4 models, this and the Jungle are the sportiest. (Check the new colors!!!)
What we like about Canyon shoes
Both colors can be used daily and are unisex; too bad we don't have the same size to share shoes …
These do not bother me on the instep, and the size is very well indicated. I always have doubts, because sometimes it changes depending on the brand, but it is the regular size you use in most shoes.
You can use them comfortably with or without socks; they are light and breathe very well.
They are the most comfortable for long walks.
What we like least
On cold days you have to wear socks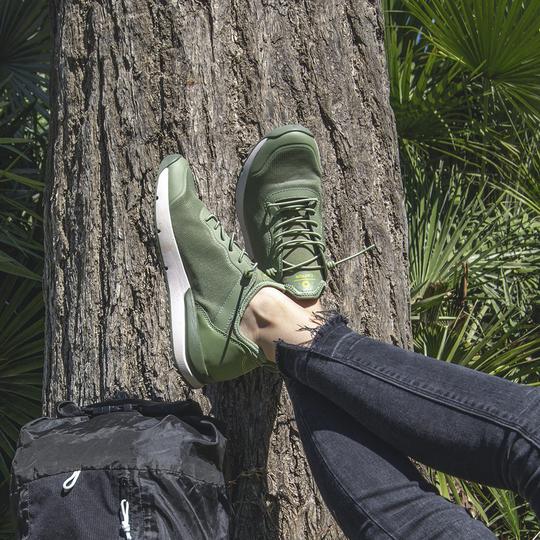 Tropicfeel Monsoon Review
The Monsoon was the first Tropic model we had. Fer had the black Monsoon Core Black model, and I had the white ones with light green details, which are no longer in the catalog. It was a few years ago …
What we like about Monsoon sneakers
These shoes are very versatile, and you can use them to explore and for a city walk. If you only have one pair of sneakers to pack, these won't let you down.
You can use them in the water, swimming, or on beaches with stones, and they dry very quickly.
They are very light and breathe very well.
Fernando says that thanks to these shoes, plantar fasciitis was cured. Obviously, it's not something medical at all, but they sure were very comfortable when his foot was wrong.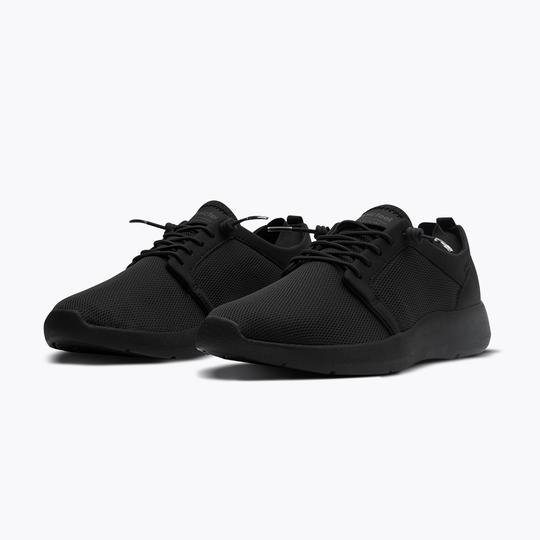 What we like least
The thing I liked the least about this model was that it pressed a little bit on the instep, I have it a little high, and it bothered me. But I don't know if it will have changed in the new Monsoon models.
For the rest, no complaints. 🙂
Tropicfeel Jungle Review
I anticipate the new launch of Tropicfeel, the Jungle shoes. At this time, you can get them cheaper through crowdfunding. You go to "pre-order," and you save more than 30% of the normal price.
* The estimated shipping is around July.
There are several packs available when you choose the Tropicfeel Jungle. For example, you can add a backpack, another pair of shoes, or a bottle of water.
We have not tested them yet, but we will update this section as soon as we have them.
Just with the presentation, they have on their website; you want to have them all!
It comes in super cool colors.
I love the shoes' colors in the photo I leave you below.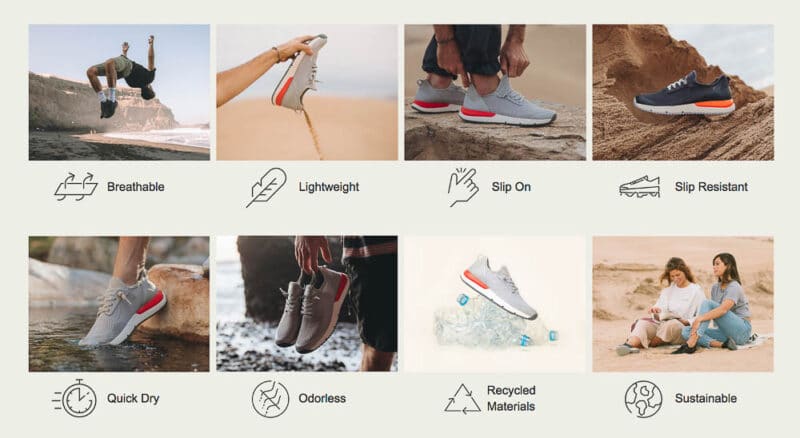 Tropicfeel GEYSER Sneakers, the Waterproof ones
Geyser Sneakers are weatherproof travel sneakers. The first travel sneaker blending thermoregulating Merino Wool and a technical waterproof membrane to keep you comfortable and dry come rain or shine. Turn unpredictable weather into unexpected adventures.
Characteristics: Waterproof, Thermoregulated, Comfortable, Sustainable and the versatility is fantastic. They have the protection of rain boots, the comfort of sports sneakers, the grip of hiking shoes, and the look of your favorite daily pieces.
Check them out on Tropicfeel.com.
Tropicfeel's Travel Backpack Review
There are two models of Tropic backpacks for travelers, the Cruiser and the Shell backpack:
The SHELL Backpack is one of the best backpacks I've ever seen. (20% off for a limited time)
The Nest, I'll love this one for short trips and everyday life. (Review coming soon)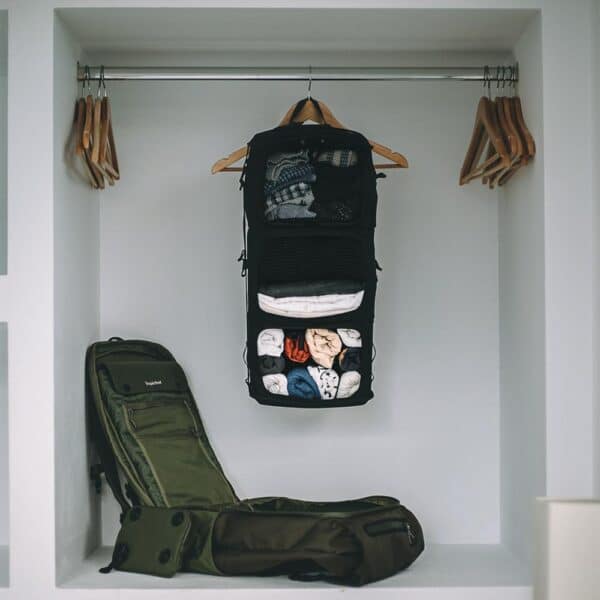 Tropicfeel Shell Backpack Review
The Tropicfeel Shell Backpack is one of the best travel backpacks I've ever seen.
It can be super versatile; you can use it for day-to-day or your travels.
One of its best features is that it comes with a wardrobe. This wardrobe is not fixed, so when you arrive at your hotel, you remove it from the backpack and hang it directly in the closet.
You can have all your clothes organized; you can access them quickly, and also, you can put 20% more clothes than in a backpack of a similar size.
Check out the full review of Tropicfeel Shell Backpack here.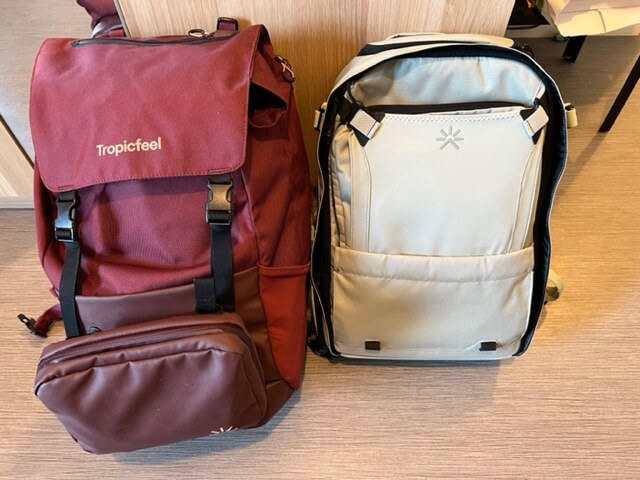 The Shell Backpack has three optional accessories:
Toiletry bag
Tech Pouch
Camera Cube
More features of the Shell Backpack
It is waterproof
It is ergonomic
It has a compartment for the laptop.
Nylon is 100% recycled.
Polyester is 60% recycled.
Capacity from 22 to 40 liters
It has a 20% discount (for a limited time).
The Cruiser Backpack
It is a 20-liter backpack for all kinds of adventures. It's super versatile, you can bend it, and it fits in the palm of your hand; it's comfortable, lightweight, waterproof, and sustainable.
It's a backpack for all kinds of trips or to use daily, it has many pockets, a special one to carry the laptop.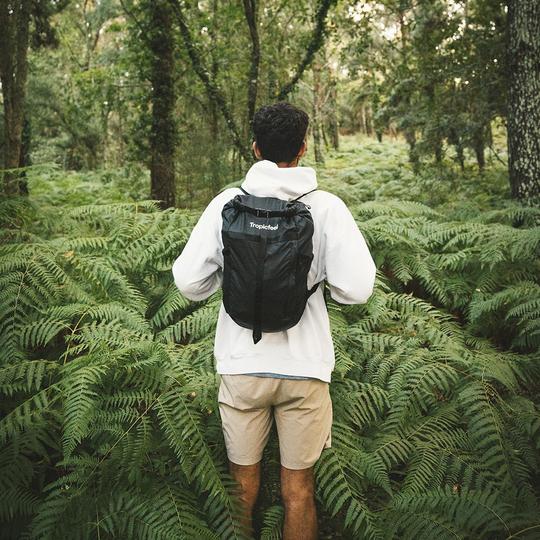 The backpack is in two colors, blue and black. The blue is super cool, but the black one matches anything, and you can use it more daily. So which one do you prefer?
Clothes for Traveler
Honestly, until I went on the web to look at the new sneakers, I hadn't seen the new line of clothes they have at Tropic.
There is a line of men's and women's clothing, including shorts, T-shirts, and a women's dress.
One of the things I like most about this brand is that they use recycled, organic, sustainable, or fair trade products. The same goes for this clothing line. They use organic cotton and fair trade. My favorite is the Stand Up T-Shirt.
I'm telling you, we had the first shoes in black and green (Fer) and me, in white. The Canyons (we have them now) Fer has them in Black ones, and I have them in green.
And the Sunset (former Cala), which are on their way, I ordered them in chocolate Red and Fer in night blue. When they arrive, I upload a photo and update the info.
Is Tropicfeel Right For You?
If you're looking for an all-around shoe, Tropicfeel is amazing mainly because it works.
The materials are versatile and durable and comfortable for all-day walking. These are just a few of the reasons why we recommend these shoes for all kinds of travelers.
As I mentioned above, they now have three versions, the Monsoon model, the Canyon model, and the Cala model.
All three models are extremely lightweight and work well as casual sneakers. We use them every day.
In short, if you are looking for shoes you can undertake any adventure, I would not hesitate to recommend these.
What are your favorites? Have you bought your Tropics yet?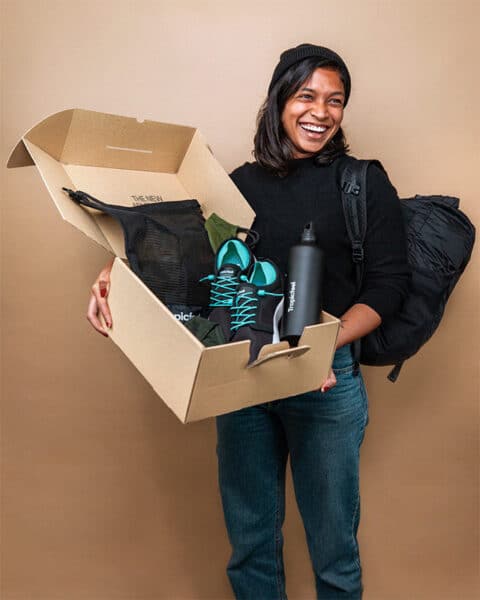 More about Tropicfeel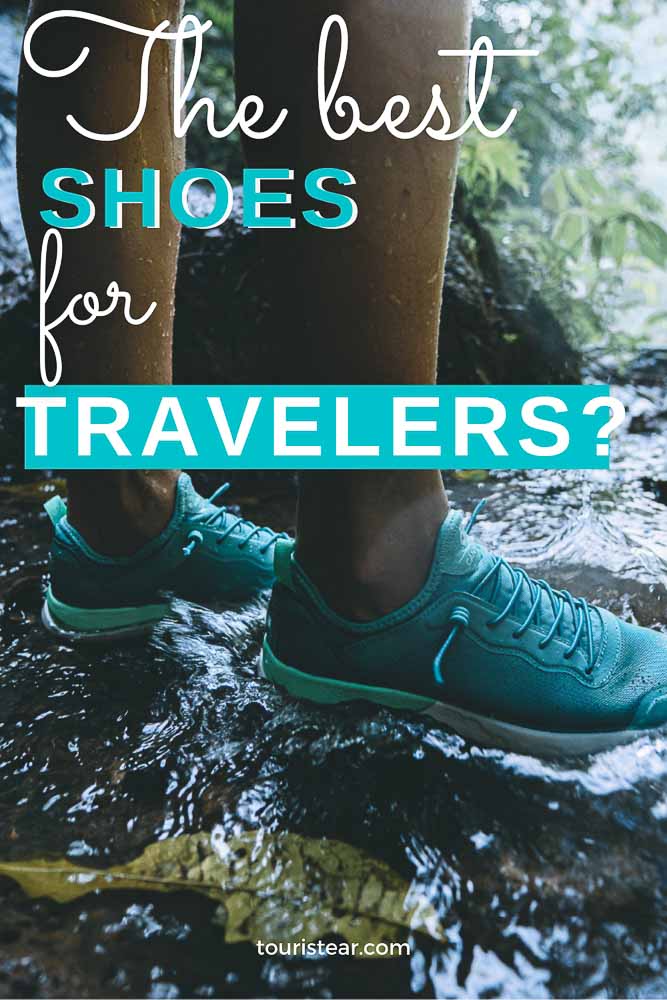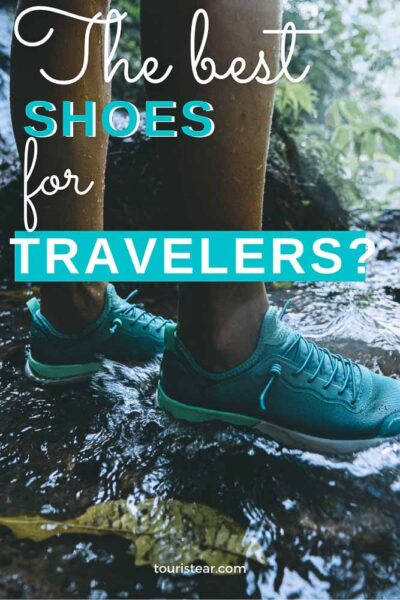 Book Your Trip
Book Your Flight
Find a cheap flight by using Skyscanner.
Book Your Accommodation
You can book your hostel, hotel, or apartments on Booking.com.
Don'torget Travel Insurance.
Travel insurance will protect you against illness, injury, theft, and cancellations. It's your protection in case anything goes wrong. You never go on a trip without it.
Best companies for Tours
Check out Civitatis.com and find the best tours in English (French, Spanish and Italian)
Are you looking for the best companies to save money with?
Check out my resource page for the best companies to use when you travel! I list all the ones I use to save money when I travel – and I think I will help you too! (Is in Spanish yet)
Last Updated on 14 March, 2023 by Veronica