Honest Tropicfeel Shoes Review after 3 Years of Use
In today's post, we review and tell you our opinion about Tropicfeel Shoes and other new products of this travel brand.
If you're a traveler who's always on the lookout for versatile and sustainable gear, you may have heard of Tropicfeel Shoes. But did you know that this travel brand has expanded its product line to include 8 different shoe models, 6 backpacks, and even clothes?
In this article, we'll review Tropicfeel Shoes and their other new products that we have use, sharing our honest opinion about their quality and usefulness for travelers.
From waterproof shoes to everyday backpacks, we'll cover it all. So keep reading to find out if Tropicfeel is worth the investment for your next adventure.
just for you to know: we have been using Tropicfeel products since their inception, back when they only had one model. Over time, we've purchased and tried out new products.
Between Fer and me, we have the Sunset (previously known as Cala), Canyon, Lava, and Geyser shoes. Additionally, Fer bought the trekking pants and the waterproof jacket. Some of these products have been with us for several years, while others have been with us for just a few months.
I'll now tell you about our experience with each of these items and choose the perfect shoe for you.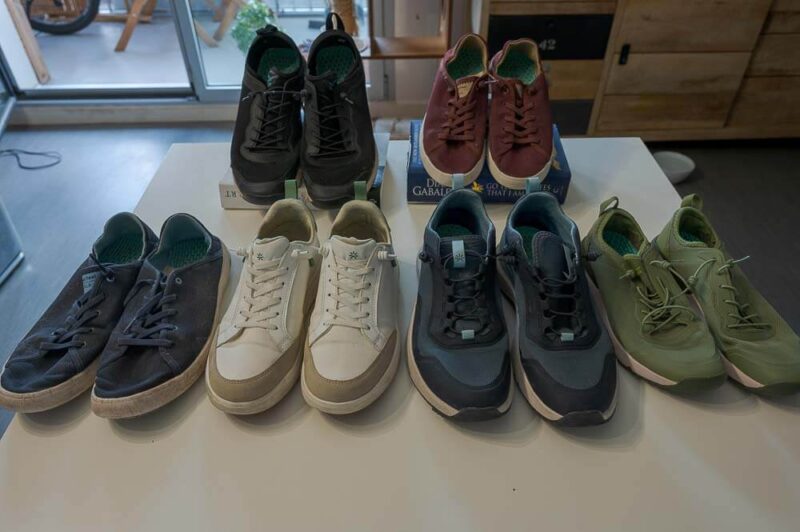 The Best Travel Shoes?
Tropicfeel shoes are the perfect choice for travelers. They offer a combination of lightweight comfort, waterproofing, and stylish design. Specifically engineered for extended walks, they're suitable for various terrains, including water activities.
What's even better is their remarkable quick drying feature.
At the time of writing this post, there are 8 models of Tropicfeel shoes for travelers. And we have 4 of these models, so we can talk about our experience with these travel shoes as experienced travelers.
Tropicfeel Sunset (formerly Cala): The Tropicfeel Cala model arrived in November 2020. I think it's the most beautiful model and the most versatile. You can use it every day!
Tropicfeel Monsoon: super versatile and comfortable shoes. You can find them in awesome colors. Just pick your favorite!
Tropicfeel Canyon: Canyon is the all-terrain sneaker with 4-in-1 versatility: providing the benefits of aqua shoes, the comfort of sports shoes, the technical outsole materials of hiking shoes, and the styling of your favorite daily pieces
Tropicfeel Jungle: the latest arrival. It looks awesome, and I love the new colors.
Tropicfeel Geyser Litli Sneakers are weatherproof travel sneakers. The first travel sneaker blending thermoregulating Merino Wool and a technical waterproof membrane to keep you comfortable and dry come rain or shine. Turn unpredictable weather into unexpected adventures. Since I have my Geyser Litli, they become my favorite pair of shoes.
Geyser Great: it's similar to the Litli model but taller.
Lava: Fer has them in blue, they are comfortable and perfect for hiking.
Dune: they look and comfortable, but we have the Canyon, so we never bought them because they look similar, maybe a little more urban.
Features
Tropicfeel shoes are an excellent choice for travelers looking for light, comfortable, waterproof, and stylish footwear. They're suited for long walks, various terrains, and water activities, and they dry very quickly. They come in different colors and are versatile shoe.
They come in sizes 36 to 47 (European measure) and 6 to 10.5 for women (US measure), and 6 to 12.5 for men (US measure).
The shoes are also lightweight, breathable, and have an excellent grip. 
Sustainability
Tropicfeel is committed to creating environmentally responsible shoes. For example, for every pair of Canyon and Cala (now Sunset) models produced, they use six recycled plastic bottles.
Lightweight & Durable
These shoes are known for their lightness and durability, making them perfect companions for any journey.
With materials designed to be both comfortable and long-lasting, you can confidently wear them in various settings and activities. I have my pairs of Cala (now Sunset), and they look pretty well for the use they have.
All-Terrain
All four models of Tropicfeel shoes are all-terrain and perfect for water activities. They are resistant to water, have a good grip, and dry very quickly. Tropicfeel shoes are the ideal footwear for travelers, and we recommend them for all kinds of activities.
Some of Tropicfeel's all-terrain sneakers are water-friendly, making them ideal for warm climates and summer months.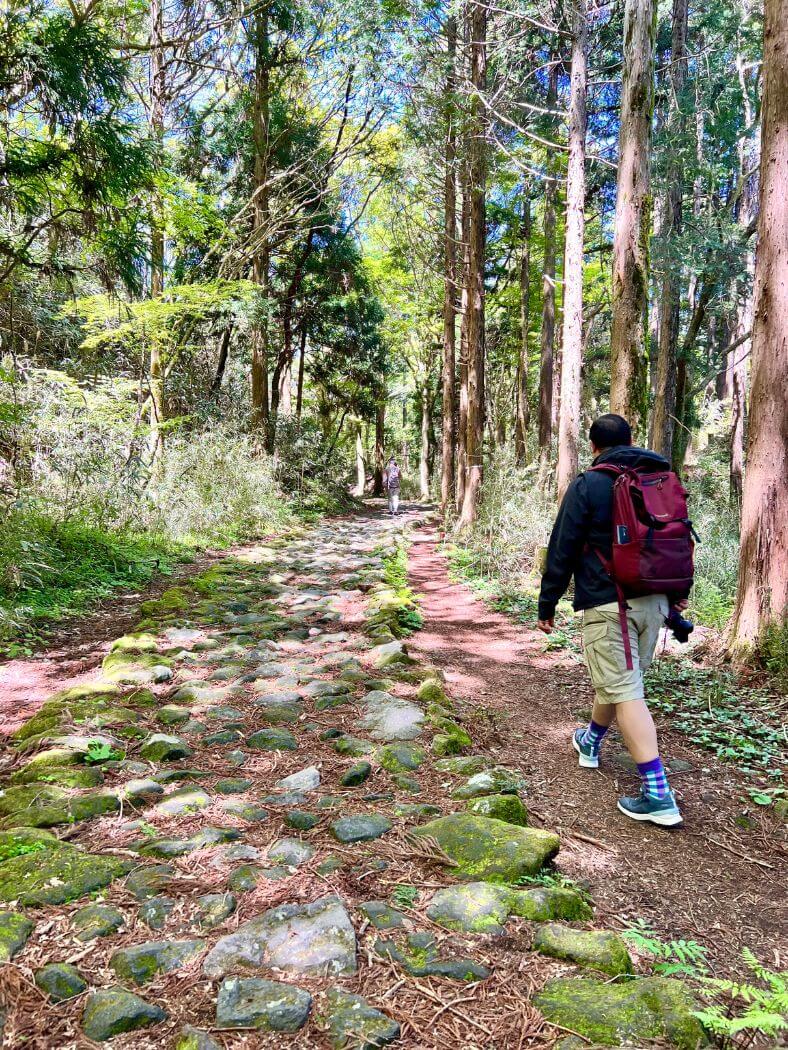 The mesh on the sides allows water to pass through, making them suitable for activities like swimming, walking through puddles, or braving heavy rain—making these sneakers a great choice for water adventures in spring or summer.
On the other hand, Geyser all-terrain sneakers are fully waterproof, ensuring your feet stay dry even in wet conditions. While you can't fully submerge your foot, these sneakers are excellent for unpredictable weather, thanks to a technical waterproof membrane that keeps you comfortable and dry, rain or shine.
I love my Geyser Litli; they are perfect for the city and the countryside.
Whether you're hiking through a jungle, strolling on the beach, or walking through a canyon, Tropicfeel equips you with the perfect shoe for any adventure.
The lightweight, quick-drying, and all-terrain features provide optimal comfort, support, and versatility for all your travel needs. Simply slip on a pair and start exploring!
Take a look at the Tropicfeel website because there are almost always offers or discounts.
Take a look at the web because there are almost always offers or discounts.
Tropicfeel Cala / Sunset Review
Well, let's start with the Tropicfeel review of the Sunset model. Spoiler alert: they are my favorites for summer. I have the Sunset Chocolate Red sneakers and Fer the Sunset Night Blue.
For me, they are the second most beautiful shoes that Tropicfeel has created so far. They also have the same great features as the Monsoon and the Canyon: they are high quality, resistant to water, have a good grip, are sustainable, etc.
You can wear these shoes on any occasion; they are more urban and seem less sporty than the other models.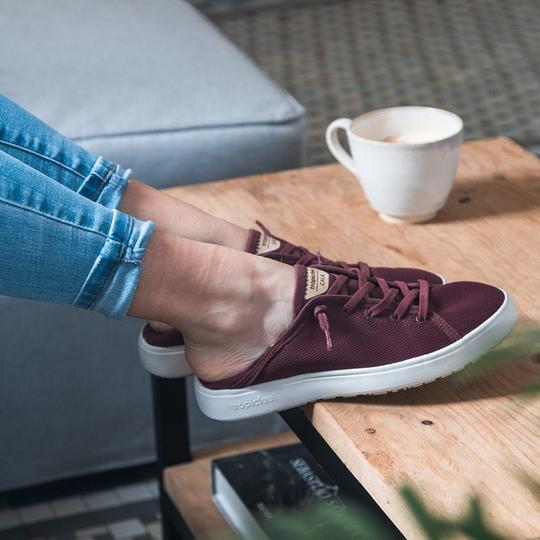 What we love about Tropicfeel Cala Shoes
Its lightness and comfort. Thanks to the material with which it is made, they weigh almost nothing and are super comfortable.
The elastic on the heel adapts to your foot without having to tie it, and they fit perfectly.
I love the heel design. You can use it as a sneaker or as slippers. Super useful in the van.
They are recommended for water activities. The best? They dry very quickly, and in half an hour or so, you have them completely dry.
I like their design very much. You can use it every day.
You can use your washing machine to wash them (30º on a short cycle), but you can wash them on hand easily.
They are packable, perfect when you travel with a backpack or a carry-on.
Also, they have an excellent grip.
What we don't love about Tropicfeel Cala/Sunset
One of the things I like least is that my feet get cold. Let's see, I like to wear these shoes without socks, and I live in Nantes (north-western France), and it rains quite often, and you feel the cold of the water on your feet.
I don't like the limited colors very much. I have the chocolate Red and Fer has the blue night. But I'd like ones in total black. Because I love black shoes, but also, because the white part gets dirty easily. (I live in a city that rains a lot…)
They fit super well, you don't have to tie the laces, and they are comfortable without socks.
As you can see, they are my favorites and those I use the most, without a doubt. It is ideal for traveling and for going for a walk or having a beer.
By the way, Fer's favorite are the Canyon.
Tropicfeel Canyon Shoes Review
Fer opted for the black model, while I went for the vibrant green variant, both of us entrusting our travels to Tropicfeel's Canyon Shoes. These particular models, along with the Jungle variant, exude a sporty charm that's perfectly suited for active adventurers.
The Canyon shoes have proven to be a game-changer, seamlessly blending comfort, durability, and style. From rugged terrains to urban explorations, they've exceeded our expectations, making them an indispensable companion for any journey.
Their versatility and adaptability are truly unmatched, ensuring we're ready for whatever our travels throw our way.
As a traveler, finding the perfect pair of shoes can be challenging. Tropicfeel aims to make your decision easier with their Canyon shoes designed specifically for traveling. Let's take a closer look at their features and benefits.
Comfort and Versatility: Tropicfeel Canyon shoes are designed with comfort in mind. They are lightweight, making them ideal for long walks and exploring new cities. Furthermore, the shoes are versatile enough to be worn in various settings, from urban environments to nature trails.
Slip-on Design: These shoes feature a convenient slip-on design, allowing you to quickly put them on or take them off as needed. This can be especially helpful when going through airport security or transitioning between indoor and outdoor activities.
Quick Drying and Breathable: Made from a quick-drying synthetic material, the Canyon shoes are breathable, keeping your feet dry and comfortable even during hot weather or water-based activities. This feature can be a game changer for travelers who find themselves in humid or wet conditions.
Grippy Outsole: The rubber outsole provides excellent traction on various surfaces, reducing the risk of slips and falls during your adventures. Whether you are walking on cobblestone streets or hiking through the woods, you can trust these shoes to keep you steady on your feet.
Eco-friendly Materials: Tropicfeel is committed to sustainability, using recycled materials in their products whenever possible. By choosing these shoes, you are supporting a brand that values the environment as much as you do.
Style and Color Options: Tropicfeel Canyon shoes come in a range of colors, allowing you to find the perfect pair to suit your personal style. The sleek and minimalistic design complements any travel wardrobe, making them a versatile choice for various outfits.
In summary, Tropicfeel Canyon shoes offer an impressive combination of comfort, functionality, and style for travelers. With their unique features and eco-friendly materials, they are a solid option to consider for your next adventure.
What We Like About Canyon Shoes
You can use this model daily and is unisex; too bad we don't have the same size to share shoes …
The Canyon Shoes do not bother me on the instep; the size is very well indicated. I always have doubts because sometimes it changes depending on the brand, but it is the regular size you use in most shoes. If you doubt on 2 sizes, I recommend to choose the big one.
You can use them comfortably with or without socks; they are light and breathe very well.
They are the most comfortable for long walks.
What we like least
On cold days, you have to wear socks.
After intensive use, the black model looks more worn or used. (The green one looks better.)
Tropicfeel Monsoon Review
The Monsoon was the first Tropic model we had, although I don't remember if it was called that or had another name.
Fer had the black Monsoon Core Black model, and I had the white ones with light green details, which are no longer in the catalog. It was a few years ago and we don't have them anymore. But we share our experience anyways 🙂
What we like about Monsoon sneakers
These shoes are very versatile, and you can use them to explore and for a city walk. If you only have one pair of sneakers to pack, these won't let you down.
You can use them with stones in the water, swimming, or on beaches, and they dry very quickly.
They are very light and breathe very well.
Fernando says that thanks to these shoes, plantar fasciitis was cured. Obviously, it's not something medical at all, but they sure were very comfortable when his foot was wrong.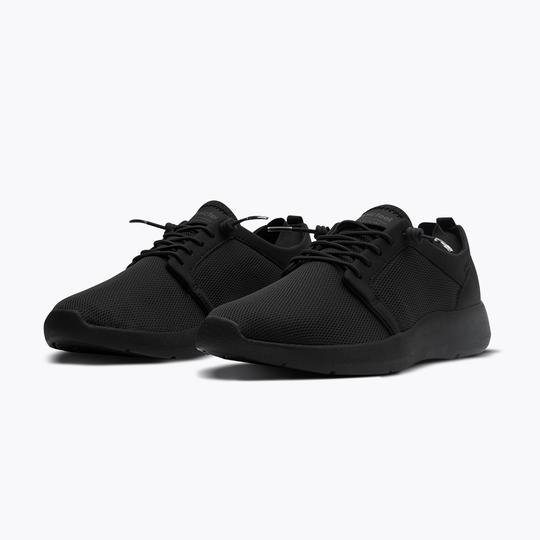 What we like least
The thing I liked the least about this model was that it pressed a little bit on the instep, I have it a little high, and it bothered me. But I don't know if it will have changed in the new Monsoon models.
For the rest, no complaints. 🙂
Tropicfeel Jungle Review
Tropicfeel's Jungle shoes have truly redefined versatility in footwear. With their innovative design and lightweight build, they effortlessly transition from urban streets to rugged trails.
The breathability of the mesh upper ensures comfort even during long walks, while the sturdy soles provide ample support. What sets the Jungle model apart is its adaptability for water activities, thanks to its quick-drying feature.
Whether it's a hike through the woods or a casual stroll along the beach, Tropicfeel's Jungle shoes offer unmatched comfort and performance.
Tropicfeel shoes have gained attention among travelers for their versatility and comfort. As a traveler, you might find these features useful:
All-Terrain Adaptability: Tropicfeel Jungle shoes are designed for various environments, from urban streets to hiking trails.
Quick-drying Materials: These shoes are made with fast-drying materials, making them perfect for water-based activities or unexpected rain.
Travel-Friendly: Tropicfeel shoes are lightweight and easily compressible, making them convenient to pack in your luggage.
Slip-Resistant Soles: The outsoles provide excellent grip on various surfaces, ensuring your safety during adventures.
Eco-friendly: Tropicfeel is committed to sustainability – its shoes are made with environmentally friendly materials.
To determine if Tropicfeel Jungle shoes fit your needs, consider your travel habits, desired shoe features, and style preferences.
It comes in super cool colors. I love the shoes' colors in the photo I leave you below.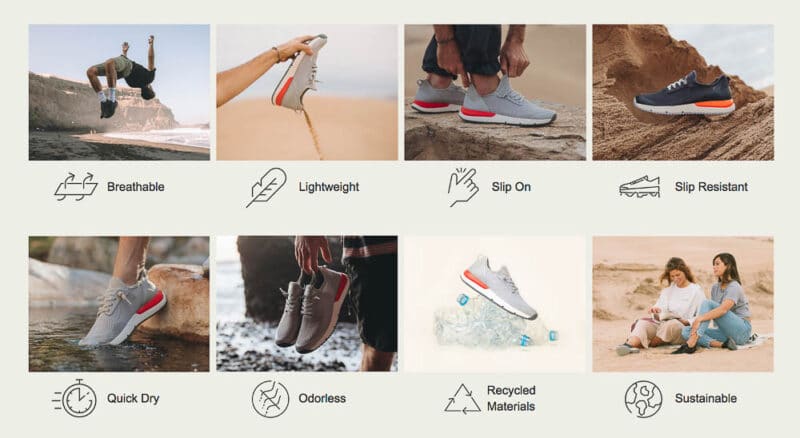 Tropicfeel Geyser Sneakers, the Waterproof Ones
I own a pair of Tropicfeel Geyser shoes in the crisp white shade, the Litli model, and they were my trusted companions on my trip to Japan last spring. These shoes exceeded my expectations in terms of both comfort and warmth.
The waterproof feature proved invaluable during unexpected showers, keeping my feet dry and comfortable throughout the day. The Geyser's sleek design seamlessly blends fashion with function, making them versatile enough for various activities.
Whether I was exploring bustling Osaka streets or venturing through the serene countryside, the Geyser shoes proved their worth. They're now a staple in my travel gear, ensuring I'm prepared for whatever adventures lie ahead. 
Since I have the Geyser model, they become my favorite shoes. I love that I can use them on any occasion.
Check them out on Tropicfeel.com.
How To Buy the Shoes of Tropicfeel
Purchasing Tropicfeel shoes is a straightforward process. The most direct way is through their official website, where you can browse their full range of models, colors, and sizes.
The website provides detailed product information and a user-friendly interface for a seamless shopping experience.
Another avenue is through crowdfunding platforms like Kickstarter or Indiegogo, where Tropicfeel often launches their new shoes models. Backers on these platforms are among the first to receive the latest releases and are cheaper.
Order and shipping
Time Estimates are based on business days. During the launch of a new season, peak time, or during specific holidays, some countries can be affected by delays. Shipping times will be shown in the checkout. In general, the shipping time is between 3 days and a week.
Free shipping for orders above €99 (Europe) / 119USD (US) / 89GBP (UK). Applies to the UK, US, and the EU only.
Tropicfeel's Travel Backpack Review
There are two models of Tropic backpacks we have. Fer and I have one Shell each, and I also have the Nest model. The brand has more models (but we can't have them all, sadly), like the Nook, Shelter or Hive; take a look at Tropicfeel's official website and choose the one you love the most.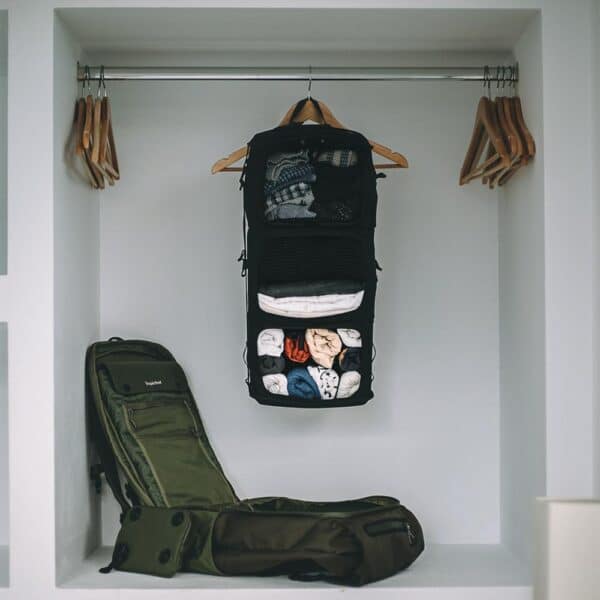 Tropicfeel Shell Backpack Review
The Tropicfeel Shell Backpack is one of the best travel backpacks I've ever seen.
It can be super versatile; you can use it for day-to-day or your travels.
One of its best features is that it comes with a wardrobe. This wardrobe is not fixed, so when you arrive at your hotel, you remove it from the backpack and hang it directly in the closet.
You can have all your clothes organized; you can access them quickly, and also, you can put 20% more clothes than in a backpack of a similar size.
Check out the full review of Tropicfeel Shell Backpack here.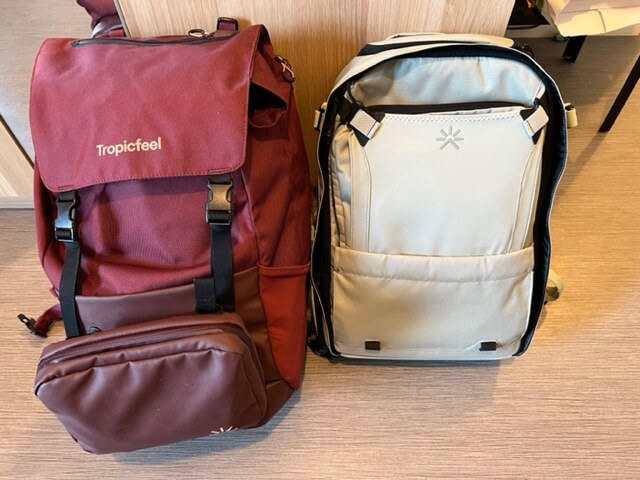 The Shell Backpack has three optional accessories:
Toiletry bag
Tech Pouch
Camera Cube
More features of the Shell Backpack
It is waterproof
It is ergonomic
It has a compartment for the laptop.
Nylon is 100% recycled.
Polyester is 60% recycled.
Capacity from 22 to 40 liters
I have the Green Desert color, my Tropicfeel Nest backpack has become an indispensable companion for short getaways and remote workdays.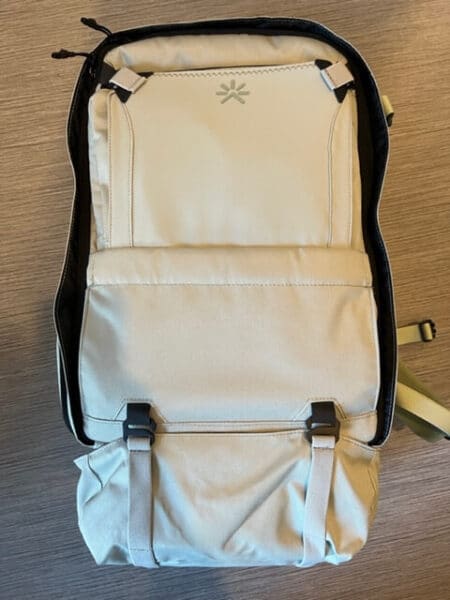 Its versatile design and compact size make it perfect for packing essentials while on the go. Whether I'm headed for a quick weekend escape or setting up my workspace away from home, this backpack caters to all my needs.
The Nest's thoughtfully designed compartments and durable construction ensure that it keeps up with my active lifestyle. It's not just a bag; it's a reliable sidekick that effortlessly blends style with functionality.
The Nest Backpack is an excellent choice for short trips or daily use. With a 20-liter capacity, it's suitable for various adventures.
The Nest Backpack comes with numerous pockets, including a special compartment for your laptop. It is available in 4 colors, two light color and 2 dark.
The Cruiser Backpack
It is a 20-liter backpack for all kinds of adventures. It's super versatile, you can bend it, and it fits in the palm of your hand; it's comfortable, lightweight, waterproof, and sustainable.
It's a backpack for all kinds of trips or to use daily, it has many pockets, a special one to carry the laptop.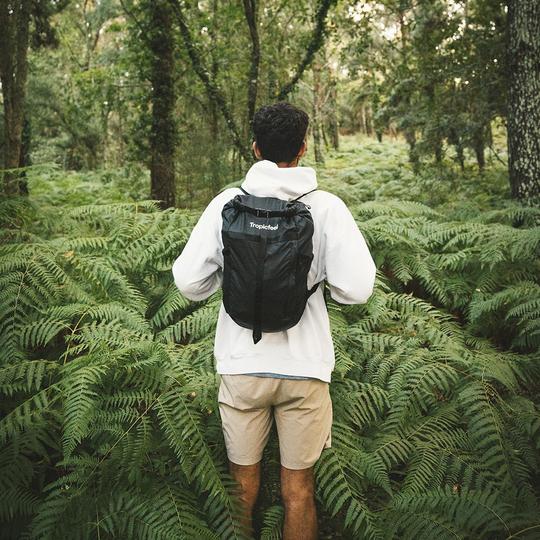 The backpack is in two colors, blue and black. The blue is super cool, but the black one matches anything, and you can use it more daily. So which one do you prefer?
Clothes for Traveler
Honestly, until I went on the web to look at the new sneakers, I hadn't seen the new line of clothes they have at Tropic.
There is a line of men's and women's clothing, including shorts, T-shirts, and a women's dress.
One of the things I like most about this brand is that they use recycled, organic, sustainable, or fair trade products. The same goes for this clothing line. They use organic cotton and fair trade. My favorite is the Stand Up T-Shirt.
Tropifeel has clothes perfect for travelers. Fer bought the Men's NS40 Light Jacket Core Black and the Men's Zip-Off Pant All-Black.
Is Tropicfeel Right For You?
If you're looking for an all-around shoe, Tropicfeel is amazing mainly because it works.
The materials are versatile and durable and comfortable for all-day walking. These are just a few of the reasons why we recommend these shoes for all kinds of travelers.
As I mentioned above, they now have eight model of shoes and they realise new colors, or update and new models every year. The first model are the Monsoon model, the Canyon model, and the Cala model.
All models are extremely lightweight and work well as casual sneakers. We use them every day.
In short, if you are looking for shoes you can undertake any adventure, I would not hesitate to recommend these.
Digging Deeper into Tropicfeel
Tropicfeel, an eco-conscious brand, focuses on sustainability by utilizing recycled plastic bottles and vegan materials for their unique products. They gained success through Kickstarter, emphasizing a responsible approach to the environment.
What are your favorites? Have you bought your Tropics yet?
More about Tropicfeel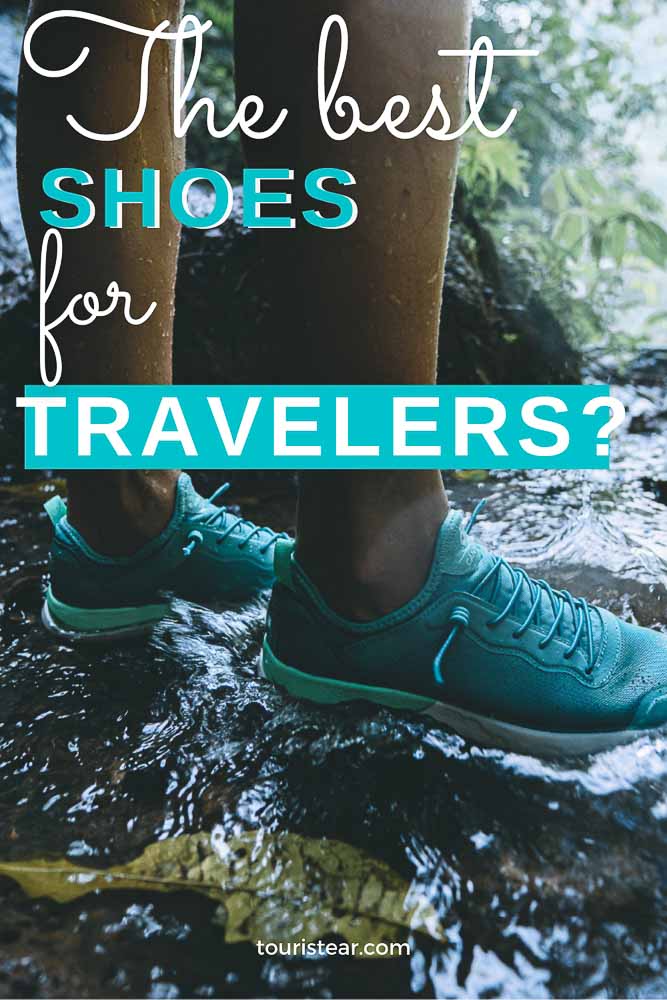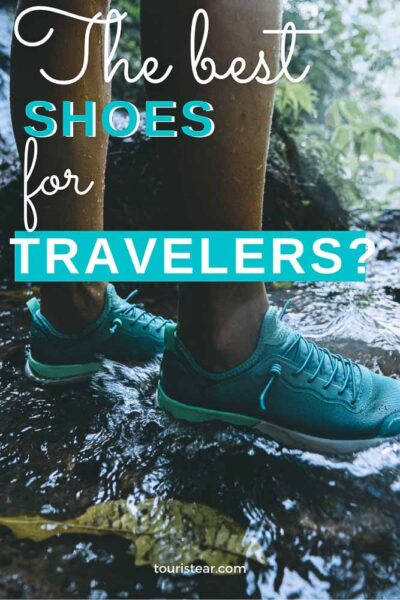 Last Updated on 21 September, 2023 by Veronica
Disclosure: Some of the links on this post are affiliate links, meaning at no additional cost to you, I may earn a small commission if you click through and make a purchase.
Author: Veronica
Vero, a seasoned traveler, has explored 25 countries and lived in five, gaining a rich perspective and fostering an infectious passion for travel. With a heart full of wanderlust, Vero uncovers the world's hidden gems and shares insights, tips, and planning advice to inspire and assist fellow adventurers. Join Vero and let the shared passion for travel create unforgettable memories.