10 Best Portable Heater for Camping
Camping is an incredible way to connect with nature and experience things that noncampers will probably never see. If you want to experience all that the wilderness has, there is no better way than packing up a tent and getting outside.
However, camping should not be just tied down to the warm months. In fact, winter camping is super fun and can give you new perspectives on the areas in which you are in.
Today, we will be talking about the best portable heater for camping. These help keep you warm when the outside elements could be harsh. Here are the best portable heaters for camping!
Our Picks of the Top 3 Best Camping Heaters
The Best 10 Portable Heaters for Camping
Mr. Heater F232000 Buddy Portable Heater
The first option on our list is a highly rated one that will not break the bank. The Mr. Heater Buddy portable heater will last a long time and be a cornerstone of your winter camping endeavors.
This portable option pumps out 9000 BTU, so your area is heated quickly and efficiently. This is as easy as grabbing the heater and using it super simple.
This is also a portable propane heater for camping, so you will not necessarily have to have a steady electrical source to get use out of it.
Sale
Mr. Heater MH9BX-Massachusetts/Canada approved portable Propane Heater
4,000- to 9,000-BTU radiant heater for spaces up to 225 square feet. Approved for outdoor use; clean-burning; nearly 100-percent efficient
When operating the heater at altitudes over 7,000 FT above sea level the heater may shut off.
Auto shut-off if tipped over, if pilot light goes out, or if detects low oxygen levels
Pros:
Adjustable output to cover 4000-9000 BTU
Auto shut off function when the heater tips over
Fold-down and easy-to-use handle for the maximum amount of portability
Will run for about 3 hours at full force
Cons:
Will not work above 7000 feet of elevation
Weighs 9 pounds, so it can be a pain to carry around in certain situations
Dewalt is a leading brand when it comes to electric power tools. However, when it is coupled with Mr. Heater, a leader in heating mechanisms, what you get is a fantastic product.
The Dewalt Portable heater comes in the classic yellow and black color scheme and is a great battery-powered and propane option.
If you already have Dewalt power tools, you can use the same flex batteries to power this as well. There is also a built-in LED light to give some versatility and extra use out of it. However, this is still a propane tent heater like the traditional Mr. Heater.
DEWALT DXH12B Portable Heater
Three USB ports for charging personal electronics and accessories
Dual tank capacity provides up to 7 hours of run-time
Integrated high velocity fan to effectively disperse convective heat
Pros:
Extra features other than heating powered by Dewalt batteries which are very reliable
Has a built-in light strip in case it is going to be used in a dark area
Has three USB ports for charging phones and electronic devices
Has about 7 hours of run time
12,000 BTU output
Cons:
Does require both propane and battery power to work all features at once
Additional Dewalt batteries are expensive
Weighs in at 14 pounds, so if you are on the move a lot, this may not be the best option.
To keep downsizing, the Mr. Heater Little Buddy is the perfect option if you want something even more portable than any of the other Mr. Heater products. This can literally be held in your hand and thrown on the back of a pack with ease.
If you are doing some more remote camping where space and weight are an issue, this is the one to buy. It pumps out 3800 BTU, which is quite good for its size. So, for a truly portable option that can be used in most circumstances, don't look past the Little Buddy.
Mr. Heater F215100 MH4B Little Buddy 3800-BTU Indoor Safe Propane Heater With Portable|Low-Oxygen...
Indoor-safe portable propane heater for rooms up to 95 square feet. THIS UNIT IS NOT INTENDED FOR GOLF CART USE OR FOR MOTORIZED VEHICLES.
Continuous odor-free, 45-degree heating angle. Maximum Elevation (Ft) 7000 Feet. Automatic low oxygen shut-off system (ODS). Perfect solution for heating small enclosed spaces like tents up to 95 square feet
Simple on/off buttons; uses 1-pound disposable propane cylinder (not included). Run time at minimum btu and maximum btu is 5.6 hours. Do­ not­ operate­ heater­ in­ any ­moving­ vehicle. This ­heater ­requires ­a­ vent­ area­ of­ 4­ square­ inches­ minimum ­for­ adequate ventilation ­during­ operation
Pros:
Super compact design that allows for traveling and packing easily
3800 BTU output
Simple buttons that make ease of use a priority
About 5 hours of run time on the maximum output
Built-in tip over kill switch
Takes less than one cubic feet of space
Cons:
The output will not heat up large areas quickly
Does require allotted space for ventilation which can be difficult in tight spaces
Can be considered pricey considering the size and output
Mr. Heater F242300 Portable Propane Heater
Although the leading brands tend to make a really nice-looking package and quality product, Mr Heater wastes no time getting to the performance. This is simply an extension hooked onto a propane bottle's top.
Although the packaging and build of those fancy options are great, this cuts right to the chase and saves you a bit of money. The Texsport Portable heater stands about 10 inches from the bottle and shoots out just under 3000 BTU.
Sale
Pros:
Super simple design that is easy to use
Is very affordable
Almost 3000 BTU
Very light and compact design for the traveling and packing you may do
Cons:
Does not have a lot of structure, so breaking can happen without a carrying case
You will need to buy your own propane bottles and replace them often.
Sengoku HeatMate Portable Kerosene Heater
If the budget allows and you need something that has a bigger output, the Sengoku HeatMate Portable Kerosene Heater is an excellent option.
Again, this is a fairly beefy option that is not so much for portability on the trail, but rather an option that can be set up inside and out with almost no effort required.
Rather than being a propane heater, this is a kerosene heater. Although the difference is subtle, it is still worth pointing out. This is great for camping as its output is higher than many other options at 10,000 BTU. So, if you are camping in a large space or with many people, this is the way to go.
Sale
Senoku HeatMate Economic Portable Radiant Kerosene 10,000 BTU Space Heater with Automatic Safety...
Sengoku HeatMate 110 is designed as a portable, compact, easy-to-carry solution for any of your heating needs, making it ideal for both indoor and outside use
Equipped with a 1.2-gallon kerosene tank storage, this room and space heater can run continuously for up to 14 hours of use, providing you a long-lasting heat source
Reliable space heater equipped with an automatic safety shut-off and easy push-button start for fast set-up without the need of using matches or electricity
Pros:
10,000 BTU for a large output compared to other portable options
Automatic safety function to avoid any issues
Designed for use inside and outside, making it a great camping option
Cons:
Can be considered expensive, although output is high
Is slightly big and bulky by portable heater standards
Will be overkill if you are camping in small spaces
Campy Gear Portable Propane Heater and Stove
One of the more unique options on our list is the Campy Gear Portable Propane Heater and Stove. Not only can you and your immediate area be heated, but you can use the top of the heater as a stovetop. Plus, it is a very affordable option.
Having this type of versatility makes the purchase well worth it. In addition, the heat output is 9000 BTU, and it has an interesting 360-degree heating radiant. So, you and your buddies can be huddled around, and everyone can enjoy the heat.
Campy Gear Chubby 2 in 1 Portable Propane Heater & Stove, Outdoor Camping Gas Stove Camp Tent Heater...
【2 in 1 Portable Heater & Stove】Campy Gear honorably presents you this 2-in-1 heater & stove that serves the purpose of cooking and heating for your outdoor adventures. Take this practical heater stove combo with you for camping, fishing, ice fishing, picnic, hunting, hiking, traveling, etc.,
【Rapid Heating & 360°Radiant Heating】With a maximum output of up to 9000-10000 BTU propane heaters with the designed 360° radiant heating will warm you within seconds when you enjoy your outdoor lifes
【High Adaptability】The Campy Gear 2-in-1 Heater & Stove is compatible with 110g & 230g butane / isobutane / propane fuel canisters (of most of brands) that can be nested inside the stove, or to connect with the 1 lb propane cylinder for a longer usage by an extension hose or adapter
Pros:
Heat goes out 360 degrees for pleasure and out of the top to provide a cooking surface
Not many other heaters also allow you to cook
Super affordable for the product you are receiving
9000 BTU output is really good for a heater of this size.
Cons:
Can be overkill if you do not need another camping stove
Can hold 12 inch pans, so if you need something bigger or heavier, you may be out of luck
Honeywell 360-degree Surround Heater
One option that is great at home, in the office, and in the wilderness is the Honeywell 360-Degree portable heater. If you need heat to be expelled in all directions, look no further.
So, you can have multiple people huddled around with no one hogging all of the output.
Plus, this is a super affordable option that can still be energy efficient. This is also a heater on our list that is convection-powered. They use a fan to shoot up the air and heat the entire area quickly and efficiently.
Sale
Honeywell HHF360V 360 Degree Surround Fan Forced Heater with Surround Heat Output Charcoal Grey...
360 DEGREE ALL AROUND WARMTH – Use the Honeywell 360 Degree Surround Heater in small to mid-sized rooms for additional comfort. This space heater features an adjustable thermostat as well as 2 heat settings and all-around heat output so you're always cozy.
SAFETY MATTERS: This small heater offers multiple safety options including a 360-degree tip over switch, 2x overheat protection, an auto-off timer option and an easy grab, cool touch carry handle.
INCREASE YOUR COMFORT – Always be comfortable, no matter what season it is. This personal heater has fan forced technology and provides 360-degree, all around warmth. As a small space heater, it's perfect for a bedroom, office and more.
Pros:
Very affordable
electric-powered, so you do not have to buy any propane
Has 360-degree fan heating so everyone get some of the action
Has a thermostat and fan strength settings, so it can be customized to whatever you would like it to be
Cons:
Can be a bit fragile and will not last a very long time
Must have some sort of electrical hookup to operate
Finally, there is the Portable Electric Space Heater made by GiveBest. This can easily heat up an area of 200 square feet, so everyone in your area can feel the warmth. Now, this is one mass release option, so there are many great reviews.
This is a pretty basic heater, so it should be super easy to use and transport.
Sale
GiveBest Portable Electric Space Heater with Thermostat, 1500W/750W Safe and Quiet Ceramic Heater...
2 in 1 heater fan: This ceramic heater provides two heat levels, 1500W or 750W and one cool air fan, you can use it both for winter and summer. Thermostat control of the heater will turn the heater off when it reaches a preset temperature and turn the heater back on when the temperature dips below the thermostat setting
Multi protection safety system: These heaters are made of flame retardant material avoiding any fire hazard. Automatic safety shutoff system will shut the heater off when the heater overheat. The tip over protection system will also shut the heater off when the heater was knocked over by accident and it will come back on automatically if it is up righted
Compact and powerful: 6.2 inch x 7 inch x 10.2 inch, 2.9 pounds portable mini heater with build in carry handle helps to reinforce the potential of rather low electrical bills by using at the place where you need when you don't want to warm the full house with other centralized heaters
Pros:
1500 W heater
Heats 200 square feet of space
Great for RV camping and indoor use
Cons:
Ceramic build can lead to cracking or breaking
Needs to have electricity hookup
Alternatives to Camping Heaters
Chemical Packs
One of the more interesting innovations is the chemical pack. This is where science and camping mix as products combine chemicals to create a heating sensation. One example of this is a hand warmer.
Camping Lanterns
There are actually camping lanterns out there that can pump out some heat. The Reenou Camping Tent Fan is one that can help move heat around your area quickly.
There is also the Coleman Propane Lantern that will provide light and heat all in one go.
Wood Burning Stoves
You can get a wood-burning stove if you want to go old school with it. These will provide some serious heat, but they will require a bit of work on your end.
The TMS Portable Military camping stove is an excellent option. Although made for ice fishing, it can be used in any outdoor setting.
Electric Blankets
If you want to stay warm on a smaller level, invest in an electric blanket. There are so many good options out there, so find one that is big enough and warm enough to transform your camping experience into something much more enjoyable.
Why Do You Need a Tent Heater?
Having something to heat your tent can make camping in colder conditions so much more enjoyable. Roughing it in the wilderness is a thing of the past if you choose for it to be.
So, you should invest in a tent heater to fill the enclosed air with comforting heat or you can check this alternatives way to heat your tent in winter.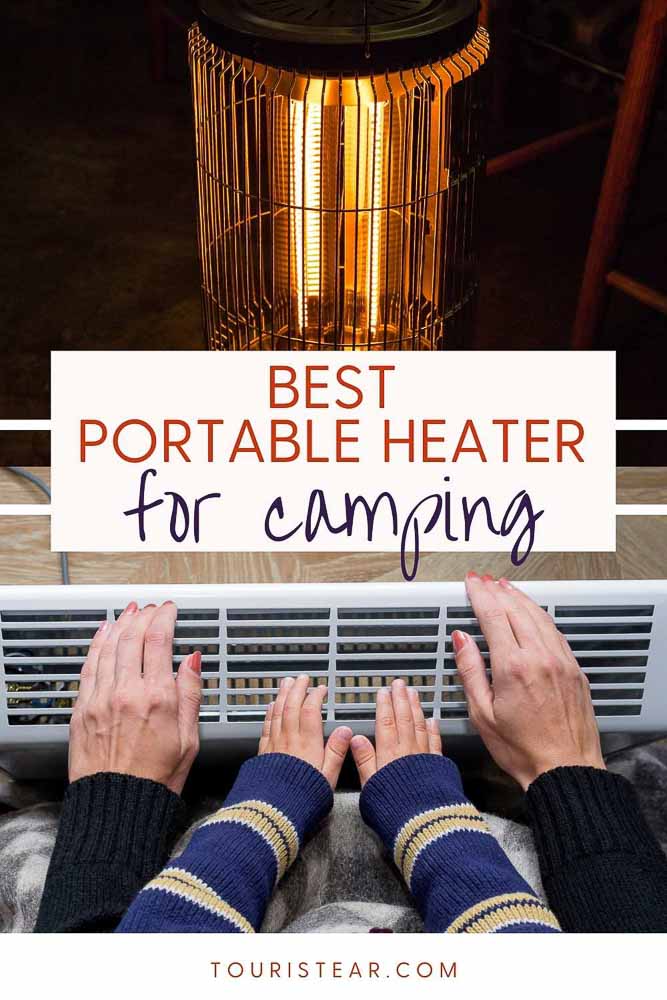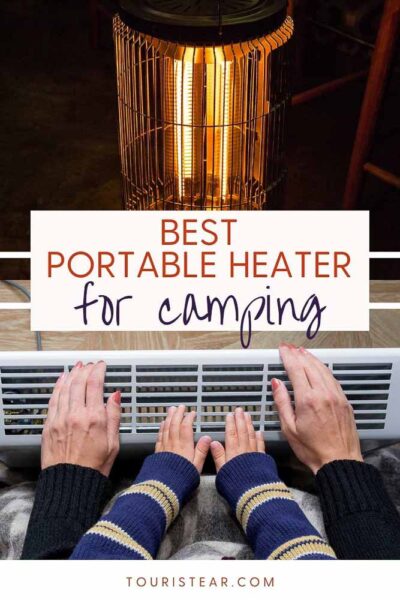 What do You Need to Know Before Buying a Camping Heater?
Different Types of Camping Heaters
Gas Heaters
Fan Heaters
Electric Portable Heaters
Convector Heaters
Halogen Heaters
Oil Filled Radiators
Safety Features
A majority of the options we listed above have built-in safety features to prevent any big issues from arising. The most common safety feature is the tip over feature. This is when a heater will automatically turn off if it tips over. So, it will not catch fire from leaked fuel.
There are also some more subtle safety features built-in that you do not even need to think about because that is the standard in the industry.
How to Safely Use a Tent Heater
When using your heater in a tent, things get a little more complicated. Because you need to be as safe as possible, it requires some extra thought.
The biggest tip for safely using a tent heater is having the right heater for the job. You need to have a tent-safe heater even to entertain using one.
Other tips for safety using a tent heater are keeping it away from the side of the tent, using a rug or carpet to insulate the floor, and only running it when you absolutely need it.
Size and Portability
The size of your heater is a huge aspect to keep in mind. If you are doing a lot of remote camping, you need something small enough to pack. If you are camping out of your car or another vehicle, things are a little easier.
As you can see from the list, there is a range of portability for camping heaters. They can be as small as a propane attachment and as big as a large heating unit, so keep these aspects in the front of your mind.
Other Factors
One of the biggest factors not included in price. You have to find a medium that works with your wallet and still provides an excellent product. This will give you the best experience possible that everyone can feel good about.
Another factor to keep in mind is the brand. Obviously, brand recognition and reputation is not everything, but it does carry some weight. With the top brands, you will probably get a better consumer experience and potentially a better product.
Conclusions
The amount of great portable heaters that can be used for camping is great. Finding the best one for your situation is key to staying warm outdoors.
You also need to ensure the type of heater fits your camping style. Are you off the electrical grid? You may need a propane option.
Do you have full hookups? May as well take advantage of what you are already paying for.
Overall, having the best portable heater for camping completely takes your experience to a new level. Be sure to weigh all your options and find one that will work perfectly for you. Good luck, and happy camping!
Plan Your Next Trip
Last Updated on 27 September, 2023 by Veronica
Disclosure: Some of the links on this post are affiliate links, meaning at no additional cost to you, I may earn a small commission if you click through and make a purchase.
Author: Veronica
Vero, a seasoned traveler, has explored 25 countries and lived in five, gaining a rich perspective and fostering an infectious passion for travel. With a heart full of wanderlust, Vero uncovers the world's hidden gems and shares insights, tips, and planning advice to inspire and assist fellow adventurers. Join Vero and let the shared passion for travel create unforgettable memories.