10 Best Places to Visit in Eindhoven, Holland's Design Capital
The Netherlands is a rich and refreshing country known for its art, culture, museums, palaces, and natural beauty. Quite simply, it is such an enchanting and picturesque country all in all, and to say that Eindhoven is Holland's design capital means a lot.
Eindhoven will lull you with its attractions, ensuring you enjoy every moment of your visit. Know the best places to visit in Eindhoven and prepare for a Dutch holiday like no other.
Top 10 Best Places to Visit in Eindhoven
Top 10 best places to visit in Eindhoven in no particular order since each one is awesome.
1. St. Catherine's Church
One look at St. Catherine's Church, and you'd know that you are in front of a truly iconic and historic structure, one of the most magnificent in the world. It has stunning architecture, an elaborately decorated façade, a large circular stained glass window, and twin bell towers.
Inside are huge stone pillars and decorative arches. The church features a Neo-Gothic design that has changed over the years. Its twin towers stand 73 meters high.
It's an old church dating back to the 1200s and dedicated to St. Catherine of Alexandria. St. Catherine's Church is even more magnificent at night, as it is lit up in a display of fantastic colors.
Sadly, it was damaged during WW2 but was later restored. It was named a national monument in 1972.
2. Eindhoven Bottle Distillery
In contrast with an old religious building is this well-loved modern brewery. Located near part of the old town center and next to the Dommel river, this family-owned distillery has become very popular to tourists as the owner is amiable.
You will be welcomed and received happily to enjoy a tour inside. Guests can learn so many things about the distilling and brewing processes, making Eindhoven Bottle Distillery a really great place to visit.
The passion of this brewery's employees can easily rub onto you, and exploring their world truly is a special and memorable thing to do while here.
3. Van Abbemuseum
The Van Abbemuseum is one of the reasons why tens of thousands of people come to Eindhoven every year.
It is one of the finest museums of modern and contemporary art in Europe, with an extensive collection of over 2,700 works created by art masters, including Picasso, Mondrian, Kandinsky, and El Lissitzky. There are around 700 paintings and 1,000 sculptures, and video work.
Named after private collector Henri Van Abbe, whose collection launched this museum, Van Abbemuseum is located in the Stratumseind district not far from the main train station.
The museum building is an attraction from the outside, featuring old architecture that dates back to the early 1900s.
4. DAF Museum
The DAF Museum is a fascinating and intriguing museum.
If you love automobiles, you should definitely schedule your visit here. Located in the city centre, not far from both the train station and the Van Abbemuseum, the DAF museum is all about cars, trucks, and vehicle manufacturing, and history.
See historical cars, including the three-wheeled Mobile Raincoat and the Jan de Rooy Juggernaught. There are rare and old trucks, cars, fire engines, and lorries that have been well-maintained through the years.
5. Eindhoven Museum
Another important museum here is Eindhoven Museum, which is uniquely an open-air museum that focuses on both the iron and middle ages. It aims to educate people on how the Dutch used to live during these times.
You will definitely enjoy visiting this hands-on museum. Experience several recreations of old buildings, demonstrations, and re-enactments of different tasks and daily procedures in the past.
It is perfect for families and children and a wonderful place to learn about life from ages long ago.
You can find Eindhoven Museum in the southern part of the city, near Genneper Park, which is also an important tourism must-see.
6. Philips Museum
The fourth museum to visit while here is Philips Museum. You cannot leave Eindhoven without seeing something related to the Philips empire, which is the city's electronics giant.
The Philips museum provides a detailed look at the history of both Eindhoven and Philips as a company. Come here to know better about the relationship that has existed for so long between the city and the company.
Learn how Philips has helped shape Eindhoven into the economic powerhouse that it is today.
Well-known worldwide for its lights and fixtures, Philips began in the light bulb industry, and today it is considered a pioneer for electronics and things like X-ray technology and complex lighting systems.
Also, the PSV Eindhoven Museum is located within the enormous Philips stadium and is a must-see for football fans. If you love football, then you should know that PSV Eindhoven Museum is the Mecca for the club.
Here you will see the 100+ years of the club in great detail, with memorabilia featuring megastars like Romario and a collection of interesting photos and historical objects.
7. Genneper Park
The Genneper park is known for its charming landscapes and natural areas to walk around. Over 3 million people have visited this park, and you definitely should, too.
Spread over 200 acres of land just outside the main ring road surrounding the city, see some lovely hidden ponds, cute wooden bridges, and picture-perfect structures that feature medieval architecture.
Come here to enjoy the first-class parkland, swimming pool, a restaurant, and lovely ice skating rink that gets crowded with graceful and novice ice skaters in winter.
8. Stadswandelpark
Not far from Genneper Park is another lovely area that you should definitely visit – Stadswandelpark.
This is a stunning public park that is popular for its statue garden, manicured lawns, a number of peaceful paths and trails, and a large lake with quaint bridges.
9. Village of Nuenen
If you wish to enjoy a truly peaceful stroll amidst nature, go to the charming town of Nuenen, located about 10km east of Eindhoven.
This beautiful and traditional village enjoys its fame as the former residence of Vincent Van Gogh. The famous Dutch painter created many art pieces that featured Nuenen, detailing the buildings and surroundings of the town.
Nuenen is also famous as the place where the decisive Operation Market Garden battle during WW2 took place.
Check out Nuenen's central park and the surrounding streets that have kept much of their old charm. Several of the buildings are traditional and look as they were from bygone years.
10. Het Veem Food Market
Finally, your visit to Eindhoven is not complete without shopping and trying out the local cuisine.
Check out the local food market with passionate chefs, cooks, and entrepreneurs. Buy and taste some local bread, cheeses, meats, vegetables, coffee, wines, and many more.
Know more about Eindhoven and fall in love with the Netherlands all over again. This is the fifth-largest city, and it is bustling with creativity, unique hot spots, and innovative creations, merging design and technology.
The city lies in the south of the country near the Dommel and Gender streams.
Author Bio:
Ask The Dutch Guy is your go-to guide when it comes to The Netherlands. The goal of Ask The Dutch Guy is to showcase the beauty of The Netherlands and to inspire others to explore the country.
Read more about Ask The Dutch Guy. Follow him on Facebook, Instagram, and Pinterest.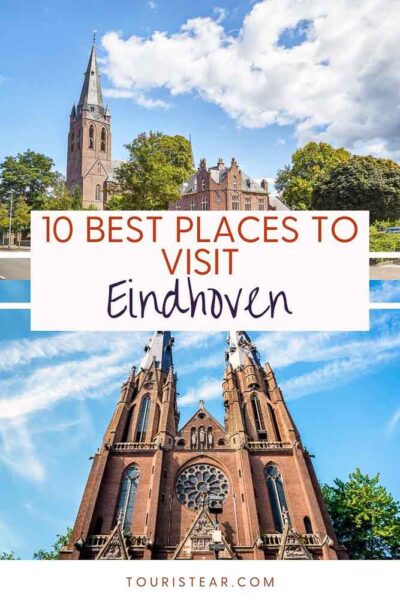 Last Updated on 27 September, 2023 by Veronica
Disclosure: Some of the links on this post are affiliate links, meaning at no additional cost to you, I may earn a small commission if you click through and make a purchase.
Author: Veronica
Vero, a seasoned traveler, has explored 25 countries and lived in five, gaining a rich perspective and fostering an infectious passion for travel. With a heart full of wanderlust, Vero uncovers the world's hidden gems and shares insights, tips, and planning advice to inspire and assist fellow adventurers. Join Vero and let the shared passion for travel create unforgettable memories.