Best 10 Days in The Netherlands Itinerary Road Trip
In this post, I wanted to tell you about our itinerary during our 10 days in The Netherlands. Want to know what to see and visit in the Netherlands? Well, there are many exciting things for all travelers!
We started with 4 days in Amsterdam and a 6-day road trip in the Netherlands. I'll detail all the trips in other posts, each with detailed suggestions and activities.
10 Days in The Netherlands Itinerary-Summary
Road Trip Map for 10 Days in The Netherlands
You can see the places we visited in our 10 days in The Netherlands on Google Maps. As you can see, everything is very close, except Giethoorn, which is a bit further away.
Itinerary Road Trip: 10 Days in The Netherlands
Did you know that the Netherlands is the safest country in the world?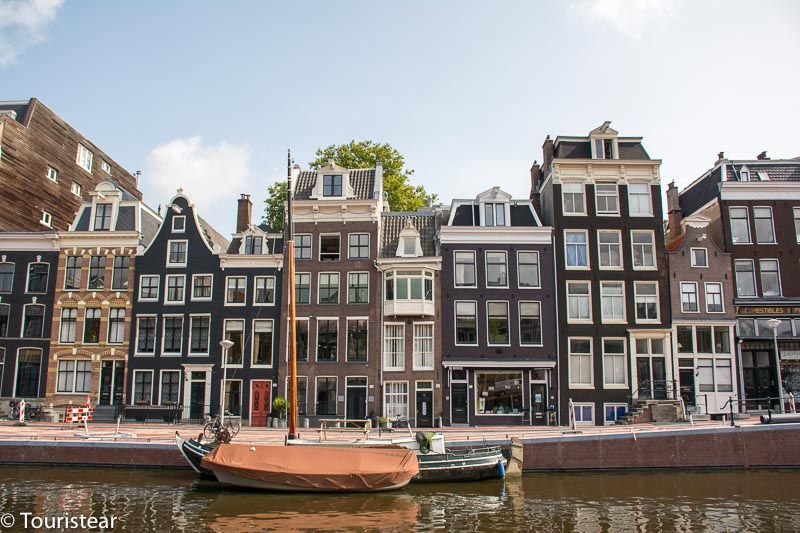 4 Days in Amsterdam
The first thing we thought of when we started planning our trip for our 10 days in The Netherlands trip was the first destination: Amsterdam.
This city has many things to see and visit, from its famous canals and the Red Light District to museums like the Van Gogh Museum, the Rijksmuseum, and the Foam.
One of the things we did to visit Amsterdam was to buy the Amsterdam city card called I Amsterdam city card. It allows you to visit several museums or take a canal boat ride for free. It also includes public transportation such as the subway and buses.
We got one for 3 days (77€). You can easily pay for museums and transportation tickets and fees. I will tell you more in another post.
Amsterdam Day 1
On the first day in Amsterdam, we went by train. We were staying just one stop away from the Central Station. If you want to go to Amsterdam to another city or vice versa, get your train tickets here.
This day was free, to say the least. We arrived at the hotel around 5 or 6 pm, checked in at our hotel (Hotel 2 Stay), and went downtown. We walked around the Red Light District and the canals.
We almost went without dinner. In many places, the kitchen closes at 9 pm. You must consider this throughout the country, although there are always exceptions.
Amsterdam Day 2
On the second day in Amsterdam, we went by free bus (number 22) with the I Amsterdam. Then, we picked up our bikes. After 15 years, I went back to riding again! Rent bikes at Mac Bike!
I did not forget how to ride a bicycle. After a while, I got to ride it like the locals.
This day we went to the Anne Frank House, Dam Square and its surroundings, the Oude Kerk, and Chinatown. We also had coffee at De Waag in the Nieuwe Markt and walked along Red Light District.
Explore Anne Frank's House and its surroundings when you reserve a guided tour here.
We arrived by chance at Rembrandt Square and went back to the Hotel walking through Westerpark. We found a super cool place for dinner, where the only tourists were us, but they did not have a menu in English.
Amsterdam Day 3
We went to the Van Gogh museum on the third day in Amsterdam. We entered with the Amsterdam City card and had breakfast there. If you have not bought the city card, you can buy tickets to the museum here.
I recommend going early, around 9 or 9.30 am. The queue was very long when we left.
At 12 o'clock, we had the Heineken Experience VIP Tour. This tour is excellent. It is in English and our guide, Roen, was great. Buy your tour tickets here!
During the visit, we learned about the history of Heineken and how beer is made and visited the stables. Ultimately, you will taste five beers from the brand while the tour guide explains their differences.
Once the guided tour is over, you get two free pints of Heineken to drink on the terrace on the top floor.
They also give you two Heineken with your name on it (spoiler: this is supposed to be a surprise), and if you travel only with carry-on luggage, you have to drink them, empty them, or check a suitcase…
After all these beers, we went to eat at about 4 pm in an Irish place that still served food and was close by.
When we finished, we went again to the door of Heineken, but this time on the opposite sidewalk to tour the canals, which is included in the I Amsterdam city card. The card has a lot of inclusions. Get your city card here!
We returned to our hotel and walked through the Jordaan neighborhood.
Amsterdam Day 4
On the fourth day in Amsterdam, we got up earlier than yesterday and went to take a picture with the I Amsterdam sign in the Museumplein or Museum Square.
We wanted to take the typical photo with the Amsterdam map and the Rijkmuseum in the background but with few people. We arrived around 8 am, and there were already some people.
Meet other tourists and get to know the museum when you reserve a group guided tour. You can also go for a private tour if you prefer an intimate experience with your friends and loved ones only.
After taking the usual photo, we went to look for a place to have breakfast, something we found quite challenging. Apparently, everything opens after 10 in the morning!
We had breakfast at the Hard Rock, which we arrived at by chance because we saw a small bar open. We stopped, and just around the corner was the Hard Rock. We had a delicious breakfast.
After a good breakfast, we visited the Rijksmuseum, a totally recommended place if you like art. You can find the most important work of art by Rembrandt, The Nightwatch.
We went to FOAM, a photography museum to continue our day of museums. There are photographs for all travelers.
The first rooms had a bit of a surrealist type that we did not like very much. In another room, it had a fascinating Gordon Parks exhibit.
It was time to return our rental bikes at Mac Bike. It is a great experience to visit Amsterdam by bike and a totally recommended one. Bicycles are respected more than cars. Priority is given to bikes, then cars, and pedestrians.
After returning the bikes, we took a train from the Central Station and went straight to the airport.
We picked up the car and drove to Haarlem for the afternoon. We walked around the city center for a while and had superb pancakes. The Dutch people are very good with sweets, perfect for us sweet tooth!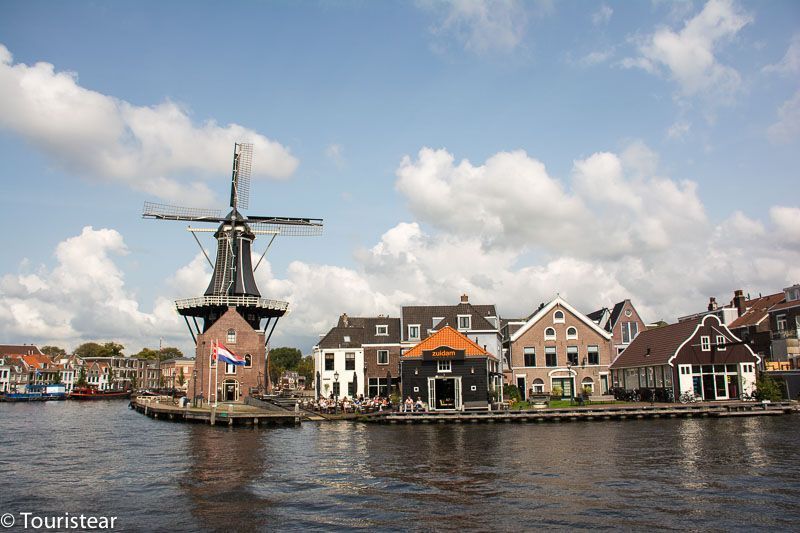 To end the day, we went to Zaandvoort, a coastal town on the North Sea. The water was cool (or rather freezing) and we walked along the shore, getting our feet wet.
It was a beautiful day, although the clouds on the horizon spoiled the sunset. We had dinner at one of the beach bars around there.
Day 6. Zaanse Schans, Volendam, and Marken
Before the fifth day, we picked up the rental car at the airport during the afternoon so that we would not have to spend the morning at the airport and could leave at any time we wanted to go to Zaanse Schans.
Zaanse Schans is a fairytale place. You can see and visit the typical Dutch windmills on your 10 days in The Netherlands trip.
Get your Zaanse Schans card here!
We also had the city card, the Zaanse Schans cards, that give you access to all the town's attractions. You also have discounts in the souvenir stores and the chocolate shop, which you should not miss!
I'll tell you more in another post. Otherwise, the whole post about our 10 days in The Netherlands will get too long!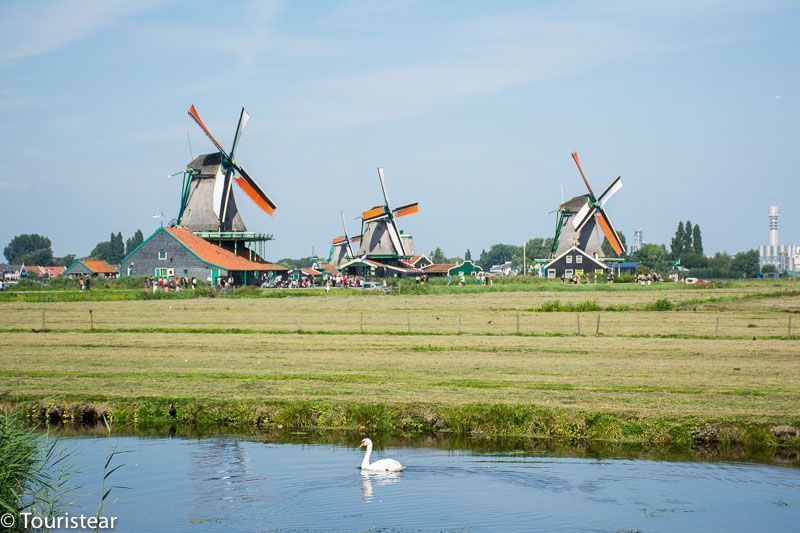 We spent the whole morning in Zaanse Schans and then, we went to Volendam, a picturesque tourist spot fishing village.
We stayed at the best-known hotel in town and the one that started to become a tourist attraction, Art Hotel Spaander, the hotel of the artists.
Inside the hotel, you can see paintings everywhere. Painters who had no money often paid for their stays with their artwork. Some are even drawn on their walls!
In Volendam, we also enjoyed the virtual reality of the Volendam Experience and learned a little more about the history of this famous town.
A little before sunset, we went to Marken, another charming Dutch village.
It is half an hour by car. Although you can also cross from Volendam by ferry, we did not have time to visit the town quietly.
Marken is a car-free village, so when you arrive, you have to leave the car in the parking lot and keep walking. It is a delightful walk.
We recommend wearing comfortable shoes that are perfect for any outfit. You will be walking for quite some time. Get this pair of shoes!
Day 7 & 8. Edam, Giethoorn, and Utrecht
In the morning, we went to Edam to see its cheese market, the last one this year. It was an exciting experience among the places we visited during our 10 days in The Netherlands.
Then, we went around town on bikes, renting them for a day at Ton Tweewielers. They also have steppes, like a kind of skateboard with big wheels! We were about to take those, but ultimately, we rode the bikes.
We were already in expert mode after 3 days in Amsterdam!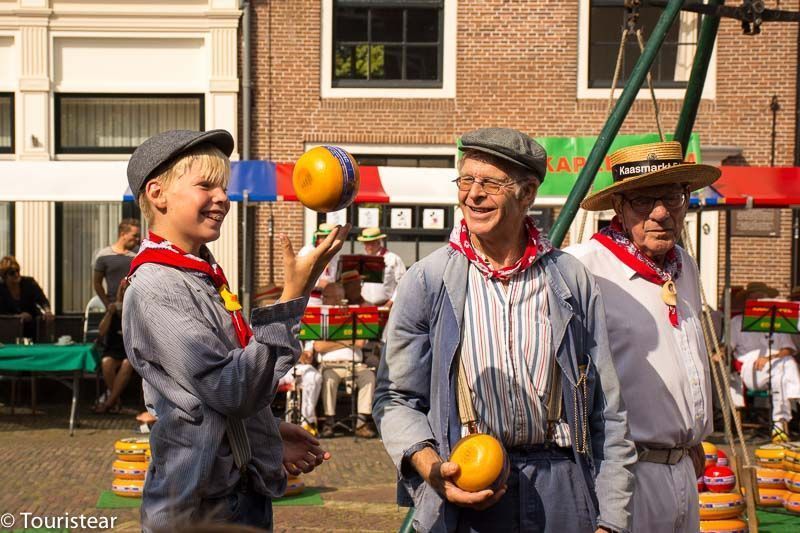 We had lunch on the way in a town called Sneek, a scenic place worth future visits. We arrived by chance looking for a place to eat and it was on the way and close to where we were.
Giethoorn is also a car-free and charming little town, although it is a famous tourist attraction. This little town, also called the Venice of Holland, has some canals that you can tour by boat, motorboat, or canoe.
We rented a small motor boat (they go super slow and only have two speeds and reverse gear). They gave us a map and directions on where we had to go.
In the beginning, it is full of boats and little boats. But as you advance, you lose sight of them. The place is very beautiful and I loved touring around it by boat.
The rental for two hours was 30€. Next time, I would like to rent some Kayaks or something like that.
After spending the afternoon in Giethoorn, we drove to Utrecht, where we stayed in a hotel for two nights.
Where to Sleep in Utrecht
We arrived in Utrecht around 9 pm and checked in at the Apollo Hotel. It is situated in a convenient location that allows us o walk anywhere. Book a room here.
In the evening, we toured the Trajectum Lumen, a luminous tour through curious places in Utrecht. It was a unique way to have our first contact with this city, leaving us in awe.
Get a guided Lumen walking tour here!
What to See in 1 or 2 Days in Utrecht
At Utrecht, we dedicated a full day. We loved the city. We started at ten o'clock in the morning, visiting the Dom Tower, the cathedral's bell tower. It is located in Domplein square.
It is separated from the cathedral. During a heavy storm, the section attached to the tower collapsed. The square is very lovely by the way, during our 10 days in The Netherlands trip.
If you are only visiting Utrecht for 1 or 2 days, I recommend using this bag. It is stylish and not too bulky. It can also fit all your travel necessities!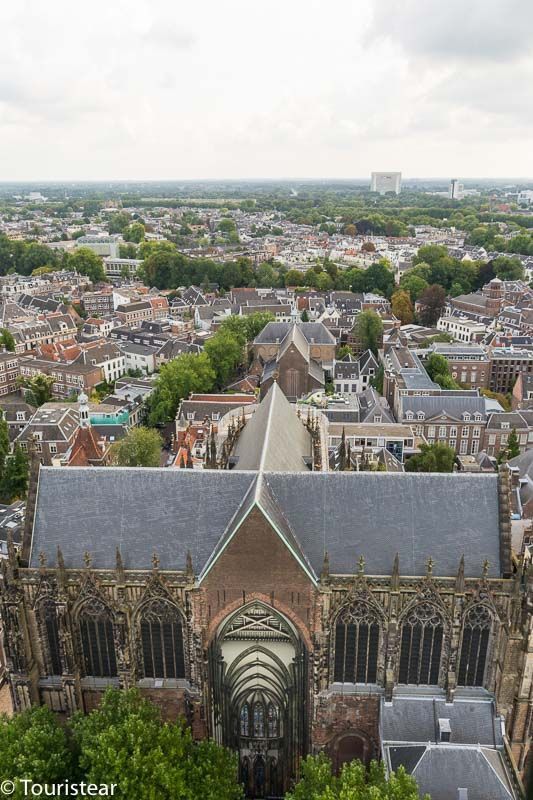 We went to lunch at Neude square and then we did the Dom Under excursion. You get to visit the excavated undercroft of Domplein square and see the remains from Roman times and later centuries.
You can see the foundations on which the different constructions in the square were built. It was an exciting place, but at the same time, too crowded.
Then, we took a tour of the canals of Utrecht. We could see from another angle the bridges, piers, and important city buildings, like the museums and houses of the time.
We ate dinner and then had a sweet pancake. We were delighted.
Day 9. Castle de Haar and Leiden
The next day we had planned to take it easy. In the morning, we visit the Haar Castle, a castle belonging to the Van Zuylen family. They are part of the historic nobility of the Netherlands.
The visit is absolutely recommended for your 10 days in The Netherlands itinerary because the castle is a beautiful destination. Above all, it was very relaxing and we spent a super nice morning. Get your Castle de Haar tickets here!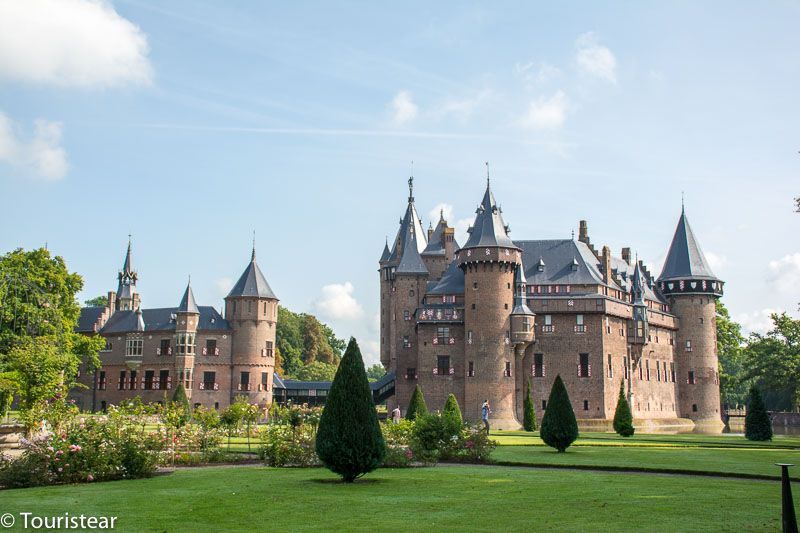 We then drove to Leiden and spent the night there. Leiden is a charming and scenic little town. It is worth an afternoon stroll, and dining in any of its beautiful restaurants is a must-try.
As it has a university, it is full of young people who bring life to the evening in Leiden.
Day 10. Rotterdam, We Love This City
Rotterdam is a city that surprised us very positively. It is a vibrant, lively, cool, and environmentally conscious city. You can get the Rotterdam City Card and access all the best destinations in the city.
In this city, every building is a small work of art that deserves to be observed by every traveler.
We arrived in the morning and started with a tour of the city called Bike and Bites.
It is a super original idea of two entrepreneurs in which they accompany you on a bike ride through the city, stopping at those exciting places to tell you their history or peculiarities.
And also stopping for a drink at the locals' hangouts in Rotterdam. Absolutely recommended.
We finished the excursion and went to take the Waterbus to go to Kinderdijk. We visited the mills that were used to pump water out of the dams. These beautiful mills are world heritage sites.
Our recommendation is to go by bicycle, which you need to rent. You can bring it on the boat and you can visit the mills by bike. They have their own lane for it.
We returned at sunset to take a shower and grab dinner at the Bazaar Hotel, an Arab restaurant with the best value for money in Rotterdam.
The next day the plan was fairly subtle. We started by visiting the Van Nelle factory, another World Heritage Site. It shows the International Style of architecture initiated by the Bauhaus school.
It is a model and example of modernity and architectural intelligence. The visit was guided by Urban Guides, an architecture student who told us the details, secrets, and reasons why they did things the way they did.
Absolutely recommendable visit.
Then, we went to visit the Boijmans Van Beuningen museum of art. It has works of modern and classic art. I found it an exciting visit since modern art attracts me more.
When we arrived at the museum, it was lunchtime so we ate there. The food was good and the view from the restaurant was very interesting because it was the museum gardens with works of art.
Then, in the afternoon, we had a ticket to visit the port of Rotterdam with the ship, Spido.
The port of Rotterdam is one of the world's largest and most important ports. Fer, who is into these things, found it super interesting. For me, not so much but the ride was great.
In the afternoon, we had booked to go to the Euromast, a huge communications tower higher than Pirulí in Madrid. If you do not have a city card, you can buy tickets to the tower here.
You can go all the way to the top and marvel at the spectacular view of the city. We had set aside the afternoon to photograph the sunset from above.
It was our turn to say goodbye to Rotterdam and we did it in style, dining at V11. It is a restaurant that is on a lighthouse ship that operated in Wales. When it was to be "decommissioned," it was bought by a Dutch entrepreneur and he set up the restaurant on it.
It is an English restaurant offering tasty dishes.
On Sunday, they make a special typical English dish called "Sunday Roast." If you order it, you better dine when an empty stomach because if you don't, you will not be able to finish it. Prices are around 20€ per person.
*If you like the design and architecture, you can add the city of Eindhoven to your road trip. Eindhoven is considered to be the city of design in the Netherlands.
Where to Stay in Rotterdam
In Rotterdam, we slept at the Hotel Ibis city center, which is conveniently located. If you go by car, you can park just around the corner. You can even try negotiating with the hotel so you get a little cheaper parking fee (17 € for 24hs).
We dropped off the rental car the next day and drove to our gate. It is surprisingly easy to get from Rotterdam to Amsterdam on a Monday morning. There were no traffic jams, and the ride was smooth.
Travel Insurance for 10 Days in the Netherlands
Will you travel to Amsterdam in 2 days or extend your stay to 10 days? HeyMondo offers the best travel insurance options and add-ons perfect for your trip to Amsterdam, no matter the number of days.
We always make sure to get one for the two of us. It keeps us worry-free as we try on different activities. Use this link to get 5% off your travel insurance purchase.
As I mentioned above, we will expand the information on each place we have visited in other posts. I hope this article will help you to plan your trip to The Netherlands. It is a stunning country with many exciting things to see and do.
Some of the excursions on this trip were made possible thanks to the tourist offices of the different cities we visited.
With the Bureau Toerisme Laag Holland, I Amsterdam, Utrecht, Rotterdam, and thanks to The Netherlands' tourism management, we had a wonderful 10 days in The Netherlands!
Plan Your Trip to the Netherlands
Save this Image to Your
Pinterest

!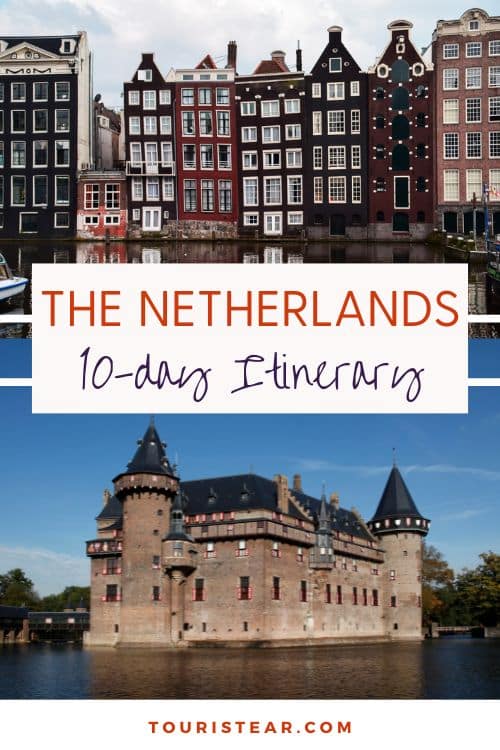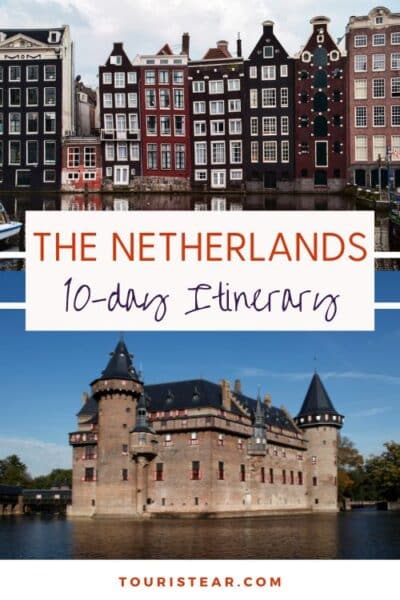 Disclosure: Some of the links on this post are affiliate links, meaning at no additional cost to you, I may earn a small commission if you click through and make a purchase.
Book Your Trip
Book Your Flight
Find a cheap flight by using Skyscanner.
Book Your Accommodation
You can book your hostel, hotel, or apartments on Booking.com.
Don'torget Travel Insurance.
Travel insurance will protect you against illness, injury, theft, and cancellations. It's your protection in case anything goes wrong. You never go on a trip without it.
Best companies for Tours
Check out Civitatis.com and find the best tours in English (French, Spanish and Italian)
Are you looking for the best companies to save money with?
Check out my resource page for the best companies to use when you travel! I list all the ones I use to save money when I travel – and I think I will help you too! (Is in Spanish yet)
Last Updated on 9 March, 2023 by Veronica