What to See in Volendam? A visit from Amsterdam
Volendam is a charming fishing village. It looks like something out of a fairy tale! Did you know that Volendam became known as the artists' hotel? We stayed for one night here, and I will tell you more about what to see in Volendam.
We arrived in Volendam as part of our 10-day road trip through 10-day road trip through the Netherlands.
First, we stayed in Amsterdam for 4 nights; the next night we stayed in Volendam. We visited Zaanse Schans in the morning. In the afternoon and evening, we spent the afternoon and evening in this beautiful village of Laag Holland.
What To See In Volendam
Volendam is a fishing village that emerged as a port of Edam. When the inhabitants of Edam decided to build a new port around the middle of the 14th century, they drained the first port's lands so there could be settlements for farmers and cattle breeders.
It is a town you can walk through in a while, but I recommend that you not only pass through here but enjoy its atmosphere and gastronomy (a large number of restaurants specializing in fish) and a few hotels where you can spend the night.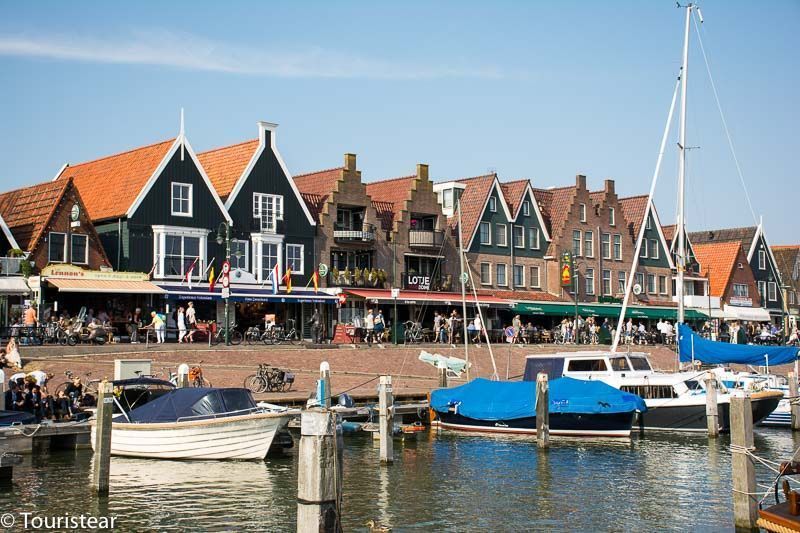 Art Hotel Spaander
As I mentioned initially, Volendam became a tourist attraction because of a hotel. This hotel is the Art Hotel Spaander, better known as the artists' hotel. This hotel, founded in 1881, hosted many artists, and some of them were famous.
But in the early days, many artists, primarily painters, had no money to pay for lodging. So to pay for their room, they would make a painting for the hotel.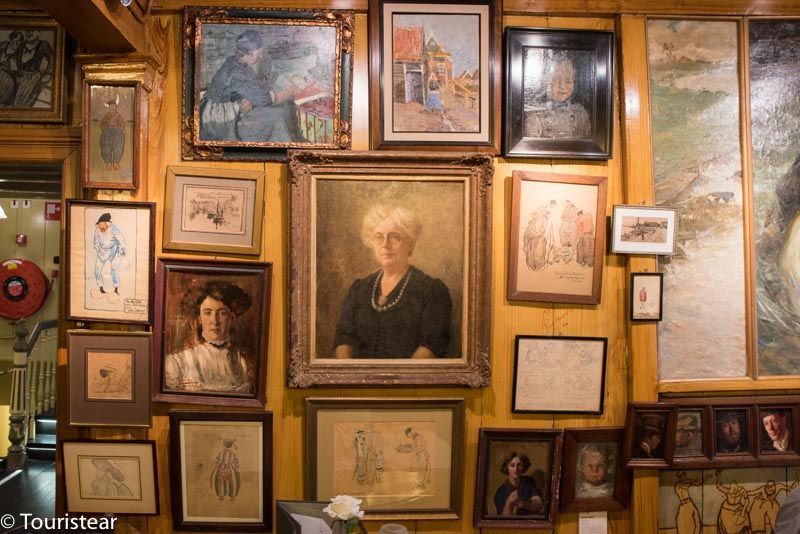 All the paintings you will see on this hotel's walls are the ones the painters gave you as payment for your stay. Foreign painters were the first tourists in Volendam!
We chose to stay at this hotel. Even if you decide to stay somewhere else or are making the day trip from Amsterdam, you can still enjoy the day trip.
You can come in and have a look around and search through the hundreds of paintings to see if you can find a painter you recognize.
What To See In Volendam? The Town Experience
Experience Volendam is a walk through the town's history through virtual reality.
I found it an exciting way to learn about the town's history.
First, they give you an introduction in English about life in Volendam back in the day. Then, you go to the virtual reality room that simulates a (small) ship from the beginning of the 20th century, and they tell you a story of love, storms, and floods.
Better check it out for yourself. It is on the waterfront in Haven 154.
Should I Go Bicycling or Walking?
Volendam is another Dutch town that is practically pedestrianized. We left the car in an open-air parking lot about 500 meters from the hotel. Volendam is another Dutch town that is practically pedestrianized.
The parking system is the same as in Edam. To park, you need a blue parking badge sold in some kiosks or at the tourist office for 2€. It is the same that is valid for Edam and for other towns in the area.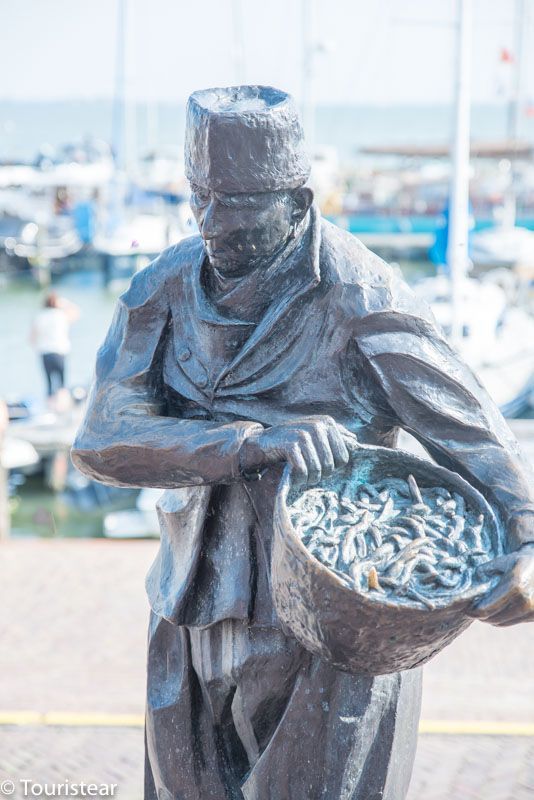 In the parking lot, you will not see machines that give you a ticket, but you will see a sign that tells you how long you have to be in the parking lot for free. Usually, it says 3 hours, but it will depend on the place.
The blue identifier sets the time you have arrived at the parking lot. If you are going to stay longer, you must go back to your car and modify the time of the identifier.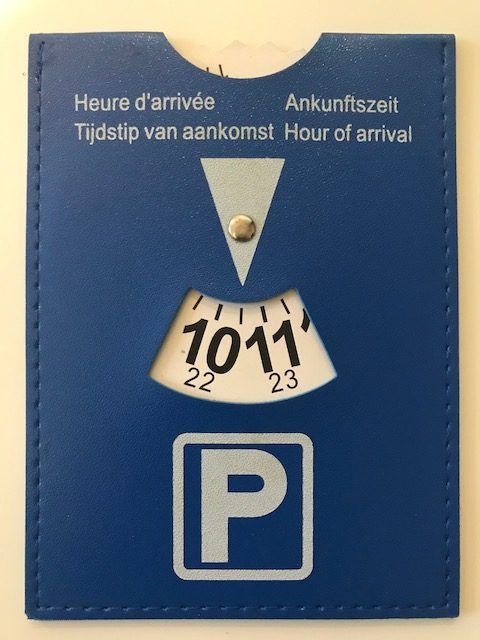 Then, once you forget about the car, you can take the opportunity to explore the town on foot.
Along the promenade, you will hear from the boat invitations to go to Marken, which is just opposite, on the other side of the IJsselmeer lake.
Stroll along the dike and the historic center, and see the picturesque houses and churches. Let yourself be carried away by the scent of tulips and try some of its cheeses or restaurants specializing in seafood.
At Solitary Mill To Watch The Sunset
Holland is a land of windmills, and in Volendam, we found this solitary windmill, ideal for taking pictures at sunset. The windmills are very photogenic, and at sunset, even more so!
You can walk there, but if you are in a car, it is straightforward to park it.
Where To Eat In Volendam
We arrived around 3 pm in Volendam, so at lunchtime, we ate at the first place we found.
This was right across the street from the Art Hotel Spaander (after checking in), a fish & chips/fast food place, not too highly recommended.
In the evening, we did more work and looked for a nice place to have dinner. We found De Lunch Restaurant with a varied menu at reasonable prices.
It is on the waterfront in Haven 96.
How To Get To Volendam From Amsterdam?
Volendam is 20 kilometers from Amsterdam, so there is no excuse not to visit.
You can get there by rental car, bus, or with tour.
Renting a Car
If you intend to travel around Holland by car as we did, we recommend that you rent a rental car in Amsterdam.
You can easily pick it up at the airport and go on your way, do not even think about getting into the center of Amsterdam by car. It is crazy with bicycles and pedestrians everywhere!!!!
Bus
Buses leave from Amsterdam Central Station to visit this area. You can buy a bus ticket here.
In addition, the bus ticket costs 7€ and serves you for the whole day and to visit more towns in the area. So if you choose this option, you can take advantage and see Marken, Edam, etc.
You can also take a convenient bus tour around these beautiful towns and save your travel budget.
Guided Tour from Amsterdam
If you prefer the convenience of being taken to and from the airport, you can book an excursion in English which will take you to visit Zaanse Schans, Volendam, and Marken with an English-speaking guide that costs 49€.
Where to Sleep in Volendam?
We are not artists, but among all the hotels in Volendam, we chose the Art Hotel Spaander to spend the night.
It is beautiful, has a lot of history, you can enjoy breakfast with a nice view of the sea, and from there you can walk everywhere.
Have you been to Volendam? Let us know your impressions!
Plan Your Trip to the Netherlands
Save this image to your
Pinterest

!
Last Updated on 8 September, 2023 by Veronica
Disclosure: Some of the links on this post are affiliate links, meaning at no additional cost to you, I may earn a small commission if you click through and make a purchase.
Author: Veronica
Vero, a seasoned traveler, has explored 25 countries and lived in five, gaining a rich perspective and fostering an infectious passion for travel. With a heart full of wanderlust, Vero uncovers the world's hidden gems and shares insights, tips, and planning advice to inspire and assist fellow adventurers. Join Vero and let the shared passion for travel create unforgettable memories.