Amsterdam in 4 days: What to See and Visit?
Amsterdam is a city that has many things to see and visit. It is a city we love, with a lot of life, very cosmopolitan and with activities for all tastes. Spending in Amsterdam in 4 days was a wonderful experience for us.
Amsterdam is the capital of the Netherlands. It is the most popular city among tourists as most arrive through the Amsterdam Airport Schiphol.
What to Do in Amsterdam in 4 Days?
In this blog, I will tell you about our visit to the Dutch capital. We spent these 4 days trying our best to get to know Amsterdam as much as possible.
4 days were not enough, but we had time to see what we wanted. Although, we ended up a little bit sore and stiff from so much cycling!
It would be best to wear shoes perfect for long walks and cycles like this pair from Tropicfeel. It will help prevent your feet from feeling stiff and sore from so much cycling and walking on different pathways.
In the end, this post will help you create an Amsterdam itinerary in 4 days.
What to See and Visit in 4 days in Amsterdam
Day 1 in Amsterdam. Check-in and Visit
On the first day in Amsterdam, we arrived at the airport around 17.30h, and from there, we went directly to our hotel (Hotel2Stay). It is also 2 stops away on the fast train: the price is 4,50€ for each ticket.
We checked in, left our things in our room, and went straight to see the city.
We also went by train to the Central Station. It is only one stop, and the price was 5,60€ each way (the train runs until 1.30h). Book your train tickets here.
With the distance, we arrived at the Central Station around 8 pm. So the first thing we did was to have dinner since restaurant kitchens usually close around 9 pm.
We had dinner in a place called Lokaal T Loosje, which is in the Nieuwe Market Square. We drank some Amsterdam beers and tried the bitterballen and some hamburgers while we waited for the rain to stop.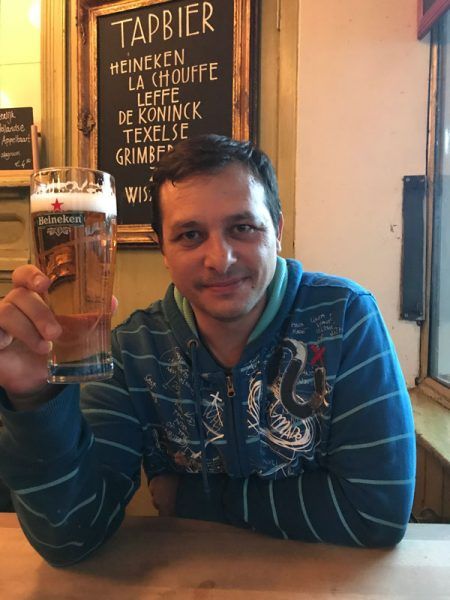 This day was quite light. It was our first day in the city. We walked a little bit through the red light district, the canals, and Munttoren, and we let ourselves be carried away by the "oh how beautiful!"
Day 2 in Amsterdam
This day we got up early, around 8:00 a.m. And we went by bus (the 22nd) to the Central Station.
The bus was free with the Amsterdam City Card, which we got the day before we got to the airport.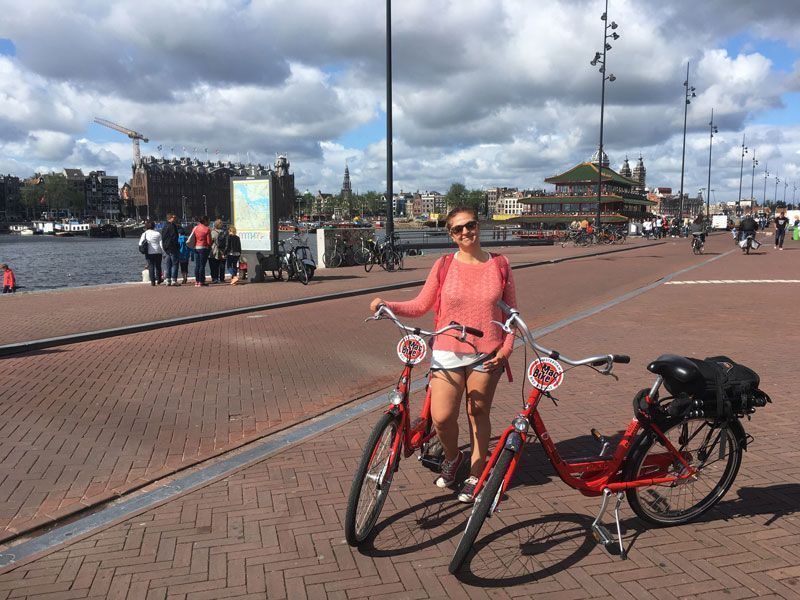 We picked up our bikes at Mac Bike, about 200 meters to the left of the Central Station. And on the way, we took the opportunity and go up to the OBA library, which has a good panoramic view of Amsterdam. But, the terrace at the top was closed.
We rode our bikes again and went to the Anne Frank House with the help of Google Maps for directions.
After this visit, we went to eat something as it was starting to rain a little bit.
We ate at a nearby Irish restaurant called O'Reillys. They served us very well and the food was delicious. As you may have noticed, we like pub restaurants. They always save us when we need to figure out what or where to eat, haha!
After lunch, we went for a short walk around Dam Square, where the Royal Palace Koninklij Paleis and De Nieuwe Kerk, or New Church are located. We parked the bikes and walked around a bit.
The area is full of people and bicycles everywhere. It is very fascinating.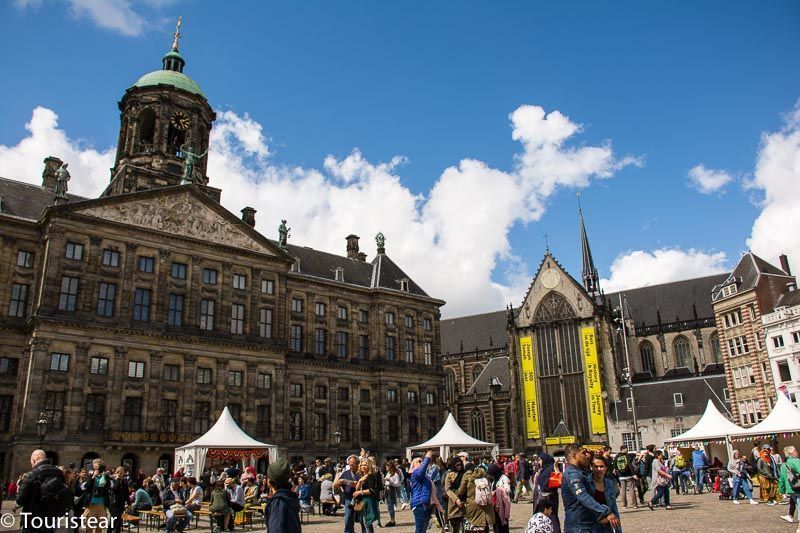 After here, we cycled to Oude Kerk (old church), left the bikes safely parked, and rode through Chinatown and the Red Light District.
We had a coffee In De Waag, the building on the Nieuwe Markt Square that was once used to weigh the goods entering the city. Today, it is a nice cafe.
We continued on our way and cycled to Reguliersgracht. Then we went to the Rembrandt House Museum and cycled back to the hotel.
The way to the hotel was through the Werterpark, which is very quiet and beautiful at this time of the year.
Also inside, we found one of the coolest beach bars called TonTon Club. Although they only have the menu in Dutch, the waitresses were kind enough to explain the dishes in English. And there we had a nice dinner and a few beers.
As you notice, you can move around the city very fast on a bike. If we had wanted to do all this on foot we would have ended up tired!
Day 3 in Amsterdam
This day, we had intended to go take pictures at the I Amsterdam sign at the Museumplein, but we arrived around 9 am, so it was already crowded.
So we continued with our plan and went to the Van Gogh Museum.
We entered with the I Amsterdam City Pass. Even if you have the card, first you have to queue to pick up the tickets and then another line to enter.
If you go early as we did, there is almost no line. We left two hours later. It was incredible to see how many people were there.
We took the opportunity to have breakfast inside the museum, a coffee plus croissant costs us 5€. We liked the museum, although they didn't let you take pictures.
At 12.00, we had the Heineken Experience VIP tour booked. We loved it, honestly. We had a great time and our guide, Roen, was very nice.
The tour lasts 3 hours easily. We were 6 people. First, they tell you a little about the history of Heineken and the brewing process, and you visit the stables, etc.
Go to a VIP room to try the different Heineken beers, each with the cheese that best suits it. They also explain the particularities of each one.
And at the end, in case you haven't had enough beer, you get two free pints to drink on the Roof Top. The terrace on the top floor has panoramic views of Amsterdam.
We left pretty happy with our visit to the Heineken house and went to lunch. It was about 4 o'clock in the afternoon, and we ate at an Irish restaurant about 100 meters away.
After lunch, we went for a boat ride on the canals. With the I Amsterdam card, you ride it for free.
The canal cruise is convenient for being included in the card. Many affordable options are available and are in Spanish.
Then we went to walk around the Jordaan neighborhood. We stopped every now and then to take some pictures, had dinner at the hotel, and went to sleep.
Day 4 in Amsterdam
This day we got up earlier than the previous day to see if we could catch the sign of Amsterdam without people. We arrived around 8.30 am, and there were some people.
So we took photos and went to breakfast.
We had a hard time finding a nice place to have breakfast. Everything was closed, and we arrived at the Hard Rock by chance. We had a good breakfast. Fer had an English breakfast, while I had an American breakfast.
With our bellies full, we went to the Rijkmuseum. We liked it very much, we saw the most important works such as "The NightWatch" by Rembrandt.
Then, we went to FOAM, a photo gallery with different exhibitions. Some are cooler than others, but it depends on anyone's preference. We both loved Gordon Parks.
*NOTE: The Amsterdam sign was removed in December 2018, so you can no longer take a photo with this city icon here. Now you can find it at the airport.
It was time to return the bikes because the next day we would start our road trip to the Netherlands. Road trip through the Netherlands with Zaanse Schans as our first destination.
So we returned the bikes and went to the airport by train. We only had one stop this time and picked up our rental car from Rentalcars.
As we did not have a car to Amsterdam yet, we still had a day to do things. We went to Haarlem, which was on our list of places to visit.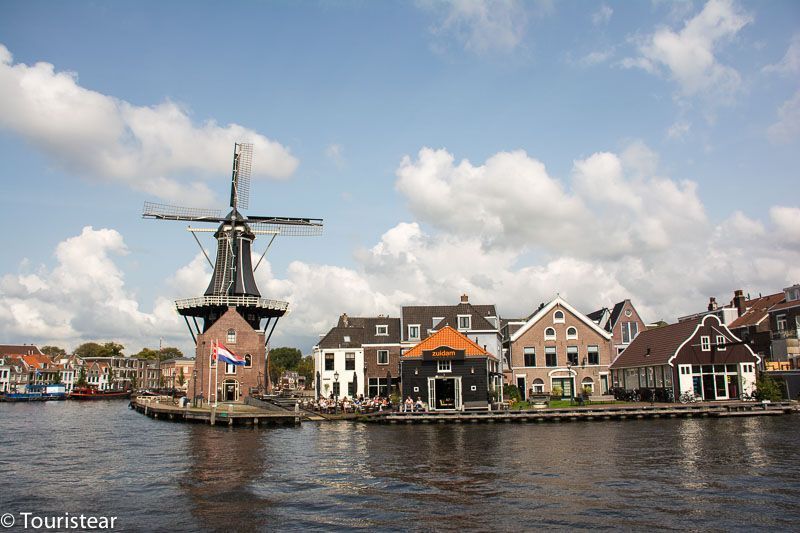 Haarlem is very picturesque. I will tell you about this place in another post. Then we ended the day in Zandvoort, on the beach, having a beer and dinner at a beach bar.
We returned to the hotel. Luckily, there was free street parking in the area where we were staying.
Other Destinations to Visit in Amsterdam in 4 Days
If you want to add more destinations or replace some of our recommendations above, here are some places we wished we had visited in our 4 days.
Albert Cuyp Market
It is a street market opened for over 100 years. With 300 vendors, you can buy anything like meats, fruits, vegetables, plants, shoes, bedding, and other necessities! You can shop here for all the travel items you need for your 4 days in Amsterdam.
Nemo Science Museum
The museum will surely satisfy anyone curious about the different processes and everything related to science. It is the perfect stop when you bring the kids along with you, or you want to discover how things work.
The Nemo Science Museum is the biggest science museum in the country, so it takes about 2 to 3 hours to explore everything the museum offers.
The science museum is nearby Amsterdam Central Station, so it is a perfect destination to add to your itinerary. Get your tickets here!
Amsterdam Flower Market
When you are in the Amsterdam city center, buy a souvenir at the floating flower market. The flower stalls have been selling flowers for over 150 years!
Since 1862, flower stalls have been on houseboats, and you can buy various colorful tulip bulbs. The flowers can also withstand long travels, making them perfect gifts for your loved ones.
Where to Sleep in Amsterdam in 4 Days
We slept in Hotel 2 Stay. It is a 2-minute walk (or less) from the train, subway, and streetcar station called Amsterdam Sloterdijk. And just a few steps from the bus stop.
We were very well taken care of, which surprised me, especially if you are used to the treatment you get in Spanish hotels. The front desk greeted us with a smile and gave us directions in a friendly manner.
But best of all was the hotel bed, super comfortable. I think it was more comfortable than the one at home!
The only downside is that if you go to bed early, you can hear (a little) the trains passing by, and there is nothing to do around there.
If you prefer to rent an apartment, take a look at the offer from Plum Guide and choose one that meets all your criteria.
Rent Bikes in Amsterdam
Renting bikes in Amsterdam was a great idea. Although we almost regretted it 5 minutes before going to pick them up.
We got a bit nervous, but it was a few seconds of doubt. We were able to live the experience of touring Amsterdam by bike, which we loved.
We rented the bikes with Mac Bike, located 200 meters from Amsterdam Central Station. The bikes are very well maintained. You can rent them for hours, days, with child seats, tandem, etc.
How to Get to Amsterdam?
The most comfortable way to get to Amsterdam is by plane. Flights are very well-priced and vary depending on the season. I leave you this link to Skyscanner so you can take a look and choose the date that best suits you.
On the other hand, if you are on a road trip to Europe, you can go by car. Although I don't recommend you to go to Amsterdam by car.
You can look for accommodation a little further out. Like ours, Hotel2Stay and leave your car in the area, which is free, and then move around by bike or public transport.
Travel Insurance
It is always advisable to travel with travel insurance, even in the European Union. Our recommendation is Mondo travel insurance. We have a 5% discount on your travel insurance.
Sightseeing near Amsterdam in 4 Days
Zaanse Schans, the mill village
Volendam, a very picturesque fishing village
Giethoorn, the Venice of Holland
A day in Edam and its medieval cheese market
Plan Your Visit to the Netherlands
Save this image to your
Pinterest

!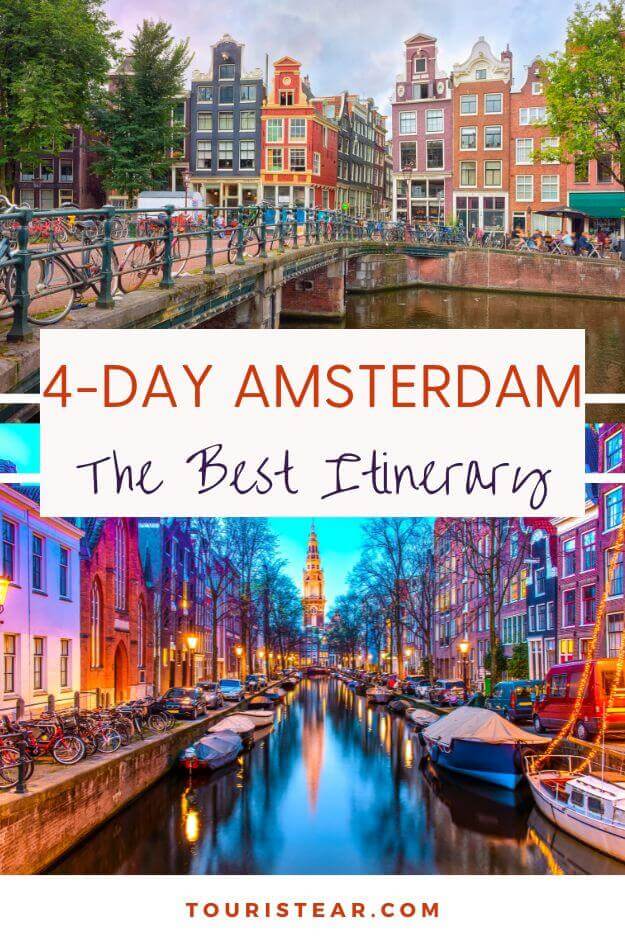 Disclosure: Some of the links on this post are affiliate links, meaning at no additional cost to you, I may earn a small commission if you click through and make a purchase.
Book Your Trip
Book Your Flight
Find a cheap flight by using Skyscanner.
Book Your Accommodation
You can book your hostel, hotel, or apartments on Booking.com.
Don'torget Travel Insurance.
Travel insurance will protect you against illness, injury, theft, and cancellations. It's your protection in case anything goes wrong. You never go on a trip without it.
Best companies for Tours
Check out Civitatis.com and find the best tours in English (French, Spanish and Italian)
Are you looking for the best companies to save money with?
Check out my resource page for the best companies to use when you travel! I list all the ones I use to save money when I travel – and I think I will help you too! (Is in Spanish yet)
Last Updated on 6 February, 2023 by Veronica