Utrecht Weekend Trip: Best Things to See
Utrecht is a city that left us with a good impression. On a Utrecht weekend trip, you can find many places to visit, things to do, and varied gastronomical adventures!
You can have a beer in a church, take a boat ride on the canal, explore a museum with a flashlight, or enjoy a beautiful panoramic view from the heights.
Utrecht is ideal for a weekend getaway with all those beautiful bridges and 17th-century masterpieces. You can also visit Amsterdam and get to know this university city full of terraces and a cozy atmosphere.
A Utrecht Weekend Trip
A must-see in Utrecht is the Domplein's cathedral tower! You get a 360 panoramic view of the historic city when you reach the top and the Pandhof Garden.
From the central station, it takes about 10 minutes on foot to reach the tower in the old town.
Of course, stroll along the Oudegracht canal and have a drink or dinner on the docks. Visit the Rietveld Schröder House, an architectural breakthrough, and walk to the city center.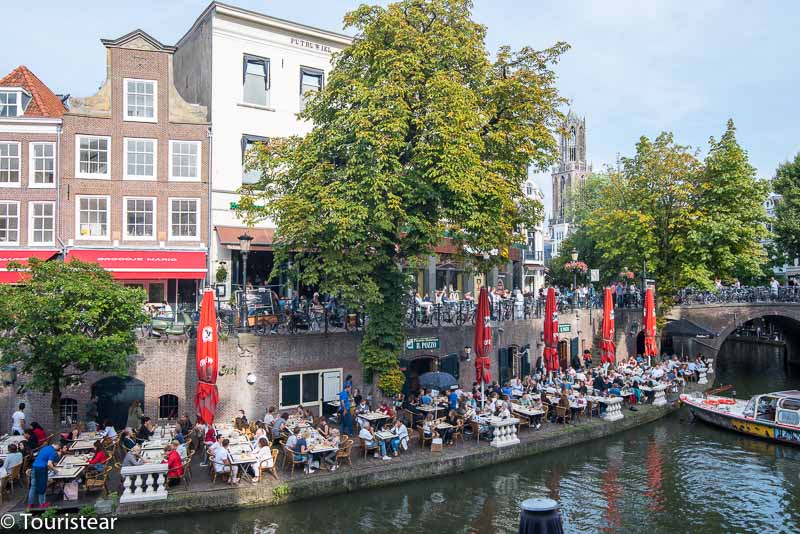 Best Things to Do in Utrecht
DomPlein, the Utrecht Square
First-time travelers in Utrecht started in this square. Plus, we had the hotel almost around the corner, which was very convenient, haha!
Here, the Romans founded the city with their "Castellum Trajectum." Utrecht is derived from the word "traiectum." It was also what the Romans called the city.
Traiectum became Trecht (in Dutch), and it is said that the U was added to differentiate it from Maastricht; thus, Utrecht was born.
We can see its cathedral and tower that are separated. This is because, in 1674, a tornado destroyed the cathedral, leaving it practically in ruins and separated from its tower.
Now we can walk around Dom Square. Pay attention to the floor. You can find traces of the old cathedral floor.
The Cathedral Tower (Dom Torem)
The Dom Torem is the tallest church tower in the Netherlands and the people of Utrecht are very proud of it.
The Dom Tower has 465 steps at a height of 112 meters. Every visitor to Utrecht climbs it to enjoy its beautiful views.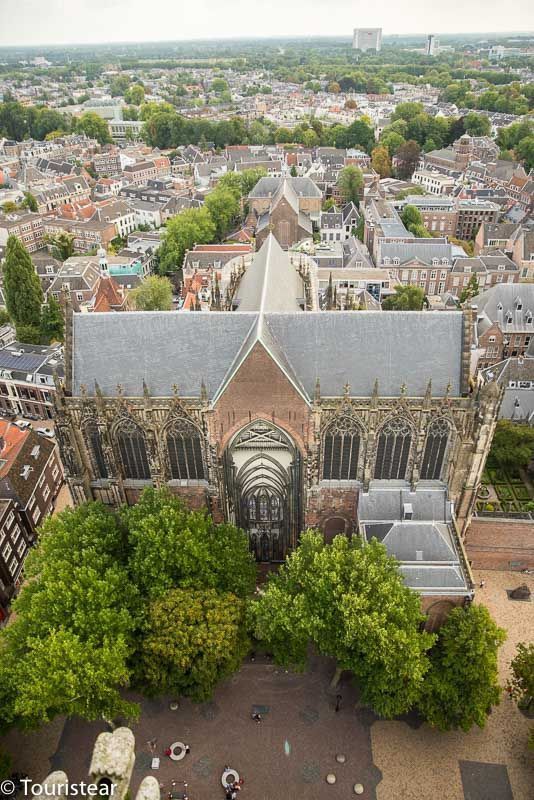 The steps are sometimes small, and the passage narrows as you go up.
The good thing is that on the way up, you make stops. A guide tells you the history of the tower, the square, and the cathedral. In addition to learning about DomTorem, these stops are great for catching your breath!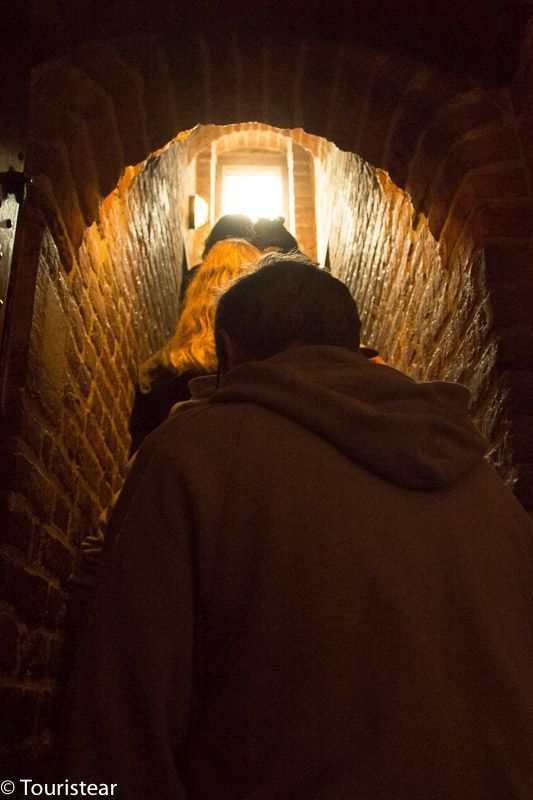 DomUnder
Under Domplein square, we found this subway museum where we witnessed this wonderful city's more than 2000 years of history.
You can still see the pillars of its cathedral during Roman times even after the Gothic cathedral got destroyed by a tornado in 1674.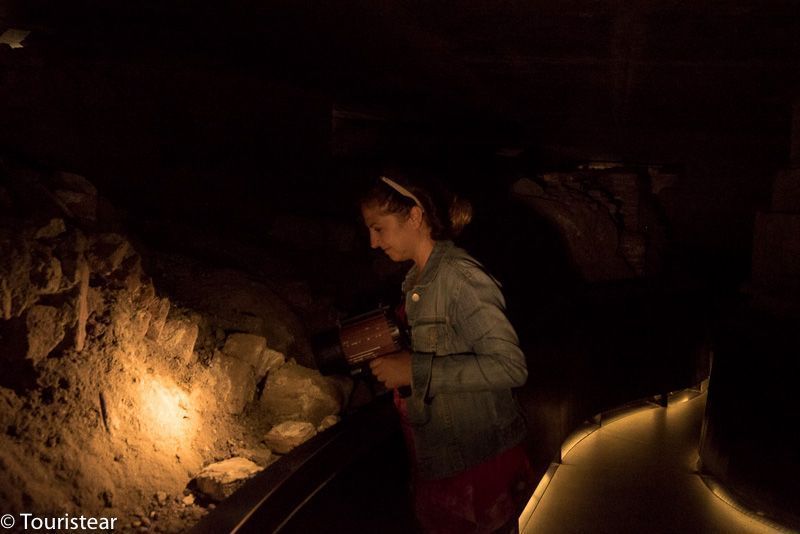 This interactive museum is a visit that we loved. It is done in the dark with a flashlight in hand, with which you have to discover the hidden explanations in the remains.
The only downside is that there are too many people. I would make the visit with a maximum of 10 people.
Rietveld Schröder House
This very modern house was designed in 1924 by architect and designer Gerrit Rietveld. It is part of the Centraal Museum and is a UNESCO World Heritage Site.
What really strikes me is the man's vision for designing this house almost a century ago.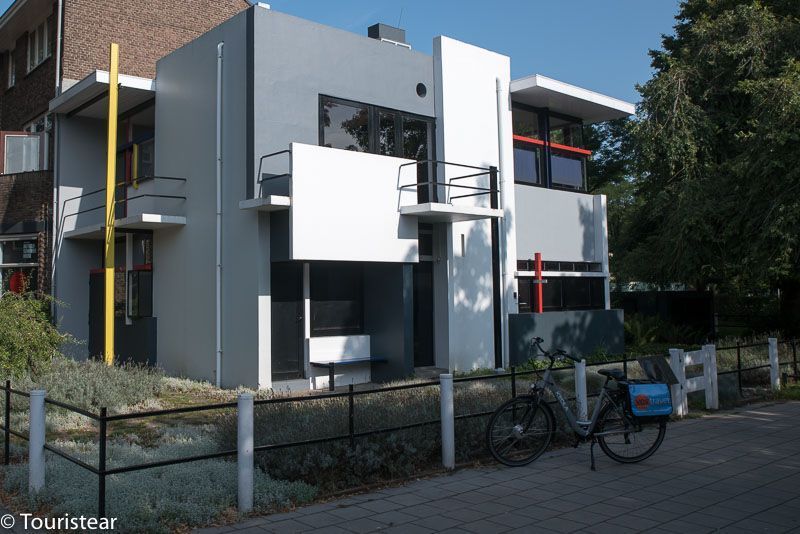 Boat Trip on the Central Canal
Many years ago, the Utrecht Canals, Oudegracht, was used for trade. Until today, we can see a large number of piers. Many piers were formerly used to store goods and have now been converted into restaurants, bars, stores, and even homes!
When you take the boat ride to the canal, they tell you the history and what you see as you go along. The boat ride gives you another perspective of this beautiful city. Book a canal cruise here!
You can't go to Utrecht and not walk along the canal! We did the tour with the company "Schuttevaer." You can buy the tickets online or you can go to Oudegracht t/o 85 and buy them there.
If you do not want to go by boat and want to enjoy the canal on the water, you can rent kayaks. You can also rent other small boats by the hour.
Utrecht Central Museum and More
You have great cultural sights and many museums to choose from in Utrecht. If you go with children, you can choose the Speelklok Museum or the Miffy Museum. Here are some of them.
The Central Museum or Centraal Museum is a must-see. It is a museum with exhibits ranging from modern art to fashion, the city's history, ancient art, and of course, works by Rietveld or Dick Bruna.
It is the oldest municipal museum in a medieval monastery that was completely renovated in 2006. You can skip the line and buy tickets in advance here!
You can visit more museums like Catharijneconvent. It shows Christendom in the Netherlands. The Spoorwegmuseum has about 175 years of railroad history in the Netherlands.
Trajectum Lumen
When night falls, we search for the lights in Utrecht with this peculiar route they have created. (Pick up a map at the tourist office on Domplein square or at the Apollo Hotel).
The Trajectum Lumen is an original way to get to know the city, its artists, and its corners. It starts in Vredenburg, a couple of meters from our hotel, and runs through the city center.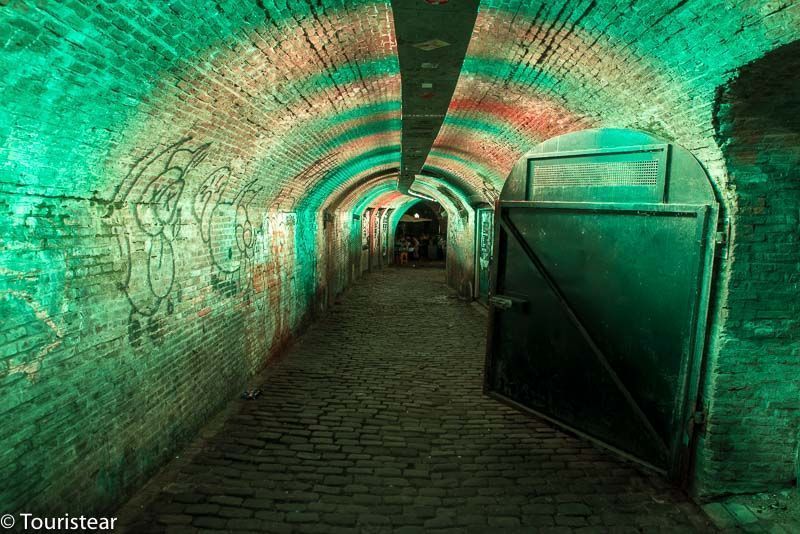 It is easy to follow the route. You have to look at the map and the ground. From there, you can see the 15 points. Simply follow the lights and have fun! Sign up for a guided Lumen walking tour here!
You can ask for information at the Apollo Hotel Utrecht City Centre until 10 pm. It is the hotel where we stayed, and the location was convenient. It was basically where we started the tour we mentioned above.
Cycling During Your Utrecht Weekend Adventure
Cycling is the best way to get to know the cities and towns of the Netherlands, and in Utrecht, it would not be less.
You can explore the city on foot in Utrecht, but it is also very convenient to get around by bike. You can take your bike on public transportation if you are far from the center.
The communications and bike paths are excellent. If you want, you can go to the Castle de Haar on your bike from Utrecht, and in half an hour, you will arrive.
The bicycle theme surprised and delighted me from the Netherlands. I wish they would import it to Madrid.
Drivers respect cyclists, and cyclists respect their lanes! I imagine there might be exceptions, but you can cycle very quietly.
Shopping?
In case you did not know, Utrecht is a great place to go shopping. You have from the latest trends to vintage style boutiques, young designers making a niche in this world, and stores inviting you to buy little things.
There is also a nearby flower market where you can buy fresh flowers to bring home or as a surprise for your loved ones.
What To See In The Outskirts On A Utrecht Weekend Tour
Haar Castle
The Haar Castle is the largest castle in the Netherlands. It is very well preserved and has spectacular gardens. Get your castle admission tickets here!
If you want more information about Castle de Haar, click on the link. There we will tell you more about our visit.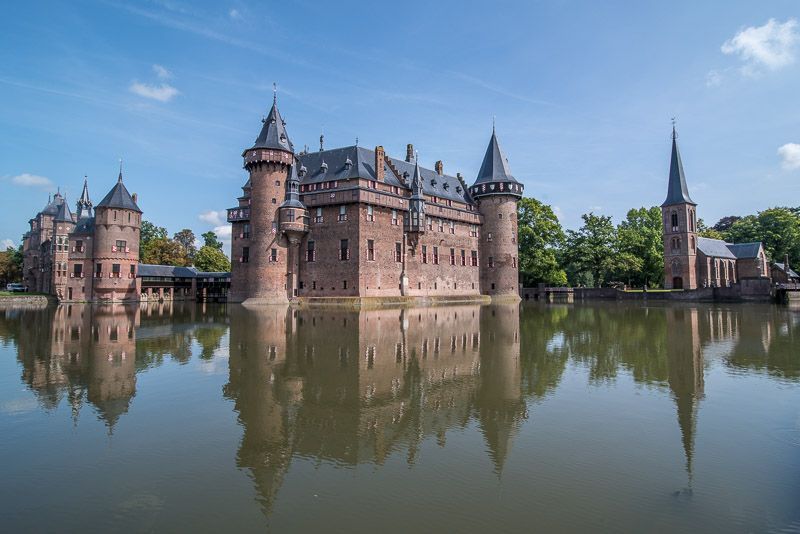 3 or 4 Days in Utrecht?
You can visit the Tivolivredenburg, a place for music and entertainment inside a super modern building. You can find tons of musicians playing musical instruments.
The botanical garden, the Mondrian house, and the Soestdijk Palace are among others to visit.
Ask the tourist office for activities on the date of your visit. Every month they have exciting things to do, sure you will stay energized in Utrecht.
You may notice that we did a lot of walking and cycling during our Utrecht weekend trip, and if you plan to stay longer, you need a good pair of shoes. Buy these pair with comfortable cushion from Tropicfeel ideal for long walks.
Where to Stay for Your Utrecht Weekend Trip?
We stayed at Apollo Hotel Utrecht City Centre. It is very well-located and close to a parking lot. Ask for a room with a view! Every time we opened the window, we could see the tower of the Cathedral.
As I said here, you can receive information and a map to do the Trajectum Lumen. The starting point is just a few meters from the hotel.
Where to Eat During Your Utrecht Weekend?
In Utrecht, there are some cool bars and restaurants, like the Van Oost Pasta Bar, for lunch, dinner, and drinks. You can find very picturesque places on the docks. These places are packed after working hours, so you can be with the locals. They also close their doors late.
I will tell you about it in another post in detail. But if you travel before I publish it, do not hesitate to post a comment or send me an email, and I will let you know.
How to Get There?
Perhaps the easiest way to get there is from Amsterdam, which is only 50 kilometers! (31 miles)
You can go by rental car o public transportation. By car, it takes approximately 50 minutes. But if you go by train, it takes less than half an hour!
If you are not going on a road trip in the Netherlands, I recommend going by train. It takes less time, and you can forget about driving and parking.
Travel Insurance
Whether traveling to Utrecht on weekends or the whole week, you can find the best travel insurance at HeyMondo according to your budget and schedule.
HeyMondo's travel insurance is affordable, even if it takes a month to travel around Amsterdam. You get 5% off your travel insurance when you use this link. Hopefully, you will never have to use it but having travel insurance help for emergencies.
I hope our Utrecht weekend travel guide helped you plan your itinerary. Read more about our continued visit to Rotterdam.
Plan Your Trip to Utrecht
Save this Image to Your
Pinterest

!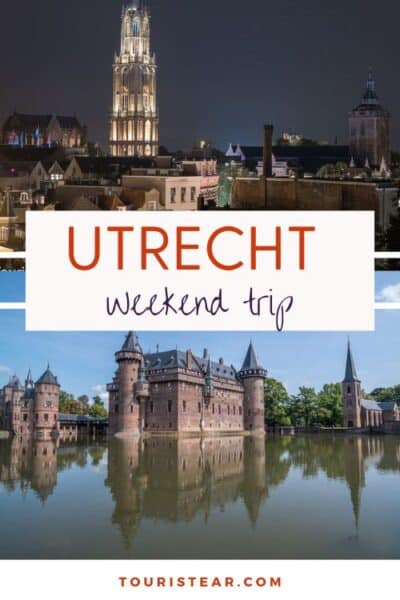 Last Updated on 13 September, 2023 by Veronica
Disclosure: Some of the links on this post are affiliate links, meaning at no additional cost to you, I may earn a small commission if you click through and make a purchase.
Author: Veronica
Vero, a seasoned traveler, has explored 25 countries and lived in five, gaining a rich perspective and fostering an infectious passion for travel. With a heart full of wanderlust, Vero uncovers the world's hidden gems and shares insights, tips, and planning advice to inspire and assist fellow adventurers. Join Vero and let the shared passion for travel create unforgettable memories.