Best Things to Do in Rotterdam. 2-day Itinerary
Rotterdam is an amazing and surprising city. I'm so excited to share the best things to do in Rotterdam with you.
This vibrant city is a must-visit destination with something for everyone, from museums and historic buildings to windmills and world-class architecture.
Located in the Netherlands, this port town has so much history and culture that you won't believe it.
From its great food scene to its beautiful architecture, many things make Rotterdam one of a kind! There are also festivals throughout the year like their famous International Film Festival.
Check out this blog post and tell me what your favorite thing about Rotterdam is? Comment below.
Best Things to Do in Rotterdam in 1-day
The first thing that might come to mind about Rotterdam is that it's an industrial city with nothing interesting to see. It could not be any further away from reality. I'm certain this city will surprise you.
It's a city with history and innovation. Rotterdam was ravaged by Nazi bombings during the Second World War and has been able to reinvent itself.
Nowadays, it seems that architects have the liberty to create the most varied and flashy buildings you could imagine. It looks like they're doing a competition to see who makes the building more innovative, modern, exclusive, and original.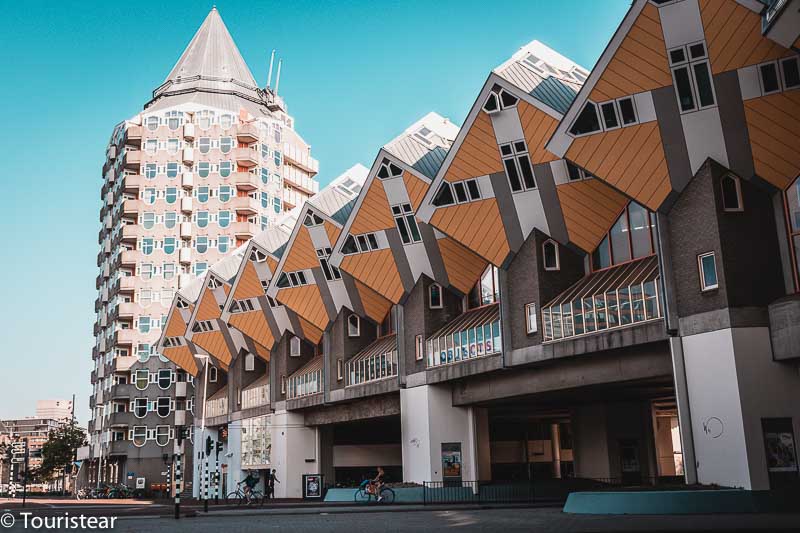 The Rotterdammers are proud of this development. They love to show off the buildings they built in the city, how original they are, and how pretty they are.
I was captivated by this idea and this way of developing the city. Every building I saw was a work that shaped the city differently, original, and fun way.
You're going to see a lot of curious buildings, but you can also visit the old part that survived bombardments, and, of course, you can't miss the Kinderdijk mills as well as some more things that we'll tell you in this post.
What to see in Rotterdam? Must-Visit Places in 1-day
If you're going to be in Rotterdam for just one day, we will tell you the best things to do and visit.
Food Tour by Bike
We started the visit with the proposal made by the Bike & Bite guys.
It's an activity that lasts about four hours in which you bike around Rotterdam and go stopping from time to time.
Sometimes the stops are to tell you something interesting, and other times to snack on something typical and of good quality in interesting places throughout the city to which it is rare to arrive on your own.
Centraal Station
The Rotterdam Station is the gateway to the city. Here is where all the transportation comes from bus, tram, train, and metro. Here, you will arrive from Amsterdam by train or from Paris, to give a few examples.
What caught our eyes the most about this station is its architectural features, which have created one of the most emblematic buildings in the city. The station combines innovation with historical elements.
They have maintained the original clock, the letters of "Centraal Station," although they are now illuminated with LEDs and two granite sculptures found on platform 1.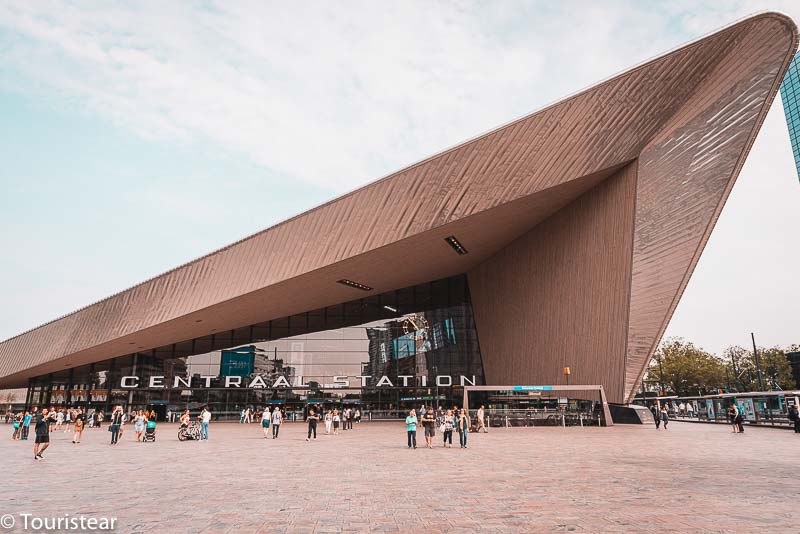 Most of the major and well-known buildings of Rotterdam have a nickname. Something to note about the Roterdamers: they give nicknames to everything. The one at Centraal Station is 'kapsalon.'
Kapsalon is a fast food dish and low-cost typical of Rotterdam, very much like shawarma. It is always served on a tray of aluminum, and that's why they call the station that way.
The Ancient Rotterdam
The little that's left of old Rotterdam is on Proveniersstraat Street. Here, you can see some of the buildings that remained standing after the German bombings.
Unfortunately, there are not many, as you can see, but it seems like you have been transported to another city in a matter of a few meters.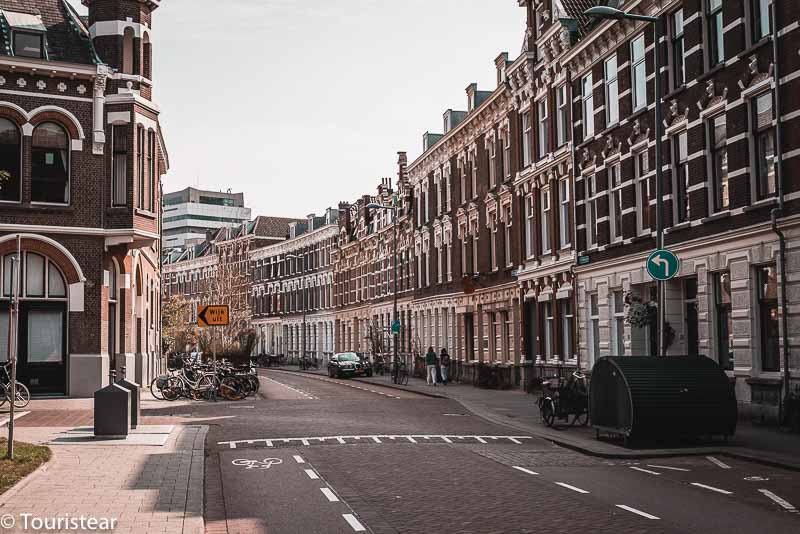 Fenix Food Factory
Fenix Food Factory is a popular market to visit in Rotterdam. It has been established parallel to the Markthal. The Markthal is an impressive construction that we'll talk about later, but it's more for tourists.
However, the Fenix Food Factory is for the Rotterdammers. Here, you will find an ideal place to eat or have a drink, shop, or experiment with the Crafts.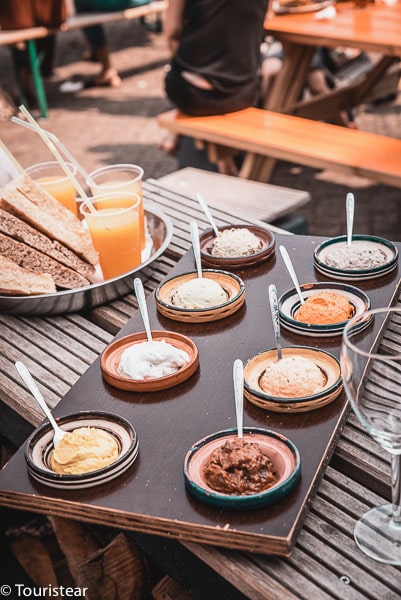 Here, you're going to find fresh local products, and some are produced right there. This project was born in 2014 for entrepreneurs passionate about food and craftsmanship.
Closes on Mondays.
Hotel New York
It is located where the Rotterdam cruises to New York once sailed. It's full of art nouveau and full of stories.
Hotel New York is composed of a hotel, a restaurant, a bar, a café with a terrace, a newsstand, and a bookshop.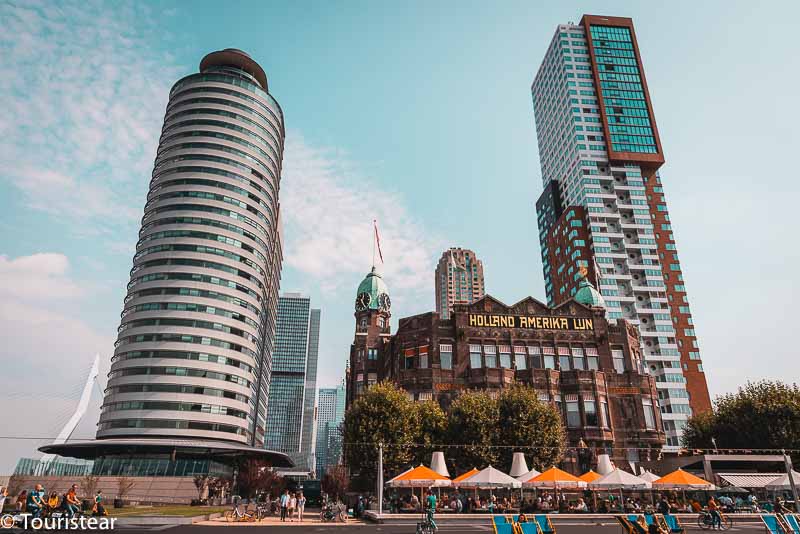 The hotel has strived to keep the original architecture and interior intact. You will be amazed by the magnificent Jugend-style decorations and history that give off the walls of the building.
Order something from the menu and take your time to really enjoy the New York Hotel, or you can stay here if you like it!
From here, you can visit Erasmus Bridge and Maastoren Tower. (If you are with the bike tour, they will take you through these places, it is very cool)
The Cube Houses of Rotterdam
They are in front of the Markthal. They're a real curiosity. That's 32 cubes in total that are rotated 45 degrees. They were built in 1984 by architect Piet Blom.
Of course, they're inhabited! Although we did see a hostel. So you know, if you want to stay in a fun place, this is your place.
They can be visited to see what they look like inside.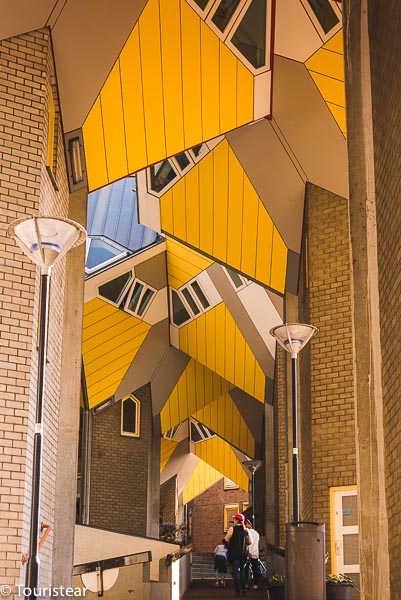 Take a Drink in the Markthal
I have to tell you that I had little desire to see it, for what I imagined was a sort of giant industrial ship turned into a market, but it was nothing further from the truth!
First of all, because it's a housing building. Even if it doesn't seem like it, people live here.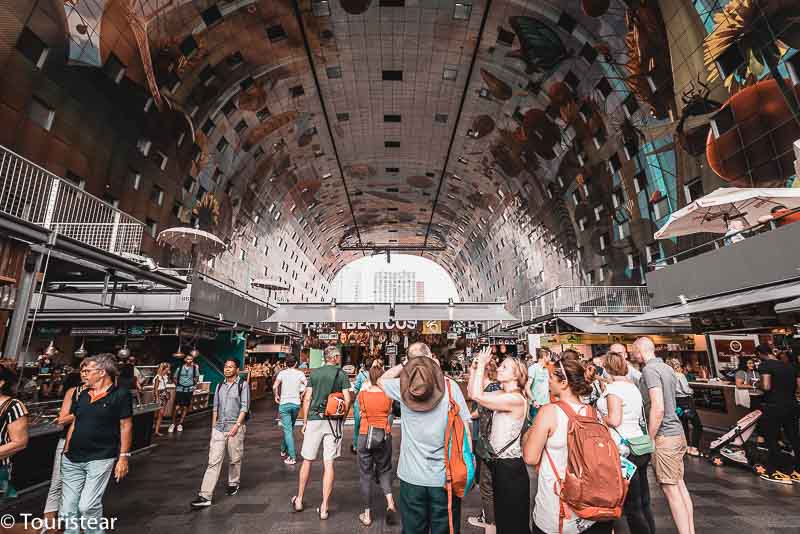 The interior is spectacular, an awesome work of art. Another thing is the market, with traditional products like the San Miguel market in Madrid or others. But the building is impressive, definitely worth seeing.
The little windows you see, they're from the houses. Can you imagine living there?
Euromast: Rotterdam from the heights
It's a tower of communications-enabled to enjoy views from a height of more than 100 meters.
You can see all of Rotterdam. I recommend that you go up at sunset times so you can enjoy it with the light of the Sunset. Definitely, a must-visit in Rotterdam.
Book the Ticket entrance here.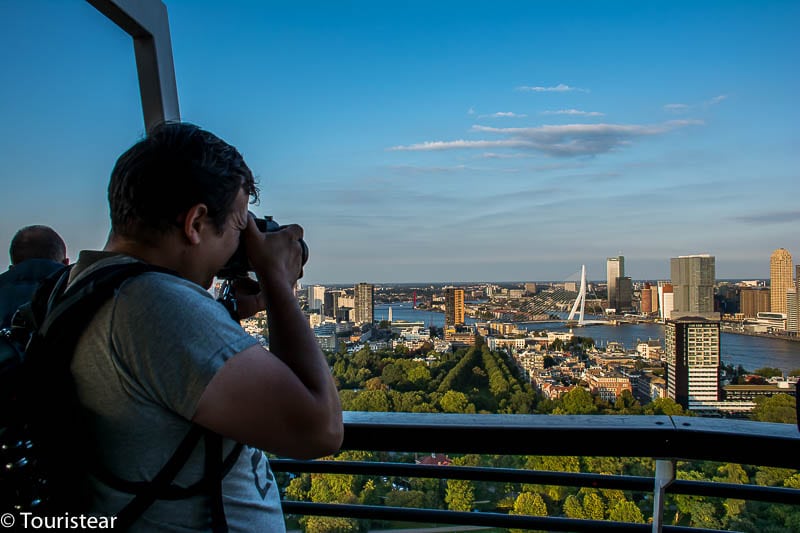 The Kinderdijk Mills
Kinderdijk mills are part of UNESCO's World Heritage sites. These mills were not used to grind the grain or as a sawmill but used to pump water out of the levees to maintain the safety level for the inhabitants.
They were in operation until 80 or 90 years ago. Today, much more powerful pumps are used to maintain the water level.
When you arrive in Kinderdijk, you will find some office to pay for the ticket. Look, seeing the mills is completely free and does not require paying the entrance fee.
This ticket is to see an interpretation center and a mill inside, but you are not obliged to pay for it.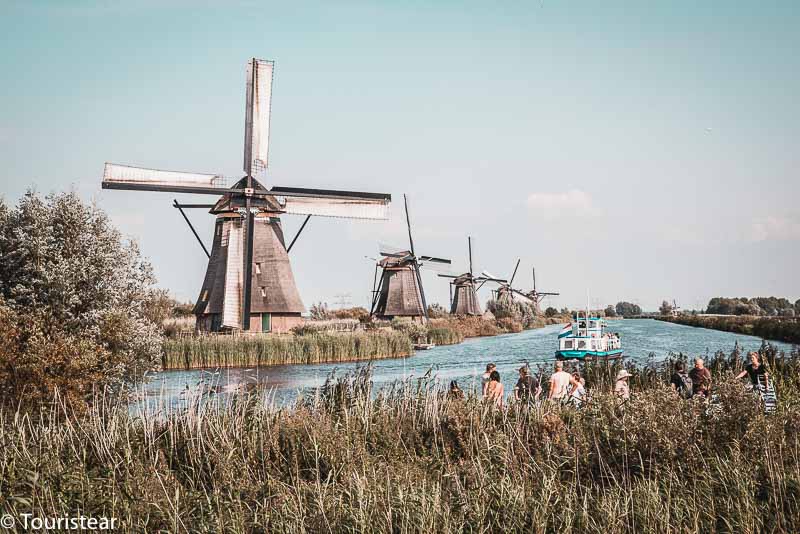 This visit will easily take you two to three hours since you have to take the waterbus that takes a while and then everything is done by walking or cycling.
Therefore, I really recommend you to go by bike because it makes everything much more comfortable and less tiring. Furthermore, you can carry your bike on the water bus.
Day 2 in Rotterdam Itinerary
Your second day in Rotterdam is to visit what you didn't have enough time for on the first day.
If you want to give time to everything, our recommendations are to spend the morning at the Boijmans Van Museum Beuningen and eat in the museum itself.
Then strolls through the harbor on the Spido, walk the streets of Rotterdam, and get closer to the Witte Huis, visit the Van Nelle factory (only with a guided visit).
Visit the Boijmans Van Beuningen Museum
It is the most important museum of art in Rotterdam; it has a collection ranging from the European Middle Ages to the modern art of our day. There are must-see works of art and other curious ones. Without a doubt, it is a must for all art lovers.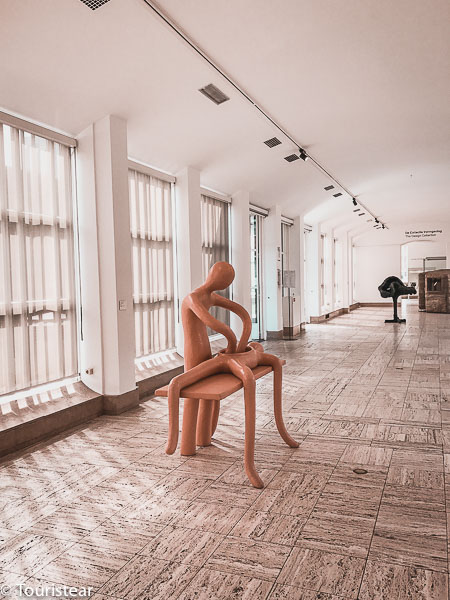 Spido, Visit to the Port of Rotterdam
This visit was done more for Fer than for me, hehe, and because it is included in the Rotterdam Welcome Card. This tour helps you to get to know one of the largest ports in the world.
In addition, you can enjoy the skyline of the city with all of its fantastic architecture.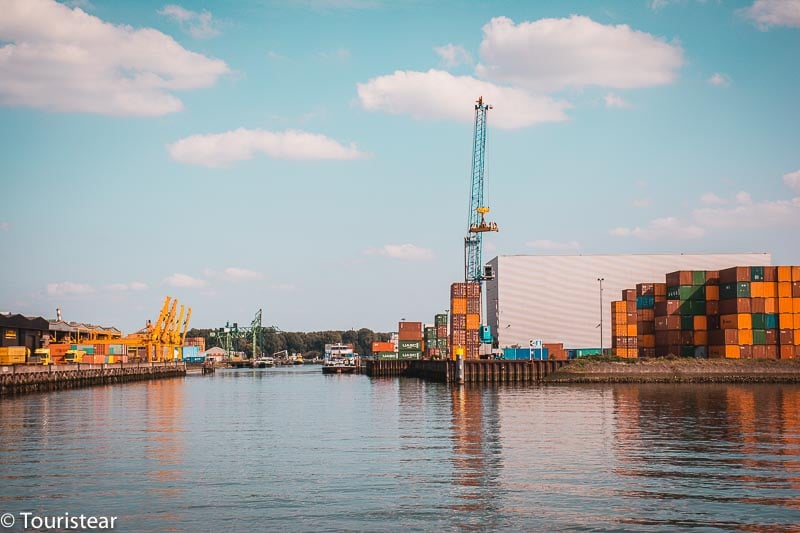 The tour lasts about 75 minutes, and there are also afternoon departures in the summer.
Witte Huis, a quirky building to see in Rotterdam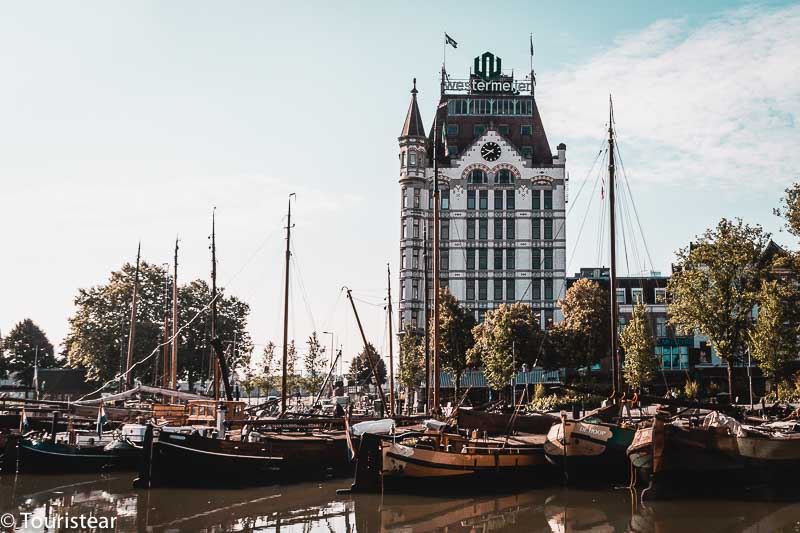 The Van Nelle factory in Rotterdam
A fascinating visit. This factory was operational until recently and is one of the generators of the Bauhaus school's architectural movement next to the factory of the same name in Germany.
I really recommend you make this visit with a guide like the one we had with Urban Guides.
An architecture student explained to us point by point the design of the factory and how things worked, you will not regret it.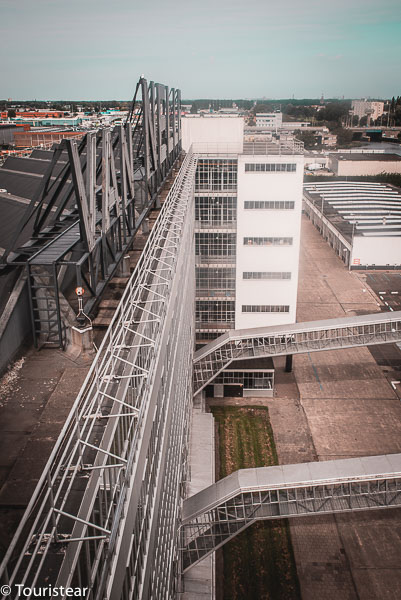 Of course, I recommend you take a walk through the city, enjoy it, and feel it because it is a city that has really earned the prestige of being one of the most modern and evolved in the world. Enjoy it!
Museums Rotterdam
In a separate post, I'll tell you more about the museums of Rotterdam, but here I leave you a list ready for you to choose your favorite.
Boijman Van Beuningen Museum, the must-see.
Nederlands Fotomuseum, a must for photography lovers.
Maritime Museum Rotterdam
The Rotterdam Museum
Natural History Museum, a journey through history with thousands of fossils of all kinds.
Witte from With Center, contemporary art.
How to Get Around the City
The best way to get around the city is by bike. Although you are in a big city, it is very friendly with cyclists. As in all of the Netherlands, biking is the ideal way to get around. In addition, you can put it on public transport if you get tired.
Read: the experience of cycling through Amsterdam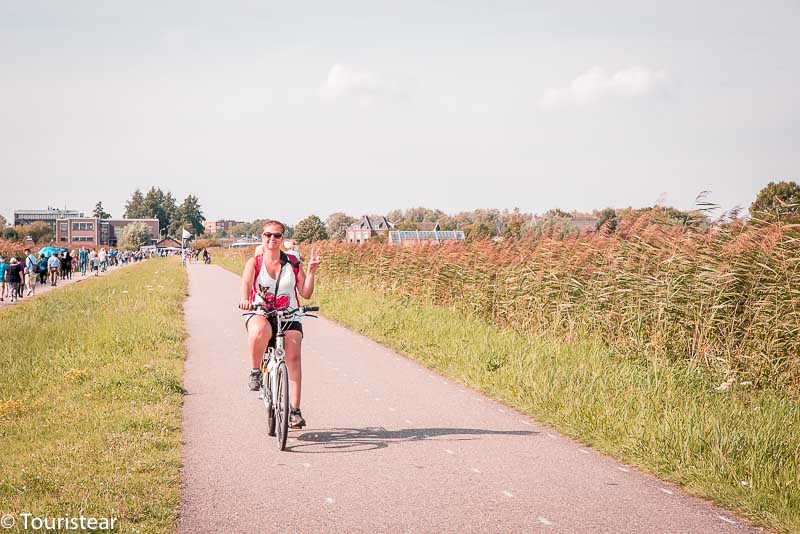 Where to Sleep in Rotterdam?
Here you have classic or curious places to sleep. You can choose between the New York Hotel, where the passengers who migrated to America stayed, or the King Kong Hostel or the cube houses were staying. Which one are you staying with?
We stayed at the Ibis Rotterdam City Centre hotel. It is super well located, and you can get to where you want to go by walking for the most part.
If you want to rent bikes, they offer them, and if you go by car, like us, right around the corner, there is a parking lot with which they also have an agreement, and you can get a much lower price to leave the car there than on the street.
Plan Your Trip to the Netherlands
Save it for later on Your Pinterest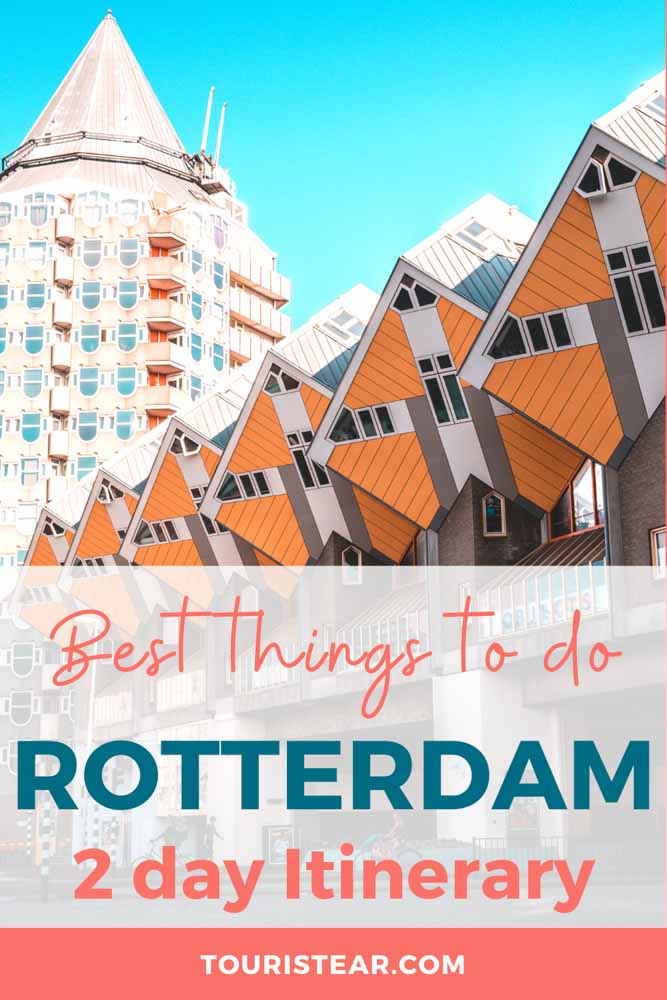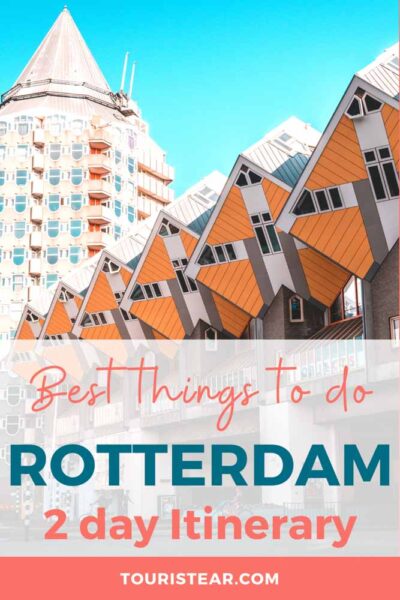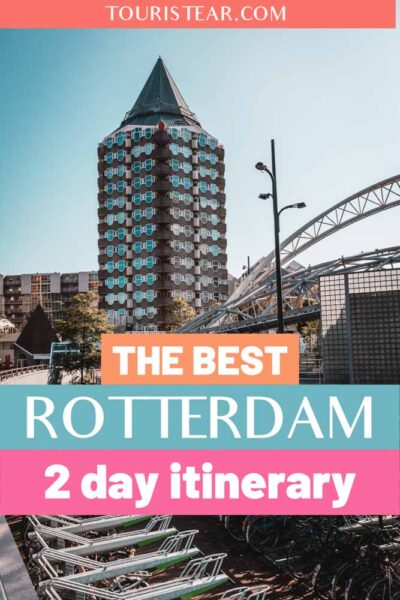 Book Your Trip
Book Your Flight
Find a cheap flight by using Skyscanner.
Book Your Accommodation
You can book your hostel, hotel, or apartments on Booking.com.
DoDon'torget Travel Insurance.
Travel insurance will protect you against illness, injury, theft, and cancellations. It's your protection in case anything goes wrong. You never go on a trip without it.
Best companies for activities
Check out Civitatis.com and find the best tours in English (French, Spanish and Italian)
Are you looking for the best companies to save money with?
Check out my resource page for the best companies to use when you travel! I list all the ones I use to save money when I travel – and I think I will help you too! (Is in Spanish yet)
Last Updated on 26 November, 2021 by Veronica