Touring Amsterdam by Bicycle: Best Tips
Touring Amsterdam by bicycle was a great idea. But we almost regretted it 5 minutes before picking them up.
Before we went to pick up the bikes, we hesitated a bit. We were a bit nervous because we had seen how people moved around there the day before. Of course, it had been years since we had been on a bike, let alone touring a city you don't know.
But they were a few seconds of doubt, which passed to history very quickly. We could live the experience of touring Amsterdam by bike, which we loved.
Touring Amsterdam by Bicycle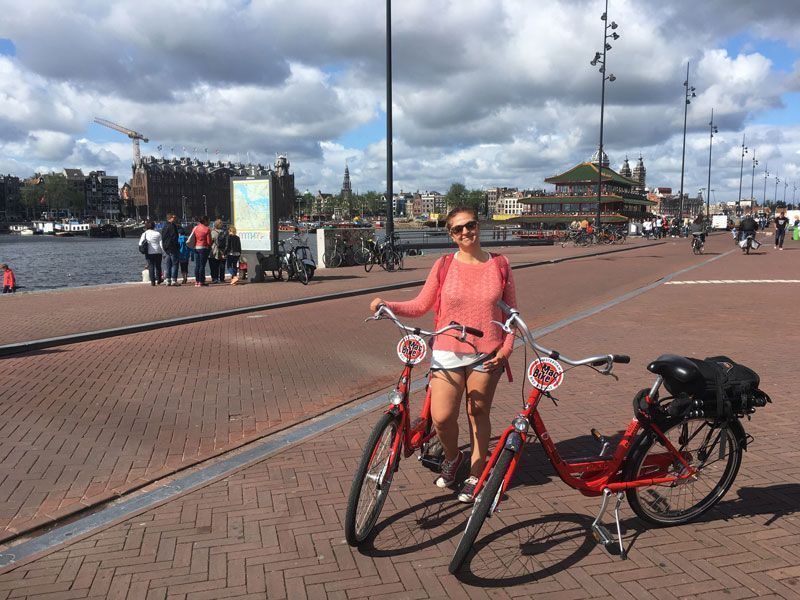 We rent the bikes at Mac Bike. The bikes are 200 meters from Amsterdam Central Station. The bikes are well maintained, and it is easy to identify you as a tourist (so they have a little more patience with you).
Visiting Amsterdam by bike is quite an alternative sightseeing experience. It's a little scary at first, especially if you haven't ridden a bike for almost 15 years like me. But, it is true what they say that riding a bike is not forgotten.
Initially, we were going cautiously, slowly, but after 5 minutes, we were almost like the people there…
They overtook us as if we were standing still, but we were just walking along.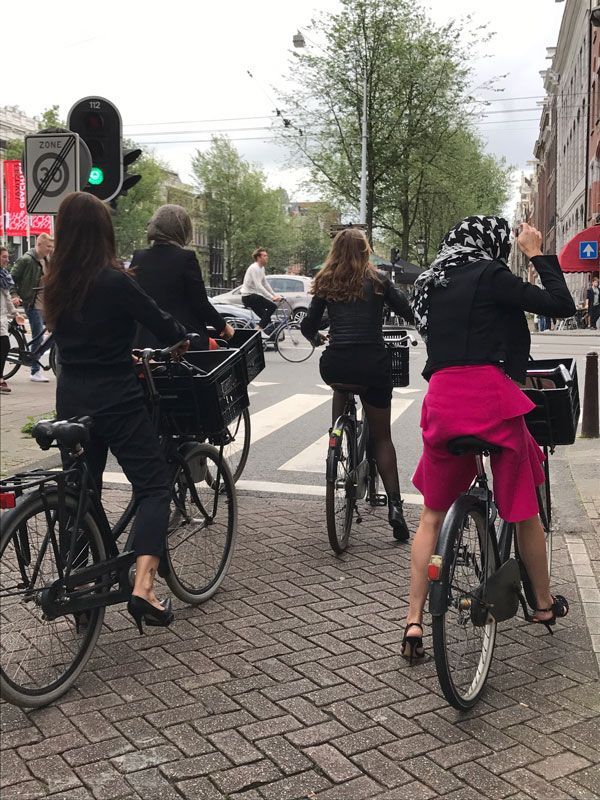 The good thing about cycling in Amsterdam is you move through the city in "God mode." There, bicycles have priority over cars and pedestrians.
In addition, they have bike paths that we would like to have at home. It is a flat city where it is effortless to get around, even if you haven't been on a bike for years.
These lanes also have traffic rules, speed limits, and lights. Some people on bicycles take very badly to pedestrians invading their lanes.
First, the cyclists ring the bell to get out of the way. But, we have also seen some push a pedestrian for not getting out of the way.
So if you are a pedestrian, go on the sidewalk. If you are a cyclist, be patient. Some people are not at all used to bikes having a preference. Rent a bike in Amsterdam in advance here!
Private Bike Tour
If you want to tour the hidden gems and winding cobbled streets with your Amsterdam city bike, let a local show you around the Jordaan area! The trip revolves around the Homomonument, Vondelpark, museum district, and a few surprise routes!
At the end of your trip, your local tour guide will even tell you a few recommendations for your solo excursions. Get an audio tour around Amsterdam here.
Small Group Bike Tour
A group bike tour is perfect for travelers who want to meet new people! For this option, some locations you visit are Jordaan, Leidse Square, Magere Brug, and more.
When we were cycling on our own, we saw a lot of group bike tours at the top destinations. Book your tour here.
If you want to escape the crowd, we recommend taking a private tour or going solo. Group bike tours usually have 15 people. If you are not so good with cycling, you might hit other travelers on your way to the destinations.
Other Destinations for Touring Amsterdam by Bicycle
There are lots of places that you can reach via a bike tour. On a guided bike tour, you may only visit some popular town destinations. So here are other destinations you can see.
Anne Frank House
If you are on a solo cycling excursion, I recommend visiting Anne Frank's house. You can go and see the place where she wrote her diary.
Red Light District
We don't recommend visiting here with the kids. Absolutely not! But if you are curious about this place. You can explore the red light district in the morning with your bike.
There are other tours to the district that tells you about its history and politics with good coffee stops. You can book a fun and insightful tour here.
Benefits of Touring Amsterdam by Bicycle
This may be very obvious, but I'll tell you anyway. By cycling, you make better use of your time, get to places faster, and don't have to wait for public transport, spend money on a cab, or waste time parking. Don't even think of entering Amsterdam by car!
You discover places you would not have known otherwise. On our way back to the hotel through the west park "Westerpark," we found a very cool beach bar called TonTon Club West.
We were the only tourists, and the menu was only in Dutch. But the waitresses were very friendly and explained the menu in English.
Another very important thing is that all the sweets you eat won't be so noticeable when you go back home 😉
We had a great time cycling around Amsterdam; I hadn't been on a bike for 15 years!
But be careful if you are going to move around Amsterdam by bike. Don't drink too much or smoke too much, because you will be cycling in esses, hehe.
You need a good pair of shoes with amazing traction to get the best experience without straining your feet too much. We recommend these shoes when you go for a walk or bicycle ride during your travels. It is also great for a jog when you want to keep your exercise routine while traveling.
Travel Insurance for Touring Amsterdam by Bicycle
Touring Amsterdam by bicycle is one of the safest and most exciting ways to get to know the city. Though the locals adhere to traffic laws, it is better to go on a bike tour prepared with travel insurance.
Get travel insurance from HeyMondo to be prepared for emergencies. You can also add more coverage for your Amsterdam trip. Using this link, you can get 5% off any affordable travel insurance from HeyMondo.
Do you rent a bike when you travel? Or do you prefer to move around on foot or by car?
Plan Your Trip to Amsterdam
Save this Image to Your
Pinterest

!
Last Updated on 13 September, 2023 by Veronica
Disclosure: Some of the links on this post are affiliate links, meaning at no additional cost to you, I may earn a small commission if you click through and make a purchase.
Author: Veronica
Vero, a seasoned traveler, has explored 25 countries and lived in five, gaining a rich perspective and fostering an infectious passion for travel. With a heart full of wanderlust, Vero uncovers the world's hidden gems and shares insights, tips, and planning advice to inspire and assist fellow adventurers. Join Vero and let the shared passion for travel create unforgettable memories.