Nest Tropicfeel Backpack Review
In today's post, we will talk about the Tropicfeel Nest Backpack.
At the beginning of last year, we had the opportunity to review the Tropicfeel Shell Backpack. It was the first backpack of the brand that we had; the truth is that we were delighted.
We have known the brand practically from its beginning; we had the first shoes, a primitive model of the Monsoon. Very comfortable and designed for travelers.
Now we can try the NEST backpack, and I love it. It is much lighter and smaller than the Shell and designed for daily and short breaks.
I also see it as excellent for bike rides or excursions. So let's start at the beginning; I'll give you my opinion in this in-depth review of the Nest Tropicfeel backpack.
Here you have 10% OFF for your Nest Backpack; use this code! TOURISTEARNEST10
Where Can You Buy the Nest Backpack?
To start with, where can you buy the NEST Backpack? On the Tropicfeel website.
Ensure you buy it on its official website; the rest may be imitations.
The Tropicfeel website is straightforward to use. In addition to credit or debit cards, you can pay with Paypal, Apple Pay, Google Pay, etc.
The shipping time of the Nest backpack is between 2 and 7 business days from the day of your purchase. It took me about four days, and I live in France.
Take a look at the prices at Tropicfeel, there always have very attractive discounts, and you can get cheaper. Use TOURISTEARNEST10 to get a 10% OFF.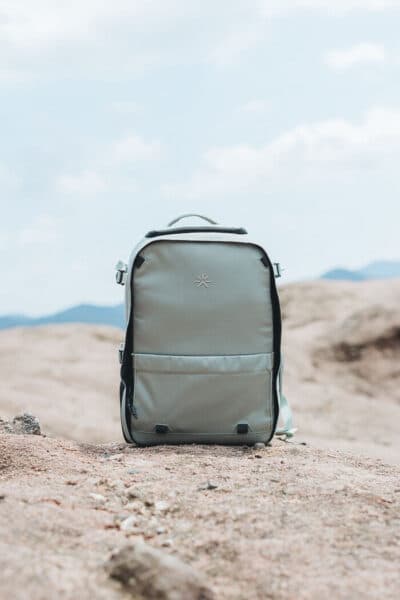 Technical specifications
The NEST backpack has a versatile, modular packing system that offers quick and easy access, plus adaptable organization to pack more on every adventure.
The NEST is an all-terrain backpack due to the following aspects:
Size:
16 liters unexpanded (valid as a carry-on bag)
20 liters with the removable pocket, kangaroo mode (it works as a carry-on bag)
30 liters if you add the Smart Packing Cube (it works as a carry-on bag)
Length
Normal mode: 45.5 cm (18″)
Kangaroo mode: 56 cm (22″)
Width
Weight
As you can see, the Nest backpack is smaller than the Shell and fantastic for everyday use, short trips, and hobbies.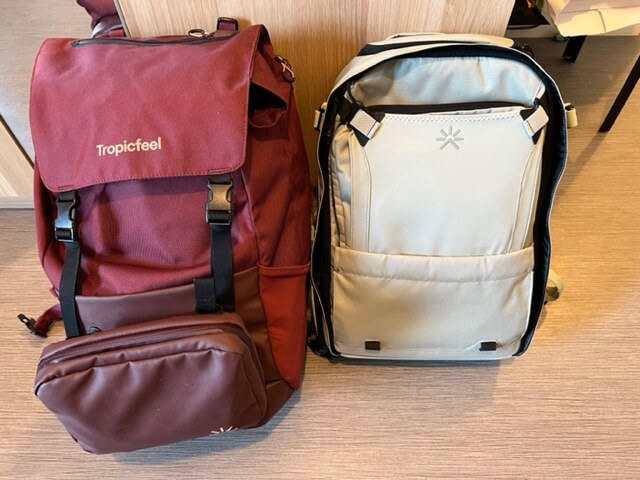 Opinion on the Nest backpack (Spoiler Alert)
Honestly, the Tropicfeel Nest backpack seems like a great purchase. It has good size and capacity. It is beautiful; it has good finishes and the main thing, it is convenient.
It serves practically for almost any occasion.
It is perfect if you are going on a picnic with your friends. It is ideal if you are going on a plane for a weekend because you can carry it as hand luggage. If you want it as a photographic backpack, you also have an accessory to use in this sense.
To work at the coworking perfectly, everything I need to take comes in.
I recommend it to you for this and more little things I will discover.
Anyway, I'll be back here in a few months to update you on the strength of the materials and anything that happened to me with this backpack.
Is the Tropicfeel Nest Perfect For You?
The Tropicfeel NEST backpack is NOT for you if…
1 – If you are looking for a hiking and camping backpack. In other words, you are looking for a specialized backpack for multi-day hiking trails in different weather conditions.
Remember that this backpack repels water, but if you put it in heavy rain for several hours, the water will eventually find its way inside.
2 – You are going to make a BIG trip. If you go on a trip for over a week, I recommend taking the Shell backpack. It has much more capacity and is perfect to go quietly for a month, obviously, if you do the laundry, lol.
The Tropicfeel NEST IS PERFECT for you if…
1 – You want a versatile backpack. If you want a backpack that suits your different needs, it is perfect.
2 – You love to pack and unpack quickly and neatly.
Although its older sister beats it here, this backpack is easy to keep tidy. In addition, it expands its capacity up to 30 liters with its 10-liter Smart Packing Cube accessory, which is highly recommended if you use it for your getaways.
3 – You want a backpack that meets carry-on requirements. This backpack is compact, and even if you expand it to its maximum capacity, it will still serve as hand luggage on planes.
In any case, check the measures allowed by the airline before traveling.
4 – You are going to use it for weekend getaways. Perfect for short trips and up to a week in summer, when clothes pack less.
5 – You are going to use it day to day. From day to day, it is perfect to go to work and carry a laptop. In this case, I see that it lacks some type of interior support for folders or notebooks.
6 – You are going to use it for excursions on your trips.
TOP features of the Nest backpack
Materials and Aesthetics
The Tropicfeel Nest backpack is 100% vegan and made with materials of maximum durability and minimum impact.
The Tropicfeel house traces the entire production process to ensure that it is created under fair trade conditions.
Tropicfeel gets our thumbs up for their efforts to use recycled materials, as we often do when companies do their part to be environmentally friendly.
Aesthetically speaking, the backpack is beautiful and minimalist. It comes in neutral colors: light green, dark blue, black, and sand.
It is compact and can be used in almost any situation.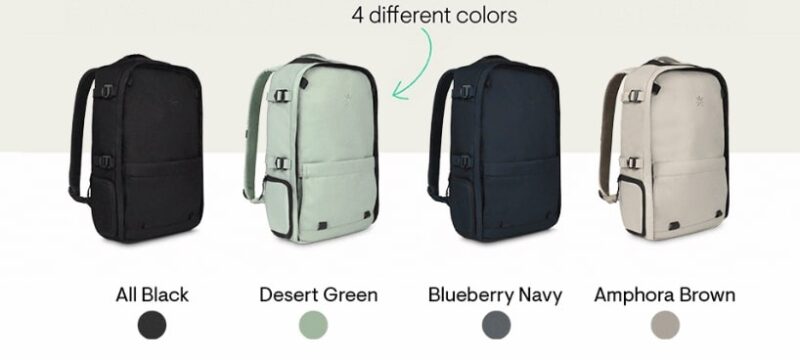 The finishes and seams are very well done and look very pro.
Weight and Comfort
The Nest backpack weighs only 1.1kg, which is relatively light compared to other brands.
It has an ergonomic back panel with premium foam and multifunctional straps for comfort and support.
In addition, it has a thing to attach to a suitcase, both carry-on, and big ones easily.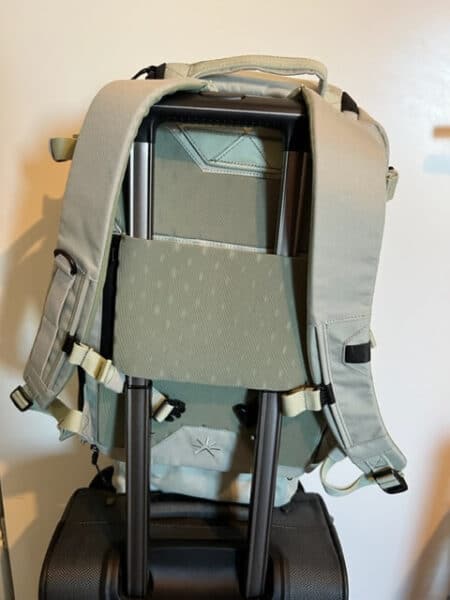 Storage and access
The Nest has enough pockets, good access, and a capacity of 16 or 20 liters.
Main and Interior Access:
The backpack has central access; you have to open it horizontally to access the main compartment.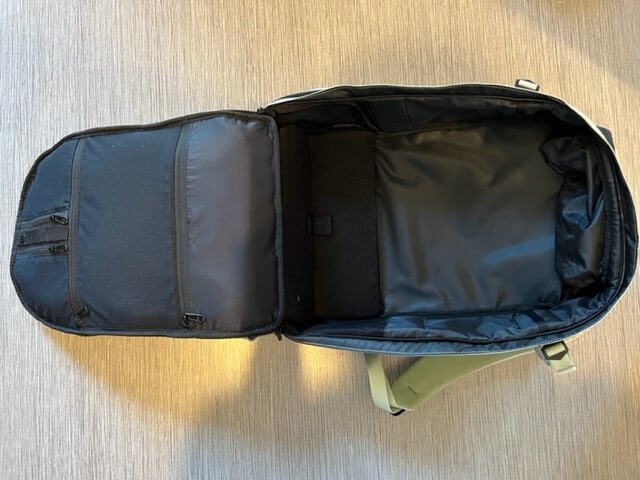 Inside the main compartment, you will find a container that can be folded or unfolded; inside, you will find a waterproof bag to protect your important things from the water.
It also serves to store things separately. You can access it from the left side if you are facing the backpack.
Also, inside there are two mini pockets where you will find two black cards. I still don't know what they are for. I'll tell you when I find out.
On the top of the backpack (inside), you will find four YKK zippered pockets, perfect for chargers, documentation, or underwear.
Copy & Paste this Promo Code: TOURISTEARNEST10, use it to get a 10% OFF on your Nest Backpack.
Exterior
Top Pocket
We start at the top. At the top of the backpack, you will find a super helpful pocket. In my case, I have used it to carry liquids when I have traveled by plane. And on a regular day, to carry sunglasses, keys, and a mobile charger.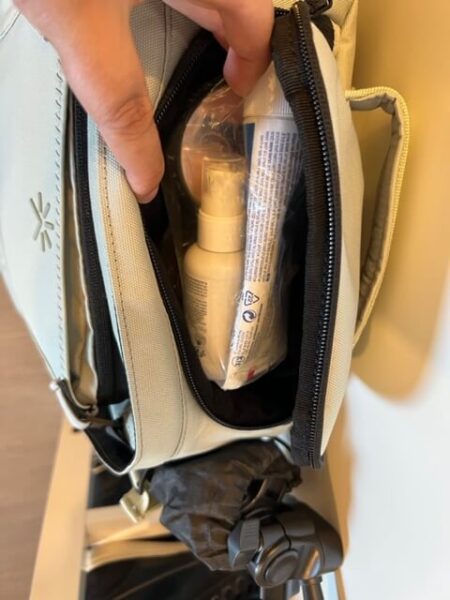 Front
On the front of the backpack, you will find a pocket without closure and a fabric hooked in the corners.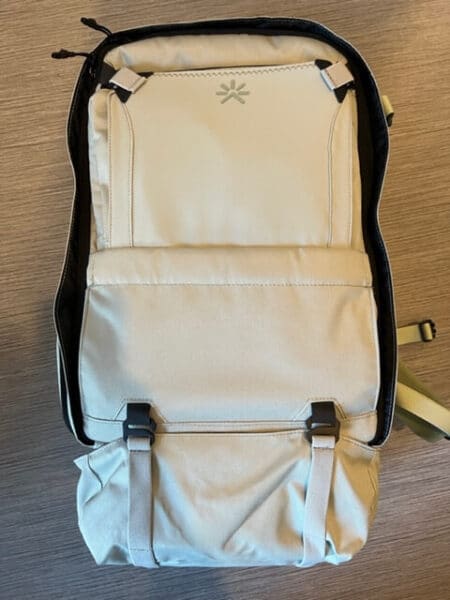 This is where the Smart Packing Cube goes. You have to unhook the fabric, put the packing cube and rehook the fabric. This way, everything is organized and protected from possible falls.
Bottom
At the bottom, you will find access to the kangaroo. This way, you can convert your 16-liter backpack into a 20-liter one.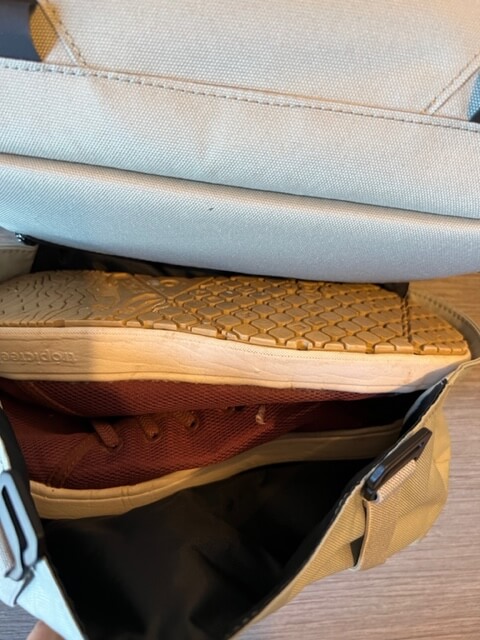 This pocket is ideal for storing shoes. If you have the Sunset, you will have some extra space, but if you have the Canyon, the space will be tight.
Sides
On one of the sides, you will find a pocket for a water bottle, which can also be used to carry a small tripod or an umbrella.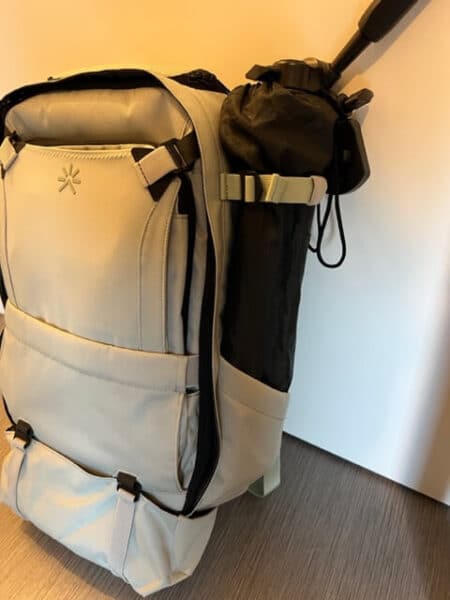 On the same side, but at the top, you will see some adjustable straps, perfect for holding your tripod or an umbrella.
Also, on the same side but on the rear edge, you will find access to the space to store a laptop.
A 13″ Macbook air or a 16″ Macbook Pro fits perfectly. However, as you can see in the photo below, the 16-inch takes up all the space, so if you have a larger laptop, it won't fit.
On the contrary, having a smaller 16-inch laptop will be perfect. The 13-inch has more than enough space.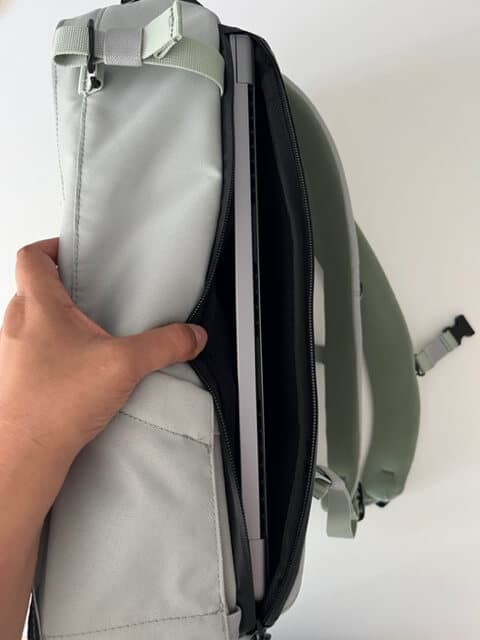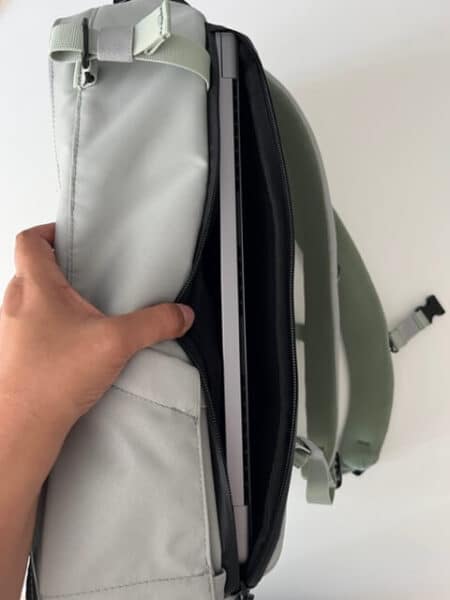 On the other side, you can access the secure interior compartment or the backpack inside if you have not unfolded it.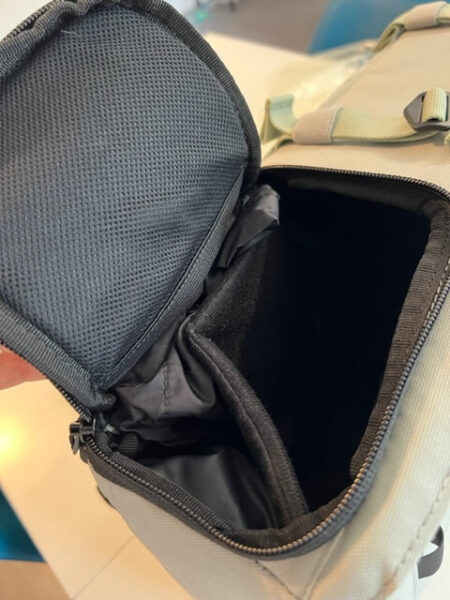 There are also two adjustable straps.
Back
At the back, close to your back, you will find a hidden pocket, perfect for storing cards, passports, or money.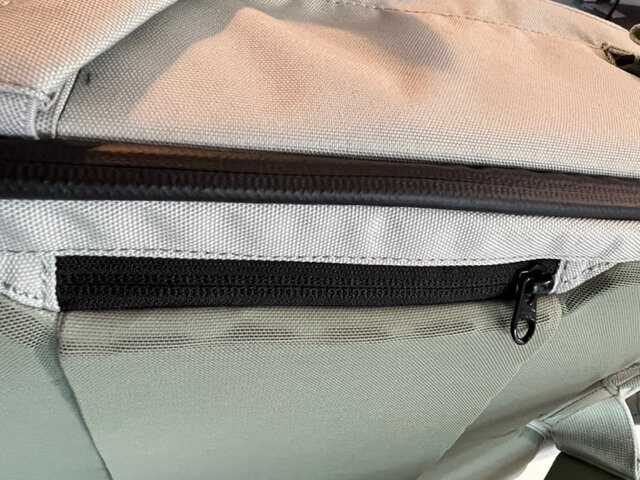 Straps
The straps to carry the backpack are pretty comfortable and adjustable. It has two small straps to adjust the backpack to the body.
Also, a hook to hang and an elastic designed to hang sunnies.
Tropicfeel NEST Backpack Accessories
If you don't decide right now, you can buy them separately. Go to the accessories section on the web to get yours.
Organizer
The organizer is a kind of collapsible cube with partitions inside. Having the backpack tidy and taking advantage of a lot of space is fantastic.
I see it as fantastic for excursions and having all things in a place fastened.
Smart Packing Cube 10 liters
It's my favorite accessory. I have the Shell one, and I think it's fantastic. This one is smaller but pretty useful.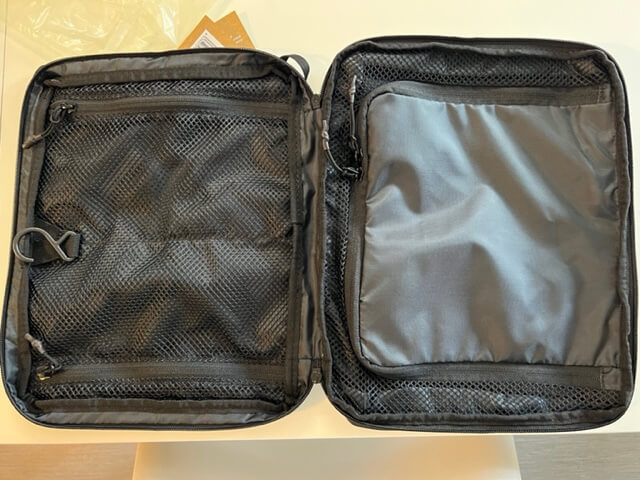 In my case, when I travel, I use the inside of the backpack to carry clothes that are bulkier, like jeans, and the 10-liter Smart Packing cube for clothes that are lighter and easier to compress.
You can carry more things than it seems. Essential for me.
Camera Cube XL
It is perfect for carrying your photographic equipment, protected and organized. It's bigger than the one in the Shell, and I think it's better thought out.
Although you can take the one with the Shell and use it as a bag.
Packing Cube 5 liters
It's like the Smart but more petite. Depending on what type of use you will give the backpack, you may be more interested in this accessory than the other.
But for the same price, I prefer the 10-liter Smart Packing Cube, which has double the storage space.
Pros and Cons of the Tropicfeel Nest Backpack
It is a versatile backpack that serves you for practically everything.
It is effortless to organize
It is made with recycled materials
It has a good amount of pockets. The one above is my favorite to carry liquids on the plane.
Fair Price
The pocket for a water bottle seems a bit small, but it is enough for a small travel tripod.
It does not have an expandable mode for big trips
It's not cheap (or expensive)
The NEST Backpack vs. the Rest
By now, you've probably already bought the backpack or stopped reading. You may not have decided on the NEST backpack if you are still reading.
That seems fine to me. In that case, let's take a look at other backpacks that might interest you.
Remember that we usually show similar backpacks at this review stage, but there isn't exactly a backpack quite like the NEST!
The Samsonite Backpack
Fer has this backpack; the exact model is Spectrolite 3.0 Laptop Backpack Expandable 17.3. He bought it for work trips, those trips of one or two days where he carries a couple of changes of clothes and a laptop.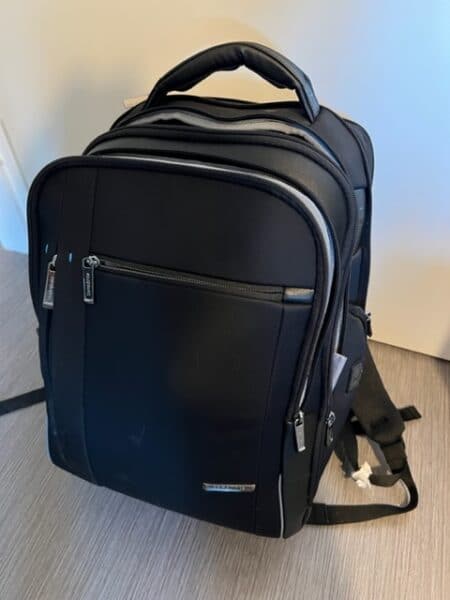 At first, he carried the Shell, but it had plenty of room everywhere for such a short trip, and unfortunately, the NEST did not exist at the time of purchase.
I can tell you that the quality of this backpack is exceptional, and it is designed to carry the laptop and the electronic components you need plus a change of clothes or two; the second one is a bit tight.
Of course, you must buy separate buckets or organizers to store clothes.
Its aesthetic is more professional or sober, perfect for taking to the office or a client. But you'll probably not want to take it on a trip to the mountains or the beach.
The SoFo Commute Backpack from Horizon Studios
The SoFo Commute Backpack is for whatever you have planned, from around-town to weekend trips.
You can pack up to five days. The backpack is made from sustainable waterproof materials and shipped carbon neutral with eco-friendly packaging.
This backpack is aesthetically beautiful and has some better things than the NEST, like being waterproof. But the price is almost double. So if budget is not an issue, check it out.
Nomatic Travel Pack 20 l – 30 liters
Another backpack that may interest you are the Nomatic backpack. You can find it in Carry-on size, that is, it passes as a carry-on suitcase.
You have them in different sizes, and you can add accessories. You can get it on Amazon or their website. It depends on your location.
Conclusions
The Tropicfeel Nest backpack is versatile and useful for everyday use. In addition, it has the possibility of expanding its capacity from 16 to 30 liters, and it has a more than reasonable price.
It is fantastic for short breaks and travel by low-cost air companies.
It has a minimalist design and is beautiful and effortless to organize. It is made with 100% recycled materials, water-resistant (not waterproof), and ergonomic. Honestly, it is a good purchase.
I'm sure you'll get a lot of use out of it, just like I am.
Tropicfeel NEST Backpack FAQ
How much does the Nest backpack cost?
The starting price of the Nest Backpack is €169. The price increases as you add accessories.
Nest + 1 accessory: €204
Nest + 2 accessories: €234
Nest + 3 accessories: € 264
Nest + 4 accessories: € 314
Choose the accessory or accessories that best suit your needs. In my case, I have the 10-liter Smart Packing Cube, which is excellent for increasing storage capacity on your trips.
I have used it on a trip for a week in spring with summer temperatures, and it is perfect.
*Please note that these prices may change over time. Look at the web for the offers and discounts when you're reading this.
Is it Worth Buying the Tropicfeel Nest Backpack?
Yes, it is totally recommended. It is perfect for everyday use, short breaks, work trips, and carrying the camera.
It is a perfect size and weight to carry for a long time. Well, this really depends on what you put into it 😉
Are Tropicfeel Backpacks Suitable for Quality?
Yes, they really are excellent value for money. In the photos, you can see our Shell backpack with more than a year of use, and it is like new.
What Colors Does the NEST Backpack Come in?
As of today, the NEST backpack comes in 4 colors:
All black
Desert Green (mine)
Blueberry Navy
Amphora Brown
Is the NEST Backpack Waterproof?
The Nest backpack is not waterproof, but it is water-repellent. Most of the material is water repellent, the principal and front zippers are 100% taped, and it uses YKK water-resistant zippers.
However, we do not recommend leaving the backpack exposed to water for an extended period of time.
Of course, rest assured that if the rain surprises you, your belongings will stay dry.
Is Tropicfeel a Brand Committed to the Environment?
Yes, it is. The Nest backpack is made from 90% recycled materials, making it the brand's most sustainable product. They have used Recycled Polyester and Nylon.
They all come from post-consumer sources, meaning they are reusing industry fabrics.
Recycled polyester gives a second life to a material that is not biodegradable and would otherwise end up in landfills or the ocean.
The GRS-certified backpack contains approved Blue Design (R) components. This means that they have been manufactured in good working conditions and that harmful environmental and chemical impacts have been minimized.
All suppliers of materials for the Nest are Bluesign partners. This means they had been scrutinized before to ensure safer and more sustainable environments for people to work.
BLUESIGN-certified suppliers promise a reliable and sustainable manufacturing method for consumer textile products.
Although Tropic is not yet a Bluesign company, this can demonstrate its commitment to the highest standards in ethics and sustainability.
They care about the materials used in their products and put a lot of effort into finding the right suppliers.
They have an internal process to ensure that all their suppliers meet specific standards. Thanks to this process and external audits and certificates, they have been able to validate their social and environmental commitments.
Do you have any questions about the Tropicfeel brand? Leave us your doubts in the comments.
All Tropicfeel Backpacks
At the time of writing this post, there are four Tropicfeel backpacks:
The Tropicfeel slippers
The Tropicfeel sneaker family has grown a lot in recent years. There are currently eight different models, six water-friendly and two waterproofs.
Water Friendly (you can put them in the water, and they are quick drying)
Monsoon
Jungle
Canyon
Sunset
Lava
Dune (in crowdfunding)
Raincoats (I love them, they will fall for next winter, I'll tell you later)
Geyser Litli (in crowdfunding)
Geyser Great (in crowdfunding)
Other Products of the House Tropicfeel
Like the shoes, the Tropicfeel products have been growing. Currently, you can find:
Take a look at the Tropicfeel website and discover all the products.
Other Tropicfeel Reviews
Disclosure: Some of the links on this post are affiliate links, meaning at no additional cost to you, I may earn a small commission if you click through and make a purchase.
Book Your Trip
Book Your Flight
Find a cheap flight by using Skyscanner.
Book Your Accommodation
You can book your hostel, hotel, or apartments on Booking.com.
Don'torget Travel Insurance.
Travel insurance will protect you against illness, injury, theft, and cancellations. It's your protection in case anything goes wrong. You never go on a trip without it.
Best companies for Tours
Check out Civitatis.com and find the best tours in English (French, Spanish and Italian)
Are you looking for the best companies to save money with?
Check out my resource page for the best companies to use when you travel! I list all the ones I use to save money when I travel – and I think I will help you too! (Is in Spanish yet)
Last Updated on 15 March, 2023 by Veronica