Drive from Lisbon to Porto: A Quick Guide
If you're planning a trip to Portugal, you might want to consider a drive from Lisbon to Porto. It's a scenic route that takes you along the coast and through charming towns and cities. Plus, it gives you the flexibility to stop and explore at your own pace.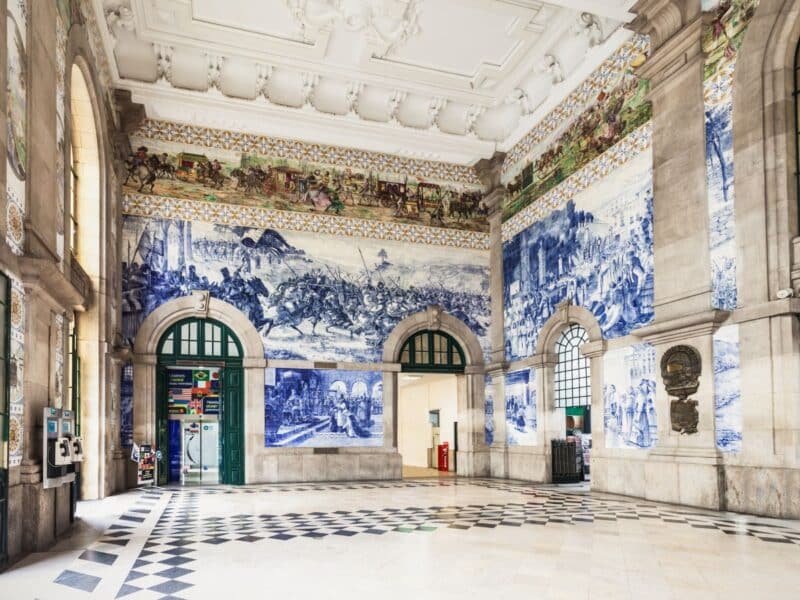 Disclosure: Some of the links on this post are affiliate links, meaning at no additional cost to you, I may earn a small commission if you click through and make a purchase.
Driving from Lisbon to Porto
A drive from Lisbon to Porto is an amazing way to explore Portugal's countryside and coast. You'll pass towns like Nazaré, known for its big waves, and Aveiro, the "Venice of Portugal."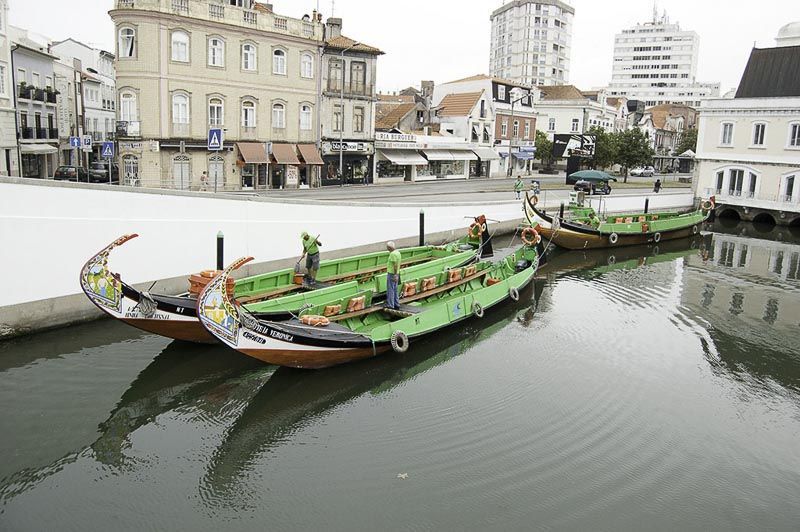 Consider a detour to Coimbra, with its ancient university and old town. Driving in Portugal is straightforward, with good roads and signage. Remember that tolls are common, so have cash or a credit card ready.
Drive on the right and beware of roundabouts. It's a great way to experience Portugal's beauty and create lasting memories.
Renting a Car to Drive from Lisbon to Porto
If you don't have your own car, renting a car is a convenient option for your drive from Lisbon to Porto. Popular car rental companies like Europcar, Hertz, and Avis offer a variety of vehicles to suit your budget and needs. To avoid any last-minute hassles, it's best to book your car in advance.
When it comes to costs, rental prices in Lisbon can vary based on factors like car type, duration, and additional services. On average, expect prices starting from around €30-40 per day ($35-45 USD) for an economy car. Keep in mind that availability and seasonal demand can affect prices.
For a hassle-free experience and competitive rates, I recommend DiscoverCars. They provide reliable service and have a wide selection of vehicles to choose from. Their user-friendly platform allows you to compare prices, read customer reviews, and make online reservations.
Gas and Tolls to Drive from Lisbon to Porto
Before you start your road trip from Lisbon to Porto, make sure to fill up your gas tank. While there are gas stations along the route, it's better to be prepared. Let's break down the costs.
Assuming you're driving a compact car with an average fuel consumption of 7 liters per 100 kilometers, the total distance of 314 kilometers will require approximately €33 ($38 USD) in gas expenses for the round trip, considering a fuel price of €1.50 per liter ($1.70 USD).
As for tolls, the A1 highway, the fastest route, has several. Be sure to have cash or a credit card handy. Alternatively, you can opt for the Via Verde system, which allows you to pass through tolls without stopping.
Toll expenses for the round trip, based on a compact car, can range from €20 to €25 ($23 to $29 USD), depending on the number of tolls encountered. Now that you have an idea of the estimated costs, you'll be well-prepared for your journey.
Highway Rules to Drive from Lisbon to Porto
It's crucial to remember that the speed limit on the A1 highway is 120 km/h, and those sneaky speed cameras are watching. Safety is a priority for me, too—I always buckle up and ensure everyone in the car does the same.
Here's another tip: maintaining a safe distance from the vehicles around you is key. Give yourself enough space to react to any unexpected stops or maneuvers.
And if you need a break, no worries. Rest areas and service stations are conveniently available along the route. They provide the perfect opportunity to stretch your legs, grab a snack, or use the facilities.
Renting a car, filling up the gas tank, and having some cash for tolls are essential considerations.
Taking a Train from Lisbon to Porto
If you're traveling from Lisbon to Porto, taking a train is a fantastic way to immerse yourself in Portugal's beauty. You'll enjoy breathtaking views of the countryside, and the conveniently located train stations provide easy access to attractions.
Types of Trains
When it comes to traveling from Lisbon to Porto by train, you have two fantastic options to choose from, and let me tell you, they both have their own perks.
If you want to reach Porto swiftly, opt for the Alfa Pendular. It's a high-speed train that zips through the tracks, taking you from Lisbon to Porto in about 2 hours and 50 minutes.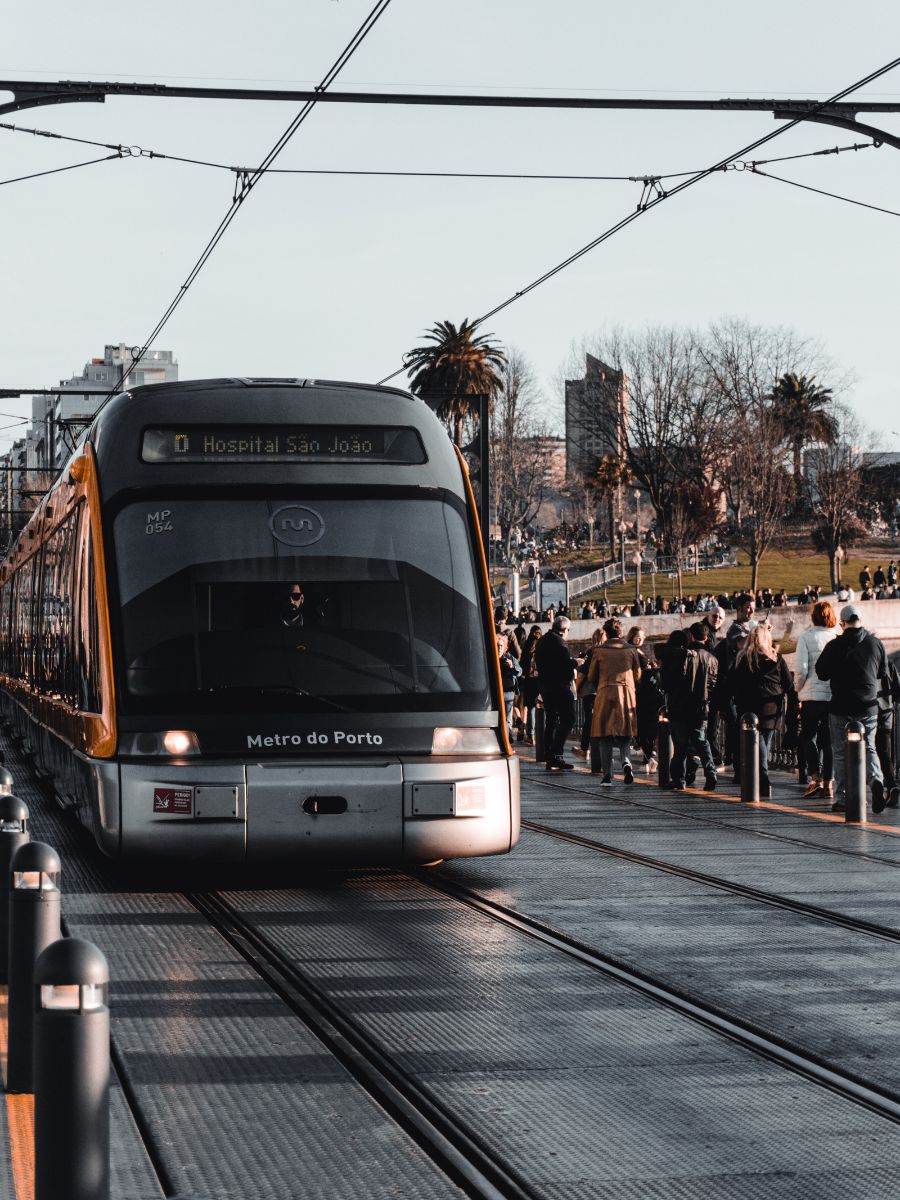 I love the sleek design and comfortable seating it offers. Plus, there's free Wi-Fi onboard, so you can stay connected throughout your journey. Oh, and don't forget to check out the bar/buffet car, where you can grab some snacks or light meals to fuel your adventure.
On the other hand, if you are in the mood for a more leisurely and scenic ride, go for the Intercidades. It may take a bit longer, around 3 hours and 20 minutes, but trust me, it's worth it.
The comfortable seating, some with tables, allows you to relax and enjoy the picturesque landscapes passing by. While Wi-Fi might not be available on all Intercidades trains, it's the perfect opportunity to disconnect and fully immerse yourself in the stunning views outside your window.
Train Stations
It's essential to choose the one that suits your needs and provides a convenient starting point. In Lisbon, two main train stations stand out: Oriente and Santa Apolónia.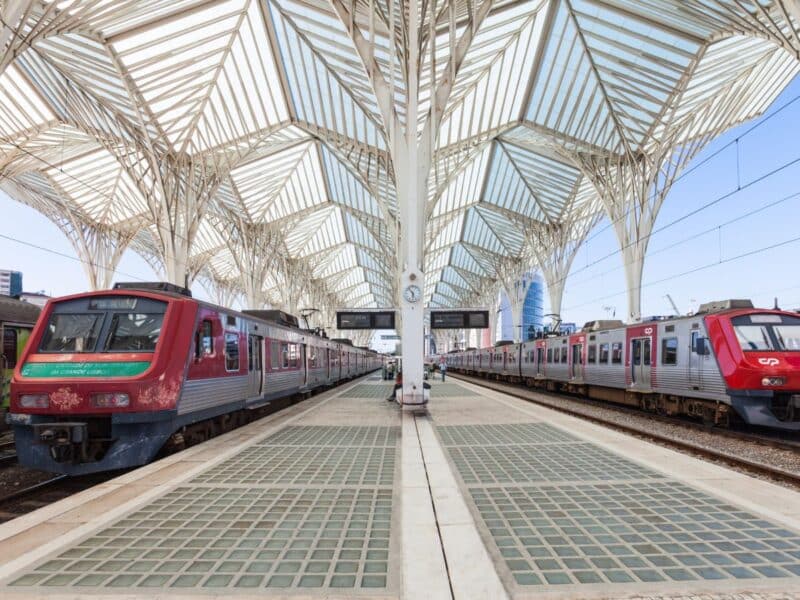 Oriente, located in the vibrant Parque das Nações district, is a bustling hub that offers easy access to other modes of transportation. It's a great option if you want seamless connectivity and a modern atmosphere.
On the other hand, Santa Apolónia, nestled near the city center and the Tagus River, exudes a historic charm that I find quite captivating. It's a perfect starting point for your journey, and its location allows you to explore the city before hopping on the train.
Once we reached Porto, we had two primary train stations to choose from: Campanhã and São Bento. Campanhã, the largest station in Porto, serves both domestic and international trains. It's a bustling hub with excellent connectivity to various parts of the city.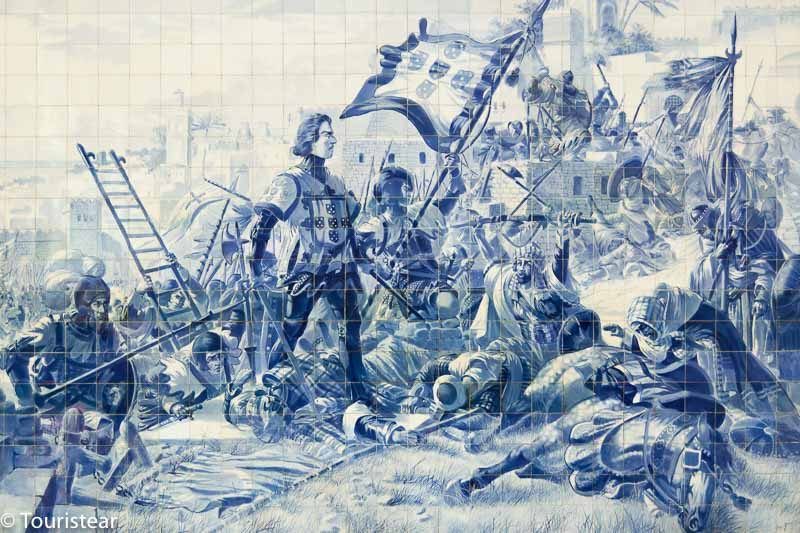 On the other hand, São Bento steals my heart with its breathtaking tiled interior. Situated in the heart of Porto's historical center, it's a true gem that immerses me in the city's charm. Take into account that São Bento does not receive Intercidade trains, only Campanha does.
While not directly on the Lisbon-to-Porto route, the train station in Sete Rios, located in the western part of Lisbon, provides an alternative starting point for those in that area of the city.
Tickets and Prices
You can purchase train tickets for the Lisbon to Porto route on this website, it is much more intuitive than the official one and the prices are the same. You can as well buy the tickets directly at the train stations.
The prices of the tickets will vary depending on the type of train you choose and whether you want a direct or connecting train.
Here is a breakdown of the ticket prices for the Alfa Pendular and Intercidades trains:
| Train Type | Ticket Price (One Way) |
| --- | --- |
| Alfa Pendular | €29.90 – €45.50 |
| Intercidades | €22.50 – €34.50 |
If you're traveling with children, you'll be delighted to know that their tickets can be discounted by up to 50-75% off the regular price. This means you can get a child's ticket for around 5-10 euros (or $6-12 USD), depending on the train and class.
For seniors, there are also great savings to take advantage of, with discounts ranging from 25-50%. This means you can enjoy the journey for about 15-20 euros (or $18-24 USD), making it an affordable option for our older travelers.
And if you're exploring with a group, be sure to inquire about group discounts. Depending on the size of your group and the train type, you can typically expect savings of around 10-20% per ticket.
It's important to note that prices may vary depending on the time of day and how far in advance you book your tickets. It's always a good idea to book your tickets as early as possible to get the best prices.
Taking a Bus from Lisbon to Porto
If you're seeking an affordable and convenient way to travel from Lisbon to Porto, a bus is a fantastic choice. You'll enjoy stunning views, relax, and chat with fellow travelers. With budget-friendly fares and convenient schedules, it's a great option for exploring Portugal on a budget.
Types of Buses
When it comes to bus travel between Lisbon and Porto, you'll find a variety of options offered by companies like Rede Expressos, Renex, and FlixBus. Each company provides different types of buses with varying amenities to enhance your journey.
FlixBus is known for its modern fleet, sustainable policy, and local partnerships, their buses are equipped with amenities like Wi-Fi and power outlets. This allows you to stay connected, catch up on work, or simply relax and enjoy your trip.
As a plus, because they are a modern tech-oriented company it's really easy to book with the app or via the website.
Rede Expressos offers buses with comfortable seating, while their plus buses provide extra legroom for a more spacious experience. If you opt for their premium "GOLD" service, you'll enjoy leather seats, individual screens, and complimentary snacks and drinks.
Renex ensures a comfortable ride with their standard buses, designed to make your journey pleasant and enjoyable.
Bus Stations
You have two main departure points in Lisbon: Sete Rios and Oriente. Sete Rios is situated in the northwest part of the city and can be easily reached by taking the metro or a taxi.
Oriente, on the other hand, is located in the eastern part of Lisbon and is also conveniently accessible by metro or taxi.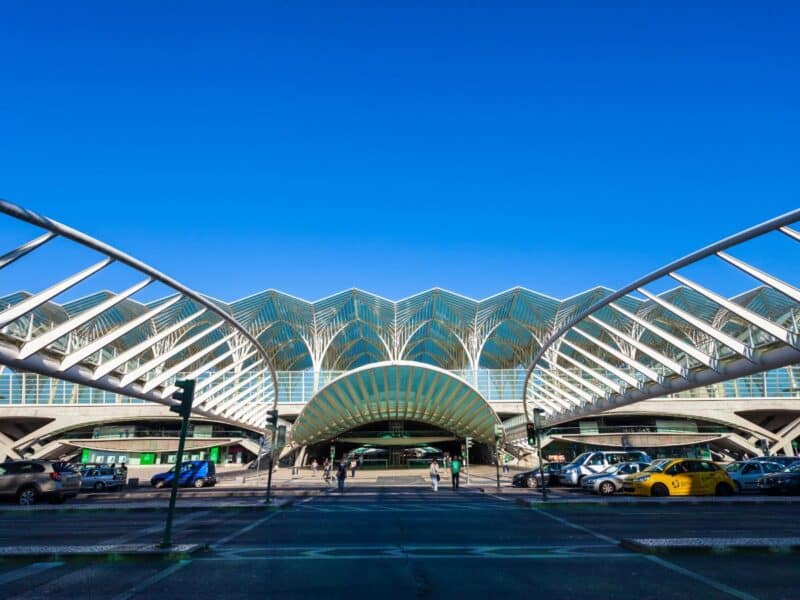 Once you arrive in Porto, the buses will bring you to the Batalha bus station, which is conveniently located in the city center. This means you'll be within walking distance of many popular attractions, allowing you to start exploring Porto right away without any hassle.
At the bus stations, you'll find facilities like waiting areas, ticket counters, and information desks to assist you with any queries. Additionally, you can grab a bite to eat or a cup of coffee at nearby cafes and restaurants while waiting for your bus.
Tickets and Prices
The cost of your ticket will depend on the type of bus you choose and how early you book. Generally, prices range from €14 to €35, offering you a range of options to fit your budget.
To secure the best price and ensure availability, I recommend booking your ticket in advance. This way, you'll have peace of mind knowing that your seat is reserved, and you can take advantage of any early bird discounts or promotional offers that may be available.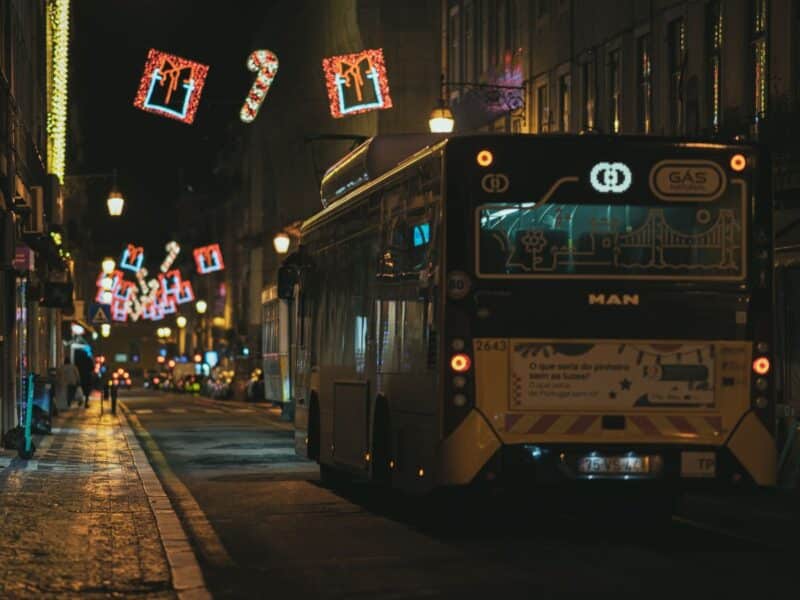 You have two convenient options for purchasing your bus ticket. You can either book online through the bus company's website or make your purchase at the bus station.
Note: Keep in mind that some buses may require you to print your ticket, so be sure to check the requirements before you embark on your journey.
When it comes to payment, most bus companies accept various forms of payment, including cash and credit cards. It's always a good idea to have some cash on hand, just in case. If you prefer to pay with a credit card, make sure to inform the ticket counter.
Flying from Lisbon to Porto
Multiple airlines offer frequent flights, providing flexibility and convenience. Enjoy a quick and efficient journey, giving you more time to immerse yourself in the culture, history, and cuisine of both cities.
Airlines
TAP Air Portugal, the national carrier, offers frequent flights and a comfortable travel experience. For budget-conscious travelers, Ryanair and easyJet are great options, offering affordable fares.
While these budget airlines may have fewer amenities, they still provide a convenient and efficient way to reach your destination.
Whether you prefer the full-service experience or are looking for a more economical choice, there's an airline for everyone's needs and preferences.
Airport Information
When flying from Lisbon to Porto, you'll depart from Lisbon's Humberto Delgado Airport (LIS), just a short distance from the city center. The airport has two terminals, with Terminal 1 handling most airlines, including TAP Air Portugal. If you're flying with Ryanair or easyJet, you'll depart from Terminal 2.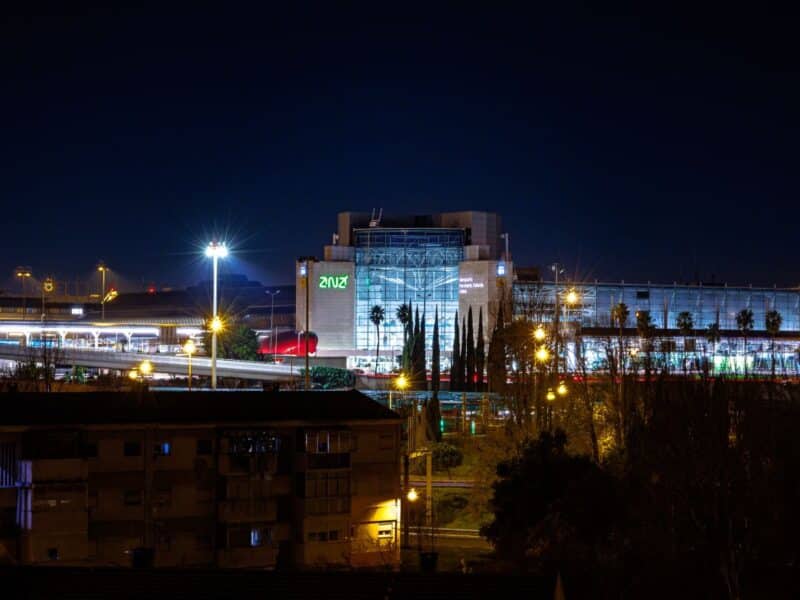 In Porto, you'll arrive at Francisco Sá Carneiro Airport (OPO), situated around 11 km north of the city center. The airport boasts a single terminal, catering to all airlines.
Both airports offer a range of amenities to make your journey more comfortable. From duty-free shopping and dining options to currency exchange services and free Wi-Fi, you'll find everything you need to relax and prepare for your flight.
Tickets and Prices
The amount can vary depending on factors such as the airline, time of year, and how far in advance you book. For example, TAP Air Portugal flights typically start at around €50 one-way, while budget airlines like Ryanair and easyJet can offer fares as low as €20 one-way.
Keep in mind that budget airlines often have additional charges for baggage, seat selection, and other amenities, so be sure to review the details before making your booking.
To find the best deals on flights, I recommend using platforms like Skyscanner. They aggregate prices from various airlines, allowing you to compare options and choose the most suitable flight for your needs and budget.
You can easily book your tickets online through the airline's website or through third-party travel websites. Just make sure to plan ahead and secure your tickets in advance to take advantage of the best prices.
Day Trips from Lisbon to Porto
If you're planning a day trip from Lisbon to Porto, there are several ways to get there. As we have already seen, you can travel by car, train, or bus. Each mode of transportation has its own advantages and disadvantages, so it's important to choose the one that best suits your needs.
By Car Drive from Lisbon to Porto
If you're up for a road trip adventure, hopping in a car is the way to go! The fastest route from Lisbon to Porto is via the A1 highway, covering approximately 314 km in around 3 hours. But here's the exciting part – you can make some awesome pit stops along the way!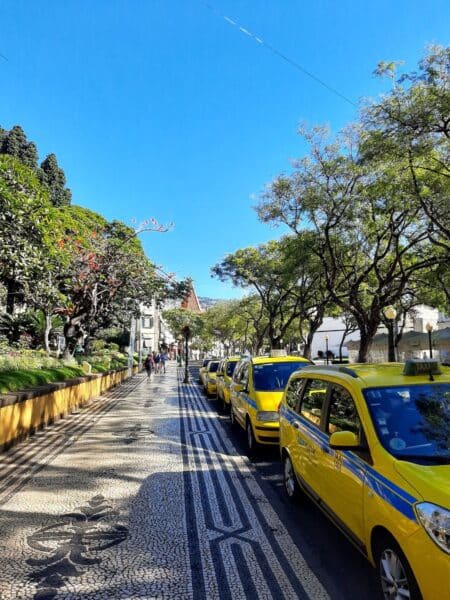 Explore the charming medieval town of Obidos, with its castle and narrow streets. Marvel at the awe-inspiring Batalha Monastery, a true Gothic masterpiece. And don't miss Aveiro, known as the "Venice of Portugal," with its picturesque canals and colorful boats. Book a half day tour here.
By Train
If you prefer a comfortable and scenic ride, hopping on a train is the way to go! From Lisbon's Oriente Station, the train journey to Porto takes approximately 3 hours, offering breathtaking views of the UNESCO-listed Douro Valley.
Once you arrive in Porto, get ready to enjoy the city with a guided tour. You can explore the iconic Luis I Bridge, stroll along the Douro River, and delve into the wine cellars of Vila Nova de Gaia. And hey, if you have an extra day, why not take a delightful day trip to Espinho, a seaside town famous for its beaches and mouthwatering seafood?
By Bus Day Trip from Lisbon to Porto
For budget-conscious travelers, hopping on a bus is an affordable option, albeit taking a bit longer. The journey from Lisbon to Porto lasts around 3.5 hours, departing from the Sete Rios Bus Station.
You can book your tickets here or alternatively, you can go to the bus station.
And guess what? You can turn this into an epic day trip by exploring Coimbra, a historic university town with stunning architecture and serene gardens.
Alternatively, embark on a pilgrimage to Santiago de Compostela, the final destination of the Camino de Santiago. Book a day trip here. Or go for a bus tour in the city of Porto.
Tips and Resources
When planning your drive from Lisbon to Porto, there are a few tips and resources you should consider to ensure a smooth and comfortable journey. Here are some things to keep in mind:
Accommodation
If you plan to break up your journey with an overnight stay, let me recommend two fantastic accommodation options for you. First, in the beautiful town of Obidos, consider staying at the charming Casa das Senhoras Rainhas. With its cozy rooms and friendly hosts, you'll feel right at home.
Another great choice in Porto is the centrally located Hotel Pestana Vintage Porto, offering stunning views of the Douro River and comfortable accommodations. Both options provide a delightful blend of comfort and convenience, ensuring a restful night's sleep before continuing your adventure.
Luggage and Wi-Fi
When it comes to packing for your road trip, I suggest packing light and using travel bags that can easily fit in the trunk of your car. This way, you'll have more space and flexibility during your journey.
Consider renting a portable Wi-Fi hotspot from companies like TEP Wireless, Skyroam, or a Travel Sim to stay connected on the road. Having a reliable internet connection will allow you to navigate, research attractions, and share your amazing travel moments without relying solely on your phone's data plan.
Restrictions
While planning your road trip, it's crucial to stay informed about any travel restrictions or guidelines that may be in place due to COVID-19.
Check the latest travel advisories from reputable sources like the World Health Organization (WHO) and the official websites of the Portuguese government.
As of today, you don't need to wear face masks in Lisbon and Porto but I recommend bringing some if you have a medical emergency. We highly recommend having your travel insurance if this situation arrives. Other enclosed spaces may require you to wear one.
Helplines
Before embarking on your road trip, it's always wise to have important helpline numbers on hand. Save the Portuguese emergency services number (112) in your phone and the contact information for your accommodation and car rental company.
Additionally, consider using apps like Rome2rio, which provide comprehensive transportation information and route planning assistance. These resources will come in handy if you encounter any unexpected situations or need assistance during your journey.
Roadside Assistance
It's always a good idea to have roadside assistance coverage for any unexpected car troubles during our road trip. Check with your insurance provider or sign up for a service like AAA or a local equivalent.
Snacks and Refreshments
To keep hunger at bay and stay energized throughout our journey, let's pack some snacks and drinks. I suggest bringing a mix of healthy food options for a road trip, like granola bars, fruit, and nuts, as well as some indulgent treats for a special treat.
Oh, and remember to stay hydrated by having plenty of water on hand, especially during the warmer months.
Music and Entertainment
Let's create a road trip playlist filled with our favorite tunes to set the mood for our journey. We can sing along to our favorite songs or discover new artists as we drive.
FAQ for A Drive from Lisbon to Porto
What Is the Best Way to Travel from Lisbon to Porto
The best way to travel from Lisbon to Porto depends on your preferences. If you value speed and convenience, flying is a great option.
For those who enjoy scenic routes and want to immerse themselves in the landscape, taking the train is a fantastic choice. If you prefer flexibility and the opportunity to explore attractions along the way, driving allows for more freedom.
Is It Worth Driving from Lisbon to Porto
A drive from Lisbon to Porto can be a worthwhile experience, especially if you want to make stops along the route and explore smaller towns and attractions.
It offers flexibility and allows you to set your own pace, making it a great option for those who enjoy road trips and want to discover more of Portugal's charm.
There are various ways to drive from Lisbon to Porto, each offering unique experiences. Consider your preferences and embark on a memorable journey!
Plan Your Trip to Portugal
Last Updated on 6 September, 2023 by Veronica